4) Sony Xperia XZ2 Camera Overview
Being a Sony product, one would expect to see amazing image quality and performance out of the Xperia XZ2. That's certainly true to an extent. As I have pointed out earlier, the Xperia XZ2 is world's first smartphone that is capable of capturing 4K HDR video footage (at 30 fps) and thanks to its fast processor and image pipeline, it is able to handle up to 960 fps slow motion video at 1080p resolution for 0.02 seconds. Although the lens is limited to f/2 maximum aperture, which is not that great when compared to other phones offering more light gathering capability with f/1.7 and f/1.5 apertures, it is a Sony "G" lens that is designed to deliver very sharp results. With a total of 19 MP of shooting capability at a native 3:2 aspect ratio (which can be changed to 16:9 as well), that's a ton of resolution to play with. One can squeeze quite a bit of detail out of the camera when using digital zoom. Take a look at the below image captured in full-resolution: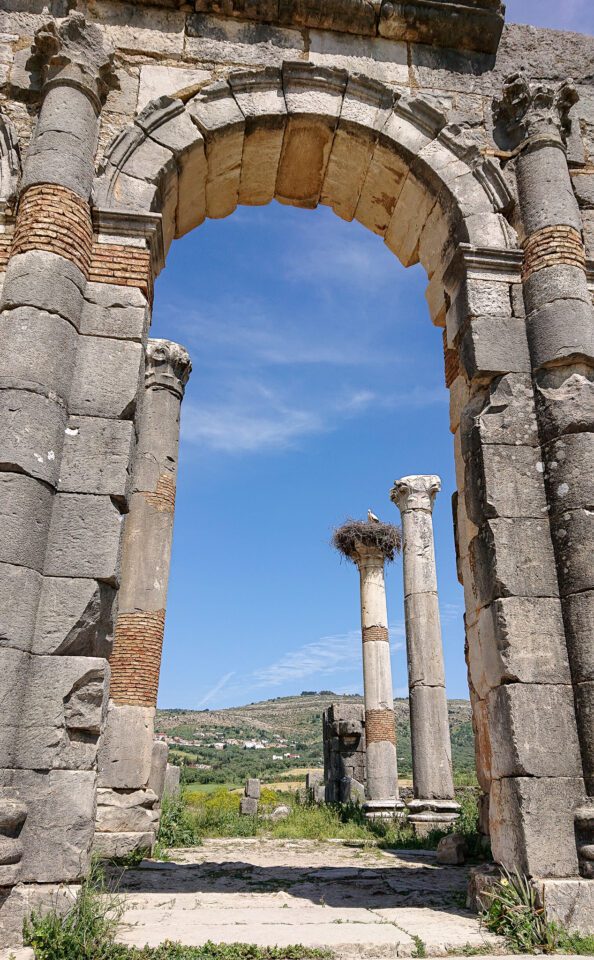 And here is what the zoomed-in image looks like (using digital zoom on camera before capture):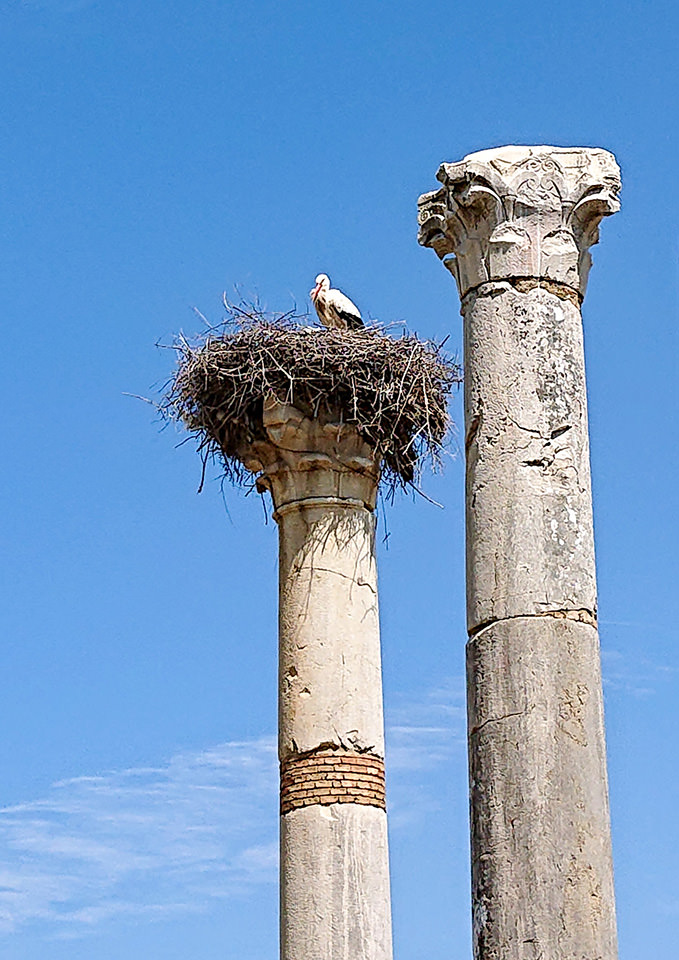 That's not bad for a camera phone! You will obviously see more artifacts and noise when zooming in digitally like this (as it is really no different than cropping), but still, this shows that those 19 MP images do contain quite a bit of detail in images.
Aside from being able to capture a good amount of detail, the Sony Xperia XZ2 also does a great job with reproducing natural-looking colors straight out the box. This is definitely something worth pointing out, as I find many other phones to add quite a bit of enhancement to images, making them look too vivid and unnatural in comparison. I didn't see too many artifacts in images at base ISO and the gradients appeared very smooth as well. When it comes to noise reduction, the JPEG images straight of the camera didn't have aggressive noise reduction applied to them, which is nice, although things certainly do get much worse at high ISOs when shooting in dim conditions (see High ISO Performance section below for more information). As I reveal below, Sony also does a great job with metering scenes and picking the right exposure settings.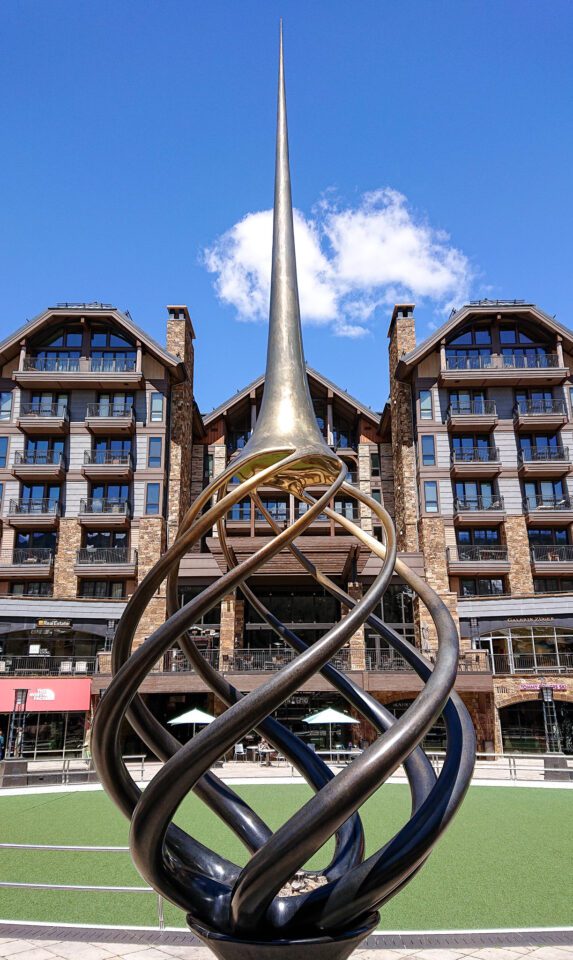 That's all good news, however, there are a few important weaknesses of the Xperia XZ2 that I need to point out, especially when compared to its competition. First of all, Sony's 5-axis image stabilization is limited to Full HD (1080p) @ 30fps maximum. This means that if you switch to 4K video recording or 1080p @ 60fps, the camera will automatically switch to "Standard" SteadyShot stabilization, which is much worse when compared to the full "Intelligent Active" mode.
Second, unlike many high-end smartphones today, the Xperia XZ2 only has a single camera. If you are used to having a single camera on your smartphone it might not be a problem, but if you have been spoiled by a dual camera setup that allows quickly switching from wide to telephoto, you are certainly going to find the Xperia XZ2 limiting. Sony has already released the Xperia XZ2 Premium, which now comes with a dual camera setup, so if you prefer to have two cameras on your smartphone, I would highly recommend to move up to that smartphone instead, as two cameras with different lenses are certainly better for photography and videography needs.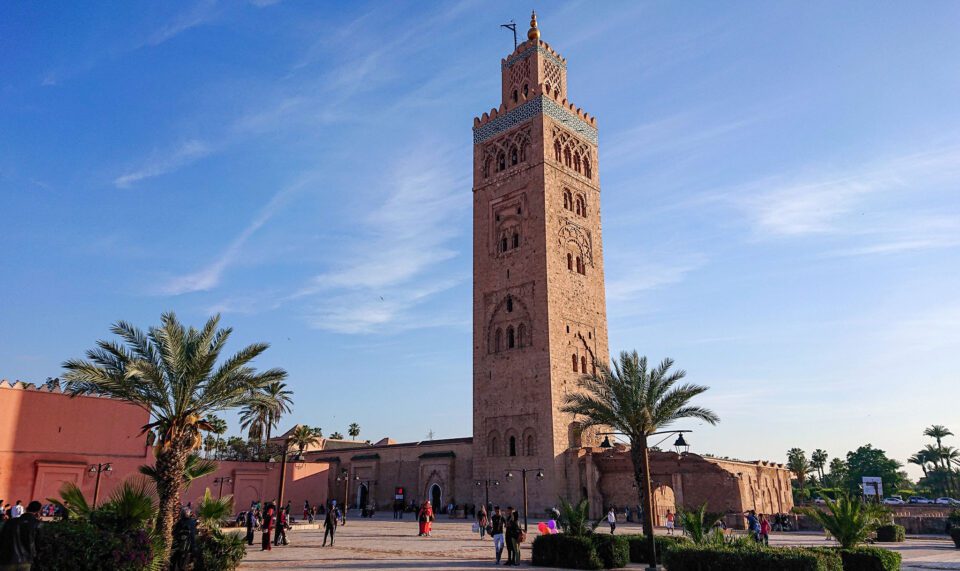 Lastly, Sony decided to limit the Xperia XZ2 to only be able to capture images in JPEG format only – there is no RAW support. While this is not a problem for me personally, as I rarely ever post-process images from my smartphone, it could be important for someone who is looking into taking a full advantage of the camera sensor.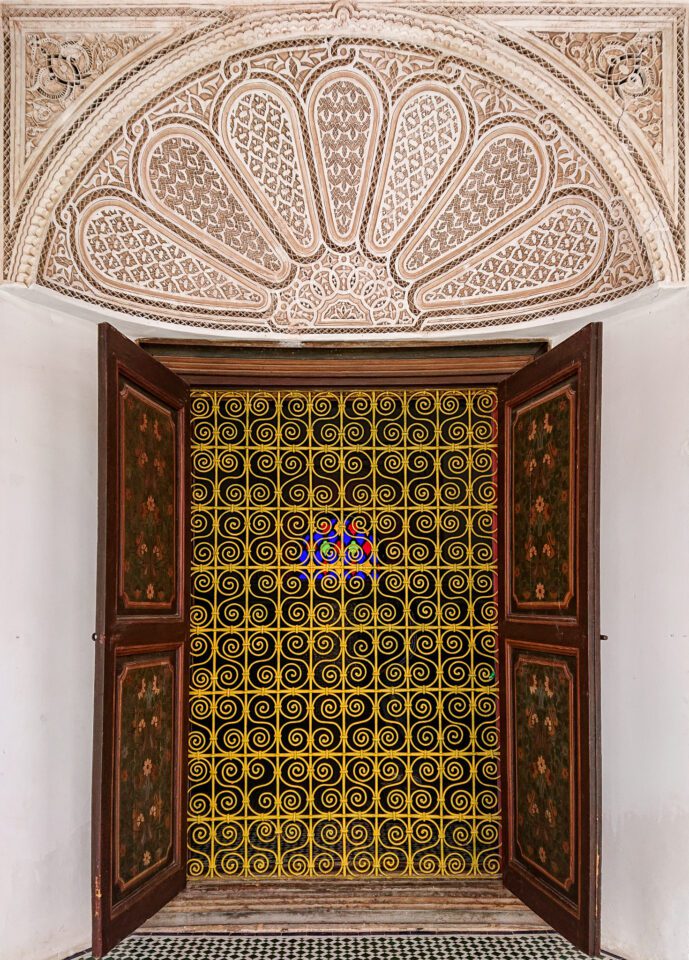 5) Exposure / Metering Accuracy
One huge advantage Sony has compared to its competition, is its vast experience in the camera industry. Being able to tap into that knowledge allows Sony to reach excellent results when taking photos and video. While calculating proper exposure sounds like an easy task for a camera today, not all cameras are made the same when assessing different scenes and lighting situations. It is especially important for a smartphone to be able to get the exposure right, since camera phones already suffer from poor dynamic range and high ISO performance. The Sony Xperia XZ2 performed admirably in this regard. While the camera app allows using the camera in manual mode with full control over each setting like ISO, shutter speed and white balance, I ended up using the "Superior Auto" mode quite a bit, which did a great job in most situations. At times it was a bit laggy due to its computational algorithm that had to see what I was photographing, but it was not unbearable by any means, especially considering how well it often worked for photographing a variety of subjects. For example, when photographing subjects like flowers at close distances, the Superior Auto mode automatically switches to a macro mode that is optimized for capturing close-up subjects. When there is a person in the scene, it automatically switches to a portrait mode and when I attempted to photograph pets, it switched to a pet mode. With each mode, different optimizations and metering settings are taken into account, so that you don't end up with sub-par results.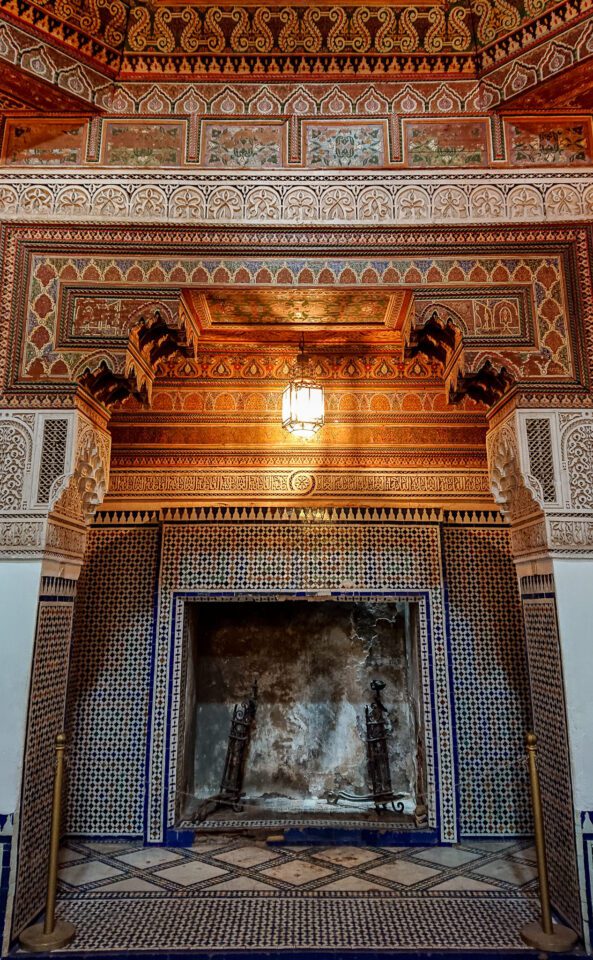 6) Dynamic Range and HDR Mode
Since most smartphones today come with pretty small 1/2.3″ sensors (when compared to real cameras), one cannot expect them to yield the same level of dynamic range and high ISO performance as devices with much larger sensors. So when doing a normal capture, it is expected that one would see rather limited dynamic range, making it difficult to photograph high-contrast scenes. In order to address this problem, smartphone manufacturers have started employing HDR techniques that combine multiple exposures in order to yield a single image that contains enough highlight and shadow detail. HDR does a great job when photographing difficult lighting conditions, but each manufacturer has a different software algorithm that does the merging process, which results in vastly different outcomes. For example, some phones often overdo HDR by boosting the shadows too much, or making the final image appear very low in contrast, while others apply too much saturation to HDR images, making them look unreal. When photographing with the Xperia XZ2, I found its HDR mode to work fairly well. I did not find images to look overdone or oversaturated and the recovery was done nicely for both highlights and the shadows. If you shoot in the Superior Auto mode, the camera will automatically determine if it needs to use HDR, which is nice. But if you shoot in Manual mode, you will need to turn it on through the settings – the default camera setting for HDR is off.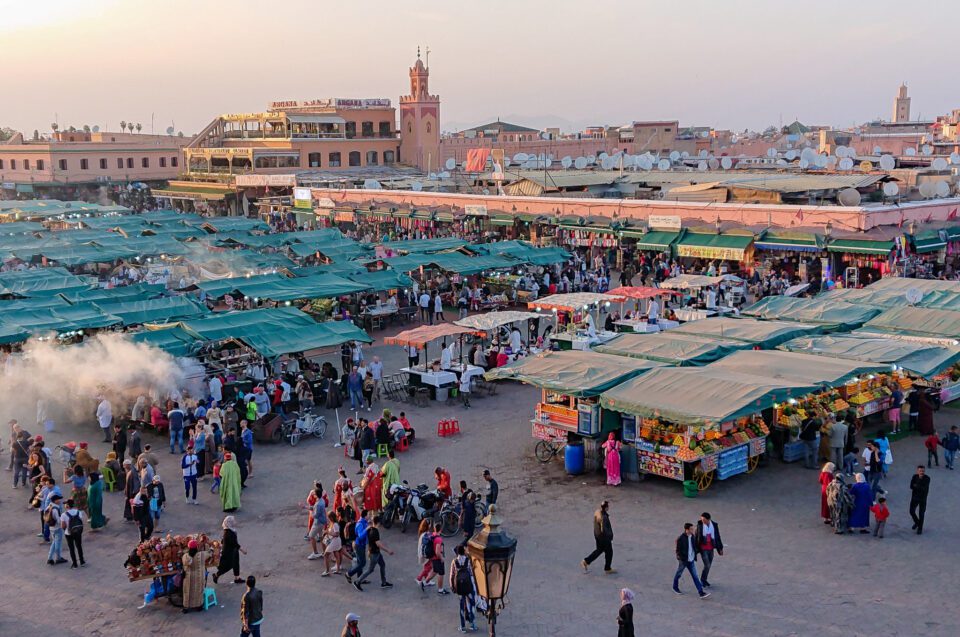 7) High ISO Performance
While most smartphones do really well in daylight conditions, their image quality quickly falls apart in low light conditions. Unfortunately, the maximum aperture of f/2 on the main camera is rather limiting when compared to noticeably faster f/1.5 lenses used on other cameras like the Samsung Galaxy S9, and this certainly shows when shooting in low-light conditions. As the camera fails to gather enough light, it starts to boost its ISO to higher values, which not only increases noise, but also results in less overall detail. Take a look at the below image that I captured in low-light: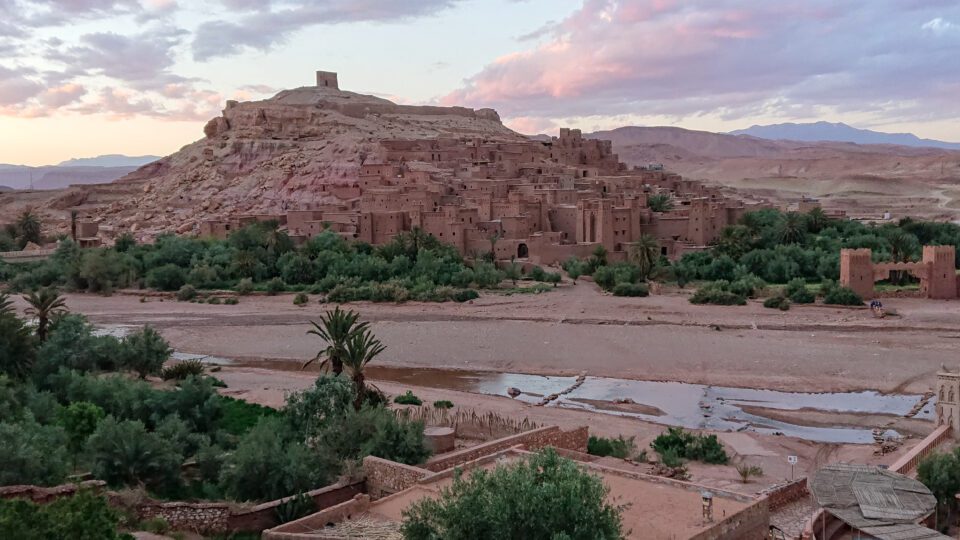 And compare it to an image that I captured earlier in good light: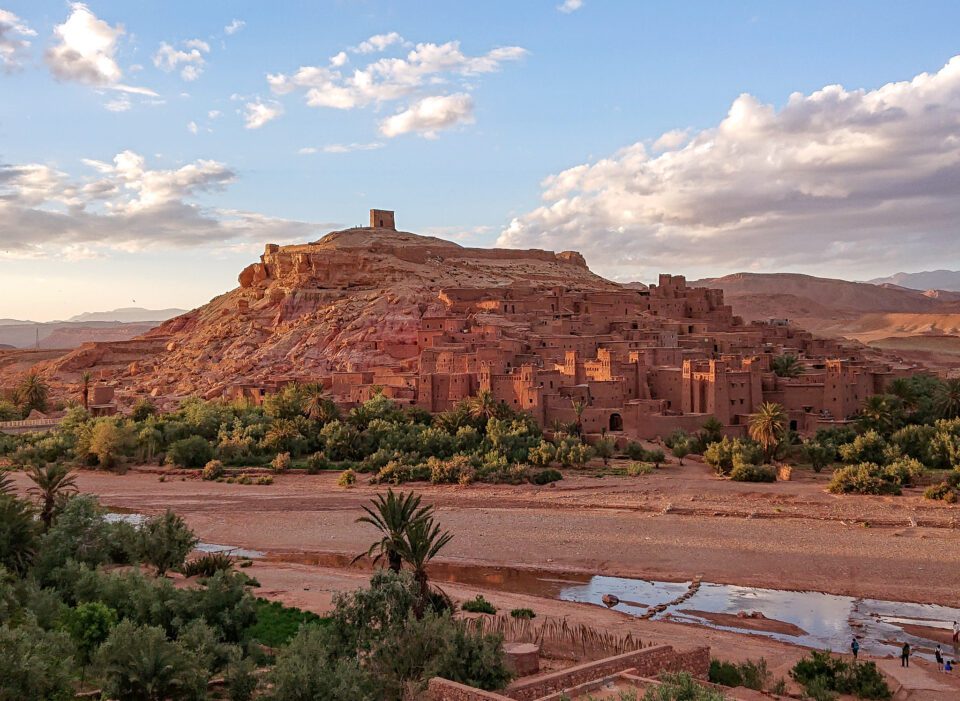 As you can see, there is far less detail in the first image due to high ISO – just look at the detail level in the trees and bushes in the foreground.
Despite the limiting maximum aperture though, the Sony Xperia XZ2 does not apply noise reduction as aggressively as some other smartphones do, which is both good and bad. It is good, because you are not going to see the same wax-like subjects at higher ISOs. But it also means that you are likely to see a ton of colored artifacts in both images and videos, which make the stills and footage look ugly.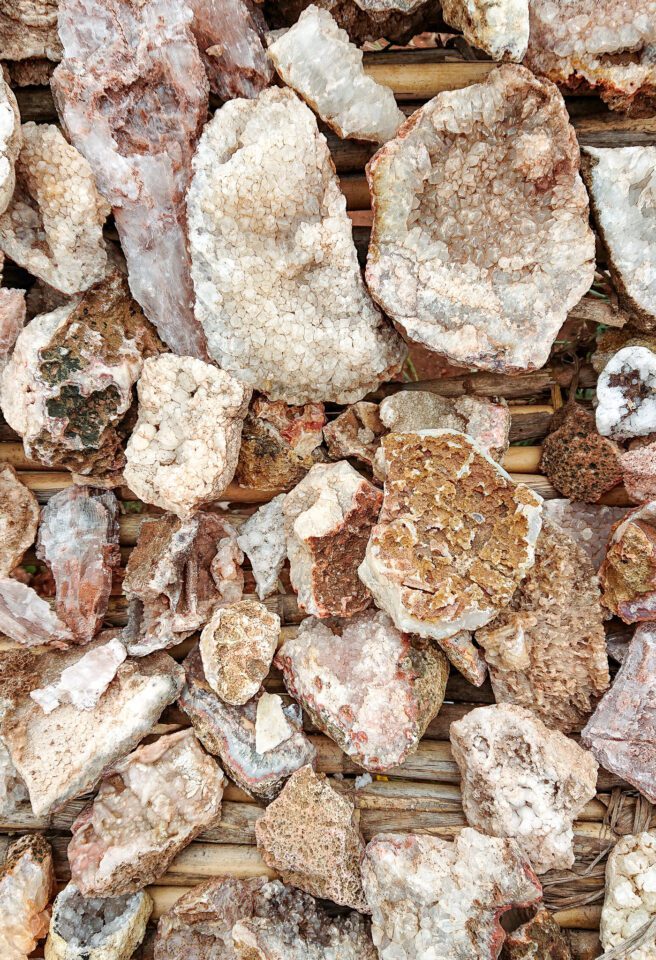 Now if you are willing to properly stabilize the Sony Xperia XZ2 on a tripod, you can actually achieve pretty impressive results. The Manual camera mode allows changing shutter speed from 1 second all the way to 1/4000th of a second, so if things get dark, putting the camera on a tripod, then setting the shutter speed to 1 second while manually setting ISO to a lower value can drastically reduce noise artifacts and result in much better image quality. However, in very dim conditions, even 1 second can be quite limiting. I'm not sure why Sony enforced such a limit on the Xperia XZ2, since a number of other phones like the Huawei Mate 10 Pro are capable of shooting much longer shutter speeds up to 30 seconds…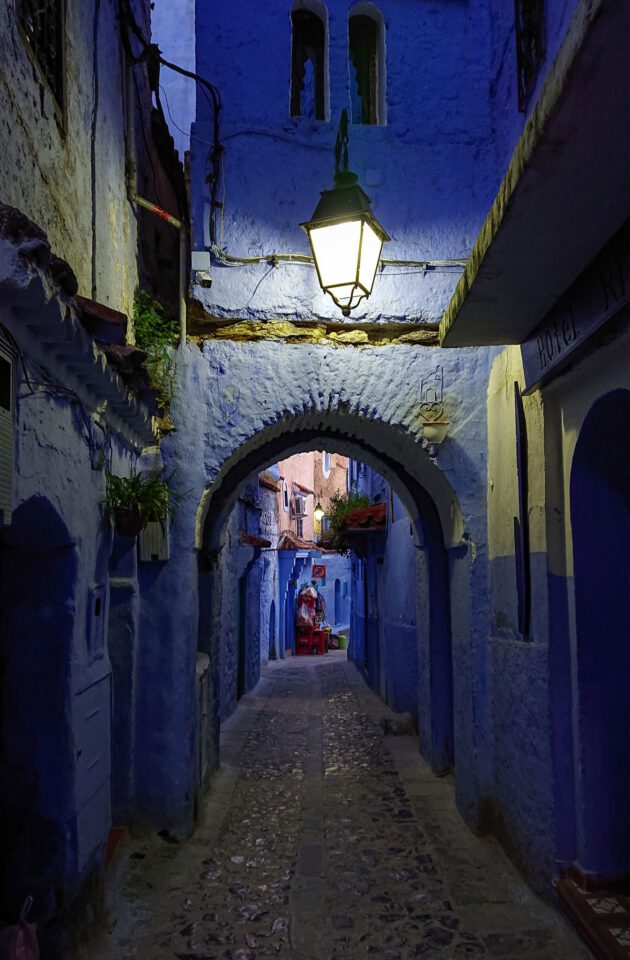 8) Ghosting and Flare
What about ghosting and flare? Unfortunately, most smartphones suffer from heavy ghosting and flare when shooting against a bright object and the Sony Xperia XZ2 is not an exception. As you can see from the image below, it does not handle bright sun well and introduces a ton of ghosting and flare in images: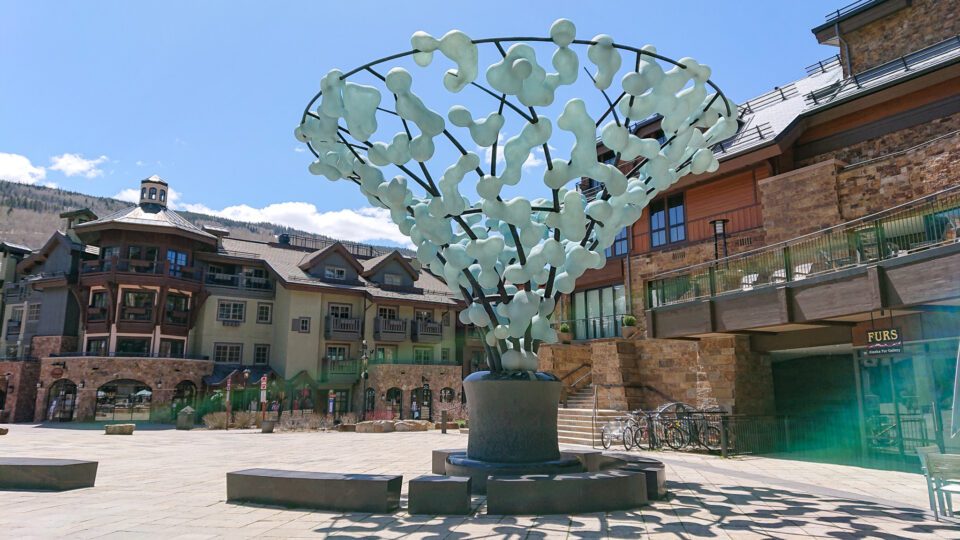 If you block most of the light source with another object, it does not affect the whole image, but you will still see ghosting blobs in your images: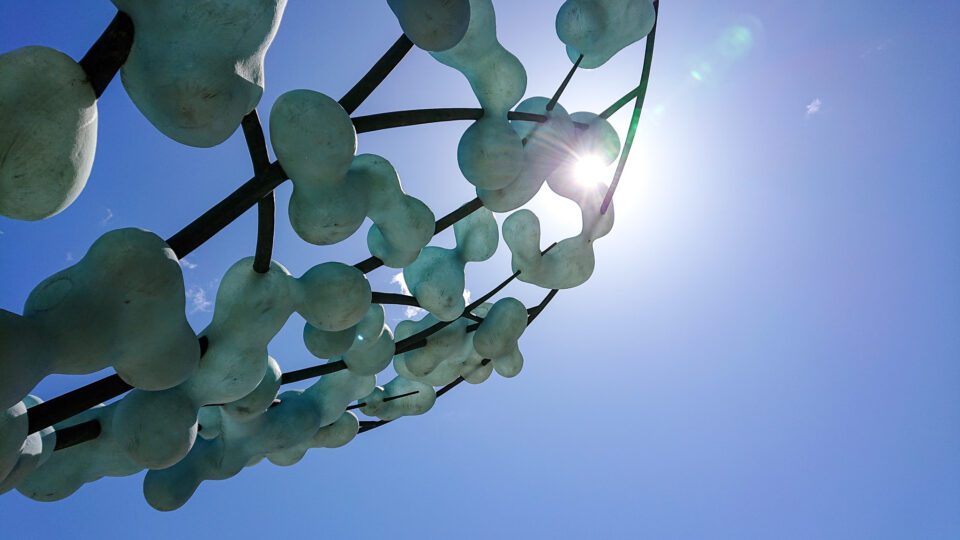 Obviously, how ghosting and flare affects your images depends heavily on a number of factors, including the angle at which light rays are reaching the camera lens, how big the light source is and what you are photographing, so you will need to evaluate its impact yourself.
9) Autofocus Performance, Predictive Capture and Autofocus Burst
When it comes to autofocus performance, the Sony Xperia XZ2 performs admirably – whether you are shooting in Manual or Superior Auto modes. Keep in mind that a tiny 1/2.3″ sensor along with an f/2 aperture lens translate to a boatload of depth of field, so focusing is not comparable in many ways to what one would experience on a large sensor camera. Still, it is fast and responsive enough for a smartphone and that's all that matters. You simply tap with your finger on the area you want to focus on and the camera does its job. When the phone detects faces, face recognition algorithms kick in and the camera automatically focuses and tracks your subjects, putting the camera on face priority mode, which is nice. In short, for everyday subjects, the autofocus performance of the Sony Xperia XZ2 is quite good and in line with what other smartphone cameras offer.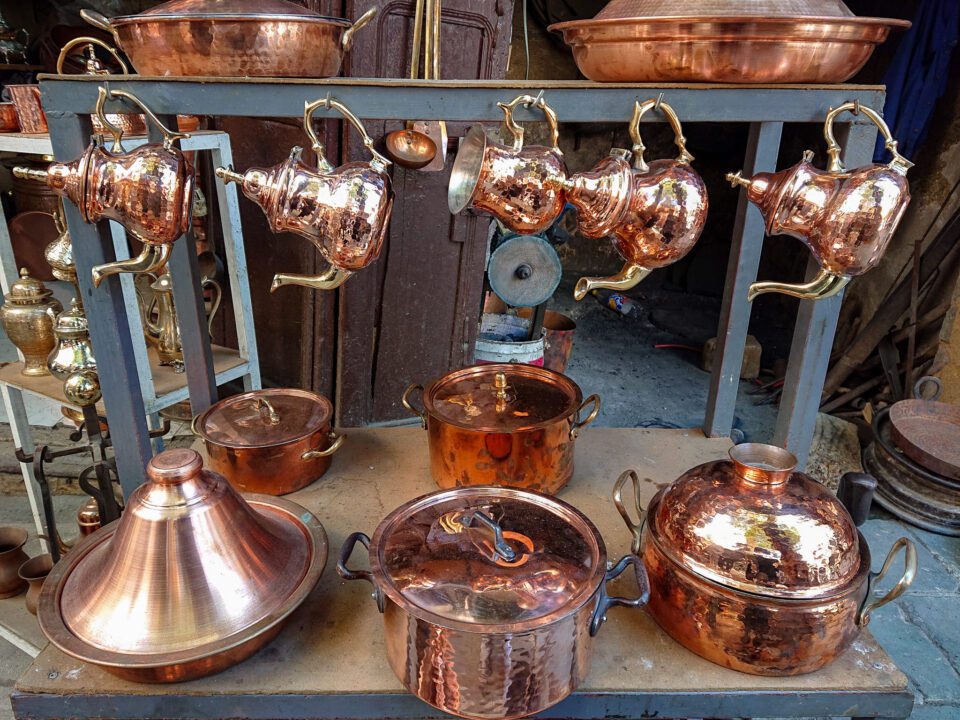 An interesting and potentially useful feature of the Sony Xperia XZ2 is called "Predictive Capture". With this mode, the camera will automatically capture a sequence of photographs and keep them all in the memory. Once you browse the pictures, the phone will identify and label such photographs and you will have a choice to either pick one image from the sequence, which deletes all other images, or preserve the entire sequence. Take a look at the below screenshots to see how it looks: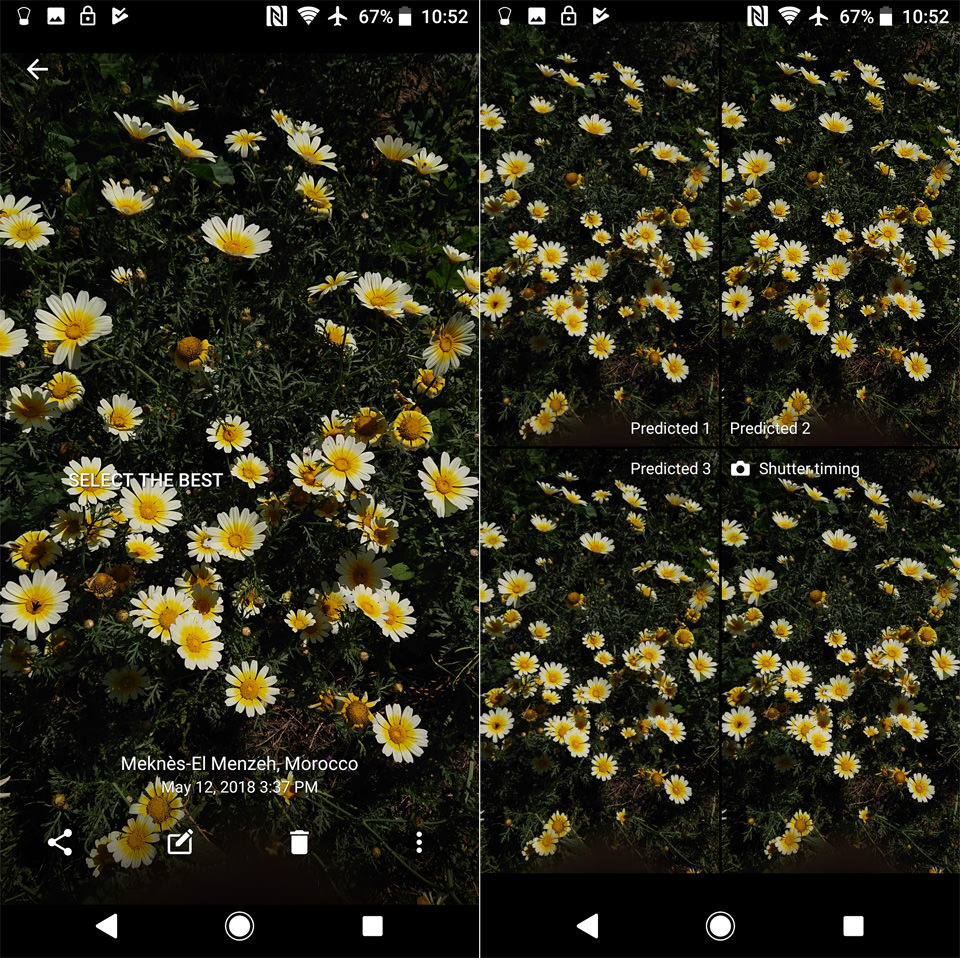 It is a nice feature that actually ended up saving a few moments when I was photographing my family, so I actually like the way it works.
In addition to Predictive Capture, there is another feature called "Autofocus Burst", which allows one to capture a sequence of photographs of a moving subject. The cool thing is, you can capture up to 100 full-size images in this mode, so it can be quite useful when shooting fast action. If you find this feature potentially useful, I would recommend to use the setting menu to enable burst mode with the camera key. By turning it on, you will be able to press and hold the side camera button and capture fast-moving action, while actively tracking of the subject.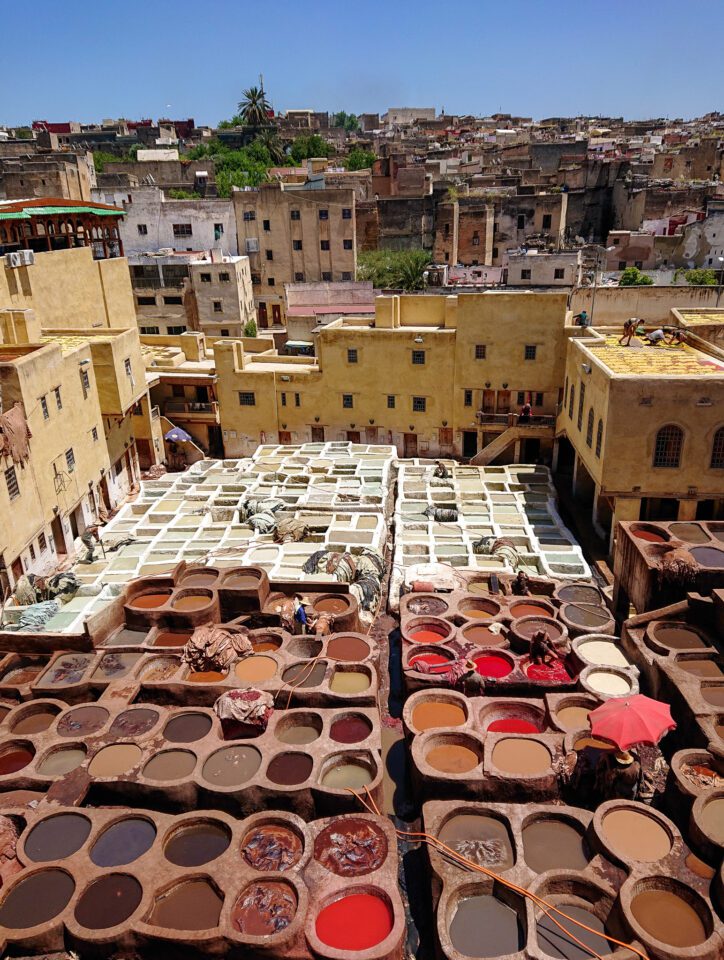 10) The Camera App
If you have previously used an Android smartphone in the past, you should be able to dive into the camera controls fairly quickly. Sony's camera app works well and all the controls are easy to find and adjust. When taking pictures in Manual Mode, pulling up the settings shows a number of things you can adjust and tweak, such as Self-timer, HDR, image resolution, object tracking, metering, etc: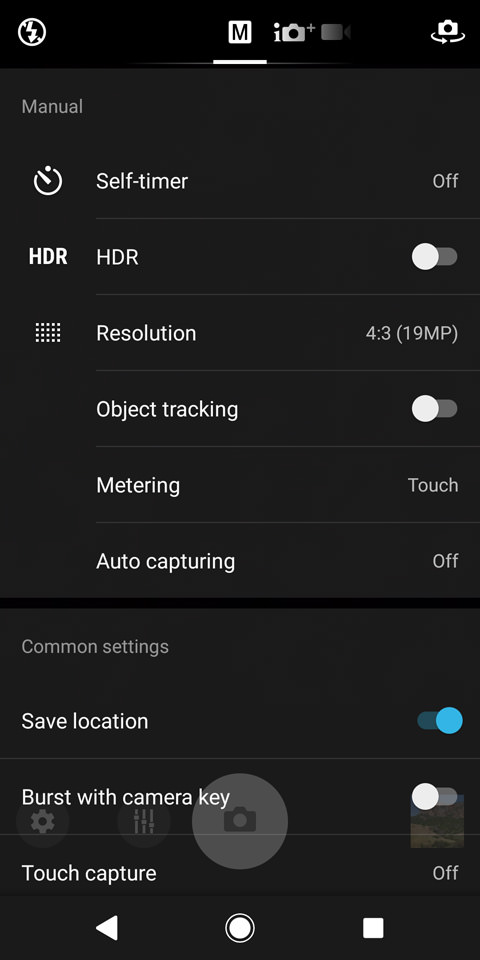 In addition, you can also customize things like grid lines, camera button / volume key behavior and lens corrections: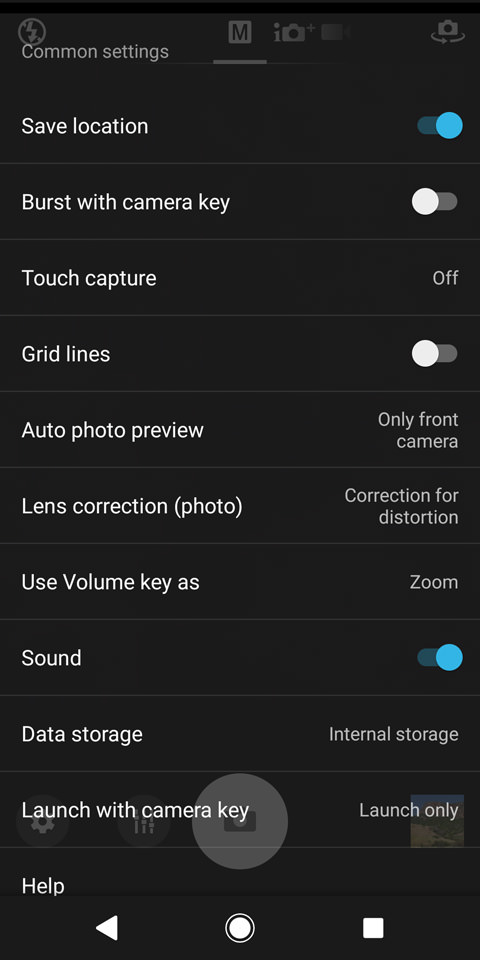 Pressing the controls icon on the screen allows manually setting different exposure, white balance and focusing parameters: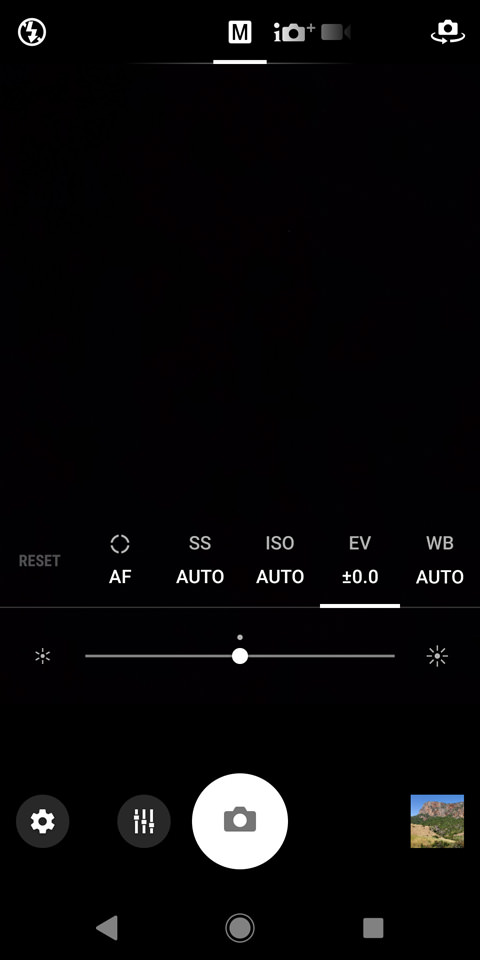 When shooting in video mode, you can also enable or disable HDR mode, as well as adjust other settings such as video resolution, image stabilization (SteadyShot), object tracking, file format, etc. For some of the more confusing settings and buttons, you might see helpful tips pop-up that explain what those settings and buttons do: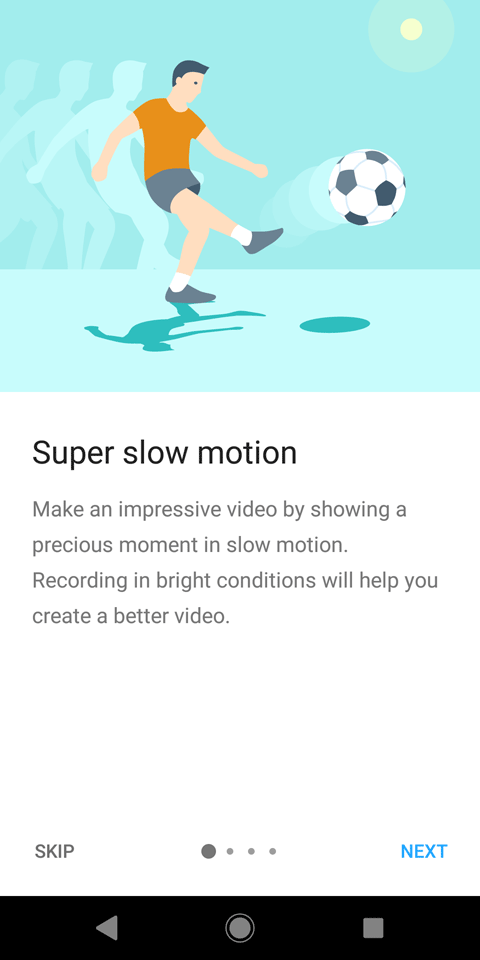 If you want to shoot panoramas or check out the new cool AR features, you will need to swipe to the apps section of the camera app, where you will find "AR effect", "Creative effect", "Panorama", "Sound Photo" and "Bokeh" apps. While these look like they are part of the camera app, they are actually other apps that launch separately. When you fire them up for the first time, you will be asked to grant them certain permissions, such as accessing the camera of your phone. If you find the functionality of some of these apps limiting, you can download even more apps from the Google Play Store. For example, the "AR effect" app comes with a number of apps by default, but you can also download others for free or for a small fee.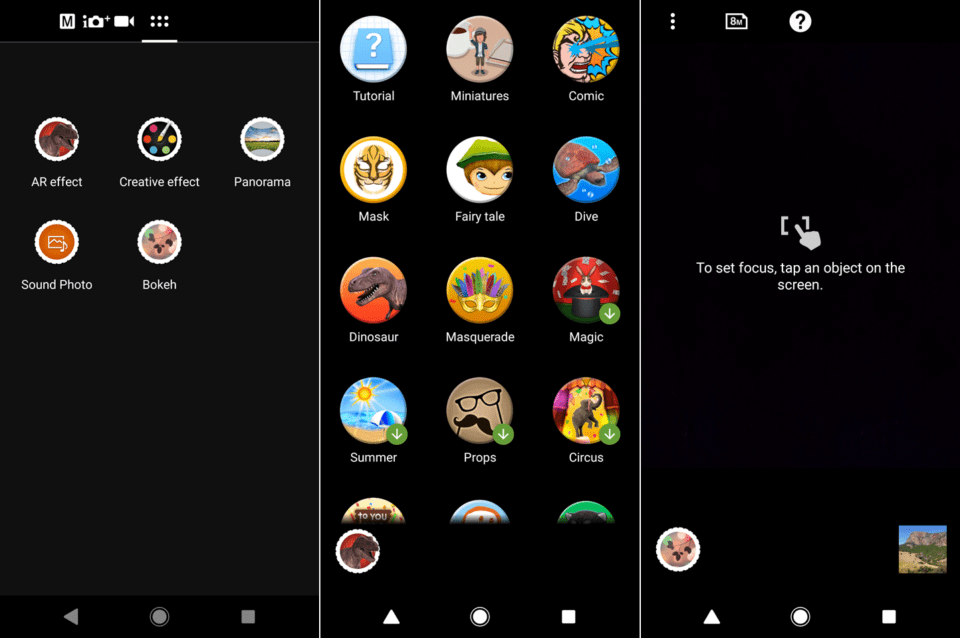 Personally, I find it confusing to have apps within apps, so when I saw this feature, it reminded me of the poorly executed PlayMemories apps that Sony tried (and failed) on its Alpha-series mirrorless cameras. Sony needs to abandon such practices and move standard functionality like panoramas and bokeh mode to the main camera app like most others do. Speaking of the bokeh mode, I wondered how such a feature would even work considering that the Xperia XZ2 only has a single wide-angle lens. Well, after trying it out, all I have to say is that it is a complete failure – the app really sucks and does nothing to make bokeh work. I tried it on a flower and on a person and never went back to that app again, because it was that bad. Lastly, the app resized all images to 8 MP, which is just puzzling to see.
The AR app looks like it was made for children to play with. I tried to fire it up and see what I could do with it and I found it extremely annoying to see all kinds of cartoonish characters popping up on my screen and sound effects + music taking over. I quickly closed it all out and never opened it again.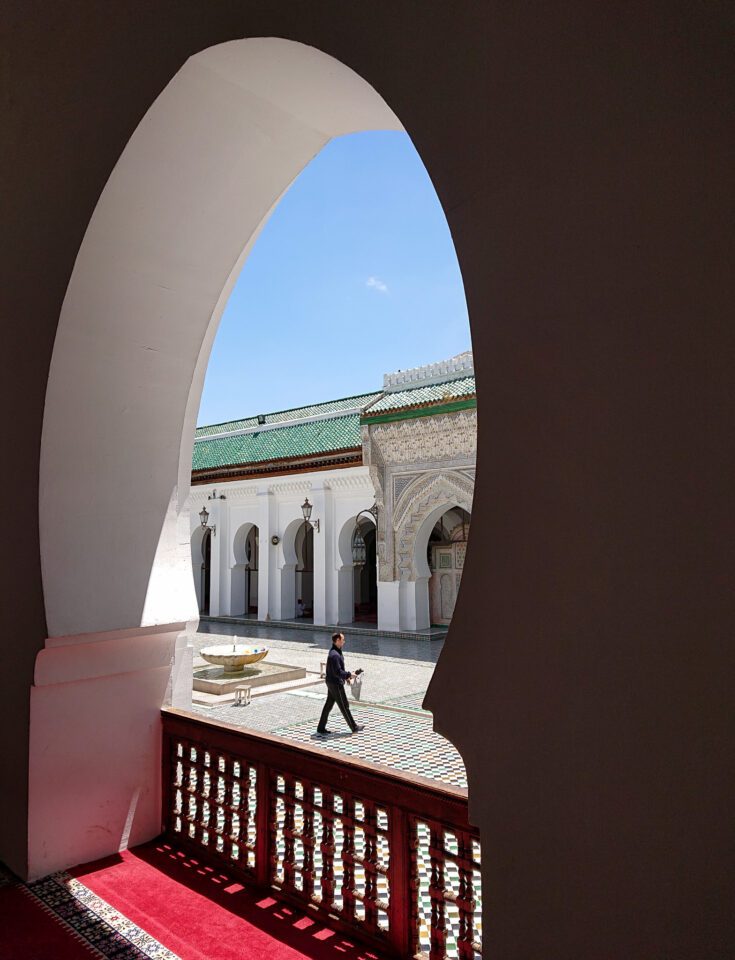 Lastly, I encountered a rather serious bug within the camera app. Every once in a while, my camera app would completely freeze, then force the phone to restart while taking pictures. I saw this happen on more than one occasion and I did not know how to fix it. I suspect that this issue probably had to do with the external storage media that I added (a 64 GB SanDisk Extreme microSD card), where all the images and video were saved to. Although the memory card itself is plenty fast, perhaps it is just not fast enough to do certain tasks, causing the phone to freeze up. After switching to internal storage, I did not see the issue come up yet, but if I do, I will update the review with that information.
Overall, it looks like Sony's weakest point still remains the same no matter what product one looks at – poorly implemented software. Sony has been moving away from apps on its Sony Alpha cameras and I really hope this concept is killed on everything else, including smartphones. As a rule of thumb, apps should not exist within apps – that's just downright wrong and confusing!