Camera Construction and Handling
The Sony NEX-6 has a completely revamped design that makes it look different than both the NEX-5R and the NEX-7. It is the first NEX camera to have a real PASM dial on the top of the camera (the NEX-7 has two separate exposure dials, but no PASM) and it is also one of the first Sony cameras to have an ISO standard hot shoe. One of the things that felt "lacking" on all NEX cameras, was the absence of the PASM dial, even on the top-of-the-line NEX-7 camera. Sony's initial design plan was to exclude the dial in compact NEX bodies completely and put it into the camera menu instead. While changing the camera mode through the menu can be done quickly, it is certainly inconvenient from the handling perspective, especially for someone that is used to a DSLR camera. And considering that the NEX-6 and NEX-7 cameras are aimed at enthusiasts and pros that most likely already have DSLRs (or switched to mirrorless), the new design will certainly be appreciated by many. A simple dial to change the exposure mode might not sound trivial for most people out there, but I personally look at it as a must-have for any serious camera. Even Nikon realized this with their high-end mirrorless camera V1 and added it on the new Nikon 1 V2, as shown in our Nikon 1 V1 vs V2 article. Here is how the top of the camera looks like: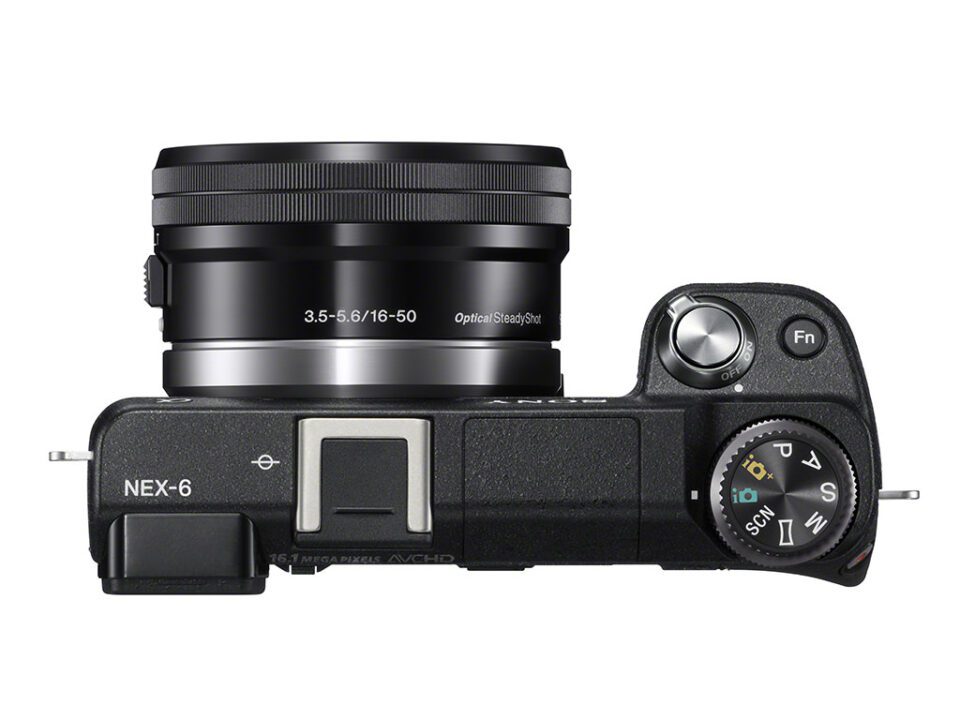 As you can see, the fairly large PASM dial is on the right side of the camera, next to the pop-up flash and the power switch. In addition to the typical PASM modes, Sony made intelligent Auto, Scene and Panorama modes available as well. The PASM dial sits on top of another dial, which is used to change other relevant camera settings. For example, if you switch to Aperture Priority mode with the PASM dial, the bottom dial is used for changing the aperture. In Shutter Priority mode, it is used to change the shutter speed. And in manual mode, you can use this dial, along with the dial on the back of the camera to change both aperture and shutter speed. In comparison, the NEX-7 has a dual dial on the top of the camera for adjusting these. After using both the NEX-6 and the NEX-7 for over two months, I find the NEX-6 to be superior ergonomically, largely thanks to this PASM and secondary dials that are convenient to use.
I applaud Sony's decision to do away from the proprietary flash socket and it is actually one of the main reasons why I recommend the NEX-6 over the NEX-7. Sony's proprietary flash socket was one of my dislikes of the Sony cameras overall (including their SLT models) and it looks like Sony decided to abandon it, because the new Sony SLT-A99 also comes with an ISO standard hot shoe. While you can use an adapter to convert the Sony hot shoe to a standard one, I just look at it as a huge inconvenience when working in the field. Another accessory to carry that you could potentially lose. Going back to a standard hot shoe means that I could mount pretty much anything I want on the NEX-6, whether it is something like a flash trigger or an external microphone. I have Nikon speedlights that I use for both on and off-camera flash and I was happy that I could mount my Nikon SB-900 without any adapters and use it on the NEX-6, albeit in manual mode without TTL (which is what I use 99% of the time anyway). I was even able to trigger a set of off-camera flashes with a PocketWizard Plus III unit attached to the same hot shoe and it fired every time I hit the shutter release. Here is an example, showing a comparison between the Sony NEX-7 and the Olympus OM-D E-M5 that I shot with the NEX-6, with PocketWizard mounted on the camera triggering three Nikon speedlights: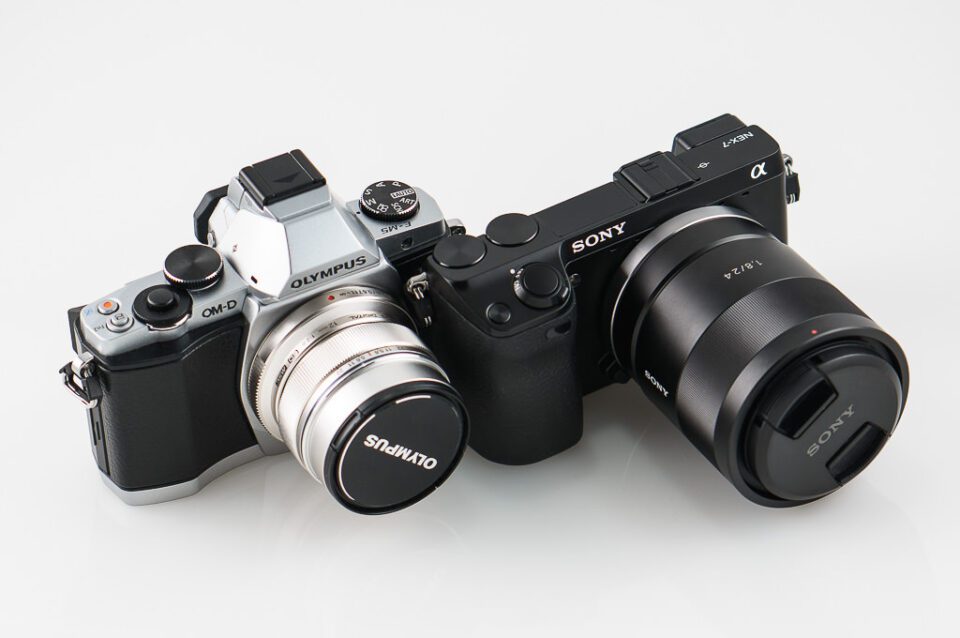 The inclusion of a pop-up flash is nice, but I personally would only use it as fill-flash when photographing a subject against a bright background. It gives the same harsh/ugly direct flash look as pop-up flashes from other cameras and it has very limited flash power. Your best bet would be to use a proper speedlight or use a flash trigger for firing off-camera flashes. As on other NEX cameras, flash sync speed is limited to 1/160th of a second. I mounted a PocketWizard unit on the NEX-6 and tried 1/200 shutter speed – it worked perfectly fine (the above image was shot at 1/200). But as I moved it up to 1/250, it was pretty clear that it was too fast for it: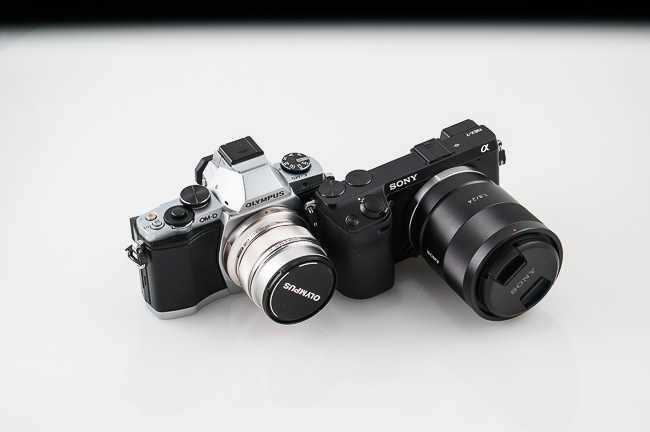 Another convenience factor with the NEX-6 is the programmable function button that is located right next to the shutter release (the same button is also present on the NEX-5R and the NEX-7, although it is not labeled as "Fn" on the NEX-7). You can change the behavior of the function button through the camera menu and there are many different options to pick from, which is nice.
The front of the camera looks very simple, just like all other NEX cameras. The hand grip is very convenient to use and makes the camera very comfortable to hand hold. Sony did an excellent job with the protruding grip – something I wish all other mirrorless camera manufacturers did as well.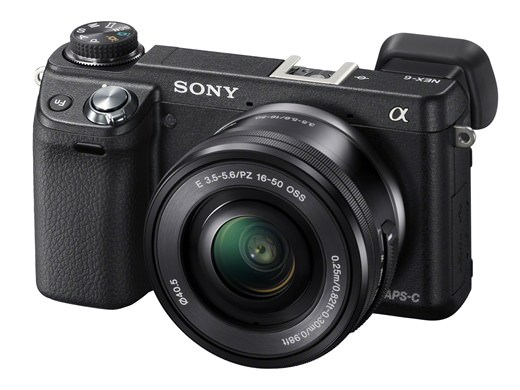 The back of the camera looks very similar to the one on the NEX-7, except the AF/MF/AEL switch is replaced with a single AEL button. Due to the triple dial setup on the NEX-7 (dual dials on the top + additional rotary dial on the back), changing aperture, shutter speed and ISO is accomplished with the dials without pressing anything. The NEX-6 is similar to the NEX-5R for changing exposure – the top dial is the main function dial used for changing aperture or shutter speed (depending on what mode you are on), while ISO can be changed by pressing the right side of the rear dial. Personally, I do not mind pressing a button to change ISO, because it is not something I would change very frequently anyway. Here is the image of the NEX-6 back: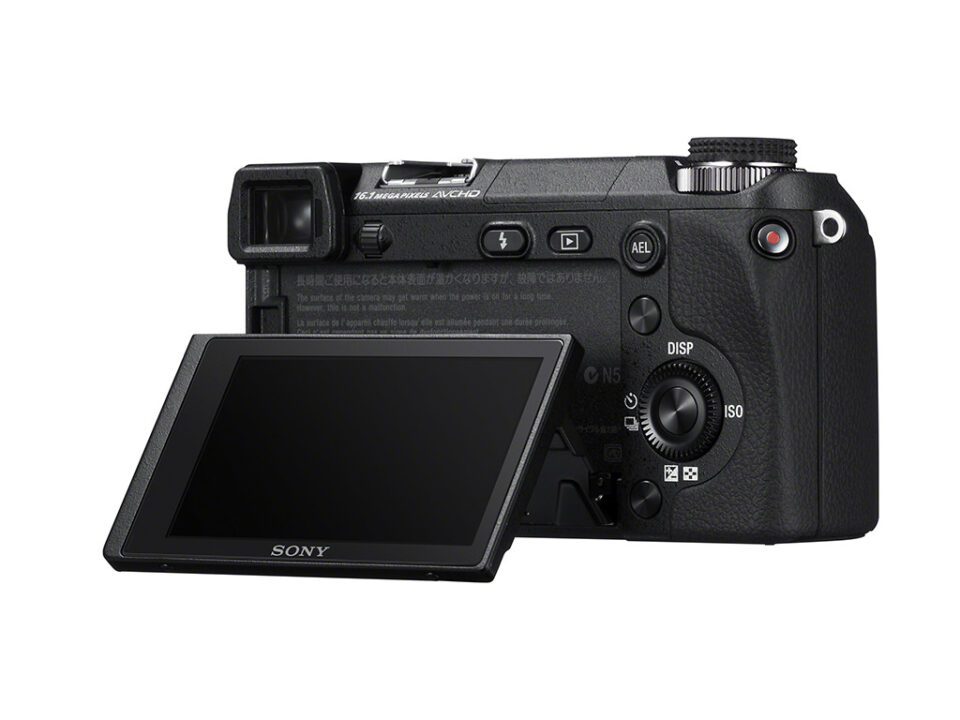 Neither the NEX-6, nor the NEX-7 are equipped with a touchscreen LCD. A wise decision by Sony, considering that their touch technology is nothing to be brag about. In comparison, the Canon EOS M has a much better touchscreen LCD that is a pleasure to use. The LCD on the NEX-6 can be tilted up and down, which is quite useful for photographing difficult angles.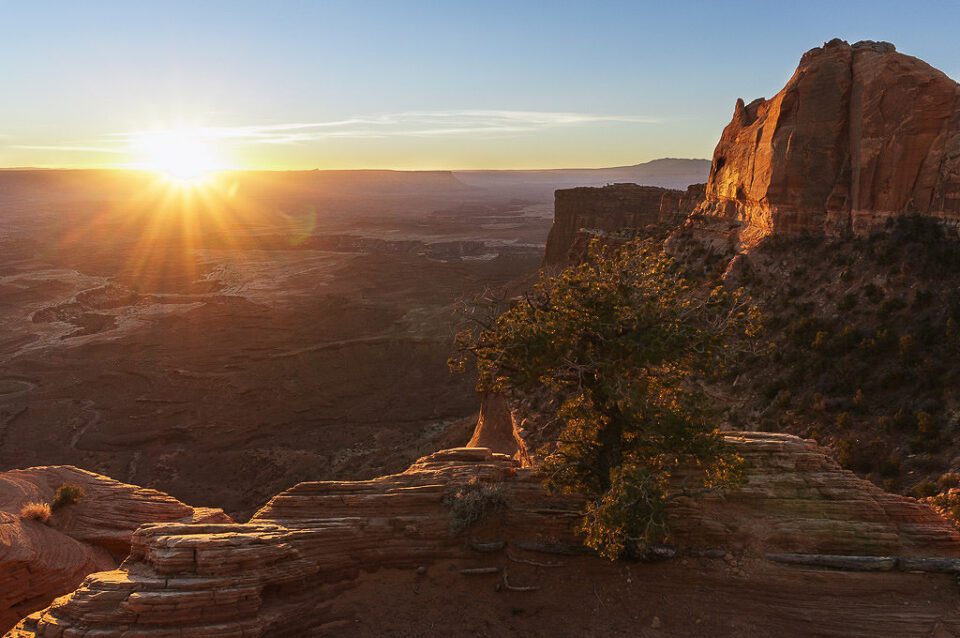 Now let's talk about the size and bulk. While the camera itself is thin and relatively lightweight, it has a rather large mount, which translates to bulky lenses. As I have already pointed out, a larger sensor requires larger lenses, which is a definite disadvantage for all Sony NEX-series cameras. Aside from the 16mm f/2.8 pancake and the new 16-50mm zoom (pictured above), all other regular lenses like the 24mm f/1.8, 50mm f/1.8 and 18-55mm are big and heavy when compared to the Nikon 1 or Micro Four Thirds lenses. If Sony is to make more zoom lenses in the future, they should seriously consider lens design similar to the 16-50mm, which is pretty small in comparison to other lenses. Otherwise, large lenses defeat the purpose of a compact mirrorless system. Unless you have the pancake or the new 16-50mm lenses mounted, forget about storing the camera in your pockets – it just won't fit.
Although the Sony NEX-6 is not weather-sealed and offers no dust protection like some of the advanced DSLR cameras, I used it in very cold temperatures below 10°F and it survived fine (winter has been cold in Colorado). The camera battery did not last very long in cold weather, but that's expected, since any battery drains faster in cold temperatures.
Camera Menu System
Thanks to the great design of the camera, there is typically little reason to go into the camera menu – most of the settings can be adjusted easily through function buttons and the rotary dials. The camera menu is organized by large descriptive icons and you can navigate through them by rotating the dial on the back of the camera. The "Camera" menu contains many options, including Drive Mode (single, continuous, bracket, etc), AF/MF Select, Autofocus Area and Face Registration. The "Image Size" menu is for picking Image Size and Quality, Panorama Size and Direction, Movie Format, Aspect Ratio, etc. The "Brightness/Color" menu contains White Balance, Metering Mode, HDR, ISO, et (not sure why Sony decided to stick "ISO" into "Brightness/Color", because it really should be under "Camera" menu instead). The "Playback" menu is for configuring image playback for viewing images on the LCD. A new addition to the menu system with the NEX-5R and NEX-6 cameras is "Application", which allows adding and removing additional applications developed by Sony. Now you can add more functionality to the camera by installing more modules or "apps". Lastly, "Setup" contains important camera setup options, such as Noise Reduction, Lens Compensation, in addition to "Peaking Level" and "Peaking Color" – two very useful functions for shooting with manual focus lenses. While using the camera menu can sometimes be slightly laggy, I found it quite easy to use overall.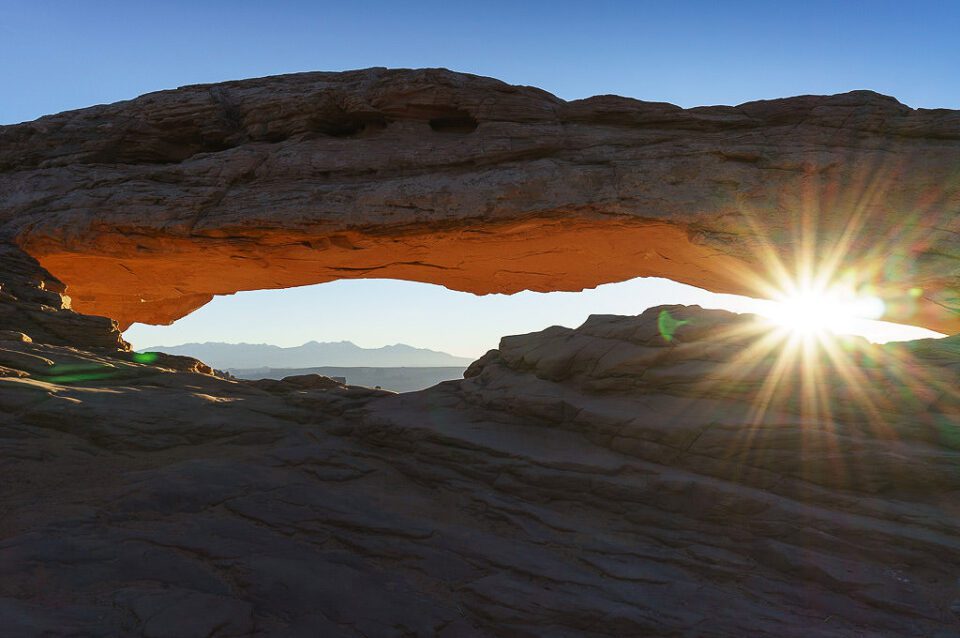 Features and Responsiveness
The Sony NEX-6 has a rich set of in-camera features that can be useful for everyday photography. The "Lens Compensation" feature found in the "Setup" menu allows fixing len-specific issues like vignetting, chromatic aberration and distortion. Obviously, the amount of lens correction depends on each lens, so Sony included current lens profiles in its camera firmware. New lenses that come out in the future will also be supported via firmware upgrades.
Aside from a boatload of Photo Creativity Modes and Picture Effects, the Sony NEX-6 also has a neat "Sweep Panorama" mode, which is used for shooting panoramas. While I personally prefer to manually stitch my panoramas, since I can get a lot more resolution by doing that (see my panoramic photography howto), the built-in panorama feature is a great way to get a quick stitched panorama in JPEG mode. Here are a couple of examples of how the camera can shoot and stitch panoramas (taken with the NEX-5R, which has exactly the same Panorama mode as all other NEX series cameras):

I am not a big fan of this particular feature, because it creates a JPEG file and if the settings are not consistent, it can create ugly panoramas that look like this: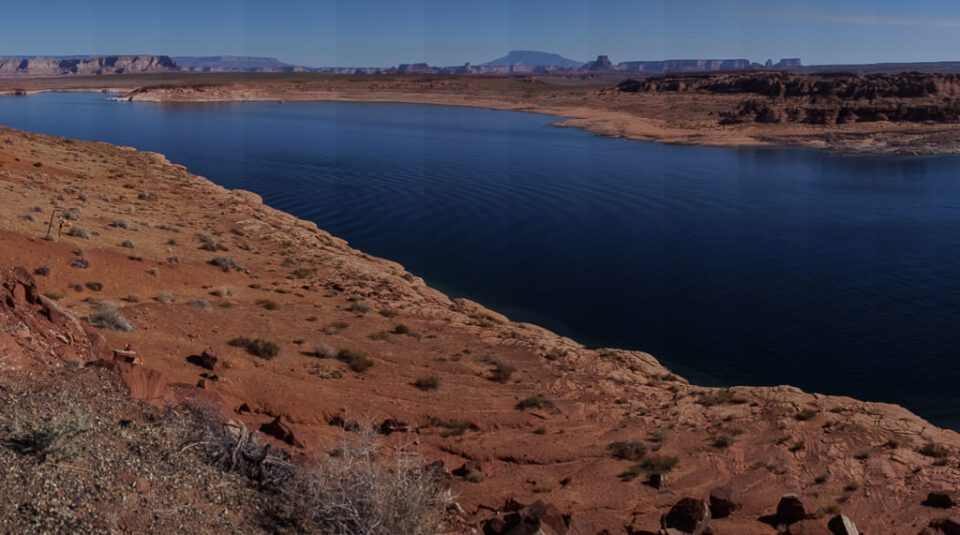 I prefer to shoot panoramas hand-held, one exposure at a time in RAW, then stitch it in Photoshop, as explained in my Panorama Tutorial.
One catch to the NEX-6 is that it does not come with a free built-in intervalometer. While you can buy one for $9.99 from the "App" store, I am disappointed that Sony is trying to make extra money off an app that should have been included with the camera. In fact, I was surprised to see commercial apps in the app store in first place. Why not give all this extra functionality for free with the camera? Sony does not allow third party developers to add and sell apps, so it has a monopoly over what can be sold at what price. Not a great way to promote apps for sure! Personally, I would not spend a dime on any commercial apps. If more people buy them, we might end up with "modular" cameras with stripped out functionality that can only be beefed up after spending hundreds of dollars on additional software. Thanks, but no thanks.