The Sony FE 20mm f/1.8 G is an $898 wide-angle, wide-aperture prime lens for Sony full-frame cameras. As you'll see throughout this review, this small and somewhat unassuming lens has extraordinary performance, making it a top choice for landscape, Milky Way, and other wide-angle photography. Is the Sony FE 20mm f/1.8 G right for you? Read on to find out!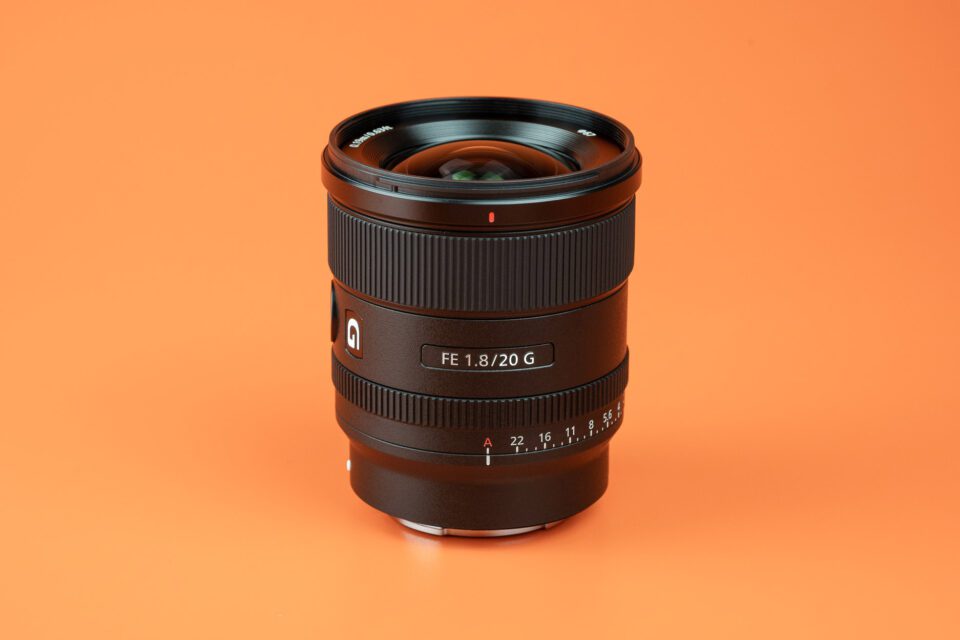 About This Review
Some photographers might be surprised to see Photography Life reviewing a Sony lens in as much detail as we are below, including full lab tests. We've mostly been known as a Nikon website since our founder Nasim Mansurov is a long-time Nikon shooter. To date, we've reviewed 90 Nikon lenses and only 5 from Sony (with no lab tests of any Sony lenses until now).
This disparity was mainly due to a lack of time – we've focused most of our resources on reviewing the gear that we're most familiar with, which has largely been Nikon so far. However, at a personal level, I've been using Sony cameras off and on for a couple of years now, as well as Canon cameras, to supplement my usual Nikon kit. It has long been on my to-do list to give this equipment proper reviews. And now that Photography Life has expanded our number of staff and freelance writers, I finally have the time and resources to do so.
If you have doubts that a Nikon-heavy website like ours could review a Sony lens fairly, look no further than this review, where the Sony FE 20mm f/1.8 G breaks new ground and sits at the upper echelon of all the lenses we've reviewed. All image quality tests that we run in the lab (including sharpness testing) are fully comparable across brands, and the Sony FE 20mm f/1.8 G scores extremely high in almost every way.
It took a lot of time and effort to set up our lens testing lab to review Sony and Canon equipment properly so that the numbers can be compared across brands. Many Photography Life readers will have noticed our slow pace of lens reviews over the last few months while I worked on this project. I want to thank you for staying loyal and supporting Photography Life during that time anyway – you won't be let down by what comes next! For the rest of this year and into 2024, Photography Life will be publishing lens reviews at a rapid pace: at least one review per week, published each Tuesday with full lab data for every lens. Not only will our rate of Nikon lens reviews be higher than ever, but we'll also be reviewing Sony and Canon lenses with our famously thorough level of detail.
With that, let me share my experiences from the Sony FE 20mm f/1.8 G.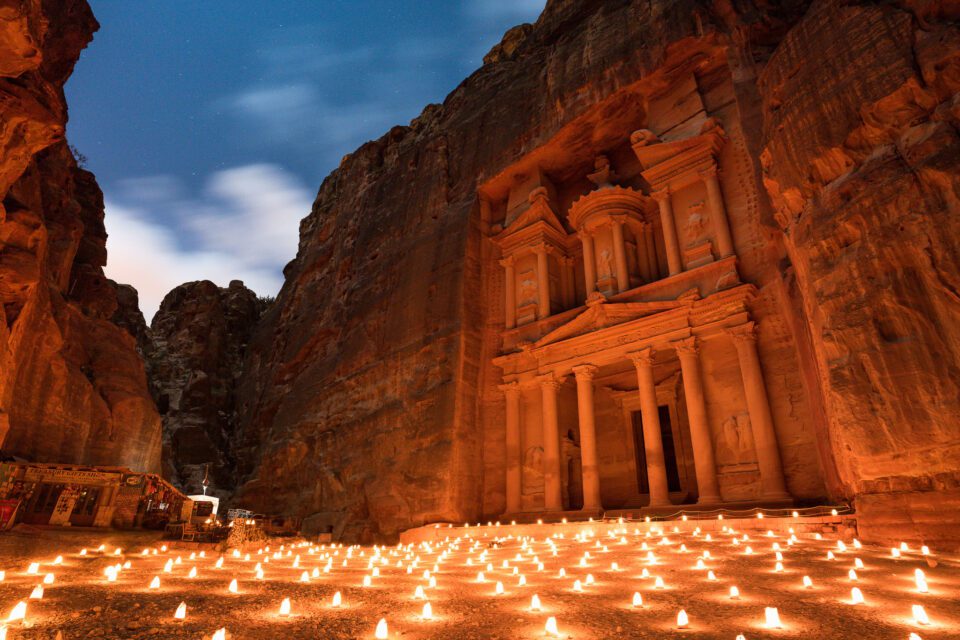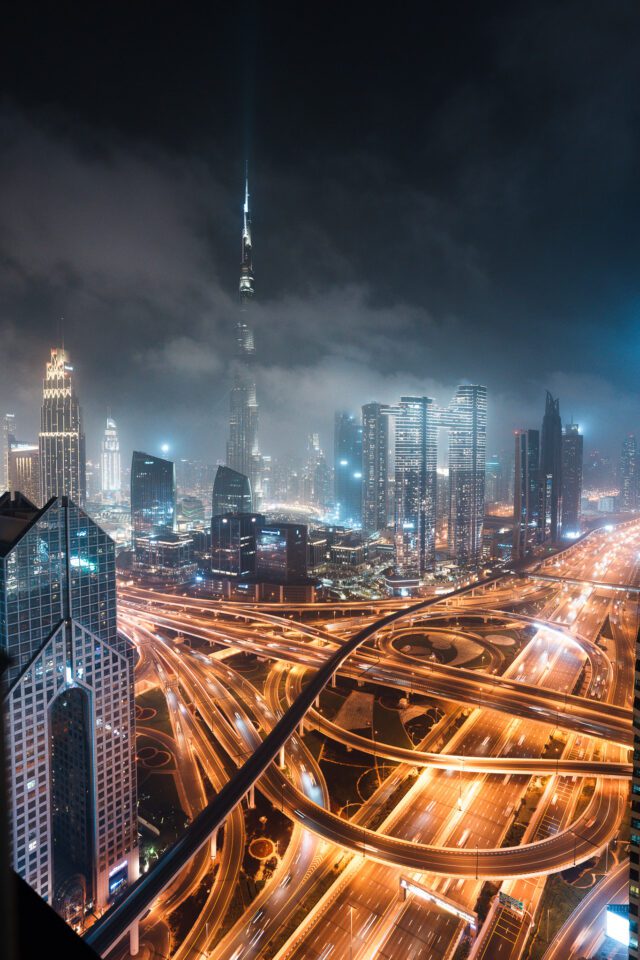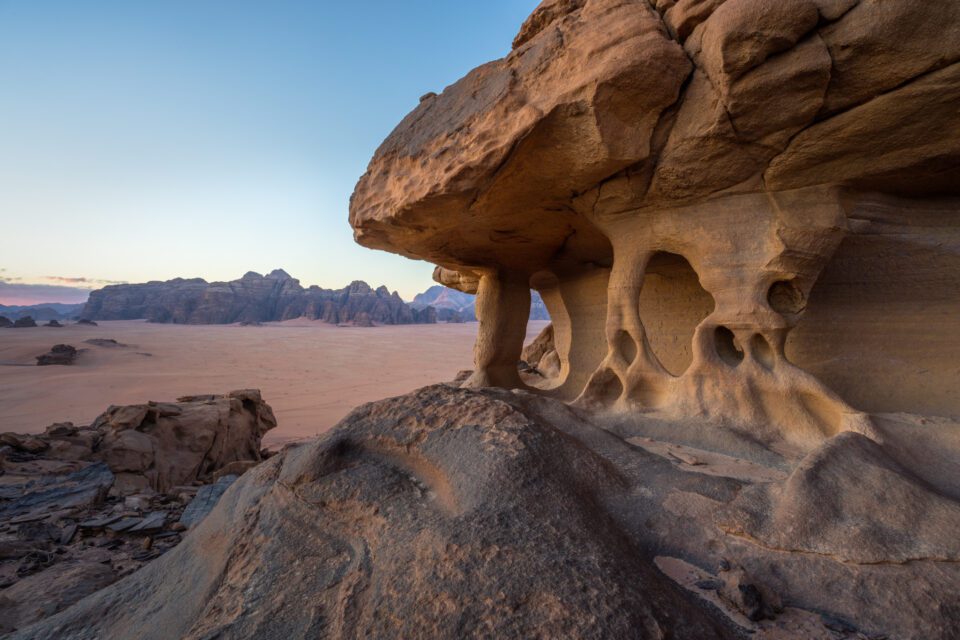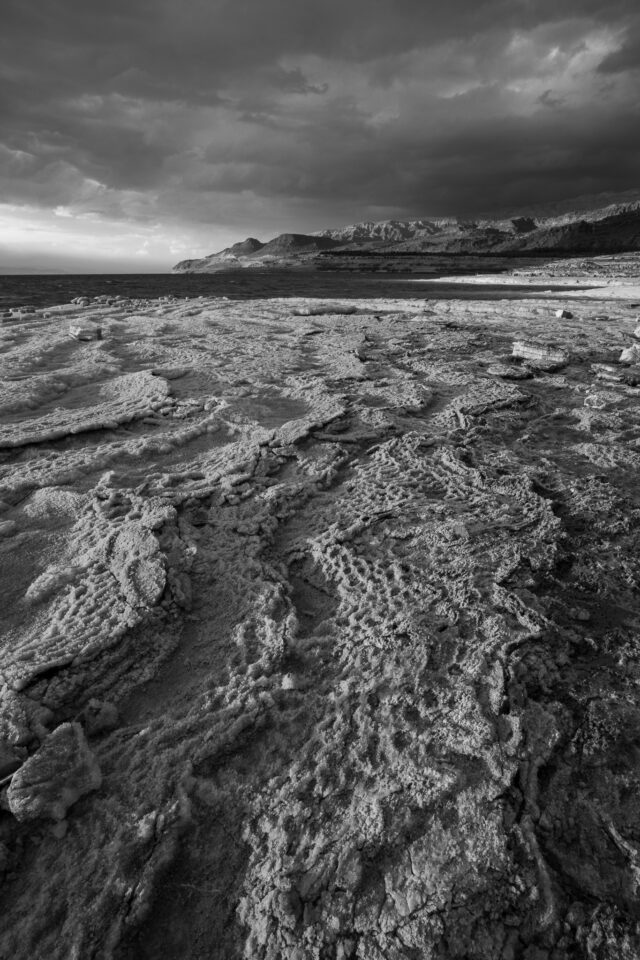 Sony FE 20mm f/1.8 G Specifications
Mount Type: Sony E Mount
Focal Length: 20mm prime
Angle of View (APS-C): 70°
Angle of View (Full Frame): 94°
Maximum Aperture: f/1.8
Minimum Aperture: f/22
Aperture Blades: 9, rounded
Filter Size: 67mm
Lens Elements: 14
Lens Groups: 12
Special Elements: 2 advanced aspherical, 3 extra-low dispersion elements
Anti-Reflection Coatings: Nano AR coating
Fluorine Coated Front Element: Yes
Image Stabilization: No
Internal Focusing: Yes
Control Rings: Focus and aperture rings
Function Button: Yes
Focus Motor: Dual XD linear motors
Minimum Focus Distance: 18 cm (7.1 inches)
Maximum Magnification: 0.22× (1:4.5)
Mount Material: Metal
Weather/Dust Sealing: Yes
Dimensions (Length × Diameter): 85 × 74 mm (3.3 × 2.9 inches)
Weight: 373 g (0.82 lbs)
MSRP: $898 (check current price)
For a lens that's part of Sony's "G" line rather than their "GM" line, these are surprisingly high-end specs! The complex lens design, fluorine-coated front element, custom function button, and dedicated aperture ring are all good signs. Aside from the lack of an XA element, there's little here to signify that it's not a GM lens.
Probably the most exciting specification, however, is the Sony FE 20mm f/1.8 G's weight. At just 373 grams (0.82 pounds), this is a very light and portable lens. The 67mm filter size is also smaller than expected. For comparison, Nikon's Z 20mm f/1.8 S weighs 505 grams (1.11 lbs) and takes 77mm filters.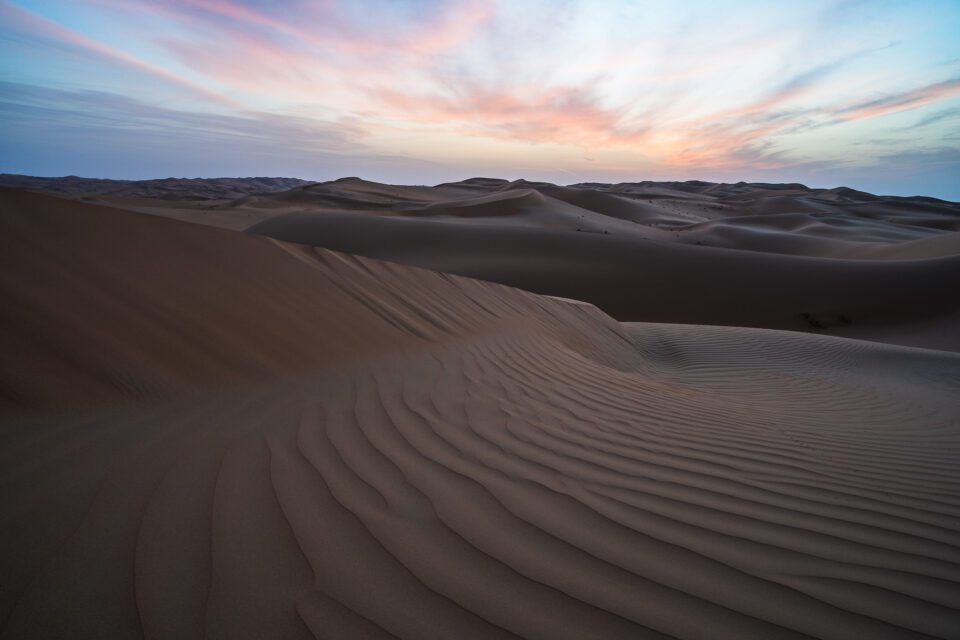 Build Quality and Handling
The Sony FE 20mm f/1.8 G has a high-quality plastic construction with a metal lens mount. For saving weight and absorbing bumps, I personally prefer this type of lens design more than all-metal lenses, although I know that's a touchy subject. The focus ring on the Sony 20mm f/1.8 G is rubberized, while the aperture ring is not.
On the left-hand side of the lens, you'll find the AF-MF switch and a custom function button (called the Focus Hold Button in Sony's parlance). This button can be assigned to a wide variety of tasks, not just holding focus – anything from changing white balance to modifying your flash settings.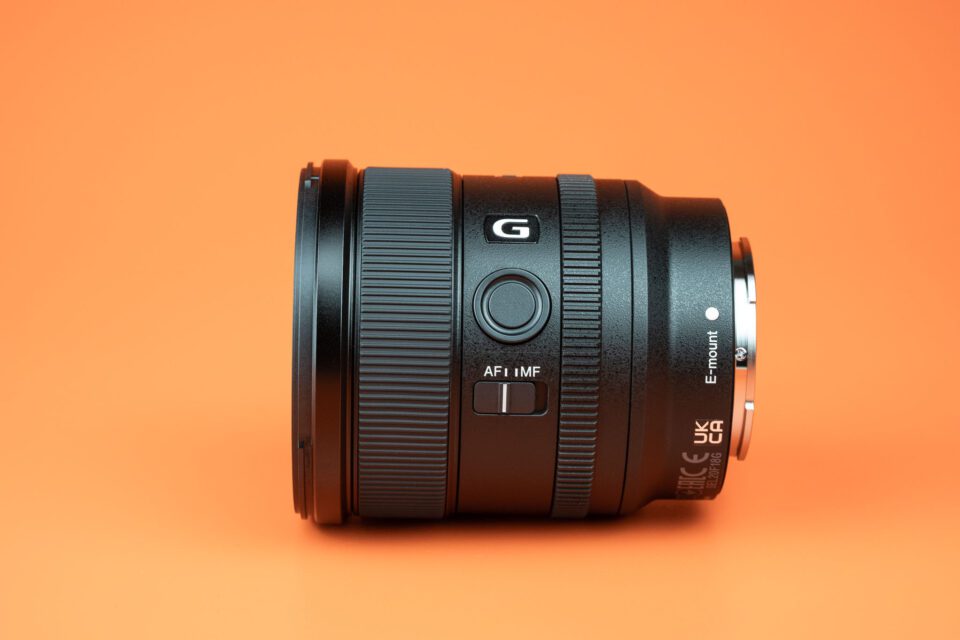 On the right-hand side of the lens is another switch, this one to click or de-click the aperture ring. Videographers will likely leave this set to OFF, while still photographers will probably be split. I personally like the clicked ring because the aperture is less likely to change by accident, so I left it ON.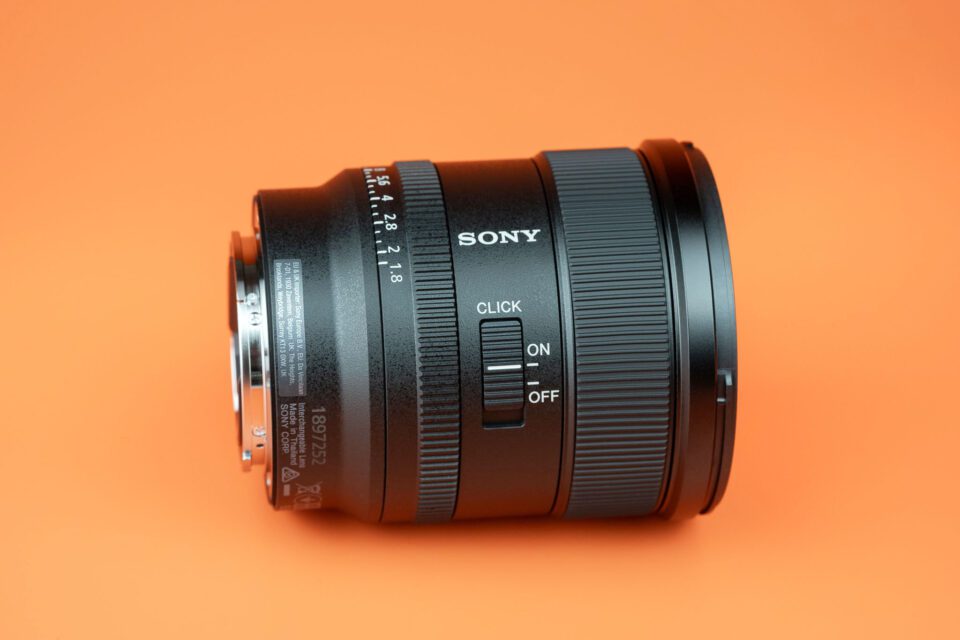 The rest of the build quality and handling features are good, too. I like the fluorine-coated front element to keep the front element clean more easily, and the dust and moisture resistant construction is ideal for a travel/landscape lens like this. There are no external moving components as the lens is focused, adding to the weather-resistant design.
As with most Sony lenses with a linear focus motor, the focusing group of the Sony FE 20mm f/1.8 G is not held in place mechanically and can move slightly when the lens is not receiving power. This isn't a malfunction, but even so, it can be slightly disconcerting to feel the lens elements shift when the camera's off and you move the FE 20mm f/1.8 G around.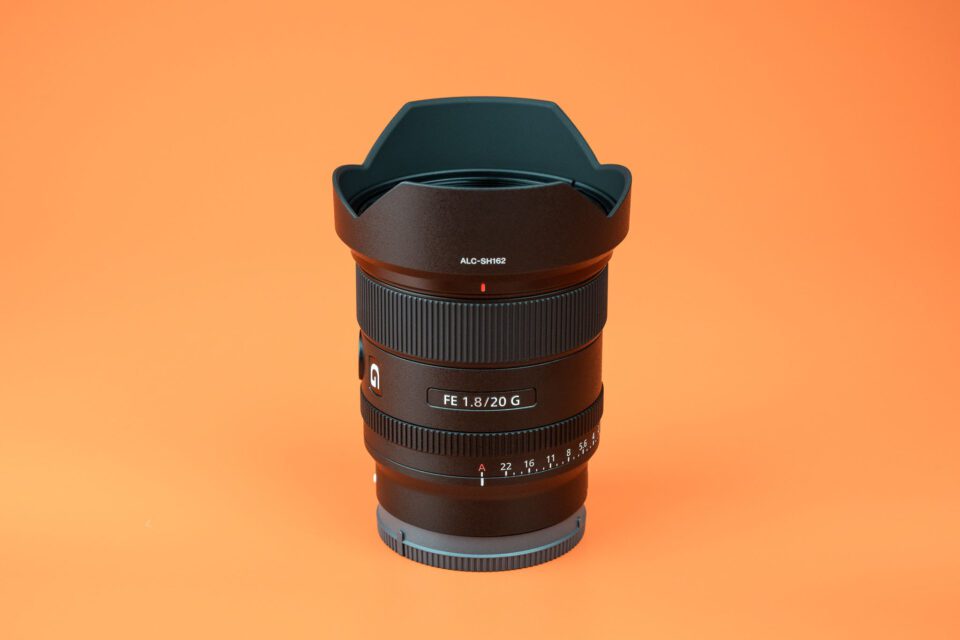 Sony FE 20mm f/1.8 G Focus Performance
The Sony FE 20mm f/1.8 G autofocuses quickly and almost silently, with very impressive accuracy. The accuracy is exceptionally high even in a lab environment which magnifies small focusing errors.
Because of the f/1.8 maximum aperture, the Sony FE 20mm f/1.8 G focuses in very dark conditions without any issue. Compared to something like a 16-35mm f/4, for example, the Sony 20mm f/1.8 can focus in conditions that are about one fifth as bright.
The close-focusing capabilities of the Sony FE 20mm f/1.8 G are reasonably good, too, with a maximum magnification of 0.22× (1:4.5) and a minimum focusing distance of 18 cm / 7.1 inches. It's not a macro lens, but it will let you get some reasonable close-up photos if you find a small subject that benefits from an ultra-wide perspective.
There is, however, one issue worth noting with the Sony FE 20mm f/1.8 G's focusing performance: a high level of focus breathing. You can see it in the image below, which is a composite of close focus and infinity focus.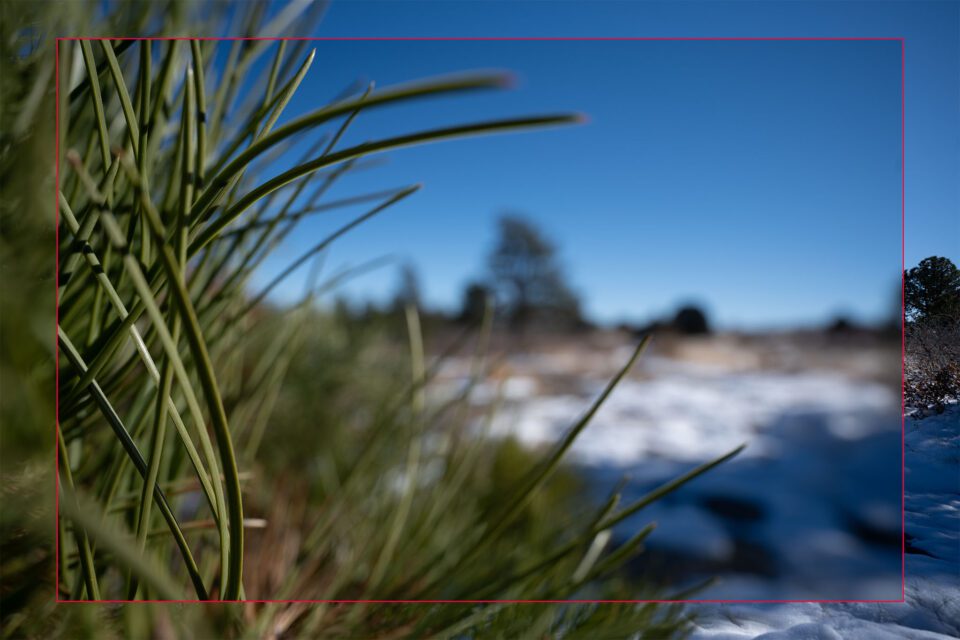 For videographers, this could pose a problem if you plan to rack focus extensively with the FE 20mm f/1.8 G. Most of Sony's newer cameras have a focus breathing compensation setting for videography, which fixes the problem but crops your footage from the lens, giving you closer to a 22.5mm perspective rather than 20mm. Here's the same shot in video form:
Distortion
The Sony FE 20mm f/1.8 G has low levels of distortion – specifically, 0.54% pincushion distortion as measured in the lab. However, the wavy mustache shape of this lens's distortion can make it stand out a bit more than 0.54% would imply.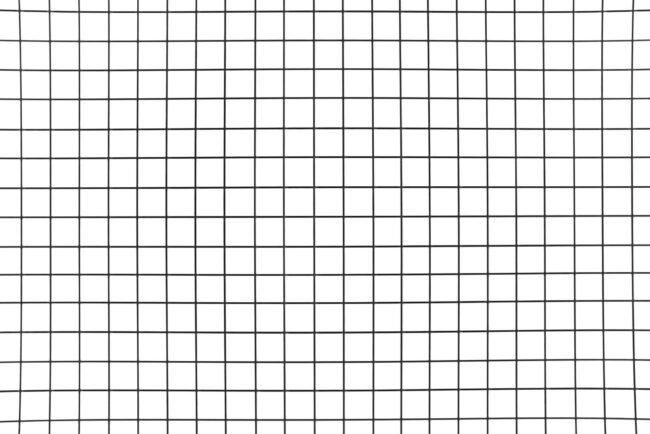 Even so, it's low enough that you won't need to correct distortion in most photos from this lens, with the exception of some architectural photography. If you do need to correct the distortion, Adobe Lightroom and most other post-processing software has a built-in profile for the Sony FE 20mm f/1.8 G that removes distortion almost entirely.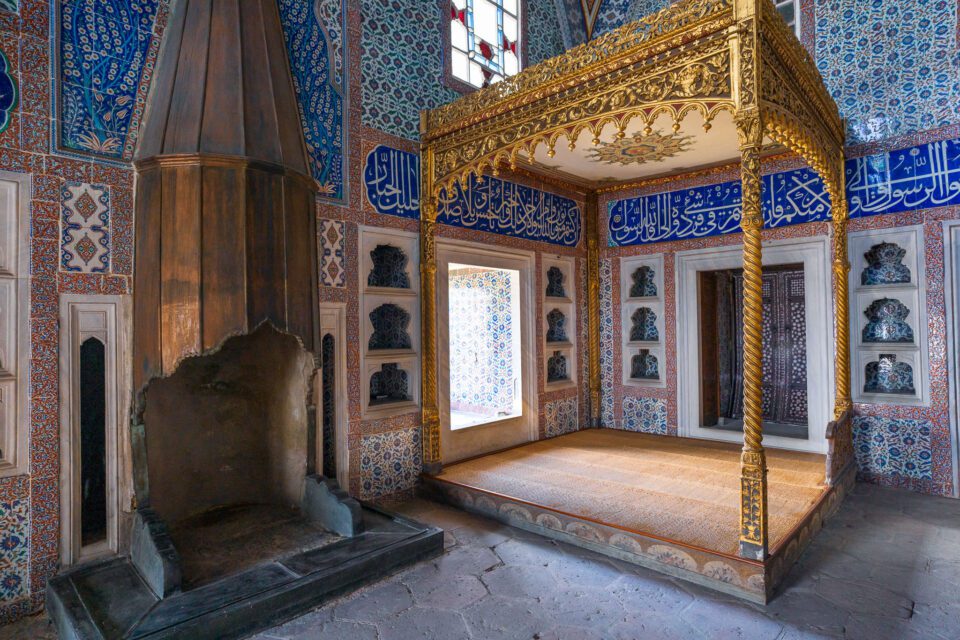 Vignetting
The Sony FE 20mm f/1.8 G has moderately high levels of vignetting, which is unsurprising for an ultra-wide f/1.8 lens. The vignetting is higher at infinity focus, and it never really goes away even at the narrowest apertures.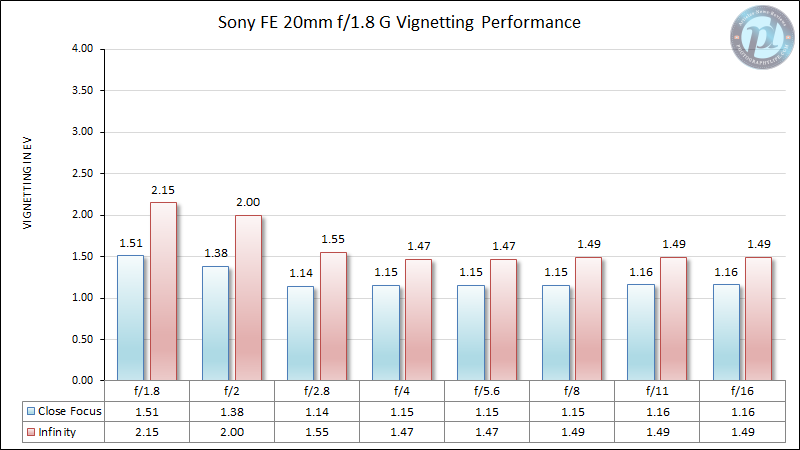 By comparison, here's the chart from Nikon's similar mirrorless lens, the Z 20mm f/1.8 S: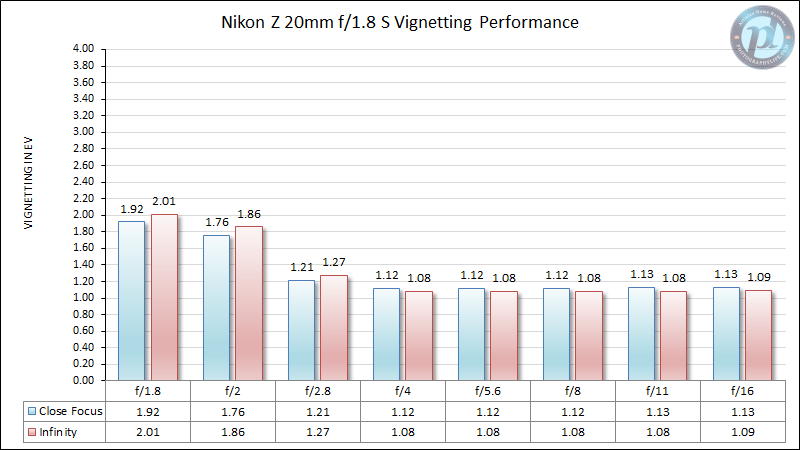 You can see that both lenses have a fairly high level of vignetting, with the Sony performing a bit better at close-focus distances and the Nikon performing a bit better at infinity focus.
Here's how this vignetting looks in practice on a uniform subject at both f/1.8 and f/16, infinity focus: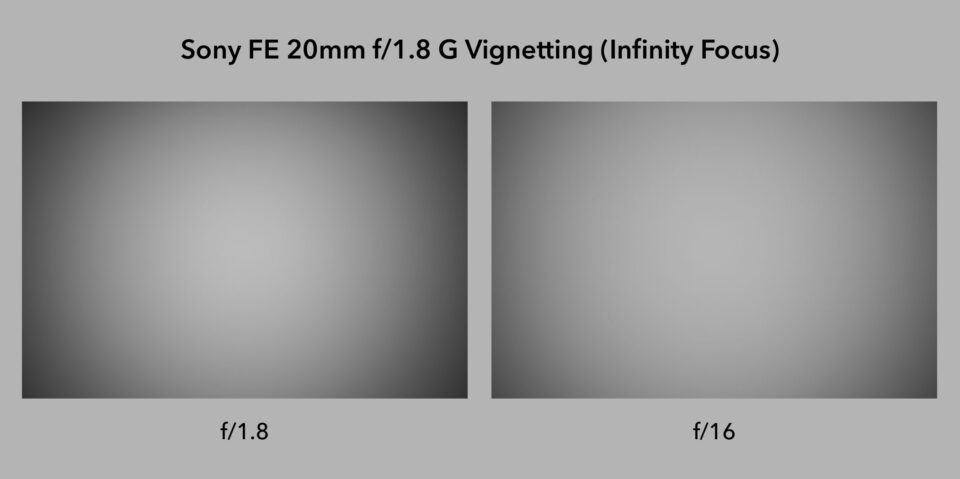 Lateral Chromatic Aberration
There is negligible amount of chromatic aberration on the Sony FE 20mm f/1.8 at every aperture.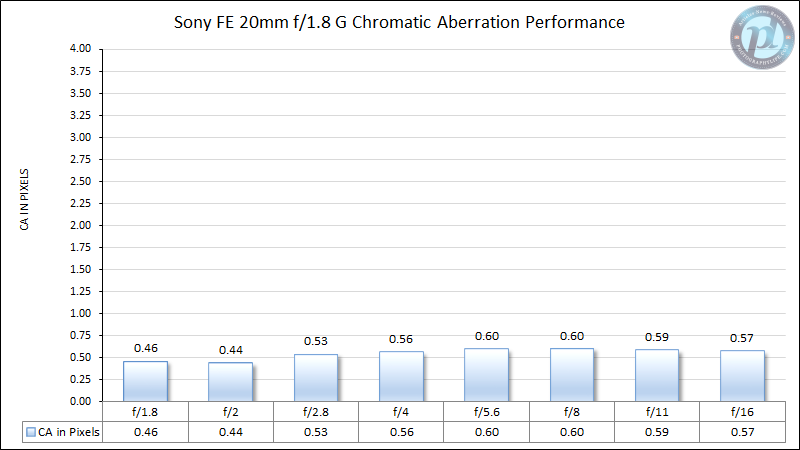 Anything under about one pixel is almost impossible to notice in real-world images, even with chromatic aberration corrections turned off. The Sony FE 20mm f/1.8 G never even gets above 0.60 pixels. In short, you will rarely if ever see any lateral chromatic aberration on this lens, no matter how high-contrast the subject.
The Sony FE 20mm f/1.8 G is one of the sharpest lenses we've ever tested: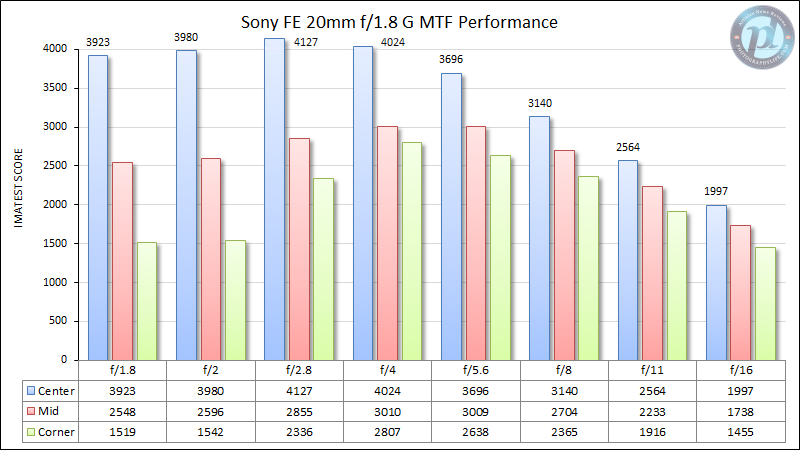 I couldn't believe my eyes at the f/1.8 central sharpness numbers! It's higher than any other f/1.8 lens we've measured at Photography Life before. Indeed, the center at f/1.8 is far sharper than most lenses ever get, regardless of aperture.
Technically, the peak sharpness of this lens occurs at f/2.8 in the center. There, it reaches numbers that are the second highest of any lens we've ever tested, only behind the F-mount Nikon 28mm f/1.4E. (That lens has held our record for years with a score of 4162 LW/PH in our Imatest MTF50 tests – though the difference between that and the FE 20mm f/1.8 G's performance is negligible in practice.)
Finally, the Sony FE 20mm f/1.8 G has no focus shift issues, as well as minimal levels of field curvature. With this performance, it cements itself as the sharpest ultra-wide lens that we have ever tested at Photography Life.
1. Sony FE 20mm f/1.8 G vs Sony FE 16-35mm f/2.8 GM
How does the Sony 20mm f/1.8 G perform compared to a high-end zoom like the $1900 Sony FE 16-35mm f/2.8 GM? Although this lens has recently been replaced by a GM II version, it's still a staple of many professional photographers' bags and a good point of comparison. However, as you can see below, it doesn't rise to the remarkable level of the Sony FE 20mm f/1.8 G.
(When looking at the charts below, make sure to compare the same apertures against one another below for a true apples-to-apples comparison.)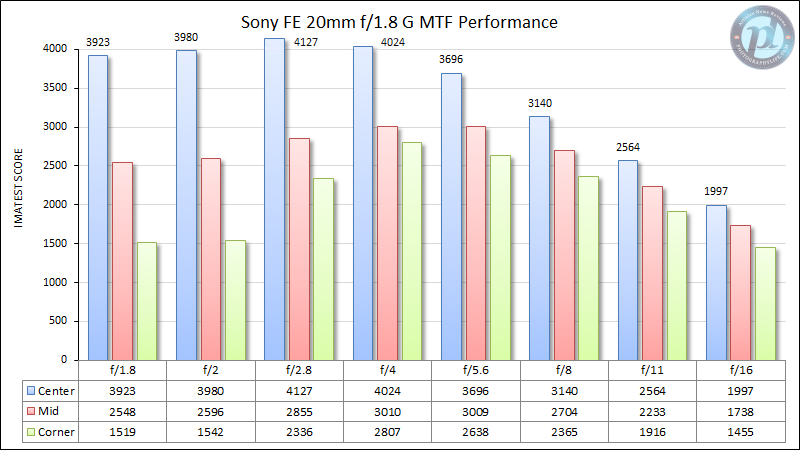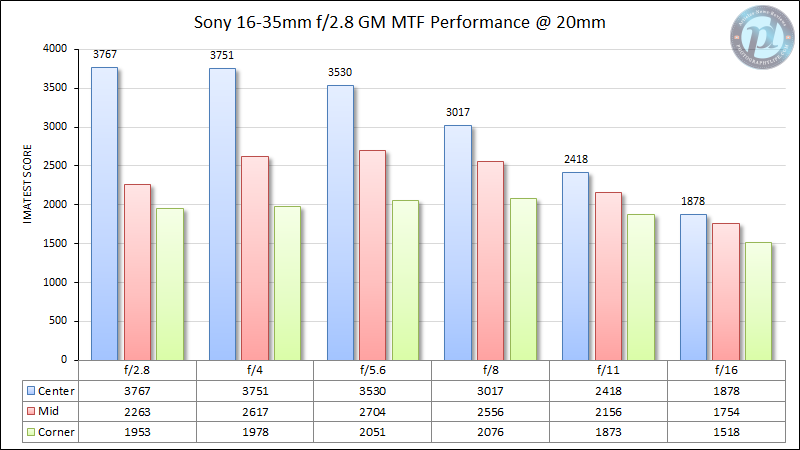 The Sony FE 16-35mm f/2.8 GM puts up a good fight for a zoom, but it was never going to be a fair comparison – a high-end prime will almost always beat a high-end zoom in sharpness, and this is no exception. At almost every aperture and portion of the frame, the FE 20mm f/1.8 G is clearly ahead.
2. Sony FE 20mm f/1.8 G vs Nikon Z 20mm f/1.8 S
When we tested the Nikon Z 20mm f/1.8 S a few years ago, I didn't think that another 20mm f/1.8 would be able to surpass it in sharpness for a very long time. But it seems that my prediction was hasty. While the Nikon Z 20mm f/1.8 S is still an incredible performer – and anyone complaining about blurry photos with that lens needs to get their eyes checked – the Sony FE 20mm f/1.8 G manages to take things even further. See for yourself: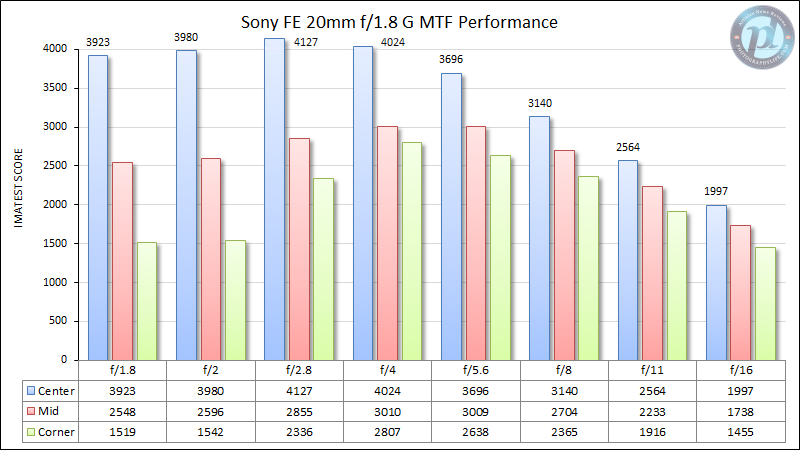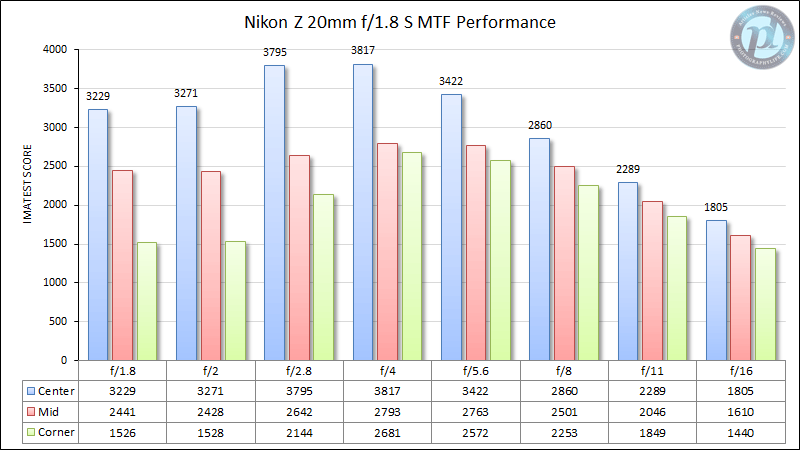 Both of these results are very impressive, but the Sony FE 20mm f/1.8 G has the edge. In particular, the differences from f/1.8 through f/2.8 in the center are especially striking. However, even in the corners, sharpness is either comparable or slightly in the Sony's favor at every aperture.
Considering that the Sony FE 20mm f/1.8 G is $150 less expensive than the Nikon Z 20mm f/1.8 S, as well as smaller and lighter, Sony's optical engineers have pulled off something amazing. The Nikon Z 20mm f/1.8 S already blew me away, and the Sony FE 20mm f/1.8 G is somehow even sharper.
3. Sony FE 20mm f/1.8 G vs Sony FE 24mm f/1.4 GM
Another top-quality, wide-angle Sony prime is the $1400 Sony FE 24mm f/1.4 GM (see my extensive review of the Sony FE 24mm f/1.4 GM). Although this lens occupies a slightly different niche because of its longer focal length and wider maximum aperture, the two lenses are similar enough that I wanted to test them side-by-side. Here's what I found: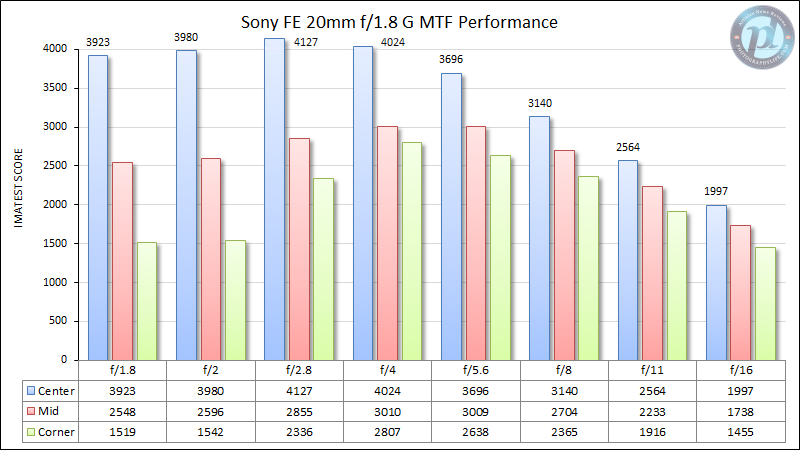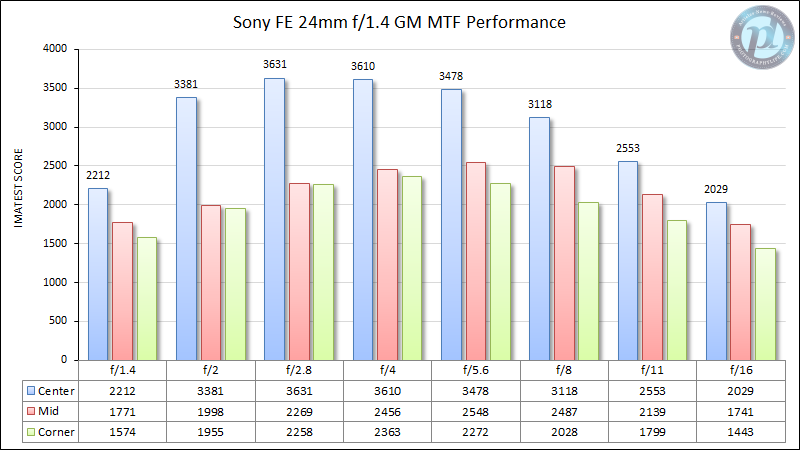 Yes indeed – the Sony FE 20mm f/1.8 G is sharper than the venerable Sony FE 24mm f/1.4 GM almost everywhere you look. The only place where the 24mm f/1.4 has a clear advantage (aside from the ability to shoot f/1.4!) is corner performance specifically at f/2. Otherwise, the two lenses are either tied, or the FE 20mm f/1.8 G is ahead.
Granted, the whole selling point of the Sony FE 24mm f/1.4 GM is the maximum aperture of f/1.4, so it still makes sense if you need that capability. Other photographers, including me, love the 24mm focal length and might choose it instead for that reason. But if sharpness is your goal, the Sony 20mm f/1.8 is the wide-angle lens to beat.
Coma
Related to sharpness is coma, a lens aberration that can make dots of light in the corner of a photo look like smears.
Coma isn't usually visible in everyday photography, but for something like Milky Way photography, it can be a major factor. A 20mm f/1.8 lens has an excellent focal length and maximum aperture for Milky Way photography, and I couldn't wait to put the Sony FE 20mm f/1.8 G's coma performance to the test.
First, here's the full image: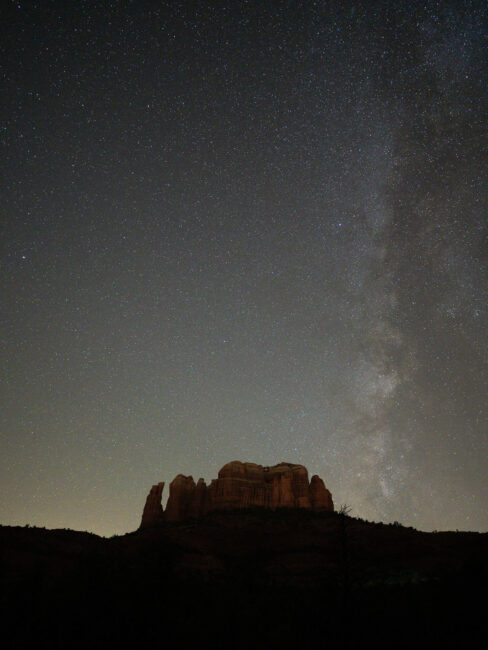 Next are crops at both f/1.8 and f/2.8. The images shown below are tiny 1.5 megapixel excerpts from the Sony a7R V's 61-megapixel sensor. No noise reduction or upsampling has been applied. These crops are taken from the top-right corner of the image in order to exaggerate coma as much as possible. Click to see full size: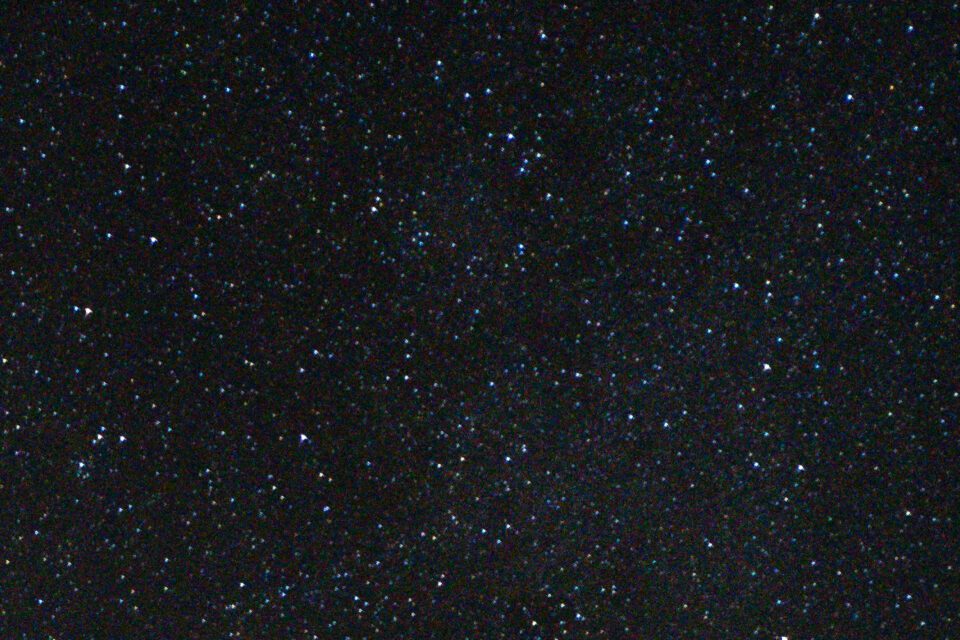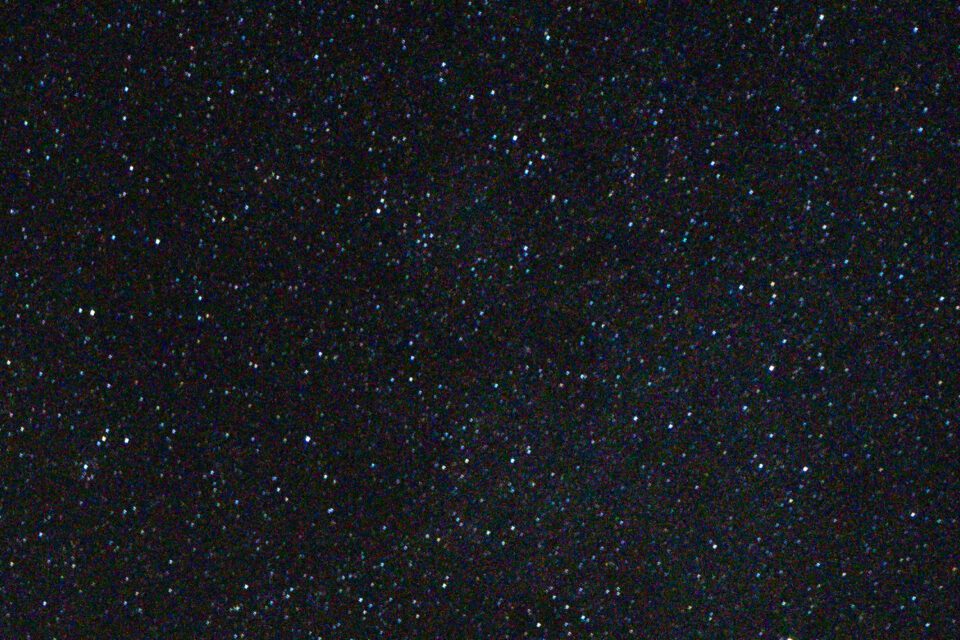 This is excellent performance with hardly any coma at f/1.8 and none at f/2.8! If you had hoped to use the Sony FE 20mm f/1.8 G for Milky Way photography, have no fear. It was built for this kind of thing.
Here's how two alternative lenses perform – the Sony FE 16-35mm f/2.8 GM (shown at 20mm) and Sony FE 24mm f/1.4 GM (shown at f/1.8 and f/2.8). I took these photos within minutes of each other from the same tripod position in order to make them as comparable as possible.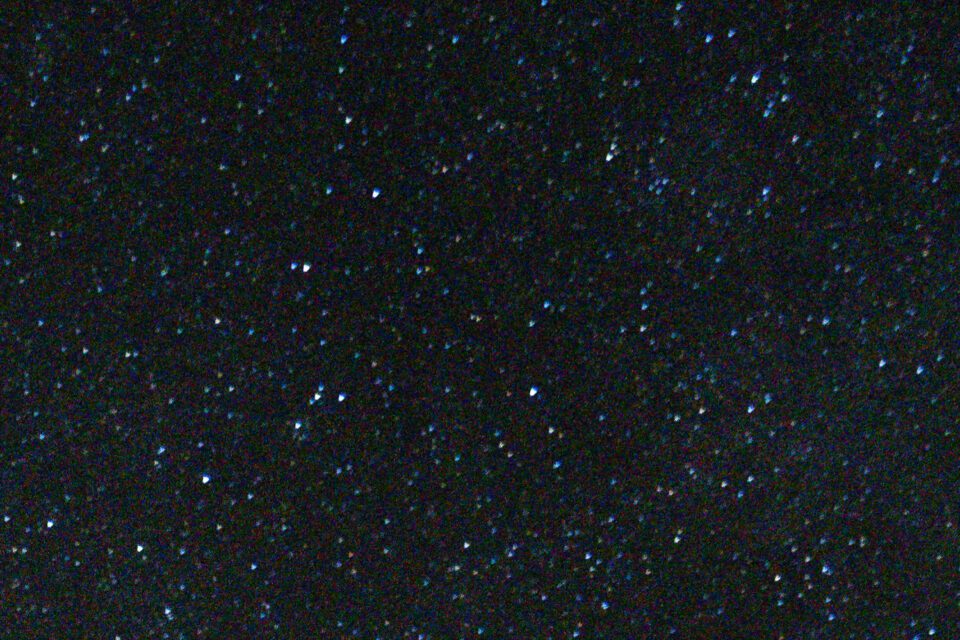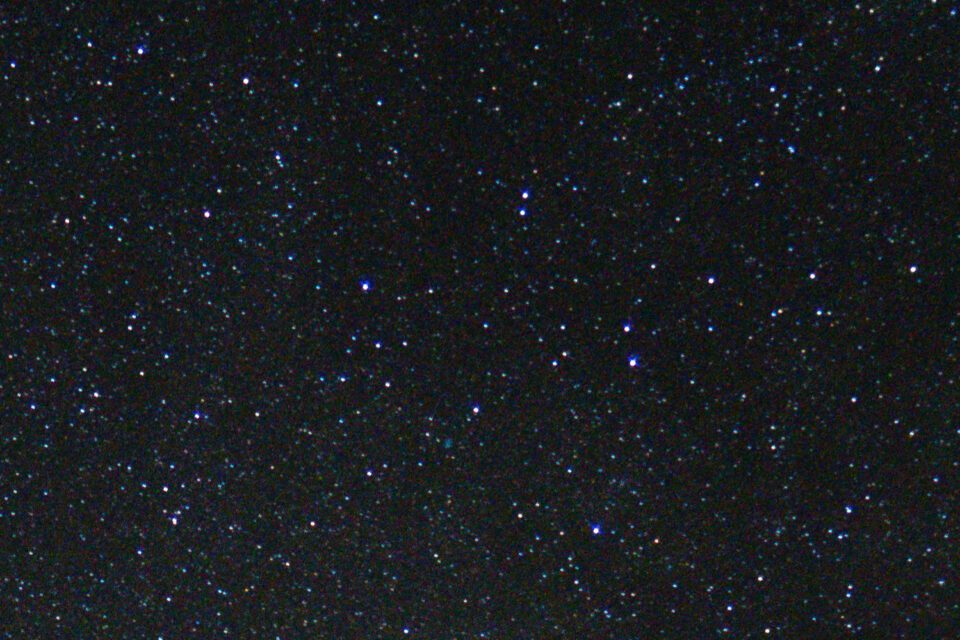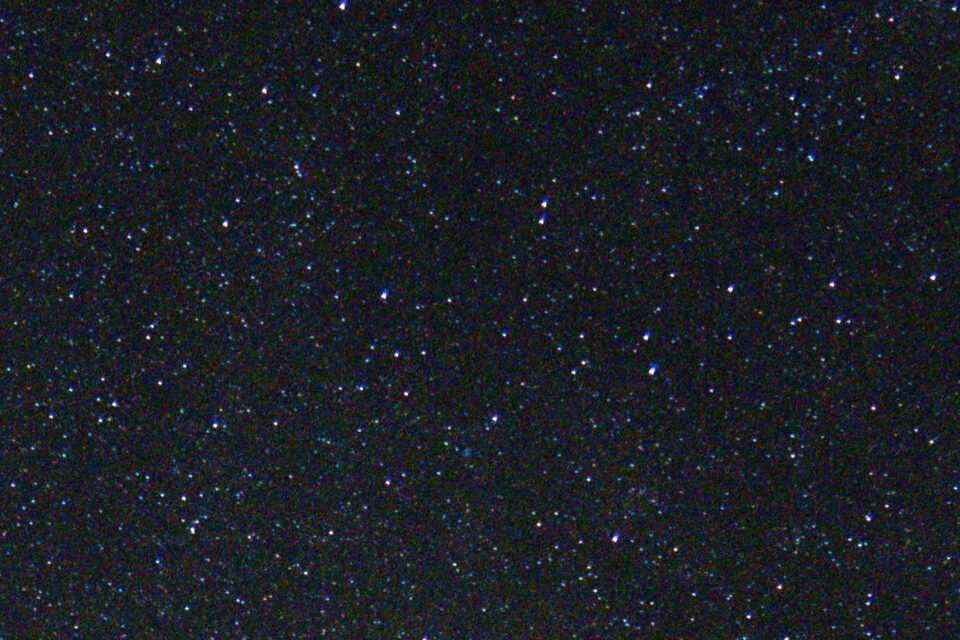 In short, the 20mm f/1.8 G is the best of the three. It beats the 24mm f/1.4 GM slightly at both f/1.8 and f/2.8, while both prime lenses handily beat the Sony 16-35mm f/2.8 GM zoom in terms of coma. Even the zoom lens isn't bad, though – I've seen much worse than that before.
Bokeh
Bokeh is another word for the qualities of the background blur in a photo. Blurry out-of-focus backgrounds with round, uniform highlights are usually considered favorable.
Although a 20mm lens isn't a typical choice if you want blurry backgrounds, the f/1.8 maximum aperture and reasonably good close-focus capabilities of the Sony FE 20mm f/1.8 G mean that it's at least a possibility. So, I wanted to put this lens's bokeh to the test.
Bokeh is always subjective, but personally, I find the background blur of the Sony 20mm f/1.8 G to be surprisingly good. Out-of-focus highlights are rendered soft and round, making for unobtrusive backgrounds. So, feel free to embrace this lens for ultra-wide close-up photography. The bokeh is really quite pleasant.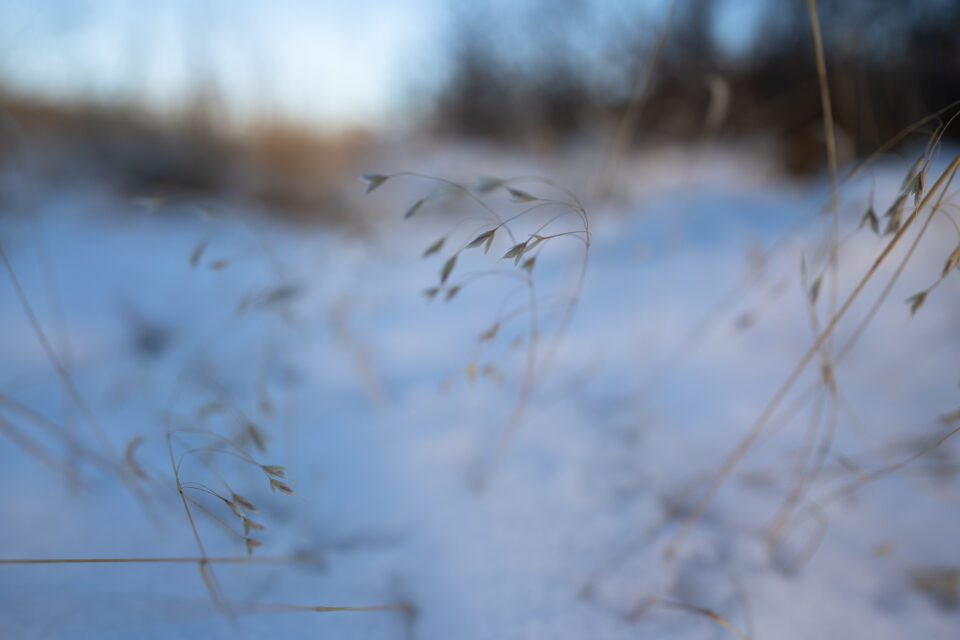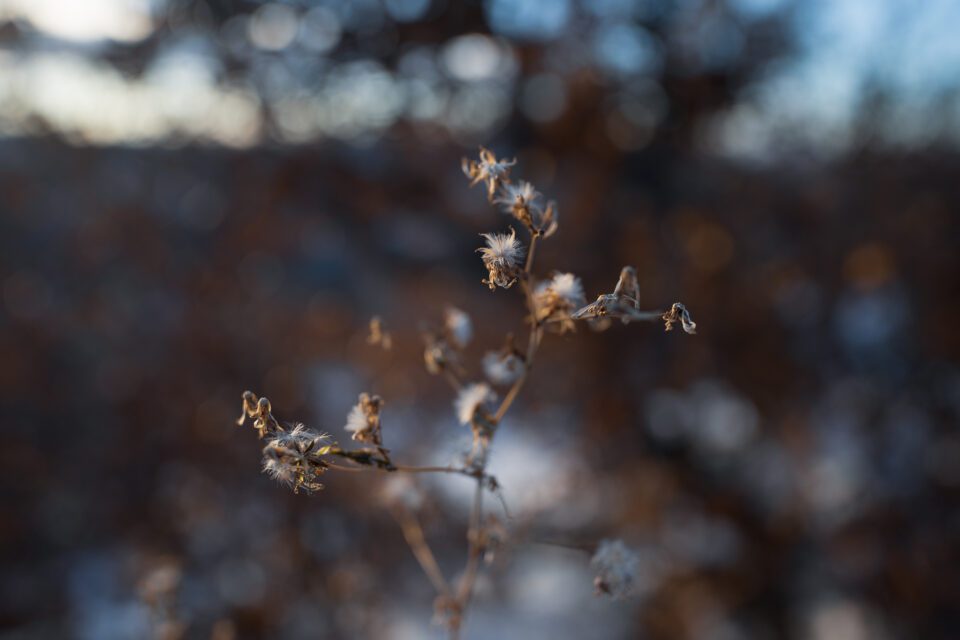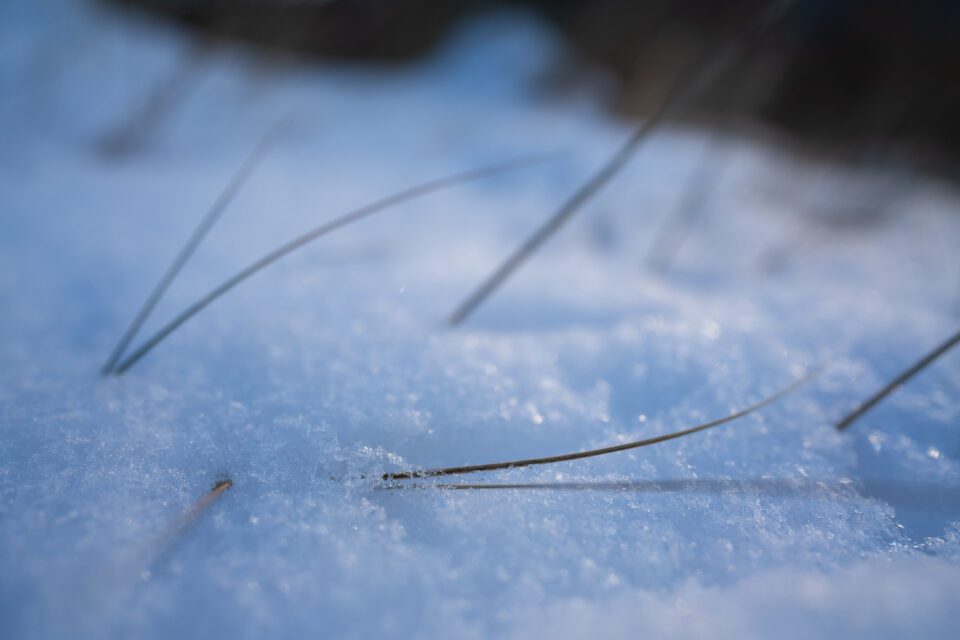 Sunstars and Flare
A wide-angle lens like the Sony FE 20mm f/1.8 G is commonly used in situations where the sun or other bright points of light are in your photo, like street lamps at night. For that reason, I was eager to test the lens's performance in terms of sunstars and flare.
As you can see below, you'll get pretty distinct 18-point stars with the Sony FE 20mm f/1.8 G when the sun is partly covered. There's also minimal flare in such photos: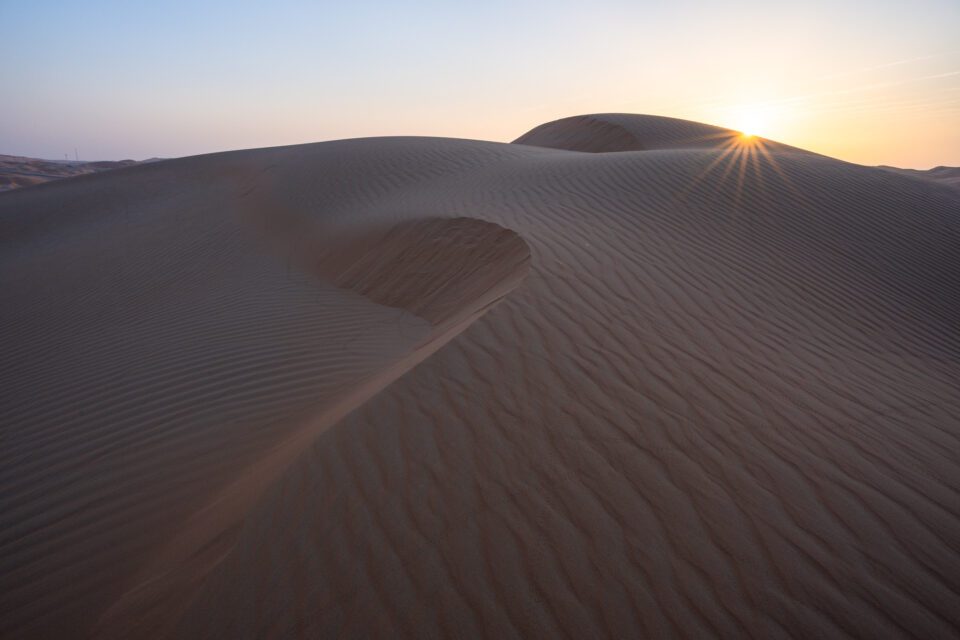 In more demanding scenes, however, the story is different. The flare is pretty well-controlled at wider and medium apertures, even when the bare sun is in the frame. But at narrow apertures like f/11 and f/16, you'll get some really distinct flare with this lens.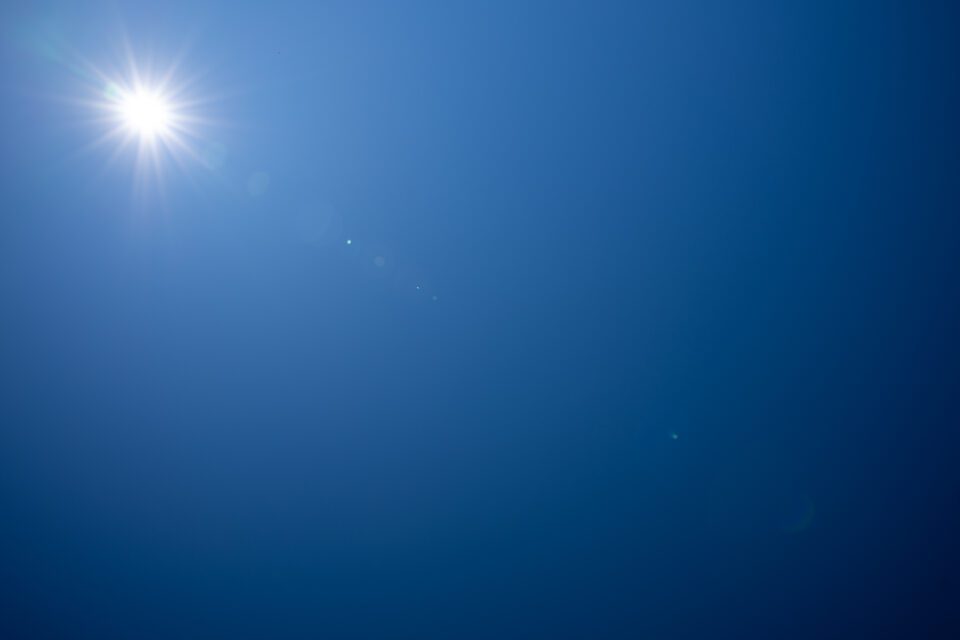 Granted, almost all lenses will experience flare when the bare sun is in the frame like this – but it's still on the high side with the Sony FE 20mm f/1.8 G, especially at narrower apertures.
Summary and Recommendations
The Sony FE 20mm f/1.8 G sets new records for the performance of an ultra-wide lens. Its sharpness, distortion, coma, and chromatic aberration performances are all best-in-class, not to mention that it's well-built and very portable.
In terms of value, the Sony FE 20mm f/1.8 G's $900 price tag isn't low enough that most photographers can buy it on a whim, but it's still a great price for what you get. By comparison, the Nikon Z 20mm f/1.8 S is $1050, and most ultra-wide f/2.8 zooms are significantly more expensive than that. The only similar third-party lens that I'd consider is the Sigma 20mm f/1.4 Art, which also costs $900 but offers a brighter maximum aperture.
Here's how I'd sum up the pros and cons of the Sony FE 20mm f/1.8 G.
Pros:
Best-in-class optical performance in almost every regard, including groundbreaking sharpness
Remarkably accurate autofocus and good low-light focusing capabilities
Excellent build quality with tight tolerances and useful handling features
Small and light – surprisingly so, considering the performance
Great value at $900
Cons:
High levels of focus breathing, worth noting for videographers
Significant vignetting at infinity focus (and still noticeable at narrow apertures)
Flare is on the high side at narrow apertures
If this pro/con comparison looks lopsided, that's because it is! There aren't any major flaws with the Sony FE 20mm f/1.8 G – certainly nothing that would make me recommend against buying this lens. Even the three cons above are things that most users will be able to work around. Frankly, it's rare to see a lens this impressive.
So, who should get the Sony FE 20mm f/1.8 G? It's a great landscape, Milky Way, and architectural photography lens, as well as an excellent choice for travel photography because of the small size and weight. Any Sony photographer who needs a wide-angle lens should give this one a serious look. Performance-wise, it's excellent. The only real question is if a 20mm prime is right for you in the first place. Some photographers will find a zoom to be better for their needs, while others will prefer a prime lens of a different focal length. Don't buy a lens just because of how sharp it is! I've made that mistake before, and I almost always end up selling the lens in question.
However, if you can use a 20mm f/1.8 lens, and you're a Sony photographer… all I can say is that you'll be amazed by this one. It is simply one of the best ultra-wide lenses ever made.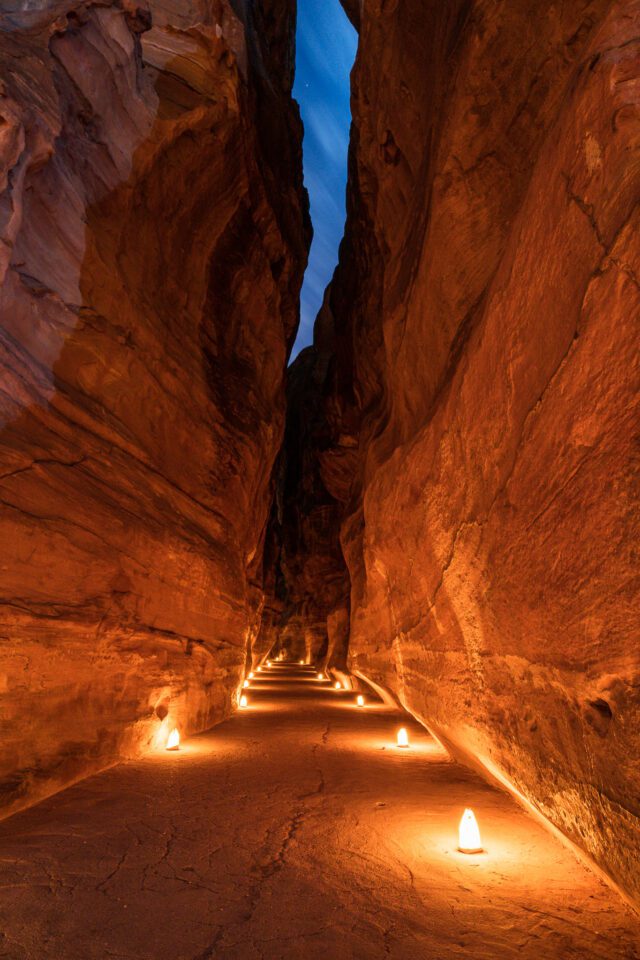 Support Photography Life
I hope that you found this review of the Sony FE 20mm f/1.8 G to be useful! You can thank Photography Life for this review by using our affiliate links below when purchasing camera equipment, whether it's the Sony FE 20mm f/1.8 G or any other gear.
Photography Life gets a small percentage of each purchase made through the links above, even if you buy something other than the Sony FE 20mm f/1.8 G, without costing you anything extra.
More Sony FE 20mm f/1.8 G Image Samples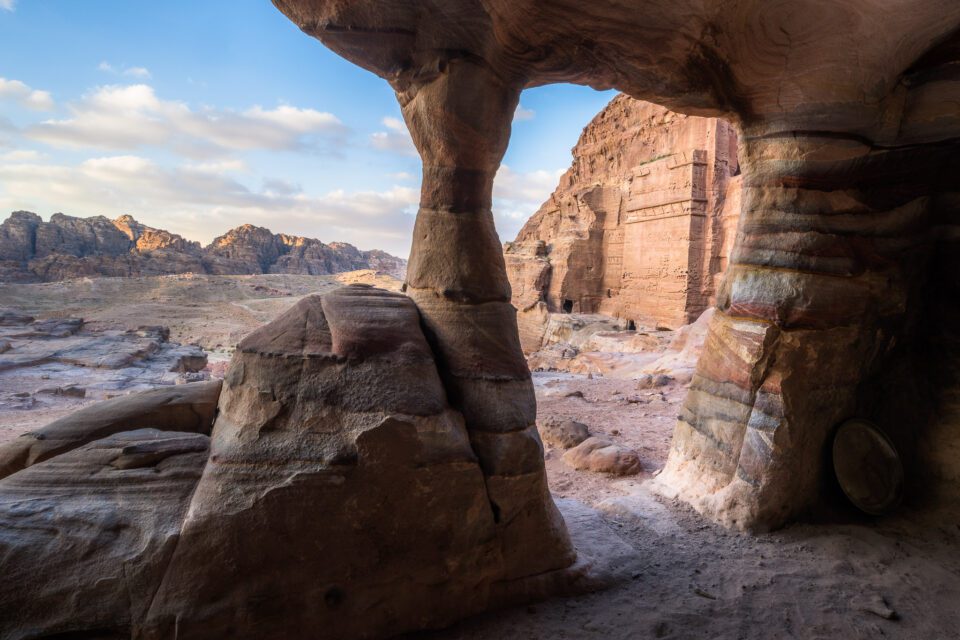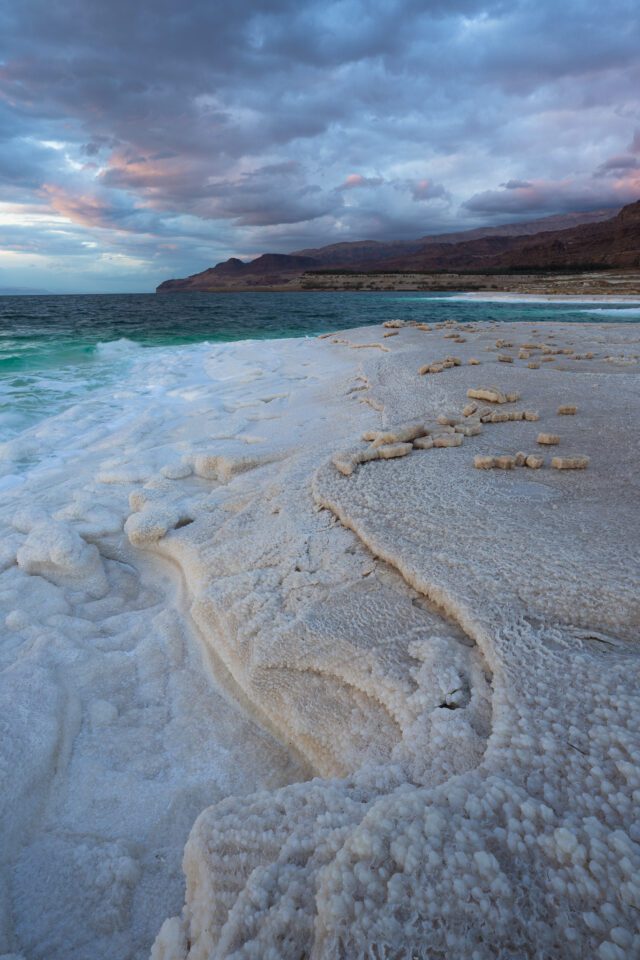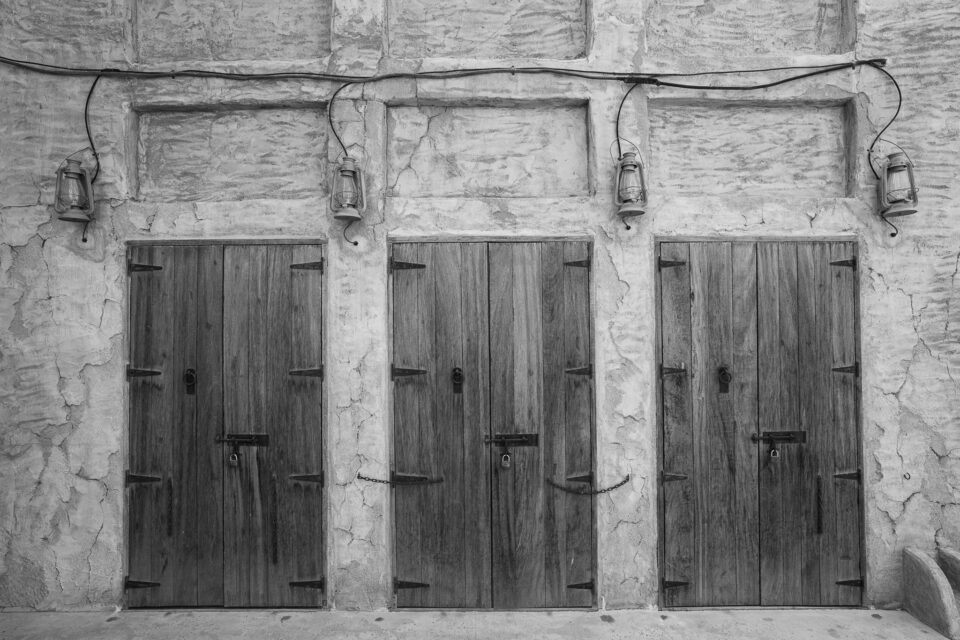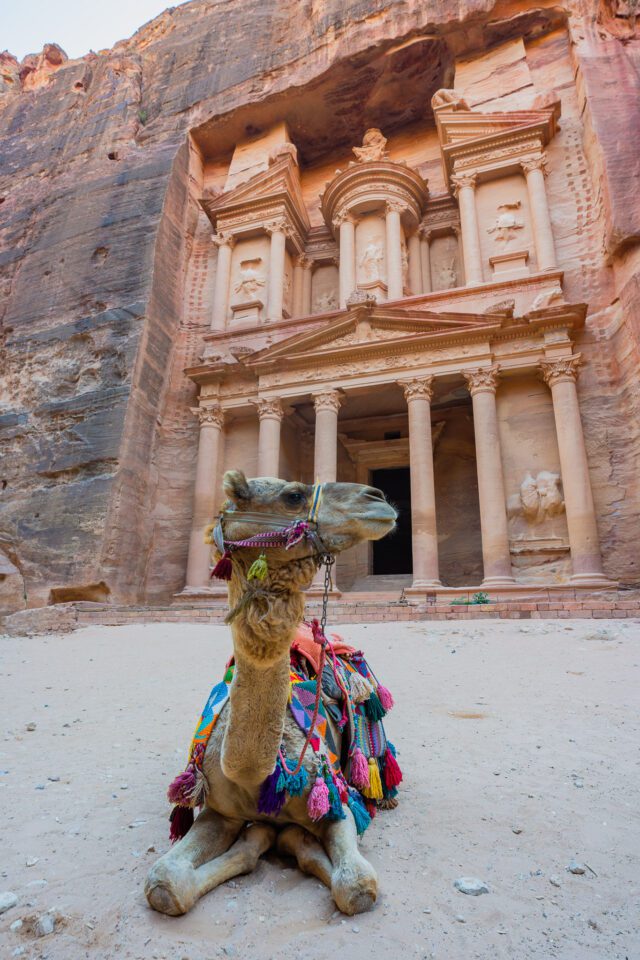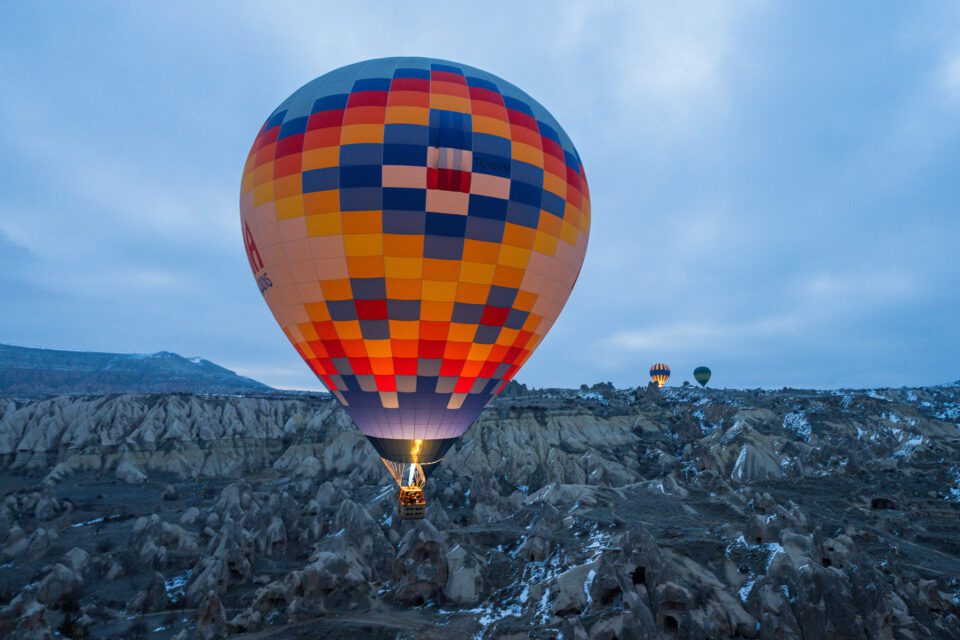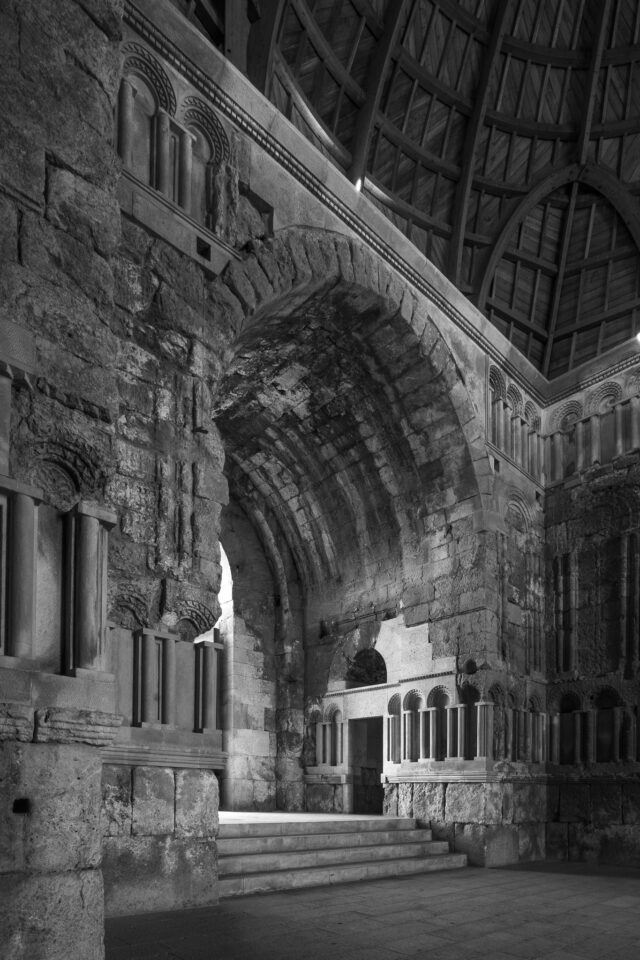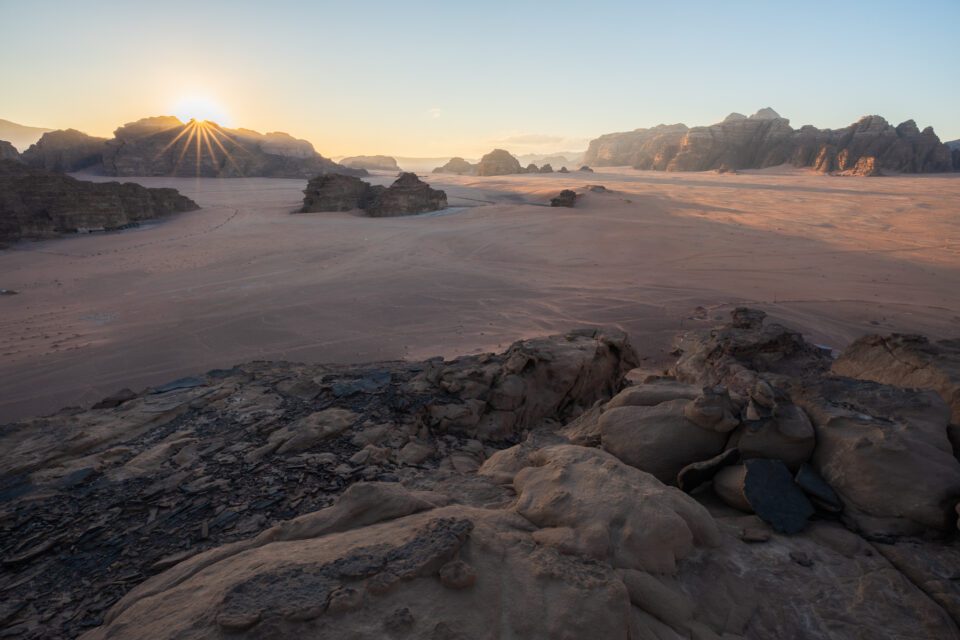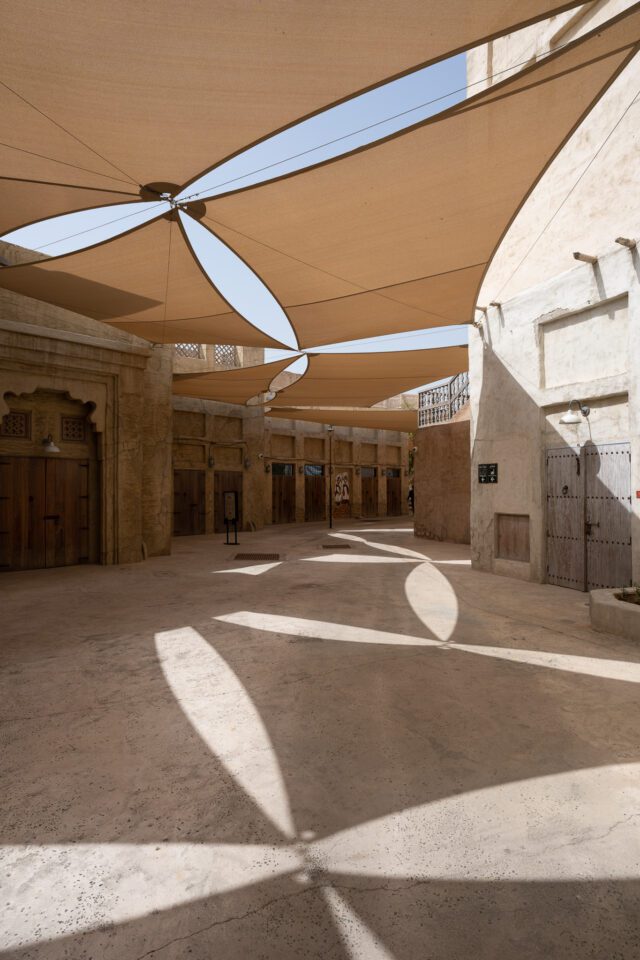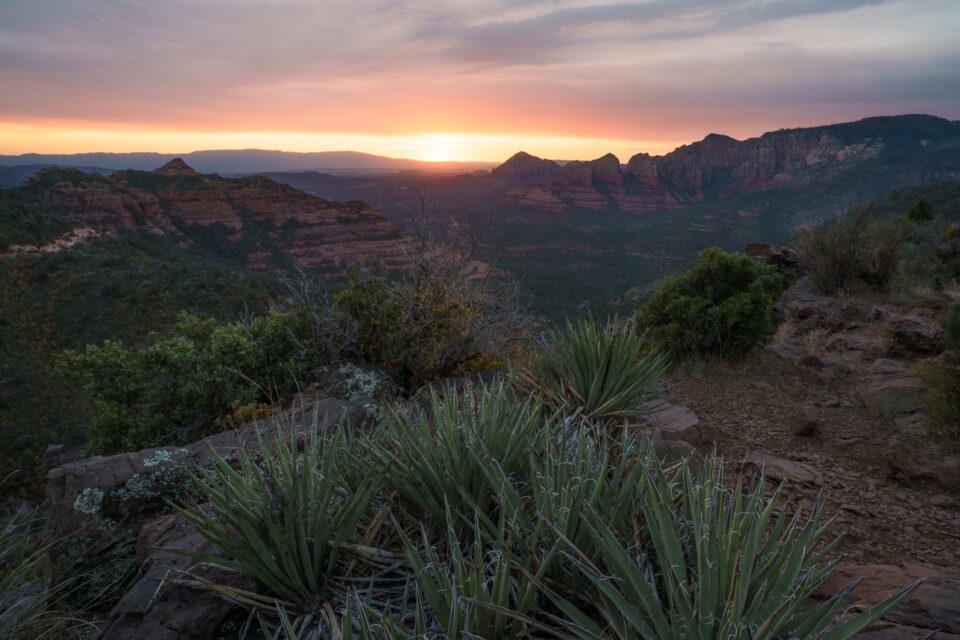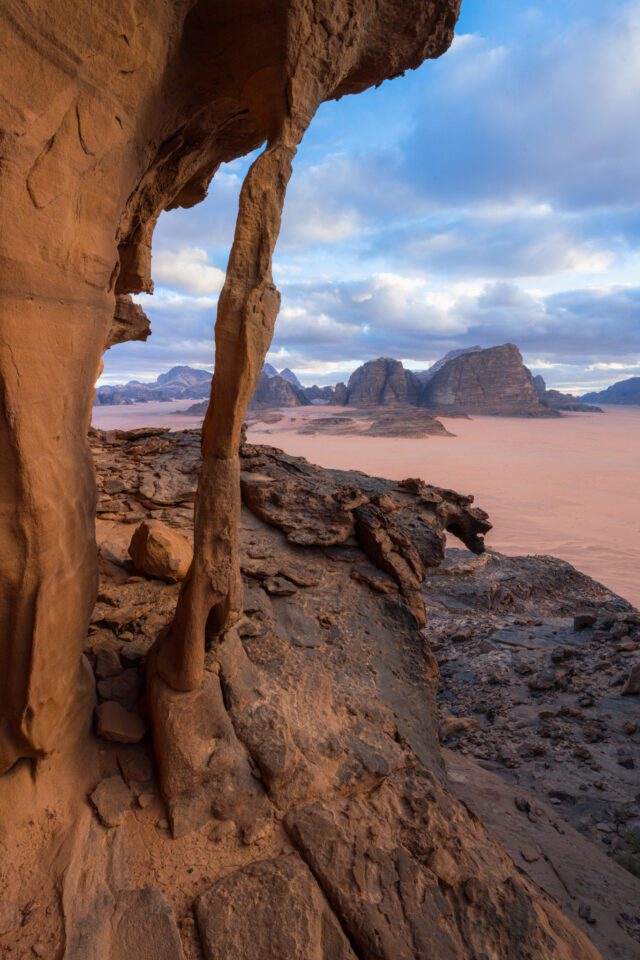 Images and text copyright © Spencer Cox, all rights reserved. Copying or reproduction is not permitted without written permission from the author.
Sony FE 20mm f/1.8 G
Optical Performance

Features

Bokeh Quality

Build Quality

Focus Speed and Accuracy

Handling

Image Stabilization

Battery Life

Image Quality

High ISO Performance

Size and Weight

Metering and Exposure

Movie Recording Features

Dynamic Range

Packaging and Manual

Ease of Use

Speed and Performance

Stability

Value
Photography Life Overall Rating