Sony 42.4 MP BSI Exmor Sensor
The 42.4 MP sensor on the A7R II is only marginally higher in resolution compared to its predecessor or its Nikon competitor, the D810 – by only 6.1 MP, which means that the physical size of pixels has not changed that much. And as you will see in the illustration below, the 8.2 MP difference with the Canon 5DS / 5DS R cameras is also not as big as it seems either:
| Camera | Resolution | Pixel Size | Image Size |
| --- | --- | --- | --- |
| Canon 5DS / 5DS R | 50.6 MP | 4.14 µ | 8688 x 5792 |
| Sony A7R II | 42.4 MP | 4.51 µ | 7952 x 5304 |
| Nikon D810 | 36.3 MP | 4.88 µ | 7360 x 4912 |
| Sony A7R | 36.3 MP | 4.88 µ | 7360 x 4912 |
| Nikon D750 | 24.3 MP | 5.97 µ | 6016 x 4016 |
| Sony A7 II | 24.3 MP | 5.97 µ | 6000 x 4000 |
| Sony A7S II | 12.2 MP | 8.40 µ | 4240 x 2832 |
From the above chart, we can see that the pixel size difference between the first four cameras above 24 MP is actually pretty small – it ranges from 4.14 microns to 4.88 microns, which is less than a micron. The big differences in pixel size are when we go drastically lower in resolution to 24.3 MP or especially 12.2 MP on the Sony A7S, which has a pixel size of 8.40 microns – almost twice bigger in comparison. What does that mean? Well, at pixel-level, i.e. when you are looking at images at 100% view, the camera with the largest pixel size will output the cleanest image, particularly at higher ISOs. That's where the Sony A7S II is unmatched when compared to other cameras. If you are wondering about low vs high resolution cameras, please see my article explaining the advantages and disadvantages of low vs high resolution cameras. And I have also written a detailed article about camera resolution, where you can get a detailed perspective on the effects of camera resolution.
So with the Sony A7R II featuring a high-resolution 42.4 MP sensor, how does that compare to other cameras? Take a look at the below illustration to see where the A7R II stands compared to other modern full-frame sensors: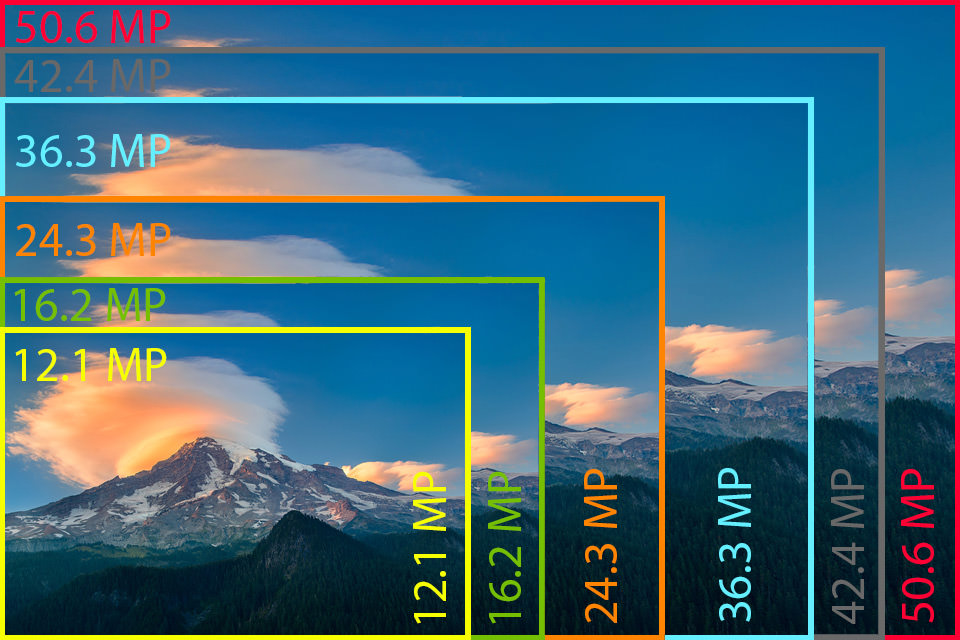 As you can see, 42.4 MP is not a huge jump from the 36.3 MP sensor and the difference is also quite small when we look at Canon's 50.6 MP sensor, so the resolution differences between these cameras is not as big as it may seem at first. In fact, we are only dealing with less than 9% difference in image width (8688 vs 7952 pixels).
Now, what does this all mean for such needs as landscape or architecture photography? Well, if you are jumping up from a 24.3 MP sensor, it does represent a big change in overall resolution, but if you are moving up from a 36.3 MP camera, then it is a pretty marginal increase. The more important difference between the A7R II's sensor and its predecessor is not resolution – it is the difference in sensor technology. The Sony A7R II has a backside-illuminated sensor (BSI), which is supposed to deliver better performance at higher ISOs. Take a look at the differences in sensor technology between a conventional and a BSI sensor: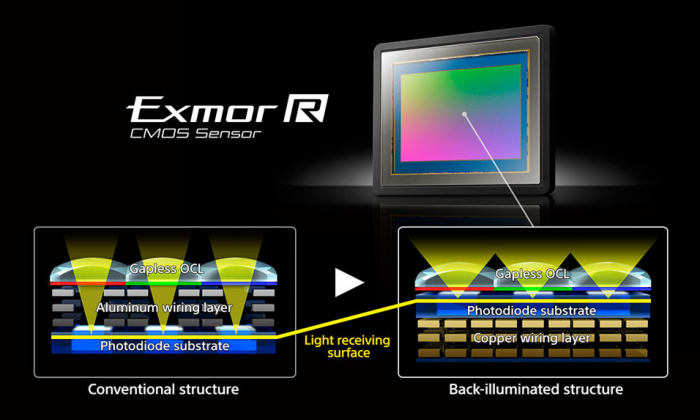 The BSI sensor technology has already been available on smaller cameras, like the Apple iPhone 6 for sometime now and it is the first time the technology is making its way into a full-frame sensor. Because of this change, Sony promises better performance in handling noise and thus has increased its native ISO sensitivity range to ISO 25,600 (the Sony A7R's native ISO was capped at 6,400) – a two stop difference. The big question is, does the A7R II actually deliver a two stop improvement? The answer is provided in the camera comparisons section of this review.
11+7 Bit RAW vs Uncompressed RAW Analysis
Another area that I criticized on the original Sony A7-series cameras was 11+7 Bit Lossy RAW compression, which resulted in banding / posterization issues and weird artifacts, as seen below:

While Sony finally addressed our complaints by providing the ability to shoot true RAW without any weird compression algorithm using the "Uncompressed RAW" option, the solution created another problem – massive files that seriously bog down the camera. I am not exactly sure why Sony decided to go from one end of the extreme to another, but it felt like it was more of a "in your face" type of a response, with Sony highlighting that lossy RAW was the best option in the first place. While having the ability to shoot uncompressed RAW is far better than not having anything, I really hope that Sony will add another option into its camera menu, allowing to shoot in Losslessly Compressed RAW format. Losslessly compressed RAW files are much smaller than uncompressed RAW and if Sony can figure out a way to compress files effectively, that option should not slow down the camera as much.
If you find it unbearable to use uncompressed RAW, you are probably shooting with an older generation SD card that has a very slow write speed. Until Sony comes up with the right solution, my recommendation is to get fast 90 MB/sec+ memory cards in the meantime.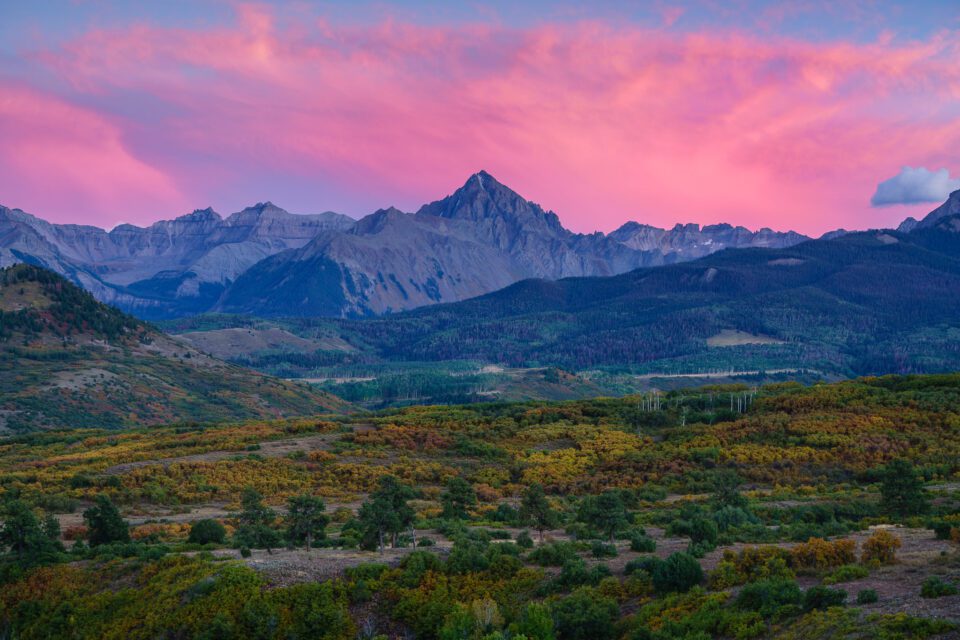 Colors and Dynamic Range
When it comes to colors and dynamic range, the Sony A7R II definitely shines and you can expect to see very impressive results when processing images. If you are a Lightroom user, Adobe has already built Sony camera profiles in the latest version of the software and you can always fine-tune colors to your liking with new profiles using third party tools. The image samples in this review were processed in Lightroom with mostly Camera Standard profile and except for a few images that needed to be taken into Photoshop, I did not spend more than a couple of minutes per image.
As for dynamic range, you have a lot of legroom for tweaking those RAW files in terms of recovering shadows and highlights, even though they are compressed. This is not surprising, because Sony sensors are known to be excellent in this regard. That's why most manufacturers prefer to use Sony sensors in their cameras – their performance is currently unrivaled for consumer products.
Here is a before and after example of an image that I quickly processed in Lightroom:
It was a 30 second exposure after sunset and it turned out to be pretty dark. Recovering the image was easy – I just dialed +2.0 exposure, +50 shadows and dropped highlights down to -50. As you can see there is more than enough information to be able to work with the image. Although at 100% view it is a bit noisy (which is expected after heavy recovery), all the details are still there and I could run a single pass of noise reduction to make the image look good. Although it is not the best example of dynamic range recovery, you can get the idea of the RAW file leverage one gets with Sony sensors…