Having reliable power is essential to photography and videography. Instead of traditional power banks, lots of photographers – and especially videographers – will use V-Mount style batteries in order to deal with multiple devices more seamlessly. SmallRig's VB99 is an evolution of the traditional V-Mount battery, and it's what I'll be reviewing today. Should you be getting the VB99 instead of a traditional power bank?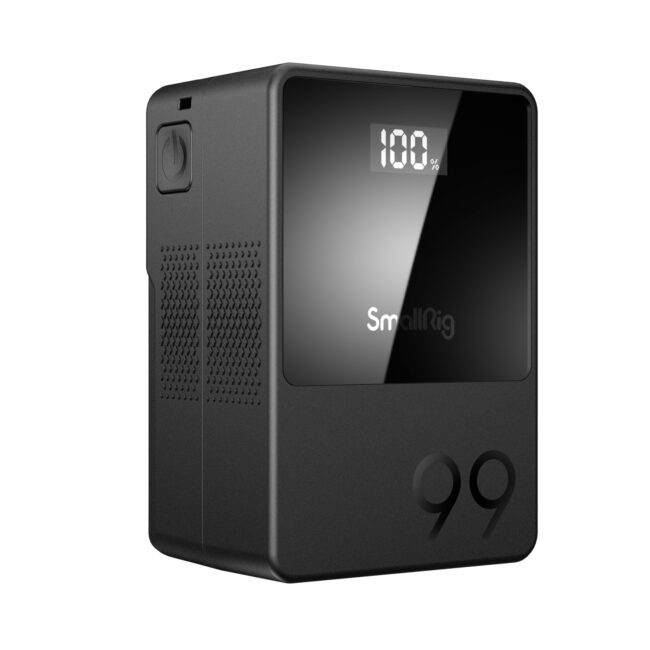 What is a V-Mount Battery?
A V-Mount battery, sometimes referred to as V-Lock, refers to the mounting mechanism used by the battery. This v-shaped groove mechanism on the back of the battery mounts to a plate on the camera, light, or other device that needs power. This form factor is quite common on larger video cameras, which is where you'd traditionally see this style of battery.
V-Mount batteries are popular when a huge power capacity is needed alongside the ability to charge multiple devices at once. For example, you can use one of these batteries to simultaneously power lights, microphones, cameras, and external monitors all day.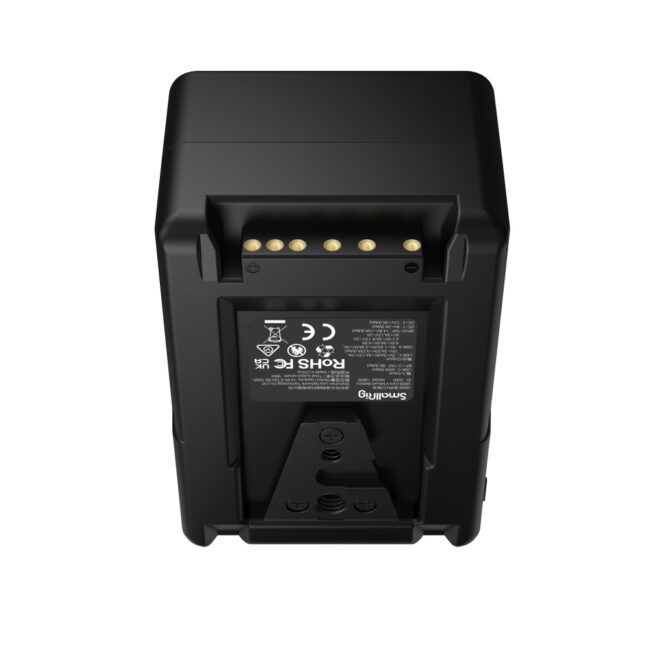 Smallrig VB99 Features
Smallrig's "VB" lineup comes in three capacities: 50, 99, or 155 watt hours. In all three cases, SmallRig has used contemporary lithium ion cells and a battery management chip to fit these high capacities into a small form factor, although the higher capacity batteries are also physically larger, too. The three sizes cost $179, $239, and $379 respectively.
I tested the middle model – the VB99, which is about 4 × 3 × 2 inches (107.0 × 73.0 × 53.0 mm) in size. These dimensions make it about 70% of the size of a normal V-Mount battery, and it really does feel compact compared to previous V-Mount batteries that I've worked with.
Beside being more compact than other options, while still supporting the same mounting and power requirements, the VB99 adds some very useful functions. The most immediate is the wider array of power outputs and inputs supported by the battery. Unlike a traditional V-Mount, which needs a plate to deliver power, the VB99 can provide:
V-Mount 14.8V/ 14A
D-Tap 14.8V/ 14A
USB-A 12V/ 2A, 9V/ 3A, and below
USB-C 20V/ 3.25A, and below
DC 8V/ 3A
DC 12V/ 3A
It supports all the various quick charge protocols, including QC2.0, QC3.0, AFC, FCP, SCP, DCP, and Apple's QC, across both USB-A and USB-C. It also supports recharging over V-Mount, D-Tap, and USB-C. This wide range of voltages is all managed by the onboard battery management system.
Backing this impressive set of outputs is 99 watt-hours of capacity. For reference, that's enough to charge an iPhone Pro Max 5.5 times or a MacBook Pro 14" 1.3 times. It's also enough to run an EOS R5 C for over 7 hours when shooting 8K 30P video.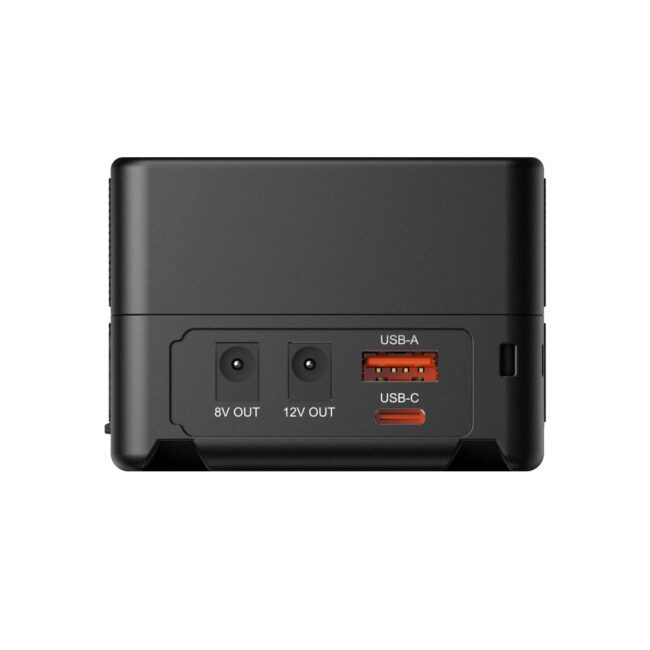 The VB99 in Practice
Not-so-coincidentally, the 99 watt-hour capacity is the maximum allowed in a single battery on flights. I found that traveling with this battery was a breeze. The clear number "99" written on the front of the battery minimizes the possibility of security line confusion, too. This makes it an ideal choice for travel photographers and videographers.
The SmallRig VB99 includes a number of quality-of-life features, too. You can read out the battery's current charge via an OLED display at the push of a button, and captive rubber flaps cover the battery ports. In use, you can see the amount of power being delivered over each of the ports, as well as a variety of readouts of the remaining voltage, battery life, and capacity. I found it to be very smooth to use in practice.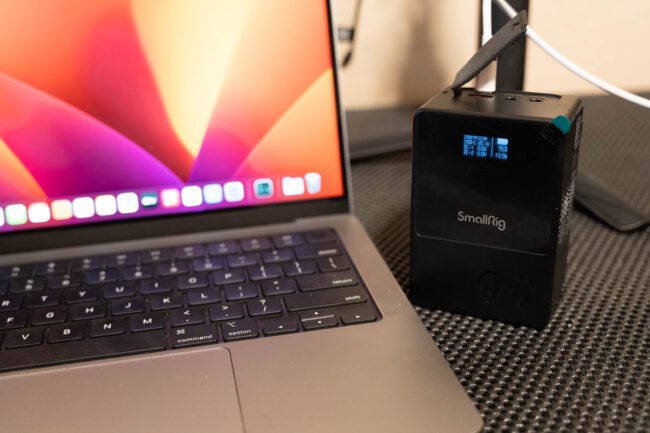 Now that I've had the VB99 for a while, I've run it through all the typical scenarios I encounter as a travel photographer and videographer. It's never had any issues or bugs in my experience, including while simultaneously recharging a laptop, powering lights, and providing USB-C power to a camera.
Compared to a traditional power bank, the VB99 battery is going to be a bit more expensive, but it offers a wider range of functions. Looking at my gear bag, for instance, this one battery could charge or power everything in there (almost all of it simultaneously), making it a great single-battery option. However, if you don't have space limitations and don't need all the different ports, you could save money by getting a traditional power bank instead.
Conclusion and Recommendations
The SmallRig VB99 battery would be perfect for rigging up a larger, stationary video camera setup. The huge capacity is key, along with the ability to power other accessories like lights via a distribution plate. Meanwhile, for photographers, this could be a great option for powering continuous lights in the field, especially with lights that support power via V-mount or D-tap. Lastly, it's just useful to have a brick of power in your bag for charging anything as needed – laptops, drones, cameras, phones, and so on. This is a Swiss Army knife of recharging in the field.
The VB50, the smaller, 50Wh brother, also deserves a mention. At roughly half the weight as the VB99, it's a great option for rigging compact video cameras, while still being able to crank out reasonably high power when needed.
Overall, I found the VB99 to be a powerful tool that performs as advertised. For photographers and videographers who need an array of power sources and protocols to be covered with one battery, it's my new recommendation; it definitely beats the bulky V-mount batteries of yesteryear. My only small hesitation is that the price is higher than traditional battery packs if you just need basic recharging capabilities.
The VB50, VB99, and VB150 are available from our affiliate B&H for $179, $239, and $379 respectively.
SmallRig VB99 Battery Review
Features

Size and Weight

Ease of Use

Stability

Value
Photography Life Overall Rating