Recently, SmallRig released a heavy-duty, inexpensive tripod called the AD-01, which ships with a fluid head. As someone who shoots both stills and video, I was very excited to try it out. However, after testing the tripod, I have some reservations. In this review, I'll tell you what I think of SmallRig's new tripod and whether you should consider it.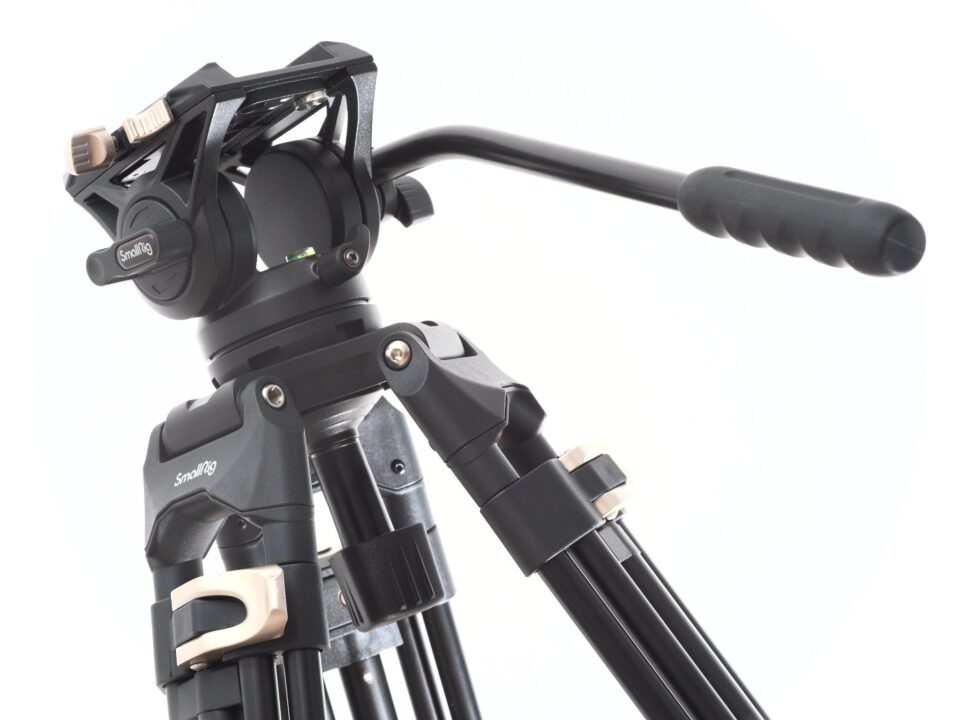 Specifications
Weight: 4 kg (8.8 lbs)
Material: Aluminum
Leg Sections: 3
Working height (min): 85 cm (33 in.)
Working height (max): 186 cm (74 in.)
Load capacity: 8 kg (17.6 lbs)
Price: $159
Build Quality
When it comes to tripods, I definitely don't recommend getting the cheapest tripod you can find. And while the SmallRig AD-01 is not the cheapest, it is certainly one of the cheaper video tripods on the market.
Thus, it is not surprising that this tripod has some compromises. The question is whether these compromises are acceptable or not if you're in the market for a budget tripod.
When I pulled the AD-01 out of the box, the first thing I noticed was that the tripod has quite a bit of plastic on it. That being said, the tripod legs themselves are aluminum and feel sturdy.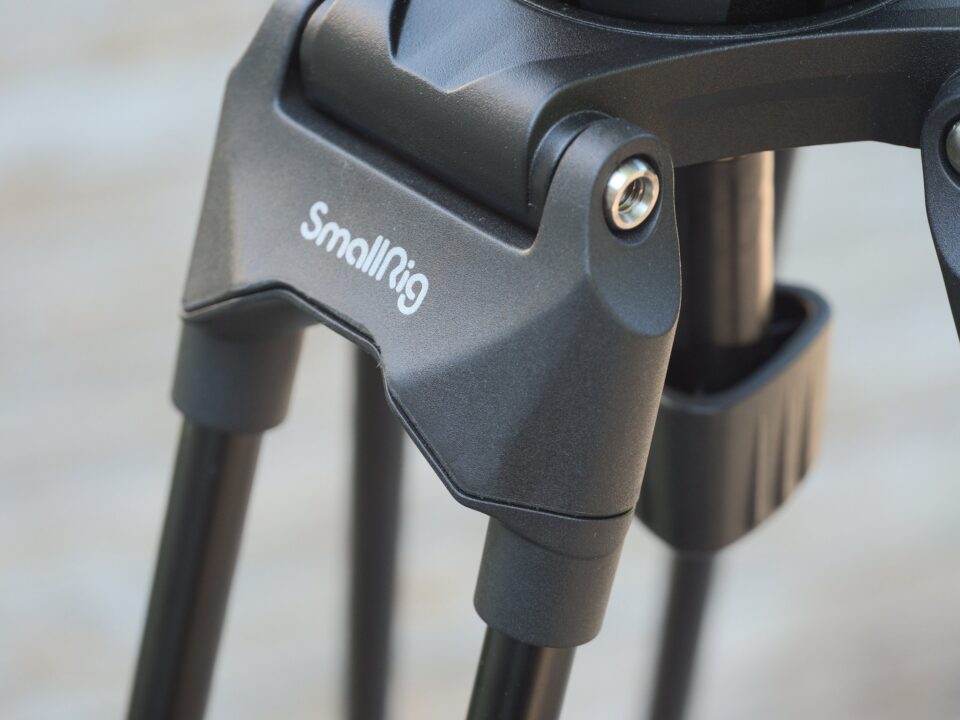 Also, the plastic connections between the legs and the head area do dampen some vibrations, so it might not be such a disadvantage when shooting video.
The flip locks on the legs caught my attention. They are made of plastic, and they do not snap snugly into place, but rather are held in place by tension. What is more worrisome is that when I locked them, the legs could still be easily extended!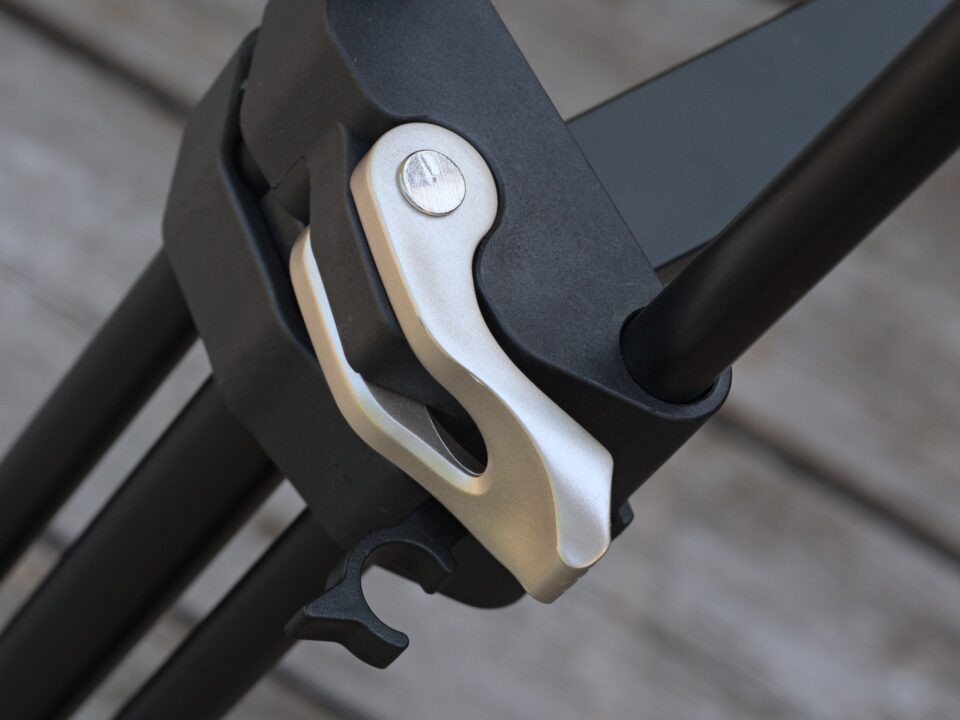 Thankfully, it is possible to tighten (or loosen) the strength of the locks. After I tightened them, they worked as they should. However, at this point, the lock switches themselves started to flex more upon locking. I definitely would be worried about them with long-term use.
The bottom leg section is also held in place using a small plastic piece that can be easily popped out. It can be popped back in, but if you don't notice it, it will make the tripod significantly less stable, especially if the legs are fully extended.
Tripod Handling
The SmallRig AD-01 is easy to use. It has a central extending mechanism that allows the tripod to be opened and closed quickly so that you can set up your shots from one location to the next.
Its maximum height is 1.86 m (6'2″), which makes it very versatile for many different kinds of shoots. As a wildlife photographer and videographer, a major downside of this tripod for me is its minimum height, which is 0.85 m (2'9″). I often want ground-level shots, which would not be possible with this tripod.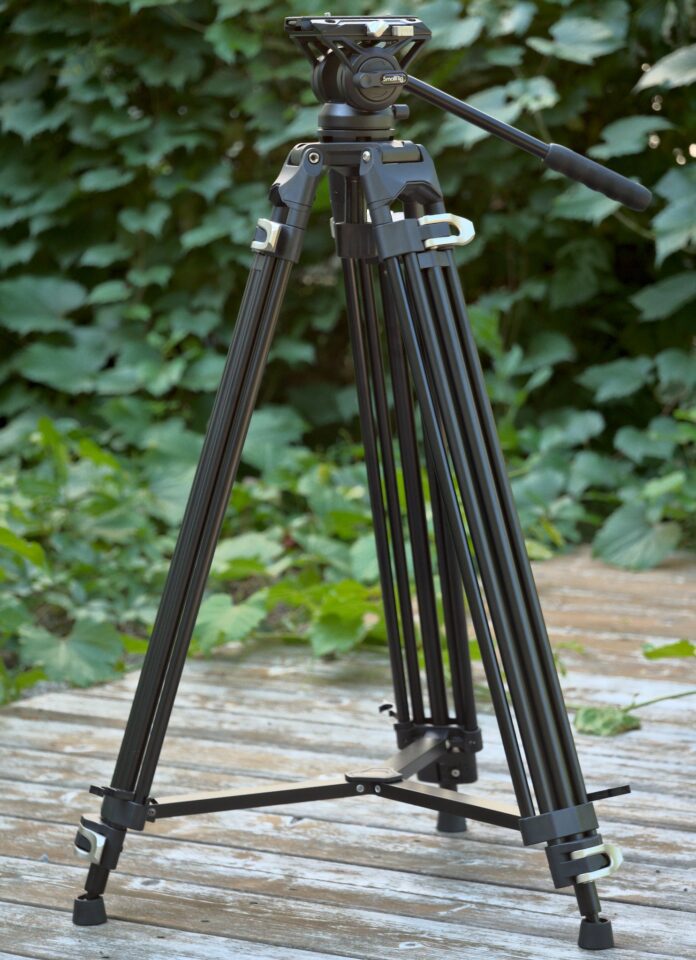 The SmallRig tripod also features small latches that keep the legs in place when carrying it. The tripod comes with a padded bag with a pocket for the panning handle, and there is a cover that can be placed over the fluid head during transport.
The feet of the AD-01 are removable rubber pieces that attach to a spherical metal end. This means that they can swivel and stay flat on uneven surfaces. Although I was initially worried that they could come off, they do take a fair amount of force to remove. I recommend caution when using this tripod on a rocky surface in case a foot gets caught between a crack.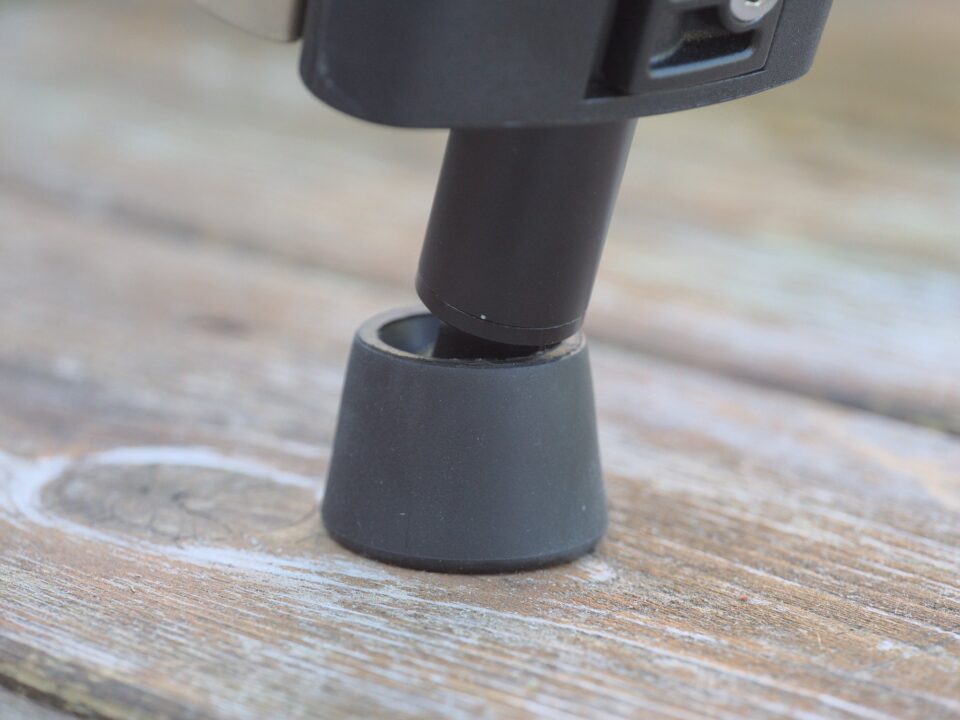 The Fluid Head: Panning and Tilting
Sadly, if you're not spending at least a thousand dollars on a Sachtler or Cartoni fluid head, then there are going to be compromises – serious ones.
In order for a fluid head to give very smooth pans and tilts, its manufacturing has to be extremely precise, and hence expensive. Otherwise, every little wobble or inconsistency in motion will be visible in video footage, especially if you are using longer focal lengths.
When you consider this, it's no surprise that the SmallRig AD-01's fluid head is one of its biggest weaknesses. Perhaps the best thing I can say about panning and tilting with the SmallRig is that it will give better results than trying to pan with a ball head – but it's definitely not fun.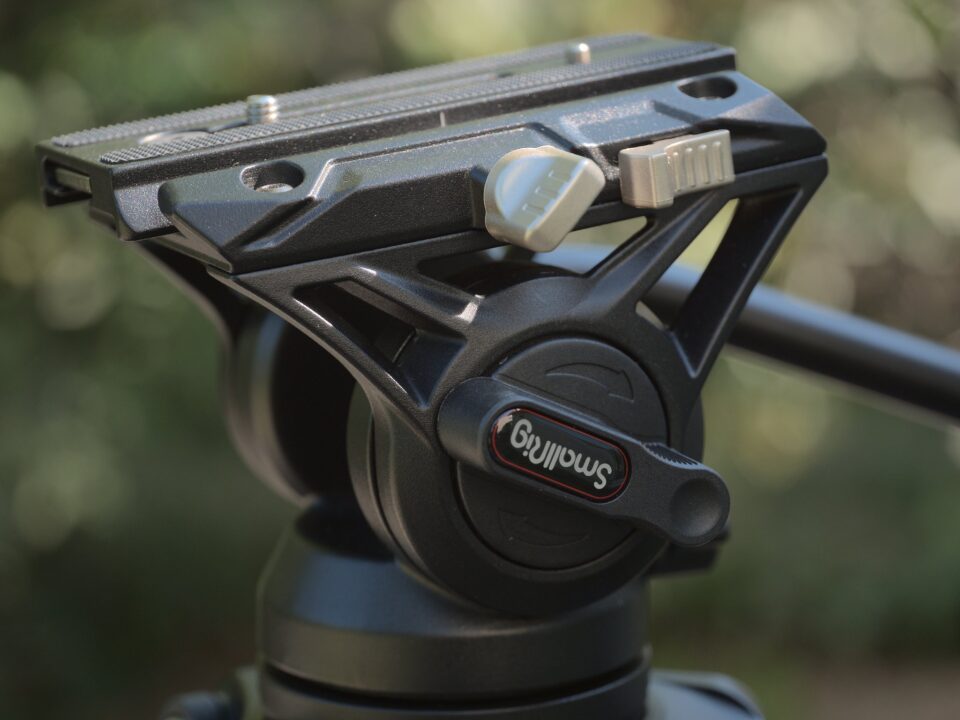 On one hand, the panning motion is smooth and decently dampened. However, I found it very hard to keep the panning speed consistent. With practice and even using an elastic band, you can improve a little, but you will never get smooth, buttery pans like you can with more expensive heads.
I compared the SmallRig AD-01 with my Manfrotto Nitrotech 608, which is a bit unfair because the latter is just a head and it costs almost four times as much as the entire SmallRig tripod. However, it is much easier to get smooth pans with the Nitrotech, and it made it clear to me that the AD-01 wouldn't work for my needs even as a backup, budget tripod.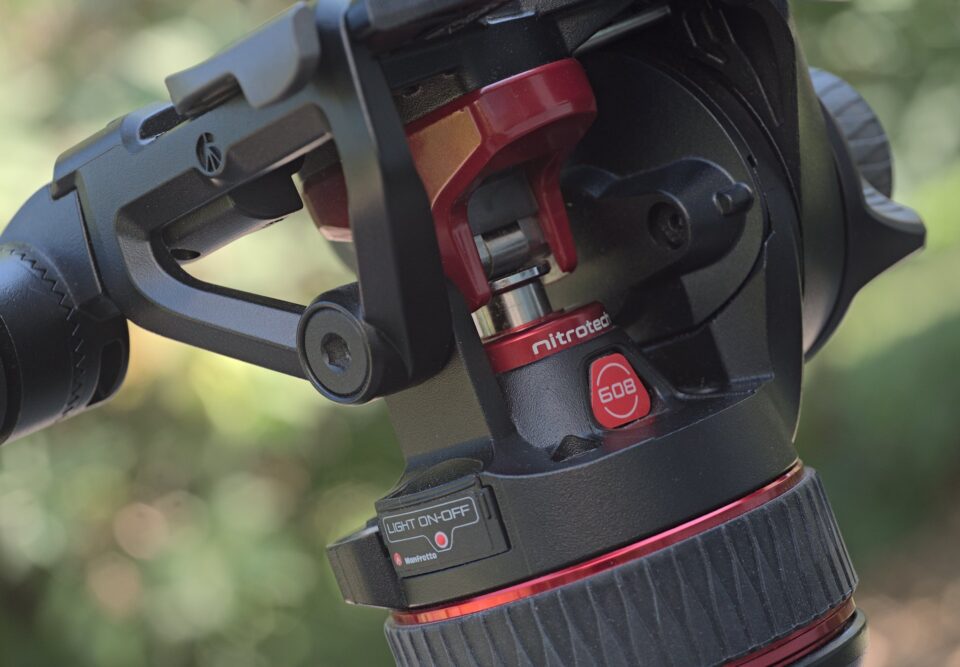 The SmallRig fluid head also cannot be adjusted for resistance. Technically it's possible by tightening the panning or tilting locks a little, but that only adds direct frictional resistance, which makes the movements rougher.
There is also a counterbalance system on the AD-01's head, which returns your gear to about level if it is tilted. The counterbalance tension cannot be adjusted and is fairly stiff. Unfortunately, this means that tilting is even worse than panning and is difficult with very light equipment.
The tilting mechanism also has an additional problem. If you let it sit for a while without usage, starting it up again gives a bit of additional resistance and a distracting sound. I also found a noticeable rough spot in the tilting range that I felt as a vibration through the handle.
The Fluid Head: Other Features
The fluid head uses the same sort of quick-release mechanism as Manfrotto's video system. I checked, and my Manfrotto quick-release plate does indeed fit. It is also compatible with the DJI RS video gimbal plates, which is useful if you need to quickly move your camera from your DJI gimbal to the tripod.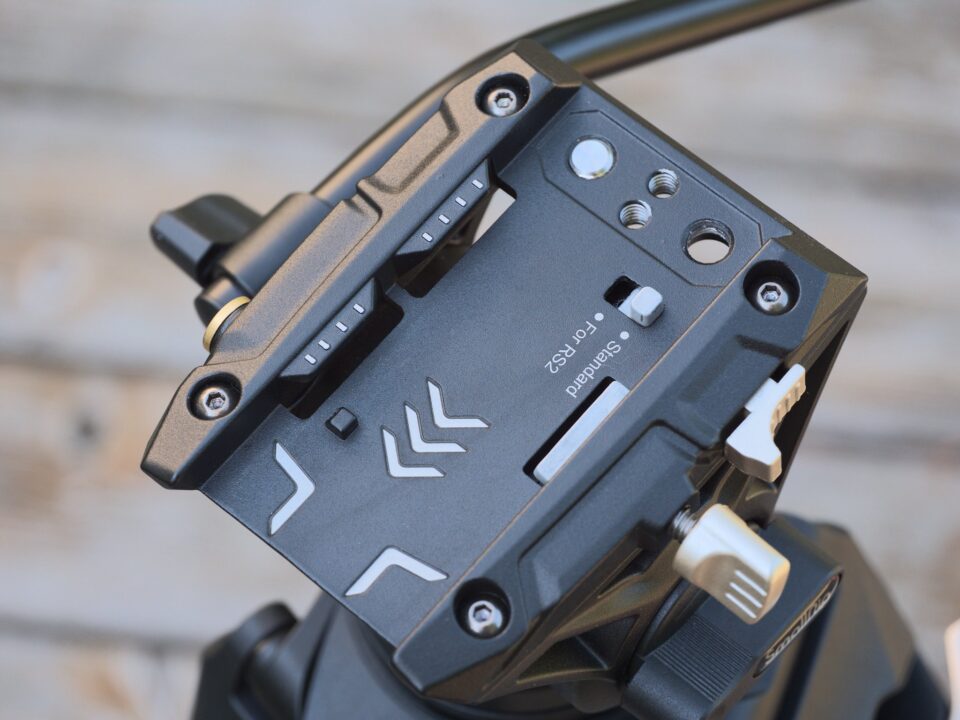 The plate itself is attached to the camera via an ordinary Allen wrench screw. The quick-release plate that comes with the tripod has an Allen wrench magnetically stowed inside it, which is very handy, as this wrench can also tighten the tripod leg locks. Beyond that, the tripod comes with two additional wrenches, a welcome sight.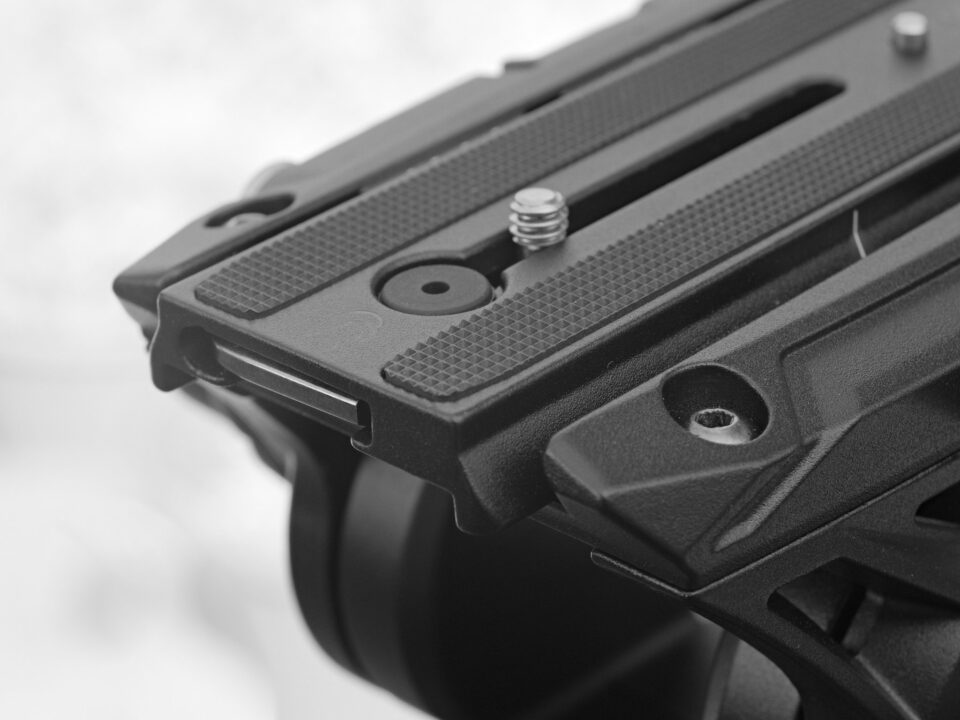 Once your camera is locked into the head, it must be released with a switch like the Manfrotto system, which is an excellent safety feature for video rigs. Unfortunately, the plastic release switch is wobbly. Since the release switch is one of the most-used parts of a fluid head, SmallRig should have made it a bit more sturdy.
Like the vast majority of fluid heads, the SmallRig AD-01 fluid head is a bowl head. That means once the tripod head is not locked into place, it swivels around in any direction so that it can be quickly leveled with the water level on the tripod head. The bowl head is easily loosened and tightened with a large triangular handle. Once locked, it stays firmly in place.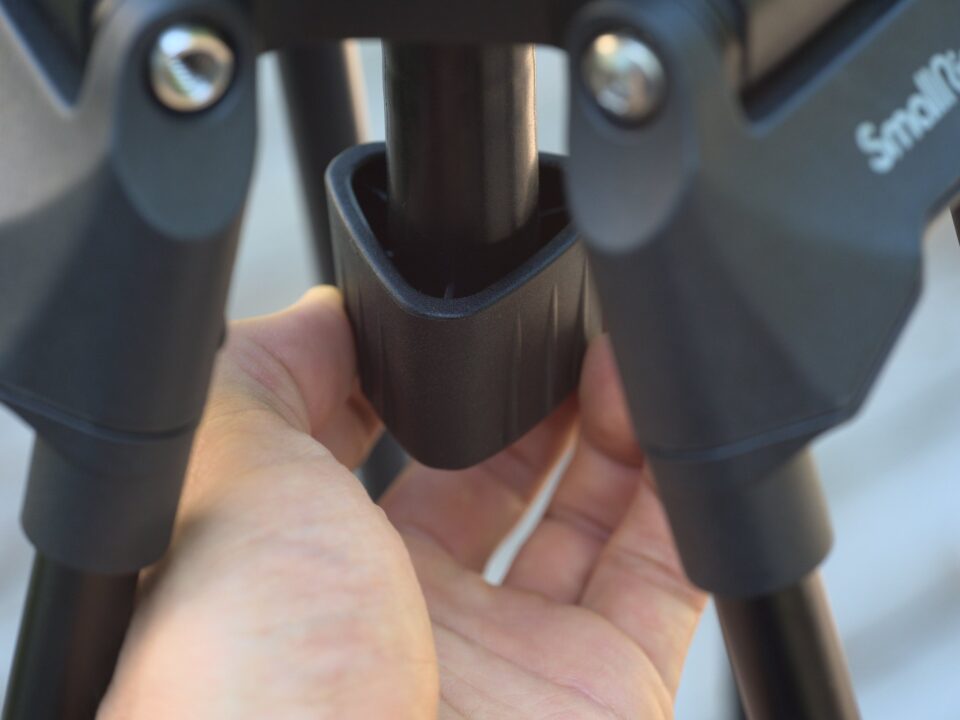 Conclusion
The SmallRig AD-01 is a budget tripod, but that doesn't mean it's a good value. It satisfies the most basic functions of a tripod, but its fluid head will not work well for two of the most important features of a video tripod: panning and especially tilting.
What is the ideal use case for this tripod? If you are working in a controlled, relatively safe environment where you just need something to hold your camera steady and maybe do a pan once in a while, the SmallRig AD-01 will be fine. However, if your main use case is a lot of panning and tilting in demanding environments, I would suggest spending more for a smoother fluid.
Would you consider SmallRig's new tripod? Let me know what you find important in a video tripod and fluid head in the comments!
Where to Buy
You can get the SmallRig AD-01 from B&H Photo for $159 USD.
SmallRig Heavy-Duty Fluid Head Tripod AD-01 3751
Features

Build Quality

Handling

Size and Weight

Ease of Use

Value
Photography Life Overall Rating