Sirui's 35mm full-frame anamorphic lens is a very interesting piece of equipment. While anamorphic lenses were previously the domain of cinema-focused lenses, Sirui's Venus series blurs the line between cinema and still photography, in part because of the great selection of compatible mounts. Is it worth using an anamorphic on your mirrorless camera? How does the Sirui 35mm t/2.9 hold up to 45 megapixels and 8K footage? That's what I'll cover in this review.
Why Anamorphic?
The most important thing to understand when considering any anamorphic lens, for either still or video capture, is that there are inherent tradeoffs made by the lens design. I've written a full guide to what anamorphic lenses can do, but the key point is that anamorphic lenses have a "squeeze factor." They allow you to capture photos with a different aspect ratio from the camera sensor itself.
On the Sirui 35mm t/2.8 (and on all of the Venus line lenses) the squeeze factor is 1.6x. After de-squeezing the photo in post production, your photos and videos will have more of a panoramic aspect ratio. For example, with a standard full-frame sensor with a 3:2 aspect ratio, your de-squeezed photos will have a 2.4:1 aspect ratio. (Meanwhile, shooting 16:9 video will give you 2.8:1 aspect ratio footage.) It also means that this lens captures a wider horizontal field of view than a typical 35mm lens – as if you had a 22mm lens instead.
There are some nice benefits to anamorphic lenses as a result. For one thing, the lenses allow you to capture unique aspect ratios without cropping the photo, thereby keeping more of your pixels, both in still images and videography. Beyond that, anamorphic lenses have unique bokeh and flare effects that look very cinematic. Finally, they are simply fun to work with if you are used to traditional lenses, and can expand your creativity.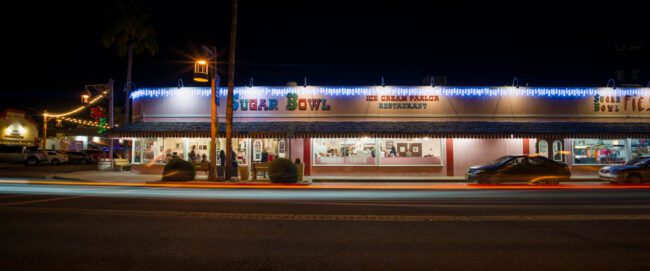 Why Not Anamorphic?
One difficulty with anamorphic lenses is that they make it harder to compose your photos. Everything you see in the viewfinder and/or LCD will be squished from left to right. It can be tough to determine where everything will be in your final composition. Some external monitors support de-squeezing this view, but otherwise, it's a matter of practice.
Another issue with anamorphic lenses is that you need to take the time to de-squeeze your photos or videos after the fact. This is easy in Photoshop and almost all video editors, but it does add a bit of work before you can see your images properly.
Lastly, for image quality, anamorphic lenses have unique characteristics like different flare and bokeh. These characteristics are often desirable for video work, but they're not for everyone. In terms of sharpness, the Sirui 35mm delivers excellent results, so that's not much of a concern.
Lens Specs
Focal Length: 35mm Anamorphic (22mm horizontal FOV equivalent)
Coverage: Full Frame
Max Aperture: t/2.9
Minimum Aperture: t/16
Minimum Focus Distance: 3 feet / 90cm
Element Count: 18 elements in 13 groups
Aperture Blades: 10
Front Filter Diameter: 82mm
Weight: 2.1 lbs / 930 grams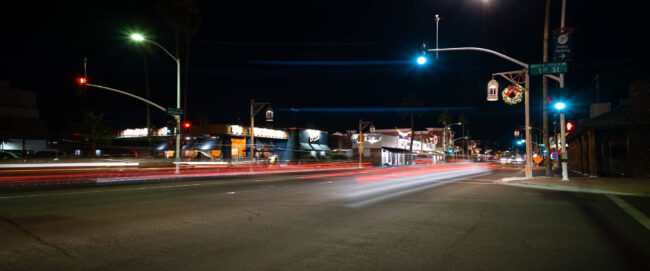 Build Quality
Cinema lenses are built differently than photography-focused lenses, and the Sirui 35mm is no exception. The entire body is made out of metal, and it feels completely solid. It's compact and dense, with a clean and modern design language. The ring at the front of the lens has useful lens info that makes it easy and quick to find the Sirui 35mm T2.9 in your bag.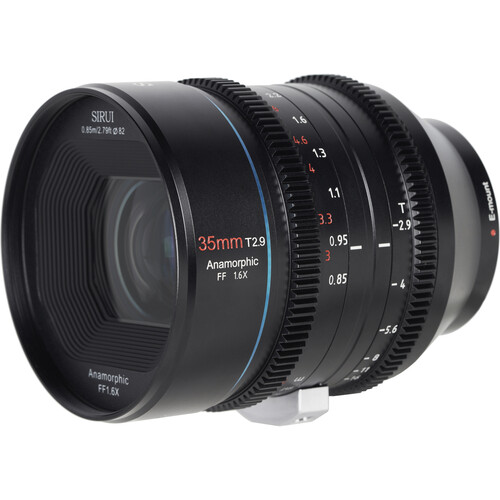 One immediately noticeable aspect of this lens is that the focusing ring and aperture ring are rough and geared (.8 MOD/32 pitch). There's absolutely nothing preventing you from manually turning these rings, as they're not sharp – but this is the first hint that the lens is really designed to be shot as part of a video rig with a dedicated focus pulling setup. That impression is further confirmed by the fact that focus and aperture marking are all on the sides of the lens! For cine use, this puts them in position to be read by camera assistants or focus pullers, but it's odd for photography, where you'd be looking down on the lens most of the time.
The focus ring on the Sirui 35mm FF Anamorphic lens has a generous 120 degree throw – which is quite wide considering that the lens doesn't focus particularly close. Aperture is controlled by the rear, clickless ring. It's a full-manual lens with no electronic connections to your camera, including for EXIF data.
If you're using multiple anamorphic lenses from Sirui's Venus line, you'll be pleased to know that all these rings and mounting points line up with each other. That makes it far easier to swap between lenses while shooting, without having to re-rig your camera.
Overall, the build quality is excellent, with my only complaint being the lack of a gasket at the rear of the mount. Otherwise, this is a well built-lens. It feels like it would be equally capable of standing up to use on set or in an active photographer's bag.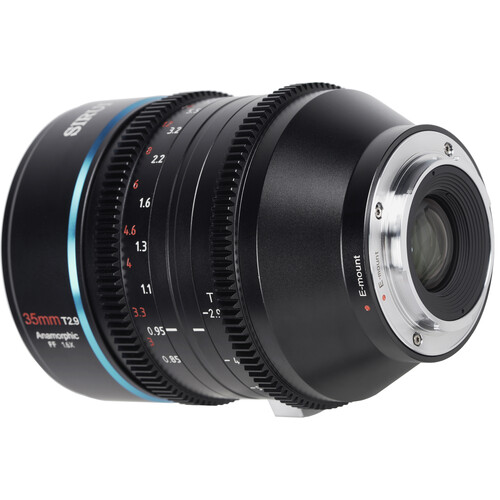 Optical Features
While at first glance, a 35mm t/2.9 doesn't seem like a particularly challenging optic to design, that changes once you make it anamorphic and get the image quality high enough to use on an 8K camra. Fortunately, Sirui rose to the challenge and the 35mm delivers excellent results in both high-resolution stills and videos.
The center of the frame is very sharp, resolving great detail on a 45MP body, with surprisingly few issues with aberrations. Sharpness is good wide open, but stopping down to f/5.6 brings a bit more bite to the center of the frame. Midframe results are fine even wide open, while only the extreme corners are a bit softer.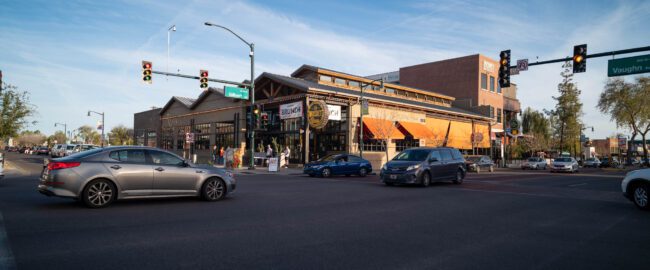 It's tough to judge sample variation from a single lens, but my copy was reasonably well-centered. The top right corner was slightly weaker than other corners, but it doesn't rise to the level of being an issue. Since the de-squeezed images from a 45 MP sensor are pushing over 65 megapixels, it's important for the lens to perform well, and the Sirui 35mm T2.9 definitely does.
Contrary to many lenses, anamorphic lens users are often looking for flares rather than trying to avoid them! Many anamorphic lenses advertise their specific color flare as a marketing feature. The Sirui Venus 35mm T2.9 has blue flares, which are not hard to provoke, but rarely get overwhelming. Even shooting right into the sun and boosting shadows produced only a faint loss of sharpness – this is close to the ideal result for an anamorphic lens.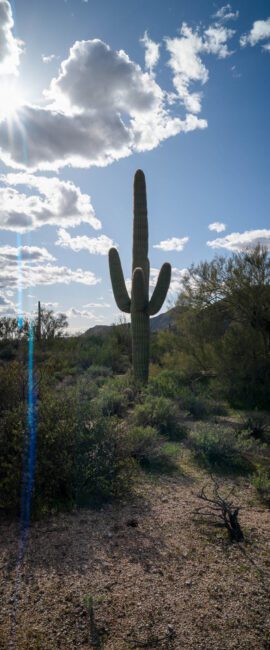 While the Sirui Venus 35mm T2.9 is not fully optimized for sunstars, the 10-blade aperture can still produce some nice 10-pointed stars around light sources. In combination with the anamorphic flares, this definitely lends the images a strongly cinematic look right out of camera. Stopping down really provokes these sunstars, almost to a distracting extent – if you're working with a lot of point light sources, limiting your aperture to f/5.6 or wider can keep the look more restrained.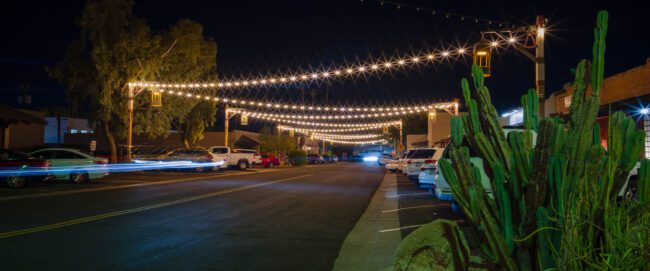 Overall, optical performance is quite good for this lens. Covering a full-frame image circle with an anamorphic look, while being able to keep up with 45MP stills and 8K video, is impressive. Whether you're shooting photos or videos, this lens isn't going to hold back your image quality.
Is it Worth It?
The Sirui Venus 35mm T2.9 definitely has a unique look, and I really enjoyed testing it out. If you're looking for a reasonably affordable anamorphic option that still delivers good image quality, the field is almost empty – this family of lenses from Sirui is one of the few good choices. Cine-grade anamorphics can cost as much as a new car, so a price point at around $1,500 is game-changing for smaller productions. I would highly recommend this lens for any videographer on a budget who wants the characteristics of an anamorphic lens.
For still photographers, it's a less obvious value. From the body design, to the size and usability, this lens is meant for cine use – even though it functions just fine for still photography, too. The anamorphic look is definitely under-explored for still photography, and it gives a unique feeling reminiscent of XPan film images. If you're looking for something new to try, it could still be worthwhile, but I wouldn't recommend that still photographers buy it on a whim. At $1500, this certainly isn't a gimmicky/fun Holga lens.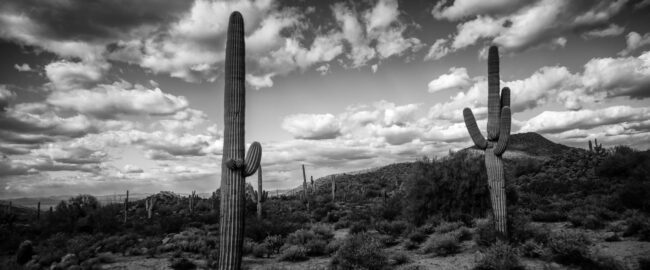 Sirui's 35mm t/2.9 anamorphic lens is available now from B&H in Canon R mount, Leica L, Nikon Z, and Sony E mount. Other focal lengths from this lens family are also available, including 50mm, 75mm, 100mm, and 135mm. Lastly, Sirui also produces anamorphic lenses specifically for APS-C sensors.
Have you considered shooting anamorphic stills or video before? I certainly think it has a unique look. Let me know what you think in the comments!