Lens Sharpness and Contrast
Sigma beefed up this lens with a bunch of corrective elements, which resulted in very impressive sharpness performance. Take a look at the below results, as measured by Imatest: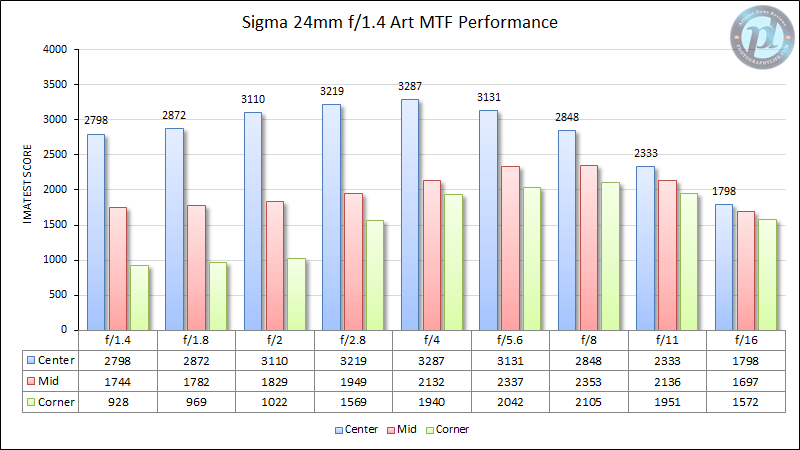 When it comes to center performance, those are pretty incredible results, especially at maximum aperture. In fact, many lenses cannot reach this level of sharpness even when stopped down to f/5.6! Sigma certainly did a great job with the lens design to make it this sharp, but it did come with a major weakness – pronounced field curvature, which makes mid-frame and extreme corners look pretty bad. As you can see, when focusing in the center, the MTF numbers for everything else fall drastically. I tried to balance field curvature by slightly defocusing the center and see if I can get better mid-frame and corner performance, but there were rather noticeable losses across the frame. In fact, at the maximum aperture of f/1.4, I could get the corners slightly sharper, but not significantly, which indicates that this lens is probably just not optimized to yield good corners at wider apertures. Things get much better when stopped down though, especially past the f/2.8 mark. By f/5.6, the lens was able to reach solid sharpness across the frame, but it was still not as good as some other lenses out there, including the Nikon 24mm f/1.4G.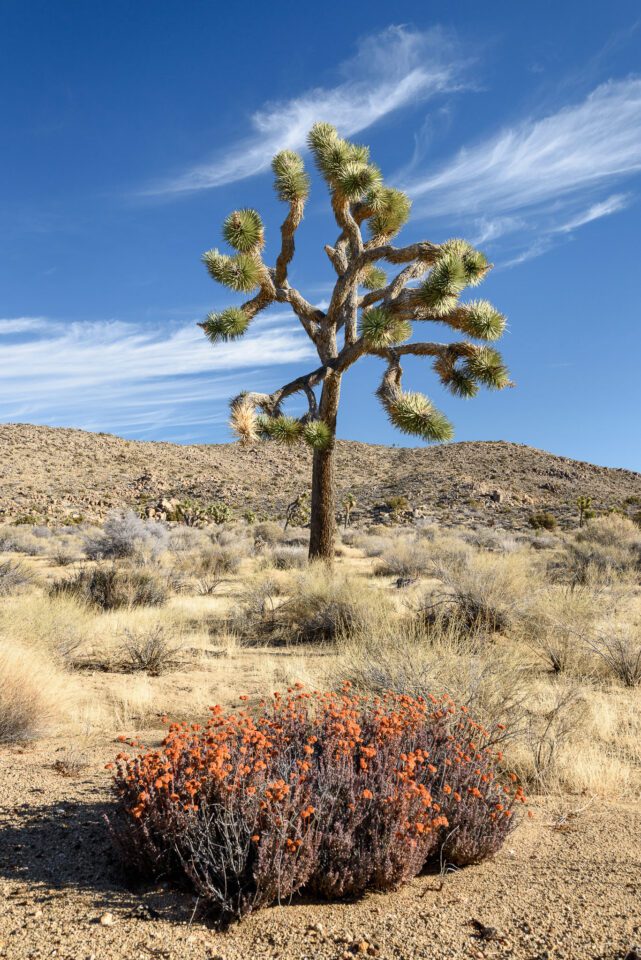 It is also important to point out that the above numbers were taken from the better of the two samples that I tested. The second sample had less AF issues, but had a very decentered element, which produced much worse results than the above. In my experience, sample variance and QA issues are greater with third party lenses (although not always the case), so my recommendation would be to test your copy and make sure that you do not have any serious problems with it before the return window expires.
Bokeh
Wide-angle lenses, especially the ones with aspherical lens elements are not designed to yield good-looking bokeh. However, depending on your subject distance, subject to background distance and your aperture, you can still obtain reasonable results. Take a look at the below sample image that I captured with the Sigma 24mm f/1.4 Art in Sri Lanka: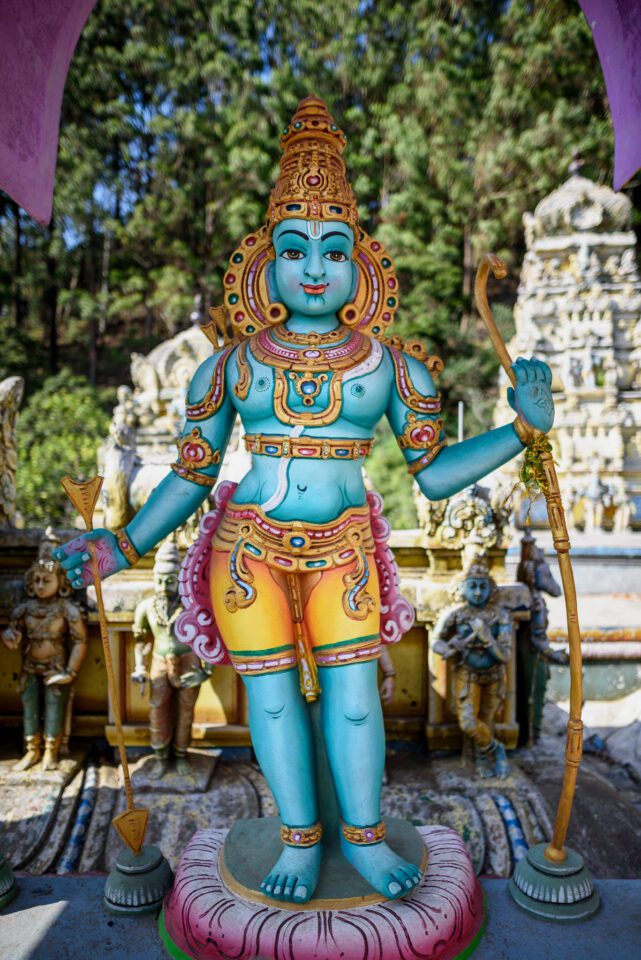 This is probably the worst case scenario for demonstrating the bokeh qualities of this lens. As you can see, the background highlights look very ugly and way too pronounced at f/1.4. This is unfortunate, because the subject was located at a similar distance as a person normally would. While having all those corrective lens elements made the lens very sharp, it looks like they impacted the way background highlights are rendered in a scene like the above.
However, if you get closer to your subject(s), you can make the background look much smoother, as can be seen in the below image: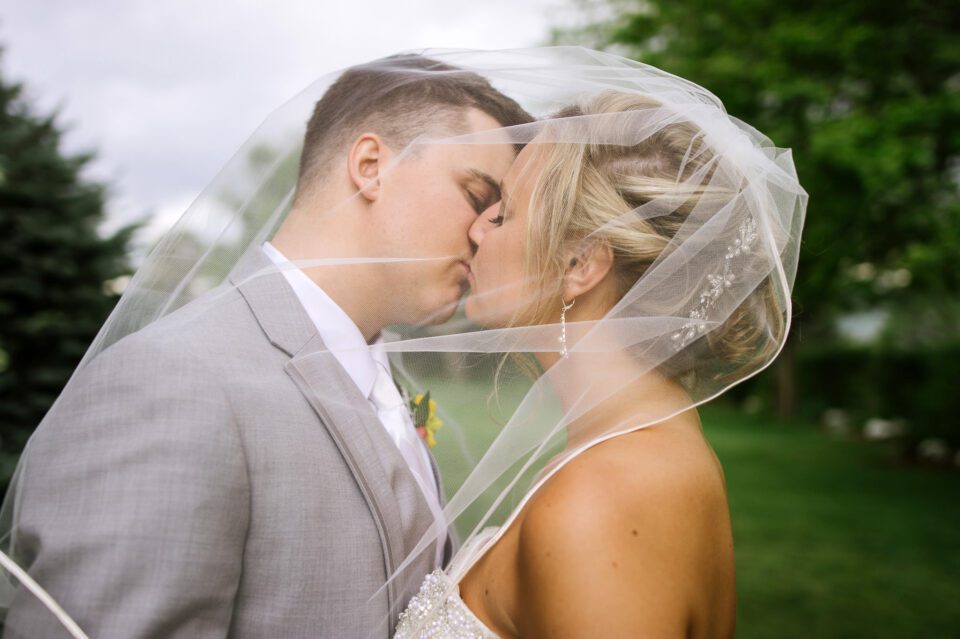 Vignetting
When it comes to vignetting performance, the Sigma 24mm f/1.4 Art certainly vignettes heavily, especially at the widest aperture and when focusing at infinity. Take a look at the below results from our lab tests: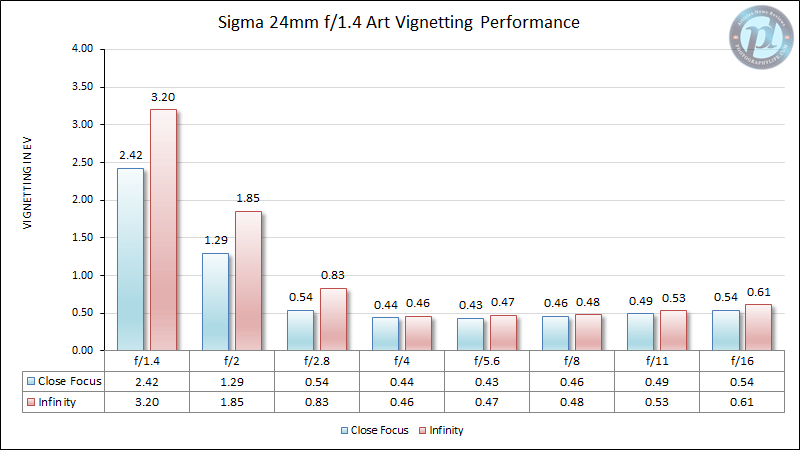 The good news is that vignetting is reduced quite a bit by stopping down to f/2, and by f/2.8, it is practically gone when shooting at close distances. Personally, I am often attracted by the vignetting qualities of lenses, so I rarely remove them from images. However, if you are not happy with darker corners, you can easily fix them in post-processing. Both Lightroom and Photoshop ACR already have a built-in profile to correct vignetting issues, so you can address the problem with a single click using the Lens Corrections sub-module.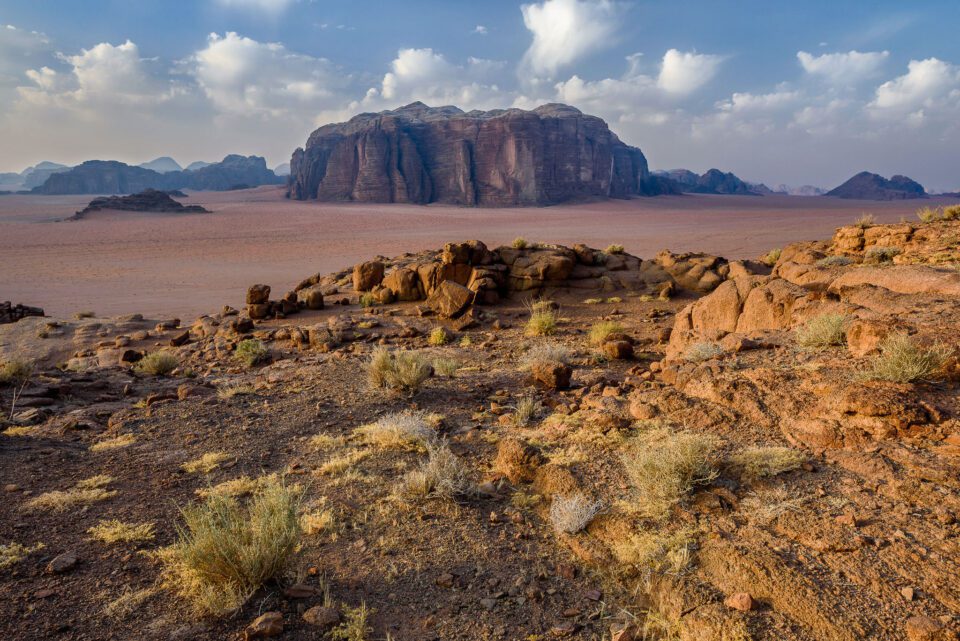 Ghosting and Flare
The Sigma 24mm f/1.4 Art is coated with Super Multi-Layer Coating, which helps reduce both ghosting and flare significantly when shooting against bright sources of light such as the sun. I took a few pictures with the sun in the frame and right out of the frame and I did not encounter any serious issues with ghosting and flare in my images. Take a look at the below image of Burj Khalifa that I photographed with the sun barely out of the frame on the top left: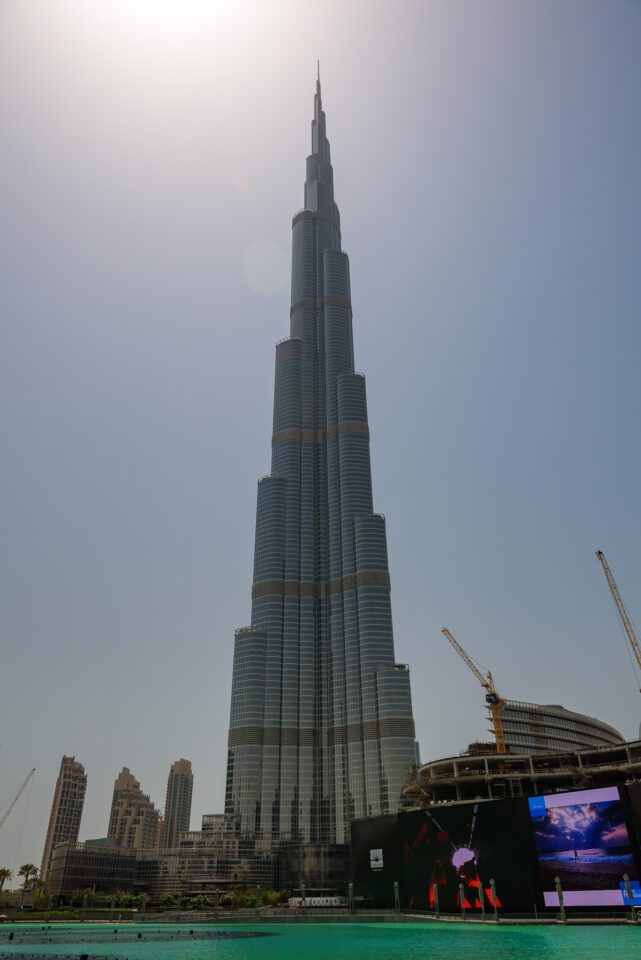 As you can see, the lens did really well here – there are no nasty ghosts in the image, aside from a few small ones that are barely visible.
Distortion
While most wide-angle lenses produce barrel distortion, the Sigma 24mm f/1.4 Art is corrected to have practically no distortion whatsoever. Imatest measured 0.16% barrel distortion, which is almost non-existent. Compare this to the Nikon 24mm f/1.4G, which has 1.05% barrel distortion or the Samyang 24mm f/1.4 that has much more at 1.61% and you will see why this is a significant achievement.
Take a look at the below image, which shows uncorrected distortion: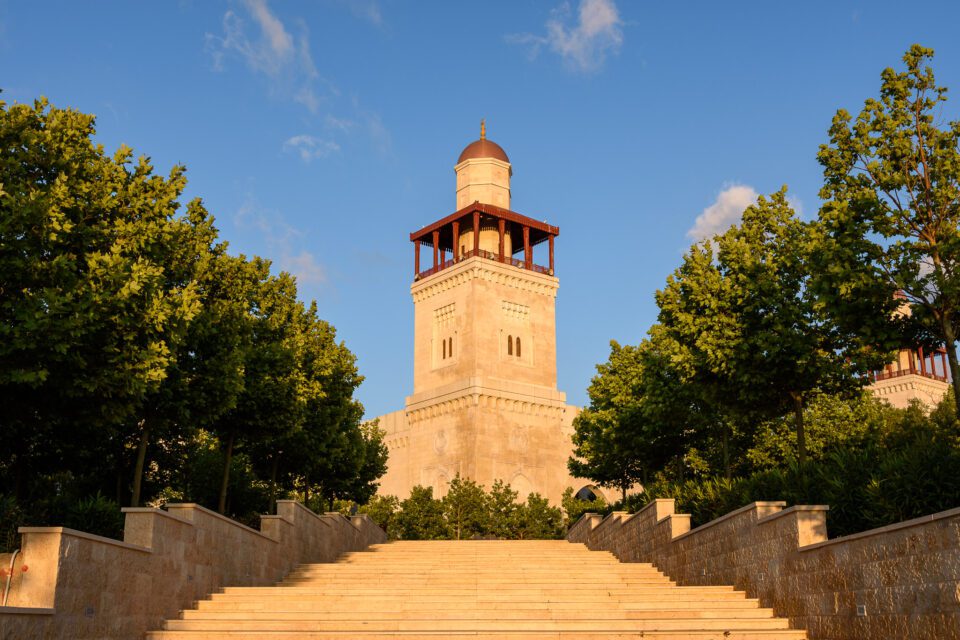 In short, there is a very slight amount of distortion in the image that you would probably never even see in most images, even of architecture.
Chromatic Aberration
The Sigma 24mm f/1.4 Art is also made to yield very little lateral chromatic aberration. Take a look at the below results from Imatest: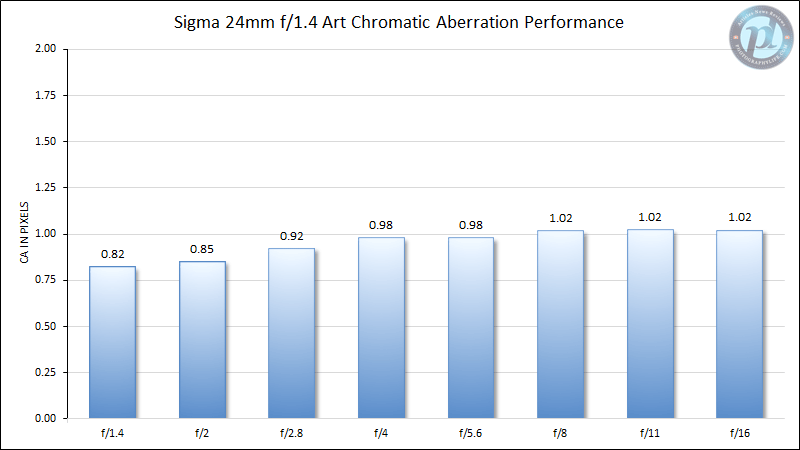 As you can see, the lens yields less than a pixel of chromatic aberration throughout its aperture range, which is very impressive when you consider that other 24mm lenses like the Nikon 24mm f/1.4G yield much higher CA over 1.5 pixels at wider apertures – almost twice as much in comparison.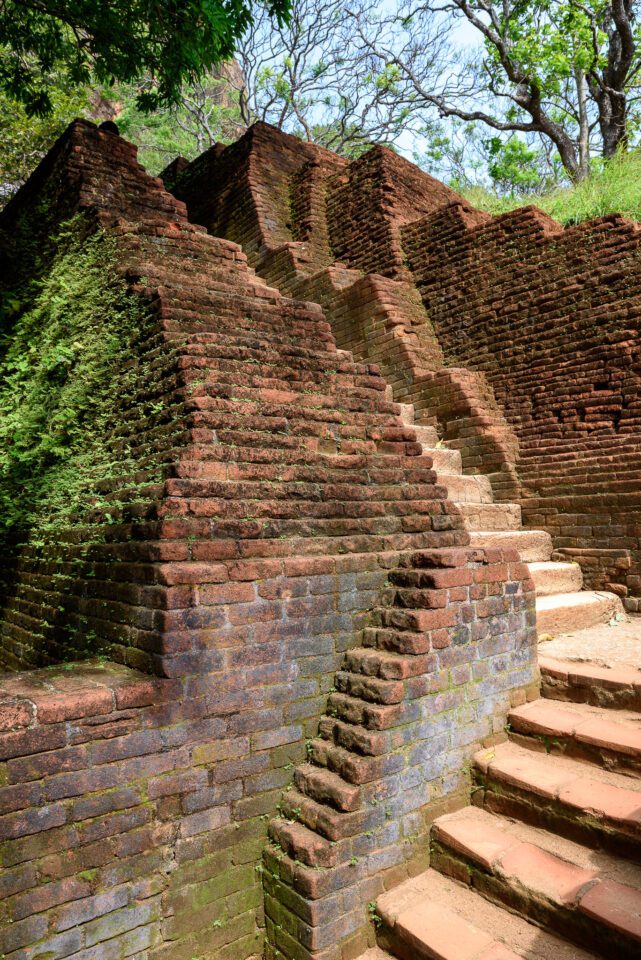 Coma
With its maximum aperture of f/1.4, the Sigma 24mm f/1.4 Art is capable of gathering a lot of light, which might make it seem like a great lens for astrophotography. I photographed the Milky Way at different apertures and came to conclusion that the lens produces quite a bit of coma at both f/1.4 and f/2, as can be seen below: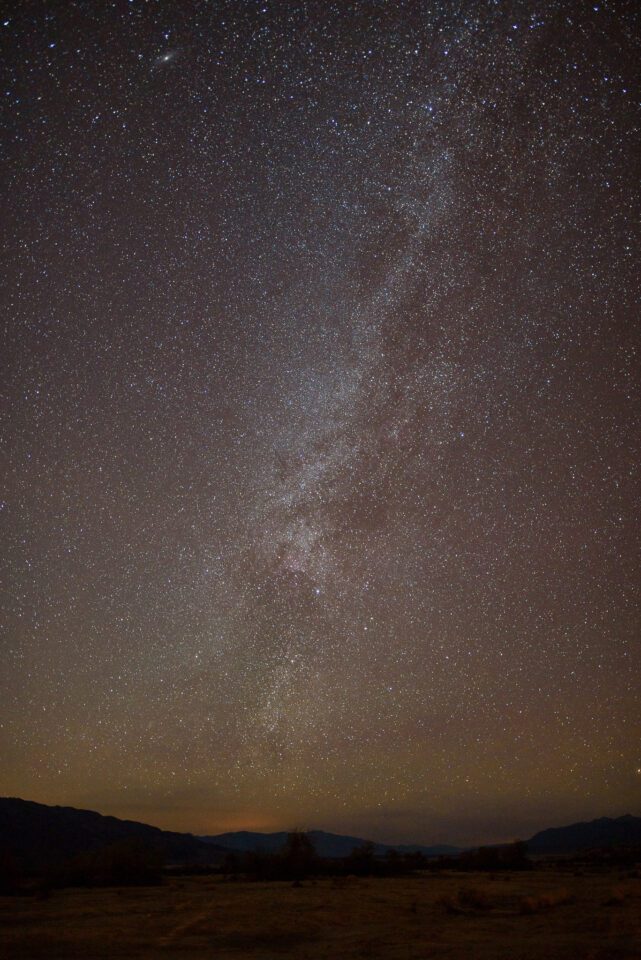 NIKON D750 + 24mm f/1.4 @ 24mm, ISO 3200, 10/1, f/1.4
Unfortunately, just like with most other wide aperture lenses, you have to stop the lens down to f/2.8 to significantly reduce coma.
Let's move on lens comparisons.