If you do a lot of hiking and long-distance treks as a photographer, you might have some difficulty finding a good backpack to carry your equipment. Sure, regular camera backpacks will protect your gear and allow quick access, but they might not be comfortable for long travels. The other option is to get a hiking backpack, which works for longer hikes, but won't let you access your gear as easily (or potentially protect it as well). That's where companies such as F-Stop Gear and Gura Gear jump in with something in between — hiking bags built around carrying cameras. There's a new company on the scene, too: Shimoda Design. I've been testing out the Shimoda Adventure 60 bag over the past month, and it ticks a lot of boxes for what this sort of bag should be. Below is my review, along with the pros and cons of this intriguing new backpack.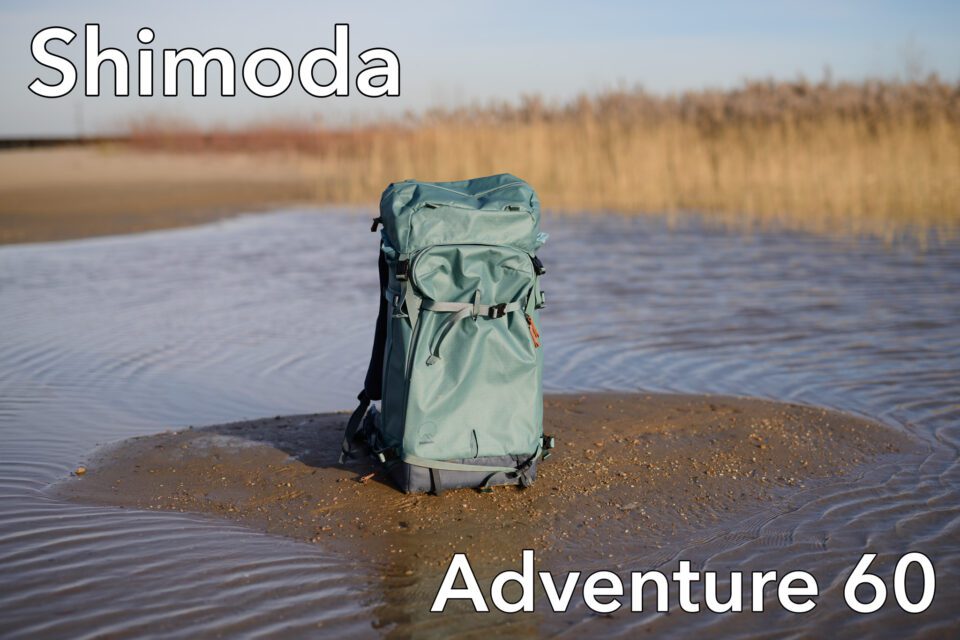 1) Specifications
Before starting the review, here are some important specifications of the Shimoda Adventure 60 backpack:
Top, rear, and side access to the interior of the bag
Rear access via the compartment that touches your back; opens book-style, from right to left (explained in detail below)
Separate top zippered pocket on the top of the bag for accessories, which also has a zippered mesh divider within
A couple accessory pouches on the shoulder straps, as well as a water bottle holder
Large, flat zippered pocket from the top to bottom of the bag on the outside; meant for carrying a snow shovel, water bladder, jacket, laptop, or similar
Two internal sections separated by a (removable) thin fabric divider; you're meant to put your camera equipment in the bottom section by adding a separate "core unit"
Removable external pouch that can fit a full-frame DSLR with a 70-200mm f/2.8 lens for quicker access (including front access)
Dimensions: 11 inches/28 cm deep, 11.4 inches/29 cm wide, 24 inches/61 cm tall
Weight: 3.3 lbs/1.5 kilos, without any of the camera units inside
45 liter capacity that can expand to 60 liters
13-inch laptop sleeve (which really is just 13 inches, and definitely couldn't fit my 15-inch laptop; however, my laptop did fit in the top-to-bottom flat zippered pocket without issue)
Stabilizer straps
Sternum strap
Waist strap
Price: It depends upon which kit you select (since this is a Kickstarter project). The cheapest option for the Adventure 60 is $299, which — crucially — includes two small camera units as well. Otherwise, you wouldn't have a good way to organize or structure your camera gear within the bag. There's also an "early bird" option for $319 that includes an additional medium camera unit and an accessory case.
It's worth mentioning that the company Shimoda was founded by Ian Millar, the former lead product designer at F-Stop Gear. If you've ever used an F-Stop product, you'll notice a lot of shared DNA between those backpacks and this one, although there are some key differences as well. I'll get into all that below.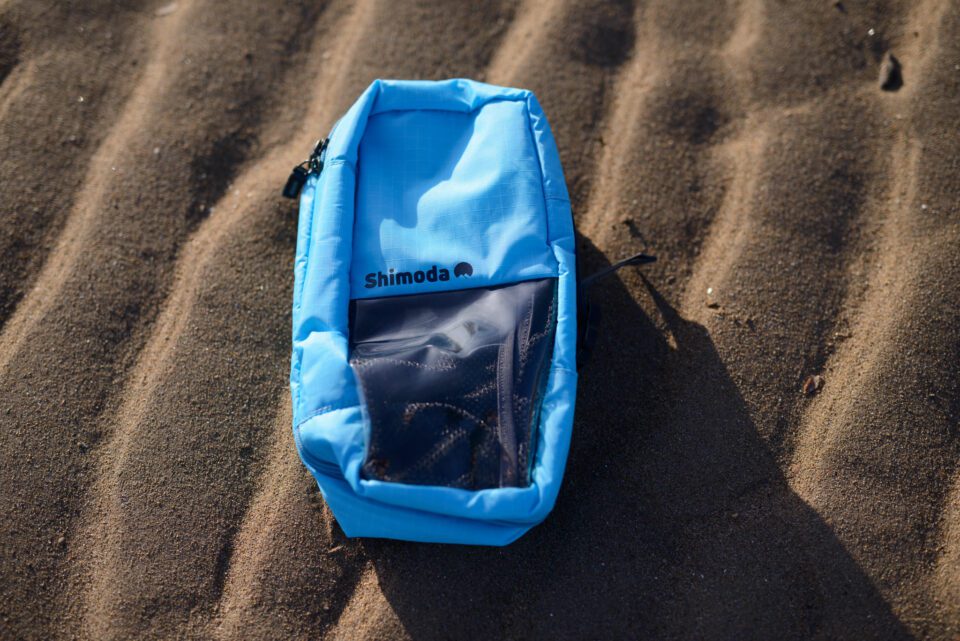 2) Build and Weatherproofing
The Adventure 60 is built very well. The weatherproofing is excellent, and the lightweight canvas material is very difficult to scratch or damage.
Is it completely storm-proof? No hiking bags are invincible in extreme conditions, but this one does do, on balance, a very good job in bad weather. The canvas material across most of the bag is highly water resistant, and the most vulnerable part is the foam padding that presses against your back. If it's raining particularly hard, water will start to soak through that area (although your back likely will block the worst of it).
The rest of the bag also has a solid build. The zippers are large enough not to jam easily, with tabs made out of leather. I did run into a few cases where the zipper for the main panel got slightly stuck, but nothing extreme. As a whole, this bag is built very well.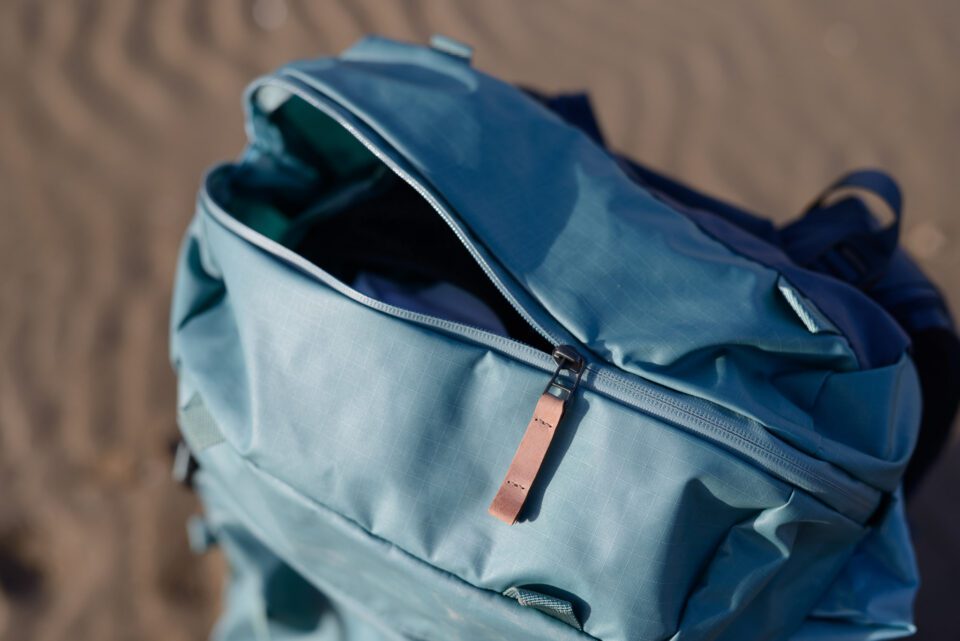 3) Comfort
One big pro of hiking backpacks in general is that they are very comfortable — more so than a typical camera bag. The Adventure 60 doesn't disappoint here, either.
For me, a bag is comfortable when it gets a few things right: the shoulder straps, waist strap, and back padding. It's also important that the bag carries weight well, so as not to cause headaches or other pain during a hike.
The Adventure 60 manages all that quite well. The shoulder straps are wonderfully wide, distributing weight very well. You can even adjust their height to match your torso, which isn't something I've ever seen on a camera backpack before. Well done.
The waist strap isn't quite as padded as on other bags I've used, but it's made of a soft foam material that makes it quite comfortable overall. Also, the bag as a whole carries weight excellently — it's almost indistinguishable from a traditional hiking backpack, although I do wish that the shoulder straps were a bit farther apart (which is more of a personal comfort issue than something that applies to everyone; it depends upon your build).
The rear panel is the one area where you'll find some compromises. In any backpack that allows the rear panel to open, there won't be as much padding or breathability, simply due to space concerns. However, the Adventure 60 does better in this regard than either of my F-Stop bags (both of which also have an openable back panel), and the padding along the bottom is actually quite substantial. I wouldn't say that it's quite as breathable as a top-of-the-line hiking bag — and thus might not be the best choice for long, hot hikes through the desert — but it's better than I expected in this respect. Overall, I give the bag top marks for comfort. (Shimoda also says that they increased the thickness of the padding in the past month, which is always welcome; mine is a pre-production model, so it would be the version with slightly thinner shoulder straps and waist belt.)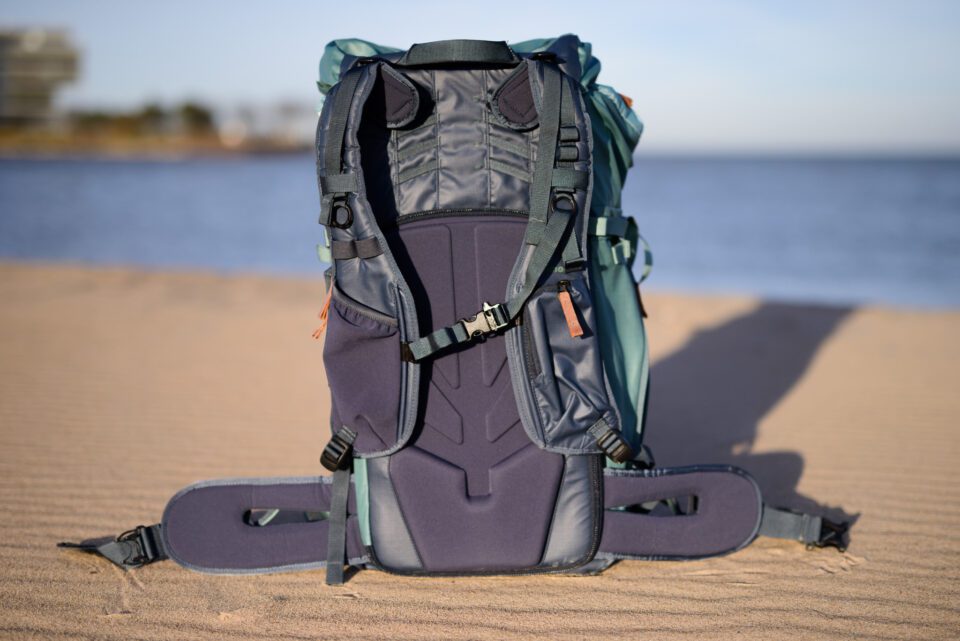 4) Features
Shimoda added in some nice extra features to the Adventure 60 that I suspect adventure photographers will enjoy.
One of the most visible is the loop that lets you attach a wide array of equipment to the front of the bag: a tripod, snow shovel, pickaxe, and anything you can think of. That's what I did here: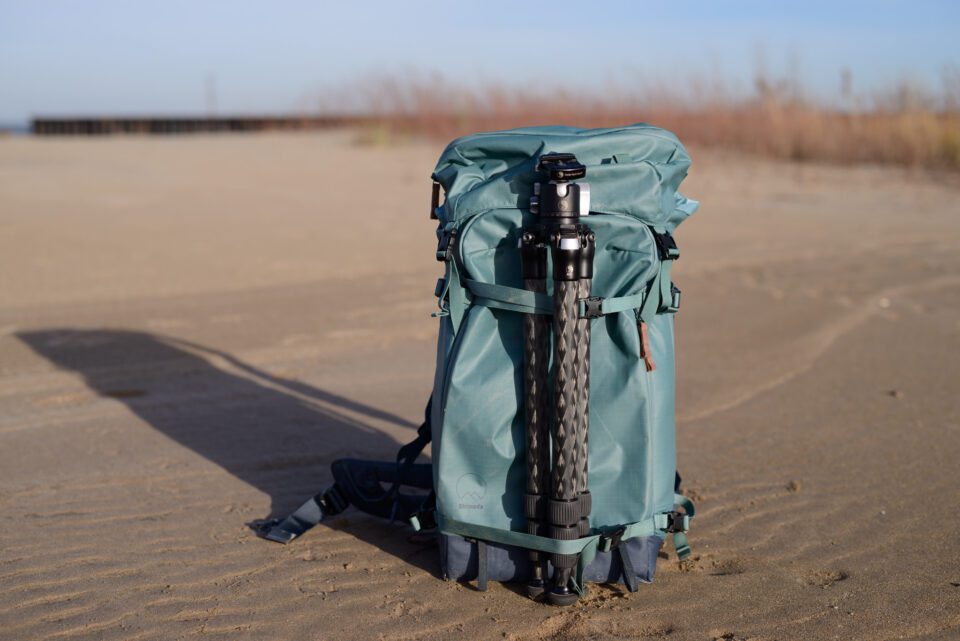 The specific feature that's noteworthy here, though, is a loop that lets you thread the straps through to the other side. Essentially, you can attach a strap from one side of the bag to the other, but also divide it in half if you want to separate the left and right sides. Personally, I like this for carrying a tripod (which I'll never carry in a side pocket due to the uneven weight). By threading the top and bottom straps through this center loop, I can put one tripod leg on either side and ensure that it doesn't slide around while hiking.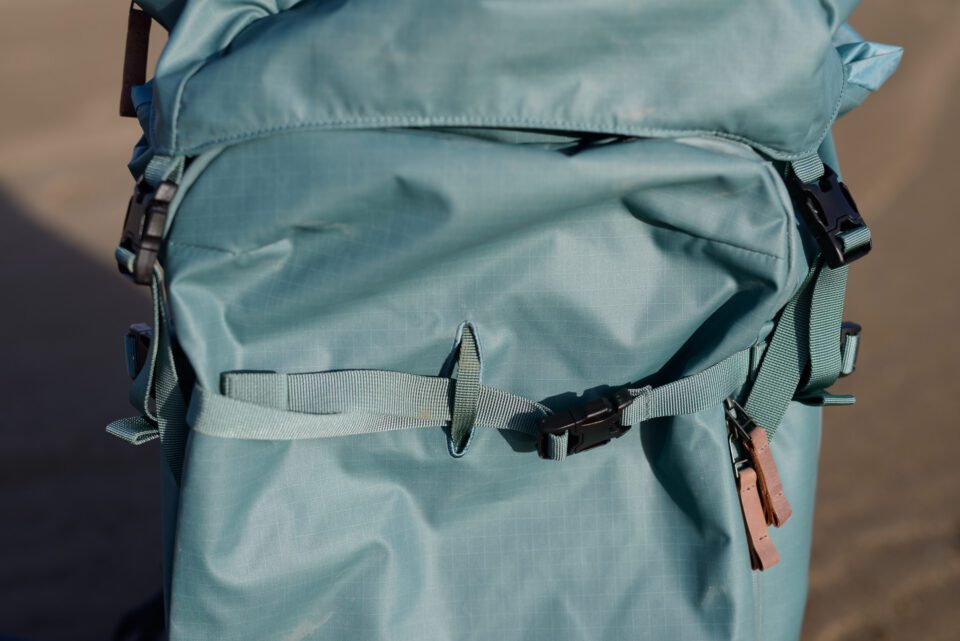 The Adventure 60 also has a few other noteworthy features: a safety whistle on the sternum strap, a water bladder system, a laptop sleeve, and several loops in various areas to let you hook on other accessories. It also comes with an external pouch that is large enough to fit a full-frame DSLR and a 70-200mm f/2.8 lens, which makes for a quicker way to access gear that you need on short notice. A full DSLR kit might be a bit lopsided for that sort of thing, but I've found it to be quite comfortable with my D800 and 20mm f/1.8 lens, or similar. It's a good way to access gear without removing your pack.
5) Space and access
Accessibility is the greatest strength of the Adventure 60, but, in some ways, also a weakness.
On the positive side: This bag is awesome at dividing up space. Specifically, my favorite feature — and the big reason why I'm switching away from my normal hiking backpack — is that the entire top compartment is separate from the bottom compartment, where you store your camera equipment. There's a thin (removable) fabric divider between the two sections, and that makes a huge difference.
You can put a jacket in the top panel without worrying that it will slide down to the camera gear section and push against your back. You can throw an extra lens in the top compartment and know that it won't slip down and bump against other equipment. If you're like me, you'll appreciate that you can overstuff the top compartment with all the hiking gear you need — food, a stove, extra socks, a rain jacket, and so on — without cramping your camera equipment at the bottom. That's not a feature of very many bags, period — camera or hiking.
Another big benefit is that the internal camera units that Shimoda sells are perhaps the best combination of size and sturdiness that I've seen in the photography world. The camera units from F-Stop Gear, for example, are far less streamlined, with excess padding that makes it harder to fit as much equipment easily. Combined with the separation between the top and bottom compartments, the Adventure 60 is great for sorting your gear efficiently.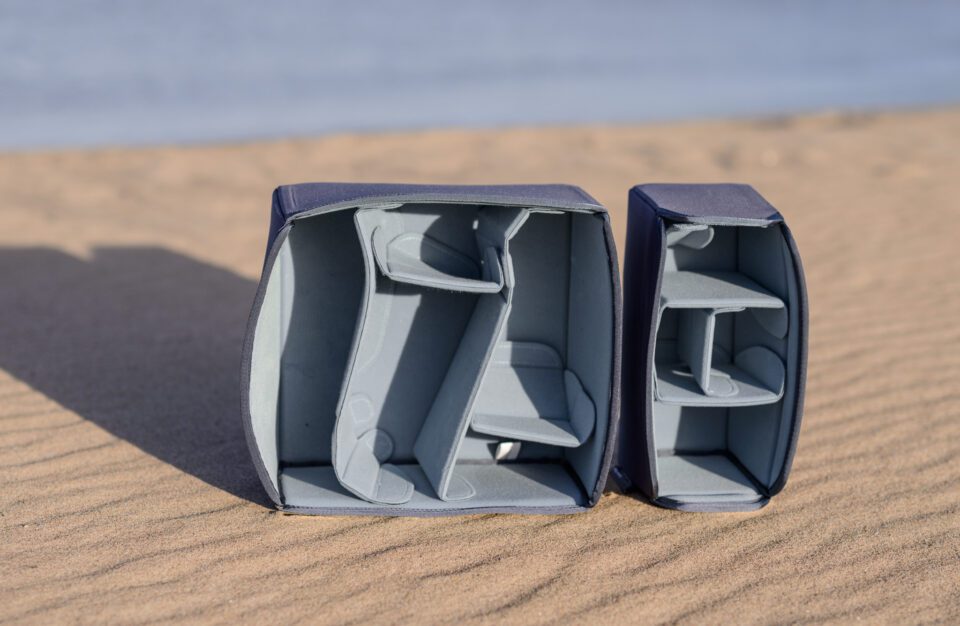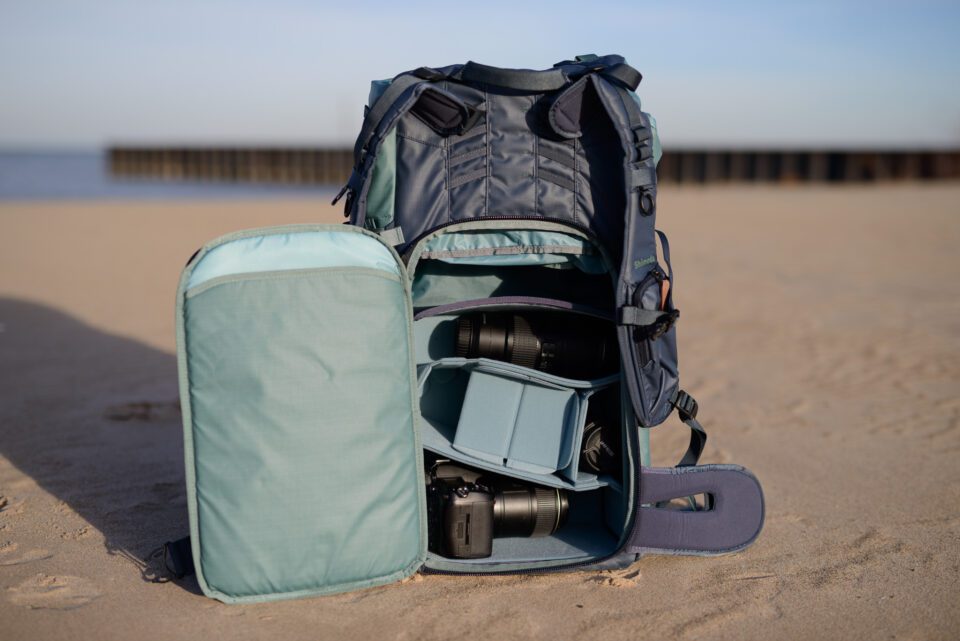 But some of the bag's weaknesses also involve access and storage. None of these are fatal weaknesses, at least for my uses, but some are more bothersome than others.
For example, Shimoda advertises "side access," and that's true — but only if you put one of the small internal camera units facing sideways, which causes it to fit poorly in the bottom section of the bag (it's too small in that dimension, making it more likely to rattle around and not sit with perfect stability). If it's really important that you can access your gear from the side, feel free to set up your camera units like that. Otherwise, at least for me, it's not especially useful, and it takes up space on the side of the bag that could be used for something else.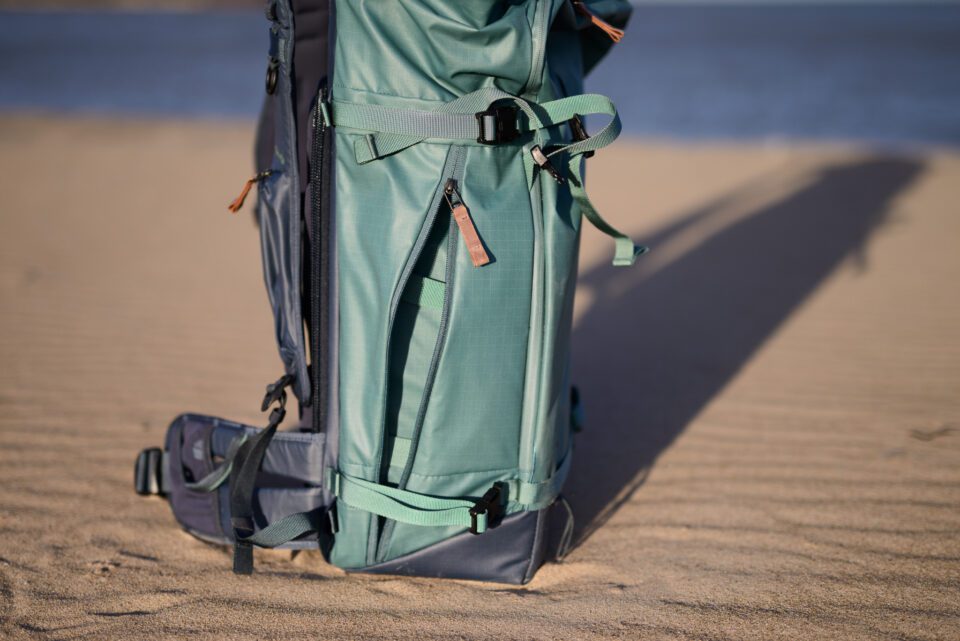 What else could Shimoda have put here instead? For me, this goes right to the biggest issue with the bag as a whole — a water bottle pouch.
There are no side pouches on this bag to hold a water bottle. One of the two sides (the left side, if you're wearing the bag) does open to a couple loops that, in theory, you could use to attach a water bottle holster via a couple carabiner clips. Or, if your water bottle is small enough, maybe you could fit it within the zippered opening itself, although it wouldn't fit especially well.
The only pouch on the bag meant to hold a water bottle is on the shoulder strap, which is an especially odd place to put it, in my opinion. Not only is it a bit uncomfortable if your bottle is metal or hard plastic, but this decision also dramatically limits the size of a bottle that you can carry. In the photo below, you can see that a "smartwater" brand bottle barely fits, and (in terms of diameter) that's not an especially large bottle: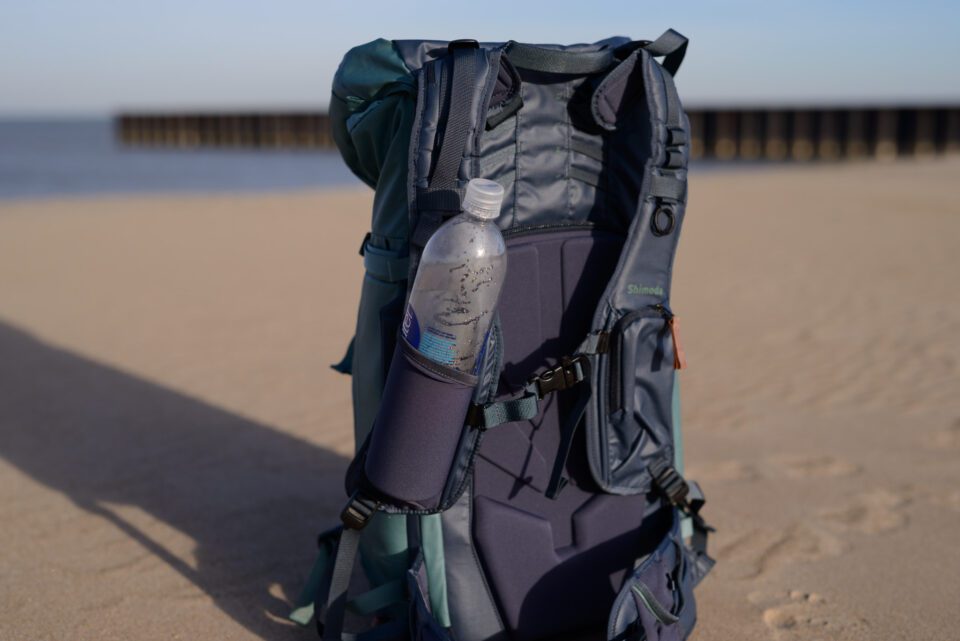 So, how does Shimoda expect hikers to bring along their one liter per hour? The answer goes back to something I mentioned earlier — the water bladder holder. If you do have a water bladder, there's a built-in system that lets you thread the tube conveniently to the right-hand shoulder strap, just like a typical hiking backpack. One problem: The water bladder compartment is on the front of the bag — the same area that your tripod (or snow shovel, or pickaxe) will be bouncing around as you hike. That harms the weight distribution of the bag to a degree (water is heavy, and it's not ideal to be so far away from your back), and it also makes your hydration system more prone to bumps and damage over time. Still, it's a workable solution.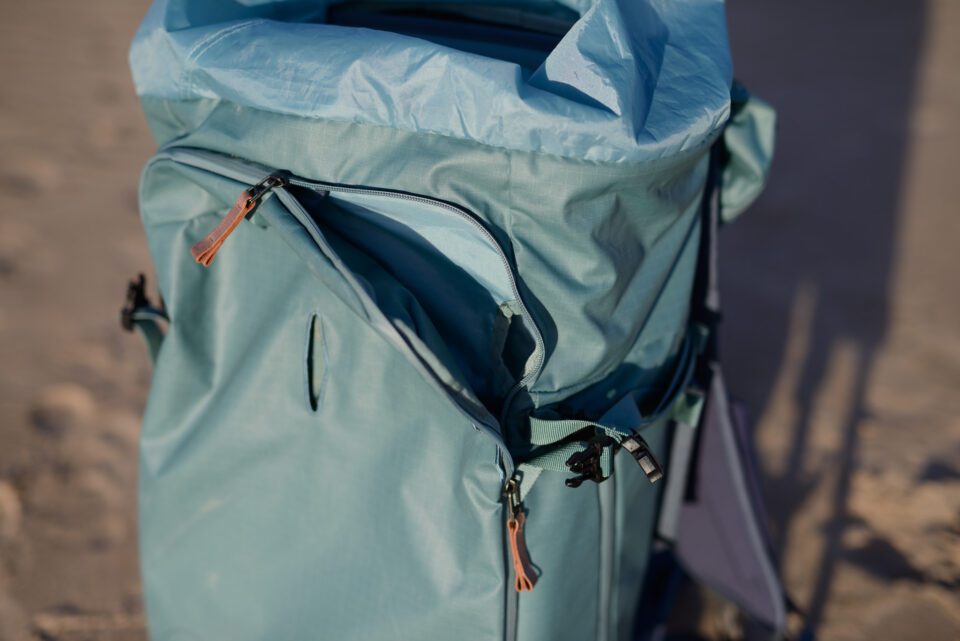 If Shimoda were to add a large, stretchable water bottle pocket to one side of the bag (or both), though, that would be the best of both worlds. Personally, I would prefer that rather than a thin zippered compartment that contains two loops for an external pouch!
However, you still have options. If you have a soft water bottle, putting it in the front pocket isn't a bad idea at all. It certainly works for certain bottles, depending upon their size and shape. The same goes for the external pouch itself — personally, I found it a bit too large to carry a water bottle how you normally would expect (and there's a bit of flopping around), but it's also a solution.
So, out of these options, how do I carry water with this bag? Unless I have my full water bladder system set up, I just put the bottle in the top internal section of the bag. It's not too bad, but it does mean I need to take off the bag each time in order to open the top compartment and access my water bottle. The alternative is to use a separate carabiner system to attach a water bottle holster to the side of the bag, or use the built-in option on the shoulder strap (or the external pouch). Without a doubt, there are options, but the setup I'd prefer — a mesh pouch on the side of the bag — isn't available at the moment.
6) Opening the Rear Panel
The only other criticism I have of the Adventure 60 is the style of opening for the rear panel.
If you've ever used an F-Stop Gear backpack, you'll know that they have a "drawbridge" opening style, where the rear panel opens from top to bottom. Shimoda decided, instead, to use a "book cover" style, where the panel opens from right to left.
That decision perplexed me, so I reached out to Ian Millar, founder of Shimoda, to hear his comments. He named three reasons for this choice:
In poor weather conditions, the book-style door works as a better shield against the wind and elements.
This design allows a 13-inch laptop sleeve.
With drawbridge-style bags, your body gets in the way of the panel, and you might have to hold it open with your chin while accessing gear.
I can see the reasoning behind these points. For some people, a book-style opening could indeed be a better fit than a drawbridge style. Personally, though, I wish that Shimoda stuck with the F-Stop Gear style of a drawbridge opening for a couple reasons:
It's easier for equipment to fall out of your bag this way, without the panel to lean against as it opens.
With the book-style opening, the bottom section of zipper is much more susceptible to dirt and grime over time, since it's so close to the ground, especially when you put the bag down to access the top section. It also can be more difficult to reach if the bag is standing upright, with the zipper close to the ground.
I would prefer the drawbridge style, personally. I don't know if that's how most people would feel, and you might favor the other, but it does strike me as a bit of an odd design choice.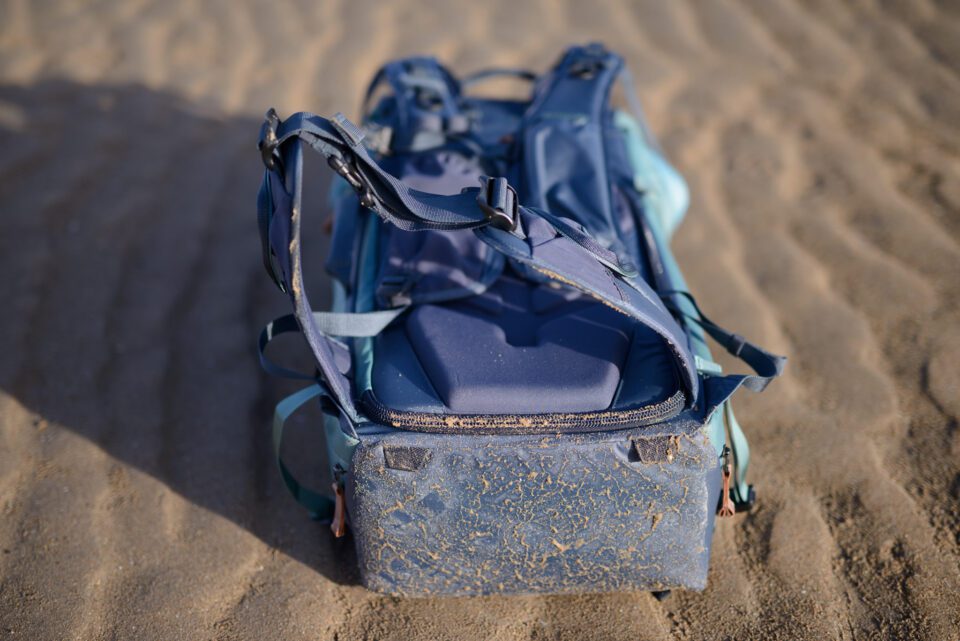 7) Recommendations
The Adventure 60 is an excellent backpack.
It does have negatives, like all bags. For me, the biggest issue is that it doesn't have a good water carrying system, which is almost baffling given the close attention to detail elsewhere on the bag. It's not an unforgivable issue — after all, you'll certainly find some way to carry a water bottle in the end — but this is something I hope Shimoda fixes with the next iteration.
Same goes for the rear panel opening. I'm not a huge fan of the book-style opening, since I think it makes it more difficult to access gear, as well as making the zipper more vulnerable over time, without much payoff. Again, this alone shouldn't deter you from buying the bag, but it's not ideal.
Other than that? I have minor nitpicks here and there, but there's really nothing else that struck me as profoundly negative. I really like this bag. It is wonderfully comfortable, and it blends the best parts of a hiking and camera bag together quite effectively. Although it isn't flawless, I like it enough to switch out my main hiking backpack for this one, which is not something I expected to do.
Pros:
Excellent internal camera units, along with the internal division between the top and bottom halves of the bag
Very comfortable with great padding — far more comfortable than a typical camera backpack for long hikes
Well-made design with strong fabric, good weatherproofing, and several options for attaching equipment to the outside of the bag
Cons:
Odd system for carrying water — no side pouch built into the bag for this purpose
The book-style rear opening has some usability drawbacks, at least for me
Breathability isn't perfect, although that is to be expected for a bag that opens via a rear panel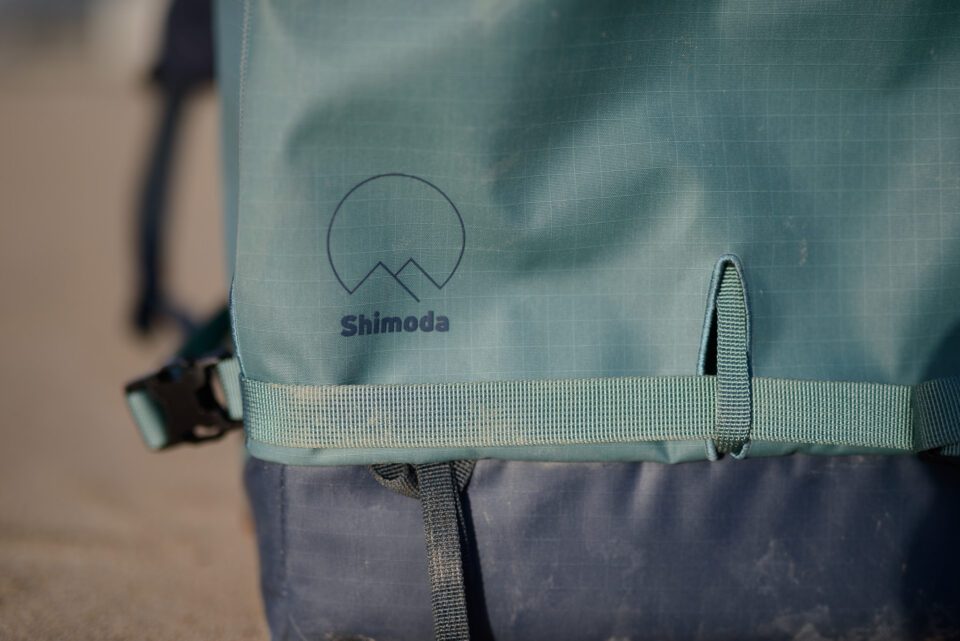 8) Conclusion
The Shimoda Adventure 60 is an ambitious bag. Aside from a couple dings, I believe that it lives up to its goals.
There won't ever be a perfect bag, because everyone has different needs and requirements. Personally? This backpack works quite well for what I do. It has better access to camera equipment than any hiking bag I've ever used, and a high level of comfort and overall quality, too.
It may or may not meet that standard for you. A high-tech hiking backpack still wins out on overall comfort for long-distance hikes, for example, if that matters more than anything else for your needs. The same is true if you don't need to do huge expeditions where you're carrying camping equipment and a camera kit on your back simultaneously — in that case, a normal camera backpack might be a better fit, and it certainly would be less expensive. The $299 price for the base model of the Adventure 60 definitely is pricy, although it's not more expensive than comparable hiking backpacks or F-Stop Gear equipment (especially since this price includes two small camera units).
So, if you straddle the line between hiking and photography, and you've had a hard time finding a good product for your needs, take a solid look at the Shimoda line. Personally, I would rate these bags as solidly better than the F-Stop Gear equivalents — and, by extension, most other hiking/photo bag combos on the market.
Currently, Shimoda is working on a Kickstarter to bring this bag, as well as a few others, to market. At the time of this article, the project already met more than double the initial fundraising goal, so it is extremely likely that the bag will make it to a more typical market eventually (though, as a Kickstarter project, there can be no guarantee). Here's the link, which also contains additional information about the bags (including a smaller, 40 liter version, as well as a rolling bag):
Let me know below if you have any questions about this bag or my review! I've been using the Adventure 60 for just over a month, and I'll do my best to address anything you want to know.
Shimoda Adventure 60 Backpack
Features

Build Quality

Accessibility and Pockets

Storage Space

Comfort

Size and Weight

Value
Photography Life Overall Rating