The era of slow external drives is over. Thanks to the incredibly fast memory technologies on modern computers, we are able to use external storage as if it was native to the computer. This opens up opportunities to expand the built-in storage of computers and use drives with much larger capacities, and potentially even faster performance. SanDisk's newest PRO-G40 SSD line is specifically designed to accomplish this. Thanks to a modern Thunderbolt 3 interface and blazing-fast PCIe NVMe SSD, the PRO-G40 can sufficiently extend computer storage for serious photo and video work without serious compromises. In this review, we will take a closer look at this drive's capabilities and see how it performs.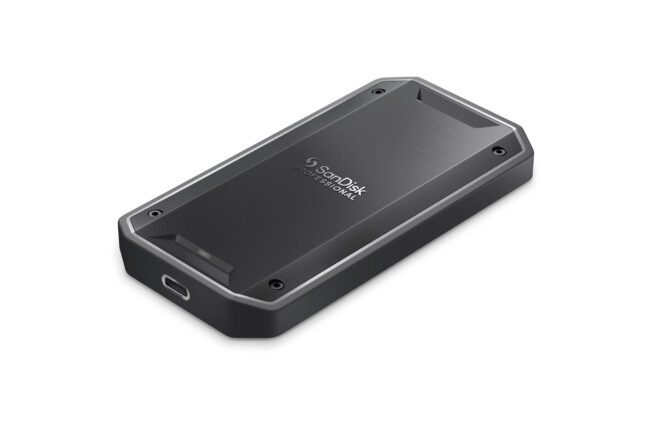 Overview and Build Quality
SanDisk is no stranger to the storage world. If you are a photographer, there is a high chance that you are currently using SanDisk's storage products in your cameras, or that you have used them in the past. I have personally gone through many different types of SD, CF, and other media from SanDisk throughout my career, and I still rely on them for my photography and videography needs today. While there are lots of competing brands in the storage market today, very few people know that many of them are simple re-brands of existing storage. That has to do with the basic fact that there is a limited number of manufacturers around the world that produce flash storage.
SanDisk operated several of these plants before its acquisition by Western Digital (WD) in 2016, which is what allowed WD to expand from traditional hard drive storage to much faster NAND flash technology. Today, there are two sub-divisions of the brand under WD: "SanDisk" that specializes on memory cards, portable drives, thumb drives and other accessories aimed primarily at the consumer market, and "SanDisk Professional" that specializes on higher-end products for working professionals.
The SanDisk PRO-G40 obviously belongs to the latter. Aside from its amazing performance (up to 3,000 MB/sec read and up to 2500 MB/sec write speeds), it is fully rugged to withstand the elements (dust and water-resistant) and it has fast USB Type-C interface (Thunderbolt 3 and USB 3.2 Gen 2 compatible). The flash drive sits inside tough aluminum shell that provides not only drop and crush-resistance, but also proper heat dissipation, making it a versatile choice for travelers.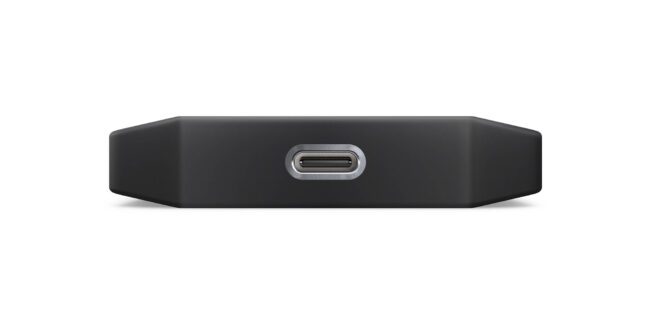 It is worth noting that the throughput of the device drops significantly when you switch from Thunderbolt 3 to USB 3.2. So if you have a PC that does not have Thunderbolt 3 or higher, your throughput will be reduced to 1/3 of the maximum potential of the drive.
As expected from SanDisk, the build quality of the unit is excellent. The finish is nice and smooth, and its design does not get in the way of function. Since it does not have any moving parts, you don't have to worry about losing your data if you accidentally drop it. SanDisk rates the drop protection at 3 meters, but given how well this unit is built, I am sure it will do just fine even if you drop it from a higher distance.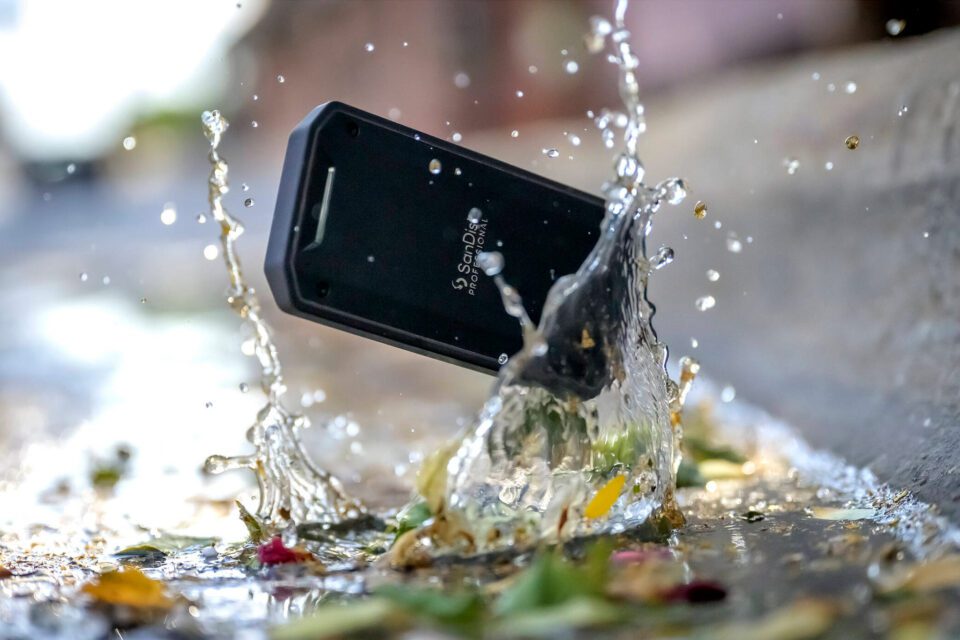 Similar to its competition from Samsung, the drive is also water and dust resistant, thanks to its IP68 rating. This means that the unit can be submerged in water up to 1.5 meters deep and it should be able to survive. In comparison the Samsung's T7 Shield Portable SSD drive is only rated at IP65, which means that it is only rated to protect against low-pressure jets of water from different angles – it will not survive total submersion.
Lastly, the SanDisk PRO-G40 is also crush-resistant, allowing up to 4000 pounds of pressure to be exerted on its surface. To be honest, I don't really see practical application for crush resistance on a small storage drive, but I guess it is a "nice to have" feature.
SanDisk PRO-G40 SSD Specifications
Below are the specifications of the SanDisk PRO-G40 SSD:
| Name | Specification |
| --- | --- |
| Interface | Thunderbolt3 Type-C, USB 3.2 Gen2 Type-C |
| Capacity | 1 TB, 2 TB, 4 TB |
| Color | Black |
| Performance (Thunderbolt 3) | Up to 3000MB/s read, up to 2500 MB/sec write |
| Performance (USB 3.2) | Up to 1050MB/s read, up to 1000 MB/sec write |
| Weight | 122.3g |
| Dimensions (LxWxH) | 111 x 58 x 12mm |
| Environmental Resistance | Crush, Drop, Dust, Water |
| IP Rating | IP68 |
| Operating System | macOS, Windows, Linux (macOS 10.13+ pre-formatted) |
| Warranty | 5-year Limited Warranty |
The specifications of the unit are quite solid, with performance and IP rating being the top highlights.
Compatibility
Similar to most other SSD drives on the market, the SanDisk PRO-G40 is compatible with all major operating systems, provided you use the right interface and hardware that can support Thunderbolt 3 or USB 3.2 Gen2. I tested the unit out on my MacBook Pro M1 Max running macOS Ventura 13.2.1 (which is what I used for all the benchmarks in this review), and it worked without any issues. If you use Windows or a flavor of Linux, you need to make sure that you format the drive with the right file system that the operating system will recognize.
It is important to point out that you should be using the right cable to connect the drive to your computer. The unit comes with a fairly short cable, so if you need to use something longer, make sure that it is a high-quality cable rated for Thunderbolt 3 speeds of 40 Gbps or higher. I would also avoid using any kind of adapters, as they could become a performance choke point.
Performance
If you are wondering how fast the SanDisk PRO-G40 is, I performed several benchmark tests to see what this drive is capable of. Here is what I was able to get using Blackmagicdesign's Disk Speed Test (5 GB chunks):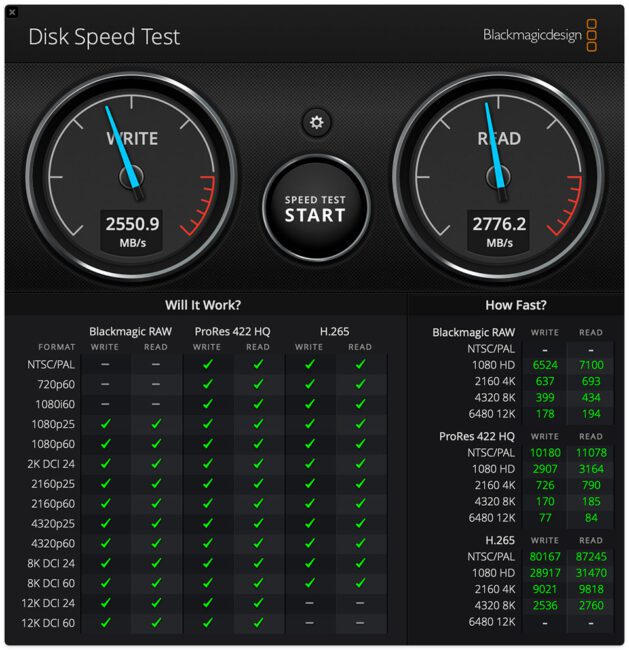 As you can see, the performance of the drive is pretty amazing. While I was not able to get over 2800 MB/sec read speed vs the advertised 3000 MB/sec, the write speed of 2550 MB/sec actually exceeded the specs. I ran the test several times and got pretty consistent results.
Here is the benchmark result from AmorphousDiskMark 4.0 (which is equivalent to the PC version of CrystalDiskMark):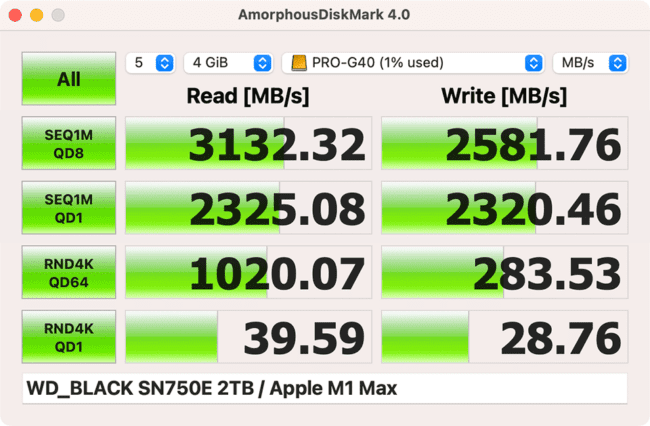 Interestingly, the results came out even more impressive with this particular benchmark when using 4 GB chunks – I was able to get 3132 MB/sec read and 2582 MB/sec write speeds, both of which exceed the manufacturer-provided specs.
I have not seen such speeds from a single portable SSD drive yet – this is certainly quite impressive. I wanted to see how the above compares to my computer's internal storage, so here is the result: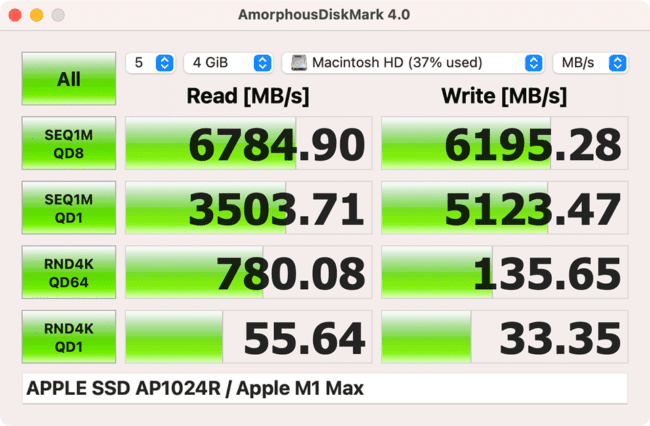 That's over 2x the sequential performance of the external drive, something we can expect from many MacBooks. Apple often uses a pair of SSD drives to combine their storage and performance (similar to RAID 0). Still, being able to get 3 GB/sec performance from an external drive is simply excellent. This is good enough to be able to work with high-bitrate 4K, and even 8K videos.
Lastly, I ran a few more benchmarks using the AJA System Test with 4K resolution and much larger 16 GB chunks. Here is the result: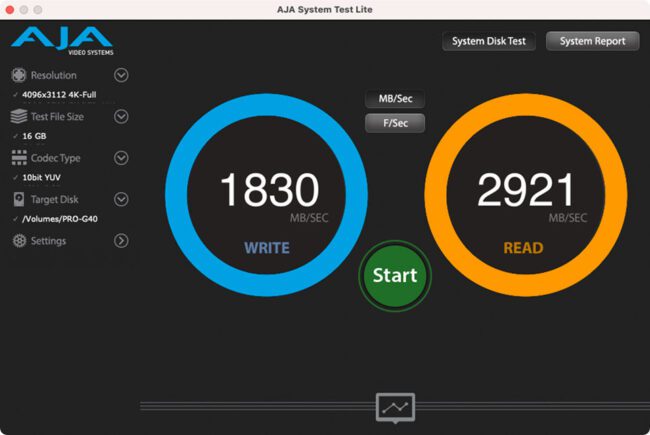 This time, we got noticeably different results. While the read speed is pretty close to 3000 MB/sec, the write speed declined to 1830 MB/sec, probably because the file size is much larger. To see how the write speed is affected with even larger files, I performed another test with a 64 GB file size: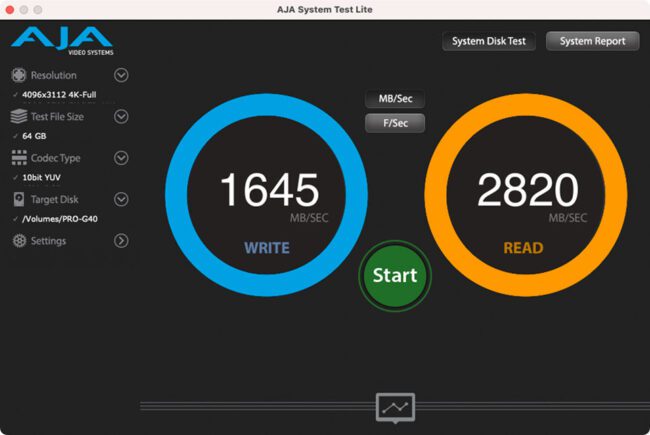 As you can see, the write performance of the drive certainly diminished even more – I got 2820 MB/sec read and 1645 MB/sec write speed. It is important to note that the performance of any drive typically decreases with larger files, as well as higher temperatures. The latter can be especially a problem on drives that are poorly ventilated, and even more so on NVMe flash drives that are known to get quite hot over time.
Speaking of which, the SanDisk PRO-G40 certainly did get warm to the touch after 30-40 minutes of continuous use. While the thick aluminum shell certainly helps with heat dissipation to keep the drive from throttling down, hot ambient temperatures or extensive read/write operations will affect its performance. A general recommendation would be to keep the drive in a well-ventilated and cool area and avoid using it on any hot surface.
Summary
External storage drives have come a long way. Slow, large, and loud portable hard drives are all gone now, replaced by significantly faster and more portable devices. If only a few years back we were happy with regular SSD drives, the PCIe NVMe flash storage has certainly taken over the market by storm. These drives are both smaller and significantly faster, so it is only natural to see them lead the storage market.
The SanDisk PRO-G40 is an excellent external drive with a very impressive performance that I have not yet seen from an external storage drive – it is designed to extend the storage of your primary drive without serious compromises. Offering 3 GB/sec read and 2.5 GB/sec write speeds, these drives can be used for heavy workloads, such as when working with large images and videos. Simultaneously, thanks to its thick aluminum shelI, it is also a very rugged IP68-rated device that is drop-proof, dustproof, shockproof, and waterproof (it can even be submerged in water for a limited time without the risk of losing data), which could be important for traveling photographers and videographers.
Where to Buy
You can purchase the SanDisk PRO-G40 from all big resellers including B&H Photo Video or Amazon in 1 TB, 2 TB, and 4 TB sizes.
SanDisk PRO-G40 SSD
Speed and Performance

Features

Build Quality

Size and Weight

Weather Sealing

Value
Photography Life Overall Rating