With the proliferation of SSD storage on the market, today we see a huge increase in all kinds of small, yet insanely fast gadgets that help us increase our productivity. One of such gadgets has been brought to us by Samsung in the form of the portable SSD T1 – the smallest and the fastest external drive available today. Based on Samsung's 850 EVO SSD (mSATA version), this little SSD drive only measures 2.8″ x 0.36″ x 2.09″ (64 x 9 x 53mm) and weighs a total of 0.9 oz (25 grams), making it look like a large thumb drive. But there is a major difference – unlike the slow thumb drives we see today, the Samsung SSD T1 has the same amazing speed of SSD drives, capable of up to 450 MB/sec transfer speeds. I have been testing out the SSD T1 pretty much since it came out and I have been amazed by its performance and rock solid reliability. My last external hard drive died on me a year ago and although I had been backing up my data regularly at the time, it certainly did not leave a pleasant feeling when I wanted to buy another external device for travel and remote jobs, as it was not the first one that failed. Sadly, hard drives have a tendency to fail faster when they are constantly carried around and frequently plugged and unplugged. Drop them and the chance of losing the drive and its data are extremely high. In contrast, SSD drives are much more reliable and they have no issues with extreme shock and vibration.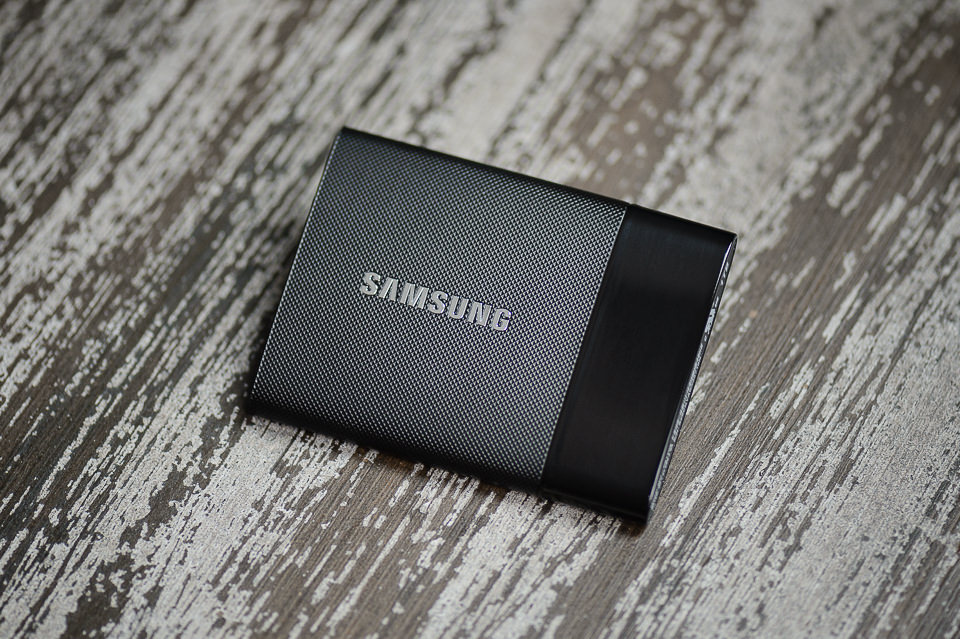 Overview
The Samsung SSD T1 was designed to be compact, portable, fast and secure. The SSD T1 does not have the bulk, the weight and the high chance of failure on impact of traditional external hard drives and it is built with reliability in mind. But most importantly, it takes performance and security to the next level – the two factors that can be very important for enthusiasts and working pros. With a cutting edge AES 256 bit encryption, one can fully secure the contents of the drive without adding much penalty to performance, as data is secured on the fly. If the drive is lost or stolen, it would be practically impossible for others to try to get access to the data.
The SSD T1 also does not disappoint with its sleek design and overall looks – the slim compact shape and the black chrome metal finish distinguishes the drive from the competition. It is small and light enough to put in a pocket, slide in a tiny laptop or camera bag compartment, or keep it attached to a computer.
The provided high speed USB 3.0 cable is relatively short and sturdy. When the cable is connected to the unit, it does not add much to the bulk: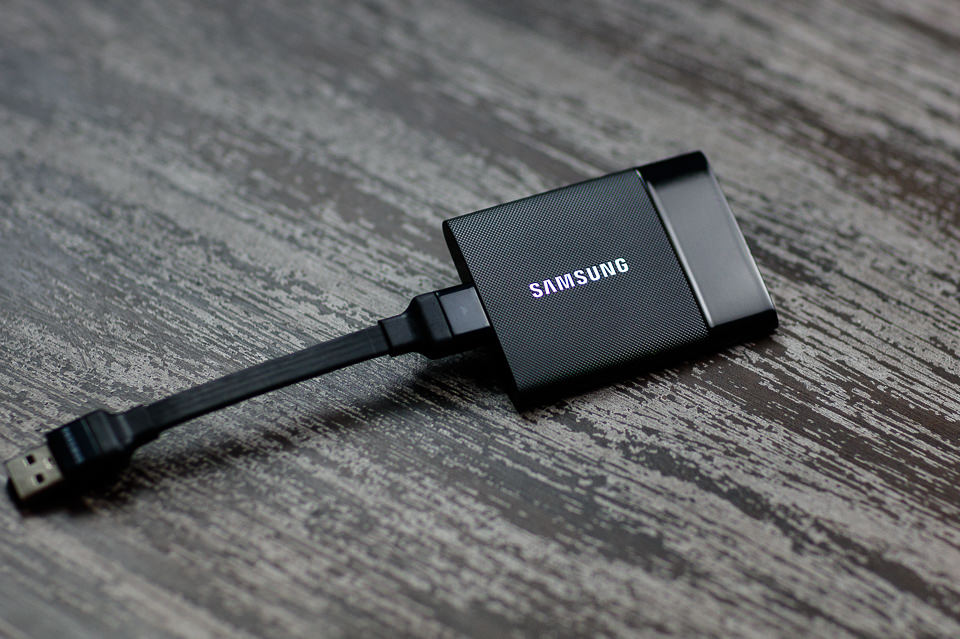 And when connected to a laptop or a PC, the unit does not have to be put on a surface – 25 grams can be easily left dangling off the cable, which is great.
Performance-wise, there is simply no comparison between a high-speed internal drive like the SSD T1 and a traditional hard drive. Expect to see impressive performance up to 450 MB/sec read speed, which a spinning hard drive would not be able to match, not even close. This makes the SSD T1 the primary choice for not only storing RAW data and video footage, but also for making it the place to keep your cache and store your Lightroom catalog files. Everything opens pretty much instantly, giving a large performance boost and a huge increase in the overall workflow.
The Samsung SSD T1 comes with a 3 year limited warranty.
A Nearly Perfect Companion for the iMac
In addition to using the Samsung SSD T1 for travel needs, I also found another great use for such a gadget – attaching one permanently to my new Apple iMac. Yes, as strange as it may sound, many iMac users should take a serious look at the SSD T1 as secondary storage. Since Apple makes it practically impossible to replace the internal hard drive, if one does not have the budget to go all-SSD with storage, or perhaps made a wrong choice in the first place, using the SSD T1 as a secondary hard drive is a very appealing choice. One could use the drive for storing the Lightroom catalog or RAW photos and the speed of the drive would more than suffice for such needs. For my particular iMac setup, I went with a 1 TB Fusion drive when I bought it and I did not have an option to go all SSD at the time (it would have added a significant amount to the cost). With the Samsung SSD T1, I not only increased the storage of my iMac, but also put something that is much faster for photo storage than the Fusion drive. You can leave the SSD T1 plugged in the back of the iMac without adding more clutter on your table. If USB ports are available to use, one could add a few more of these drives and have plenty of storage to use!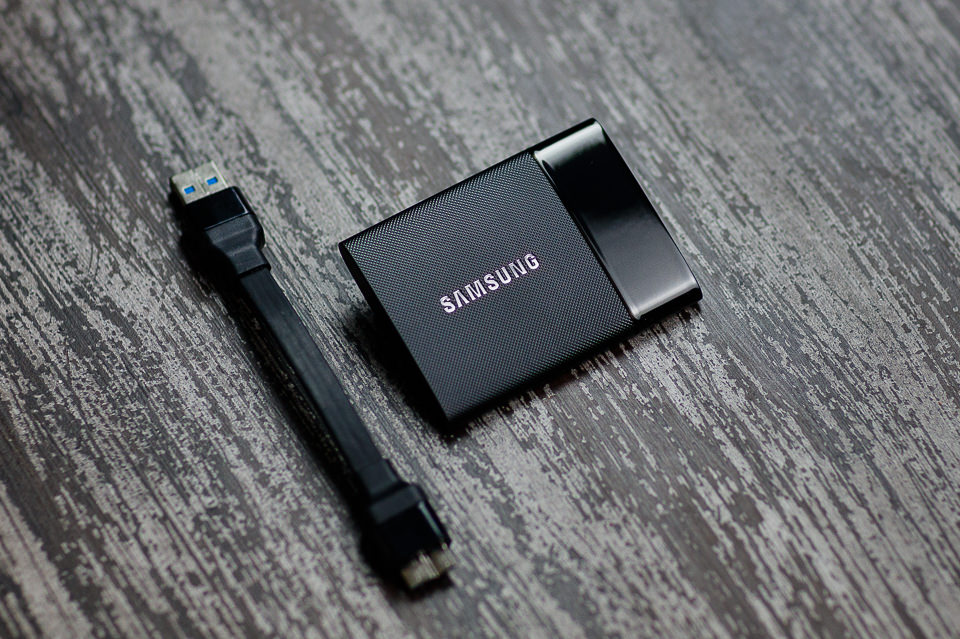 Why "nearly" perfect? Well, the cable is a bit too long for my taste. While the Samsung SSD T1 works perfectly fine just dangling off the back port, if you want to make the iMac look really clean, you might want to either tie the unit with the power cord (it should be on the nearest USB port), or get the cable replaced with another a high performance USB 3.0 adapter (you will need a "USB 3.0 Type A Male to Micro B" adapter).
Performance-wise, the SSD T1 is stunning, as can be seen below: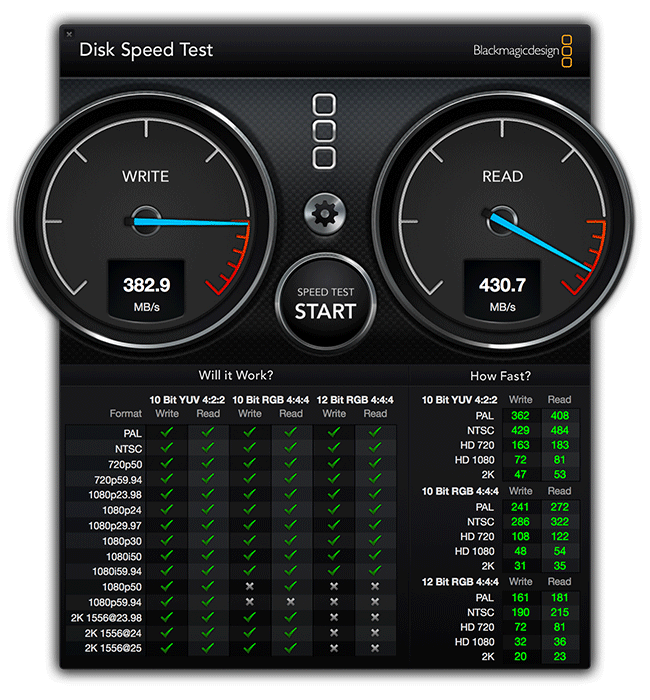 Yup, you've read that right. With the drive being nearly 95% full, I was getting 430 MB/sec read speeds and 383 MB/sec write speeds, which is amazing. The native Fusion drive only gave me 250 MB/sec write speed at most, occasionally dipping to 200 MB/sec. The read speed was a bit faster thanks to caching and the SSD portion of the drive kicking in, but if I were to test the Fusion drive with large IO loads, I know it would be nowhere near in comparison.
A Perfect Companion for the Surface Pro 3
I spent quite a bit of time on the road this year, working on producing our first Photography Life tutorial with John Bosley. In addition, I spent a month in Jordan and had a chance to visit Sri Lanka and Dubai. During my travels, I wanted to keep everything light and portable, so my Surface Pro 3 was with me on every trip. Although I have a 512 GB version, having my Lightroom catalog and the photos I needed during the trips took most of the space. And that's where the Samsung SSD T1 came to the rescue – I had the extra storage I needed with me and I did not have to worry about plugging in another device to power, since the SSD T1 is USB-powered. The transfer speeds were very impressive. I got between 250-300 MB/sec read and around 200 MB/sec write speeds, as shown below.
Reading a single large file (approx 2.5 GB in size):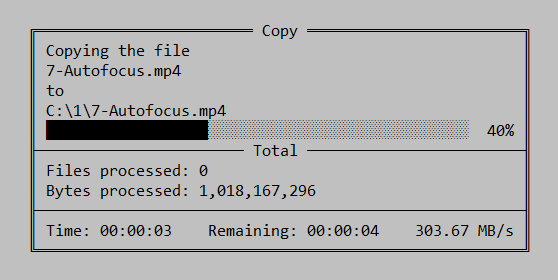 Write the same file to the SSD T1: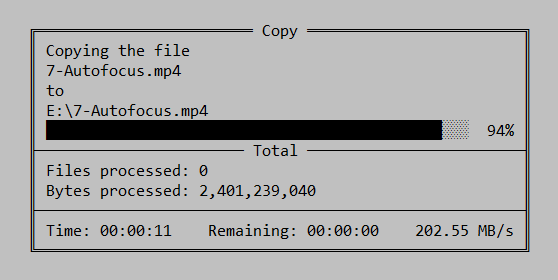 Performance on a PC
Every single machine I have at home, including the above-mentioned Surface Pro 3, has been running on Windows 10 since Microsoft released the OS. While I will soon provide a summary report on my overall thoughts of the operating system, so far I have been quite impressed with the overall stability and speed. Windows installed all the appropriate drivers in my system (clean install) and I did not have to do anything special to get USB 3.0 or network support on any of the devices. The Samsung SSD T1 performs very well on my PC as well and I as far as transfer speeds, I got even more juice out of this puppy, with the lowest performance hitting close to 300 MB/sec and peaking as high as around 350-380 MB/sec write speeds. Read speeds were similar to what I got on the iMac with speeds over 400 MB/sec. It seems like the Samsung SSD T1 works reliably well on any device, no matter what platform it is. As long as you are attaching it to a USB 3.0 port, you should be in good shape!
Summary
The Samsung SSD T1 is an amazing little speed demon that not only has become a part of my travel routine, but also serves as an excellent secondary drive on the iMac that I have recently purchased. It is small, it is light, it is durable and it is impressively fast! I take it with me everywhere I go and I am planning to purchase a couple of more to keep one permanently attached on the iMac and have a spare for backup purposes on the road. The speed has made a huge difference in my workflow, as I can copy files faster, backup data faster and run my Lightroom catalog directly off the drive without any performance penalties, which is amazing.
The biggest downside of the Samsung SSD T1 is the price. Unfortunately, SSD drives have much higher cost per GB than regular hard drives, often making them cost-prohibitive for many end users. Although Samsung has slashed the prices of the SSD T1 units to make them look more attractive, $400 for 1 TB is still quite a bit to pay when one can buy a lot more storage for the same money.
Overall, aside from a couple of minor points, like the length of the USB cable when attaching the unit to an iMac, I cannot think of any serious downsides to the Samsung SSD T1. SSD is clearly the future of storage and ever since I started using SSDs in my computers, I cannot imagine going back to spinning drives anymore, even for external storage. I highly recommend the Samsung SSD T1 to all photographers! And no, Samsung did not pay me to say this (they will probably never read any of this anyway). I wrote this review just because I want to share my positive experience with our readers.
Where to Buy
The Samsung SSD T1 is available in 3 different sizes and as usual, you can purchase the drive from our trusted partner, B&H Photo Video:
Please note that there is currently a big discount on the SSD T1 prices. Looks like the 250 GB and 500 GB versions are discounted by $50, while the 1 TB version is discounted by $100! That's a great deal, as I paid the full price for mine.
Samsung Portable SSD T1
Build Quality

Handling

Value

Size and Weight

Ease of Use

Speed and Performance

Stability
Photography Life Overall Rating