Like most photographers I have a few different gear bags and none of them seems to be the perfect solution to meet all of my needs. I further compound this problem by buying more gear, then kicking myself in the butt when my storage and transport issues get even more complicated.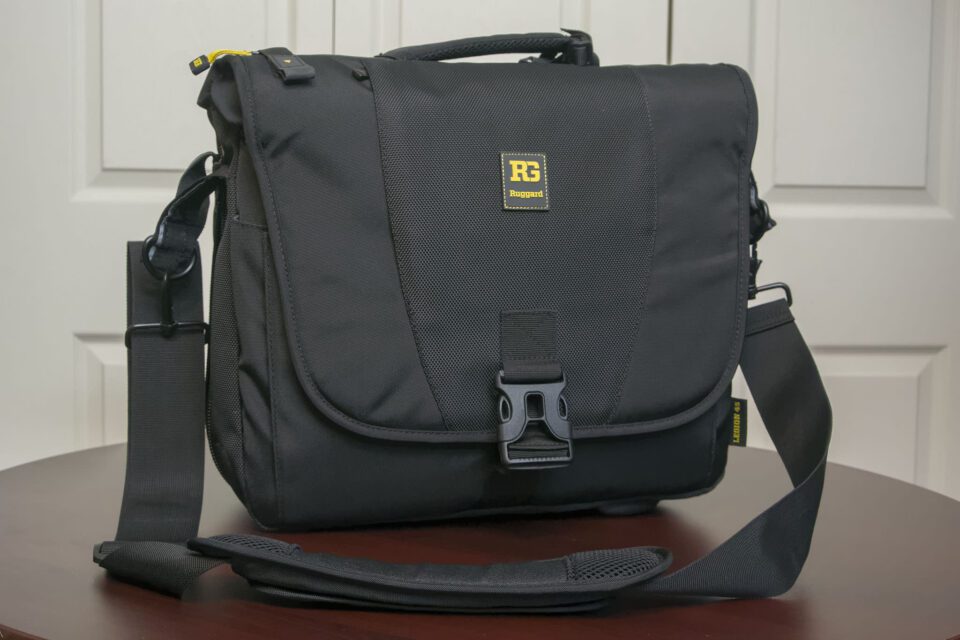 In preparation for my recent trip to Greece I looked at a number of different bags to see if I could find something reasonably small and lightweight that could carry my netbook and all of my Nikon 1 camera gear which includes 2 bodies, 7 lenses, 2 different battery chargers and 4 batteries, along with some filters, camera cleaning paraphernalia and other odds and sods. When I came upon the Ruggard Legion 45 Messenger Bag it looked like the perfect solution.
Specifications
Exterior Dimensions: 13.8 x 5.9 x 11.8″ / 35.0 x 15.0 x 30.0 cm
Interior Dimensions: 13.0 x 5.5 x 11.0″ / 33.0 x 14.0 x 28.0 cm
Removable Basket: 11.75 x 4.5 x 10.75″ / 29.8 x 11.4 x 27.3 cm
Laptop Compartment: 13.0 x 11.0″ / 33.0 x 27.9 cm
Main Slip Pocket: 13.0 x 10.25″ / 33.0 x 26.0 cm
Identical Slip Pockets: 6.0 x 8.0″ / 15.2 x 20.3 cm
Weight: 2.3 lb. / 1.04 kg
The first thing you'll notice about the Ruggard Legion 45 Messenger bag is its solid construction. The exterior is made of 900D Oxford nylon with a high-density 1680D ballistic polyester front flap and 150D polyester interior.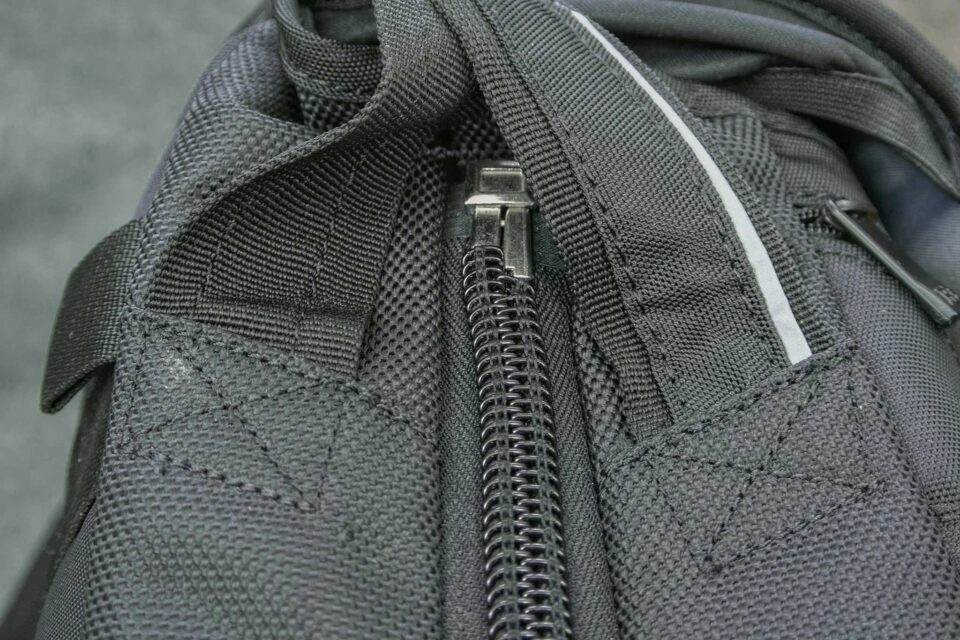 All of the stitching seems robust with 'X' pattern reinforcements on the handles and carry-strap anchors.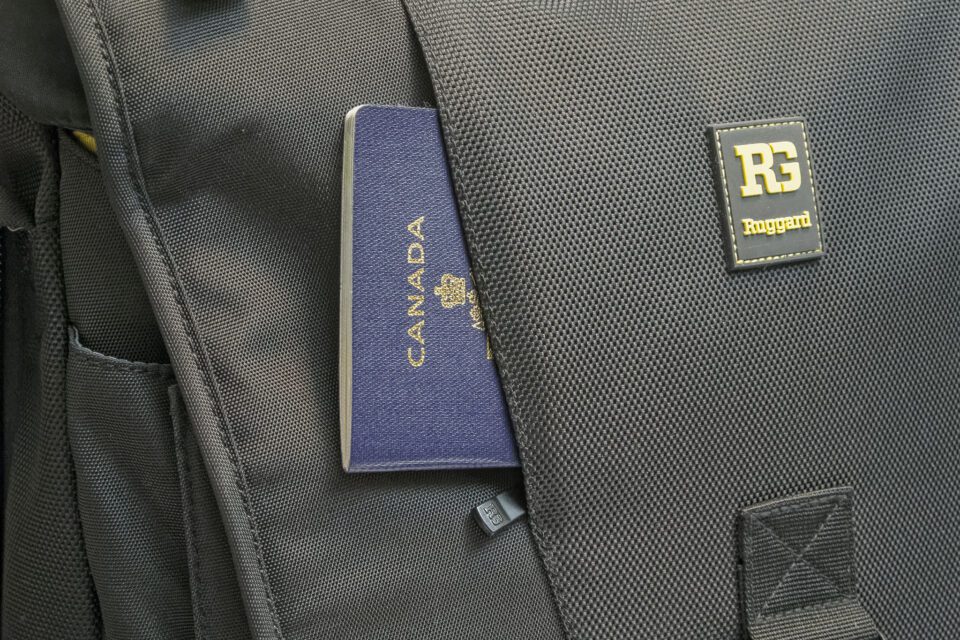 There is a side zipper on the front flap which opens up a hidden document pocket. Personally I never keep my passport and other important documents in my camera bag, opting for a money belt instead. Never-the-less I did find that this pocket comes in handy as a convenient spot to store some filters and other reasonably flat items.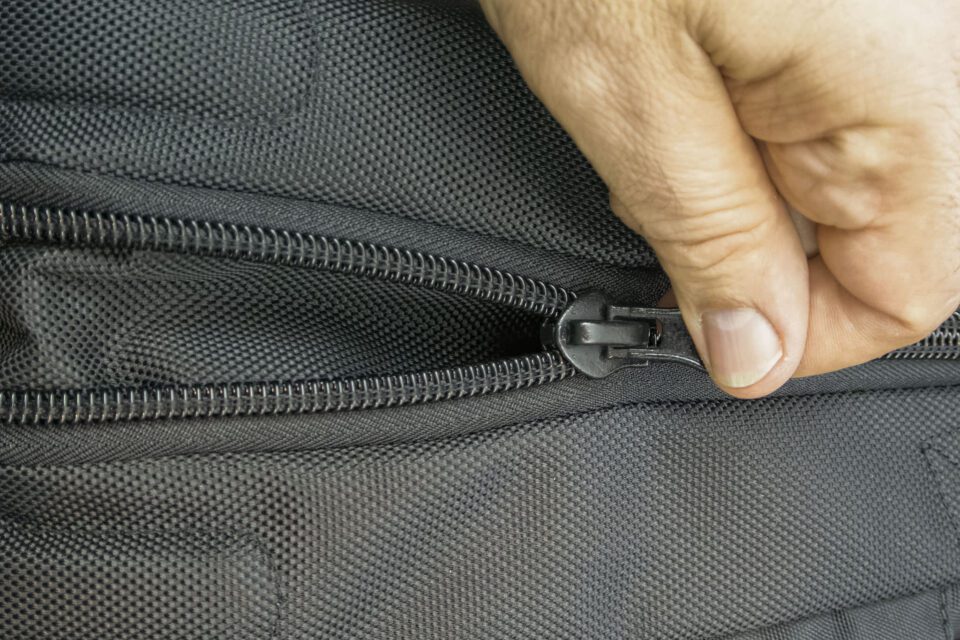 The bag can be easily expanded by undoing a zipper which runs from the top of the bag, down the side, across the bottom, and all the way around to the other side.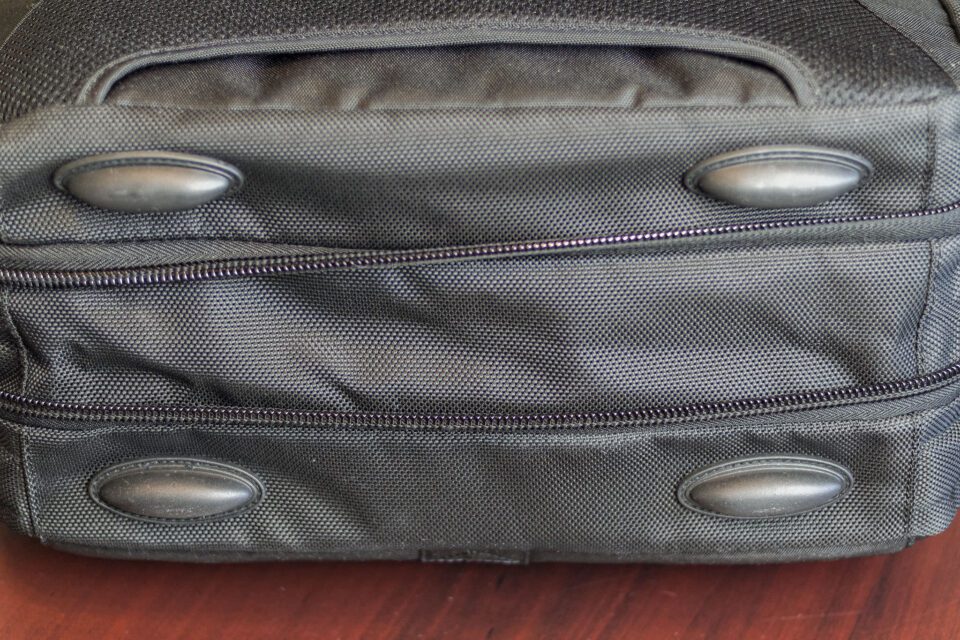 This creates an additional 2.5 inches (6.4 cm) of storage room at the bottom of the bag which is fantastic when this bag is used with large lenses like the Tamron 150-600mm VC (more on that at the end of the review). Four molded rubber feet help elevate the bag off the ground.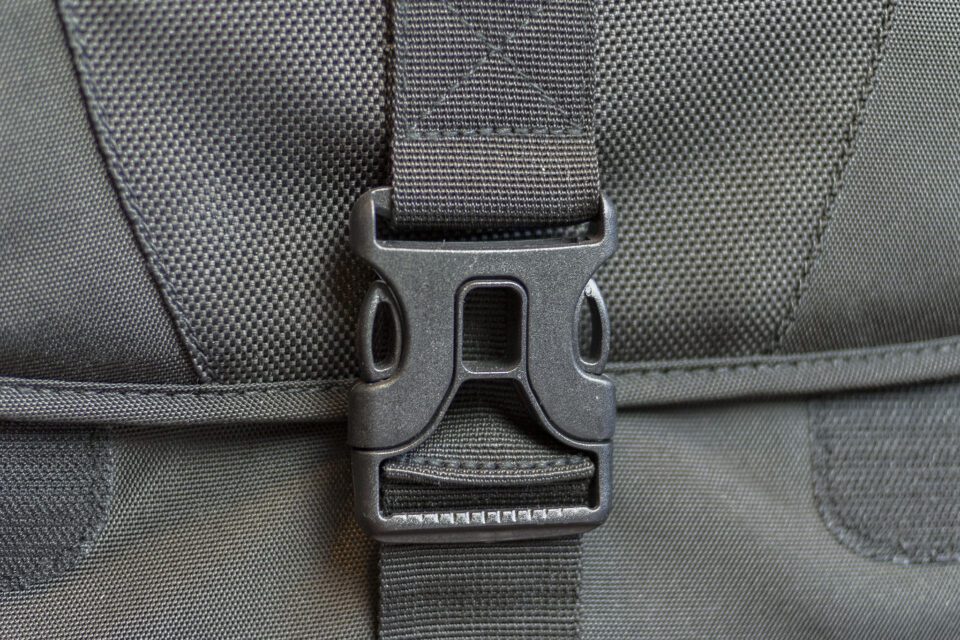 The front flap closes with a solid quick-release buckle and is further secured with two Velcro patches, one on each side of the flap.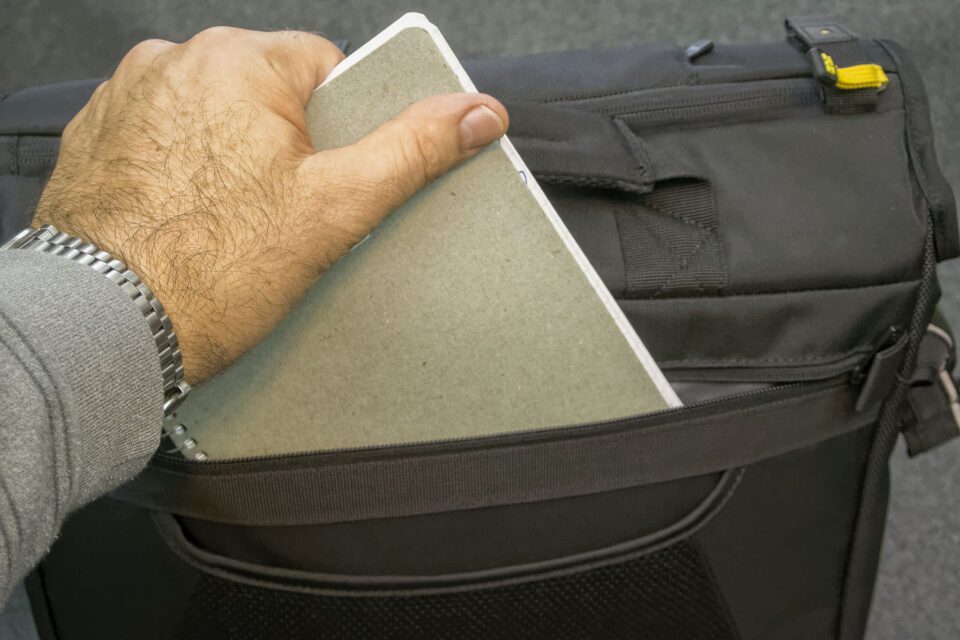 There is another zippered pocket on the rear of the bag that is best suited to hold a notepad or other fairly thin objects.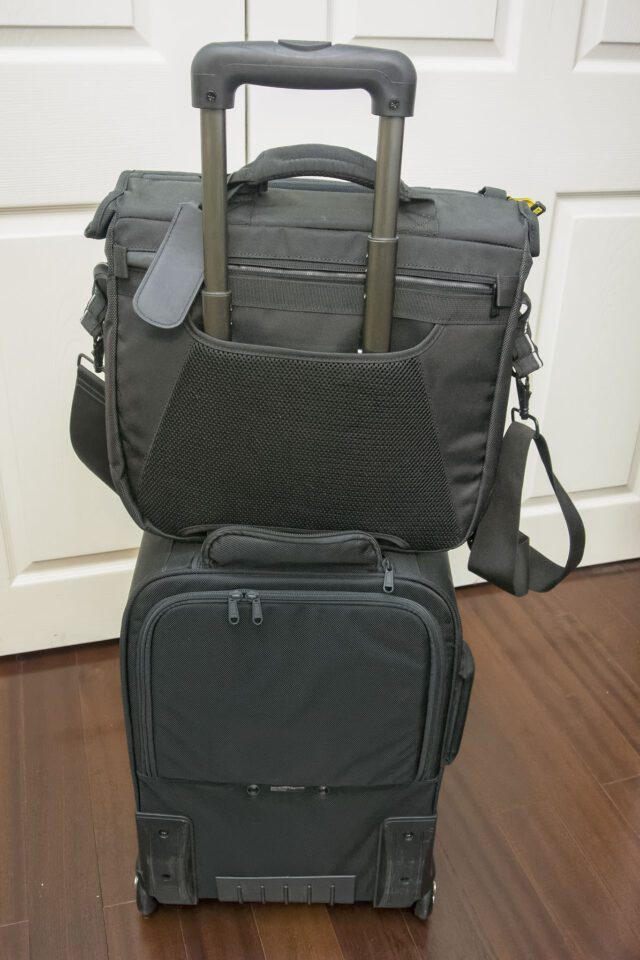 A padded sleeve on the rear of the camera bag allows it to be hooked over a suitcase handle when travelling and adding to the bag's portability.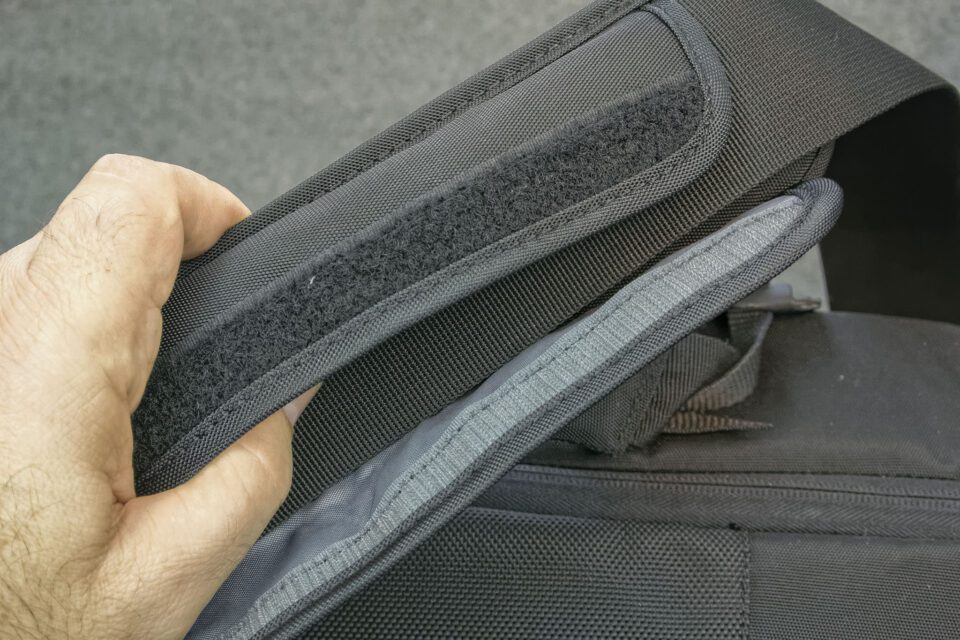 The removable shoulder strap has a decent amount of padding. I really like the Velcro fastening that runs along the edges of the strap pad. This allows the user to easily adjust where they want to position the pad on the strap.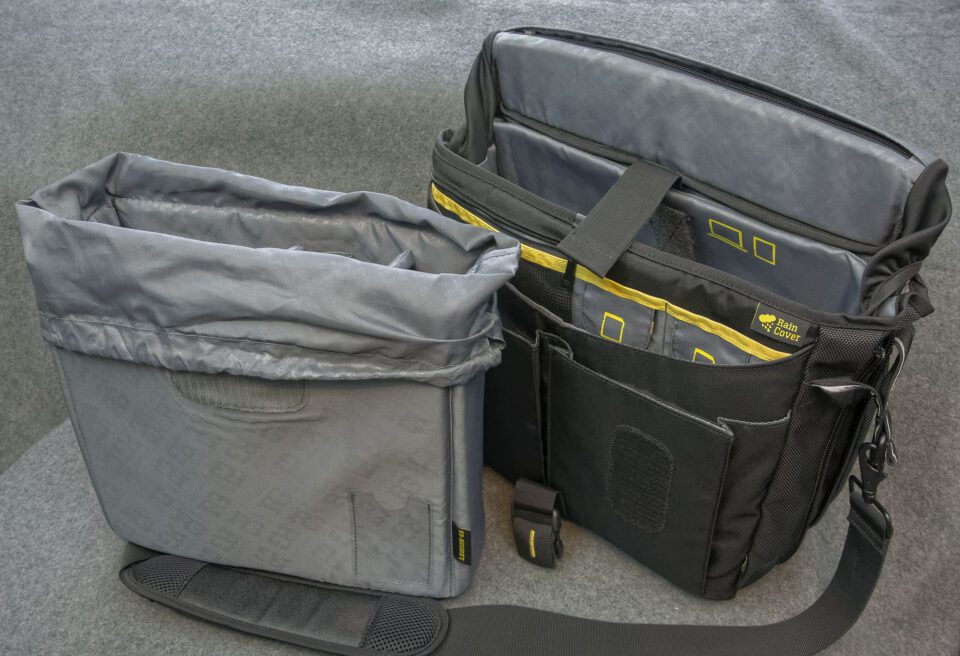 Once you open the bag you'll notice that there is a removable camera basket. It features four dividers that can be adjusted to create up to five compartments inside the basket. On its bottom corner you'll find a clear plastic slot that holds a standard size business card.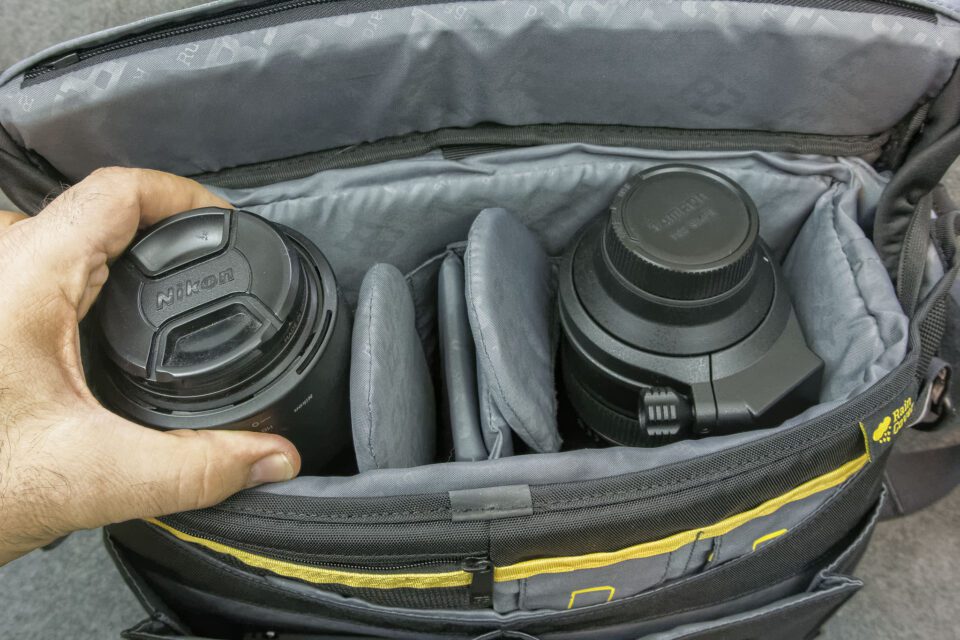 There is ample room for a standard DSLR, two zoom lenses and a flash. Large DSLR bodies with grips attached would likely limit the bag to carrying one zoom and perhaps a couple smaller prime lenses, plus a flash. Owners of compact, mirror-less camera systems should have more than enough room for most, if not all, of their gear. This bag's design is upright and deep so in my view it is best suited to DSLR owners.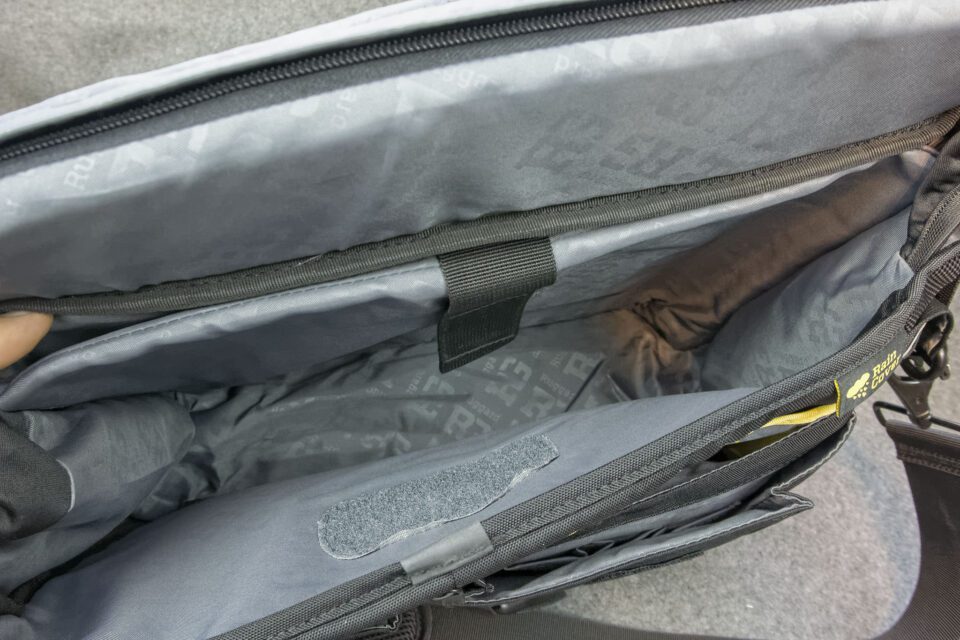 When the basket is removed the Ruggard Legion 45 Messenger bag can serve a host of other carrying needs.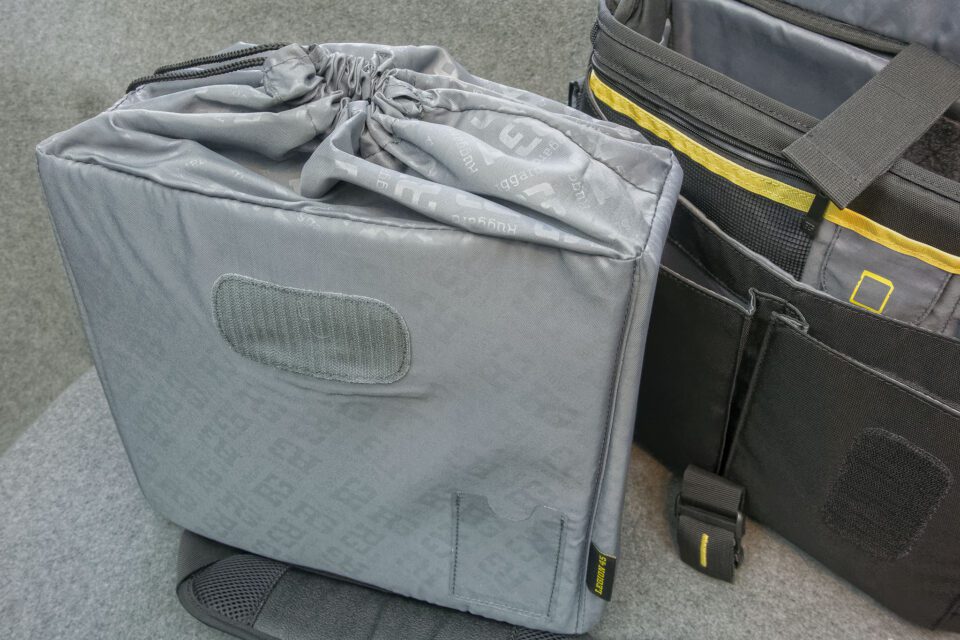 The removable camera basket has a drawstring closure for added protection.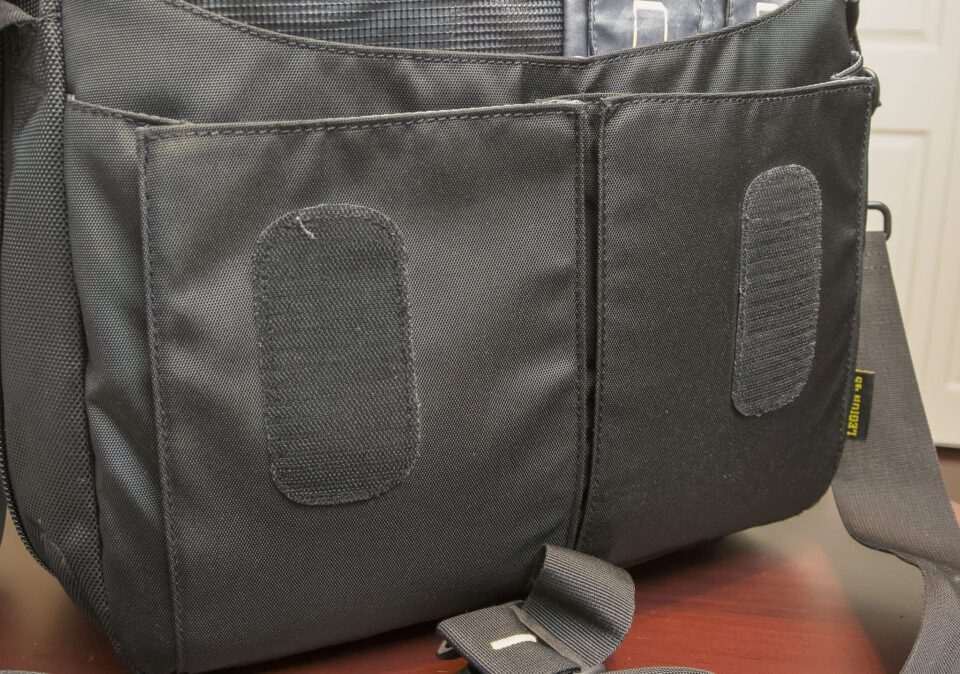 Once opened the Ruggard Legion 45 Messenger bag has two decent sized pockets for storing batteries, chargers and other items with a maximum thickness of about 2 inches (5cm).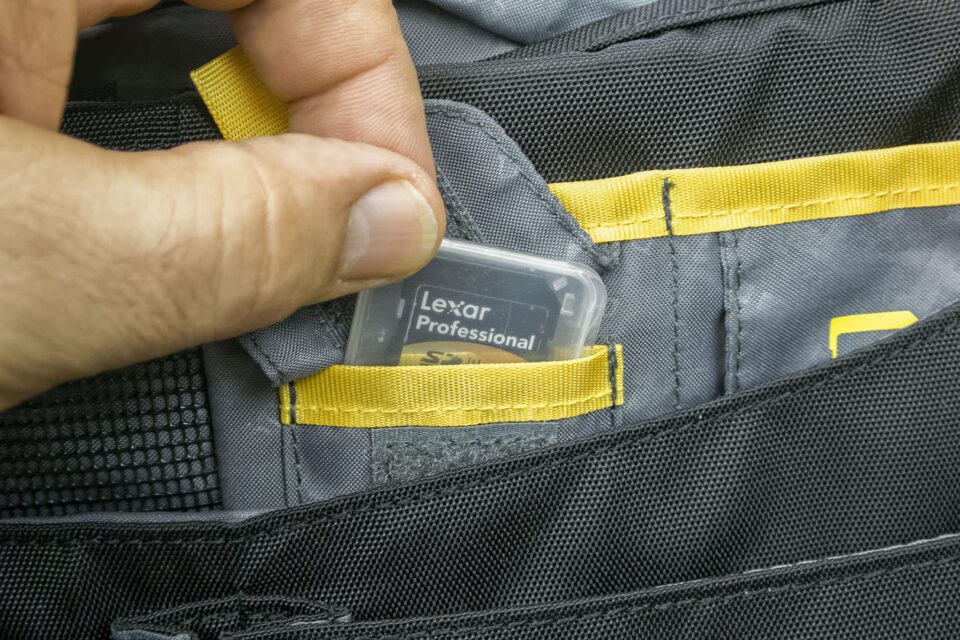 There are two memory card pockets, both featuring Velcro tabs to help prevent card loss. Each tab can hold a single CF card in its protective plastic sleeve (it is a bit tight) or up to three standard SD cards in their in their protective plastic sleeves.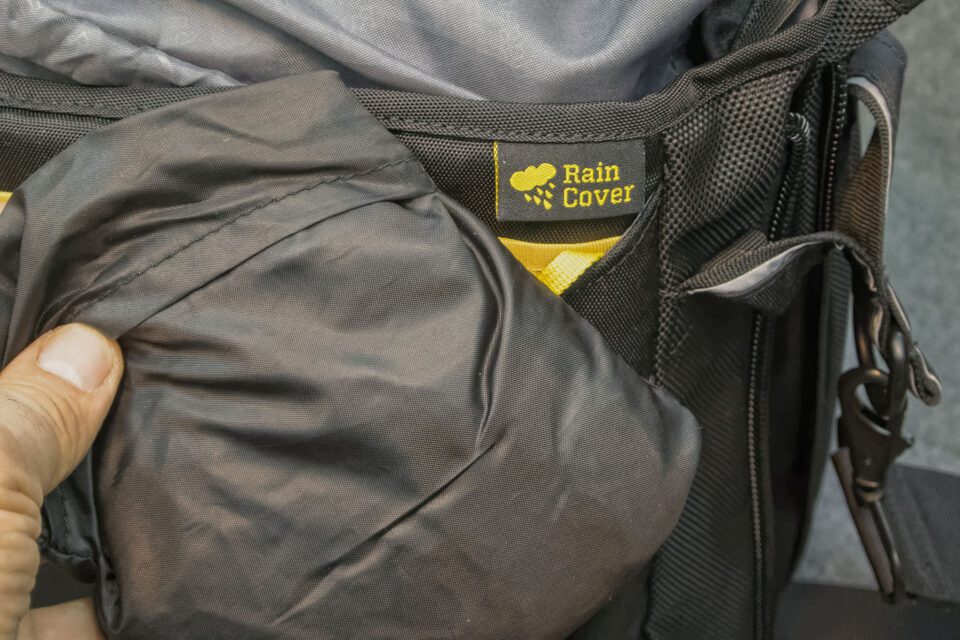 A rain cover is included and can be clipped onto the key ring.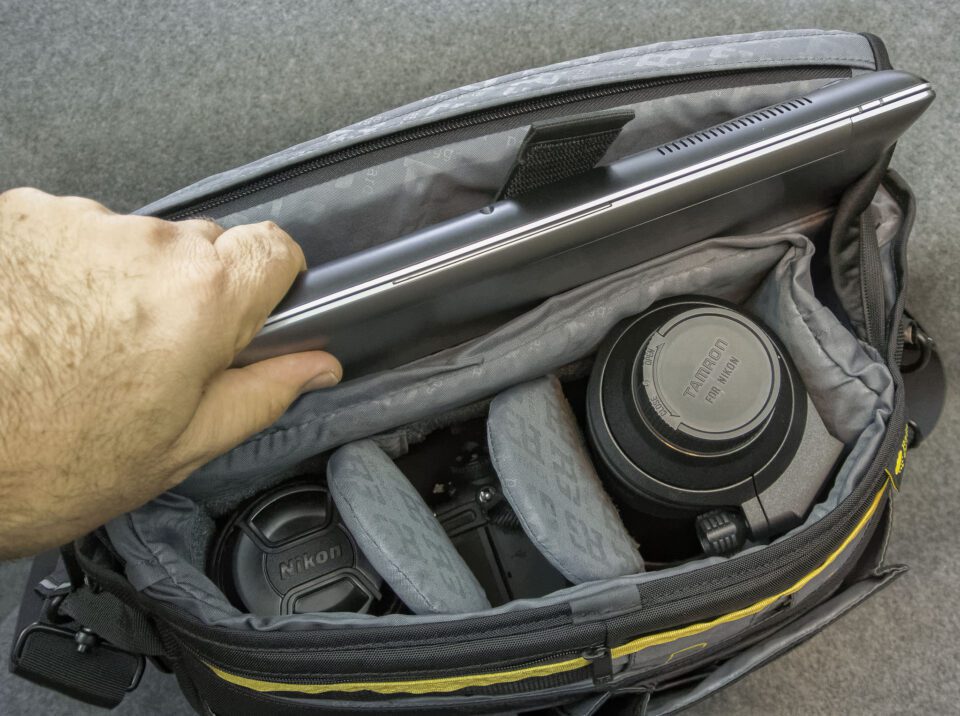 The laptop sleeve can fit a laptop up to 13.3 inches (33.8 cm), although it is a very tight fit.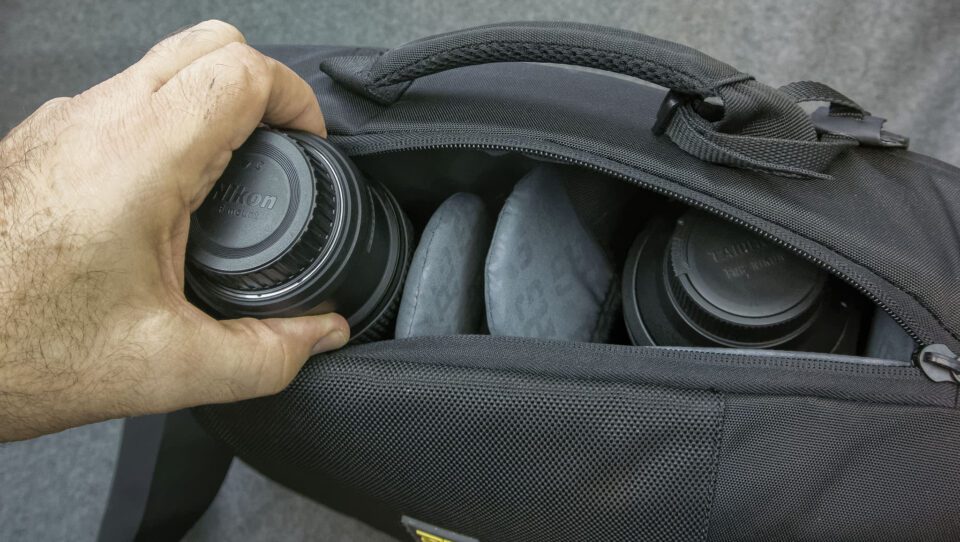 For convenient field use there is a zipper that runs along the top of the bag which allows access to the contents of the camera basket without having to undo the front flap of the bag.
Even though I originally got the Ruggard Legion 45 Messenger Bag with my trip to Greece in mind I never actually used it for that purpose. I ended up using a shallower, wider bag instead as it was a more functional design for my Nikon 1 cameras and selection of seven 1 Nikon lenses.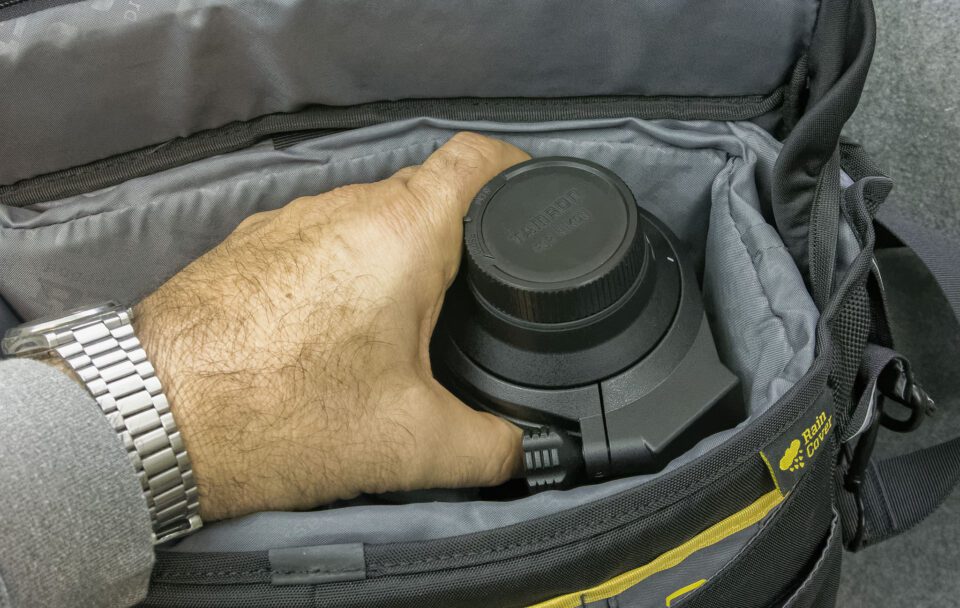 All was not lost however, as the Ruggard Legion 45 has become the permanent home for my Tamron 150-600mm VC lens (this lens ships without a lens case).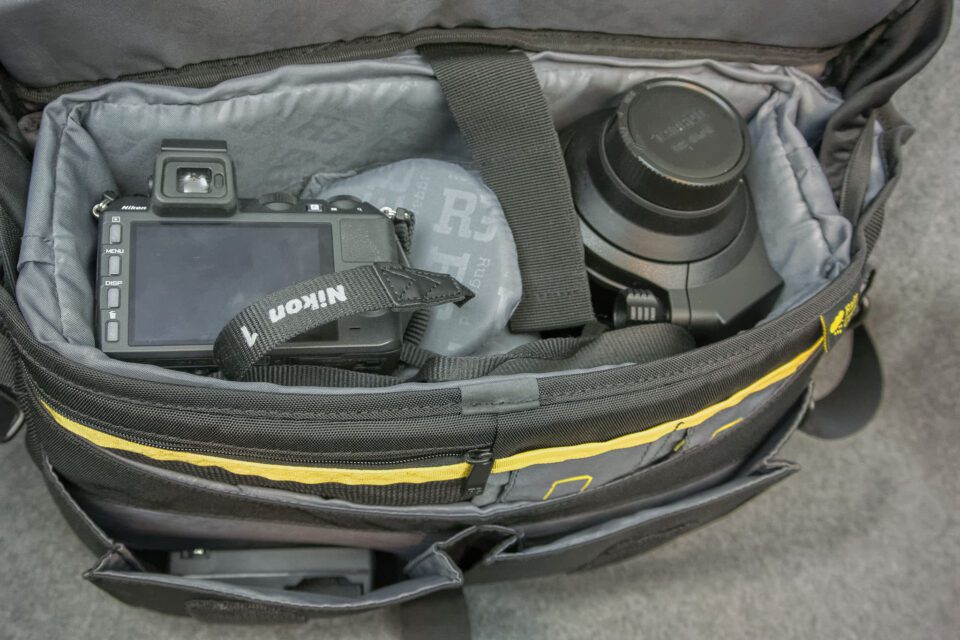 In fact, I now refer to the Legion 45 as my 'birding bag' as it is the perfect size to hold my D800, a Nikon 1 V2 with FT-1 adapter and Nikkor 70-200mm f/4G VR lens attached, and the Tamron 150-600mm VC.
Overall, the Ruggard Legion 45 Messenger Bag is a terrific piece of kit. It is well designed, durable, and provides a good amount of flexibility, especially if you need to travel with a smaller-sized laptop. At the time of writing this review the Ruggard Legion 45 Messenger Bag was available for $69.95.
Article and all images Copyright 2014, Thomas Stirr. All rights reserved. No use, reproduction or duplication including electronic is allowed without written consent.
Ruggard Legion 45 Messenger Bag
Features

Build Quality

Value

Size and Weight

Ease of Use

Portability
Photography Life Overall Rating