As smaller, lighter gear grows ever more popular – some mirrorless systems, while capable of delivering brilliant results in knowing hands, weigh half as much as DSLR systems – it is only natural for smaller bags to get more popular as well. Already you can see retailers and online stores offering a wide array of "for mirrorless cameras" bags and the selection will only grow wider. Even though I haven't bought into a mirrorless system (yet), I, too, was on a lookout for a small, unassuming bag. The main requirements were simple: it had to look like anything but a camera bag and thus also work as a simple shoulder bag when needed; it had to be small, yet big enough to fit a mirrorless body with a couple of small lenses and, until such a time arrives, big enough to fit a D700 camera with a 50mm lens attached; and, if at all possible, accommodate my Mamiya RZ67 – not a small camera, mind you – and a roll of film for those quiet evening walks in the old city.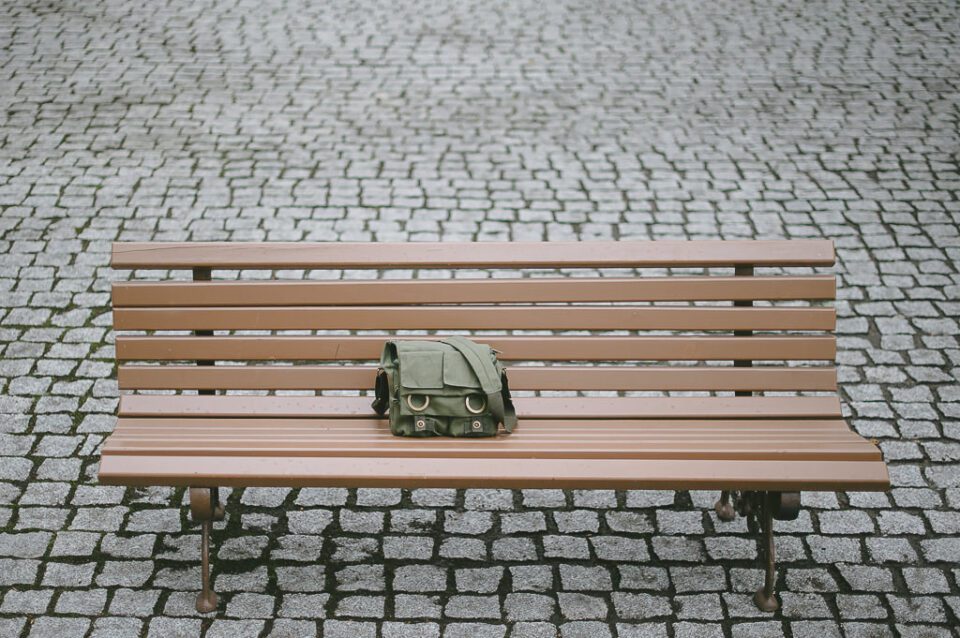 Alright, so first I mention the list of requirements is simple, and then I go on saying it needs to be able to accommodate both a small mirrorless camera and an enormous 6×7 film camera. Sounds a little contradictory? It's not. I try and carry my D700 wherever I go and I can only imagine a mirrorless camera will stay on me even more of the time, so that means I also need my wallet with me, an extra battery or two, my mobile phone, an A5 sized notebook with a pencil (yes, I am that old fashioned), small earphones and a medium-sized book. Now, if I ever bring the Mamiya with me, there is only one thing I will ever need – the camera itself, especially as I get better and better at estimating correct exposure settings without a light meter. Finally, accommodating such a large camera is merely a plus, not a necessity, as I don't want to be making too much of a compromise.
I've never owned such a small bag, not even when I bought my first DSLR, so anything I got would really just be me researching. And so here I am, researching. In this article and for the first time I will be reviewing the Retro Canvas bag, which was delivered to me by LoveCases.
Disclaimer: I feel I must mention the bag was sent to me free of charge, however neither the manufacturer nor the retailer has any effect on my impressions – as ever, my words are my own.
The Purchase
The bag was sent to me by David of LoveCases (click here to go to product page). It's a UK based store, but the bag was delivered the following day after my order was made – I was very impressed by that. I think it is safe to say that delivery within EU should not take more than a couple of days. The bag was well packaged with all the necessary receipts and the whole process left with extremely positive impression. It is hard to say for sure whether I was treated so well because I was to review the bag, but I am ready to bet anything that is not the case – David, who was ready to answer any questions I might have, was an extremely nice and patient person. Customer service – top marks all around.
You might wonder why I chose a retailer from so far away and did not look in Lithuania. Well, I did. And, with the following paragraph in mind, found pretty much nothing I liked that was not expensive.
The Looks
I've always liked well-designed things. I believe both form and function are equally important and so good design is something I appreciate in pretty much everything – be it a pen, a website, a calculator, coffee grinder or, in this case, a bag. For this reason when looking for a small bag I instantly discarded several popular brands and started looking at smaller, less known manufacturers in hopes of finding something both inexpensive and not camera bag-ish looking. That said, I can't honestly claim I found Retro Canvas to be particularly gorgeous when looking at the photos in the product page – it really is a matter of taste and there isn't much design to talk about, but I did quite like several things about it that made it stand out from the rest of the offerings. First of all, there was an option of green color, which ended up being my choice simply because I did not want the usual black color. Secondly, there was absolutely no branding on the bag itself. Understated is always good in my book, especially when the manufacturer can't actually boast about being all that well known. I liked the fact that the company behind Retro Canvas wasn't trying too hard, the bag looks simple and honest, and it really is rather simple. It is cheap, but also doesn't try to look expensive, either, which means it can't fail at it.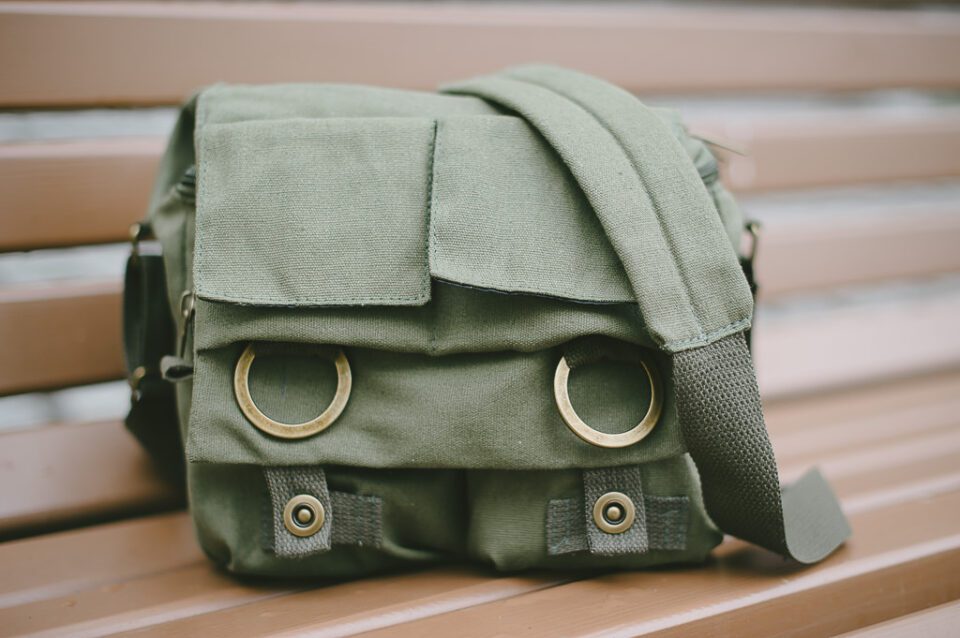 The bag is obviously similar-looking to some NG shoulder bags, but, at least I think so, in a non-offensive way. It's not taking itself too seriously, not trying to pretend to be a National Geographic product which, of course, is on a whole different level. Retro Canvas is merely walking in the same footsteps, more or less. Credit where due, they did not overdo it with the retroishness.
The Perceived Quality
Looking at the images you get the feeling that the bag is made out of very thick cotton that is a little rough to the touch, but in reality it is actually quite soft, more so than I expected. Especially the strap, which feels, for lack of a better word, "light" (not in the negative sense of the word). On the downside, though, it means the bag itself is not as hardwearing as it might look judging from product images. For its intended purpose – which is by no means professional use – this approach makes more sense. It does not feel cheap, it's just that the bag really is designed for lightweight gear and for casual use. Strangely enough, product page description says the bag has been designed for DSLR cameras, but is suitable for mirrorless. I'd say it is the other way around, but I'll get back to this point in the next section of this review. In the end, it is all about personal preference, but I did not find the quality objectionable considering the price of the bag.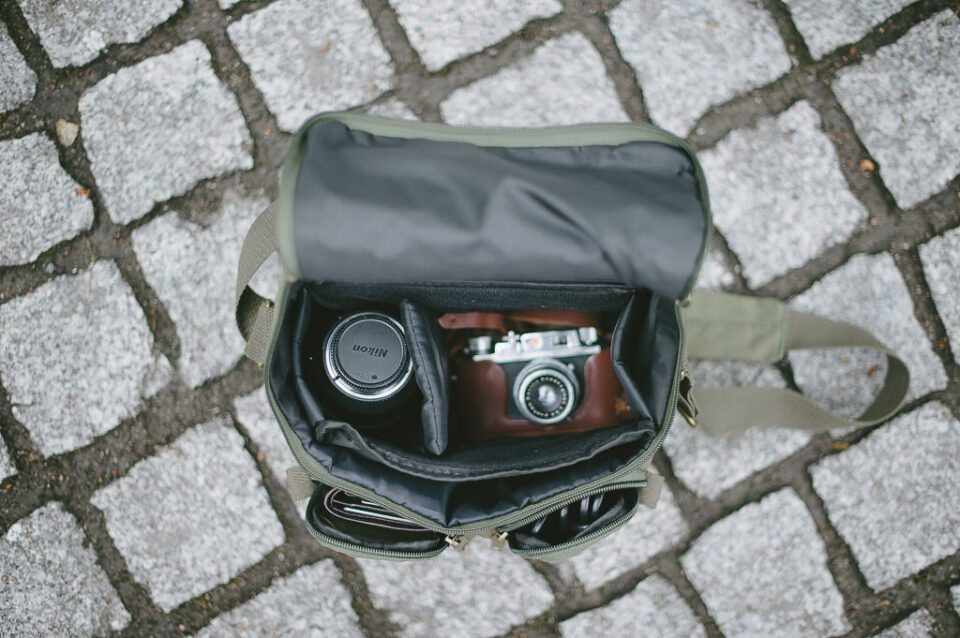 If the outer perceived quality of the bag left me with an overall good impressions, inside it's a bit less impressive. The zipper is OK, but, at least on my copy, isn't easy to do up with one hand. At first, the materials (the padding in particular) felt a little cheap, but after some use the feeling went away. If you take the padding out, you are left with a very thin bag that offers little protection, so be sure to not carry anything expensive and easily broken if you remove the padding. Overall, considering both inside and out quality, the bag doesn't feel any worse than you might expect for the price, especially when you get used to it. There's more silver lining – there are no cheap plastic bits that'd get easily broken, durable metal parts are used where it matters (strap attachments, zippers, etc).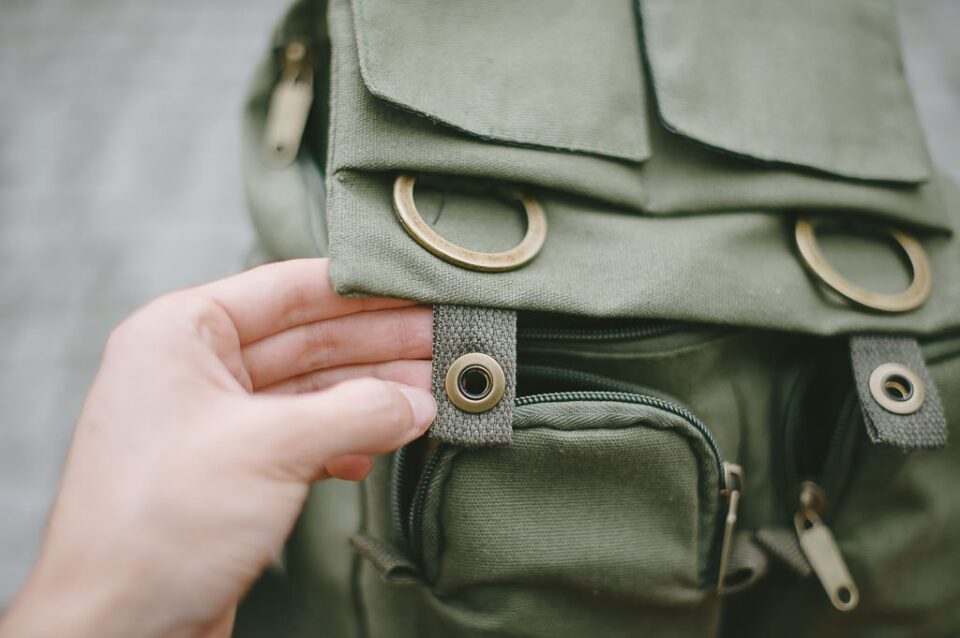 The Comfort and Ergonomics
Soft-ish materials mean the bag is quite comfortable and is unlikely to irritate skin, at least during a mildly warm day when sweat is no issue. There is a condition, however – so long as it's not packed heavy. I consider my D700 and 50mm lens combo to be reasonably lightweight for a DSLR system, but, really, once I add my wallet, mobile phone, a notepad, a couple of batteries and a banana for a snack, it's pretty much at the limit before it starts to feel as if I'm asking a little too much. Pack more and the bag starts to feel strained. It's not going to tear itself apart or anything, but the soft materials mean it is not overly supportive and doesn't handle weight very well. The strap can also be problematic since it lacks any rubber coating to make it less slippery. Again, there is an upside to that omission – your shoulder is unlikely to sweat as much in hot weather conditions where in contact with the strap. Mind you, we are talking about two or so kilograms of weight – that's a small laptop. Pack less – a medium-sized mirrorless camera with a lens or two – and everything's as it should be, you don't even miss the grippy layer on shoulder padding of the strap.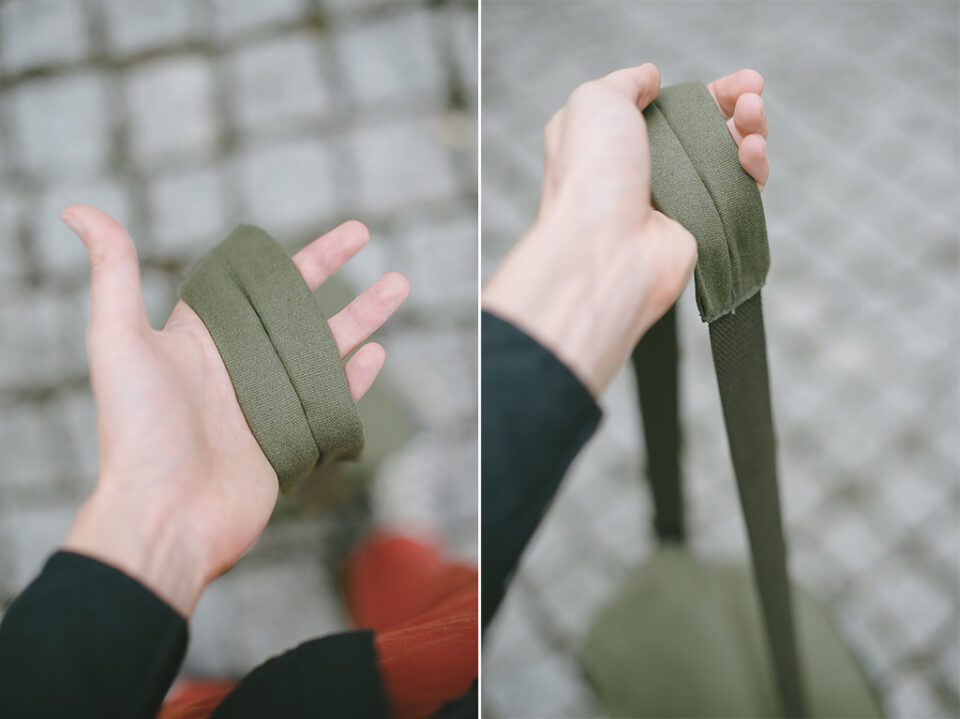 Handling the bag is also mostly a pleasant experience. It has two zipped pockets underneath the main cover – they are big enough for most mobile phones, batteries, a few rolls of film or anything else you might want to throw inside. A wallet will also fit if that's where you usually carry such possessions (I prefer my jeans' or an inside pocket of my jacket, personally). There is also a small compartment inside the bag where you can fit a notepad or a thin tablet.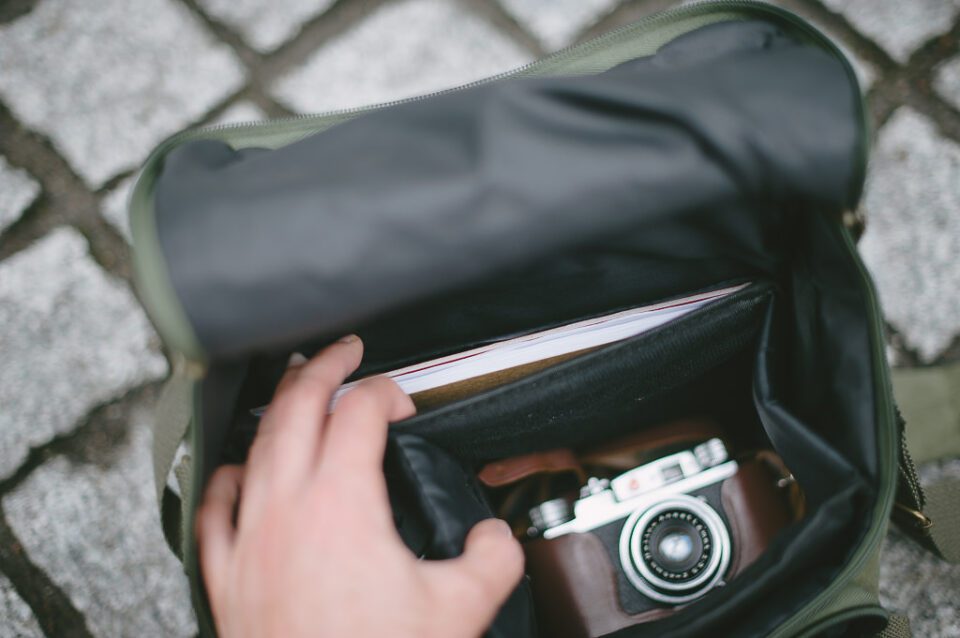 If it does not fit, you can place it between the wall of the bag itself and the padding. The compartment is basically a pocket and is divided from the main compartment with a very thin piece of cloth which, if the inside padding is removed, offers little protection from any sharper or harder items you might be carrying. In such a situation you'd need to be careful not to scratch the screen if you do want to carry a tablet in there – you might want to put it in with the screen facing outwards. There is a similarly sized (if a little bit less accommodating) pocket on the outside, too, with a zipper as a mild theft protection. Adjusting the strap is fairly simple no matter the length required and any hanging ends can be avoided with a little moving around.
Overall, I was left with a positive first impression after handling the bag… At first. Then, on my very first trip out, in fact, something rather unpleasant happened. Which brings us to the unavoidable…
The Bad
The Retro Canvas bag has a design flaw. Unfortunately, it happens to be a very, very important design flaw. It's not apparent at first, but once you notice it becomes this huge, white, Lindy Hop dancing, Chinese speaking elephant in a tiny, brightly lit room. Suffice to say, it's quite difficult to ignore. All because it affects what is likely the most important part of any bag, a part that has to be its most secure and dependable component – the strap. What's worse, I found out about it in the least pleasant way I could imagine. What follows is a short horror story, but take comfort in knowing it ends well. I promise.
The next day after receiving the bag I decided to take it on my trip to the old city of Vilnius. Such a wonderful place for street photography, that, and I managed to fit everything I needed into the bag. It was shaping up to be a great day out, two and a half hours of train ride towards the capital of Lithuania simply flew past in anticipation if not of great photographs, then at least of great moments noticed. This was basically what I needed such a small bag for in the first place – what I call street photography evenings. No rush, no pressure, no unnecessary equipment needed. And it was going to be great, I thought to myself. The bag did not "shout" about carrying an expensive camera inside, which already was a start of not attracting attention to myself. Nothing could go wrong, right? Wrong.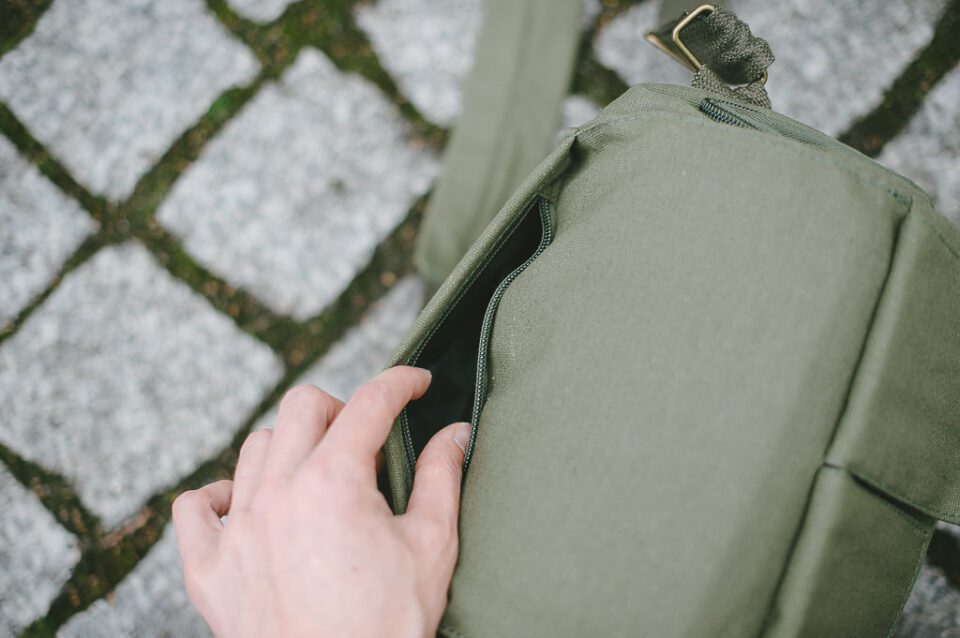 As I was crossing a mildly busy street (on a zebra crossing, responsible man that I am), I felt the bag twitch a little. Then, half a second later, it just… slipped off my shoulder and crashed on the pavement. Just like that. I did not even react quickly enough to catch it – you can imagine my heart skipping a beat. That was my favorite, arguably Nikon' best digital camera ever, lying flat on a street with cars passing by after falling down roughly off waist high. All jokes aside, I really was rather shocked. All I could do at that point was pick it up quickly, cross the street and examine the damage. The camera was fine – the padding might have felt cheap, but it did its job absorbing the shock. Part of it was due to camera's rigid structure and light overall weight, no doubt, but such hits can never be a good thing.
It took me a while to realize what had just happened and then calm down a little. I'd never have reacted like that had I been carrying the camera in my hand and dropped it by accident – even if it resulted in some dents and scratches, it'd be my own fault. But this was something I did not even think could happen. The problem lied in the already mentioned softness of the materials used. While it's all nice for touch and comfort, the strap is actually soft to a point of becoming slippery when in contact with itself. No friction means no staying in place. The strap simply slid out of the hook with the resulting crash, right in the middle of the street. I was lucky it did not get run over by a Range Rover Sport that passed right through that patch of asphalt just seconds before – no padding would help against three tons of British car. Moments later I went on trying to get around the problem by tying both sides of the strap in more securely. Adjusting the height was not as easy afterwards, but at least I was certain the bag would not drop again.
Half an hour later, it decided otherwise.
This time, I managed to catch it centimeters from the ground, but my confidence in the bag never really returned that day – I kept checking the strap every five minutes or so and all the while it felt as if it was slowly slipping out again and again. Which it was. That sort of ruined my mood for the rest of the evening. Not what I expected from my small street photography shoulder bag.
There are two other issues, one more irritating than the next. Firstly, and especially if you do end up carrying a heavier DSLR system, your strap ends up looking like that in absolutely no time: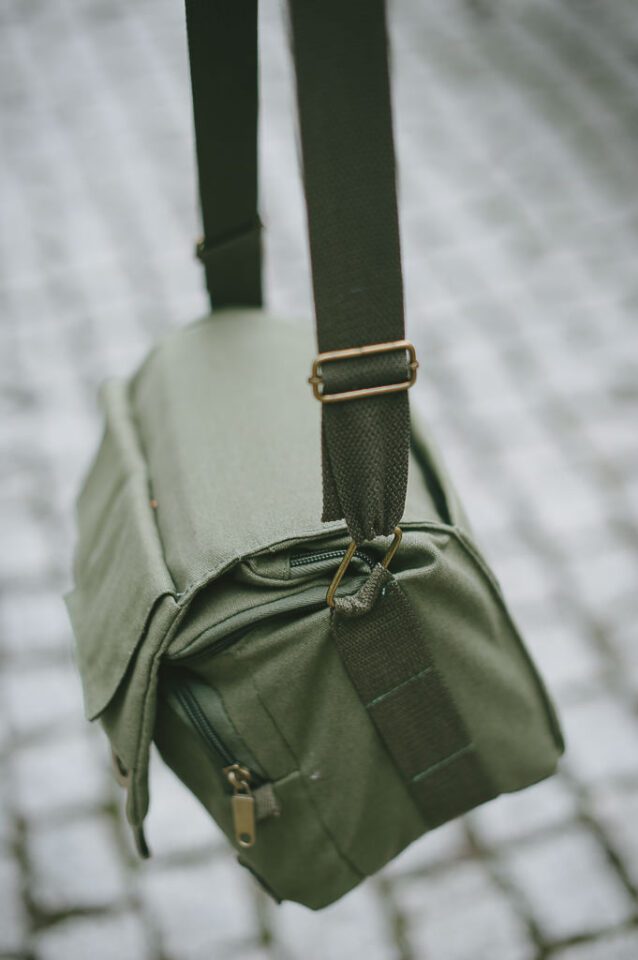 Secondly, and on my copy at least, the main cover rivets/buttons are very tight and difficult to undo, which puts a lot of strain on the soft-ish material. It hasn't happened yet, but I would not be surprised if it teared after sufficient use.
The Important Silver Lining
I made a big deal about the bag's flaw for a simple reason – I dropped it with my camera inside and even though all ended well, I could not help myself but have a little fun describing it. Because I made such a big deal, it only makes sense to highlight how easily it can be diminished with… a little stitching. Just set the length of the strap that is most comfortable to you and stitch it up. A less permanent solution would be to use a safety pin, but make sure it's thick so that it does not get bent. A good idea would be to thread it in more than twice, so that the fabric of the strap does not get torn, too.
Fixing the faulty strap is not a big deal and, if we put a pin into that issue and leave it for a second, this really is a decent bag – at around £30 (that's $50 for those of you on the other side of the pond), it's not exactly expensive, looks pretty good and, for its size, is very accommodating. But then you remember that pin. As I said, fixing the faulty strap is not a bit deal. The question is whether you should have to in the first place. In the end, this is a good bag ruined by a poorly designed strap.
Where to Buy
As I've mentioned before, the bag was delivered to me by LoveCases. Click here to go to the product page; you might also want to check out the black version of the bag or just view all the products they have to offer.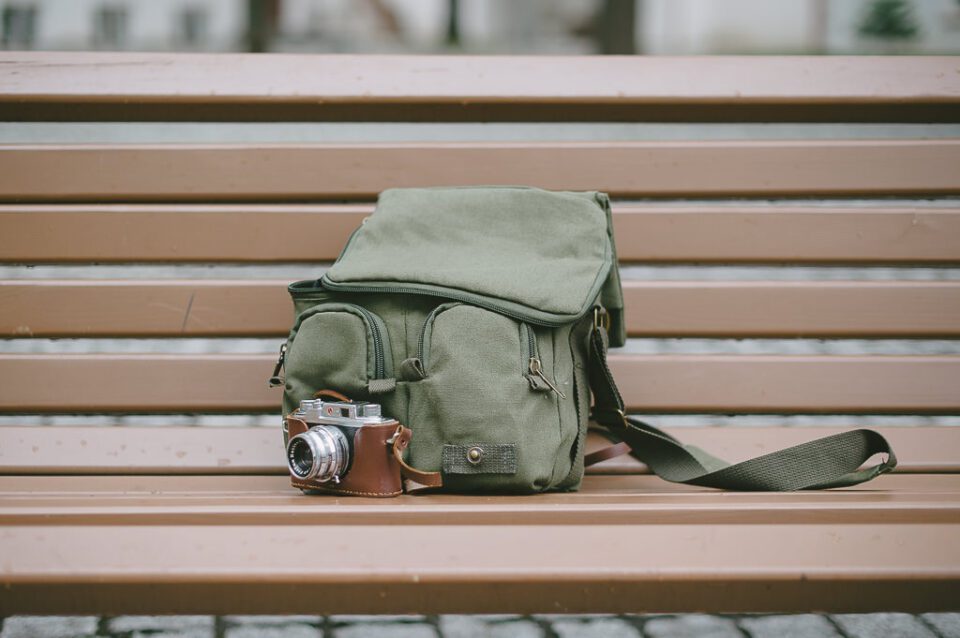 Retro Canvas DSLR Camera Bag
Build Quality

Handling

Value

Size and Weight

Ease of Use
Photography Life Overall Rating