Every once in a while I like going back and taking a fresh look at the tools that I have been relying on for years. During my last trip to Death Valley and the California mountains, I met a few photographers who I spent some time with, talking about what photographers generally chat about – camera gear and our favorite photography spots. One photographer had a very similar setup as mine, using a Gitzo Systematic tripod and a Really Right Stuff BH-55 ballhead. His ballhead had a different quick release plate than mine, so we started chatting about the differences in the setup and what we both like and dislike about the BH-55. After this discussion, I realized that I have never written about the BH-55 at Photography Life, although I have continuously relied on it for years and take it with me everywhere I go. In a way, I have gotten emotionally attached to this remarkable ballhead and it has become an indispensable tool for my photography work.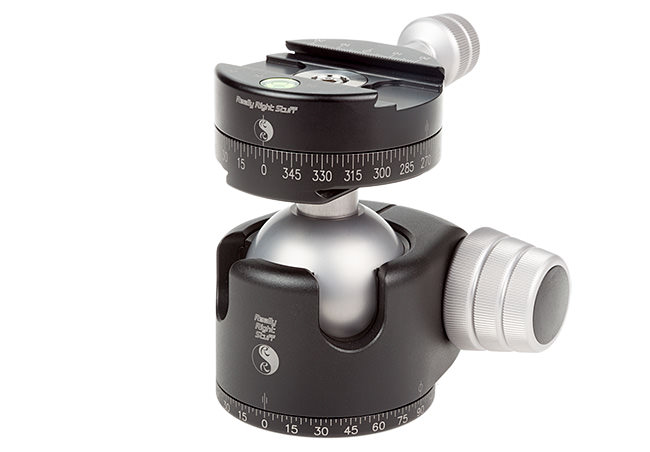 Like many others, I have done my share of mistakes, going through a number of different tripods and tripod heads, only to realize that I always fell short. As a result, I spent too much time and money on tools that I had to eventually get rid of and replace. During the past few years, I have been fortunate to have had access to many different types of equipment, including tripod heads. This gave me an opportunity to try out a lot of available options. I cannot say that I have tried them all, but I have used some of the most popular heads on the market from Markins, Arca-Swiss, Linhof, Induro, Kirk, Manfrotto, just to name a few. Although my first tripod that I grew to love was the Arca-Swiss Z1, once I bought the BH-55, the Z1 took its spot in my storage and never came back. And every time when I got a hold of another ballhead, there was always something I did not like, unlike the BH-55, which by now I consider to be near perfect. As you can already see, this is one of those reviews for a product that I would stand by and defend any time… Well, let's get down to it then!
1) Overview and Specifications
Let's take a look at the specifications of the RRS BH-55 ballhead:
Load Capacity: 50 lb / 23 kg
Height: 4.6″ / 119 mm
Base Diameter: 2.9″ / 74mm
Ball Diameter: 2.2″ / 55mm
Ball Articulation: ±40-45º, 2×90º
Panning Base: 2.5º increments, ±0º-90º-0º
Tripod Mount: 3/8″-16
Weight: 2.3 lb / 1042g (with PC-PRO clamp)
Looking at the specifications, you might not realize the fact that the BH-55 is no small ballhead – it is the biggest one Really Right Stuff makes. With a base diameter of 74mm, this sucker is noticeably wider than most standard ballheads out there, including the Arca-Swiss Z1. And at 1042 grams (with PC-PRO clamp), it is also one of the heaviest.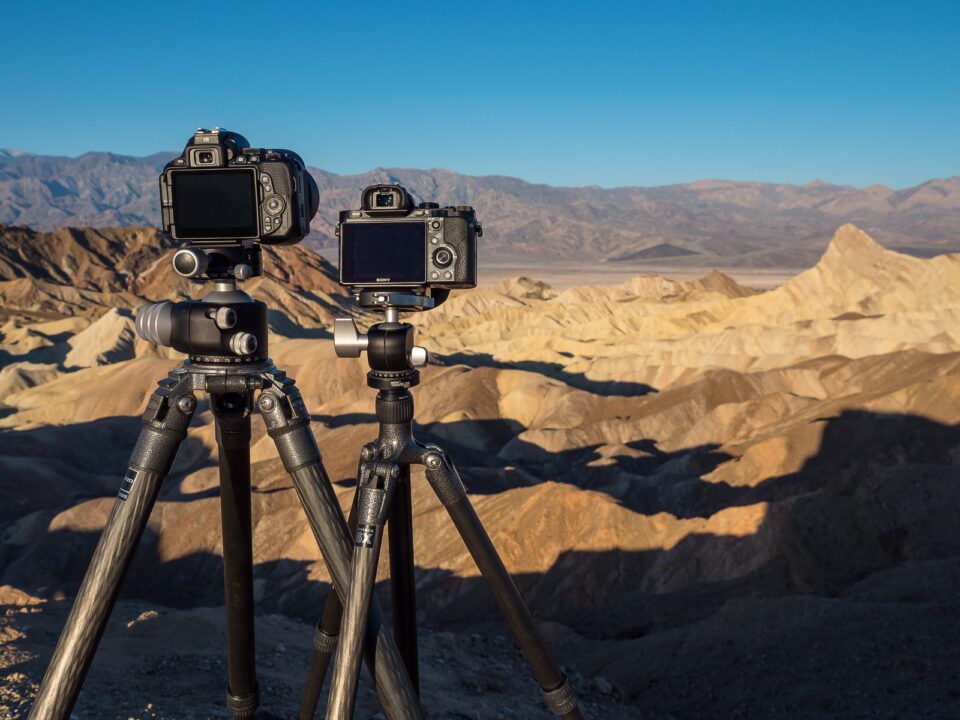 Although Really Right Stuff lists load capacity at 23 kg while other ballheads might claim a lot more, I would not worry about those numbers, as they rarely mean much. Any head that can take over 10 kg should be able to handle a lot more weight. The big question is, would you trust a head to handle that much weight? With my BH-55, I totally would. I have used this head with very heavy lenses, including older 400mm f/2.8 lenses (those are quite heavy) and have relied on it for measuring lens performance at extremely long focal lengths. The Nikkor 800mm f/5.6E VR was also numerously mounted on the BH-55 when I did not have a gimbal head with me. It handled everything I threw at it with ease and rock-steady reliability. And I have seen my share of flimsy heads, which feel like they would fall apart if you put anything larger than a standard size DSLR on them…
One of the main advantages of the BH-55 design is its short height – unlike traditional ballhead designs like the Arca-Swiss Z1, the BH-55 ball is located closer to the tripod base, making the head appear shorter in comparison. And since the tripod base is ultimately the most stable part of the tripod, closer proximity to it is one of the reasons why the BH-55 is one of the most stable ballheads on the market. You will also have a hard time finding a ballhead with such a huge ball diameter – at 55mm, the ball just feels monstrous! The large ball certainly plays a role in the stability and smoothness of rotation, making the BH-55 a joy to use in the field.
It goes without saying that all RRS tripod heads and accessories are designed for the Arca-Swiss quick release system, so you won't find proprietary plates that are easy to lose and hard or costly to replace.
2) Build Quality
When it comes to build quality, the Really Right Stuff BH-55 is built to last. I have had mine for about five years and I am looking forward to many more years of active use in the field. I know the phrase "built like a tank" is overused, but that's probably still the best way to describe the quality and craftsmanship of this fine tool. Everything is made from tough stainless steel metal and aircraft-grade aluminum and there are no parts that might fall off or break overtime. In short, the BH-55 is as good as it gets. And it is also one of the best looking ballheads on the market, in my opinion.
3) Main and Tension Knobs
My favorite part of the BH-55 ballhead is its main locking knob, which is also huge and very smooth to lock and unlock. Whether I use my bare fingers or thick winter gloves, I can always easily find and rotate the knob. Many standard ballheads have shorter and smaller knobs, which when set on a wider base can be more painful to use. Some cheaper ballheads lock up, or reach high tension while still having some "play", which is not good, particularly when you use such a head to stabilize an expensive super telephoto lens. The BH-55 is free from such issues. In fact, during the past 5 years of using the BH-55, mine never malfunctioned, locked up or got loose. And it is not like I took a very good care of it either – my BH-55 has a lot of battle scars from all the abuse in the field. The main knob is made from aluminum, with nicely textured surface that provides excellent grip. No flimsy rubber parts that will deteriorate or fall off overtime.
Another advantage of the BH-55 when compared to its competition are the dual 90° drop-notches, which can be conveniently used when you need to tilt higher up or when you need to switch to portrait orientation: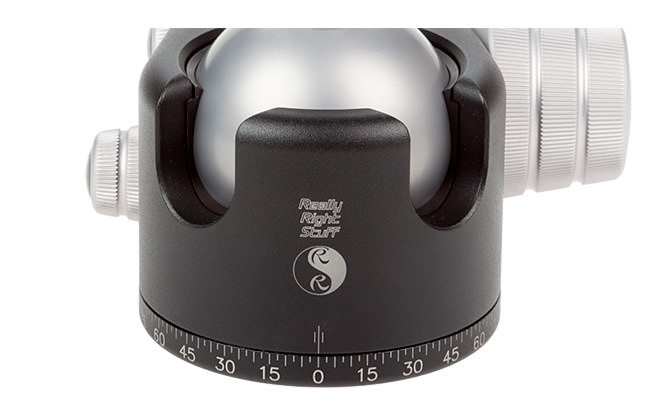 When you move the head into one of the drop-notches, there is very little play there, so you won't be dealing with a wobbly head when tension is released. Most ballheads only have one drop-notch, which certainly feels limiting after you get accustomed to using two. The head will also be very close to perfect vertical orientation at 90°, which is nice, because some heads either fall short or go beyond 90°, which is downright annoying.
On the back of the BH-55 you will find two additional knobs – a smaller drag / tension knob located closer to the top and a larger, more protruding knob used for panning: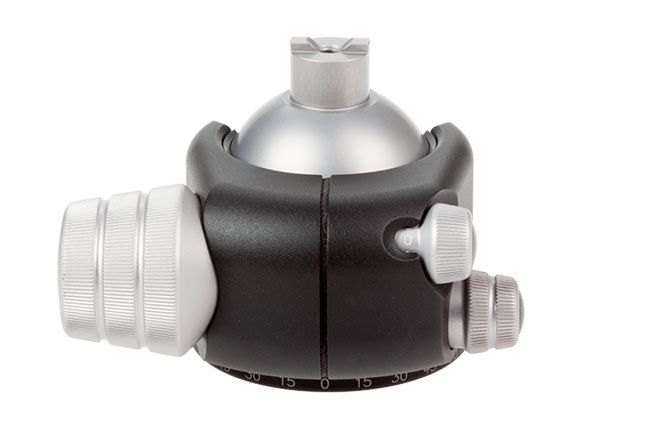 The drag / tension knob is probably the only part of the ballhead that gets occasional negative feedback. Some people don't like the white numbers on aluminum, while others cannot understand the numbering, or how to properly use this knob. First of all, the numbers on the knob really don't mean anything – there are there for simple reference to understand where you are currently at. After prolonged use, the minimum tension on the number might drop past 0, while the maximum number will flex as well. This is normal for any ballhead and you should not be concerned about numbers being out of whack. Second, it might be a good idea to read the manual that comes with the head, where it explains what the drag / tension knob is used for and how you can properly set it up. Basically, you use this knob to not let the ballhead lose its tension completely and let your camera suddenly fall on the side when you adjust the main knob. By tightening the main knob, then slightly tightening the drag / tension knob, you might not end up with your gear falling off a cliff when you mess with the main knob. Personally, I rarely use the drag / tension knob, because I always hold my gear while adjusting the main knob – just something I got used to doing when using other, less reliable heads.
4) Panning
Another big advantage of the BH-55 is its smooth and reliable panning base. The larger of the small knobs located to the right of the head is what you use for setting or releasing tension on the panning base. Without a doubt, the RRS BH-55 is the best head for panning. One of the biggest annoyances I have with most ballheads, is the amount of play there is in the panning base. Some still move no matter how much tension you set, making it sometimes impossible to unscrew them from the tripod base, some wobble side to side when you release tension and others simply lock up. To date, the BH-55 is one of the only tripod heads I have come across that has a reliable and properly working panning base. Looking at most tripod heads, I believe most manufacturers completely overlook this feature and provide very poor and unreliable panning features.
5) Modular Approach
One feature that is rarely mentioned by photographers when they look at the BH-55, is its versatility with its modular approach. RRS designed the ballhead to be used with a number of different clamps to suit one's needs. A number of different clamp options are provided and you can get everything from a lightweight lever-release clamp to a large screw-knob panning clamp for additional ability to pan at the top of the head. I started out with the B2-PRO II screw-knob clamp, but eventually switched to the PC-PRO clamp, as I loved the ability to pan the camera without having to level tripod legs.
In addition to the clamps, Really Right Stuff has developed many different accessories that can be used with the BH-55 ballhead. You can attach panoramic rails, macro rails, 3D / stereographic bars and other accessories made by RRS to extend the functionality of the head. So in a way, you can pretty much build your gear up with RRS to address pretty much any need. I personally built a pretty complex RRS bar that I sometimes use when testing cameras and lenses. It allows me to move my setup and make adjustments on the go, without having to move my tripod.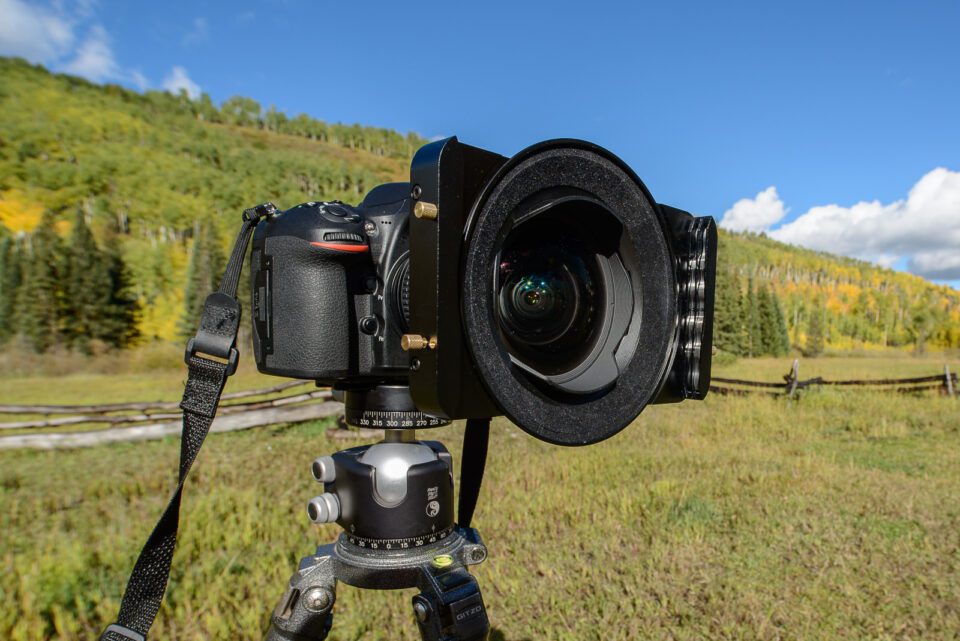 6) Stability
The RRS BH-55 is rock solid. Compared to other ballheads, it is as stable as it can get, with no play or wobbling when fully tightened. When mounting heavy gear, the BH-55 also does not sag overtime, which is nice. Some ballheads are particularly bad with sagging when mounting heavy gear, so I was quite happy with the BH-55 when mounting and testing 400mm and longer super telephoto lenses. In one case when I was dealing with a pretty front-heavy 400mm f/2.8 lens (was using a wrong Arca-Swiss foot), I had to leave the lens mounted on the BH-55 overnight. When I came back next day, nothing was moved and the framing stayed exactly the same, so I continued my testing without making any adjustments. And if I use this head for testing such heavy lenses, it goes without saying that the ballhead is not to blame for any potential camera shake. With the Nikon D810 that is equipped with an electronic front curtain shutter feature, I was able to test focal lengths up to 1600mm in my Imatest lab!
As I have previously mentioned, the BH-55 has no "play" when the panning and the main knobs are tightened. Having tested a number of other tripod heads, the only other tripod head that was as good as the BH-55 was the Arca-Swiss C1 Cube, which I ended up buying to replace the BH-55 for lens testing. Although I still use the BH-55 every once in a while for testing lenses, the Arca-Swiss C1 Cube is what I mostly rely on nowadays, because I am able to make minute adjustments without having to release tension and tighten it. For testing cameras and working in the field, the BH-55 is my "go to" tool.
7) Weather Resistance
Living in Colorado, I often get to shoot in extremely cold temperatures, sometimes below -10 degrees Fahrenheit (-23 Celsius). The BH-55 never locked up or got damaged in those conditions. I have also used the head in very dusty and sandy conditions, particularly when shooting in Great Sand Dunes NP, or Mesquite Dunes in Death Valley NP. Once, I had such a bad storm in Great Sand Dunes, that every hole in my camera, lens and ballhead was filled with sand. Unlike some lenses that start to make grinding noise after being subjected to such conditions, the BH-55 continued to function like it did before. All I had to do was brush off the sand and it was as good as new. And if you do end up with dust in unwanted places, all you have to do is give the ballhead a nice wash and move the knobs back and forth a few times to let the dust fall off. The BH-55 was built to be used in all kinds of challenging conditions, so use it with confidence!
8) Sample Images
Pretty much every photograph in my landscapes and travel portfolio is captured using the BH-55 ballhead, so there are plenty of images to see there. I am including my latest image from my last trip to Death Valley, captured with the Nikon D5500, which I will be reviewing within the next few weeks. The camera was obviously mounted on the BH-55: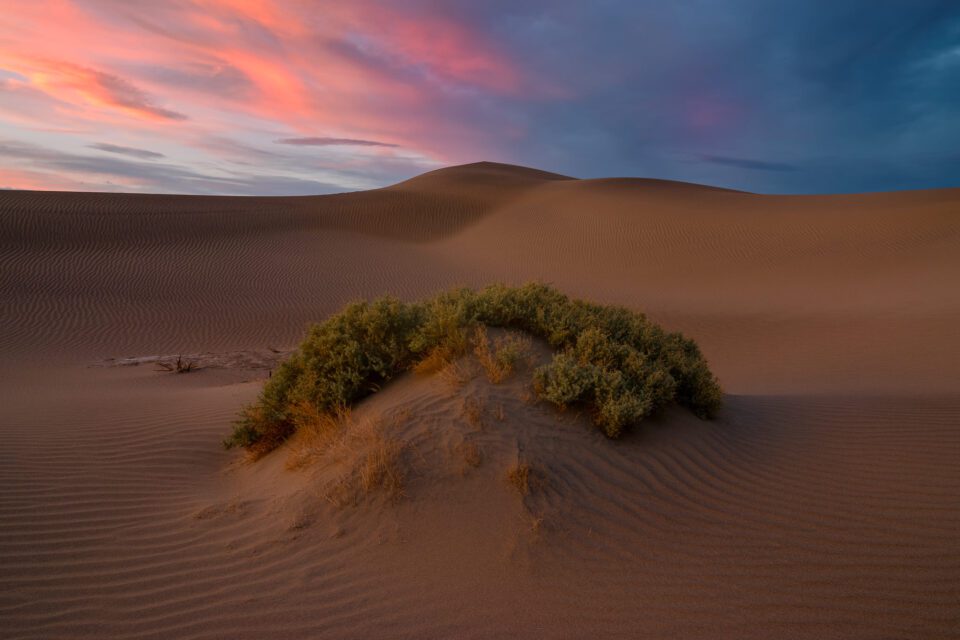 9) Summary
It feels like Really Right Stuff engineers spent a considerable amount of time working with professional photographers on properly engineering the BH-55. From small details to functionality and versatility, the BH-55 is one of the best ballheads on the market today in my opinion. It has a superb build, rock solid stability and lots of options to make it a truly versatile ballhead. Although at $355 for the ballhead alone and $415+ with a clamp it is not cheap, you would still be spending at least $250-300 on a comparable ballhead anyway. I had a hard time choosing the right head at the time and I am really glad that I decided to spend a bit more to get the best of the best. Considering how much I have been relying on the BH-55, it paid for itself long ago. I know that I have many more years with it, and I don't have to think about upgrading, or being unhappy or scared about what I use. When I bought the Arca-Swiss Z1, I thought it would be that last tripod head I could use for years. But it came with its own share of problems and when I found out that my Z1 was faulty (made prior to 2008 and suffered from a stem failure), I knew I could not trust it anymore for anything heavier than a DSLR and a standard lens. It was time to move on to something I could truly rely on, so I found my answer in the BH-55. And I am really glad that I did.
As you can see, based on my long time shooting experience, I have nothing but good things to say about the BH-55. It really is that good! If you are not satisfied with your current tripod head and you are shopping around for something that you won't ever have to replace, look no further – the RRS BH-55 is worth every penny. I know that I will probably be criticized by some of our readers on praising and recommending such an expensive tripod head, but you have to decide for yourself if spending $400+ for such a head is worth it or not. If you are shooting with a $500 camera and lower-end lenses, it might not make sense to invest so much money on a tripod head. But if you have high-end gear and expensive lenses, why not consider investing in something that will serve you and perhaps others for years to come?
And if you are looking for something smaller, lighter and cheaper, take a close look at the RRS BH-40, which is also of excellent value. I personally don't own a BH-40, but I have friends that do and they also highly praise it.
10) Where to Buy
You can buy your copy of the RRS BH-55 through B&H Photo Video.
Really Right Stuff BH-55 Ballhead
Features

Build Quality

Handling

Value

Size and Weight

Packaging and Manual

Ease of Use

Stability
Photography Life Overall Rating