When Profoto announced their first truly portable setup with the Profoto B1 500 AirTTL battery powered flash last year, the news immediately caught my attention and I requested to get a sample unit for a review. The reason was fairly simple for me – I got tired of lugging around a huge and heavy battery pack for my Elinchrom Ranger lights when working on remote jobs. Speedlights are great for indoors and low-light environments, but they just do not have the juice to run big light modifiers or overpower the sun in mid-day lighting conditions (unless you use packs of them like Joe McNally does). For these reasons, I have been using big lights for sometime now, but with the huge inconvenience of carrying a heavy portable battery. Although the Profoto B1 lights have less power in comparison with a total of 500 watts, I realized that I rarely go full power with my Elinchrom Rangers anyway, so the B1 was plenty for most of my work. The biggest advantage that I saw in the Profoto B1 was portability – no need for any external power sources! Just attach a battery on the side of the head and you are ready to go. And with a built-in slave trigger, the head can be controlled with a radio or infrared remote units wirelessly.
1) Why Profoto?
When it comes to high-end studio flash, there are only a few big names out there: Profoto, Broncolor, Elinchrom and Hensel. While I have personally been a fan of more affordable lights from Paul C Buff, Dynalite and others, a few years ago I decided to invest in a high-end portable setup (mainly for outdoor projects and weddings) and went with the Elinchrom Ranger RX Speed series lights. It was certainly expensive with two heads, but once coupled with a huge Octabank as the main light, the results were just stunning. The shot to shot consistency, color accuracy, high quality, versatility and reliability made me realize why high-end strobes stand out from so many alternatives and Chinese knock-offs on the market today. Yes, light is light and there are many options out there today. One does not have to spend thousands of dollars to get beautiful images. The choice between high-end and other lights is similar to something like choosing between a Nikon D4s and a D610. Both produce stunning images, but the former is a high-end tool built for professionals in mind with amazing reliability, high-quality, speed, features, etc. People that buy a Nikon D4s know exactly what they are looking for and the steep price does not deter them even a bit. The same goes with high-end products like Profoto – people that buy these lights know that they are getting the best of the breed, backed by a company with an amazing track record and customer service.
2) Specifications
Here are the most important specifications of the Profoto B1 head:
Maximum Watt/Seconds: 500W/s +/- 1/20 Stop
Guide Number: 291 @ 6.56′ (2.0 m), 100 ISO with Magnum reflector
Flash Variability: In 1/10 or 1 Stop increments 9.0 Stops: 2.0-10 power level (1/256-1/1), 2.0-500W/s
Recycle Time: Minimum/Maximum: 0.1-1.9 sec., Quick Burst Mode: 20 frames per sec.
Flash Duration: Normal mode (t0.5): 1/11,000 – 1/1,000 sec. min/max power
Freeze mode (0.05): 1/19,000 – 1/1,000 sec. min/max power
Color Temperature: 5,600K
Beam Angle: 77 Degrees with built-in reflector and opal protective glass
Modeling Light: 20W LED (70W tungsten equivalent), Replaceable by service tech.
Modeling Light Control: Off / Proportional / Free (full) 5.0-100%
Wireless Remote: Yes, via optional Air Remote TTL-C/N, Air remote, Air USB (Profoto Studio)
Wireless range: Up to 1,000′ (300 m) for normal triggering, Up to 330′ (100 m) for TTL with optional Air Remote TTL-C
Frequency Band: 2.4 GHz
Triggering: Air radio slaves, optical (IR), sync cord
Operating Voltage: 100-240VAC, 50/60Hz, Self-sensing, 14.8VDC/3Ah via included, rechargeable battery
Auto Power Off: Yes, after 60 minutes of disuse, Sleep mode after 30 minutes of disuse
Battery Type: Lithium-ion, 220 Full power flashes
Battery life: 300 charge cycles (to 80% left)
Flash Ready Indicator: Beep tone, ready right, modeling light dimming
Battery Charge Time: 2.0 Hours with included 2.8V multi-voltage charger, 1.0 Hour with optional 4.5V quick charger
Battery Charge Display: Green LED indicators
User Replaceable Flashtube: No, via authorized service tech.
Voltage Stabilization: Yes
Circuit Protection: Adaptive thermal control
Fan Cooled: Yes
Auto Dump: Yes
Operating Temperature: 14 to +122°F (-10 to +50°C)
Storage: 4 to +140°F (-20 to +60°C)
Dimensions (length x diameter): Body only: 12.2 x 5.12 (310 x 130 mm); With 5/8″ (16 mm) stand adapter: 12.2 x 6.69″ (310 x 170 mm)
Weight: 6.61 lb (3.0 kg) including battery
As you can see from the above specifications, the Profoto B1 is a pretty complex strobe with a lot of features. The most impressive feature for me personally is the weight – at just 3 kg, the head with the battery is almost three times lighter than my Elinchrom Ranger RX battery alone!
Unfortunately, wireless TTL control is currently limited to Canon DSLRs, but Profoto is promising to release a Nikon TTL-N version later in 2014.
3) Build Quality and Packaging
As expected from Profoto, the build quality of the B1 500 head is amazing. Profoto pays close attention to all the details and makes sure that the finish looks very clean, with round corners all along. The head is pretty long compared to other heads, but that's because Profoto heads have the flexible mount ring system, where you can actually move a light modifier such a softbox in and out depending on your needs. My Elinchrom heads do not allow for this and operate only under one wide angle. Profoto allows up to 8 steps of this head "zoom", 5 of which are marked on the head (4, 5, 6, 7, 8). I love this feature, because you do not have to worry about rotating anything into position and wondering if it is locked or not – the ring lock system is very reliable and easy to use in comparison. Once locked, the modifier stays in place securely.
The packaging of the Profoto is also very nice. Aside from a nice-looking box with a plastic carrying handle, Profoto also supplies a padded nylon case that can fit the unit along with the charger and extra battery:
This made it really simple to carry the Profoto head when working outside. I was actually able to fit a couple of PocketWizard units with cables in the same case, which was nice.
4) Operation
Having had no prior experience with Profoto lights, I wondered how easy the B1 head would be for me to operate. Without opening the manual, I attached a previously charged battery and tried to turn the unit on using the TEST / On Off button. Two lines came up and nothing happened. I then realized that I have to hold the button for a second for the unit to turn on. Once it was turned on and the rear LCD display lit up (which is real nice), the rest of the operation was quite simple. Without digging into the controls, I hooked up a PocketWizard using a male to male cable in a socket underneath the unit, attached another PocketWizard on my Nikon D800E and fired a test shot – it worked right away. I moved the large dial clockwise and counter-clockwise to adjust power and did a couple of test shots in full power (10.0). As expected, the Profoto B1 fired every time and the recycle time of around two seconds at full 500W was pretty impressive. Dialing power back to the lowest setting of 2.0 increased the recycle time dramatically – there was practically no wait time at all. After playing a little bit, I opened up the manual and started exploring the settings. I am glad I did that, because I found some amazing features that I had no clue about!
The "MODEL" button turns modeling light on / off. If you press and hold this button, you can toggle between two different modeling light modes: "PROP", which sets the modeling light intensity proportional to the selected power level and "FREE", which allows you to set the intensity in percentage (from 5% to 100%). At 100% intensity, the modeling light was pretty bright when using it indoors, so if you have a corporate headshot session and you need to optimize the light position, the modeling light can be very helpful. Keep in mind that continuous use of a modeling light will drain the battery pretty fast, so I would limit its use to no more than a couple of minutes.
The "SYNC" button allows to set between two different sync modes: "SLAVE" and "AIR". The "AIR" mode is specifically made for use with the Profoto Air Remote, a pretty expensive unit. I did not have the Air Remote, because I shoot Nikon, so my options for remote triggering were limited to my PocketWizard units. Or so I thought before I read the manual. On page 11 of the manual under "Slave Sync operation", I read a line that said "When 'Slave' is shown in the Sync/Air setting section on the Display, the B1 unit senses the flash release, as well as IR signals from most IR sync transmitters". Those last 4 words made me wonder if the head would be smart enough to be triggered by a Nikon built-in flash, which does send an IR signal. I popped up the flash of my Nikon D800E, pointed at a nearby wall and fired a test shot at 1/125 of a second. IT FIRED! Wow, what a surprise! It turns out that you can actually command these units with a built-in flash or an infrared unit like the SU-800. This was the first studio strobe that I have ever encountered that could actually do that! I then wondered what the fastest sync speed would be. My PocketWizards are typically limited to 1/200 of a second, so I tried that. Perfect exposure, no blackening in the frame. I then raised it to 1/250 and fired another shot. Once again, perfectly even shot. I then pushed my shutter speed to 1/320 and fired another shot and boom – same, perfectly even shot. Take a look at the below image of a wall in my living room, which is perfectly illuminated with no black lines anywhere in the frame: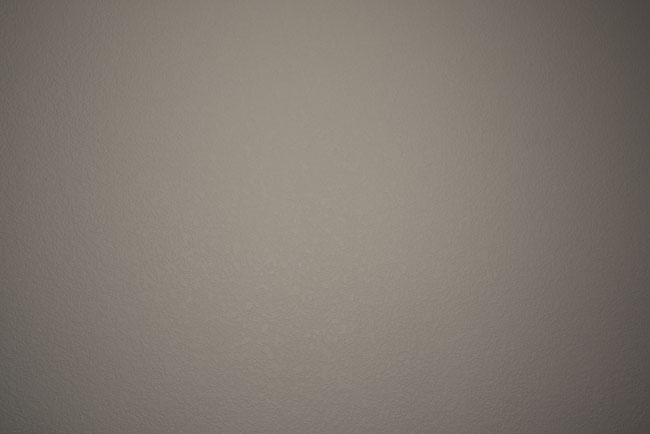 Full EXIF information is provided in the above image for reference. I fired about 10 shots at 1/320 to make sure that it was not a glitch of some sort and every single frame came out perfectly illuminated! Anything past 1/320 resulted in a 3/4 black frame, but it was still a nice surprise.
While infrared is problematic for shooting in daylight conditions, it works great in low-light and indoors conditions. It is great to know that you do not need to worry about hooking up external triggers to use the flash with a Nikon DSLR, as long as you have a built-in flash or an SU-800 unit!
The "READY" button can be used to turn beep on / off and if you press and hold it, you can set the behavior of the modeling light when flash is fired. If it is set to "DIM", it will turn off the modeling light during the recycle time and turn it back on when the unit is ready (probably to recycle faster). Without "DIM", the modeling light is always on, whether the unit is recycling or not.
Another cool feature of the Profoto B1 is its dual mode. The unit can operate in normal mode, where the flash head is optimized for stability over the entire energy range. The second mode is called "FREEZE" and it is turned on by holding the large center dial and pressing the "TEST / On Off" button. The Freeze mode is optimized for shortest flash duration, which is used in action photography where you need to freeze fast action. If you want to find out more about these modes, check out the page 10 of the manual, where you will find a graph that shows flash duration from 1/1000 to 1/20000 and how the Normal mode compares to the Freeze mode.
5) Weight, Size and Battery Life
As I have already pointed out above, the Profoto B1 head is pretty long compared to my Elinchrom Ranger heads. However, considering that I can move a light modifier up and down and there are no cables dangling behind the head, the size difference can be more or less neglected as far as I am concerned. The biggest advantage of the head is obviously weight. At 3 kilos with the battery included, this is a pretty light head when compared to everything else on the market. My Elinchrom Ranger RX weighs 2.4 kg with its 3 meter cable and I am not even taking into account the 8 kg battery! If you compare it to its slightly less powered Elinchrom equivalent, the Ranger Quadra with the RQ Hybrid head, the latter is a much lighter head, but the battery and the head combined is still 3 kg in total weight. Plus, you have all those dangling cables and a separate battery pack to carry around. So the Profoto B1 offers a huge advantage in terms of portability and simplicity when compared to other similar products on the market.
Here is the unit with the battery taken out:
And the battery itself is very compact, which is really nice. It is hard to believe that this small battery is capable of firing 220 times at full power. I almost never shoot at full power, so I would expect to get at least 500 shots from this guy from my typical shoot.
Here is the back of the battery:
There is no battery life indicator on the actual unit, but if you want to find out how much you have left, you can press the "CHECK" button on the back of the battery and it will show you the charge level. Attaching and detaching the battery to the unit is real simple and the battery charges fully in 2 hours using the provided charger. If you want to speed up the charging process, you can use a 4.5A quick charger, which will reduce the time to just 1 hour.
6) Sample Images
Here are some sample images captured with the Profoto B1 head: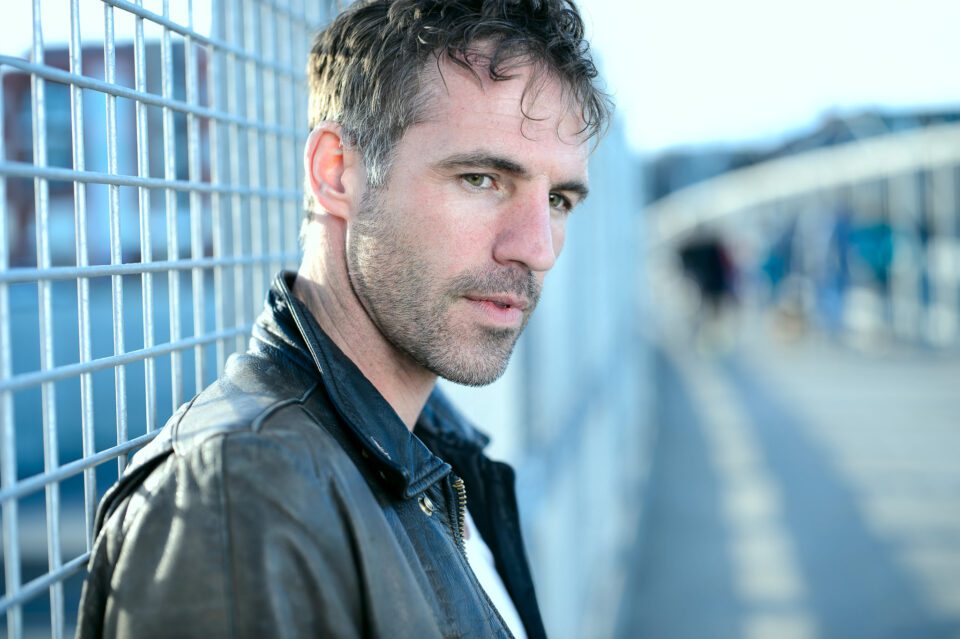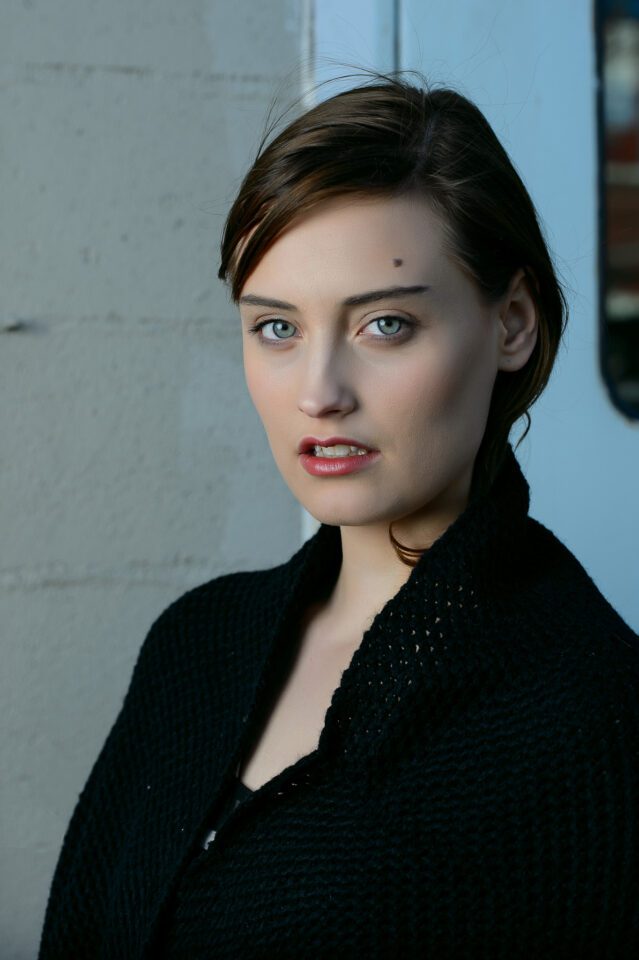 I love the ability to overpower the sun in daylight situations. In the shot below, I placed the Profoto B1 to the left of the model, while back-lighting the model with the sun. While I did not really overpower the bright background (did not have an ND filter with me that fit my 35mm f/1.4 Fuji lens), the background is more or less visible and I could have recovered it a bit more in post. I did not want to stop down the lens more, as I still wanted to have some background blur. My only option was to increase the shutter speed here and the Fuji X-T1 is limited to 1/180 sync speed, so there was not much I could do without an ND filter.
All images were shot with a single light modifier – the 3′ Profoto Octabank. I mounted it on a medium-sized light stand and the whole rig was relatively easy to walk around with in Denver downtown. If you want to get this setup, don't forget to get the Profoto RFi speedring adapter.
7) Profoto B1 vs Elinchrom Ranger RX Speed
I have already talked quite a bit about differences between the Profoto B1 and my Elinchrom Ranger RX setup, but I wanted to add a few other thoughts. When using two Elinchrom Ranger RX heads with a single battery pack, the power is distributed unevenly between the heads: 2/3 power goes to the main head, while 1/3 goes to the second head. Makes sense, but if you wanted to control the power on each head independently, you would have no options. A single power setting affects both heads! In comparison, if you have multiple Profoto B1 heads, you could control them independently using any desired power – there are no such limitations. But most importantly, there are no cables dangling around your two lights. When shooting on location, I always have to worry about cables on the floor. Due to the cable length limitations, I had to buy a really long extension cable for my Elinchrom Rangers, which people have tripped over before. It was so impractical to use more than a single head when photographing weddings, that I would just resort to using a single light as the main light and speedlights in the back for backlight. And when shooting in a studio environment, I often had to tape the cable to the carpet/ground for safety reasons. In addition, I always use PocketWizards with my Elinchrom lights. Normal cables do not work, so there is an additional cable that I had to buy just to make those work!
No matter how you look at it, a fully wireless setup is much more versatile than one with cables. It is just one less headache to worry about!
Yes, my Elinchrom Rangers give me a lot more power when I need it, but then I cannot remember the last time I really needed to use that much power.
8) Summary
Without a doubt, the Profoto B1 is an amazing strobe. Being able to operate studio-quality lights in outdoors conditions without any cables or external battery packs, with the added advantage of using a pop-up flash on a Nikon DSLR (or an external infrared commander) is a huge plus, especially when shooting indoors or in low light. Although Profoto has not yet released a TTL version of its remote trigger, I was simply blown away by how well the strobe performed in regular manual mode. 500 Watts is plenty of power for most situations and as I have shown in the above image samples, it is even good enough to light subjects in mid-day conditions. At just 3 kilos, it is a lightweight head that is truly portable when working in the field. No more dangling cables, no more battery packs to carry around! A truly versatile setup that currently has no equivalents on the market. Yes, it is an expensive head, but if you factor in all of the above features and capabilities, you certainly do get what you pay for.
9) Where to Buy
The Profoto B1 head is available for $1,995 at B&H Photo Video (includes a single battery and a charger). Air Remote and other accessories are not included and can be purchased separately.
Profoto B1 500 AirTTL
Features

Build Quality

Handling

Value

Size and Weight

Packaging and Manual

Ease of Use

Speed and Performance
Photography Life Overall Rating