Pergear's 14mm f/2.8, full-frame lens is a very interesting option for Sony, Nikon, Canon, and Leica mirrorless photographers. After all, it reaches wide and bright, yet costs under $300. But can it really deliver? I tested this budget ultra-wide in the field, and here's what I found.
First, to understand what makes this lens special, you have to consider its niche in the market. Although there are now several ultra-wide f/2.8 lenses from companies like Nikon, Canon, Sony, and Sigma, these tend to be expensive lenses. (One of the few exceptions is the Canon RF 16mm f/2.8 at $300.) If you want an ultra-wide f/2.8 lens on a budget, you're looking at third-party companies like Rokinon, Venus Optics, and now Pergear.
Specifically, the Rokinon 14mm f/2.8 comes in a few versions, including a DSLR version at $350 and a mirrorless version for $500 (both of which often go on sale). Meanwhile, the Venus Laowa 12mm f/2.8 is a more expensive lens at $850, and we didn't find that it performs particularly well. That leaves the Pergear 14mm f/2.8 at $300 (though often on sale for less).
This is my first experience with a lens from Pergear, which is one of the lesser known third-party companies. On paper, though, their 14mm f/2.8 looks quite interesting, and the price is certainly good! Here's my experience with the lens.
Features
From the time of announcement, I was already interested in this lens. The Pergear 14mm f/2.8 combines 2 aspherical elements and 5 "ultra-high refractive index" elements, along with 3 extra-low dispersion elements. It's a surprisingly complex and advanced design for such an inexpensive lens. Hopefully that's a good sign considering that ultra-wide, fast lenses have a greater tendency to have optical issues.
The rest of the lens is quite simple. The mount and body are metal, and the mount lacks any electrical connections. This means the aperture control must be done on the lens itself, not a dial on your camera. Likewise, EXIF data like your aperture and focusing distance won't be passed to the camera. And, of course, it's manual-focus only. (For this focal length, I don't feel that it's a huge issue, but it's your call.)
The aperture ring is clicked, with marks at the full stops. The aperture ranges from f/2.8 to f/22. Manual focus is smooth enough, and quite well dampened. I don't expect you'd have any issues with manual focusing, even though the focus ring covers the entire range in a relatively small 90 degrees of rotation.
Close focus is listed as 1.4 feet or .43 meters. While this certainly isn't a macro lens, being able to focus just about a foot away does open up creative possibilities with a 14mm lens.
Included accessories are minimal, although the lens is well packaged with dense foam. The box includes the lens, an unmarked front and rear cap that are roughly OEM quality, and a faux-leather lens bag. Curiously, Pergear lists a lens hood as an accessory, although the petal lens hood seems to be permanently affixed to the lens.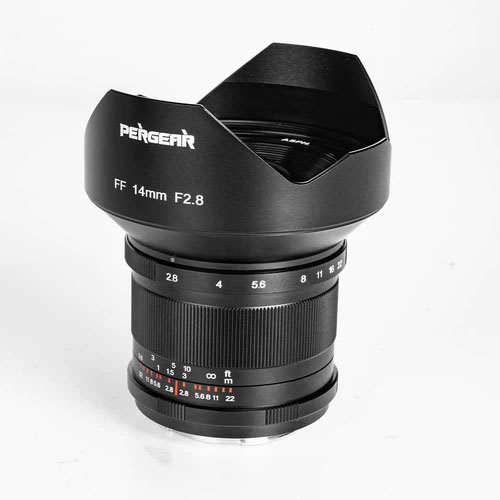 In Use
While ultra-wide lenses can have a wide range of uses, from journalism to sports, I was very keen to test this lens for landscapes and astrophotography. With both those genres of photography, it's useful to have an ultra-wide lens at your disposal, and 14mm certainly qualifies!
At f/2.8, you can capture far more light than f/4 or f/5.6 ultra-wides (specifically, 2x and 4x more light respectively). For astrophotography, this lets you use faster exposures and lower ISOs, improving your image quality. Not to mention that you're probably using manual focus for astrophotography anyway, so an all-manual lens isn't much of a hinderance.
With that in mind, I tested the lens both in daylight and astro-shoots. While I've not had great weather, nor ideal timing for the Milky Way, I was able to get a good feel for the strengths and weaknesses of this lens over time.
The sharpness characteristics of this lens are somewhat unusual. In the center of the frame, the Pergear 14mm delivers competent sharpness results, even at f/2.8 on a 45 megapixel body. The midframes remain quite solid, but there's a very sudden drop around the edges and corners. In particular, the outer 1/5th of the frame is significantly smeared at f/2.8. (That's about how extreme that the following crop is – 1/5th the image area.)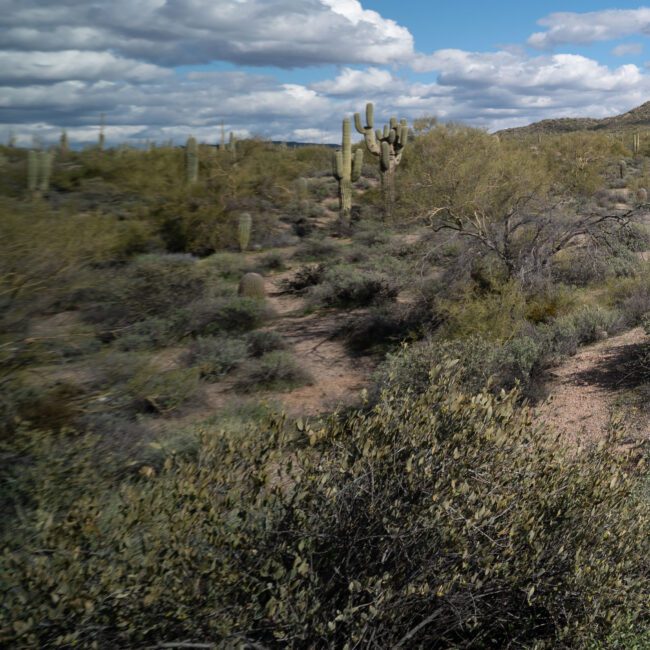 Stopping down produces little change in the center of the frame, but thankfully, it helps the corners quite a bit. Even so, there's still a bit of blur along the very outside edge. At f/8, for instance, I'd categorize the outer 5% of the frame as blurry but the rest of the image as sharp. Here's an example: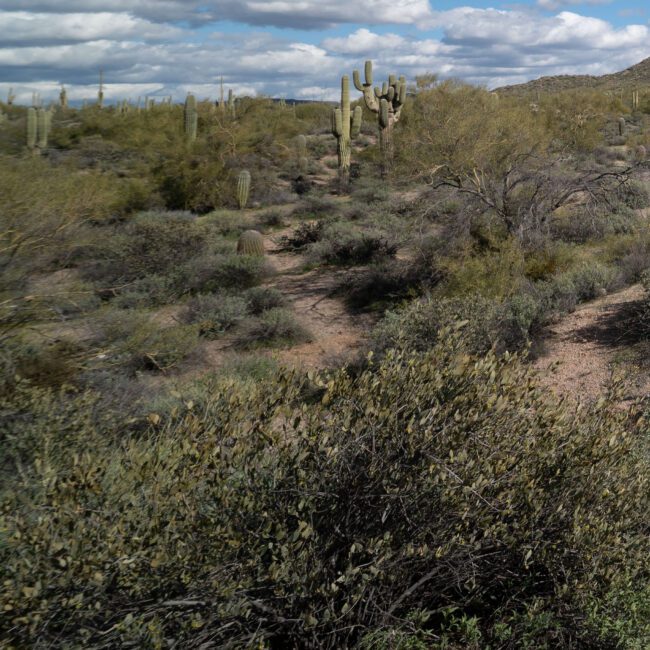 At intermediate apertures like f/4 and f/5.6, you'll get some improvements, but f/8 is better. Upon stopping down to f/11 and particularly f/16, you lose sharpness throughout the frame due to diffraction (no different than any lens).
Overall, I'd characterize the sharpness performance as lacking. But if you frequently use the f/8 to f/16 range as a landscape photographer, you'll have a lot less to complain about.
Chromatic Aberrations
Interestingly, for a wide and fast lens, there aren't significant issues with chromatic aberration on the Pergear 14mm f/2.8. I needed to really work to produce any chromatic aberrations. It was worst with high-contrast out-of-focus subjects, like the plant in the photo below (it takes on a slight blue/green aberration). Overall, though, the fancy lens elements that Pergear mentions are doing their job here.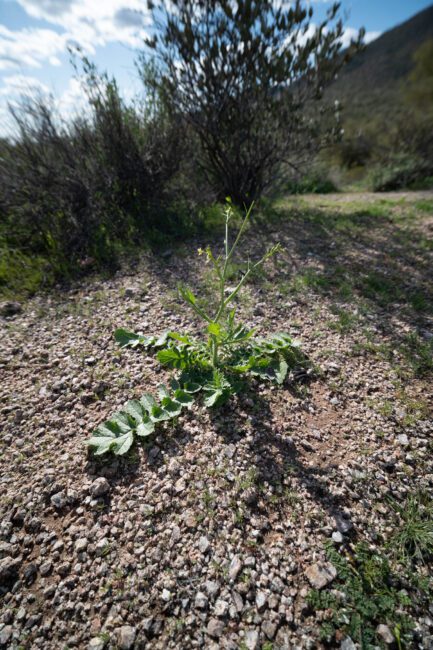 Flare
While the lens performs great in terms of aberrations, flare resistance is not very good. Significant, very distracting flares are produced from having the sun in your frame. Multiple, large, rainbow-colored rings are produced, and a significant loss of contrast in dark areas is clear. This isn't good for an ultra-wide lens that can be expected to have the sun in your frame with some frequency!
With the sun outside the frame, however, the lens performs much better. The built-in lens hood does a good job of blocking flares, and I didn't observe any problems. Just like with stopping down, this lens's performance hits both extremes: significant flaring from the sun in frame, but good performance against less significant flare risks.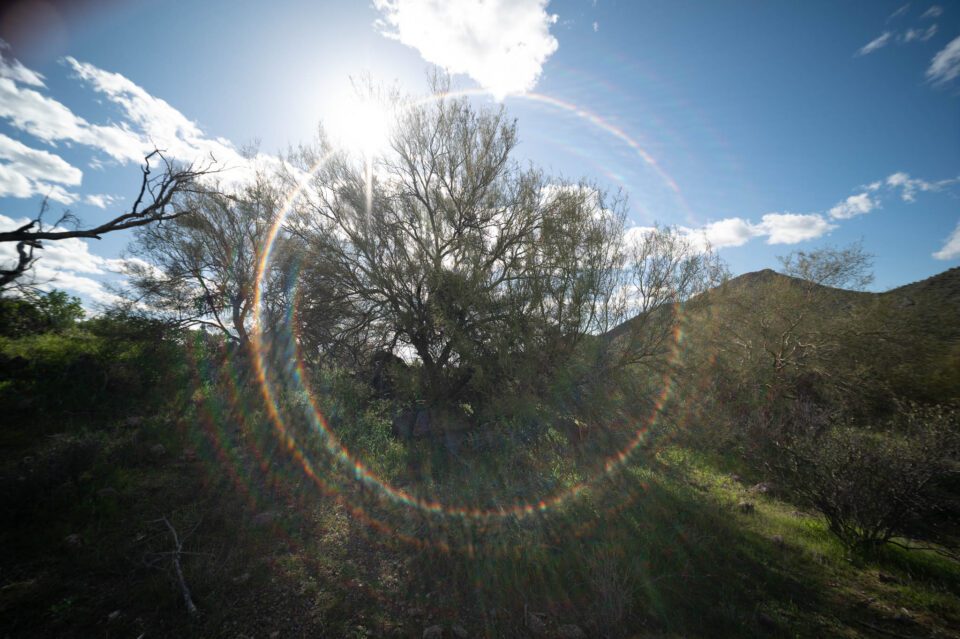 Vignetting
Like many fast lenses, vignetting wide open is an issue, and keep in mind that automatic lens corrections aren't supported. At f/2.8, there are about 2.5 stops of vignetting in the outer 15% of the frame. It's very noticeable, even in natural scenes.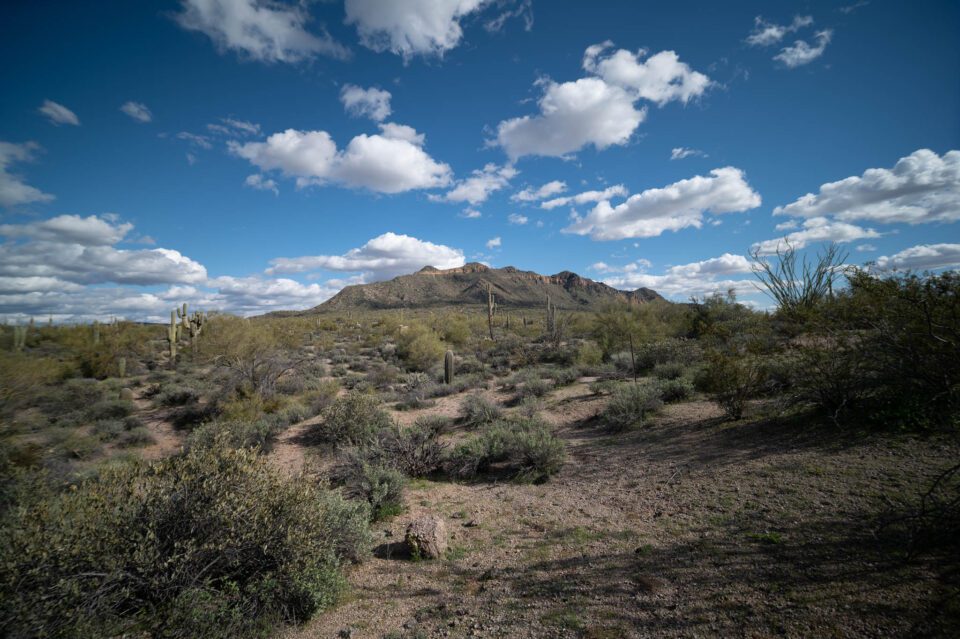 Lightroom's manual correction works well, but it does require about +75 in my experience (with a midpoint of 25) to correct at f/2.8. Remember, brightening the corners by a significant amount can start to make noise more visible, so that does harm this lens for astrophotography.
Stopping down reduces but doesn't eliminate vignetting. At f/8, the vignetting is reduced enough that I didn't need to correct it in very many photos, but it's still visible to a careful observer. In Lightroom, a manual value of about +20 corrects vignetting at f/8.
Coma and Astrophotography
Just like with sharpness, this lens is a strong performer in the center of the frame for astrophotography, but the corners are significantly weaker. That's especially true at f/2.8, which is usually what you'll be using for astrophotography. Cropping or stopping down can both help mitigate this issue, but those options both change the value proposition of this lens.
Here it is in the center at f/2.8, with a 100% crop: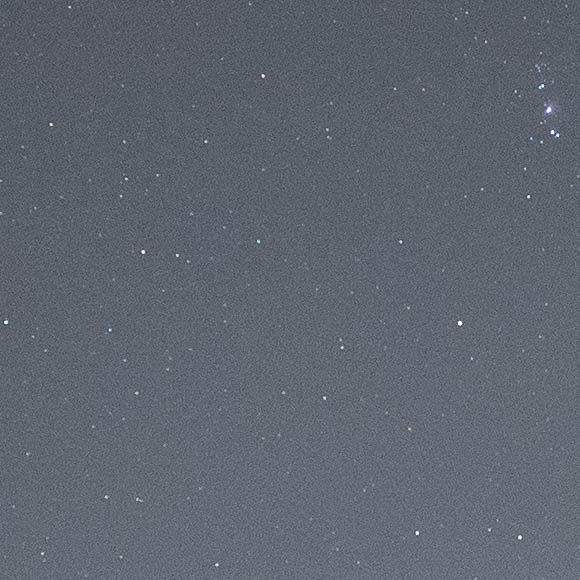 And here's the corner at f/2.8: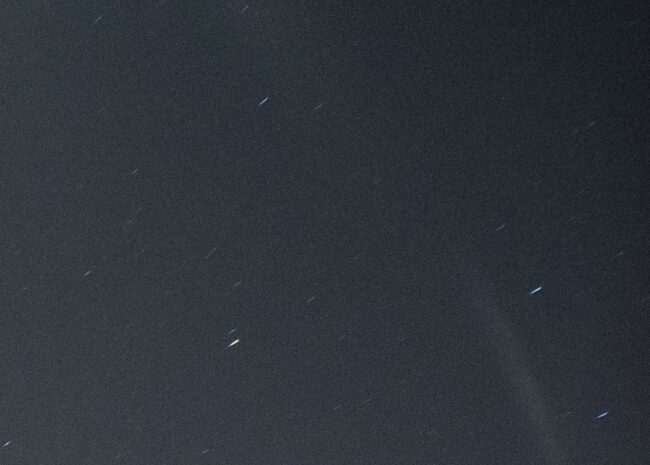 Value
Throughout shooting and writing this review, I was both impressed and unimpressed by this lens, in different ways. On one hand, the simple fact of having a 14mm f/2.8 lens in your bag for under $300 is really useful. The lens also has great central sharpness and chromatic aberration performance, and stopping down to f/8 or f/11 gets you good image quality all around. But when it comes to flare performance and wide-open corner sharpness, the Pergear 14mm f/2.8 leaves a lot to be desired.
In the end, I think this lens is a good option for full-frame shooters looking to explore ultra-wide compositions (14mm isn't for everyone and every situation), with the price point making this a very affordable way to get started. But it certainly won't measure up to pro-level 14-24mm f/2.8 glass. As for the Rokinon 14mm f/2.8, it's a close call, but I'd lean toward the Rokinon even though it's more expensive and it's also not a perfect lens. If you're a Canon shooter, I'd definitely get the Canon RF 16mm f/2.8 instead, which is also a $300 lens.
Finally, I'll mention that the Pergear 14mm f/2.8 is a good option for APS-C users who need a wide angle. Nikon Z APS-C, for instance, is lacking any Nikon-brand alternatives in this area. The 1.5x crop factor also eliminates one of the biggest issues with this lens, the weak corner performance. While a 21mm equivalent isn't nearly as wide, it's still a good focal length for landscape photography.
Pros:
Surprisingly good build quality and customer experience for a third party lens
One of the best prices for such a wide lens at less than $300
Strong center of frame performance across the aperture range
Good close focus performance allows for interesting compositions
Low levels of chromatic aberration keep the image looking clean
Cons
Weak corner performance until f/8
Heavy vignetting at f/2.8
Bad flare performance
Coma will limit some options for astrophotography, compared to more expensive lenses
Fully manual lens in all regards
I think users of this lens will have a very different experience based on which they look at first: price or corner sharpness at 100%. For less than $300, this lens delivers a unique field of view, and the f/2.8 aperture allows for astrophotography in a way that would be impossible with consumer zooms.
Compared to the far more expensive options in this focal length, however, the Pergear 14mm f/2.8's compromises show through. If you're in the market for a wide-aperture ultrawide, you already know if your budget is over $1000 or under $300. And that's the biggest factor when choosing this lens.
I hope you enjoyed my field review of the Pergear 14mm f/2.8. I always find it interesting to test these unique entrants from developing manufacturers, and I hope you can make use of the results.
If you're interested in picking up the 14mm, the lens is available now from Amazon and from Pergear itself. You can support our efforts at Photography Life by buying anything (not just this lens) through those links, since we get a small commission on each sale. Let me know in the comments if you have any thoughts about this lens, and if you'd like to see us review more Pergear lenses!
Pergear 14mm Field : Ultrawide and Fast, on a Budget
Optical Performance

Build Quality & Handling

Value
Photography Life Overall Rating