Carrying the right amount of camera equipment in a comfortable, accessible bag is an eternal problem for photographers, or at least for me. At this point, I've settled on a system of a technical hiking backpack with a camera insert for my longer landscape photography trips, but I haven't yet found the perfect bag for more moderate travels. Enter the Peak Design 45L Travel backpack, advertised as Peak Design's top travel bag. Does it fit the bill?
Note that the 45L Travel Backpack is currently on Kickstarter, with more than $4.7 million sold at the time of publishing this article – clearly a very popular bag! The campaign also ends in less than 24 hours (specifically 8 PM Eastern time on September 20), so if you want a copy of the backpack at its non-retail price of $235 versus the MSRP $300, now's the time to order it.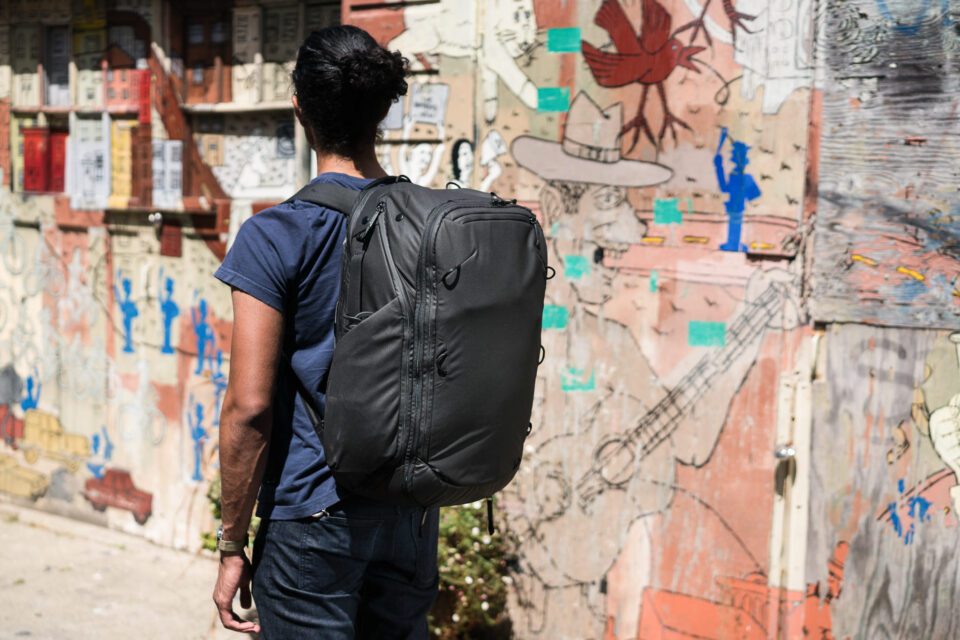 Specifications
The 45L Travel Backpack is built with very impressive, high-quality materials and attention to detail – as well as excessive fabric and bulk, akin to what I found when I reviewed the Peak Design 20L Everyday Backpack last year.
From a specifications standpoint, here's how it stacks up:
Weight: 2.05 kg / 4.52 lb (no camera carrying compartment)
Max depth: 29 cm / 11 in
Height: 56 cm / 22 in
Width: 33 cm / 13 in
Max laptop size: 15″ with 2.5 cm (1 inch) maximum thickness
Two side pockets for water bottles or similar
12 attachment loops for carrying external accessories
7 separate zippered compartments, ranging from large to small, to store accessories
Weatherproof 400-denier nylon shell made of recycled plastics, with 900-denier bottom fabric
Two colors: black and sage green
Main compartment access via either side, or via large back zip compartment – the entire area that touches your back unzips and opens. (Side note, no one online seems to agree if that counts as the front of the bag or the back of the bag, but I'll refer to it as the back in this article.)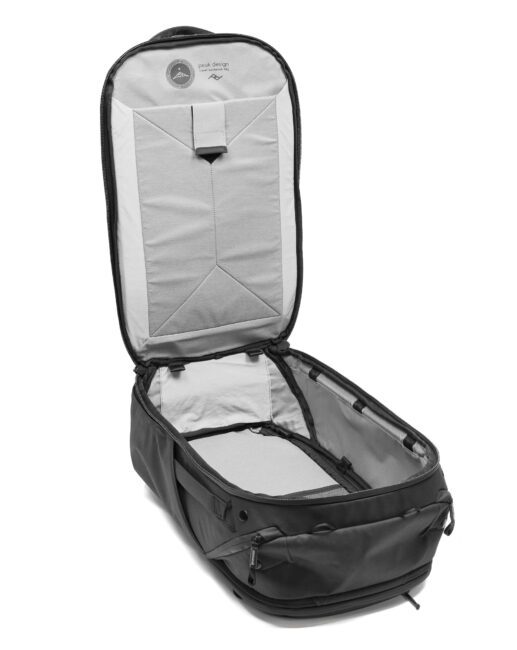 Storage Capabilities
You'll find that you can load the 45L Travel Backpack with enough camera equipment that it becomes too heavy well before the pack fills up. That's not much of a negative, though – the bag is relatively comfortable overall – but is instead a statement on the 45 liter specification. It's a large backpack, to the degree that most people will be better off with something in the 30 liter range instead, at least for a walk-around pack. It can be hard to tell the size just from the photos online, but it's quite large indeed.
Then again, if you need 45 liters, you need 45 liters. It's a good size for carrying while you travel – it fits under typical airline seats, though barely – yet carries enough for any reasonable use. I'm going to Photography Life's Jordan workshop in a couple weeks, and you can guess what backpack I'm taking along.
In total, I was able to fit an impressive number of items in the bag simultaneously, with a bit of help from unzipping the one compartment that can extend:
Two Nikon D800e cameras
Nikon Df
Tamron 15-30mm f/2.8
Nikon 70-200mm f/4
Laowa 12mm f/2.8
Nikon 20mm f/1.8
Nikon 35mm f/1.8 FX
Nikon 50mm f/1.8 G
Nikon 58mm f/1.2 Noct
15-inch Macbook Pro
Two chargers
Five extra batteries
Headlamp
Flashlight
RRS BH-40 Ballhead
Two camera bags (one sling bag, one Peak Design Camera Cube)
Various accessories (lens hoods, extra caps, self timer, L bracket)
Passport
Satellite phone
Memory card wallet
All cords, laptop charger, phone charger (not shown in photo)
Fleece jacket
Rain jacket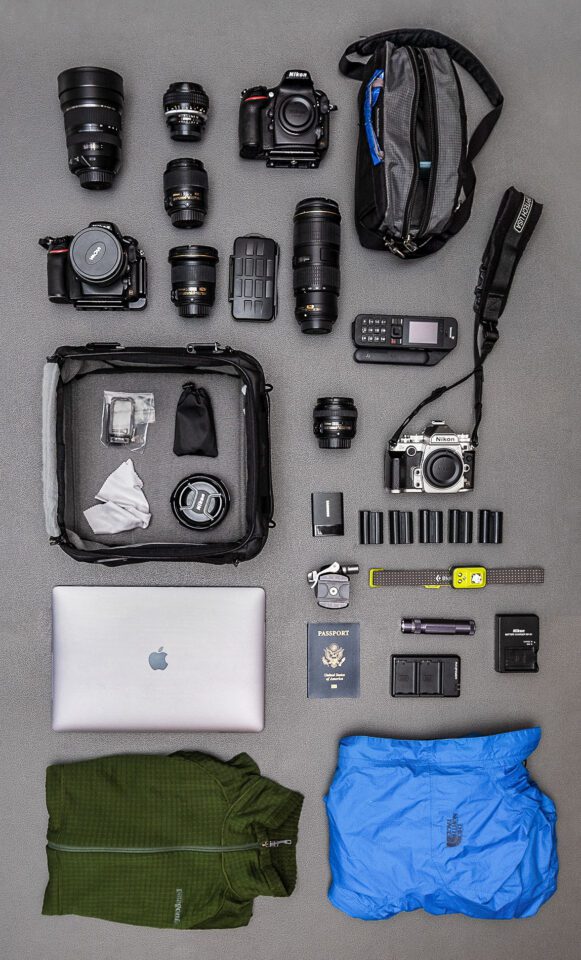 Although Peak Design also sells a number of camera compartments ("Camera Cubes") and other gear-holding pouches that work with the 45L Travel, they ranged from quite good to unnecessary. I loved the Shoe Pouch and Packing Cubes, but thought the Tech Pouch was bulky and over-engineered. Without a doubt, I'll be using some of these pouches while I travel, but my recommendation is to buy the basic version of the 45L without any extras, then add your own instead.
The Camera Cubes are how the 45L Travel Backpack holds your main camera kit, and I thought they were solid – akin to F-Stop Gear's ICUs in terms of quality and weight. However, I still wouldn't buy a copy of the 45L Travel which includes these Cubes, since there are other options on the market that are more streamlined and just as sturdy (specifically the Core Units from Shimoda).
Usability
One problem that I have with Peak Design backpacks in general is that they are quite heavy for their size, eschewing minimalism in favor of aesthetics and clever design. As a result, they are some of the highest-featured backpacks on the market today, with interesting engineering elements and design choices that are, overall, quite impressive. But they are also bulky.
The Travel Backpack is more streamlined than the Everyday 20L that I reviewed earlier, but it still has the same underlying DNA. The sides of the bag open in order to access the camera units inside, although this time the back compartment does as well. The 45L Travel also inherits some of the Everyday bag's bulk, with especially the back panel being quite heavy and stiff. Although this arguably protects the laptop better than it would otherwise, it still felt excessive to me.
Then again, how many backpacks out there have side access points as well as a rear panel access point? Same goes for the impressive number of zippered compartments and weatherproof design. Even little things like the magnetic connectors to stow away the hip belt are intriguing touches, and arguably would be impossible to include without the high amount of "extra" fabric in the bag's design. And if you want a backpack that protects your gear well, the Travel 45L certainly will do it.
Overall, my impression of the Travel Backpack is that it was a very usable and functional bag, particularly if the extra features matter to you. Peak Design has slimmed down certain elements, too, compared to the Everyday lineup, such as the side pockets that fold out. So, on balance, it does feel less dense and fabric-heavy than other products from the same company.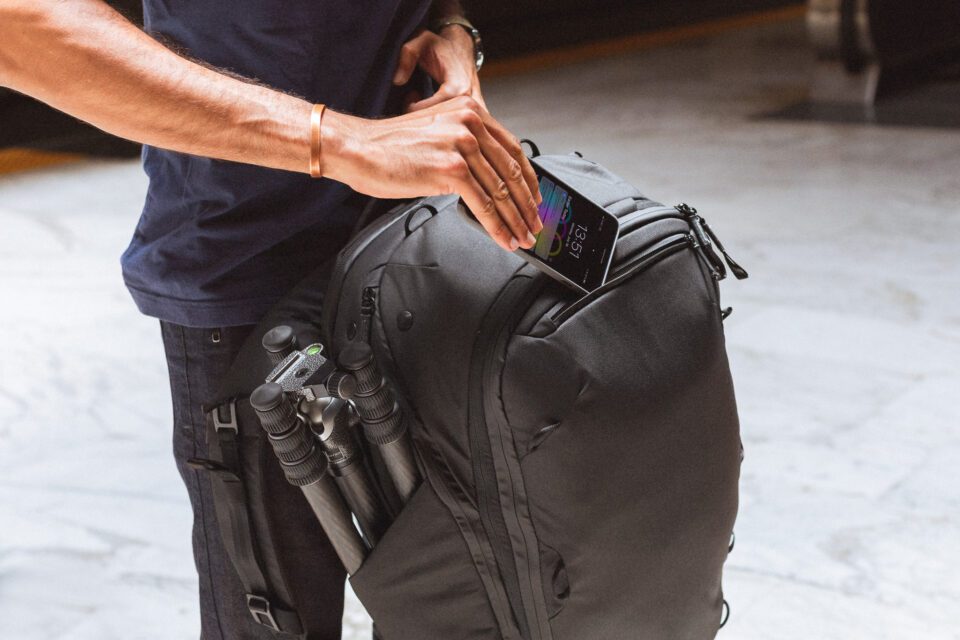 Comfort
I've spent so much time over the years with different backpacks, from cheap camera bags to high-end hiking packs, trying to find the most comfortable one for carrying heavy camera kits for a day or more of walking. An uncomfortable bag is one of the quickest ways to cause a headache, no matter how much or little camera gear you're carrying. How does this bag stack up?
Photographers moving from the world of typical camera backpacks will be very impressed by the comfort of the Peak Design 45L Travel. It is built for people to wear for long periods of time, not just to hold as much camera gear as possible for a given volume. On the other hand, photographers who are used to technical hiking backpacks will find the 45L Travel to be a step down in comfort, with much less breathability for your back, a relatively poor hip belt, and stiffer shoulder straps with minimal padding.
Don't get me wrong – this is a comfortable backpack. I'm still planning to use mine for travel photography both in cities and for moderate hikes, knowing that I won't end the day with a painful back or shoulders. If you can't say the same about your current photography backpack, and you like the features of the 45L Travel, it will be a noticeable step up in a number of ways.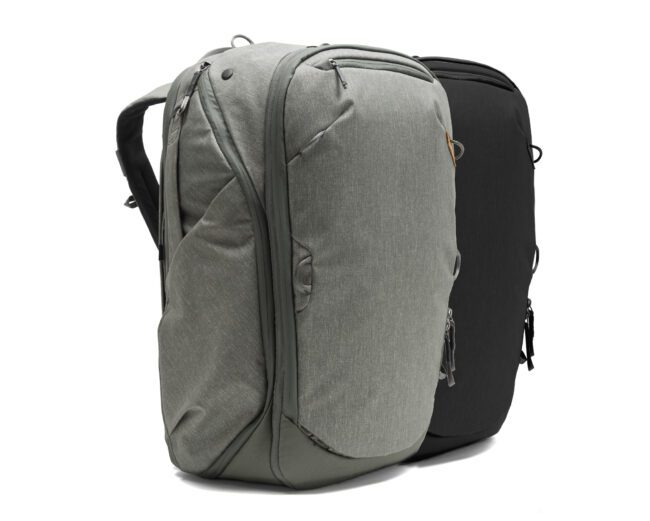 Pros and Cons
The 45L Travel is a well-balanced bag, good for some uses and overkill for others. If you're the type of photographer who needs features like dual side access, back panel access, and a large number of zippered compartments, it could be ideal for your uses. On the other hand, if you're after minimalism, the extra features of the 45L might be more trouble than they're worth.
Pros
Great zippered compartments with many places to put accessories
Impressive number of loops to attach objects to the outside of the backpack
Comfortable overall design with more than enough room for most travel photography needs
Very high quality construction, with 900-denier bottom fabric and weatherproof build (including waterproof zippers)
Cons
Too many layers of fabric in certain areas, particularly the back panel, resulting in a relatively heavy pack for its carrying capacity
Hip belt is not sturdy and can't carry much weight
Expensive – $235 on Kickstarter and $300 MSRP for the bag alone, without any additional carrying pouches included
Neither Pro nor Con
Tons of features. Is it possible for that to be a bad thing? Yes, if it comes at the expense of bag weight or comfort. Even the Kickstarter campaign advertises "side handles, back handle, top handle, oh my!" They forgot the bottom handle as well – five in total. That's a lot to handle.
Allows back panel access. This is good because it's one of the best ways to access gear in any backpack. It's bad because it comes at the expense of breathability, as do all other bags I've tried with the same type of access (such as those from F-Stop Gear).
Unexpected design choices. For example, there isn't a single buckle on this backpack; straps attach via loops and hooks instead. I don't consider that either good or bad, but it is unusual. Some will appreciate the clever engineering, and others will wonder why a backpack, of all things, has a learning curve.
Recommendations
The 45L Travel Backpack is an excellent choice for photographers who need to carry a significant amount of gear while traveling, but not enough to necessitate a large hiking backpack. It's already one of the most successful Kickstarters ever, so clearly there is an audience who feels that it's ideal for them.
In general, though, I would recommend that most photographers pick a backpack that is smaller and more compact overall, even something like the older Peak Design Everyday 30L Backpack. Or, if you need size like this, jump up to a hiking bag with a camera insert for maximum comfort and streamlined design.
At a price of $235 on Kickstarter without any accessories ($300 once it goes for sale on peakdesign.com), the 45L Travel is not a cheap backpack – as you can tell not just with price, but also the superb build quality and interesting engineering it offers. Although this is a good bag overall, and ideal for certain uses, the price is high enough that I can't recommend the 45L outright to typical photographers unless you know that its strengths will fit your needs.
But if you do know that it's a good choice for you, now's the time to buy – the Kickstarter has less than 24 hours to go (ends at 8 PM Eastern time on September 20), after which the price of the bag will be $65 higher than it is now.
Peak Design 45L Travel Backpack
Features

Build Quality

Size and Weight

Usability

Comfort

Value
Photography Life Overall Rating