In this article, I'm going to review the Palette Gear Expert Kit. This is a control surface that consists of buttons, dials and sliders, all of which are meant to be used with a variety of photo and video editing programs. They can also be used with everyday computer operation such as web browsers and operating systems. Personally, I use it with Lightroom for working with photos, Premiere Pro for working with videos, and Chrome for web browsing.
I first saw Palette's product on the show floor of PhotoPlus in New York City. It immediately caught my attention, as I'd always wanted to add something to my workflow that would potentially help increase my productivity and streamline my workflow. Between the high amount of customizability and the apparent build quality of the product, I knew this product had potential. Did it live up to my hopes? Read on to find out.
1) First Impressions
My first impressions when I got my hands on a Palette setup were very good. It has very nice packaging, with bold colors and graphics. The box feels like it contains a high quality product. Upon opening the box, I was greeted with very neat and organized pieces. The included quick start guide is simple and to the point. The actual product (the buttons, dials and sliders) have a great look, feel and finish. Overall, it seems like a quality product.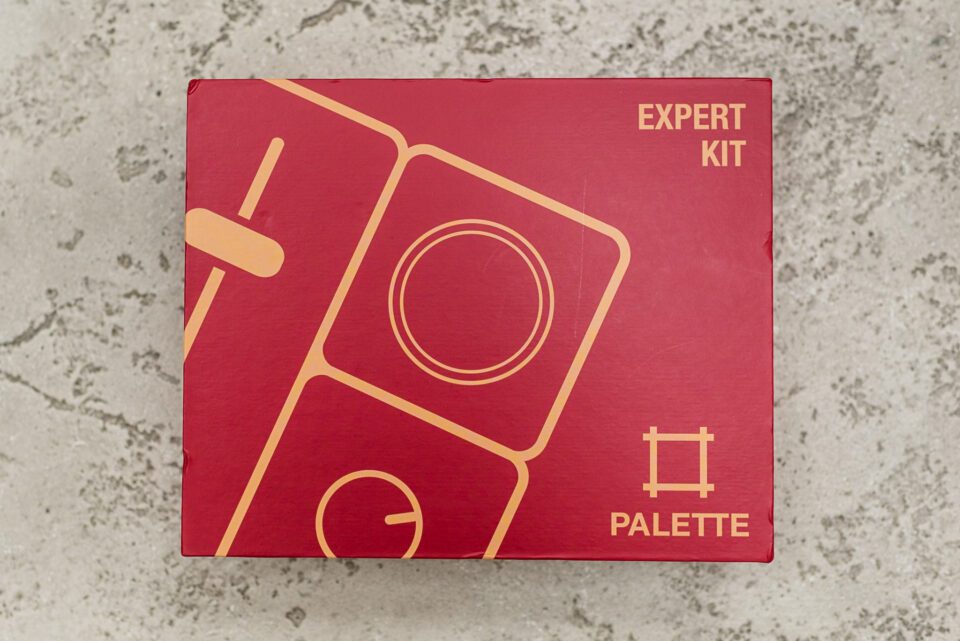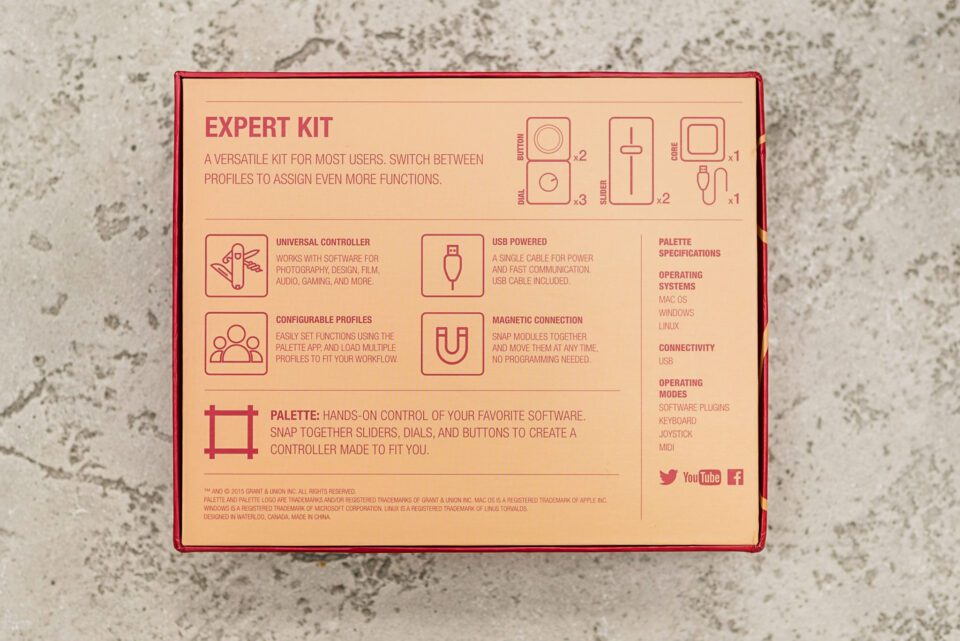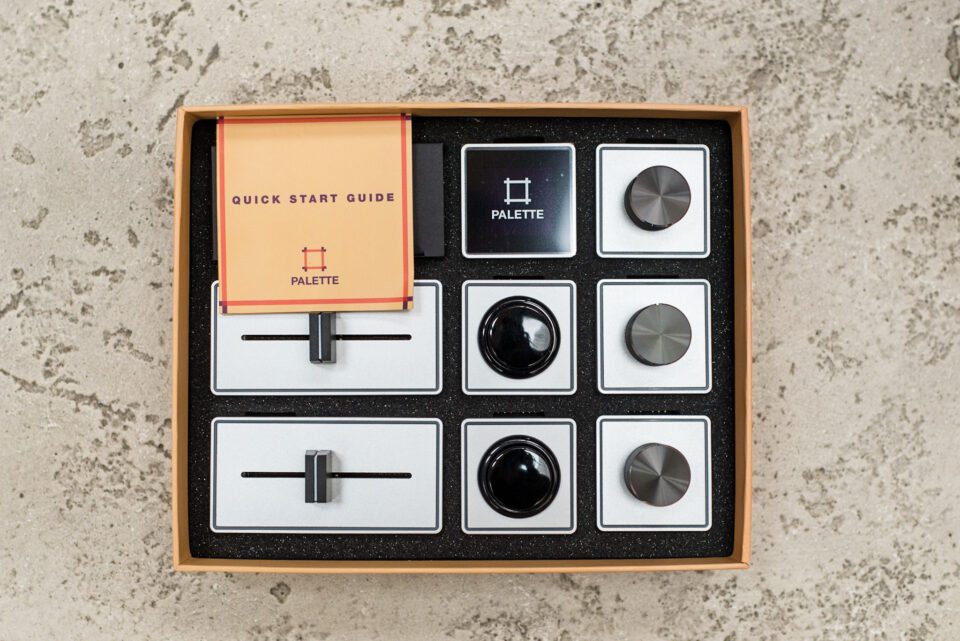 I went to their website to view some of the tutorials that are available, just so I'd have an idea of how Palette works. The tutorials are short and informative, just what I needed to get up and running quickly.
2) Software
The first step in using Palette is installing the software, which I needed to download from their website. Once installation was complete, I was ready to start setting it up.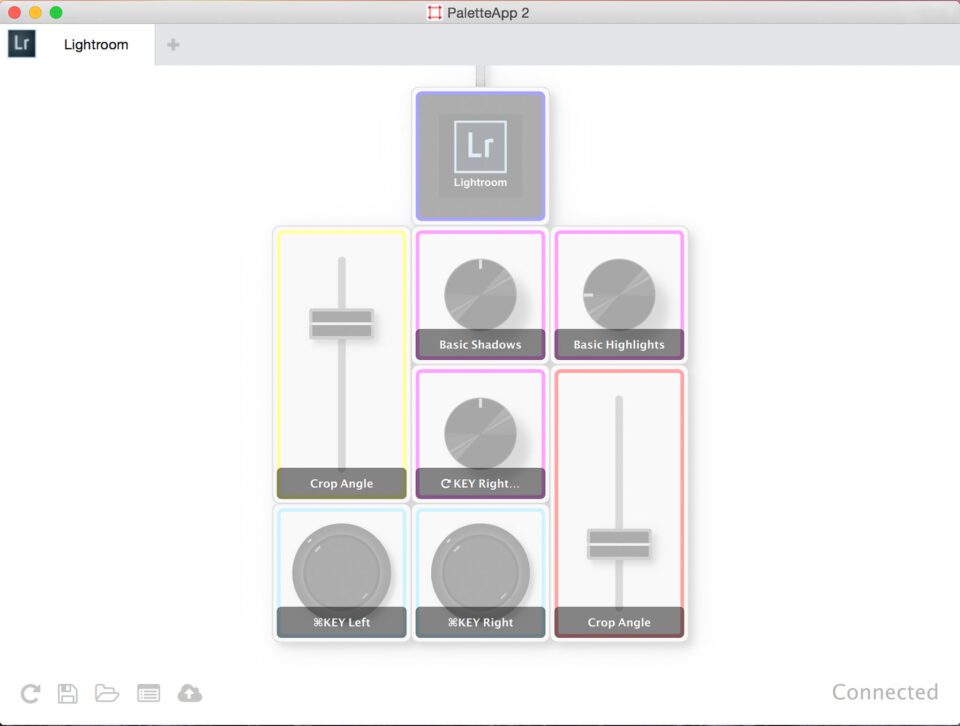 Setup is very easy. The first step was to plug the hardware into my computer. Once I opened the software, I was presented with a virtual view of the physical product that was sitting in front of me. If I decided I didn't like the layout, I could physically change it and the software would recognize the changes I made. (if you notice the left/right buttons are mixed up in the screenshots, I accidentally did that when I reorganized the modules, so don't fault the software for that)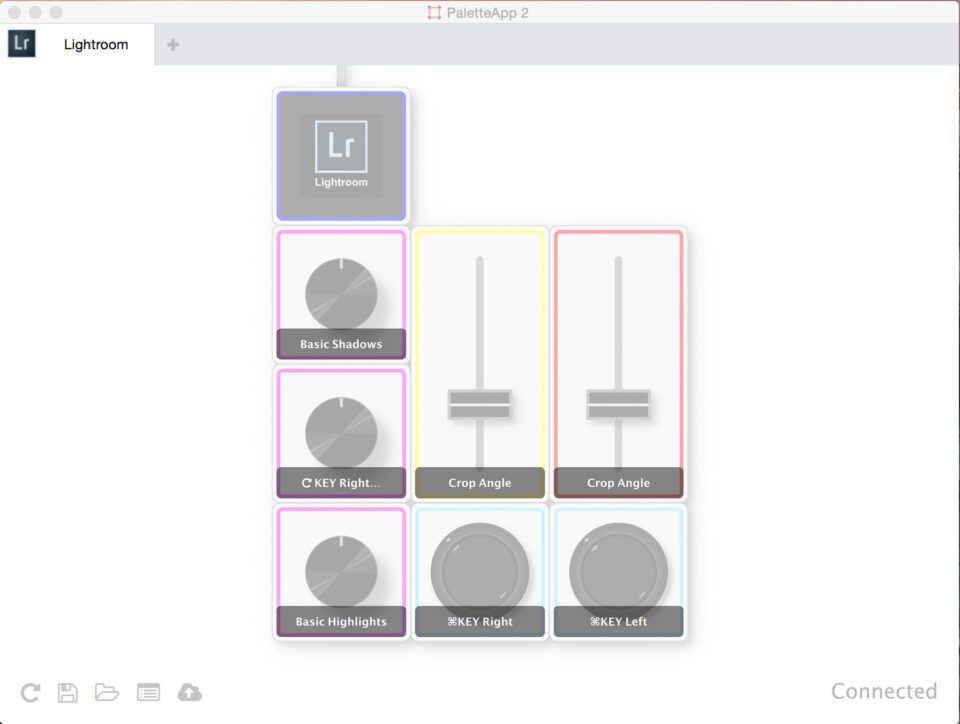 Changing the function of each module is very easy. In the software, simply click on the module you wish to change, choose the new action and you're done! As you can see from this screenshot, I changed the far-right slider from "Crop Angle" to "Vertical Transform" (which would be very useful if you do a lot of perspective correction). I also changed the color of the slider itself, from red to green.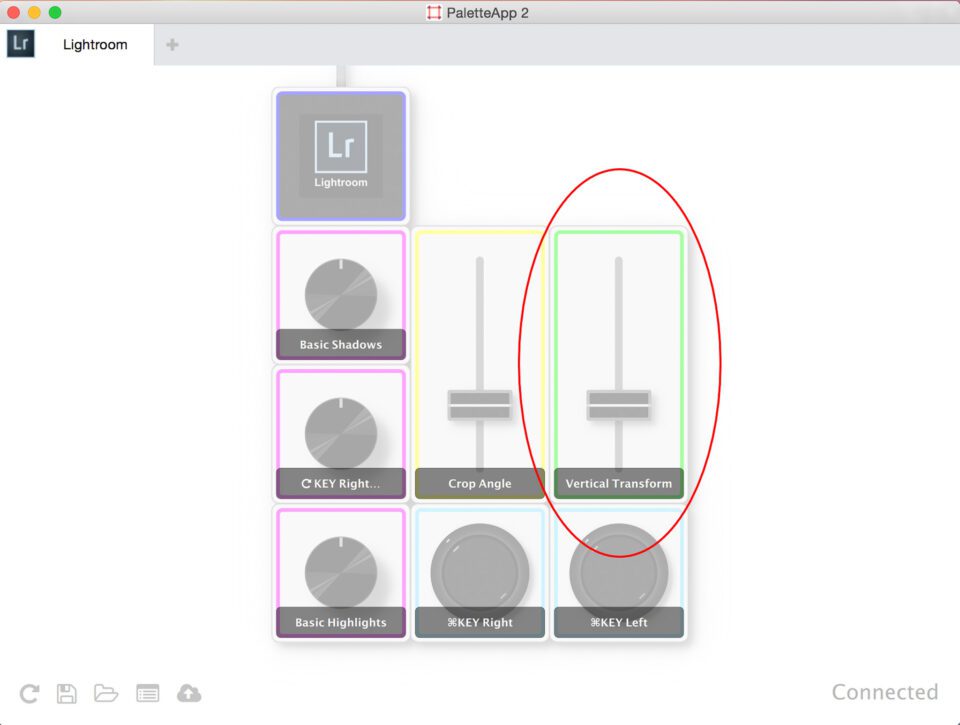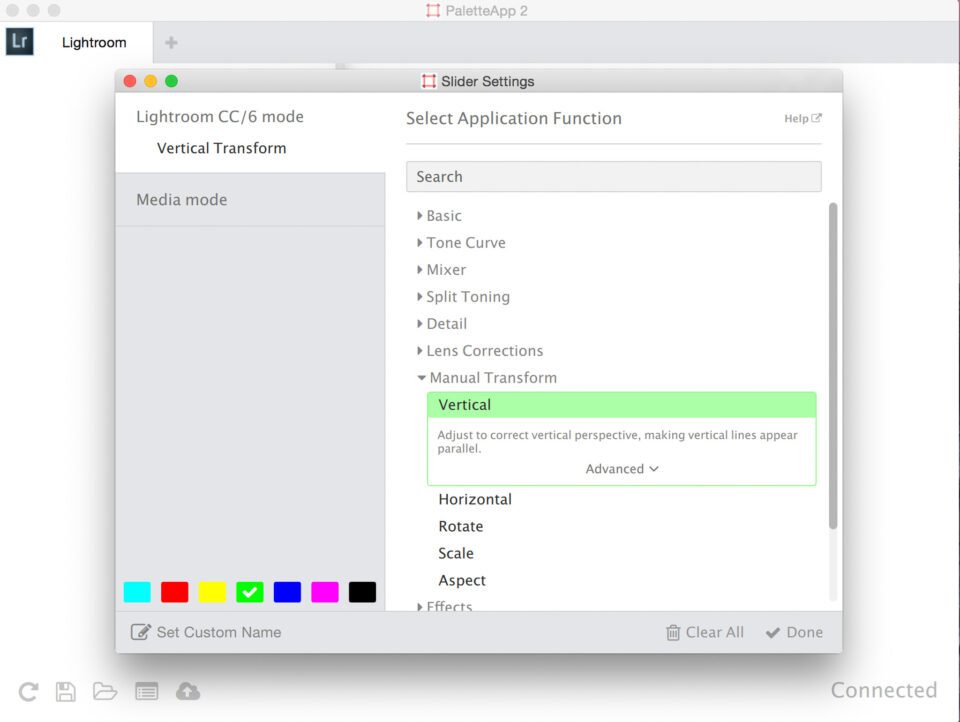 The software also includes the option to have multiple profiles set up. They can be for the same software (for example, a photo culling profile and a photo editing profile). They can also be for different pieces of software. As I mentioned, I have profiles set up for Lightroom, Premiere Pro and web browsing.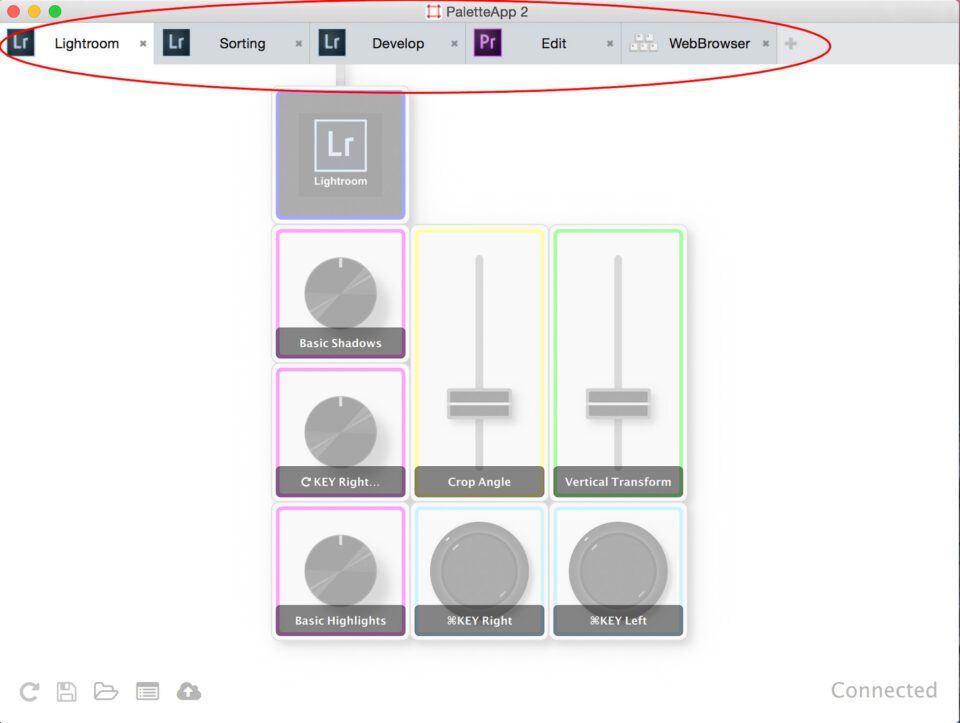 This is pretty much it for the initial setup! The hardest part is deciding what function each module should perform. Fortunately, the software comes with pre-populated quick start profiles for many different types of software. You also have the ability to load profiles that you've downloaded, of which there are a huge variety of user-created profiles on Palette's profile page.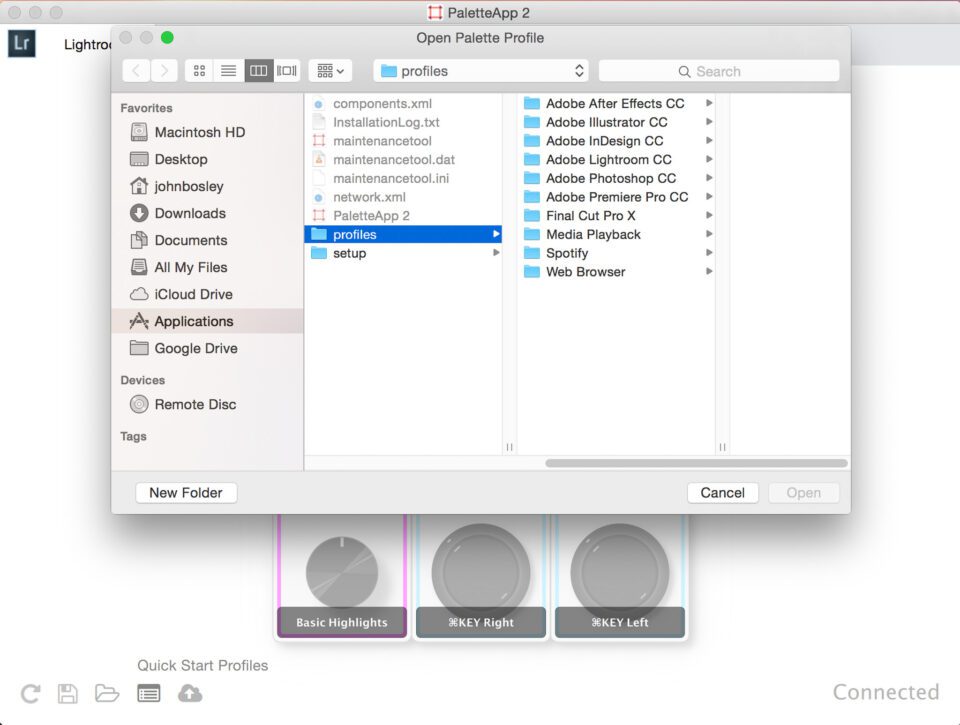 2.1) Software Settings
The software is also somewhat customizable. The most notable of these customizations is automatic profile switching. For example, if you find yourself toggling back and forth between editing photos in Lightroom and Photoshop, the software will automatically switch profiles to match the current application. The software must be open for the hardware to work. Fortunately, it can be set to automatically launch at startup. It can also be set to close to the menu bar, which keeps it from sitting on your desktop the entire time it's open.
Automatic profile switching is great when you're switching between different programs, but what happens when you want to change profiles in the same program (say from image culling to image editing)? You can program one of the Palette modules to switch to the next profile, allowing you to quickly jump to the next profile without ever leaving your current program.
One other important thing to mention about Palette's software is that it uses the Adobe Software Developer's Kit (SDK). This allows it to hook directly into most of the software that Adobe makes, giving the hardware control over software options that may not even be accessible via keyboard shortcuts. Keep this in mind while setting up your controls, as you might be surprised by how many options are available.
3) Hardware
The physical Palette product is very nice. It has many different features that stand out, of which I'm going to cover a few here:
USB Powered – The entire unit is USB powered, so no external power supply is needed. The supplied USB cable plugs into the core module, which then powers all additional modules that are attached.
Magnetic Connections – Each module has recessed magnets on each side. This allows for solid connections between modules and quick, easy repositioning. One thing to note is that while the magnets are strong, they won't hold all of the modules together if you try to carry them around unsupported while they're still connected. I picked up the entire assembly by one corner, took a few steps and they fell apart. Fortunately, they had a soft landing and nothing was damaged, but I quickly learned my lesson about how strong the magnets actually are. Now when I pick up my Palette setup, I support it with my hand underneath and have not had any incidents.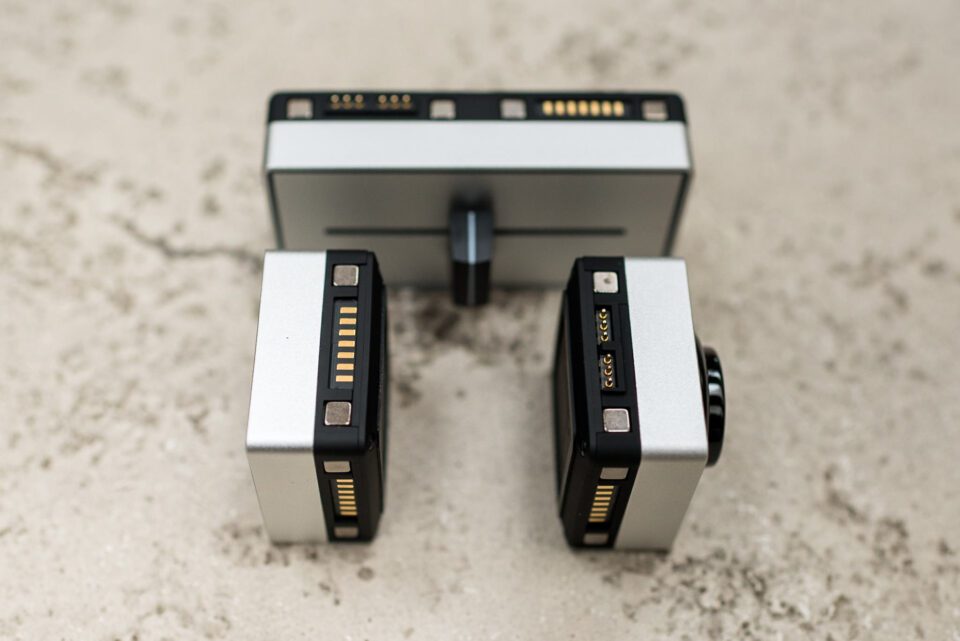 Color Mapping – Through the software, it's possible to change the color of the LED lights on each module. This isn't a feature that's just for show. Many people make strong associations between color and function, so this can help with remembering what each module does in a variety of profiles.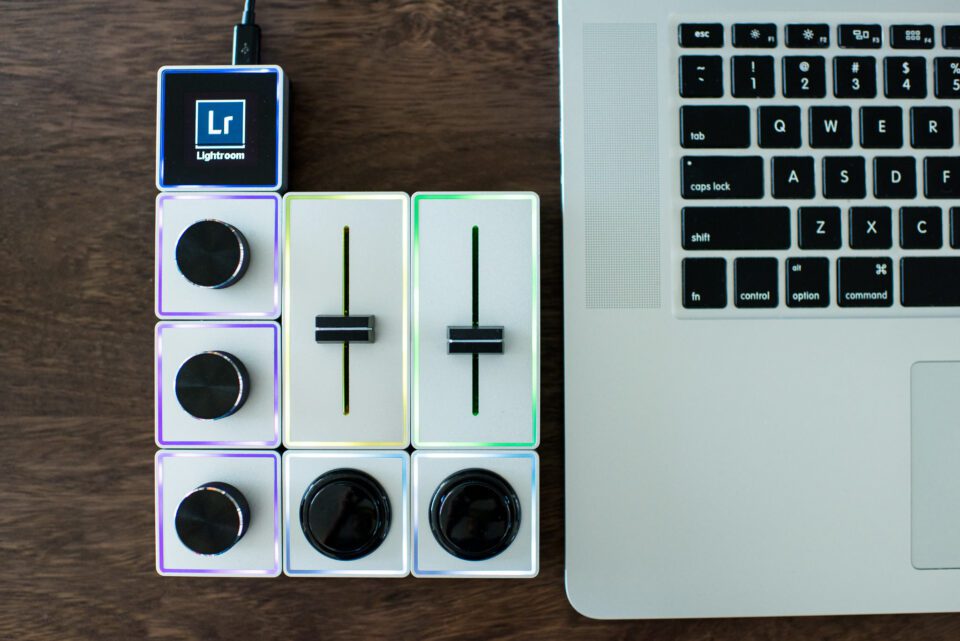 Rubberized Bottoms – Each module has rubberized grips on the bottom. This means that the entire Palette assembly won't move around during use.
The individual modules are very well designed. They're lightweight, but feel substantial. The buttons are large, arcade-style buttons that are sturdy and responsive. The sliders have enough resistance to make fine adjustments, but not so much that they're hard to use with slight finger movements. The dials don't have set start/stop points, so they spin infinitely. Their action is smooth and easy to adjust, while their surface has just enough texture to respond to a light touch. Not only do the dials respond to being turned, but they also have a push response (like a button) which allows a third variable to be programmed.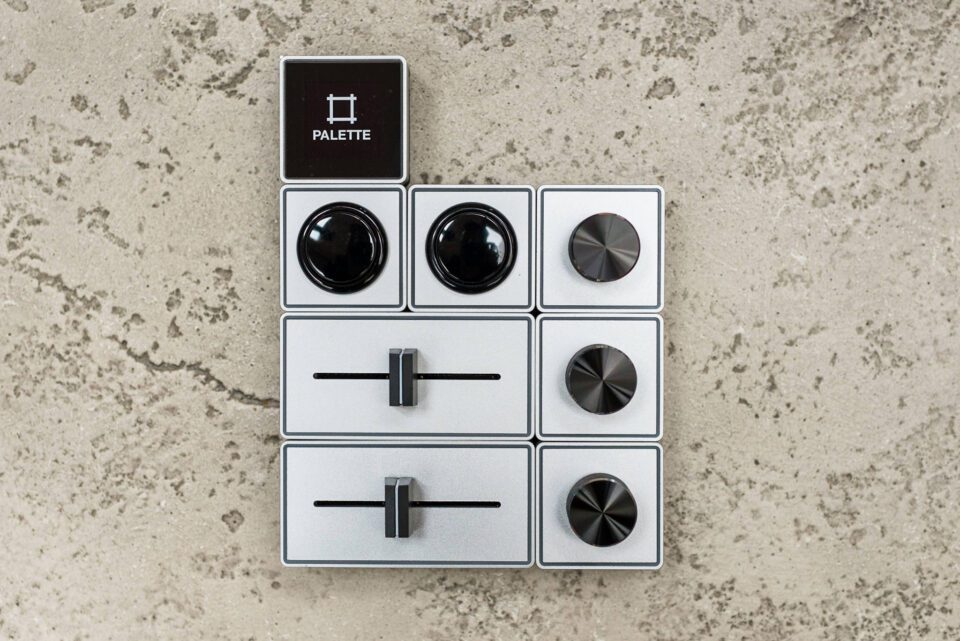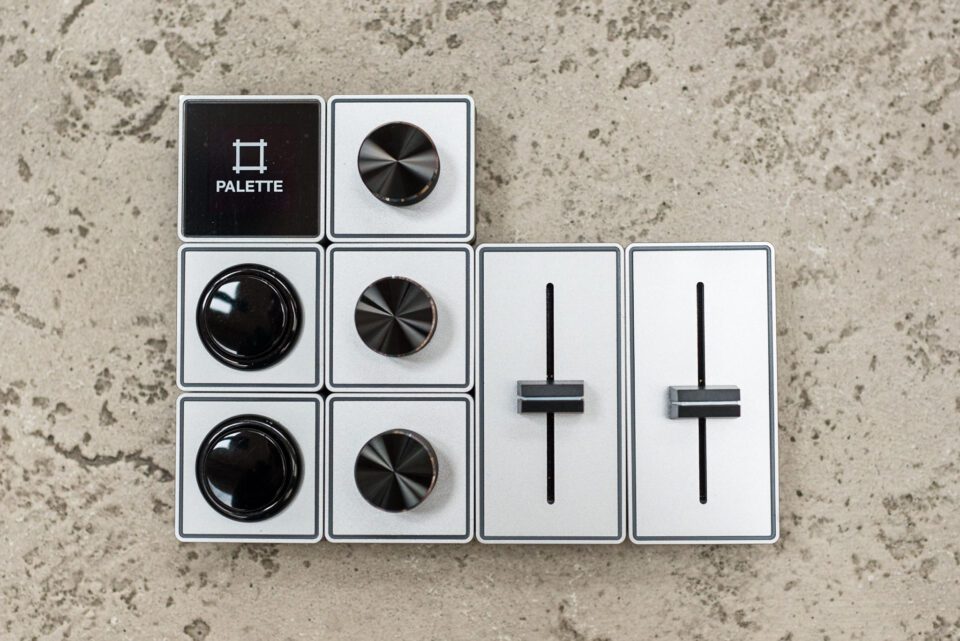 While the different kits come with a variety of modules, not all of the modules have to be used. For example, you might want to do some work on the road but don't want to bring the entire Palette kit. No problem. You can just grab a few modules and the core and you're ready to hit the road. You can even create a new profile for your travel setup!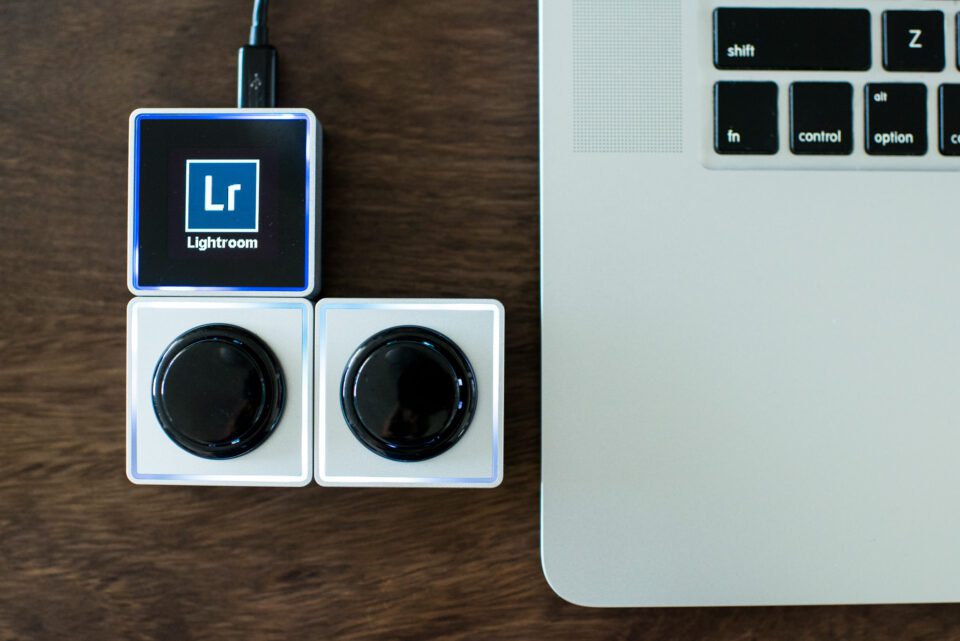 4) Cost
For a peripheral, Palette is not cheap. Compared to a mouse or a keyboard, the entry-level price tag of $199 for the Starter Kit can be a little daunting. Of course, Palette plays a much different role than a mouse or keyboard. While many people who use it will find it just as essential to their computing experience, many other users will only use it occasionally for one or two specific things.
That's not to say it's unreasonable or not worth it. The prices for a Palette setup run from $199-$499. That closely resembles what you might expect to pay for a Wacom tablet, which has a much more specific function and is much more limited in which programs it can be used with. Palette is also a very well-made, highly-configurable product with terrific software.
Cost is always relative, so while some people might see an expensive product that doesn't really do anything they can't already do, other people might see something that will improve their workflow and make their time spent sitting in front of a computer easier. For those people, the value of Palette easily outweighs the cost.
5) Actual Use
Once all of the different profiles are set up and the modules are arranged, Palette is ready to use. The suggested placement for the modules is a location where they can be used with your non-mouse hand. This allows you to use both hands simultaneously while you're working. It does take a while to get used to, especially if you have an established work style. If you've ever switched from a mouse to a Wacom tablet for photo editing, you'll know exactly what I'm talking about. Initially, it's frustrating and slows down your work, but eventually you get used to it and it starts to feel natural.
The automatic profile switching is one of the features that really makes incorporating Palette seamless. If I had to manually switch between profiles every time I changed applications, it would either drive me crazy or I'd only end up using it for one thing and not use it for anything else. Fortunately, I can switch back and forth between editing photos and working online and Palette keeps up with me. There is a small notification that pops up every time the profile switches, which can be a little distracting, but it's a small price to pay for the convenience it adds.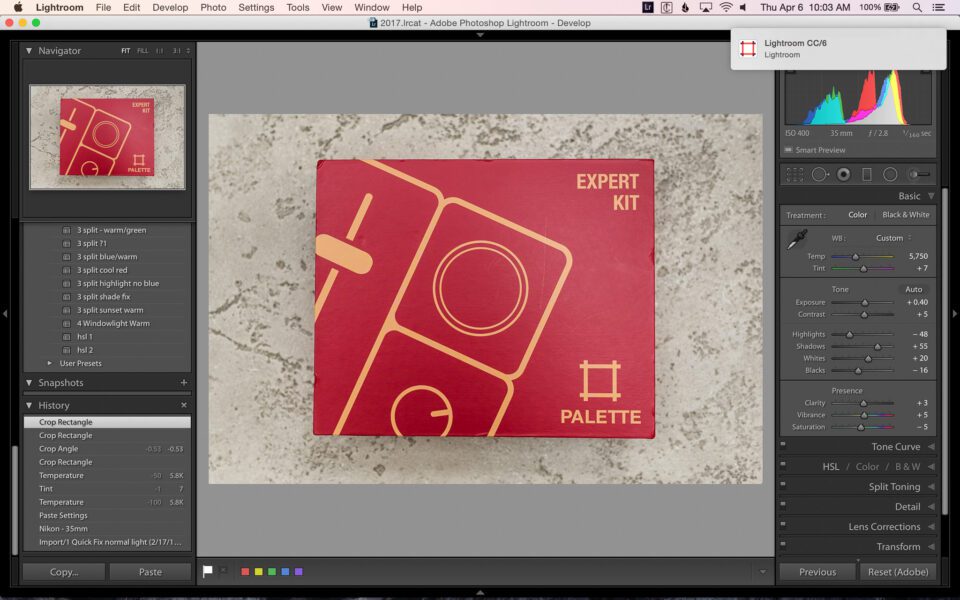 The actual hardware is intuitive to use. All of the different modules are distinct enough that they can be used by touch alone. The dials are very easy to turn, but you can adjust their sensitivity in the software if you find the amount of adjustment needs to be changed (the same can be done for the sliders). I did find that pressing the dials was a little harder than I thought it would be, so I didn't use that function as much as I thought I would.
The sliders are interesting to use. Since they have a hard start/stop point, the software knows the slider position at all times. This can cause some unique interactions while using them. For example, if I use the slider to increase exposure by +1.0 stops while editing a photo, the slider will be moved off of center (due to increasing exposure). Once I move to the next unedited image, the initial exposure is set to "0" in Lightroom, but the slider is still set to a position of "+1.0" stops. Lightroom ignores the slider location if I don't use the slider. If I do use the slider, the exposure automatically jumps to the slider position, meaning it's new starting point is "+1.0" stops. This can make adjusting exposure complicated if you're used to adjusting from a starting exposure of "0" (like most of us probably are).
6) My Personal Experience
I was having a hard time figuring out how exactly to incorporate Palette into my workflow. I had lots of ideas for how I wanted to use it, but all of the obvious uses seemed to be more trouble than they were worth. Initially I chalked this up to not choosing the correct options for each module, so I tried some of the quick start profiles. It still didn't feel intuitive to me, so I talked with Andy from Palette and he gave me some good tips. The tip that I found to be the most helpful was to make a profile for each step of my workflow. It turns out I was trying to do too many different things with the same profile.
Once I simplified my profiles, things became much easier. Using Palette seemed much more intuitive and it fit into my workflow better. Another thing that Andy mentioned helped even more. He had mentioned how helpful it is to program complex key combinations to be performed with the buttons. For example, to copy develop settings in Lightroom on a Mac, you have to press "Command+Shift+C". By assigning that combination to a button (and assigning paste to another button), I can quickly and repeatedly perform those actions with one hand, allowing me to speed up my entire editing process. My first instinct was to make each module perform a simple function that I frequently use, most of which have single-key keyboard shortcuts, but it turns out that isn't the ideal setup for me.
After a bit more use, I made an important realization… I don't need all of the modules that come with the Expert Kit. I'm sure some people can find a use for them, but I just don't use them all. Once I realized that I didn't have to rack my brain to figure out how to use every dial and slider, things got a lot easier. In Lightroom I mainly just use two buttons. I also use a slider, but instead of using it to edit photos I use it to control the volume of my music and media! In Premiere Pro, I've found uses for the buttons, knobs and sliders, but still have yet to use everything included in the Expert Kit.
Another thing that I realized is that established habits are hard to break. I've been editing photos the same way for years. I have certain patterns that I follow and a muscle memory for pretty much everything I do. Using keyboard shortcuts is deeply ingrained in my workflow, so in my case Palette is essentially trying to replace keyboard shortcuts. Adding Palette into my workflow felt very disruptive, but not really in a bad way. I would catch myself doing things my usual way, completely forgetting that I had another option. I was forced to slow down and think about what I was doing and consciously force myself to do things differently.
I think this is a big part of why it took me so long to get comfortable using Palette. Disrupting an established workflow is hard. I was expecting Palette to streamline my editing process and instead it slowed it down. I wanted it to do everything and instead couldn't figure out how to do anything with it. It wasn't until I realized that it shouldn't replace my existing workflow and instead should supplement it that I really got a feel for how useful it could be.
7) Conclusion
Palette is a very well made product that has the potential to increase your productivity and simplify your workflow. It consists of a variety of programmable knobs, buttons and sliders, all of which can be customized in a variety of profiles that work with most types of programs. The software is easy to use and full of options that will help you maximize Palette's usefulness.
If you're wondering if Palette would fit into your workflow, think about how you'd use it. If you don't heavily rely on keyboard shortcuts and find yourself constantly using your mouse to open menus and adjust settings in various programs that you use, Palette would probably be a great tool to add to your workflow. If you constantly use keyboard shortcuts that are complex and involve a lot of keys, or maybe you want to have quick access to certain tools and commands in a variety of programs, changes are you'll find Palette to be useful. On the other hand, if you have a very established workflow and rely heavily on keyboard shortcuts, you might find Palette very hard to get used to. That's not to say you won't find it helpful, but your experience might closely resemble mine and your journey might start out a little more frustrating than you had planned on.
Overall, I have to say that Palette is an amazing product. It does exactly what it's supposed to, and it does it well. It might not be a perfect fit for everyone, but even if you have very established habits and your workflow is dialed in, you might be surprised by how useful it can be.
I tested the Palette Gear Expert Kit, which retails for $299.99 USD. It includes:
1 Core with Color Screen
2 Buttons
3 Dials
2 Sliders
USB Cable
You can purchase Palette Gear through Palette's web site, through our B&H or Adorama.
Palette
Build Quality

Value

Packaging and Manual

Ease of Use
Photography Life Overall Rating