This is a review of the Oben CT 2410 4-Section Carbon Fiber Tripod with BA-1 Ball Head. As photographers, a sharp photo usually means a steady camera. Regardless of what you photograph, I think every photographer will eventually need a tripod at some point. Personally, I don't use a tripod for any of my portrait work, but I have found them to be useful when shooting wedding details inside of a dark reception hall. Additionally, I tend to use a tripod if I'm photographing any products or even occasionally when I'm shooting personal work around the city or in the mountains. Since I don't use a tripod that often, I prefer a smaller, lighter tripod that's easy to take with me and doesn't take up much room. Sometimes the trade off for a small and light tripod is a lack of stability or durability. Would this tripod be able to deliver on both size and performance?
If you need help deciding how to purchase a tripod, consider reading How to Choose and Buy a Tripod.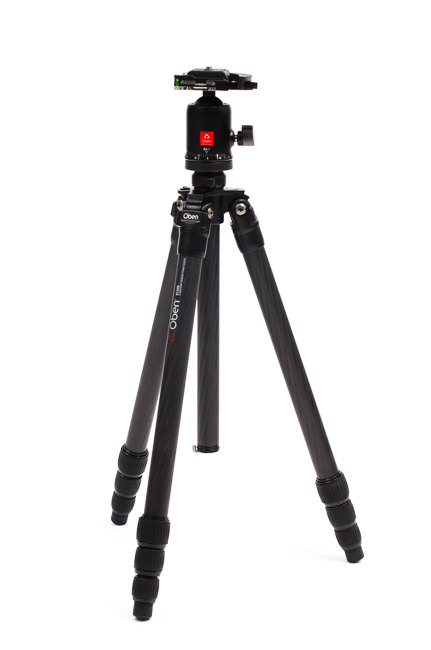 1) Product Specifications
– 16.75 lb Load Capacity
– 63.9″ Maximum Height
– Extremely Lightweight at 3.2 lb
– Non-Rotating Twist-Lock Legs
– 6x Carbon Fiber Legs and Center Column
– Single-Lever Ball Head
– Dual Lock Mechanism for Quick Release
– Retractable Spikes in Feet
General
Load Capacity – 17.6 lb (8 kg)
Maximum Height – 60.2″ (152.4 cm)
Maximum Height w/o Column Extended – 50.6″ (127.0 cm)
Minimum Height – 12.6″ (30.4 cm)
Folded Length – 18.6″ (45.7 cm)
Weight – 2.35 lb (1 kg)
Legs
Material – 6x carbon fiber
Head Attachment Fitting – 1/4″-20 & 3/8″-16 (reversible screw)
Leg Stages/Sections – 3/4
Leg Lock Type – Twist lock
Independent Leg Spread – Yes
Spiked/Retractable Feet – Yes/yes
Center Brace – No
Center Column
Center Column Type – Rapid
Center Column Sections – 1
Bubble Level – Yes
Other Features
– Bubble level on tripod chassis
– Integrated aluminum loop for attaching a shoulder strap (not included) or a counterweight for added stability in windy conditions
– Two included Allen keys attach to a tripod leg, so you're always ready to tighten components
– Padded carry bag provides a snug fit for the tripod/head combination and features two heavy-duty zippers, an interior pocket with a zipper, and a shoulder strap
– Adjustment locks keep legs at the chosen angles
– Center column is grooved to prevent rotation
– Angled rubber feet retract to expose metal spikes for improved traction on loose surfaces
Oben BA-1 Ball head
Load Capacity – 17.6 lb (8 kg)
Ball Sphere Diameter – 1.5″ (38mm)
Quick Release – Yes, with dual lock
Spirit Level – 1 plus 3 other bubble levels
Tension Control – No
Separate Panning Lock – No
Tripod Mount Thread Size – 3/8″-16 (1/4″-20 reducer bushing is provided)
Height – 3.7″ (9.5 cm)
Base Diameter – 2.0″ (52mm)
Weight – 13.4 oz (380 g)
Other Features
– Etched degree markings on the base of the head for precise camera rotation
– Notch for exact 90-degree camera tilt to portrait orientation
– Four levels (one spirit) to help ensure a level camera
– Rubberized quick-release plate surface
2) Packaging and Field Use
The Oben CT-2410 tripod comes packaged in an attractive grey box. The BA-1 ball head comes packed in a separate but matching box. The tripod comes with a nice carrying bag. It comes with a shoulder strap, has an inside storage pocket, heavy duty zippers and has a sleek look to it. It's also big enough to fit the tripod with the head attached.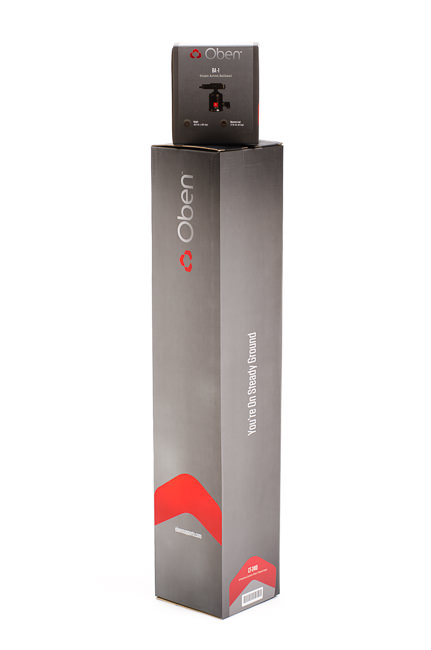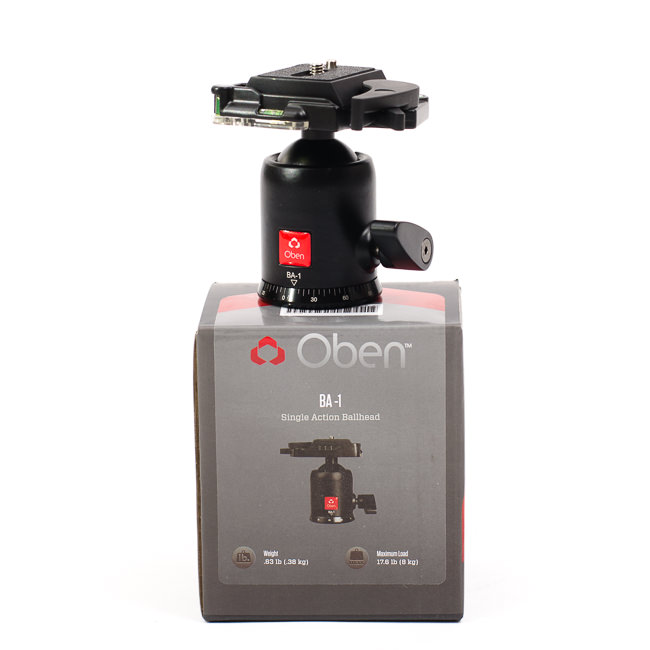 Although this tripod is quite compact and small when it is first taken out of the box, it extends to a very usable height once the legs are extended. The stance of this tripod is narrower than many tripods I've used in the past. I really like the fact that the footprint of this tripod is relatively small, which means it's less likely to get kicked or bumped if you're shooting around other people.
This tripod uses twist locks to adjust the length of the legs. Because it's a 4-section tripod, there are three locks per leg to adjust. The locks twist and lock quite easily. Personally, I prefer flip locks to twist locks because they seem quicker to use, but I have no issues with these twist locks. One thing that I did notice when adjusting the legs is that they don't have any kind of markings on them to help you to adjust all of the legs to the same length. If you typically shoot on uneven ground, this isn't a big deal, but if you're always shooting on level ground, this can make setup faster and easier.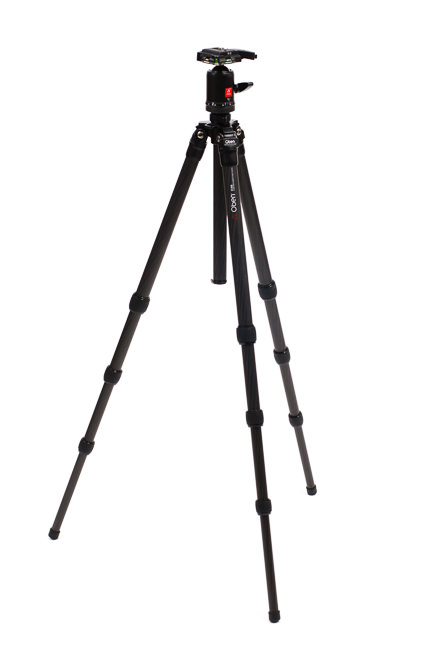 The tripod is quite tall when the legs are fully extended. If you still need more height, the center column extends, adding an additional 10 inches of height to the tripod. Fortunately, the center column is quite stable when it is fully extended, although you'll still want to be sure to use a remote or timer to minimize any risk of camera shake.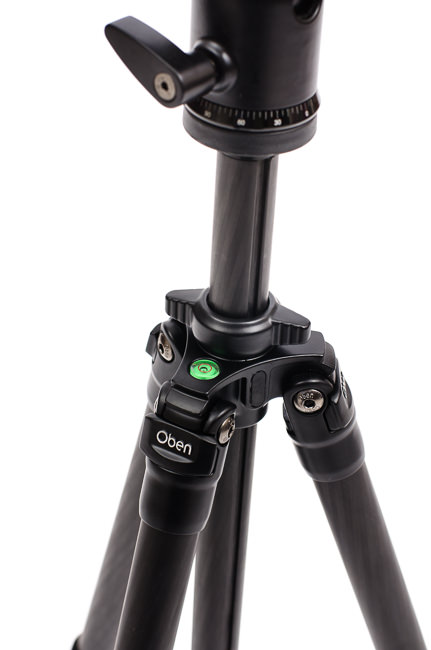 The Oben BA-1 ball head comes with this kit. This head feels very well made and seems to be very sturdy. Fortunately, it is not a huge head so it doesn't add a lot of additional bulk or weight.
This ball head comes with a quick release plate. The ball head itself has a good feel to it. There is only one knob that loosens and tightens the ball. It's movement is very smooth. During all of my testing I never felt like the ball was loose at any time. Once I got my camera into the position I wanted it, it wasn't going anywhere (even with a 70-200 f/2.8 lens attached). Unfortunately, it was very difficult to tighten the quick release plate enough to keep the camera from drifting while I was shooting in portrait mode. The weight of the lens made the camera pivot on the quick release plate screw.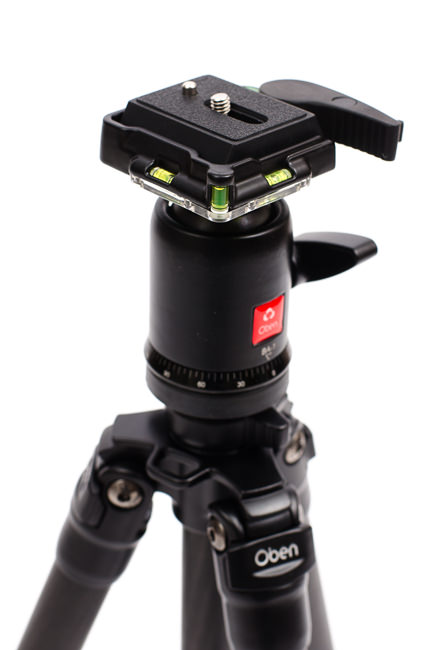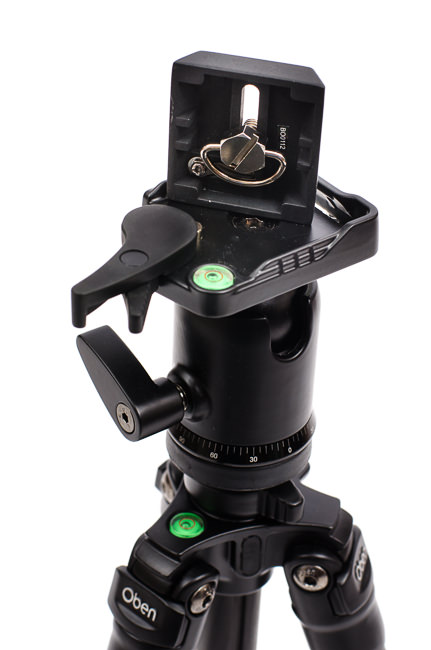 In addition to the ball head's full range of tilting motion, it also offers a panning motion. Unfortunately, there is no separate lock for the head rotation so you can't "pan" with the camera without loosening the ball head as well. This means there is no option to use the head as a fluid head replacement while shooting video.
Another thing that I found useful was the presence of 5 bubble levels. The tripod has a spirit level on top of it's legs and the head has four levels, one spirit level on the top plate where the camera mounts and three on the sides so that regardless of if you're shooting in portrait or landscape mode you can get your camera level. The level on the tripod is also useful for making sure the tripod is level.
If you prefer to change the stance of the tripod, the legs are adjustable, allowing you to spread them very far apart and get a low, stable stance. Simply lift the locking mechanism on top of each leg, pull the legs to the desired location and re-lock them. They automatically latch into one of three preset positions.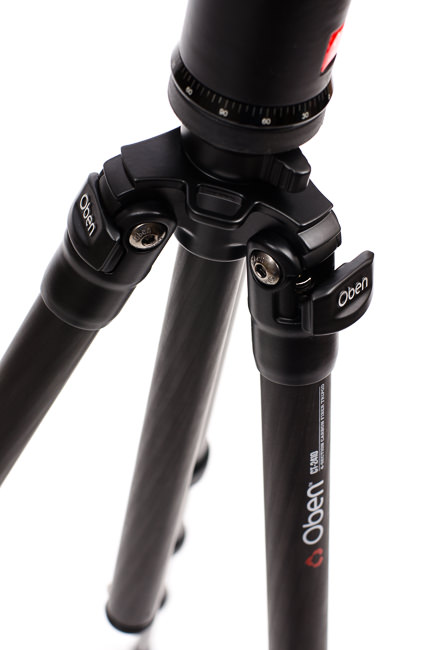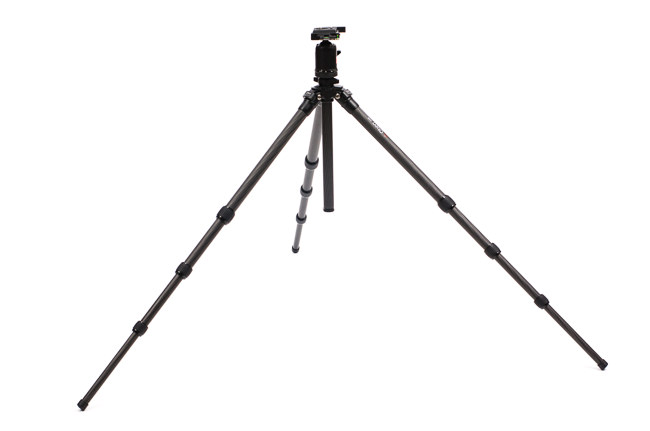 If you are shooting on terrain where you need the tripod to dig in, each foot has a retractable spike. Just twist each foot and a metal spike will extend. Now when you put your tripod on wet grass or some other unstable surface, you'll get more traction (and hopefully get the shot). If you need even more stability, there is a hook at the bottom of the center column that you can hook a weight to.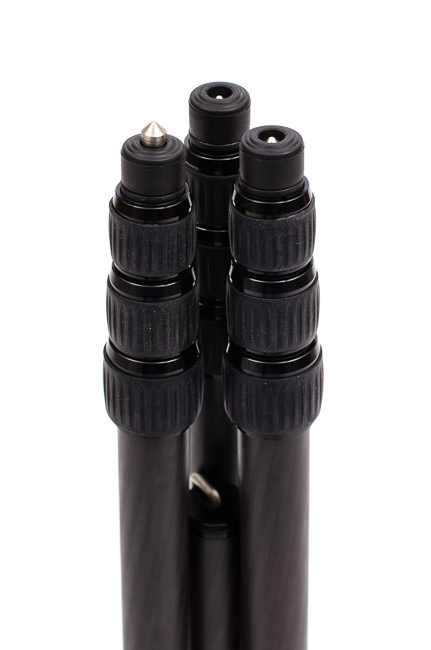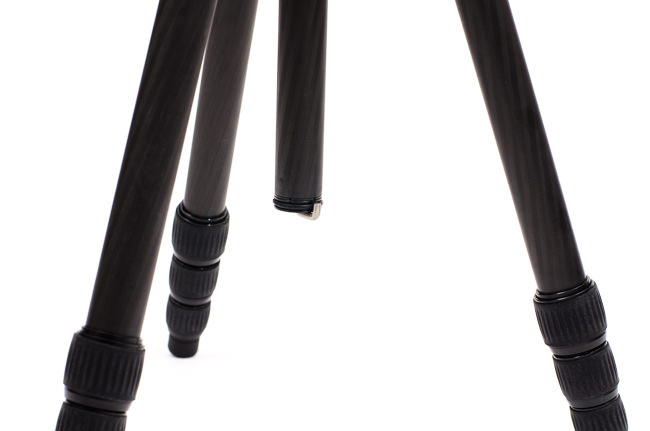 I also compared the CT-2410 to the CC-2320 (read my review here). Major differences are the center column, the overall size and weight and the leg locks. Personally, I prefer the size and weight of the CT-2410 but the leg locks of the CC-2320. I don't have a strong preference for the center column on either one, but since I don't really need the lateral center column on the CC-2320, I think I'd save the money (and weight) and go with the CT-2410. In the photos below, you can see the difference in size, both while collapsed and extended.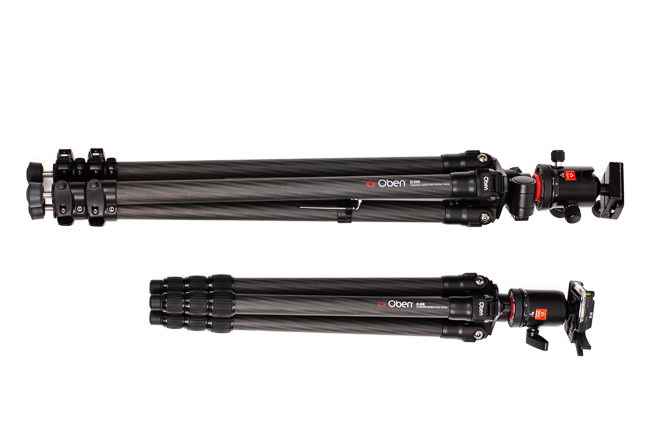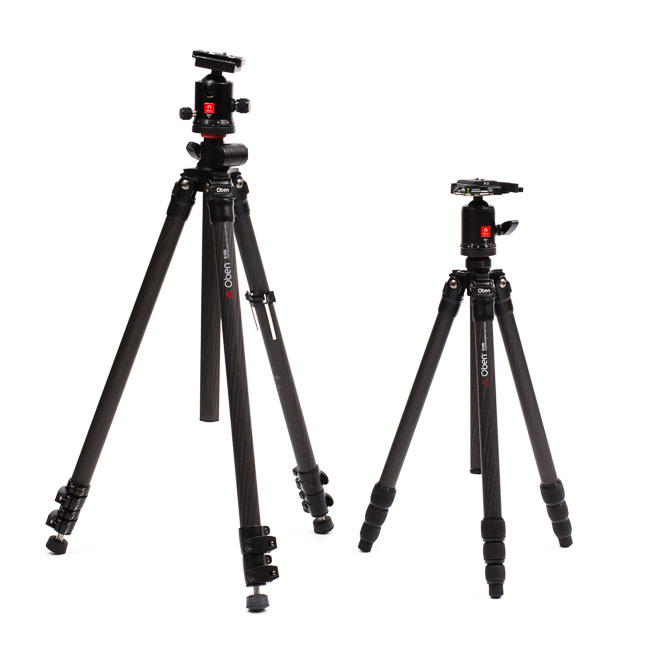 3) Summary
The Oben CT-2410 Tripod with BA-1 Ball Head is a very nice combination. The ball head is secure and pleasant to use. It only has one knob to control everything, which keeps things simple. The tripod seems to be very well made and is easy to use. It is small and lightweight yet tall enough to use without having to bend over (at least for an average sized person). I personally would prefer to have flip locks instead of twist locks on the legs, but considering that is about the only complaint I have about this tripod, I'd say it's a pretty good tripod. It might be a bit pricey for some, but well-made, small and lightweight tripods will never come cheap.
4) Pricing and Where to Buy
The Oben CT 2410 4-Section Carbon Fiber Tripod with BA-1 Ball Head is priced at $383.50 and is available at B&H Photo Video.
Oben CT-2410 Tripod
Features

Build Quality

Handling

Value

Packaging and Manual

Size and Weight
Photography Life Overall Rating