This is a review of the Oben CC-2320L 3-Section Carbon Fiber Lateral Tripod with BB-2 Ball Head. As photographers, a sharp photo usually means a steady camera. Regardless of what you photograph, I think every photographer will eventually need a tripod at some point. Personally, I don't use a tripod for any of my portrait work, but I have found them to be useful when shooting wedding details inside of a dark reception hall. Additionally, I tend to use a tripod if I'm photographing any products or even occasionally when I'm shooting personal work around the city or in the mountains. If you need help deciding how to purchase a tripod, consider reading How to Choose and Buy a Tripod.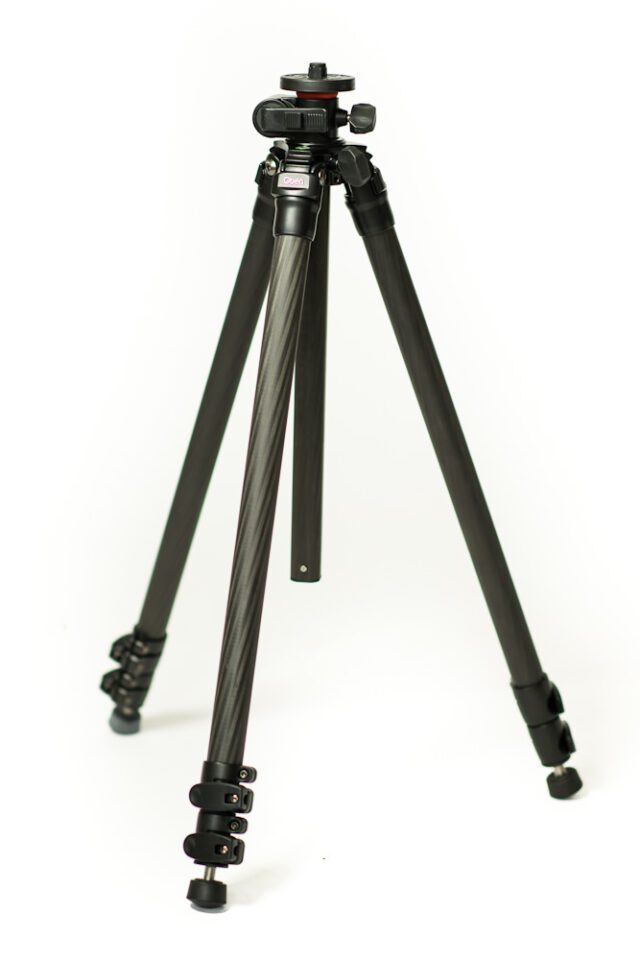 1) Product Specifications
Oben CC-2320L Tripod
General
Load Capacity – 26.4 lb (12 kg)
Maximum Height – 68.3″ (173.5 cm)
Maximum Height w/o Column Extended – 55.7″ (141.5 cm)
Minimum Height – 10″ (25.4 cm) [legs at widest position, column at 90° position]
Folded Length – 25.4″ (64.5 cm)
Weight – 3.85 lb (1.74 kg)
Legs
Material – 6x carbon fiber
Head Attachment Fitting – 1/4″-20 & 3/8″-16 (reversible screw)
Leg Stages/Sections – 2/3
Leg Lock Type – Flip-lock
Independent Leg Spread – Yes
Spiked/Retractable Feet – Yes/yes
Center Brace – No
Center Column
Center Column Type – Rapid
Center Column Sections – 1
Bubble Level – Yes
Other Features
– Bubble level on tripod chassis
– Center column travels throughout nearly a complete sphere of possible positioning, so you can take steady shots from virtually any angle
– Integrated aluminum loop for attaching a shoulder strap (not included) or a counterweight for added stability in windy conditions
– Two included Allen keys attach to a tripod leg, so you're always ready to tighten components
– Padded carry bag provides a snug fit for the tripod/head combination and features two heavy-duty zippers, an interior pocket with a zipper, and a shoulder strap
– Adjustment locks keep legs at the chosen angles
– Center column is grooved to prevent rotation
– Angled rubber feet retract to expose metal spikes for improved traction on loose surfaces
Oben BB-2 Ball head
Load Capacity – 33.1 lb (15 kg)
Ball Sphere Diameter – 1.7″ (44mm)
Quick Release – Yes, with Arca-style clamp
Spirit Level – Yes
Tension Control – Yes
Separate Panning Lock – Yes
Tripod Mount Thread Size – 3/8″-16 (1/4″-20 reducer bushing is provided)
Height – 3.9″ (10.0 cm)
Base Diameter – 2.3″ (58mm)
Weight – 1.1 lb (520 g)
Other Features
– Etched degree markings on the base of the head for precise camera rotation
– Notch for exact 90-degree camera tilt to portrait orientation
– Spirit level underneath the quick-release plate indicates whether your tripod and head are aligned with the horizon before you attach the camera
– Rubberized quick-release plate surface
2) Packaging and Field Use
The Oben CC-2320L tripod comes packaged in an attractive grey box. The BB-2 ball head comes packed in a separate but matching box. When I first unpacked this tripod, the first thing I noticed was a strong odor. The tripod comes with a nice carrying bag, but the bag has a very strong smell that I did not find pleasant. Once I got past the smell, I realized that the bag is very nice. It comes with a shoulder strap, has an inside storage pocket, heavy duty zippers and has a sleek look to it. It's also big enough to fit the tripod with the head attached.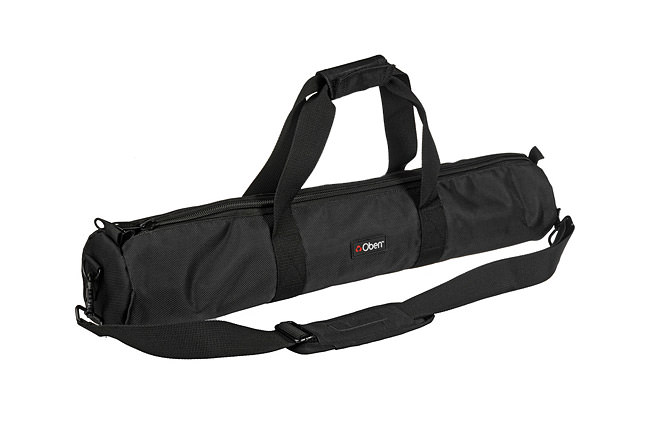 As I started to adjust the tripod, a few things stood out to me. First, the legs were very stiff and were somewhat difficult to spread. While I'd much rather have stiff legs that don't flop open every time I pick up my tripod, these were a little too stiff for my taste. I'm hoping that they start to loosen up with continued use. Once you do get the legs spread, though, they are very sturdy. The stance of this tripod is narrower than many tripods I've used in the past. I really like the fact that the footprint of this tripod is relatively small, which means it's less likely to get kicked or bumped if you're shooting around other people.
When adjusting the length of the legs, the locks are very stiff, but not so stiff that it's a problem. Although I don't have an issue with it, one of my studio mates commented on the fact that the legs don't slide out when the leg locks are loosened. If you're in a hurry and want to get your tripod set up quickly, this might be something to consider. One thing that I did notice when adjusting the legs is that they don't have any kind of markings on them to help you to adjust all of the legs to the same length. If you typically shoot on uneven ground, this isn't a big deal, but if you're always shooting on level ground, this can make setup faster and easier.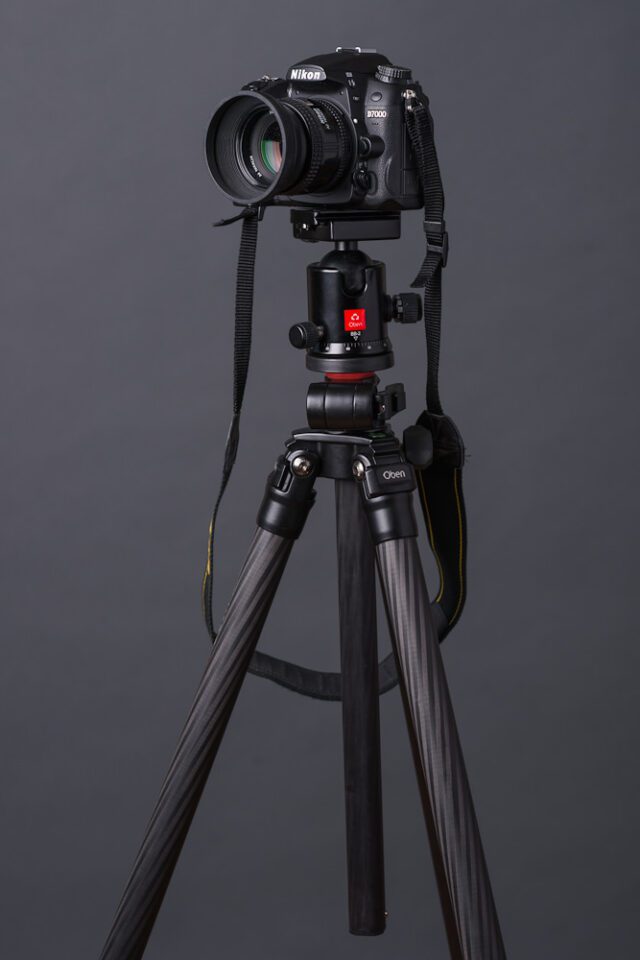 The tripod is quite tall when the legs are fully extended. If you still need more height, the center column extends, adding an additional 13 inches of height to the tripod. Fortunately, the center column is pretty stable when it's fully extended, although you'll still want to be sure to use a remote or timer to minimize any risk of camera shake. When I first extended the center column and tightened it into place, I heard a crunching sound. I thought that somehow I had broken a brand new tripod! Fortunately, I couldn't find any sign of damage, but it is definitely not a good feeling to hear such a noise coming from a $475 tripod.
Another useful feature of this tripod is the fact that the center column will tilt and rotate when it is fully extended. Personally, I could see myself using this feature to photograph items that are on the ground from directly above them. I could have really used this feature a few months ago when I was photographing some art that I had to lay on the ground and photograph from directly above because it couldn't be hung on the wall. The lock that is used to fix the position of the center column is strong enough that it can be used at any angle up to 180-degrees from vertical, not just 90-degrees to the ground. Unfortunately, the lock that allows the center column to rotate never completely tightens, so I found my camera rotating slightly during normal use because of the tripod, not the ball head.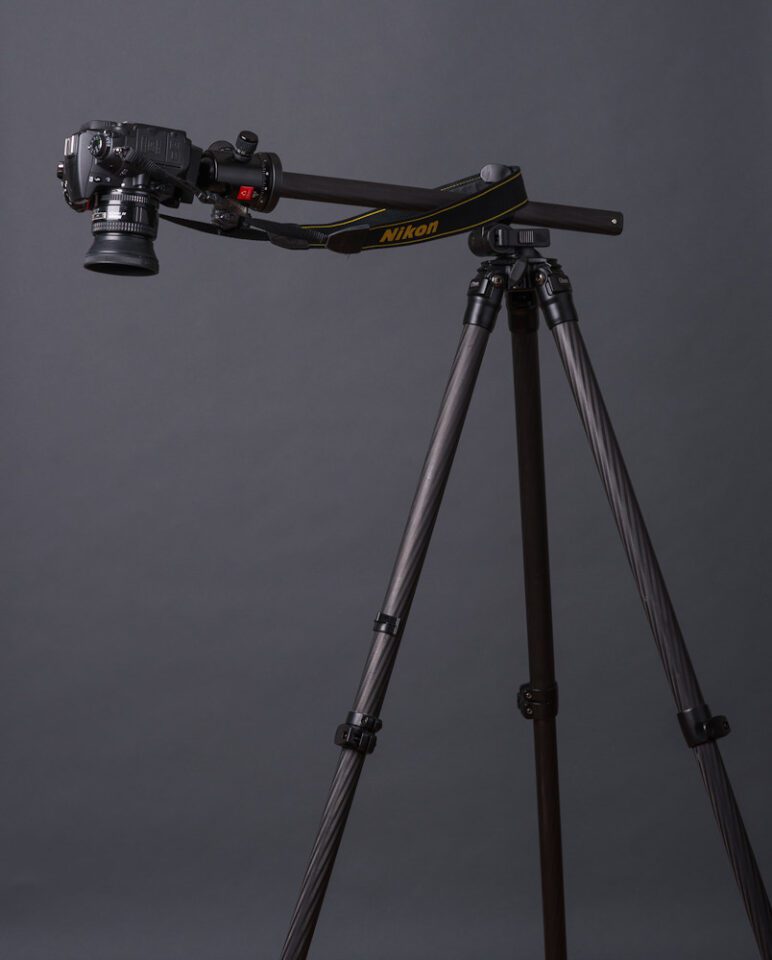 Speaking of the ball head, the Oben BB-2 ball head comes with this kit. This head feels very well made and seems to be very sturdy. This also means it is somewhat heavy, although in comparison to many similar ball heads, it's weight seems to be about average.
This ball head comes with an Arca-style quick release plate. One thing that I immediately noticed about this plate is the fact that you need an allen wrench to install and remove it. To me, this is completely unnecessary and a huge inconvenience. Granted, the required allen wrench can be stored in the tripod bag or on a clip that fits on one of the tripod legs, but there's always a chance that it will get lost. Even when using the supplied wrench, it is inconvenient to attach and remove the plate to a camera body.
The ball head itself has a good feel to it. It's action is smooth, but it has enough tension that it never feels completely loose. This is good, because the tension control knob doesn't seem to do anything. I tried tightening it as much as I could and the ball head didn't seem any harder to move. I then loosened it up as much as I could and the ball head didn't seem any easier to move. This doesn't mean that it won't lock. It definitely locks securely into place and, once locked, the head does not move. It just seems to have one tension setting, despite the presence of a tension control knob.
In addition to the ball head's full range of tilting motion, it also offers a panning motion. There is a separate lock for this motion so that if you don't want the camera to rotate, it won't. When you do decide to rotate your camera, the motion is very smooth and fluid. For a serious cinematographer, this head would not replace a fluid head that's made for panning in video, but for someone who just occasionally shoots video and wants a relatively smooth pan, this head would be great to have.
Another thing that I found useful was the presence of 3 bubble levels.The tripod has one on top of it's legs and the head has two, one on the side of the plate release knob and one underneath the portion that the plate mounts to. The benefit of the two levels on the head are that you can make sure that your camera is level, regardless of whether you're shooting in landscape or portrait orientation. The level on the tripod is also useful for making sure the tripod is level, but I did find that it is covered up by more than half of the head-mounting assembly, so half the time it's not even visible without some adjustments to the tripod.
3) Summary
The Oben CC-2320L Tripod with BB-2 Ball Head is a nice combination. The ball head is secure, pleasant to use and has some nice features, although the tension knob doesn't seem to work. The tripod seems to be very well made and is easy to use. If you don't need the tilting center column, you could probably save some money by choosing a tripod without this feature. I know that it is a feature that I will rarely use, but I'll be very glad to know that it's an option if I ever do find myself in a situation where I need it.
4) Pricing and Where to Buy
The Oben CC-2320L 3-Section Carbon Fiber Lateral Tripod with BB-2 Ball Head is priced at $474.95 and is available at B&H Photo Video.
Oben CC-2320L Tripod
Features

Build Quality

Handling

Value

Size and Weight

Packaging and Manual
Photography Life Overall Rating