This is a quick review of the Oben AC-1410 4-Section Aluminum Tripod with BA-0 Ball Head. While simultaneously testing a number of digital cameras from Sony, Nikon and Olympus, I realized that I need another tripod that is light, easy to use / setup and affordable. I already have a heavy duty Gitzo Systematic tripod with an Arca-Swiss ballhead that I use for my photography needs, but I found it too painful to remove the quick release plate every time I needed to mount a camera. In addition, there were situations when I wanted to use two tripods simultaneously.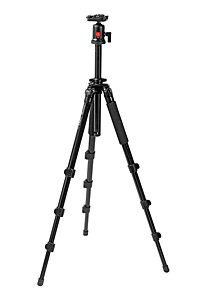 As I have already explained in my "how to choose a tripod" article, the cost of a tripod system can vary between $50-$1,200 (sometimes even more than that, depending on what head and other accessories you choose to buy). I definitely did not want to spend a lot of money on a secondary tripod, so I set my budget to under $150 with a head and started my search. My main criteria were: ability to support lightweight cameras to a pro-level DSLR with a non-telephoto lens (up to 10 pounds maximum load), a ballhead with a quick-release plate, under 3-4 pounds of total weight, easy to use and with a solid build. After I narrowed down my search to a couple of tripods, I ended up choosing the Oben AC-1410. I felt that it was a good fit for my needs, because it had everything I wanted and the price was well under my set budget.
1) Product Specifications and Features
| General | |
| --- | --- |
| Load Capacity | 11 lb (5 kg) |
| Maximum Height | 60.4″ (153.4 cm) |
| Maximum Height w/o Column Extended | 50″ (127 cm) |
| Minimum Height | 6.5″ (16.5 cm) |
| Folded Length | 21″ (53.3 cm) |
| Weight | 3.25 lb (1.4 kg) |
| Head | |
| Head Type | Single-lever ball head |
| Quick Release | Yes, with 1/4″-20 screw & retractable video pin |
| Legs | |
| Material | Aluminum |
| Head Attachment Fitting | 1/4″-20 and 3/8″-16 via reversible screw |
| Leg Stages/Sections | 3/4 |
| Leg Lock Type | Flip lock |
| Independent Leg Spread | Yes |
| Spiked/Retractable Feet | No |
| Center Brace | No |
| Center Column | |
| Center Column Type | Rapid (grooved, reversible, non-rotating) |
| Center Column Sections | 1 |
| Bubble Level | 5 (1 on chassis, 4 on head) |
Other Features:
Tripod legs features reversible 1/4″-20 and 3/8″-16 screw to fit almost any head
Spring-loaded counterweight hook at the bottom of the center column
Leg warmers on two legs mitigate the effects of extreme heat & cold and provide grip
Two included Allen keys attach to a tripod leg, so you're always ready to tighten components
Padded carry bag provides a snug fit for the tripod/head combination and features two heavy-duty zippers, an interior pocket with a zipper, and a shoulder strap
Even with the head attached, at 21″ long the retracted system fits into a carry-on bag
Adjustment locks keep legs at the chosen angles
Center column is grooved to prevent rotation
Angled rubber feet
2) Assembly and Use
The Oben AC-1410 tripod is packaged nicely in a box that says "You're On a Steady Ground":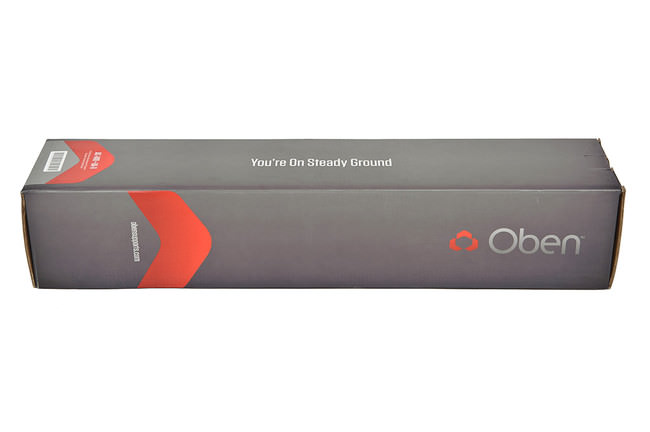 Inside the box, you will find a very useful padded carrying bag that contains the tripod and a few other accessories: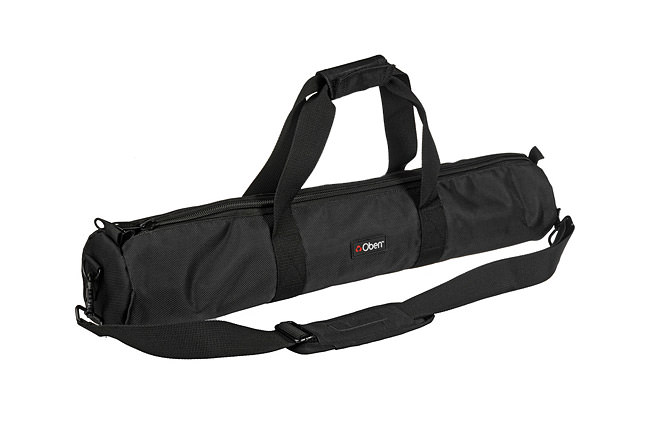 Here is how the tripod looks when collapsed (measuring 21″ long), with a quick release plate: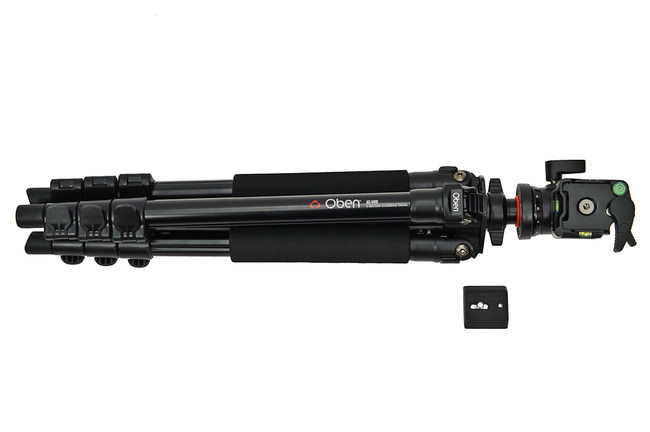 One thing I found a little strange, was the fact that Oben decided to only provide warmers on two legs instead of all three. Not sure why they did that, but I won't complain, since most tripods of this class do not have any warmers. Another nice feature I rely on a lot is the level that is provided right on top of the legs: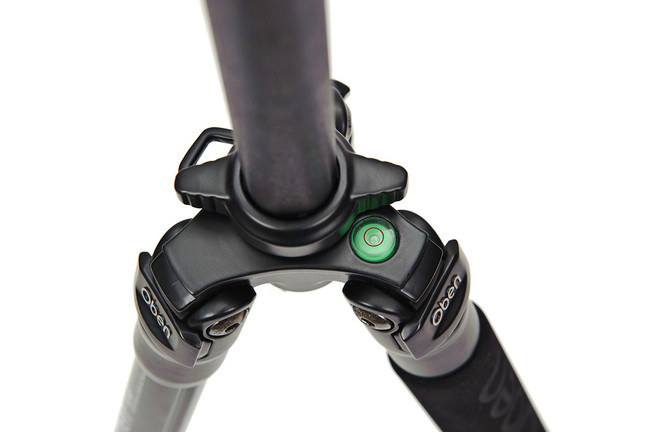 This kind of level is very useful (my Gitzo has it too), especially when shooting panoramas. If one level is not enough, the tripod head has three more levels to work with, which allows for much more precise positioning of the camera. The tripod legs are solid, although the very bottom legs felt a little wobbly when extended. Extending the legs is pretty straightforward – just flip three locks at a time and extend each section.
In general, I do not recommend tripods with center columns, because they only de-stabilize the setup. That's why I am not too excited about it on this tripod either. Unfortunately, the tripod only extends to 50″ without the center column. I'm 5'7, so I had to use the center column a few times when I did not feel like I wanted to bend my neck too much. With the center column extended, the tripod can reach 60.4″ and once the camera is mounted, it is right about my eye level. The center post has a hook on the bottom for additional stabilization, so you can hang a light bag or some light weight on it: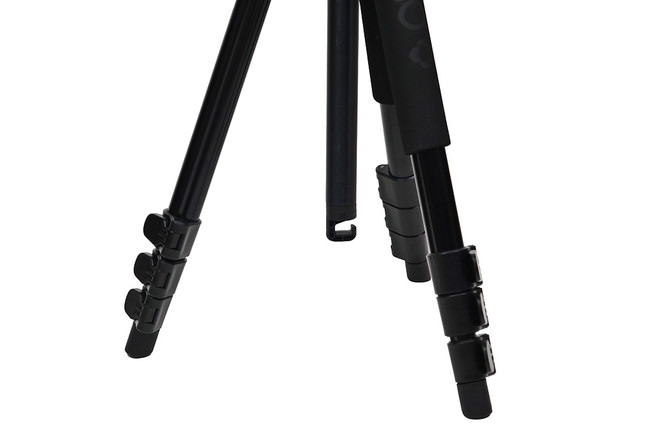 The ballhead is a breeze to work with – it only has a single knob that is used for securing the head position. The base of the ballhead can be easily rotated for panoramas. The quick release system is also nicely designed. It won't let the plate come off until the second smaller lever is squeezed, which is very useful for situations where you might accidentally release the plate without holding the camera. Here is the top of the quick-release ballhead: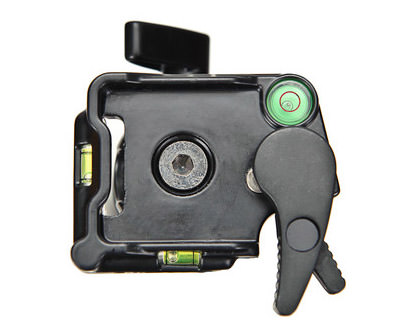 The tripod is definitely sturdy enough to hold a DSLR. Here is my Nikon D700 with the Nikon 24-70mm f/2.8G lens mounted on the tripod: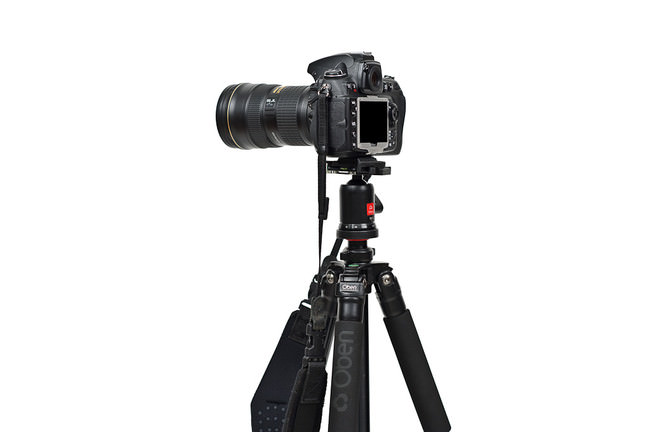 And here is a side by side comparison with the Gitzo Systematic 3-section carbon fiber tripod that I have: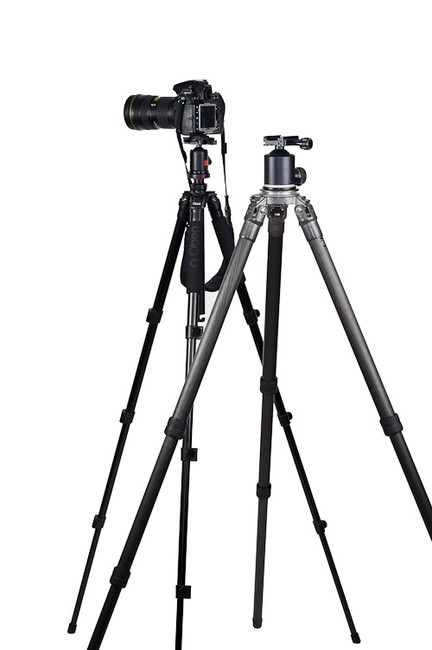 As you can see, compared to the high-end Gitzo tripod, it is a fairly compact setup with much thinner legs and a smaller and lighter ballhead.
Overall, I really liked this tripod, because it does everything I need it to do at a very affordable price. If you have not purchased a tripod yet and you need something for day to day photography, the Oben AC-1410 could be a great tripod to start with.
3) Pricing and Where to Buy
The Oben AC-1410 4-section aluminum tripod with BA-0 ballhead is available at B&H and other online and local stores for $119.95, which is a steal.
Oben AC-1410 Tripod
Build Quality

Handling

Value

Size and Weight

Packaging and Manual
Photography Life Overall Rating