This is a review of the Novoflex Nikon to Canon Lens Adapter, also known as "Novoflex EOS/NIK-NT Lens Adapter". This lens adapter is designed to be used specifically with Nikon G lenses that have no aperture rings. While most generic lens adapters can be easily used with older non-G Nikon lenses and you can easily control aperture by just rotating the aperture ring on the lens, there is no way to control aperture on all modern "G" type lenses with such an adapter. So if you used a generic lens adapter, you would be limited to shooting at minimum aperture of the lens (default) and there would be no physical way to adjust it while the lens is attached to the camera. To allow manual change of aperture on these types of lenses, Novoflex specifically designed an adapter with an aperture lever. In this review, I will talk about the pros and cons of using the Novoflex adapter and my overall experience with it when mounting Nikon lenses on Canon DSLRs.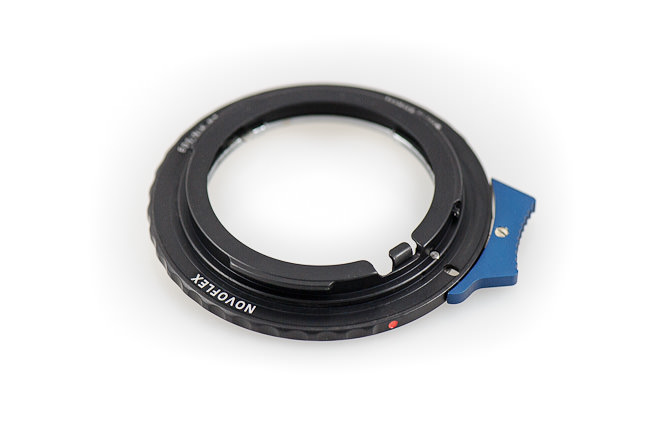 Please note that this review is not for everyone – it is targeted at advanced photographers that are looking into buying this adapter. If you do not understand why you would want to use such an adapter, please read my earliest article on "Using Nikon Lenses on Canon Cameras".
1) Features
The Novoflex Nikon to Canon Lens Adapter has the following features and limitations:
Adapter Mount: Nikon F to Canon EF
Lens Compatibility: All Nikkor F mount lenses (AI, AI-S, AI-P, D-Type, G-Type)
Nikon G Type Lens Aperture Control: Yes
Autofocus: No
Autofocus Confirmation: No
Vibration Reduction Support: No
AE Metering: No
Lens EXIF Info: No
Metering: Yes
2) Mounting, Handling and Use
Mounting the Novoflex adapter is a pretty straightforward process. First, you mount the adapter onto your Nikon lens, then you mount the lens to the camera. Don't do it the other way around, because you will not be able to fully secure the adapter in place. Align the red dot on the adapter with the lens white dot and rotate until it clicks. Next, align the red dot on the adapter with the red dot on your Canon DSLR and mount the lens as you would normally do. At this point, both the lens and the adapter should be securely locked, but just in case, try to rotate the lens and make sure that it does not move in any direction.
If you have a "G" type Nikkor lens that has a rubber gasket on the back of the lens for weather sealing purposes, you will get some heavy friction. Novoflex recommends either removing the rubber gasket or trimming it to make the blue lever easily operable. I did not feel like damaging my expensive Nikkor lenses, so I left the gasket in place. Changing aperture on lenses was somewhat tough, but manageable, once enough force is applied. If I only shot Nikon lenses on a Canon body or if I did not care for the rubber gasket, I would probably remove it for convenience purposes. Since there is no such gasket on the back of the adapter, dust could potentially make its way into your camera. Not something to be excited about, but oh well – that's the cost of trying to mount a Nikon lens on a Canon body.
Here is the adapter mounted to a Nikon 50mm f/1.4G lens, wide open aperture (f/1.4):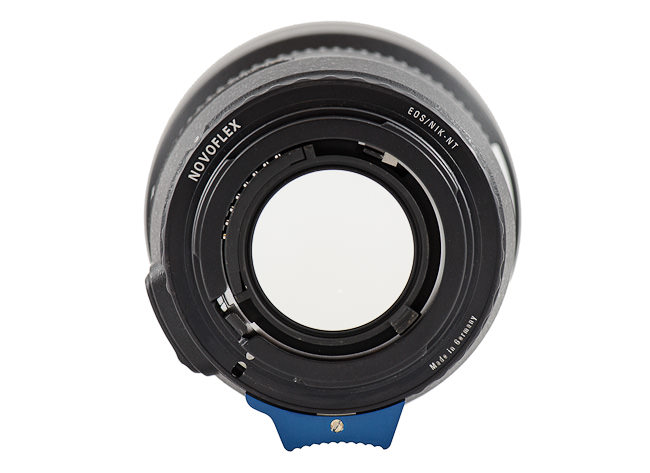 And here it is stopped down to f/16: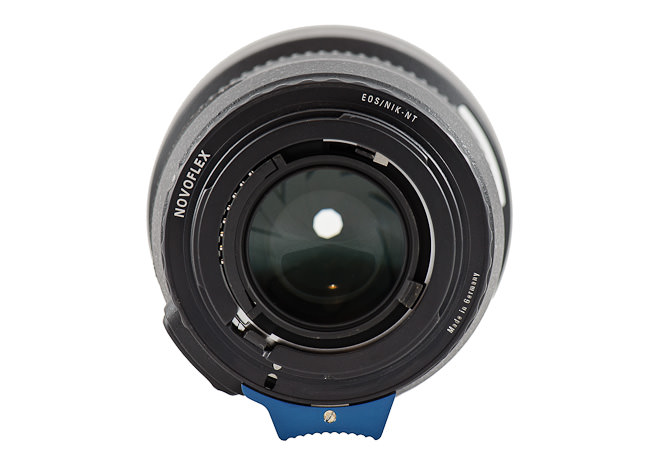 There are three indicators on the adapter that show the size of aperture – large (maximum aperture), medium and small (minimum aperture). The bad news is that aperture change is a totally manual process and there is absolutely no precision to it. While you can set the maximum and minimum apertures by rotating the blue control lever until it stops in both directions, getting to a desired aperture in between is practically impossible. Since metering with the Novoflex adapter works just fine, I had to use the light meter indicator to guess where I was in terms of an f-stop. So if I were at 1/2000 at maximum aperture of f/1.4 in Manual Mode, to get to f/5.6, I had to first lower my shutter speed by 4 stops, which is 1/125, then I would rotate the lever until the meter stops at the same spot as when I started. And even at that point I knew that I could not fully rely on the meter – my aperture could be somewhere between f/4 and f/8.
I took a bunch of pictures in a controlled environment to compare lens sharpness and bokeh between Nikon and Canon lenses. It was a rather frustrating experience, because images from Nikon lenses with an adapter would either be underexposed or overexposed. I had to move the lever quite a bit to get a more or less acceptable exposure.
3) Build Quality
Novoflex is a well-known company based out of Germany. Their products are of very high quality and the Novoflex adapter that I am reviewing here is no exception. It is made of tough metal that does not flake any metal pieces and it is designed to work with heavy professional Nikkor lenses such as the Nikon 14-24mm f/2.8G. When it comes to adapters, you always want to make sure to get high quality full-metal adapters. The last thing you want is to break your expensive Nikon classic!
4) Packaging and Manual
The Novoflex adapter comes in a small plastic package with a Canon lens cap and a short manual: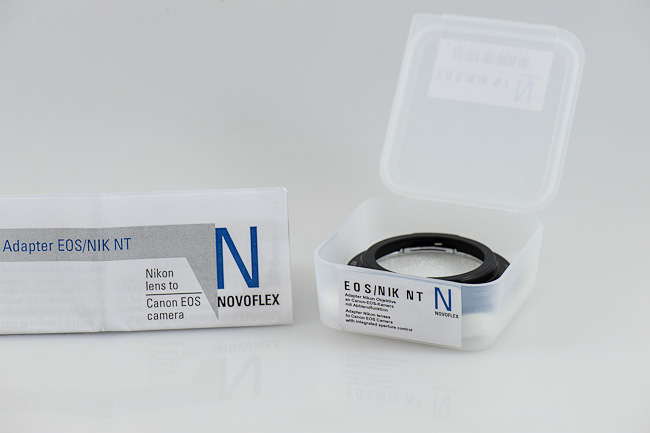 The manual is easy to understand and it provides some information on how to properly mount and dismount the adapter.
5) Conclusion
If for whatever reason you ever need to mount a Nikon lens without an aperture ring to a Canon DSLR (read on why people do it in this article), the Novoflex adapter is one of the few products on the market that can help you do that. With a special aperture lever on the adapter, it is specifically designed to be used with the new Nikon "G" type lenses. It is made of high quality metal that does not damage lens or camera mounts and it does not flake any small pieces of metal that could end up on your camera sensor. While using the adapter on newer Nikon lenses with rubber gaskets can be a painful experience and there is no way to fine tune the exact aperture (except for minimum and maximum aperture), other adapters have exactly the same problems, so it is not really the fault of the product or its design.
6) Where to Buy
The two brands that I can highly recommend are either Novoflex or 16:9. The adapter made by 16:9 is essentially the same thing as Novoflex, except you can get it with a programmable chip that can supply your camera with focal length and aperture information. If you will only use older Nikkor lenses with aperture rings, then there is a much cheaper alternative – the adapter from Cinevate is only $40 and it also works really well (full high-quality metal build).
Novoflex Nikon to Canon Lens Adapter
Build Quality

Handling

Value

Size and Weight

Packaging and Manual
Photography Life Overall Rating