Autofocus Performance
Nikon adopted the same autofocus system as what we have seen on the Z6, so if you want to read up about our assessment of its capabilities, check out the "Autofocus Performance" page of the Nikon Z6 review. In short, it is quite good, although not particularly great for tracking fast action when compared to Nikon's high-end DSLRs. However, if you compare it to lower-end DSLRs like the D610 and D750, the AF system on the Z5 is impressive, and something you might actually prefer over the DSLR.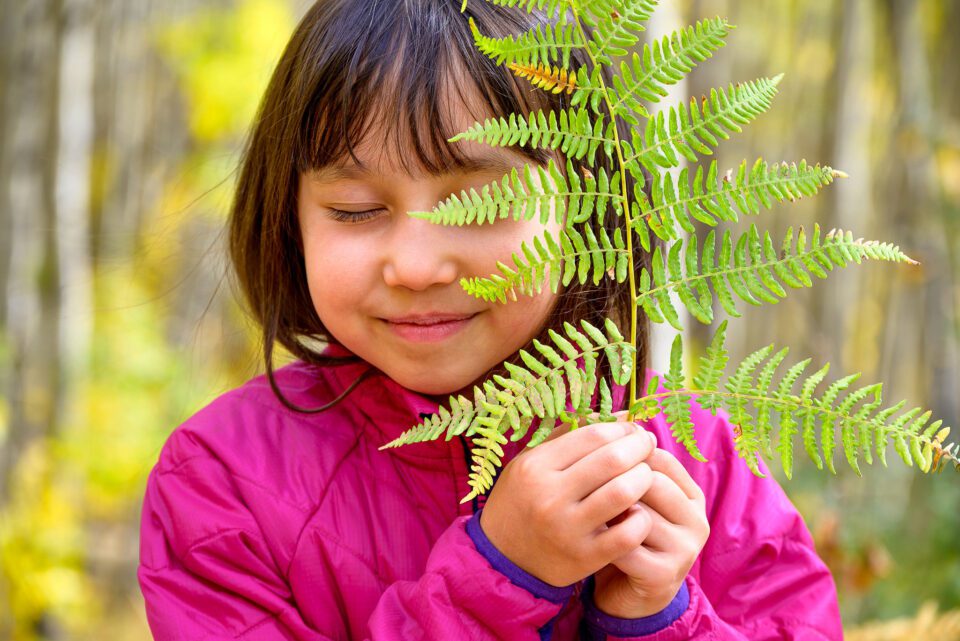 Most notably, the Eye AF feature is superb. While Nikon was criticized for not having this feature when the Z6 and Z7 were released, the company added it later via a firmware upgrade, and has tweaked it several times ever since. The latest update added "Animal detection", which works quite well for tracking the eyes of pets.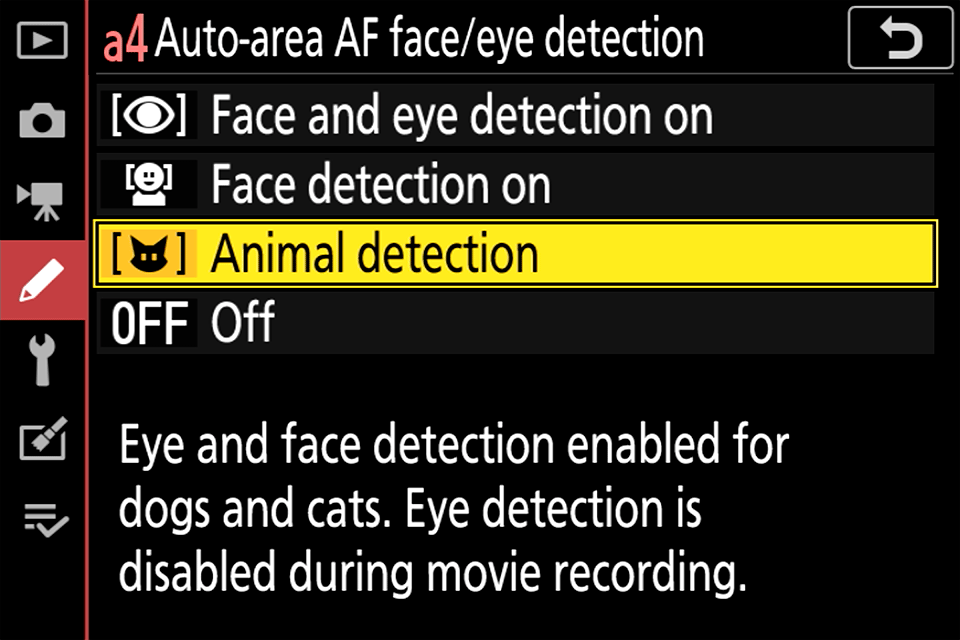 Nikon Z5 was released with both Face / Eye Detection and Animal Detection AF modes, so you don't have to update its firmware to get those features (although it is always a good idea to run the latest and greatest camera firmware).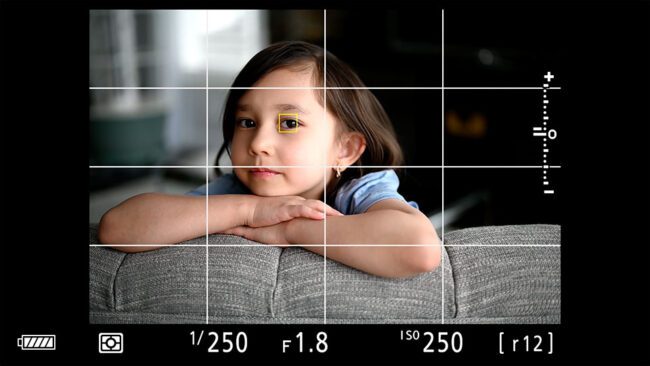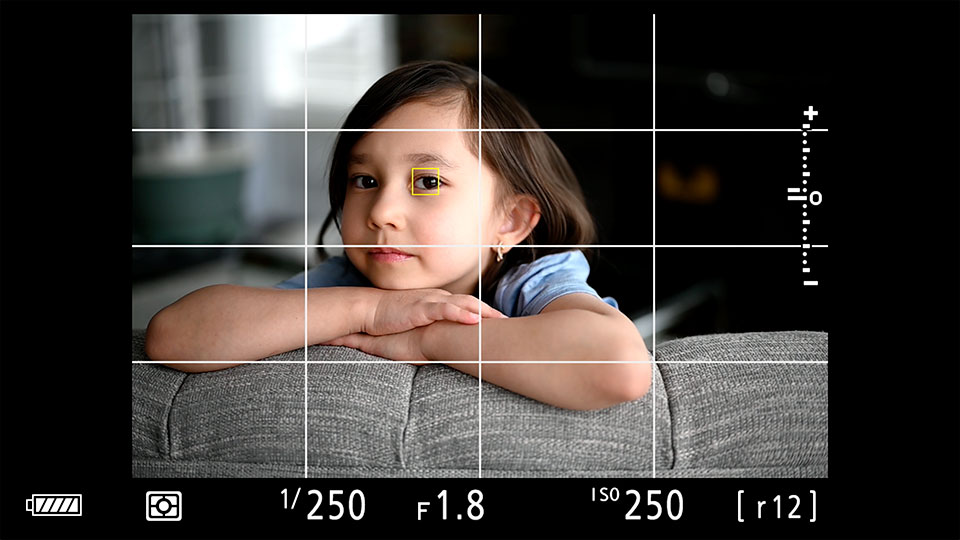 However, there are two areas where the AF performance on the Z5 suffers. First, as I have already pointed out, it is not as great as Nikon's DSLRs for tracking fast action. While Nikon has certainly improved the AF performance of the Nikon Z-series cameras via firmware updates, subject tracking isn't nearly as good as what I have seen on the Canon EOS R5 / R6 cameras, or Sony's A7-series cameras. Canon's Dual Pixel AF is excellent (even for tracking the eyes of little birds), while Sony has been refining its AF system for many camera generations now, so it is arguably the most stable and feature-rich among the three. Nikon's engineers stated that the EXPEED 6 processor could not keep up with the AF system on the Z-series cameras, which is why its engineers couldn't make the AF system better.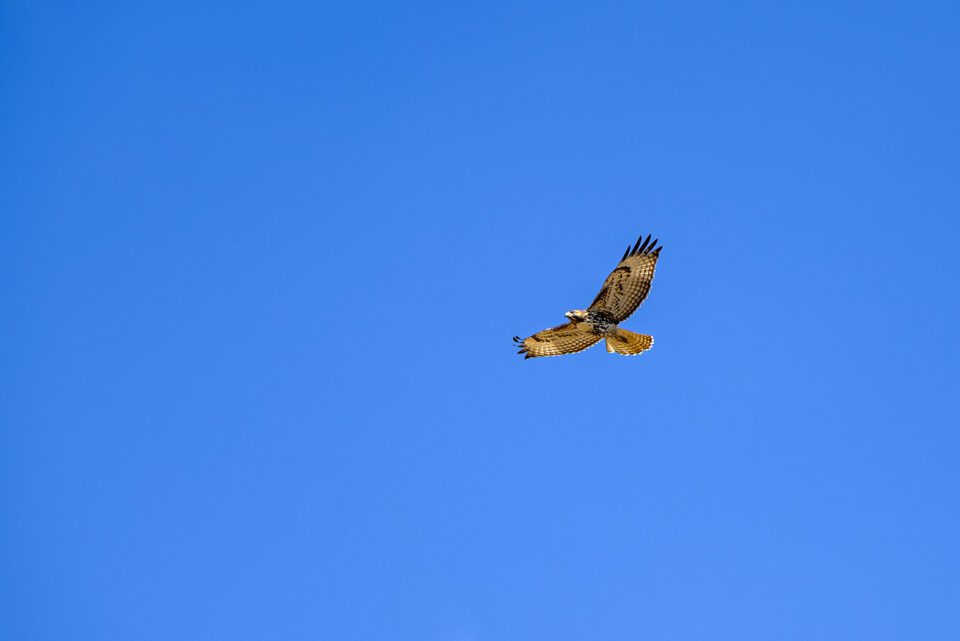 While that's partly true, for Nikon to be able to be on par with the competition the AF system itself needs a rewrite in my opinion. Although Face / Eye tracking works really well, the AF modes aren't particularly suitable for shooting action. Nikon provided "Dynamic-area AF" and "Wide-area AF" modes on the Z5, which are too limiting for tracking spontaneous and fast-moving subjects. There are no options for expanding the AF point coverage when using Dynamic AF, as we have seen on Nikon's DSLR cameras before.
Also, the low-light AF detection range is a bit more limiting at -2 to +19 EV vs -3.5 to +19 EV on the Z6. This might not be a big deal if you shoot landscapes and architecture, but if your plan is to use the Z5 for shooting action in low-light conditions, you might notice the difference.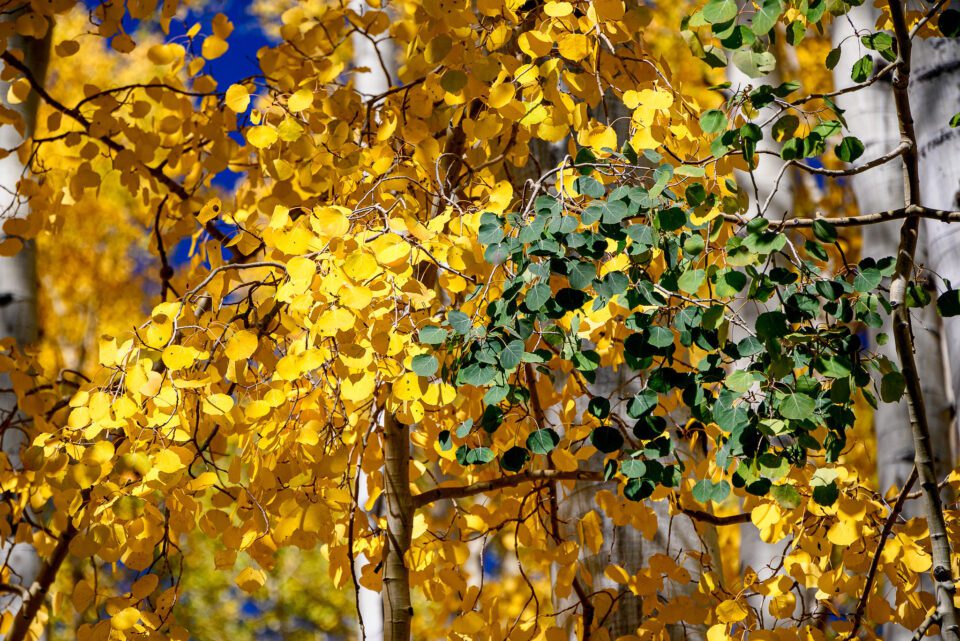 I give Nikon credit for fixing some of the Z5's focusing issues with their firmware updates. In particular, I'm a fan of the "Save Focus Position" option that Nikon added to the Z5's setup menu in firmware 1.10. Previously, the Z5 would always reset focus to infinity upon turning off the camera. Now, with "Save Focus Position" enabled, it instead maintains your focus position as the camera is turned off and on. Well done to Nikon for making firmware changes like this!
Overall, while the Nikon Z5 is an excellent tool for stationary subjects, it is not as good of a tool for photographing fast action. If you shoot portraits or pets, you will be happy with the performance of the Z5. But, if you are a wildlife photographer and you have been thinking about getting the Z5 to complement your F-mount super-telephoto lenses, you might be disappointed.
Shooting Speed (FPS) and Buffer
Unlike the Nikon Z6 that can shoot up to 12 FPS, the Z5 is limited to 4.5 FPS continuous shooting speed. Considering that this is not an action camera, I personally don't find the shooting speed to be limiting in any way – that's more than plenty for most day-to-day shooting. When compared to the competition, only the Sony A7C stands out with its 10 FPS shooting speed and a large enough buffer to make it a better choice for action photography. The Canon EOS RP is limited to 5 FPS as well.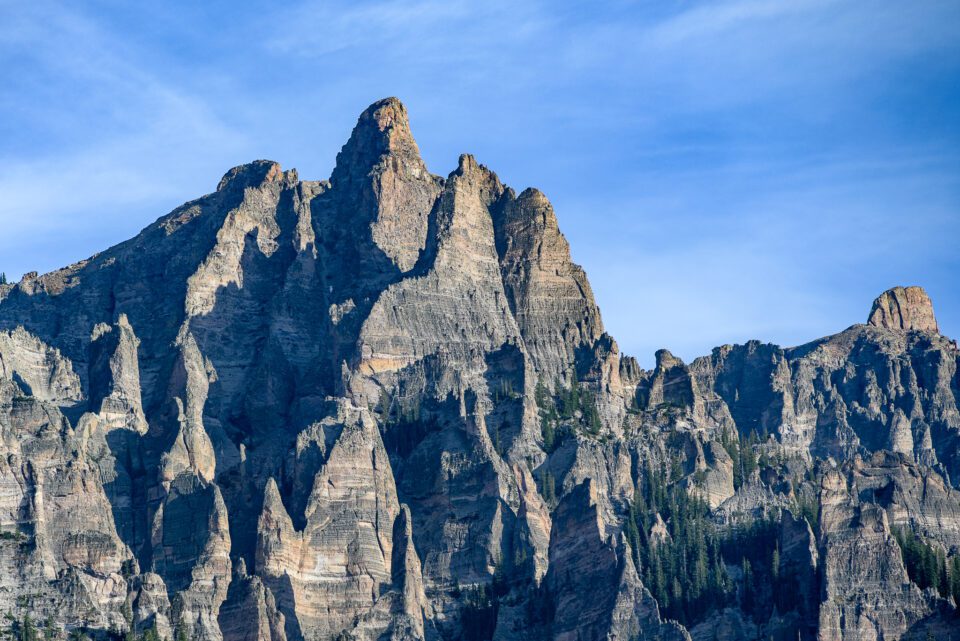 Speaking of the buffer, that's not something you need to worry about with the Z5. At just 4.5 FPS, the camera is slow enough that the buffer never fills. As long as you use a fast UHS-II SD memory card (or even the fastest UHS-I SD cards), you can easily shoot 100 RAW images, non-stop.
Focus Stacking
Similar to the Z6 and Z7, the Nikon Z5 includes a feature known as "focus shift" (which refers to focus stacking). With focus shift enabled, the Z5 will take a series of photos focused at different distances, starting from front to back. The idea is that you later combine these photos in post-processing software to create a final image with a huge depth of field (read more about focus stacking). It's particularly useful for macro and landscape photography at times when you might otherwise struggle to get enough depth of field. The focus shift menu has not changed – here is the main screen with most of the options: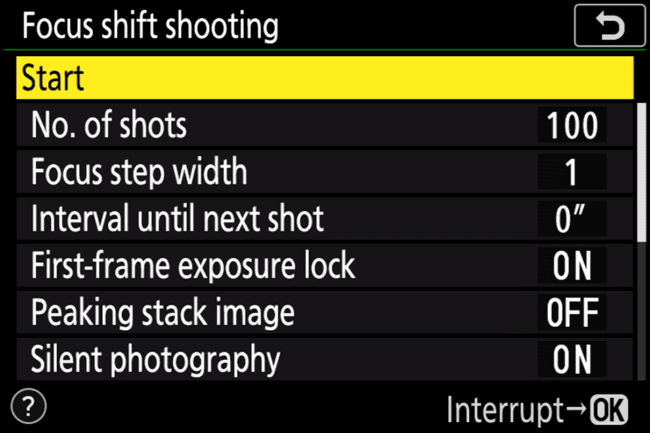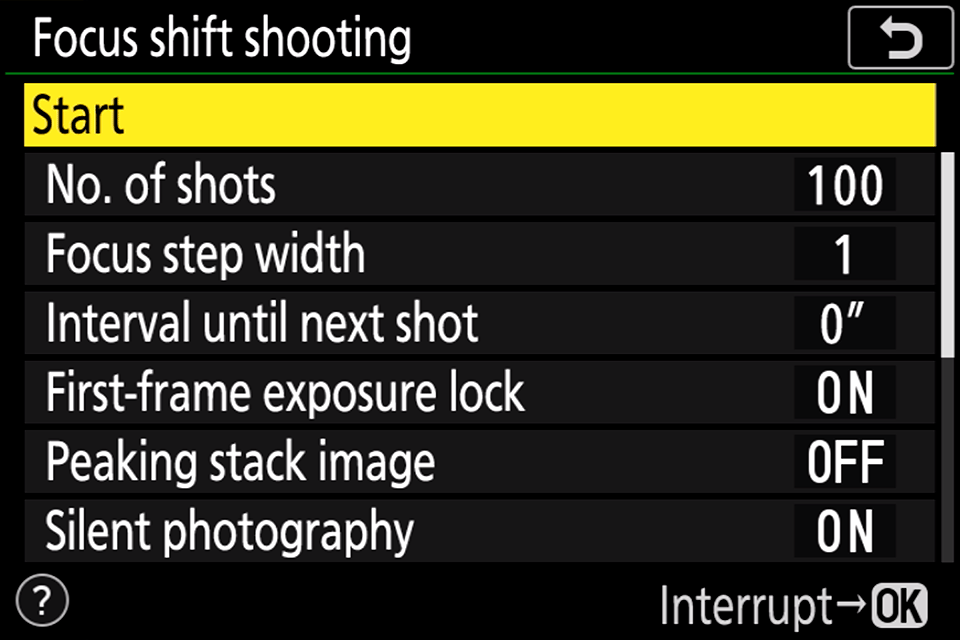 As useful as the focus stacking feature can be, it doesn't really change one of the biggest limitations of focus stacking: it falls apart very quickly when your subject starts to move. So, you'll mainly find this feature useful when shooting from a tripod in conditions with no wind or moving subjects. It's good for macro photography in a studio, as well as certain landscapes and architectural work where nothing is moving. Personally, I found it most valuable for close-ups in the nature of things like sand dunes and leaves on the ground, where a small aperture like f/16 still didn't give me enough depth of field.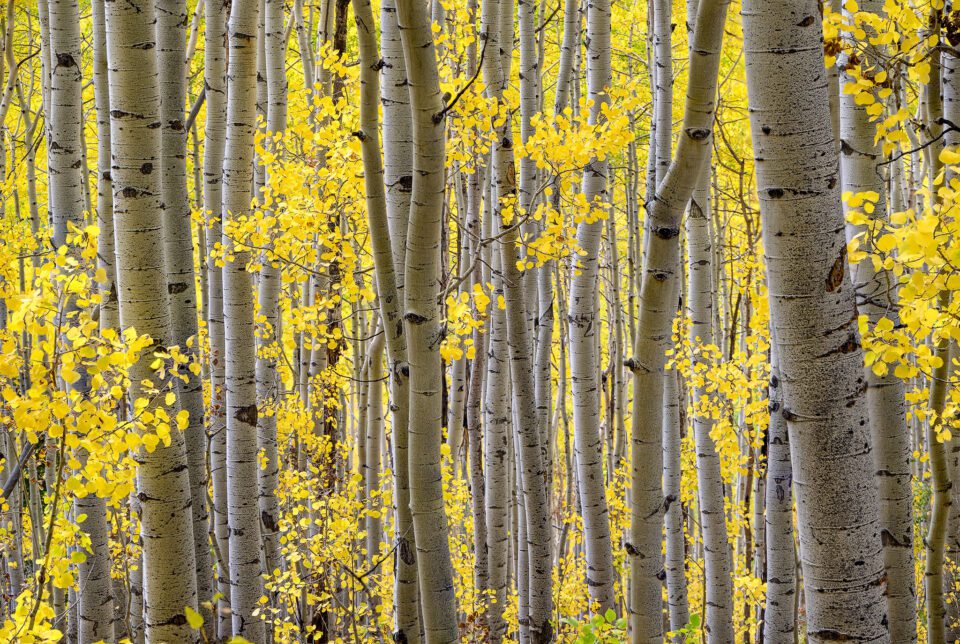 Keep in mind, that the Z5 doesn't reset to its original focus point when you're done shooting a focus stack sequence (same as on the Z6 / Z7). This is unfortunate since you will need to re-focus each time you are done. I complained about this in my previous reviews, but it looks like Nikon is not planning to fix this any time soon.