Lens Sharpness, Contrast and Color Rendition
I had a chance to test three different samples of the Nikon Z 85mm f/1.8 S for the below tests. All three performed admirably with very consistent results, but one of the samples had a noticeable softness issue on the top left corner due to decentering, and was slightly weaker in the center compared to the other two. Most people wouldn't notice it, and they probably wouldn't care about the top left corner being ever so slightly softer compared to others, especially for portraiture needs.
Here is how the best of the three performed in our lab environment using Imatest: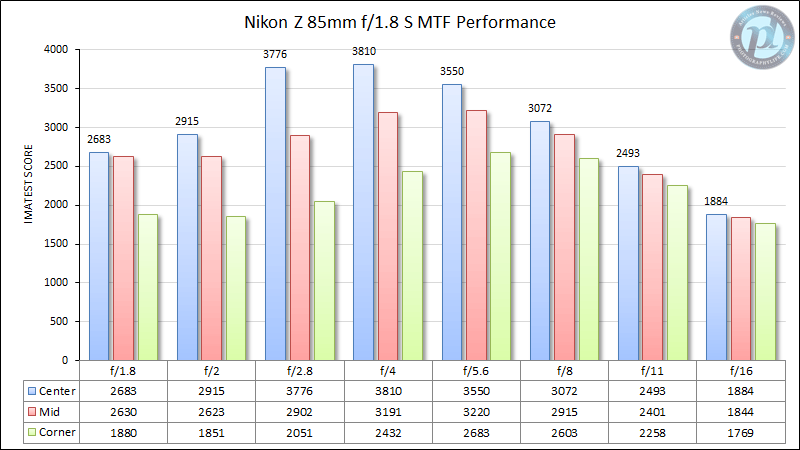 As you can see, the Nikon Z 85mm f/1.8 S performed exceptionally well, even wide open. The sharpness at maximum aperture is pretty obvious, something one rarely sees on most fast-aperture lenses. Stopping down the lens improves its sharpness considerably. From the above chart, you can see that even stopping down to f/2 improves sharpness a bit, and stopping down to f/2.8 is a huge improvement.
In fact, the f/2.8 – f/4 range is the sweet spot of the lens for the best center sharpness. The only reason why you would want to stop it down further is to increase depth of field and improve the corners. If you decide to shoot landscapes with the lens, you will benefit greatly from stopping down to f/5.6 – that's the best overall aperture for the sharpest corners.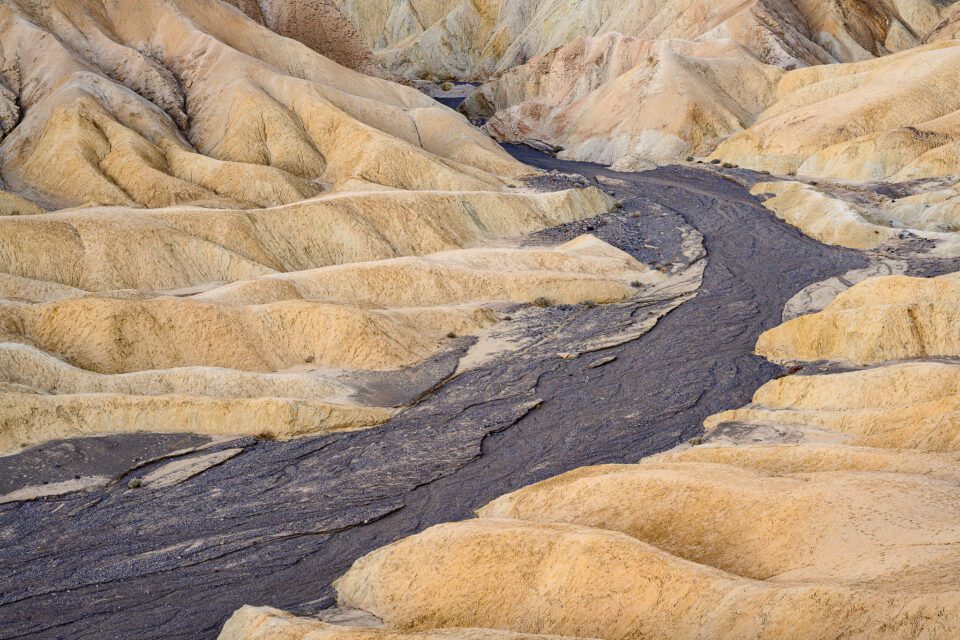 Please note that the other samples weren't far off the above results, scoring very highly across the frame at similar apertures.
One thing to keep in mind, is that the lens has a pronounced focus shift issue that can be easily seen when stopping down at all apertures from f/1.8 to f/5.6. To avoid focus shift completely, make sure to stop the lens down to the desired aperture before focusing. That's what I had to do in order to properly measure the sharpness of the lens.
When it comes to contrast and color rendition, the Nikon Z 85mm f/1.8 S performs as well as the other Z mount primes. Contrast is very high at all apertures (even at f/1.8) and the colors are as good as what you would see from other professional-level Nikon lenses. Although that's not what the lens is really made for, I found it to be a joy to use for landscape photography.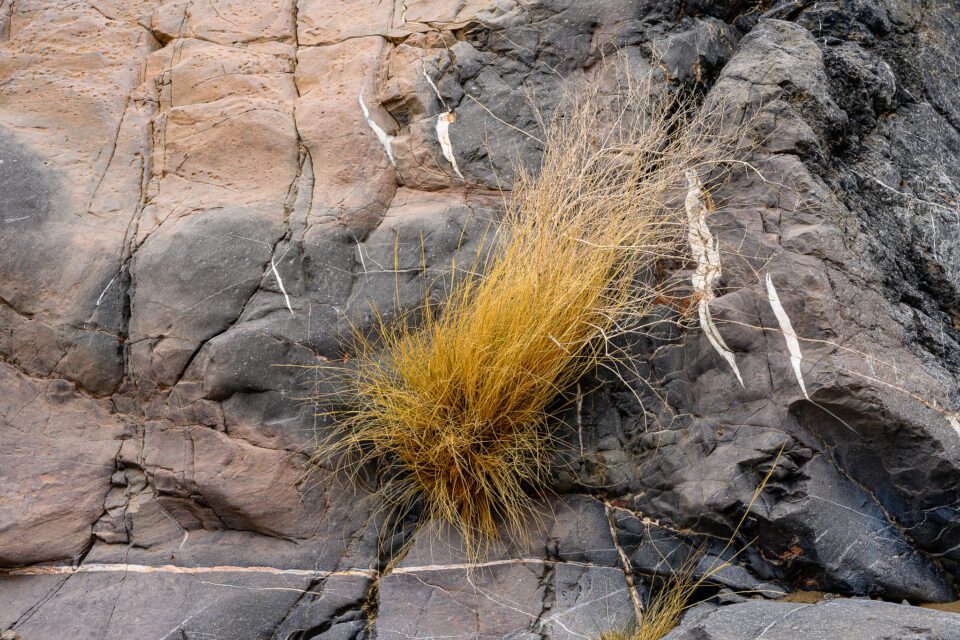 Bokeh
The bokeh of the Nikon Z 85mm f/1.8 S is very good, similar to what you get from the Nikon 85mm f/1.8G, except with one distinct advantage – the out-of-focus highlights do not show any signs of green and purple-fringing on the Z mount version, which they do on the 85mm f/1.8G. There is a little bit of an outline on bokeh edges, which is normal to see on most lenses. Thanks to the excellent optical design that has no aspherical lens elements, you will not see those onion-shaped rings inside the highlights, which is good. In short, if you are happy with the look of bokeh on the Nikon 85mm f/1.8G, expect to see even better results with the Z mount version.
As expected from pretty much all large-aperture prime lenses, you will see the "cat's eye" effect on bokeh shapes outside the center frame, similar to what you see on the below sample image: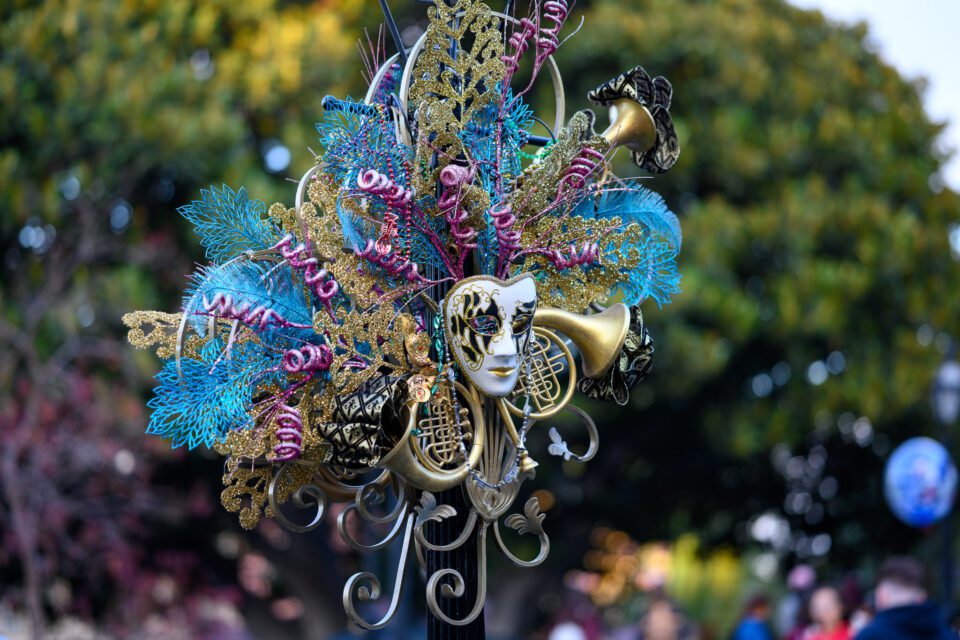 Thanks to the 9-blade rounded aperture, stopping the lens down to smaller apertures like f/2 and f/2.8 still yields very pleasing results, as can be seen from the sample portrait below: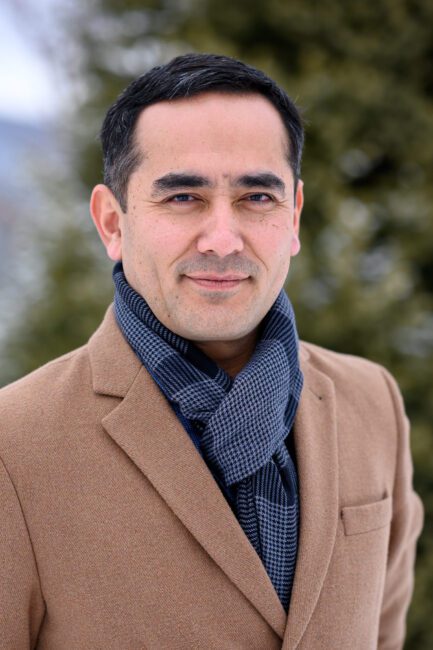 I will provide more samples and comparisons to other 85mm lenses in about a month after I get back from my upcoming trip to UAE, Dubai, and Turkey.
Overall, the Nikon Z 85mm f/1.8 S renders very good bokeh results, and I am quite pleased with what I see from images so far.
Vignetting
Most fast prime lenses have quite a bit of vignetting at wide apertures, and the same is true for the Nikon Z 85mm f/1.8 S. At maximum aperture and when stopped down to f/2, the lens produces a little less than a stop of vignetting in the corners at close distances, which gets worse when the subject is further away. At infinity, the lens reaches about 1.37 stops of vignetting on average, as can be seen below: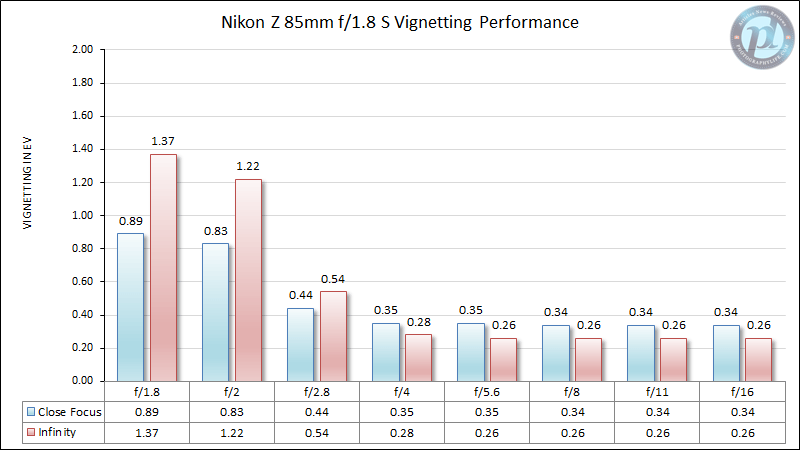 Stopping the lens down to f/2.8 reduces vignetting significantly, and it is barely visible at smaller apertures. Here is the worst-case scenario for vignetting at maximum aperture, focused at infinity: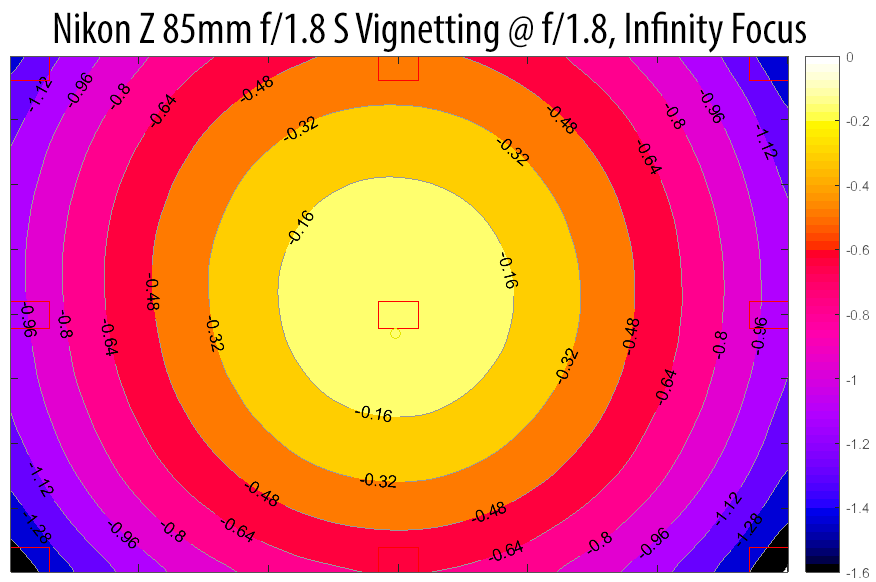 If you use Lightroom, vignetting corrections will be applied automatically to all of your images, and you cannot turn them off. I personally find that to be very annoying – I often like the way lenses vignette, and I would rather fix it myself in post…
Ghosting and Flare
The lens elements of the Nikon Z 85mm f/1.8 S are coated with both Nano Crystal Coat and Super Integrated Coating technologies that not only help in reducing ghosting and flare, but also in enhancing colors and contrast, especially when a bright source of light is in the frame.
Although the Nikon Z 85mm f/1.8 S does quite well with ghosting and flare, there is a good reason why it comes with a fairly large lens hood – it is there to reduce overhead sun rays from reaching the front element of the lens. So when shooting outdoors, I recommend that you leave the lens hood on at all times.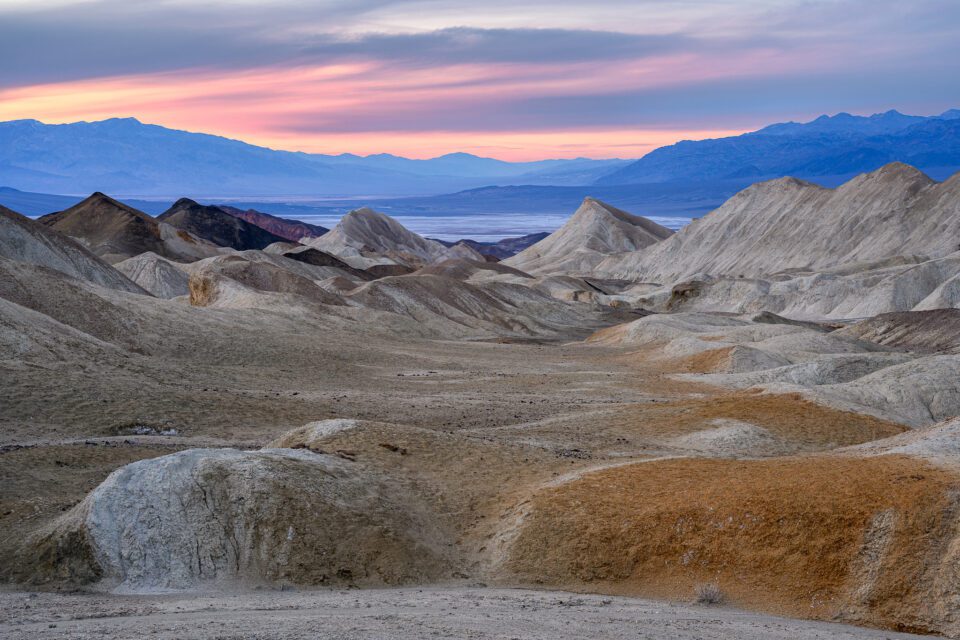 Distortion
Lens distortion is basically non-existent. Imatest measured 0.15% barrel distortion, which you will have a hard time seeing on images with very straight lines. On top of that, if you are a Lightroom user, distortion correction will be automatically applied to your images, so you will never be able to tell either way.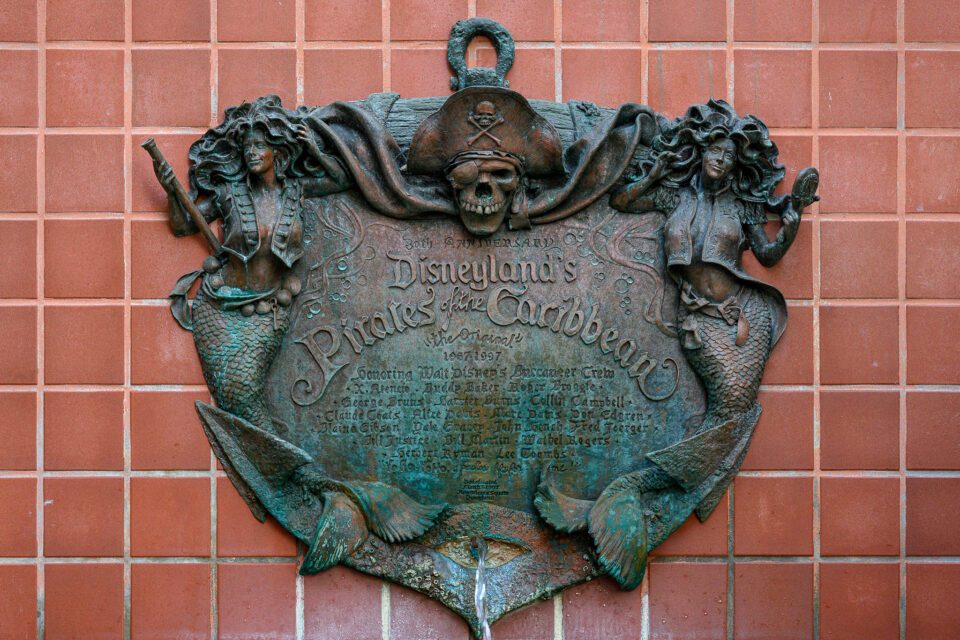 Chromatic Aberration
Lateral chromatic aberration is controlled extremely well, even in high-contrast situations. Take a look at the below results, as measured by Imatest: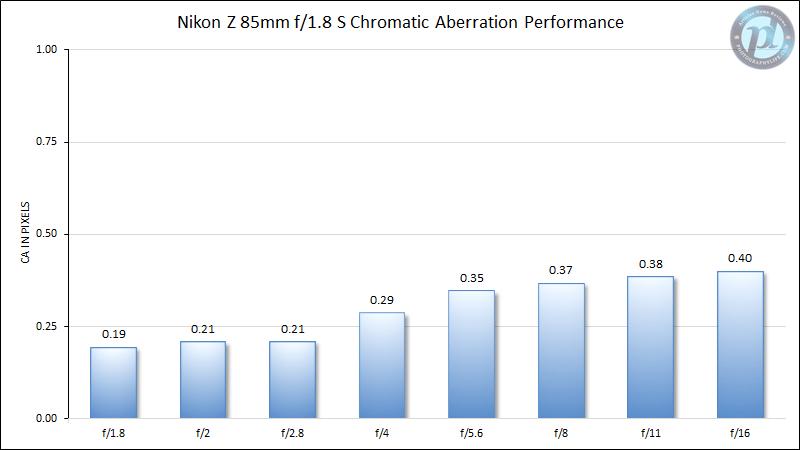 As you can see, it is basically non-existent at all wide apertures, which is pretty incredible. It does go up a little as you stop down, but that's mostly due to diffraction more than anything.
Longitudinal chromatic aberration (which is the effect of color fringing in front of and behind the focused area), is also controlled surprisingly well for a prime lens. You will see a little bit of green and purple fringing, but it is not bad by any means, especially when compared to other 85mm prime lenses.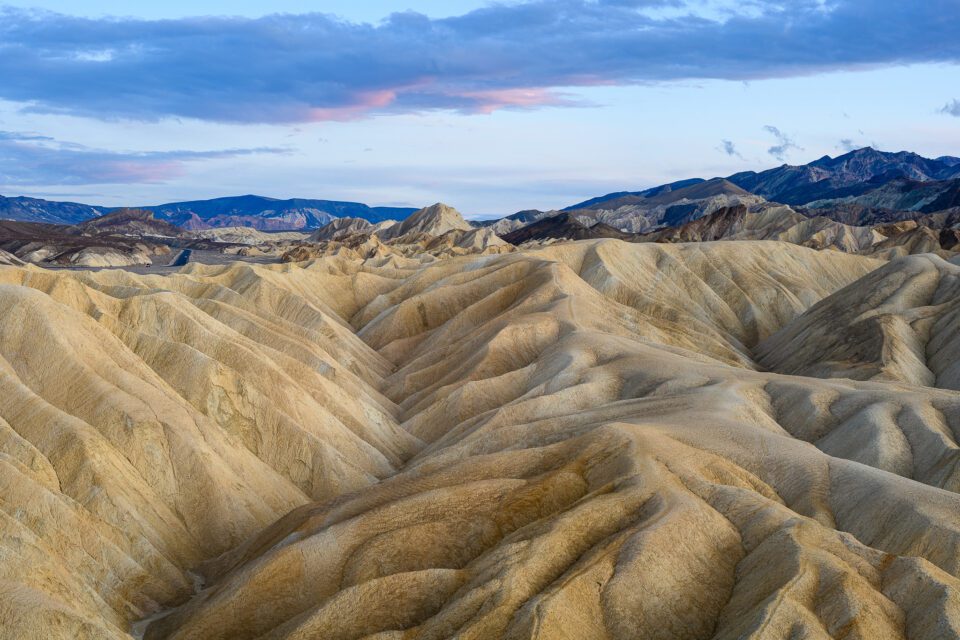 Coma
Lastly, coma is a bit of a mixed bag depending on where the light source is positioned. Here is what happens when the light source is at the extreme corners:
As you can see, it takes a triangular shape at large apertures, then get closer to a point of light at f/4 and smaller.
Let's move on to lens comparisons.