Normally, this section of the review is where I compare a lens against alternatives on the market with a similar focal length. If you haven't noticed, though, Nikon doesn't make very many 800mm lenses. The only modern one is the 800mm f/5.6E FL for the F-mount. Otherwise, to reach 800mm, you'll need to use a 2x teleconverter in conjunction with one of Nikon's 400mm lenses, a 1.7x teleconverter with a 500mm lens, or a 1.4x teleconverter with a 600mm lens.
I have, however, tested some of these alternatives in the lab. Here are my results.
Versus the Nikon Z 100-400mm f/4.5-5.6 + 2x Teleconverter
A native 800mm lens is going to beat a 400mm lens + 2x TC most of the time, and this is no exception. The Nikon Z 800mm f/6.3 totally destroys the Nikon Z 100-400mm f/4.5-5.6 + 2x TC combo at 800mm.
I should emphasize, the Z 100-400mm f/4.5-5.6 is a killer lens and one of my all-time favorites (see my review). But it's just not a good match for the Nikon Z 2x teleconverter, at which point it becomes an 800mm f/11 lens. Here are my lab tests comparing the two lenses in terms of sharpness: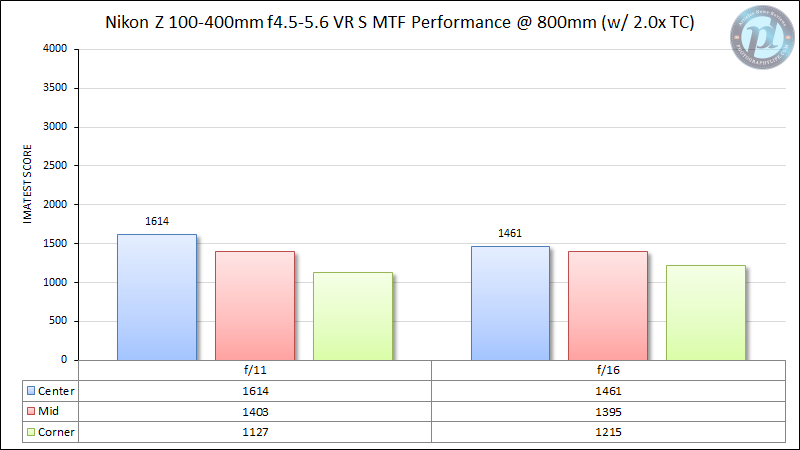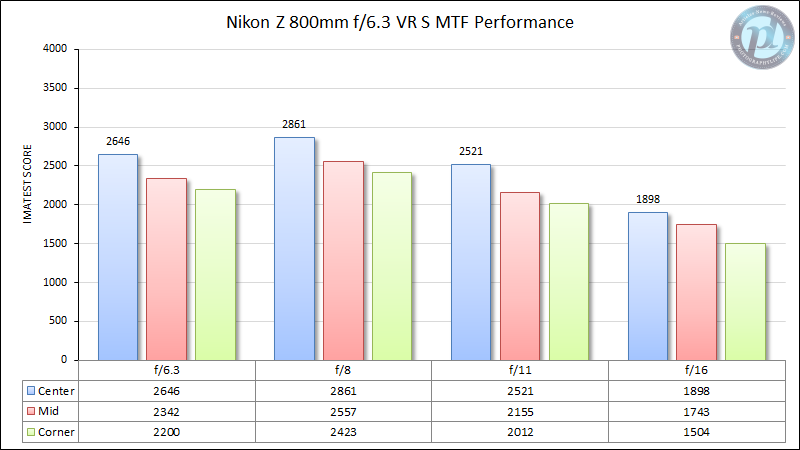 For a full comparison between these two lenses, I went into a lot more detail in this article on things like focusing speed, vignetting, handling, value, and other concerns:
Versus the Nikon 800mm f/5.6E FL VR
Nikon's most expensive modern lens, and arguably their best lens ever, is the 800mm f/5.6E FL VR, an F-mount lens that sells for a whopping $16,300. It also weighs about as much as two 800mm f/6.3 lenses put together! For that price and weight, you would hope for simply stunning performance, and that's exactly what you get. Here are my lab tests of both lenses: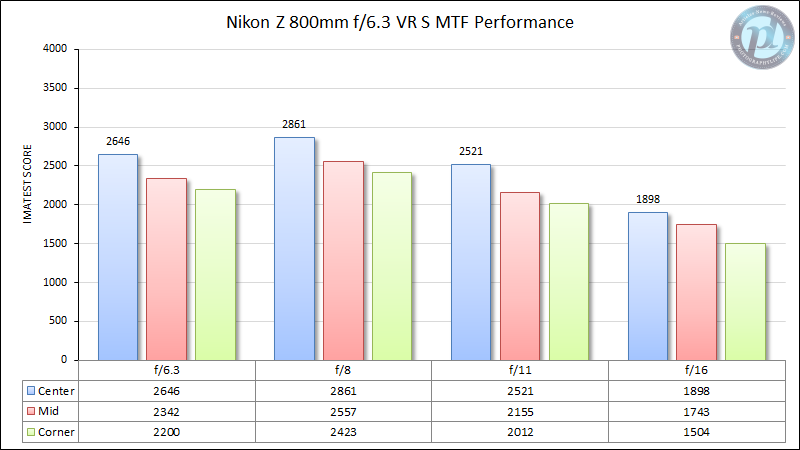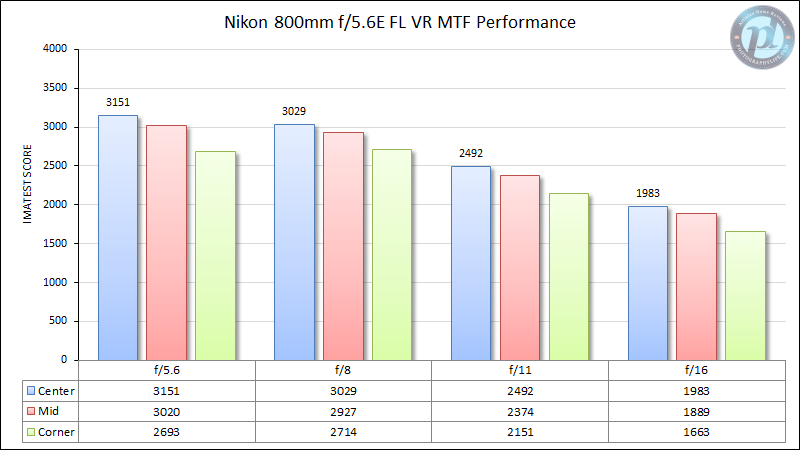 Clearly, the F-mount 800mm f/5.6E is the sharper lens. At f/5.6 in particular, it is meaningfully sharper than the mirrorless lens at f/6.3.
Whether that matters is a different question. At 800mm, lens sharpness is not usually the biggest threat to getting sharp photos. Instead, atmospheric distortion, motion blur, imperfect focus, and image noise are going to cause bigger problems most of the time. Welcome to the wonderful world of supertelephotos!
If you want to dive deeper into this comparison, I have a full article with a lot more details and some sample crops here:
Our Thoughts
Spencer: Have you changed your mind after seeing these results?
Nasim: No, not really, I still think the 800mm f/6.3 is plenty good. Just because a lens is weaker than the 800mm f/5.6 FL, doesn't make it a bad lens. Otherwise everything would be a bad lens!
Spencer: Still, I find it interesting that this is the first Nikon Z lens to perform worse than the F-mount lens that inspired it.
Nasim: But what did you expect? The cost, weight, and size of the Nikon Z 800mm f/6.3 S are so much less by comparison. It would be an optical miracle if the two lenses were equally sharp.
Spencer: Well, Nikon has conditioned me to expect some optical miracles in their telephoto lenses! And the S-line of telephotos in particular. But you're right, the 800mm f/6.3 is sharp enough for almost anybody, even though the F-mount 800mm is still the king.
The next page of this review sums up everything and explains the pros and cons of the Nikon Z 800mm f/6.3 VR S. So, click the menu below to go to "Verdict":