Nikon Z 70-180mm f/2.8 Focus Speed and Performance
The Nikon Z 70-180mm f/2.8 autofocuses quickly, accurately, and almost silently. Just because Tamron designed the optics of this lens doesn't mean it focuses worse than any other Nikon Z optic. Compared to the Nikon Z 70-200mm f/2.8 S, for example, focus speed and accuracy were essentially the same.
Because of the f/2.8 maximum aperture, the Nikon Z 70-180mm f/2.8 focuses in dark conditions without any issue. Compared to an f/4 lens, it captures twice as much light. It also allows for the use of Nikon's 1.4x and 2.0x teleconverters, giving you a 100-250mm f/4 and a 140-360mm f/5.6 respectively. Focus speed is worse with the teleconverters, especially the 2.0x, but accuracy remains high.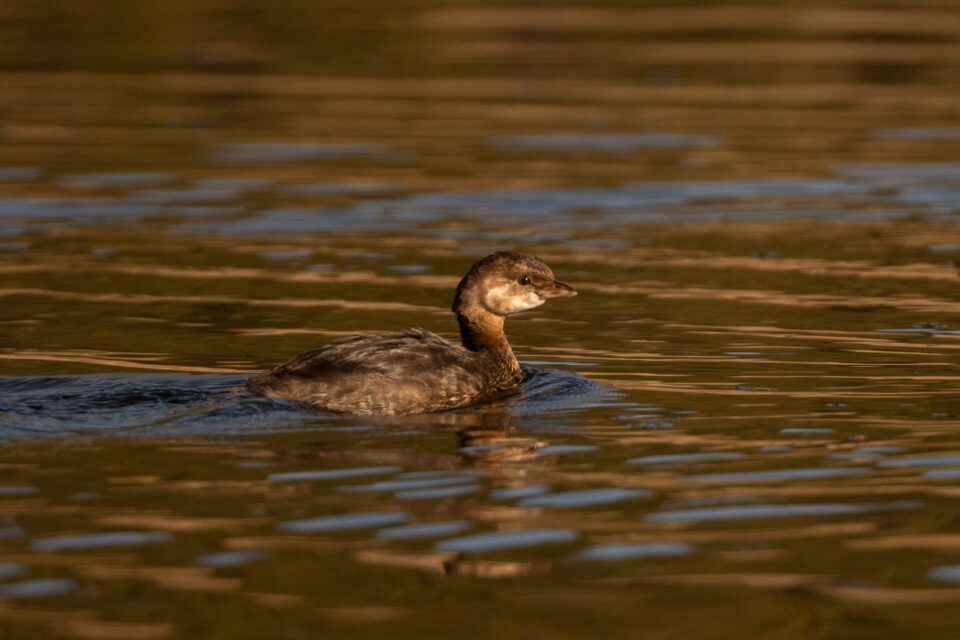 There's an exciting surprise with the 70-180mm f/2.8's focusing performance: close-focus capabilities. This lens can reach a whopping 1:2 magnification at 70mm and a still-respectable 1:4 magnification at 180mm. Pair it with Nikon's teleconverters, and you get what I called Nikon's secret macro lens, capable of up to 1:1 magnification. Very impressive for a lens that doesn't have an official "macro" label.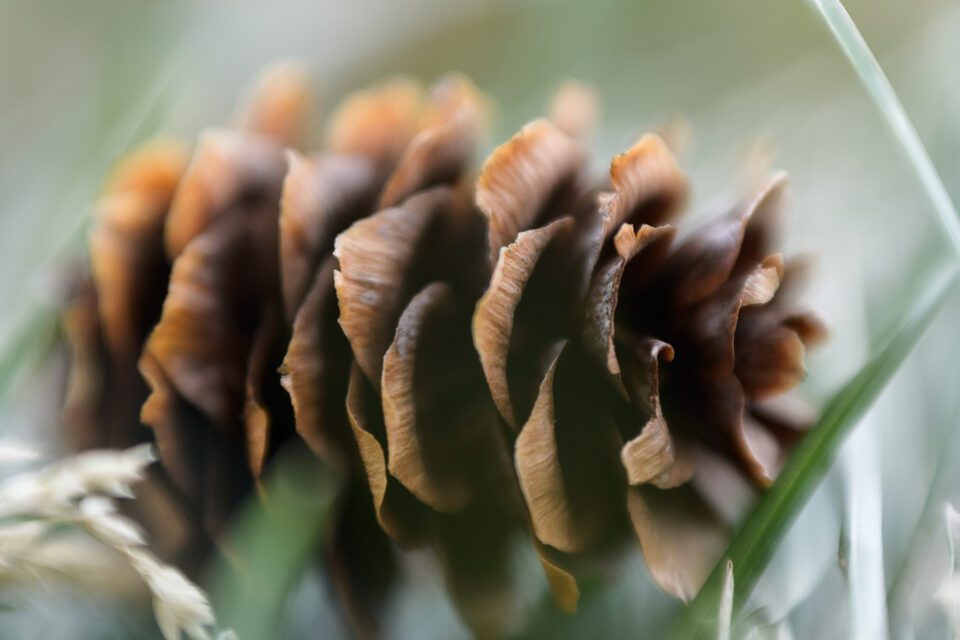 Distortion
Although distortion is relatively unimportant in telephoto lenses compared to wide-angles, it's still something we always want to test in the lab. Here are the results: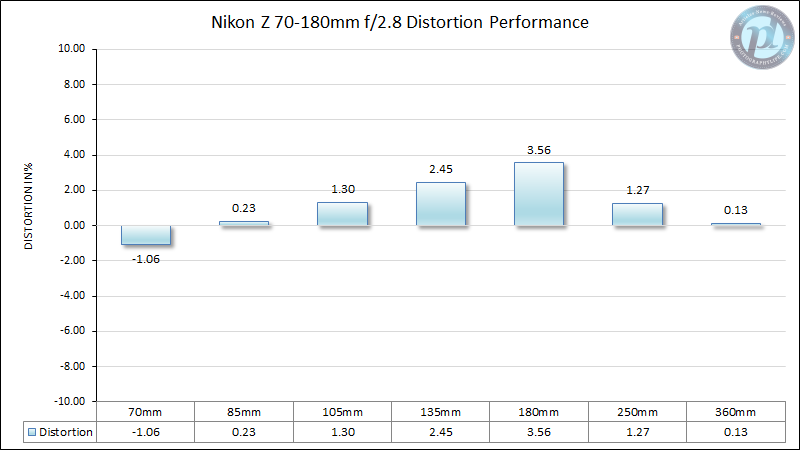 As you can see, the Nikon Z 70-180mm f/2.8 is well-controlled for distortion at the wider angles, but from about 135mm to 180mm, a reasonable amount of pincushion distortion kicks in. It maxes out at about 3.5% pincushion at 180mm, which is pretty noticeable distortion if you have a lot of straight lines in your photo. Interestingly, adding either teleconverter to reach 250mm or 260mm reduces the level of distortion significantly.
None of this is something I'm concerned about – it would be a bigger problem in a wide-angle lens meant for architectural photography. Still, some photographers enjoy unorthodox telephoto photos of buildings and other details with straight lines. If that applies to you, just be aware that you'll often need to correct the 70-180mm f/2.8's distortion if your software hasn't done so already.
Vignetting
In uncorrected images, the Nikon Z 70-180mm f/2.8 has low levels of vignetting even wide open, although it depends on your focal length and focusing distance. It's worst at 180mm and infinity focus. Here's a chart of the lens's vignetting levels: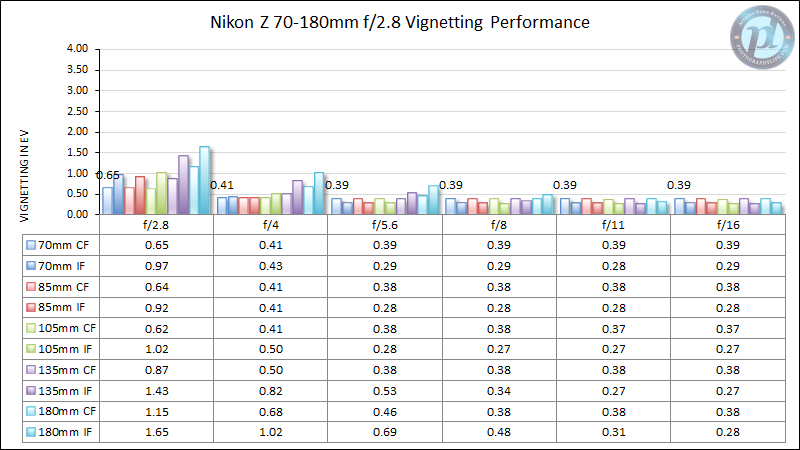 Aside from that specific result at 180mm, f/2.8, and infinity focus, the vignetting is kept to very modest levels under 1.5 stops.
By the way, it wouldn't fit very well in the chart above, but using either teleconverter with the Nikon Z 70-180mm f/2.8 is a non-issue in terms of vignetting. The lens maxes out at just 0.94 stops of vignetting with the 1.4x teleconverter, and 0.62 stops of vignetting with the 2.0x teleconverter (both at infinity focus and wide open).
Keep in mind that Adobe Lightroom's lens profiles for the Nikon Z 70-180mm f/2.8 directly read information from your in-camera vignetting reduction setting. If you want your photos from this lens to have full corrections by default, you need to turn the vignetting correction to "High" in-camera. This is true even if you're shooting .NEF files. It's not a big deal because you can always add or remove vignetting manually, but I recommend turning the in-camera corrections to "Medium" or "High" to minimize your post-production work.
Chromatic Aberration
There is a small amount of chromatic aberration on the Nikon Z 70-180mm f/2.8 – nothing to worry about, although it climbs significantly higher if you use either teleconverter. Here's the chart: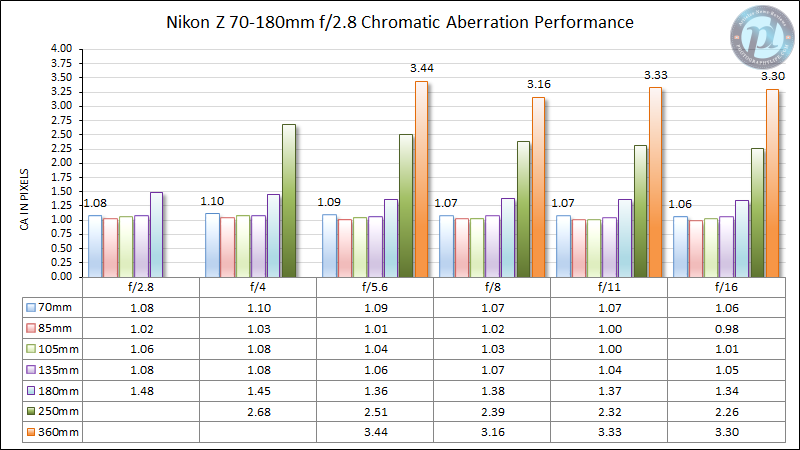 The maximum reached by the bare lens is just 1.48 pixels (again at 180mm and f/2.8; are you sensing a theme?) while adding the teleconverters doubles or even triples the size of the color fringes.
For context, anything under about one pixel is almost impossible to notice in real-world images, even with chromatic aberration corrections turned off. The Nikon Z 70-180mm f/2.8 is close enough to that mark that you'll almost never see lateral chromatic aberration with the bare lens, and it will be easy to correct without leaving artifacts if you do. I would, however, pay attention when shooting high-contrast scenes with the 1.4x or 2x teleconverter on this lens.
Sharpness
The Nikon Z 70-180mm f/2.8 is a very good, extremely consistent performer in terms of sharpness. It doesn't quite reach the heights of Nikon's sharpest primes or even their sharpest zooms, but it never falls into blurry territory by any stretch. Even the corners at f/2.8 are solid across the zoom range. Here are our measurements: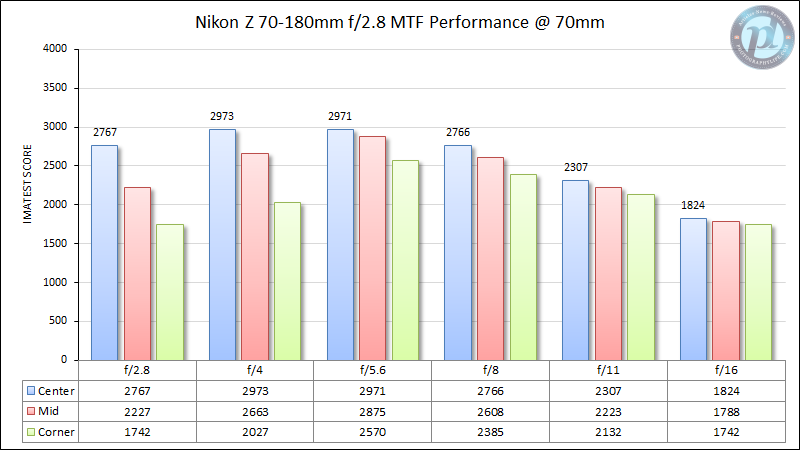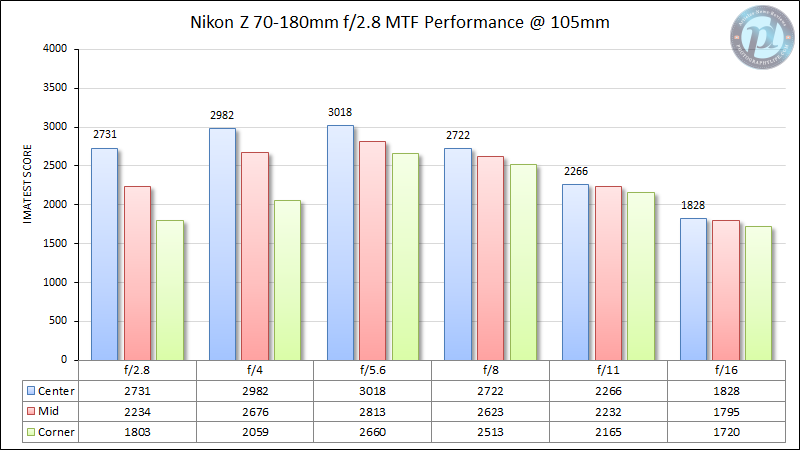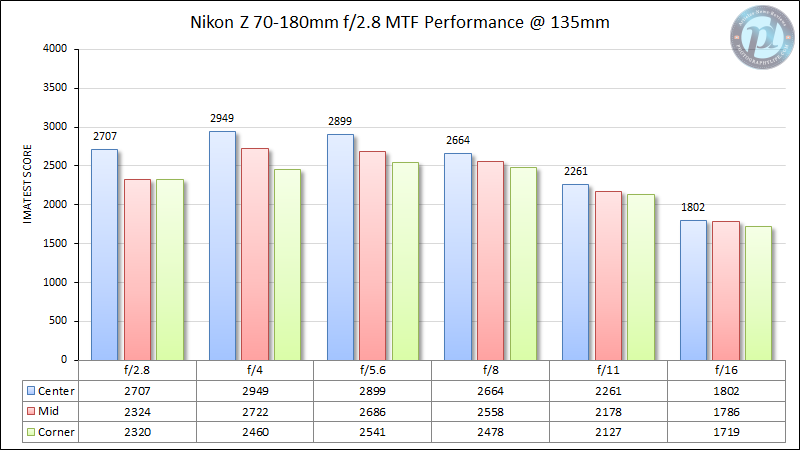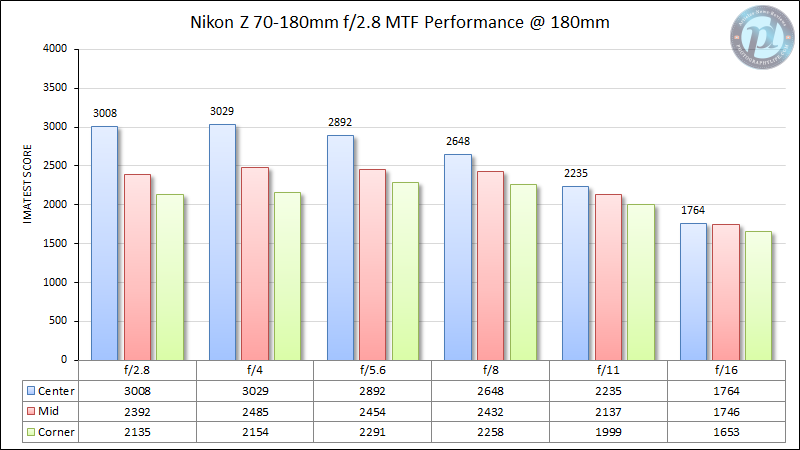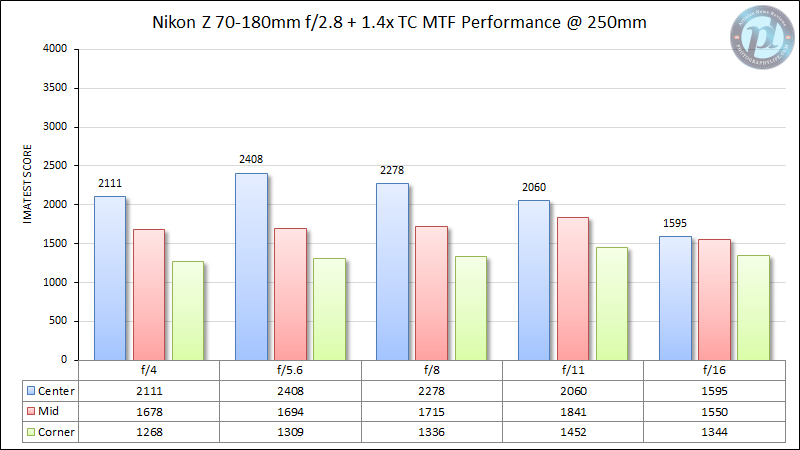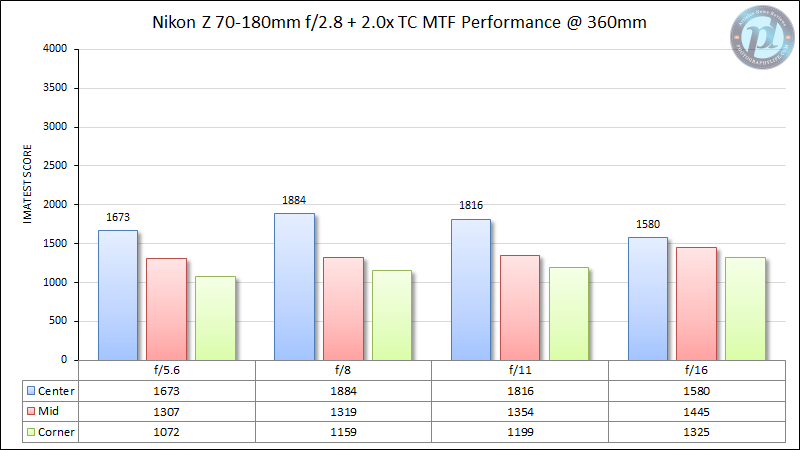 Aside from the steep (and unsurprising) drop when using the teleconverters, there's nothing to complain about here. In fact, I was prepared to see a big dip in performance at 180mm considering the mediocre distortion, vignetting, and chromatic aberration performances at 180mm. Nope. If anything, 180mm is one of the sharper focal lengths on this lens, including wide open. I wouldn't hesitate to use this lens at any focal length or aperture. It's a consistently strong performer.
The exception, again, is with the Nikon Z teleconverters. Central performance remains fine even with the 2x teleconverter, but the corners are pretty iffy with either TC. Based on these results, I'd be willing to use the 1.4x TC with this lens with only slight hesitation, but I would try to avoid using the 2x TC.
One exception where I would use the 2x TC is for 1:1 macro photography, which is one of the nice bonuses of this lens. 1:1 macro photography usually requires narrow apertures like f/22 in order to get enough depth of field. At those apertures, you're sacrificing lens sharpness no matter what, so feel free to use the 2x TC! This combo is no worse than any other lens at that point.
Here's a real-world example showing how sharp the lens is at 180mm and f/2.8, with only Lightroom's default sharpening applied: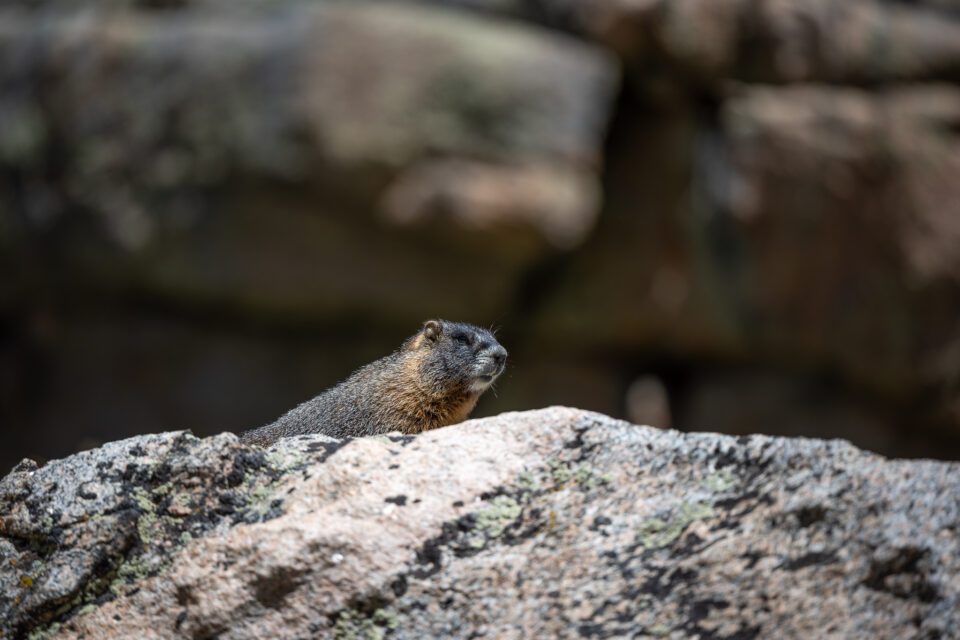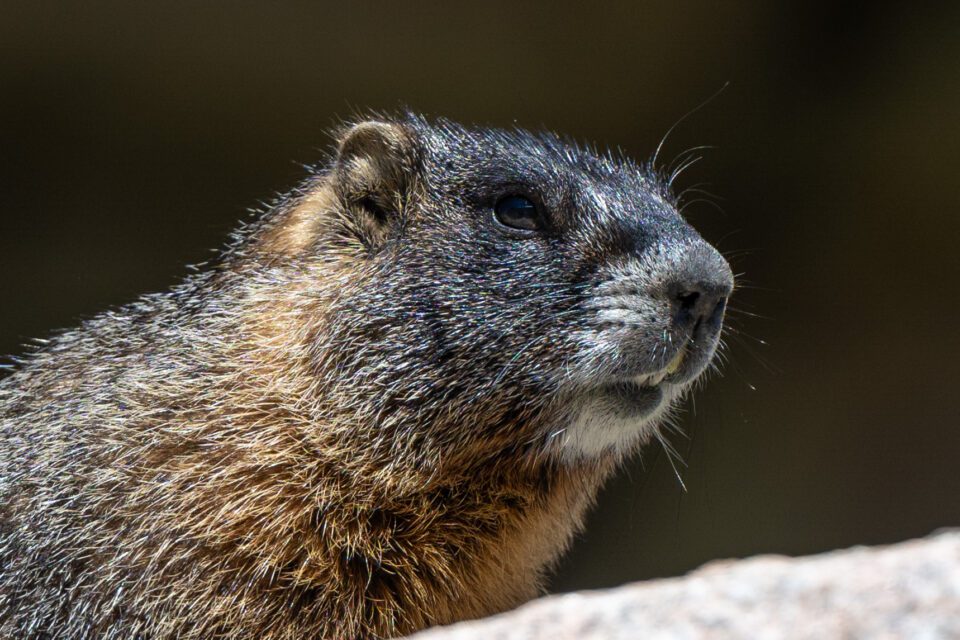 Bokeh
Bokeh is another word for the qualities of the background blur in a photo. "Good" bokeh is subjective, since different photographers have their own preferences for how the background blur looks. Still, an f/2.8 telephoto lens is ideal for capturing blurry backgrounds, so how do out-of-focus regions on the Nikon Z 70-180mm f/2.8 look?
To me, the bokeh with this lens is usually quite pleasant. You can judge for yourself based on the photos below, but I find that out-of-focus backgrounds are rendered very well, giving a pleasant pop to the subject. Since a lot of photographers will use this lens for portraiture and close-up photography, that's a good sign. However, keep in mind that using a teleconverter will make the bokeh busier than with the bare lens.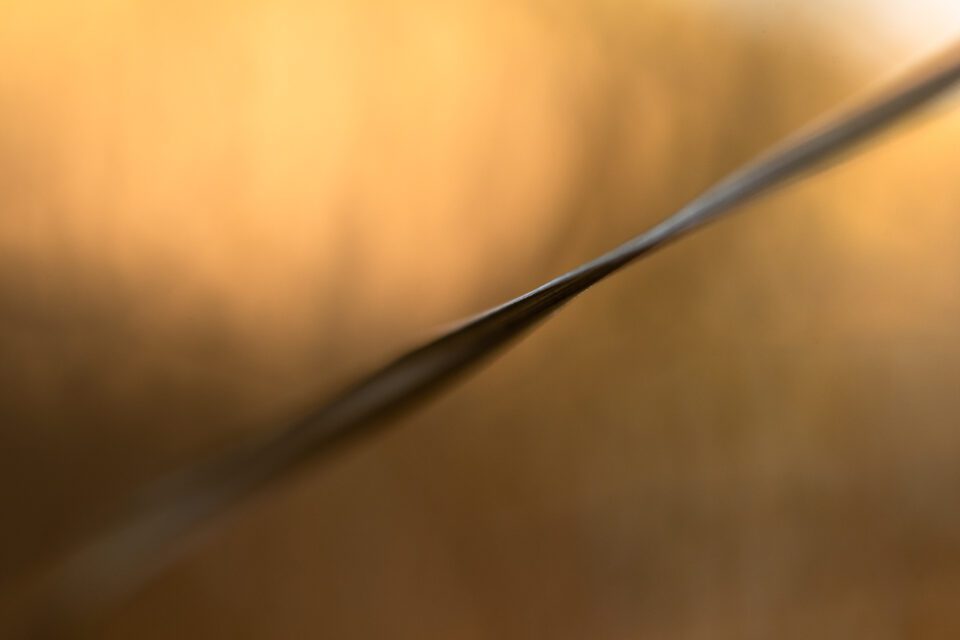 I did notice a slight busy characteristic, almost like a "pull" in the foreground blur, when shooting at close focus distances. This occurs in the transition zone from sharp to blurry, like the bottom of the photo below. The background still looks great to me.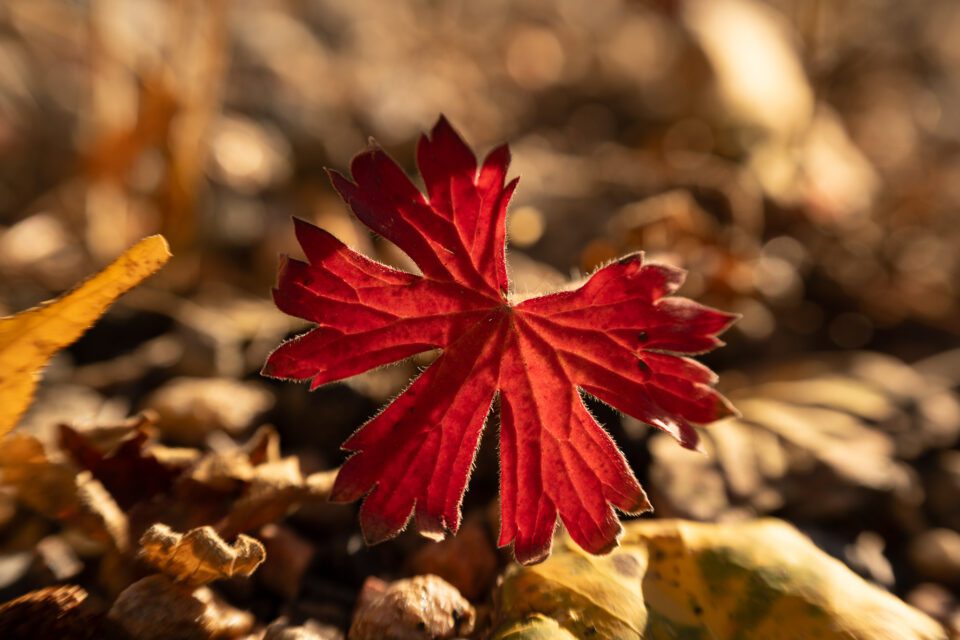 Finally, you can see a bit of a cat's eye shape in the photo below. Cat's eye bokeh doesn't bother me personally, but some photographers don't like it: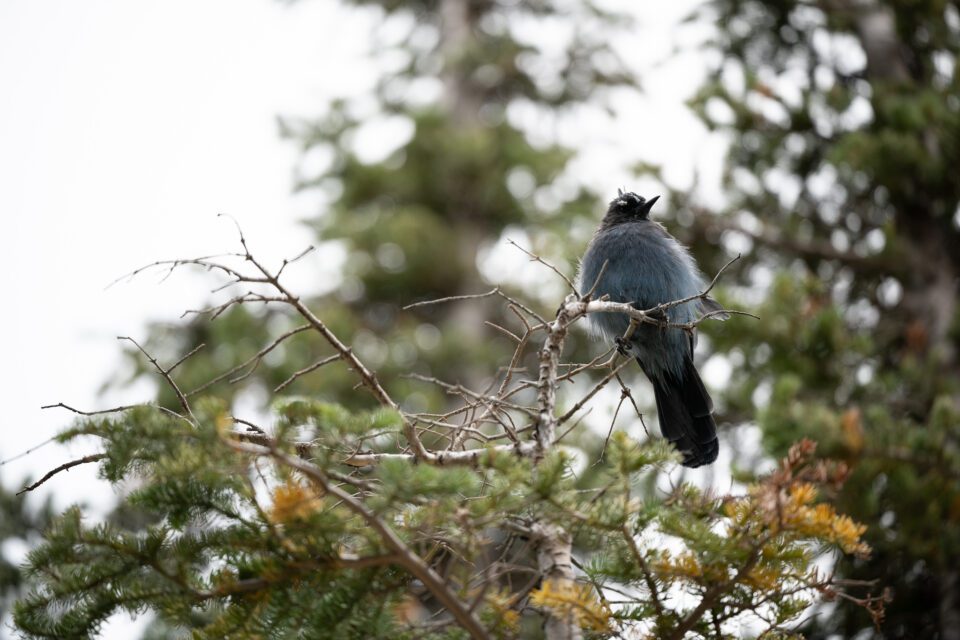 Flare Performance
Telephoto lenses tend to have high levels of flare, but it's somewhat unusual to have the bare sun in your frame with a telephoto in the first place. While the Nikon Z 70-180mm f/2.8 does have reasonably high levels of flare if the bare sun is in the photo, the lens performs well if the sun is outside the frame or is partly obscured. Note the lack of flare in the following image, for example, since the sun is partially blocked by a cloud: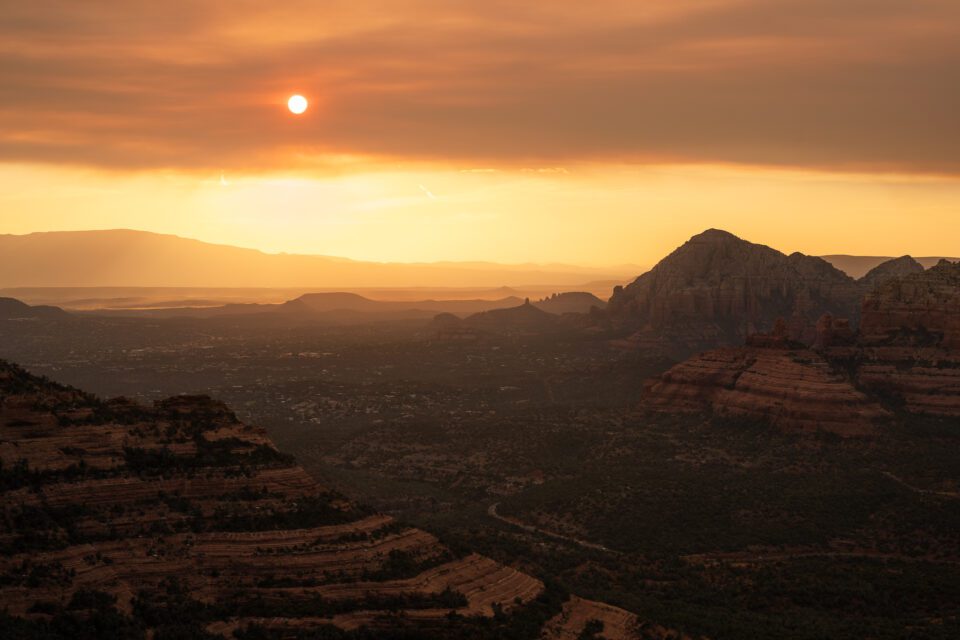 In the following photo, however, the flare is a lot more dramatic, as expected. Why would I even have taken such a photo in the first place if I knew it wouldn't work out? Well, look at the crescent shape of the flare near the sun, and you'll see that this was taken partway through the recent solar eclipse!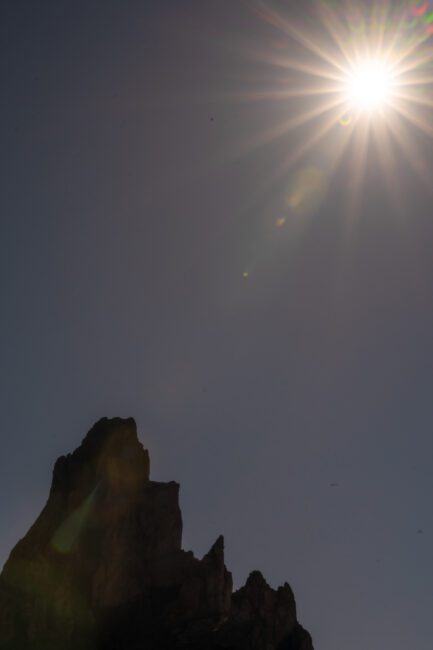 The next page of this review dives into the sharpness numbers a bit more, with some comparisons against other lenses that Nikon users may be considering. So, click the menu below to go to "Lens Comparisons":