Sharpness
The Nikon Z 50mm f/1.8 S is one of the sharpest lenses we have ever tested. In the center at f/1.8, its sharpness is second only to that of the F-mount 28mm f/1.4E, a $2,000 lens. Here is a graph of the lens's sharpness numbers (which will become more meaningful in context on the next page of this review, lens comparisons):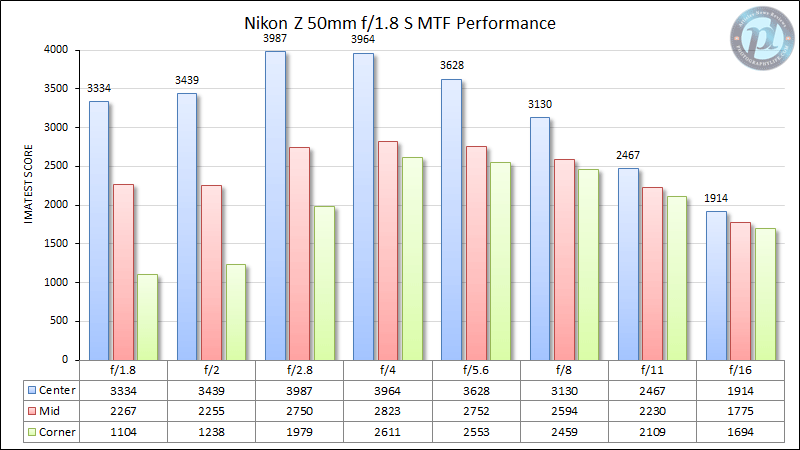 We tested two copies of the 50mm f/1.8 S in the lab, and there was only mild sample variation between them. The chart above is from the first copy, which had slightly better numbers wide open and averaged a bit stronger performance overall.
However, the second copy actually won out in maximum possible sharpness, reaching slightly better results at f/2.8 in the center. Yes, this is sample variation, but it is nothing objectionable. Minor discrepancies like that from copy to copy are perfectly common, and even the most trained eye would have a hard time distinguishing which was which outside of test chart images.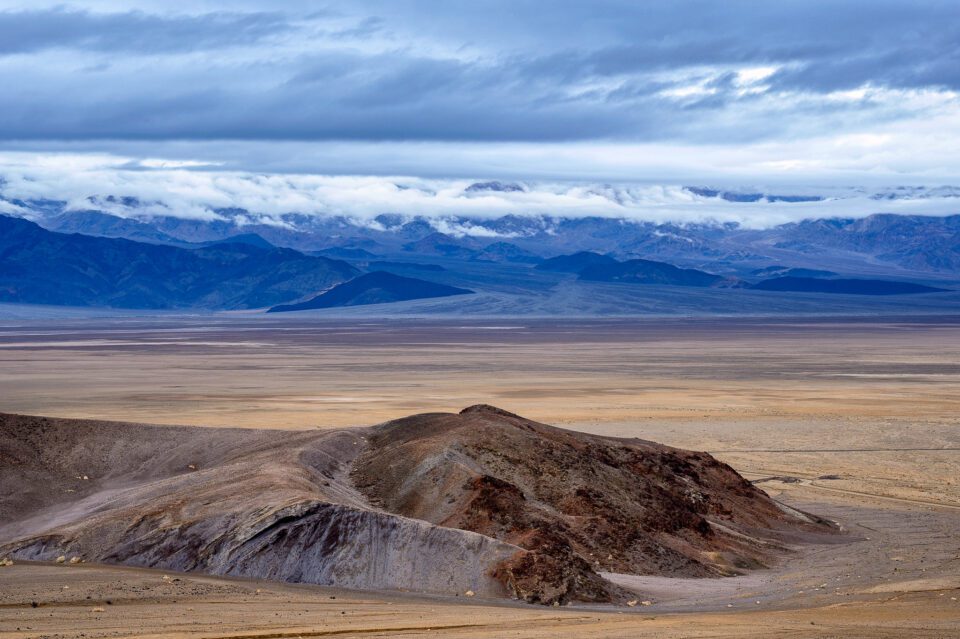 Distortion
Some of the Nikon Z lenses so far, particularly the 24-70mm f/4 and 14-30mm f/4, rely on significant software corrections to eliminate high levels of distortion in the photo. Because Lightroom does not allow photographers to disable the distortion correction, many will not know their lens has so much out of camera, but it is there nonetheless.
The Nikon Z 50mm f/1.8 S does not follow this trend. Instead, it has only minimal levels of barrel distortion, totaling just 0.57%. This is a lot less than what we have previously seen on the Nikon 50mm f/1.8G (0.93%), but definitely worse than on the excellent Sigma 50mm f/1.4 Art that has near zero distortion. So if you do use software that allows you access to the uncorrected image – say, Capture One – you won't see anything crazy when you turn those corrections off.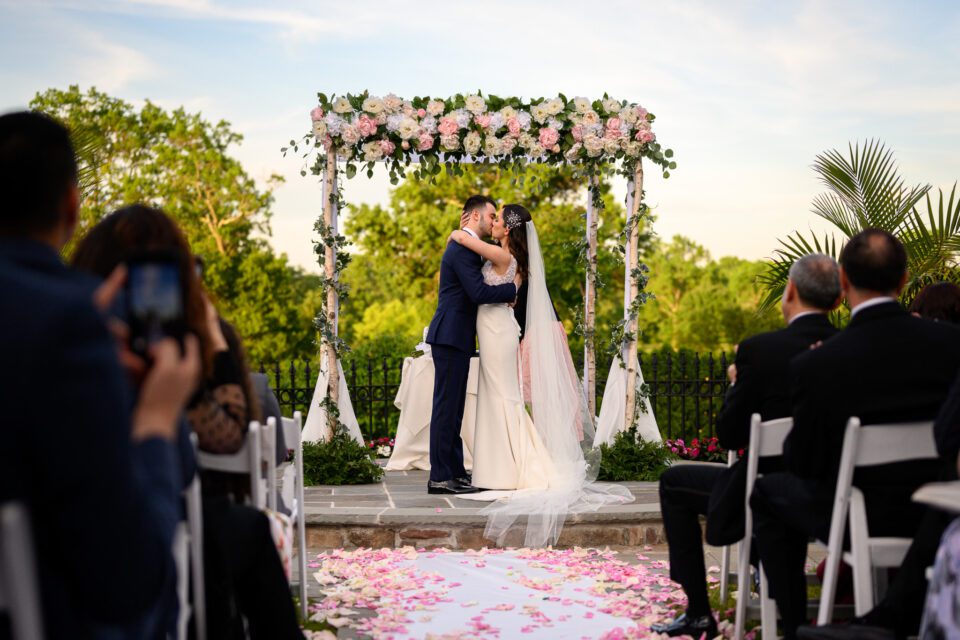 Still, it raises the same question about Lightroom as with other Nikon Z lenses: Shouldn't there be a way to access the undistorted RAW image? This is not really a Nikon issue, but an Adobe one. On some occasions, that extra sliver on the edge may be useful for fixing a composition that is just barely off. Sure, enable distortion correction by default, but Adobe should at least allow photographers a way to see the original image without resorting to entirely different software.
Vignetting
Wide open at f/1.8, vignetting on the Nikon Z 50mm f/1.8 S lens is noticeable but not obtrusive. It maxes out at 1.65 stops at infinity (worst case scenario), which is on par with vignetting seen on both the Nikon 50mm f/1.8G (1.55 stops) and Sigma 50mm f/1.4 Art (1.66 stops). Here's the chart of vignetting performance, with "CF" indicating close focus and "IF" indicating infinity focus: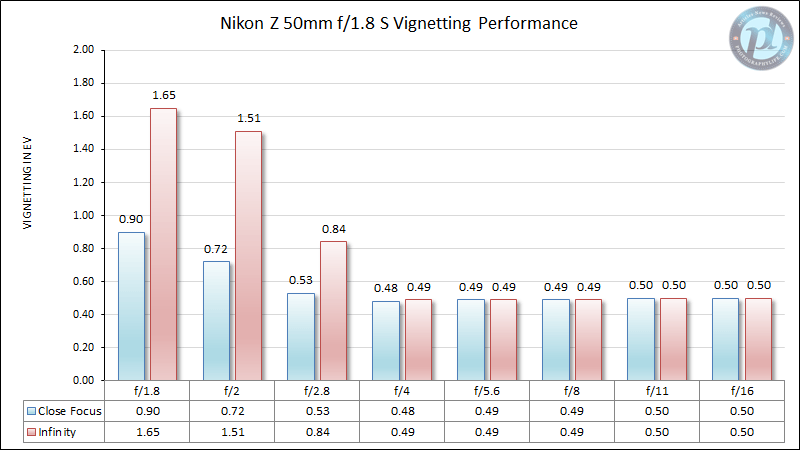 There are no real surprises in these numbers. As an f/1.8 prime, the 50mm f/1.8 S does not face as difficult a task as f/1.4 lenses or wider in terms of vignetting. And its performance, though not remarkable, is certainly respectable. As you can see, vignetting pretty much disappears at f/2.8 and smaller apertures.
Bokeh
Aspherical lens elements often negatively impact the way background highlights are rendered and the Nikon Z 50mm f/1.8 S has two of them. As a result, you will often find "onion rings" inside highlights, which can sometimes appear distracting. In addition, the highlights themselves appear rather defined, which is not a sign of great bokeh.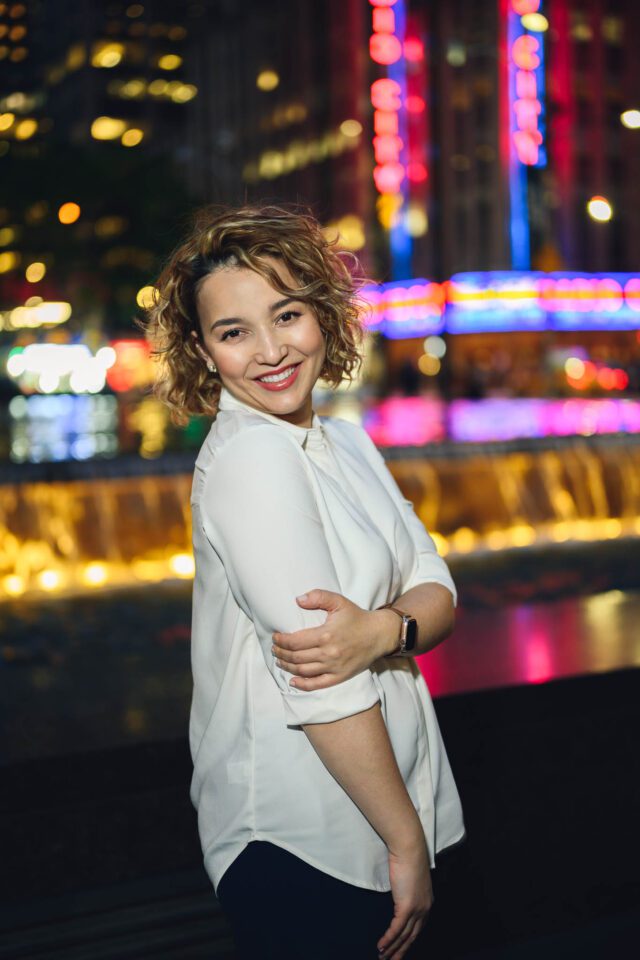 Lastly, any off-center highlights will also appear to have a "cat-eye" effect, which is normal to see on most similar focal length telephoto lenses.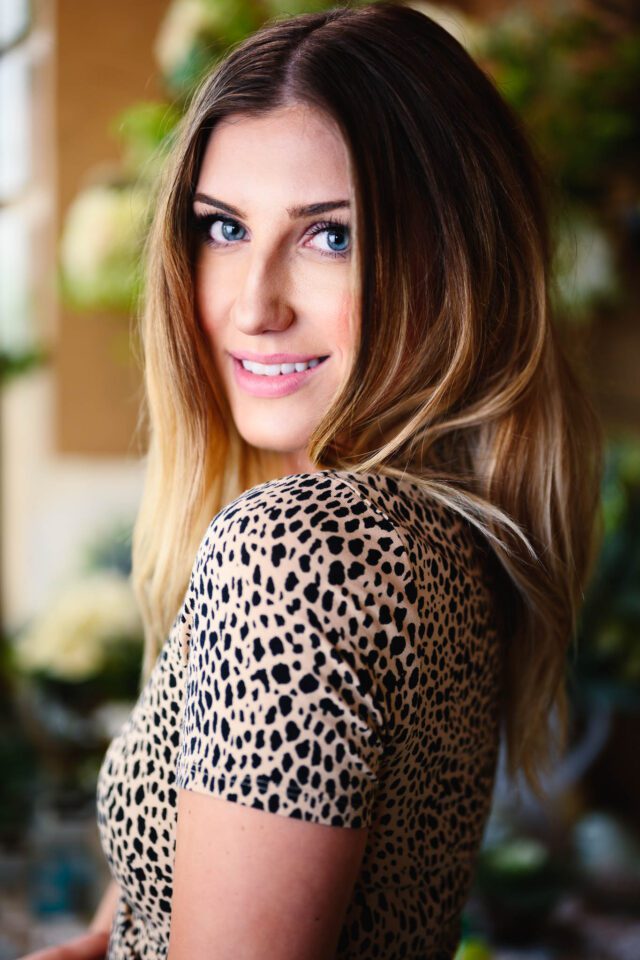 Still, despite all these issues, I personally find the bokeh performance of the 50mm f/1.8 S lens to be pretty decent. The transition areas appear quite good in images when the subject is isolated from the background, as seen in a number of images presented in this review.
Ghosting and Flare
Nikon coated the lens with both Nano and Super Integrated Coating to reduce ghosting and flare. While the petal-shaped lens hood does a great job at reducing the potential for light rays reaching the front element of the lens, even if you do shoot against a very bright source of light, you can expect the lens to perform really well, with very minimal ghosting and flare issues. Here is an image that I captured with the sun directly behind Lola: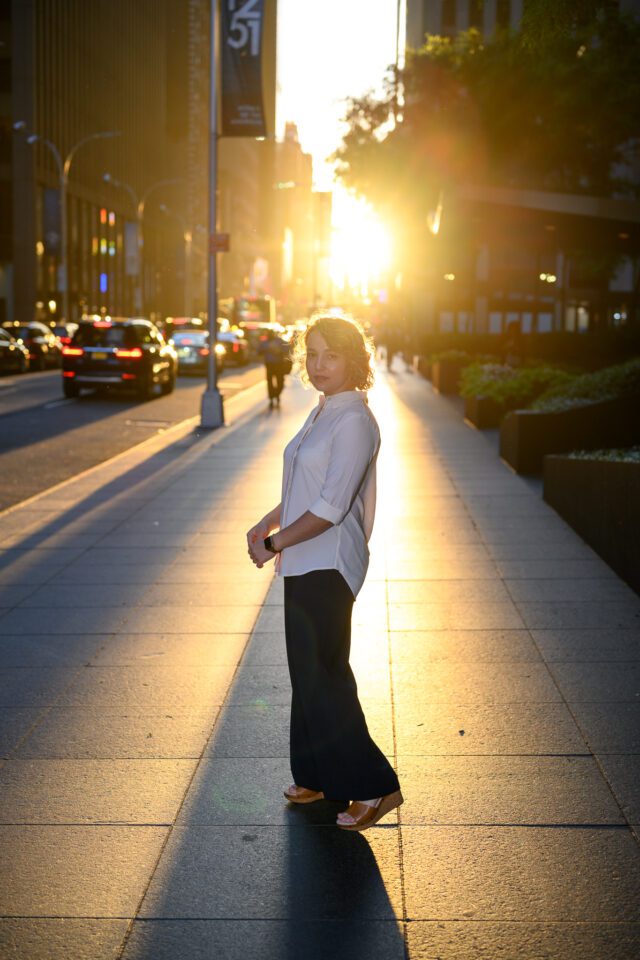 Although it is a rather extreme example, you can see that the amount of ghosting and flare in the image is pretty minimal.
Focus Shift
We found very minimal focus shift with the Nikon Z 50mm f/1.8 S (i.e., focus changing when aperture is adjusted). This is a welcome sight for a 50mm f/1.8, given that wide-aperture primes and zooms are the most likely lenses to be affected by focus shift.
Focus Breathing
Nikon claims to have designed the 50mm f/1.8 S to have minimal focus breathing – in other words, the magnification of an image changing upon focusing. This is more of an issue for video shooters than still photographers, except in the most extreme of cases, but a lot of Z-series users are videographers as well.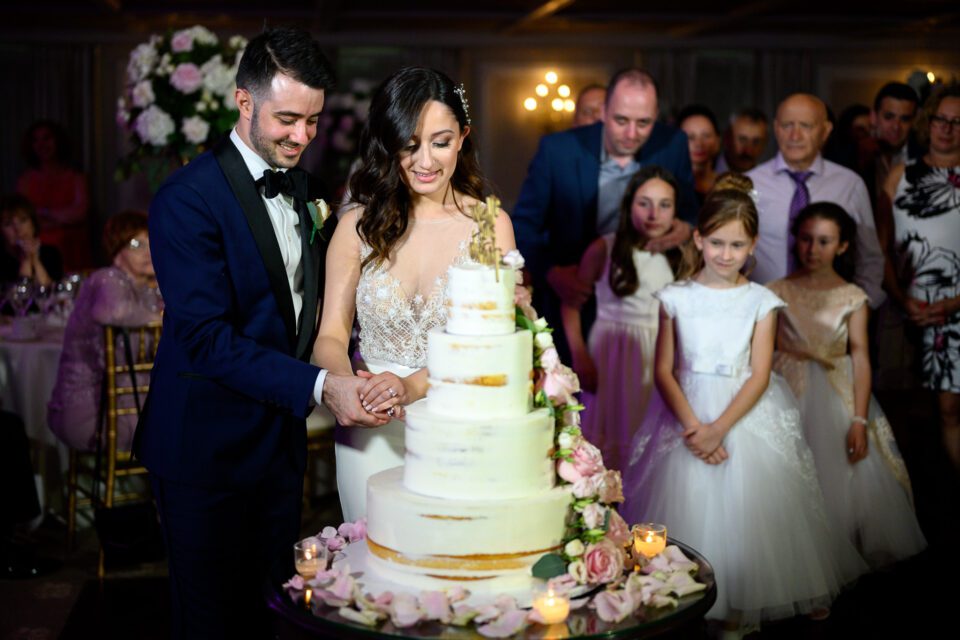 In that sense, the 50mm f/1.8 Z lives up to Nikon's claims. We saw practically no focus breathing whatsoever in our tests of this lens.
Focusing
The story on focusing the Nikon Z 50mm f/1.8 S is the same as the other Z lenses so far – which is to say, class-leading in autofocus performance, while ergonomically awkward for manual focus.
The good news, first, is that the 50mm f/1.8 S autofocus quickly, quietly, and accurately. We've said before that the Z lenses are groundbreaking in how accurate and precise their autofocusing is, and that remains true here. Although we still manually focus lenses for our sharpness tests at Photography Life (bracketing focus by millimeters at a time to capture the best possible result), that's pretty much overkill now. The Z lenses – all of them so far – are just as accurate with autofocus nearly every time.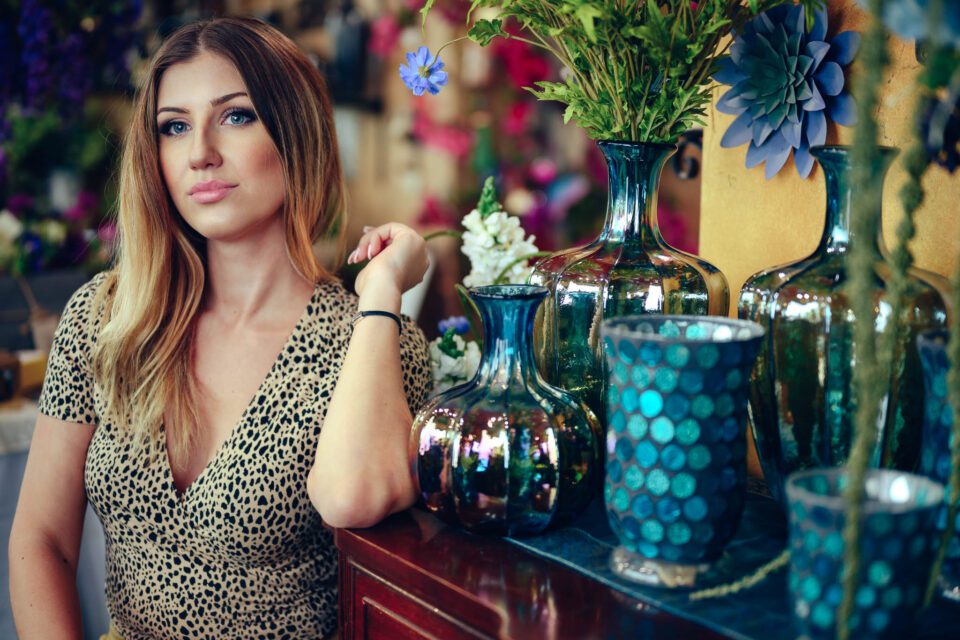 The story with manual focus is not quite as rosy. The 50mm's focus-by-wire motor means that manual focus is not a mechanical process, but an electronic one. If the camera is turned off, spinning the focus ring will not change focus. The same is true of spinning the focus ring very slowly, while spinning the focus ring quickly – even without much rotation – will quickly rack focus from one extreme to the other.
Most worrying of all is that the Nikon Z lenses do not save your focus position when you turn off and on the camera. Instead, when the camera is turned on, focus always reverts back to roughly infinity. The 50mm f/1.8 S is no exception here. The workaround is to avoid turning your camera off and instead let it "time out" and fall asleep. But there's no reason such a workaround should be necessary in the first place.