Lens Sharpness, Contrast and Color Rendition
As we have seen so far from every Z-mount prime lens, Nikon has done an incredible job making each lens perform at the highest levels of sharpness and contrast, with very little sample variation. The Nikon Z 20mm f/1.8 S follows the same pattern, with superb overall performance. Take a look at the below Imatest MTF sharpness measurements: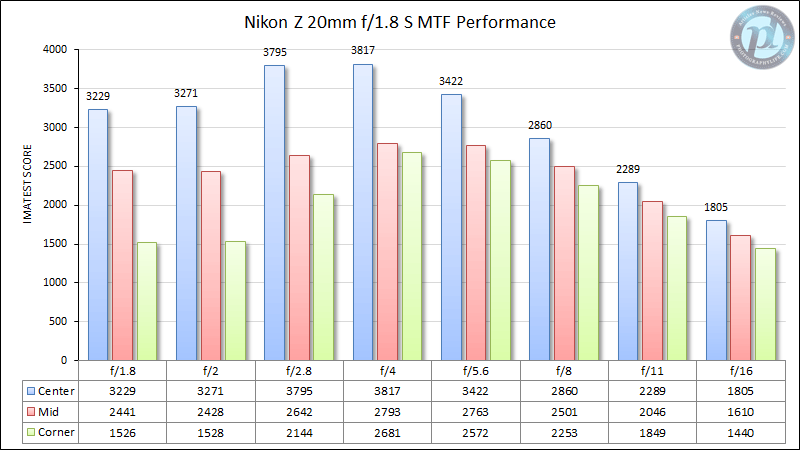 As you can see, the Nikon Z 20mm f/1.8 S is incredibly sharp in the center frame, even at the widest aperture. In fact, if you compare these numbers at f/1.8 to many F-mount primes, you will discover that most of those lenses cannot even yield such sharpness when stopped down! The corners start out a bit weaker, but still quite good. As you stop the lens down to f/2.8, the lens gets significantly sharper in the center. And if you want sharp corners, just stop it down to f/4, which is the sweet spot of the Z 20mm f/1.8 S. Stopping it down beyond f/4 should only be done to increase the depth of field – there is no sharpness advantage, since diffraction kicks in and affects overall sharpness.
Of course, the above results are not particularly meaningful without comparisons to other lenses, so make sure to check out the next page of this review.
Field curvature is only visible at very wide apertures between f/1.8 and f/2, and it is very mild in nature.
As expected from all modern Nikon Z prime lens, the Z 20mm f/1.8 S has superb contrast and color output.
Focus Shift
When it comes to focus shift (change in focus when adjusting aperture), there is very little of it on the Nikon Z 20mm f/1.8 S when stopping down from f/1.8 to f/4. Take a look at the below image that compares focus shift from f/1.8 to f/4: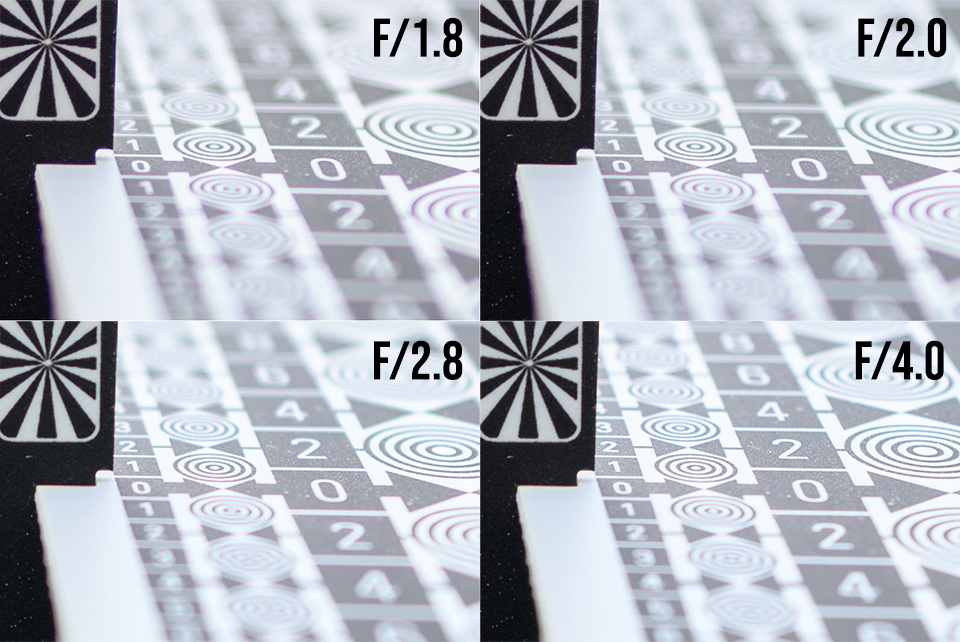 Note that the focus was above zero position of the angled chart (close to the white line above zero). That's why number two is more blurred on the bottom vs the top. As you can see, the focus plane didn't move significantly forward or backward as I stopped down. I had to move the angled chart very close to the lens to be able to see focus shift, so it is really not an issue when shooting in the field unless your subject is extremely close. And even then, simply choosing the desired aperture before focusing takes care of focus shift on the Nikon Z system anyway, so it is not that big of an issue.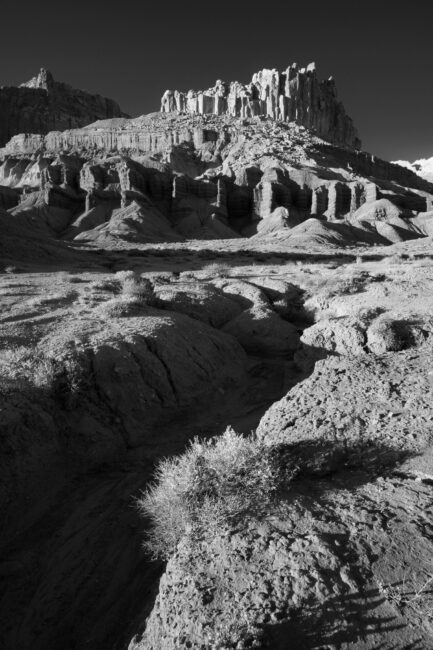 Focus Breathing and Close Focusing
Similar to other S-series lenses, the Nikon Z 20mm f/1.8 S has very little focus breathing to worry about. When doing focus stacking, you don't need to worry about changes in your framing, which is great.
The minimum focusing distance of the Nikon Z 20mm f/1.8 S is only 0.2 meters (identical to the F-mount 20mm f/1.8G), which is great. This means you can get really close to your subjects and nicely blur the background, as shown in the below image: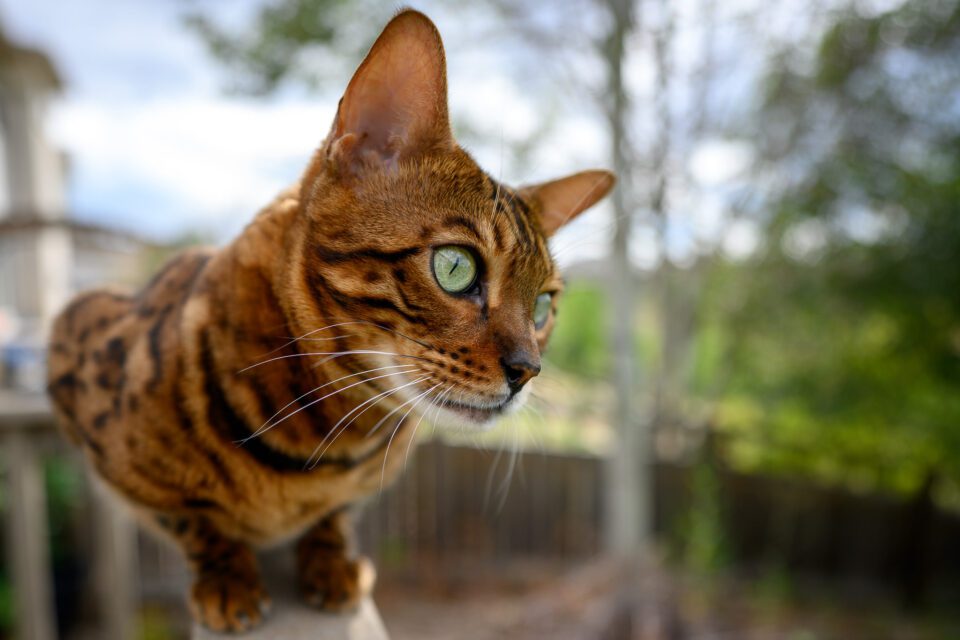 In-Body Image Stabilization Compatibility
Nikon didn't equip the Z 20m f/1.8 S with optical vibration reduction, since it doesn't really need it (it would only make the lens bigger and heavier). With Nikon Z bodies having in-body image stabilization (IBIS), you can take full advantage of five axes of stabilization (pitch, yaw, roll, X, and Y movements), which works really well when hand-holding the lens in low-light environments. You should be able to get up to five stops of image stabilization. With careful technique, you can get anywhere from 4-6 stops of improvement compared to the standard "1 / focal length" reciprocal rule.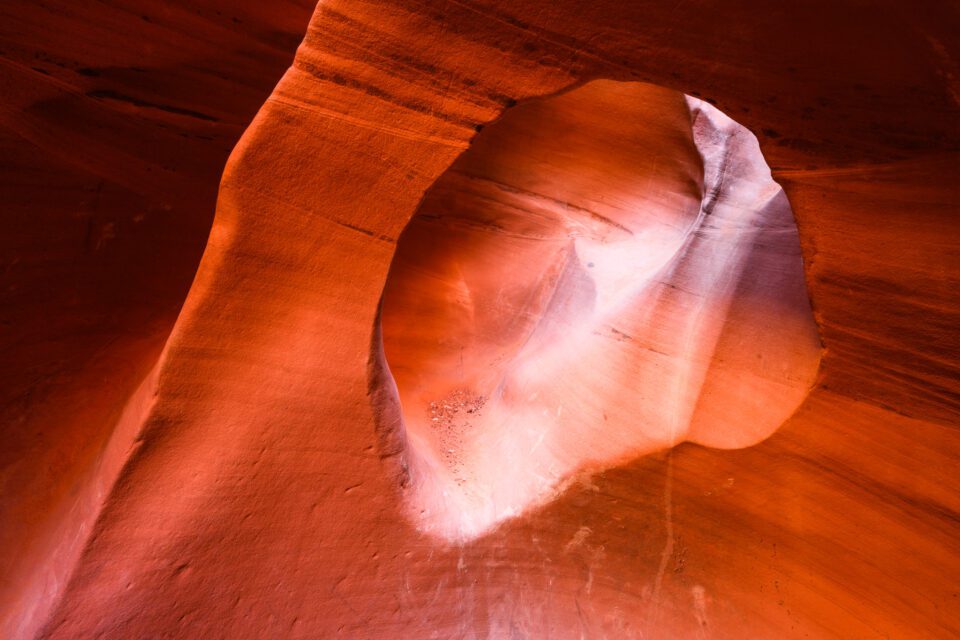 Vignetting
The Nikon Z 20mm f/1.8 S definitely shows quite a bit of vignetting, especially at large apertures. Take a look at the below chart: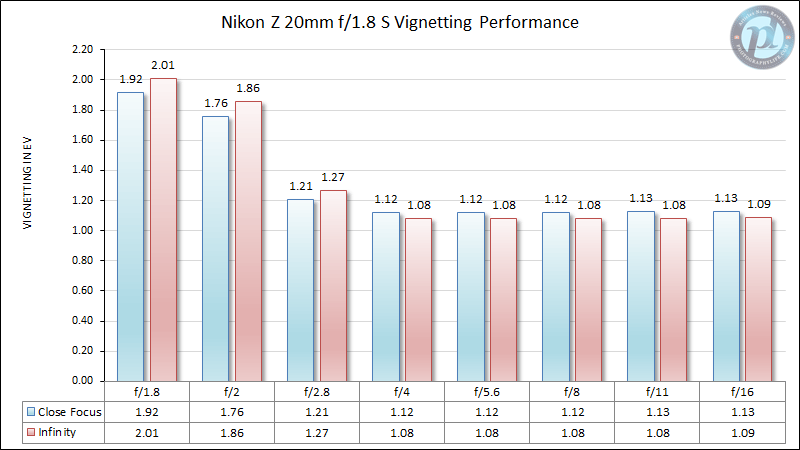 As you can see, vignetting is a little under 2 stops at close focus distance and right around two stops at infinity. Stopping the lens down to f/2 doesn't do much, but if you stop it down to f/2.8, vignetting goes down significantly. Unfortunately, it stays at around the 1 stop mark even beyond f/4. Not a big deal for me personally, since it is easy to fix in post.
How does this compare to the vignetting performance of the Nikon 20mm f/1.8G? The difference is actually quite drastic. The Nikon 20mm f/1.8G shows over 2 stops of vignetting at close focus, and over 3 stops when focused at infinity. So the Z-mount version is significantly better in comparison.
Keep in mind that all tests were done converting RAW files using dcraw. If you use Lightroom or other similar software, you might not see any signs of aberrations, since specific corrections such as vignetting and distortion will be automatically loaded.
Here is the worst-case scenario of vignetting at f/1.8, infinity focus, as illustrated by Imatest: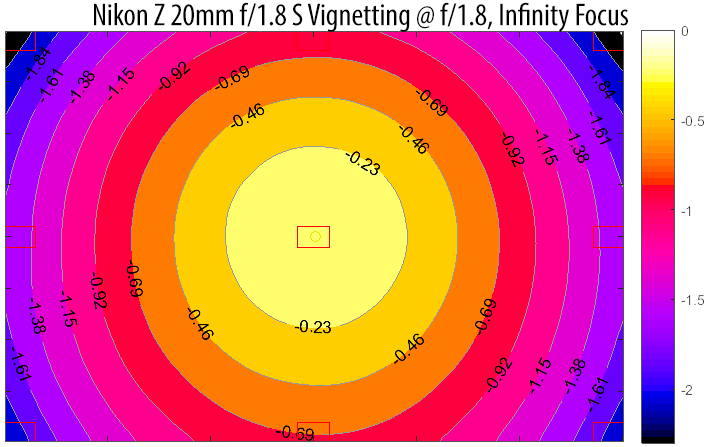 Using filters with the lens is not a problem – you will not see any additional vignetting issues as a result of filter use. Personally, I use slim filters with all of my lenses to avoid adding vignetting to my images.
Distortion
Lens distortion is certainly there, as expected from an ultra-wide angle lens. Imatest measured 1.94% barrel distortion, which is more than what the Nikon 20mm f/1.8G produces (around 1.06%). If you use Lightroom, it will automatically apply distortion correction to your images, so that you don't have to worry about fixing it. If you shoot a lot of straight lines and you use post-processing software other than Lightroom and Photoshop, then you might need to take care of it manually.
Chromatic Aberration
Lateral chromatic aberration is also controlled quite well, way below the levels of its Nikon F counterpart. Imatest measured between 0.73 to 0.85 pixels of CA, as can be seen from the below chart: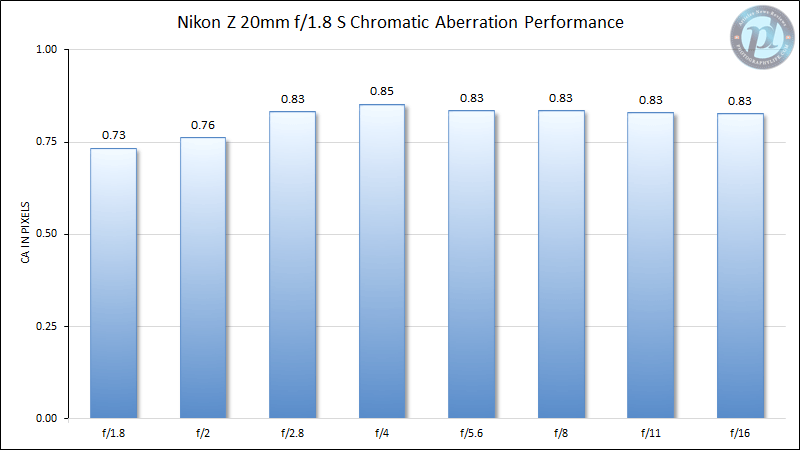 Longitudinal chromatic aberration (color fringing in out-of-focus regions) is present at large apertures from f/1.8 to f/4 but disappears at smaller apertures. Here is how it looks at f/1.8: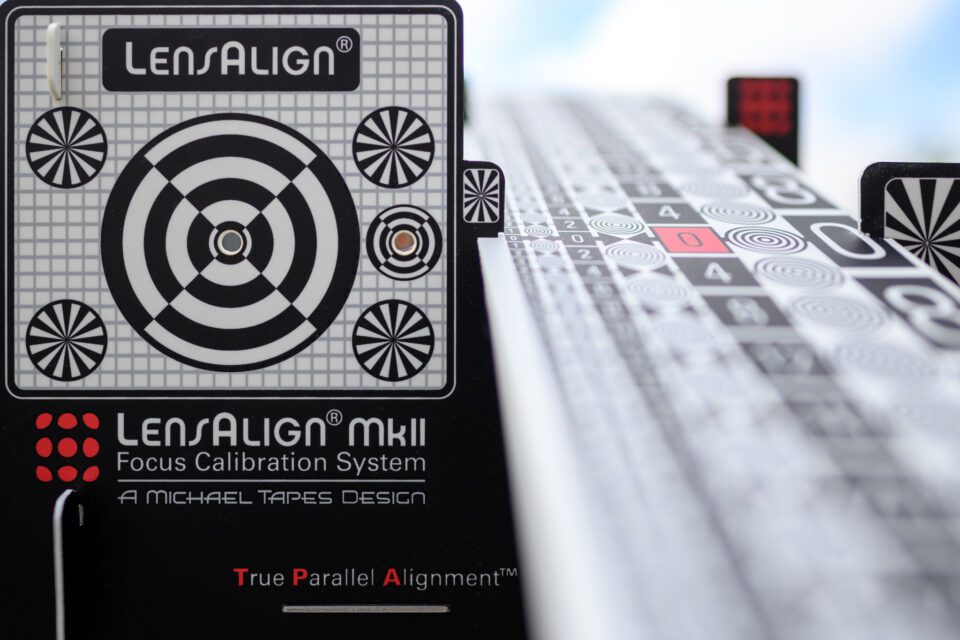 Note the slightly greener colors in the background, vs purple colors in the front of the focus plane.
Bokeh
As you may already know, ultra-wide angle lenses like the Nikon Z 20mm f/1.8 S are not really designed to yield pleasing bokeh, especially with so many aspherical lens elements. Aspherical lens elements often result in busy highlights, defined shapes, and onion-shaped bokeh. So even though you can photograph subjects at close distances at maximum aperture, do not expect to see beautiful specular highlights. Despite all this, I personally found the Nikon Z 20mm f/1.8 S to be fairly good in terms of bokeh performance when shooting subjects at extremely close distances.
For example, take a look at the below image: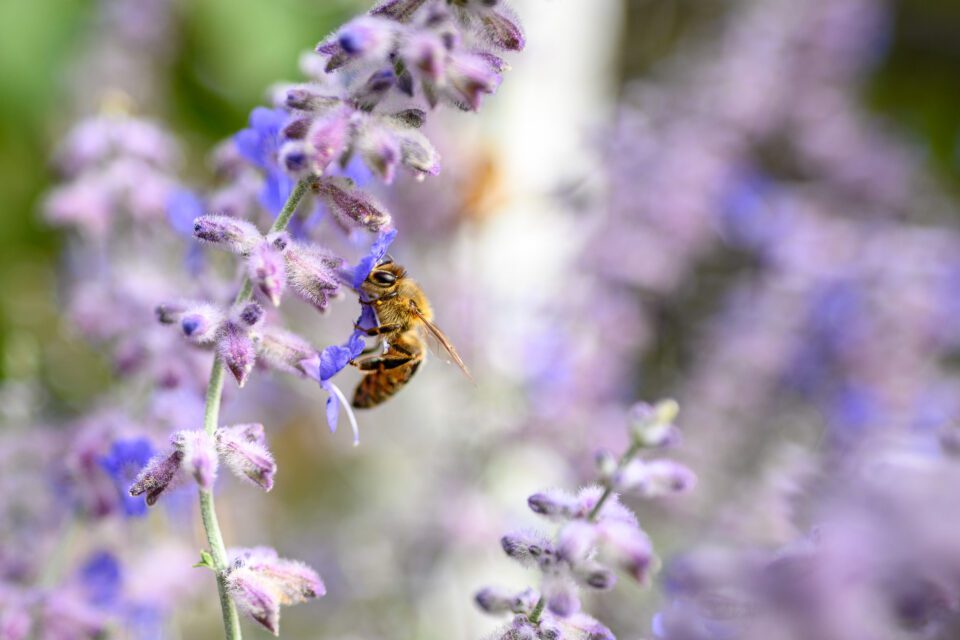 As always, bokeh is in the eye of the beholder.
Ghosting and Flare
Ghosting and flare can become a real issue when shooting against bright sources of light. Some lenses have excessive internal reflections that appear in photos as ugly blobs. Other lenses will drastically lose contrast in what is known as "veiling flare". Based on our field experience, the Nikon Z 20mm f/1.8 S exhibits very little ghosting and flare with the sun in the frame, as can be seen below: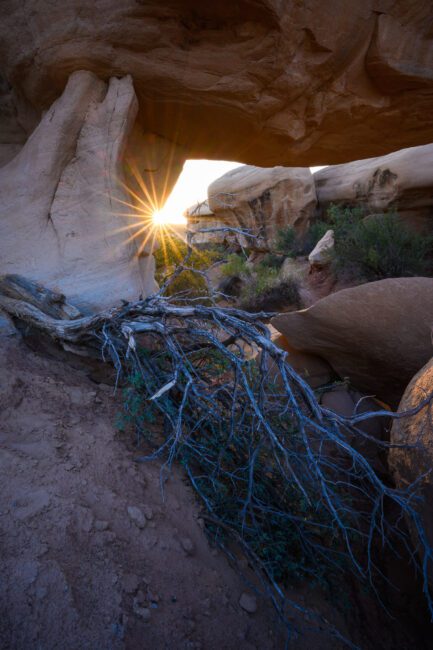 Keep in mind that the angle of light and the position of the sun in the frame can certainly impact the way lenses handle ghosting and flare, but in the case of the Z 20mm f/1.8 S, it seems like the lens is protected well against any kind of flare, thanks to its excellent Nano and Super Integrated coats.
Starburst Performance
As you can clearly see from the image above, the Nikon Z 20mm f/1.8 S produces 18-point starbursts / sunstars due to its 9-blade rounded aperture when shooting a small and bright source of light. With the sun partially blocked by the rock, stopping the lens down to f/16 produced a beautiful starburst effect.
Coma
One of the biggest concerns I personally had when this lens was released was with the lens coma. With most ultra-wide angle lenses showing very pronounced field curvature and astigmatism, corner highlights often take very odd shapes, looking like a plus sign, a crossed banana, a butterfly, or just a big ugly blob. Here is how the Nikon Z 20mm f/1.8 S renders highlights in the extreme corners of the frame: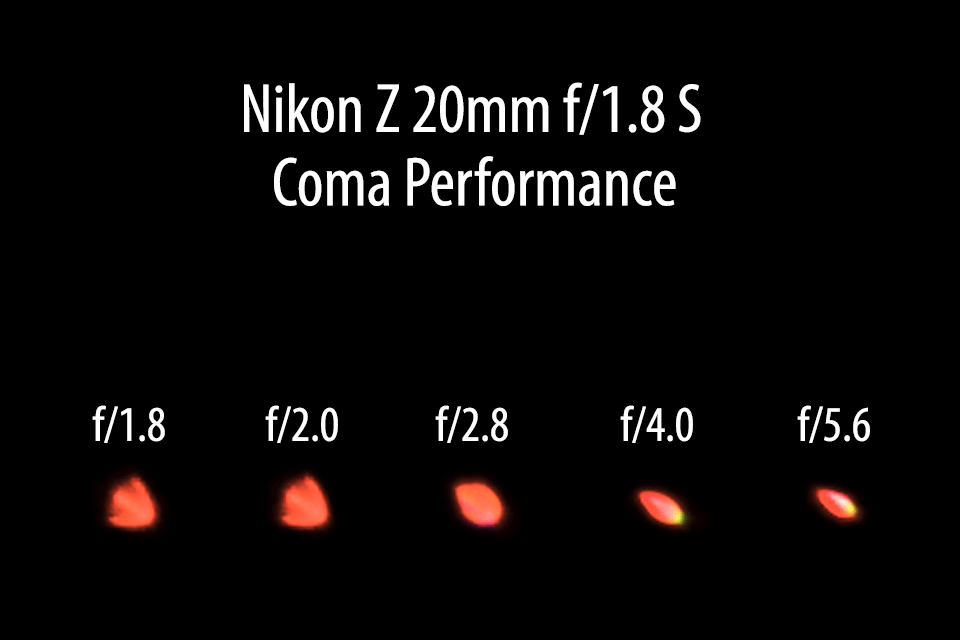 I focused on a spot that was about 5 meters away in the center of the frame, then took pictures at different apertures. Although I did not end up with round dots, these shapes actually look quite good! Keep in mind that these highlights were cropped from the very edges of the frame, then enlarged by 400% to make them look large enough. To me, the coma performance of the Nikon Z 20mm f/1.8 S is better than any other ultra-wide angle lens I have tested so far.
And here is even better news – if you want to get these highlights looking like real dots (yes, it is possible!), slightly de-focus the center frame and focus closer to the edges. The lens is super sharp in the center anyway, so a very slight shift of focus towards the edges should not hurt anything. When I focused on the edges of the frame, the above shapes were all gone, rendering spots that looked quite round.
So how would you do this in the field while shooting at night? Put a pretty bright star at the edge of the frame, focus on it, then turn off autofocus. Take a picture, and if it looks good both in the corners and the center, you are all set. If the center looks too blurry, you went a bit too far – move the star a bit away from the edges towards the center and try again. I tried this out at night and it really works!
On the next page of the review, we will take a look at how the Nikon Z 20mm f/1.8 S compares to other lenses in sharpness.