I've been shooting with the Nikon Z 100-400mm f/4.5-5.6 VR S for just over a year, and I've finally completed all of the extensive lab testing necessary to publish a full review (including testing both TCs). This lens is large, heavy, and optically excellent – built to Nikon's highest standards, with a $2700 price to match. Here's how it measures up.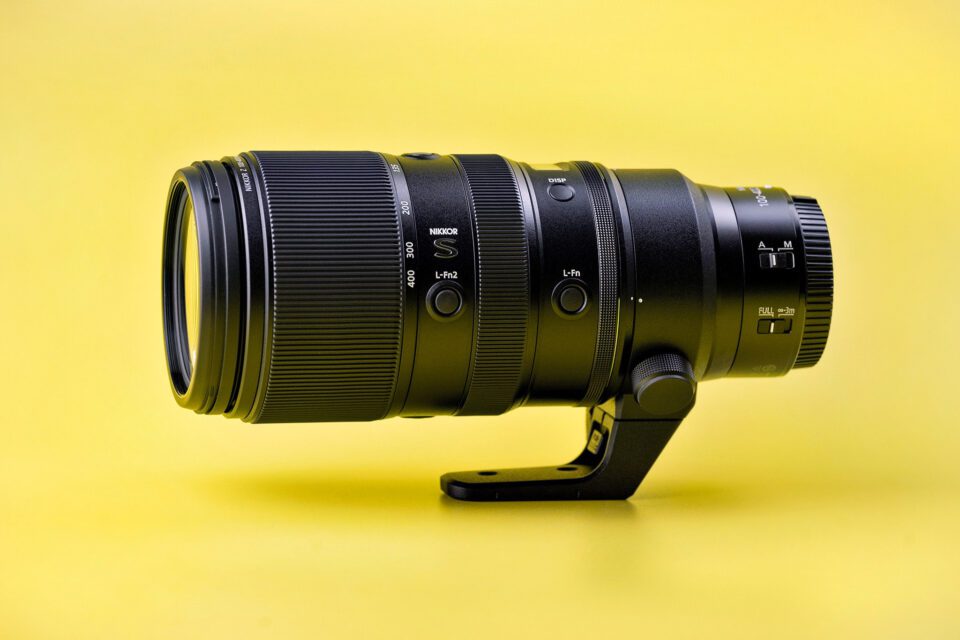 To give away some of the results, the Nikon Z 100-400mm f/4.5-5.6 S is an excellent lens with very strong optics across the board. Few lenses have such a useful combination of build quality, image quality, and focal length, making this lens one of the best telephotos for Nikon mirrorless shooters today.
That said, Nikon is starting to have a lot of telephoto and supertelephoto options for the Z system, so even a high-performance lens like this may not be the right choice for you. I'll do my best to present the pros and cons of the Nikon Z 100-400mm f/4.5-5.6 S in an objective manner so you can decide if it's a lens you should add to your bag, or if there are alternatives that make more sense to your photography.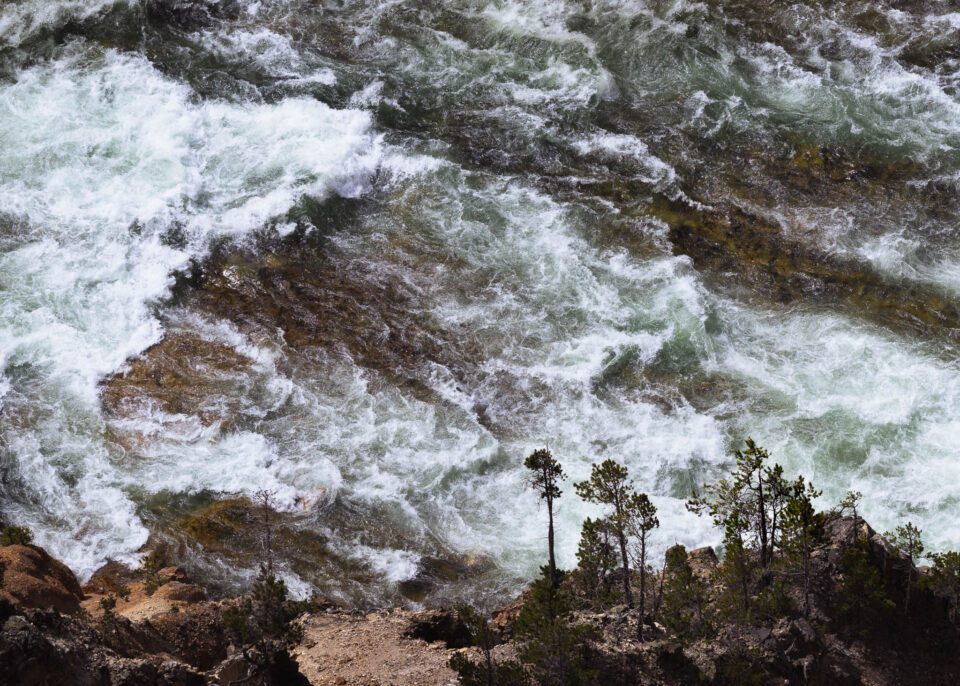 Nikon Z 100-400mm f/4.5-5.6 VR S Specifications
Mount Type: Nikon Z Mount
Focal Length: 100-400mm (4x zoom)
Angle of View (DX): 16° to 4°
Angle of View (FX): 24°20′ to 6°10′
Maximum Aperture: f/4.5 at 100mm, f/5.6 at 400mm
Minimum Aperture: f/32 at 100mm, f/40 at 400mm
Aperture Blades: 9, rounded
Filter Size: 77mm
Lens Elements: 25
Lens Groups: 20
Special Elements: 6 ED glass, 2 Super ED glass
ARNEO Coating: Yes
Nano Crystal Coating: Yes
Fluorine Coated Front Element: Yes
Electronic Diaphragm: Yes
Vibration Reduction: Yes
Internal Focusing: Yes
Control Rings: Two (one custom, one for manual focus)
Function Buttons: Yes, Fn1 and Fn2
Focus Motor: Stepping motor
Minimum Focus Distance: 0.75 meters (2.46 feet) at 100mm; 0.98 meters (3.22 feet) at 400mm
Maximum Magnification: 0.38× (1:2.6)
Mount Material: Metal
Weather/Dust Sealing: Yes
Dimensions (Length × Diameter): 222 × 98 mm / 8.8 × 3.9 inches
Weight: 1435 g / 3.16 lbs (with tripod collar); 1355 g / 3.00 lbs (without tripod collar)
Price at Launch: $2700 (check current price and availability)
These are some high-end specifications, and I'll draw your attention to a few points in particular. First, the lens has one of Nikon's most complex lens designs ever, with 25 elements in 20 groups. There are surprisingly no aspherical elements, but extensive coatings and 8 ED / Super ED glass elements suggest good performance and flare resistance overall.
The close focusing distance is also impressive. With a maximum magnification of 0.38× (1:2.6), you're getting very close to macro territory with this lens. Small wildlife subjects like lizards or hummingbirds will be no trouble at all.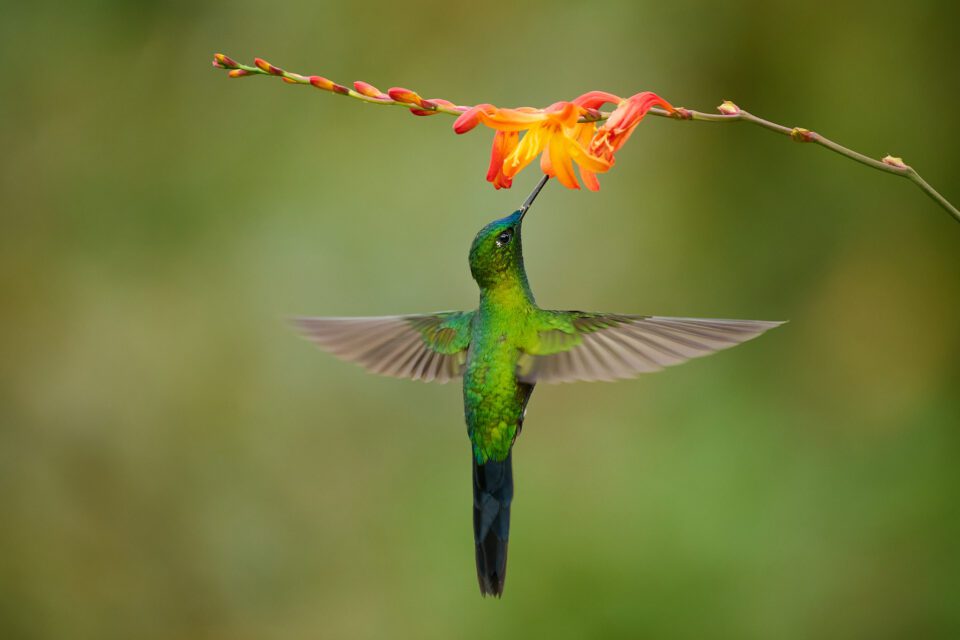 Despite the impressive specs, it's important to keep the lens's size and weight in mind. At 1435 grams and 22.2 cm long (3.16 lbs and 8.8 inches respectively), you're dealing with a big piece of glass. If you jumped to mirrorless in an effort to get a more portable camera system, this may not be the lens for you. For context, it's essentially identical in size and weight to the Nikon Z 70-200mm f/2.8 VR S.
Here's the official lens construction diagram: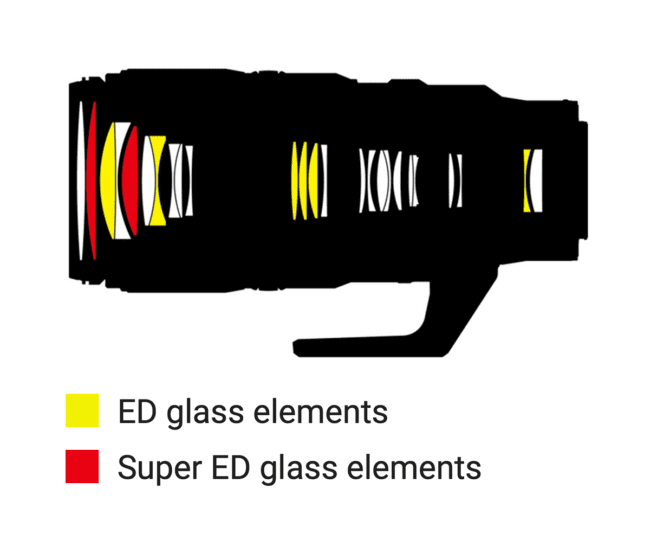 Build Quality
The Nikon Z 100-400mm f/4.5-5.6 S is a large and heavy lens, with excellent build quality. The zoom ring is smooth and has just the right amount of resistance. The front element is fluorine-coated, which is useful for repelling dust and water. Most of the lens barrel is made of high-quality plastics, while the rear of the lens has Nikon's usual water-sealing gasket and metal lens mount.
As with most 100-400mm type lenses, the Nikon Z 100-400mm f/4.5-5.6 S steadily extends when zoomed. The front barrel is a single-telescoping design, and it does not have any wobble whatsoever even when at 400mm. I still prefer internally zooming lenses when working in sandy, dusty environments, however.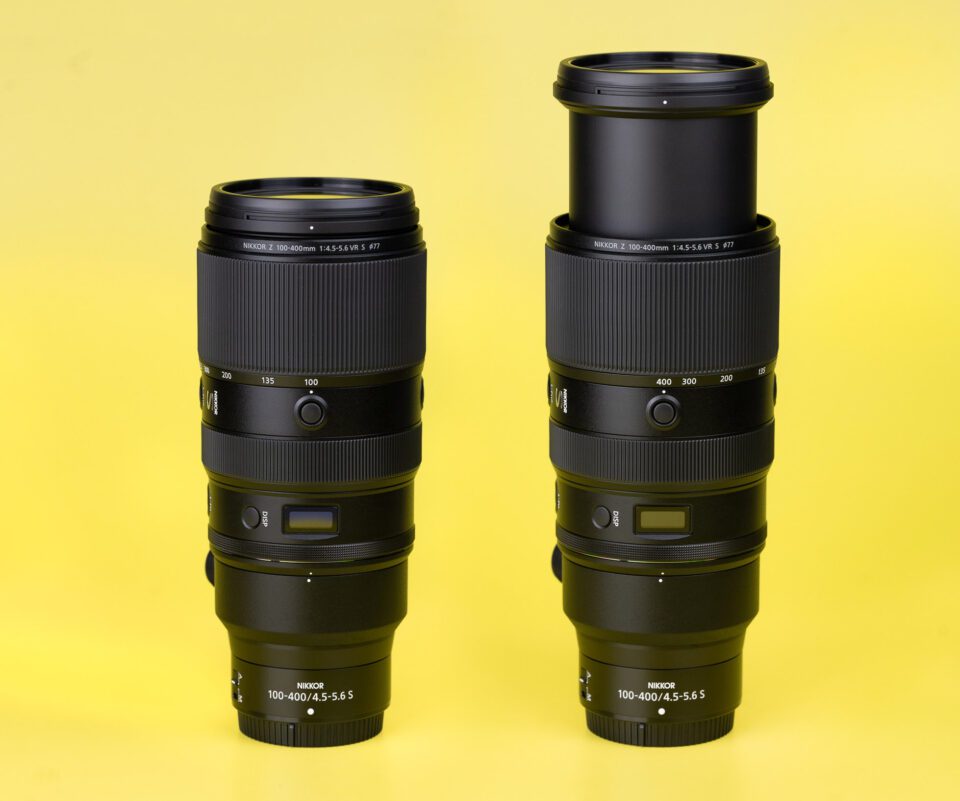 As for the rest of the build quality features, the Nikon Z 100-400mm f/4.5-5.6 VR S has a useful 77mm-sized filter thread, same as the Nikon Z 20mm f/1.8, 24-120mm f/4 S and 70-200mm f/2.8 VR S lenses. The lens hood is a relatively large petal-type hood. It moves along with the front barrel of the lens as you zoom in. You can see in the photo below that it adds considerable length to the 100-400mm f/4.5-5.6, so you may want to remove or reverse the lens hood when traveling.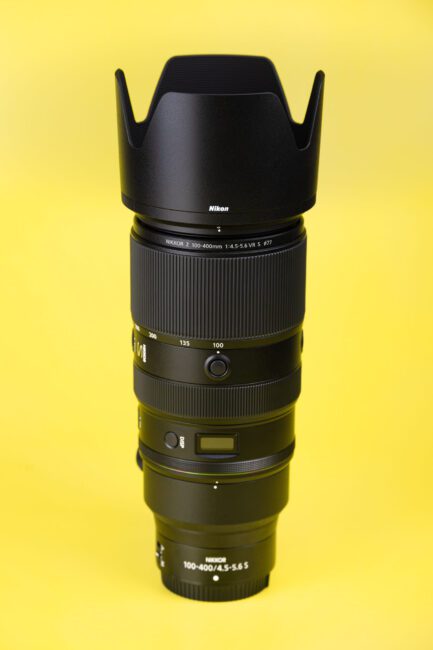 In terms of weather sealing, I didn't experience a single problem with any of the five copies of the 100-400mm f/4.5-5.6 S that I tested in the field over the past year, from rainy downpours to windy desert sand dunes. Although dust and sand would sometimes land on the extended barrel, the seals must be pretty tight. I never found that sand or grit got into the zoom mechanism and tightened the zoom ring's resistance.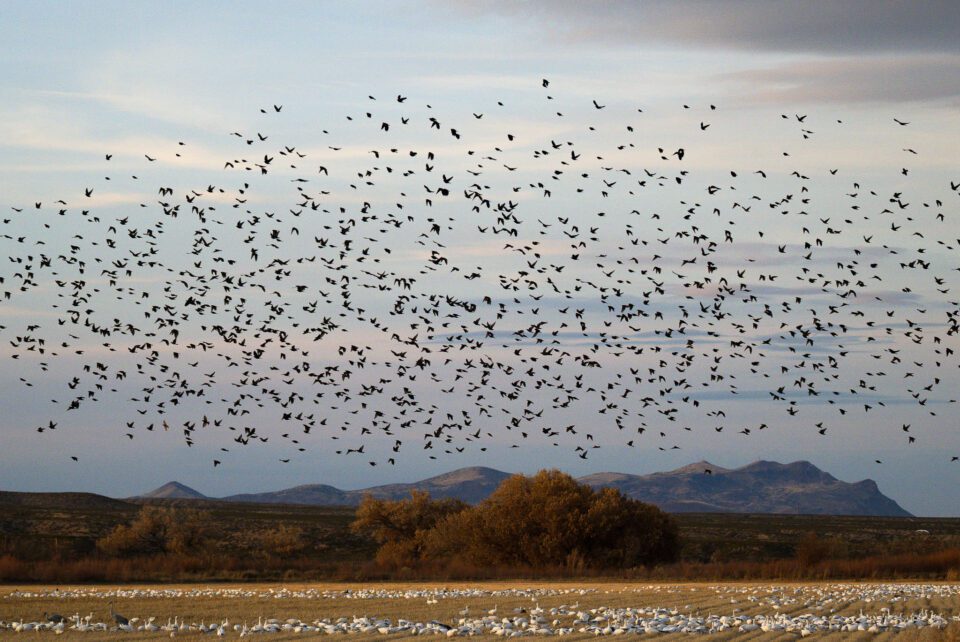 All in all, the build quality of the Nikon Z 100-400mm f/4.5-5.6 S is best in class. I still wish it had been an internally zooming lens like the Nikon Z 70-200mm f/2.8 VR S, but I admit that the external zoom hasn't caused any issues in my extensive field testing.
Now let's cover the lens's handling features.
Handling
The Nikon Z 100-400mm f/4.5-5.6 VR S handles extremely well, and it sports most of Nikon's high-end design features. There are two control rings, two custom function buttons (Fn2 is in four places around the front of the lens), an EL display, a focus limiting switch, and the usual A-M switch for autofocus/manual focus. The focus limiter has a range of 3 meters (about 10 feet) to infinity focus. When you switch the focus limiter to "Full," the minimum focusing distance of the lens is a mere 0.75 meters (2.46 feet) at 100mm and 0.98 meters (3.22 feet) at 400mm.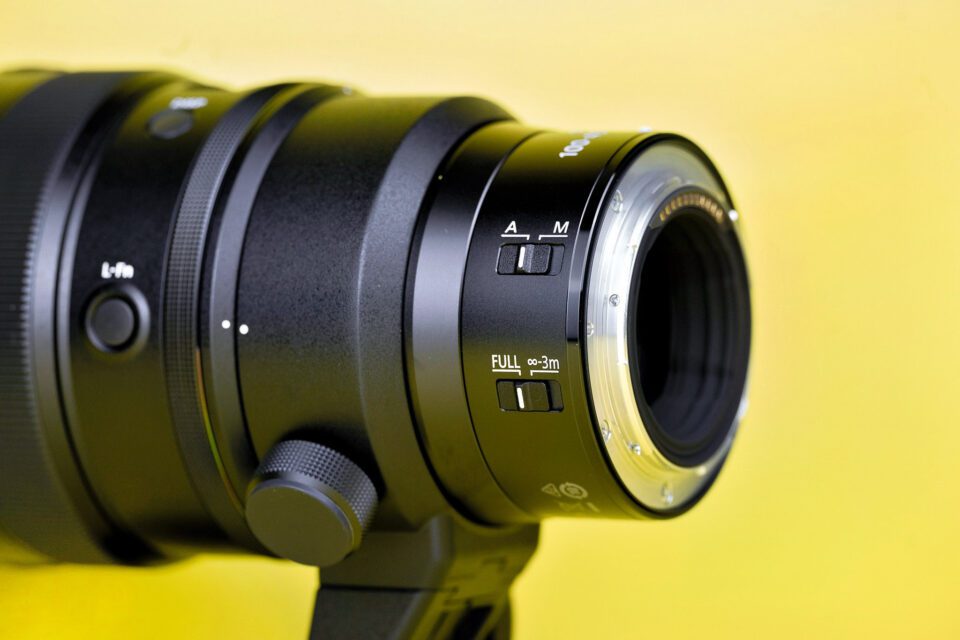 One common complaint with Nikon lenses is that their tripod collars are not Arca-Swiss compatible. This means you either need to add an Arca-Swiss plate to the bottom of the tripod foot, or alternatively replace the foot entirely, if you intend to attach the lens to Arca-Swiss style tripod heads. Likewise, the rotating tripod collar does not have a "click" in place at the centered/zeroed position, so you need to align the two white dots to ensure that your lens is not angled slightly from left to right. Although these two issues make it slightly more annoying to use the 100-400mm f/4.5-5.6 S on a tripod, it's not a big deal, and it's no different from other Nikon Z telephoto lenses.
Other than the tripod collar, the Nikon Z 100-400mm f/4.5-5.6 VR S handles perfectly. It's a very quick and intuitive lens to use. The two function buttons and control rings are in useful places, although some photographers may have wished that the focusing ring would be in front of the zoom ring rather than vice-versa.
Something I found interesting about the Nikon Z 100-400mm f/4.5-5.6's handling is that the front of the lens has a rubber ring around it. When you place the lens face-down on a table without the front lens cap, it can't slip around – a small touch, but one that I appreciated when changing lenses indoors.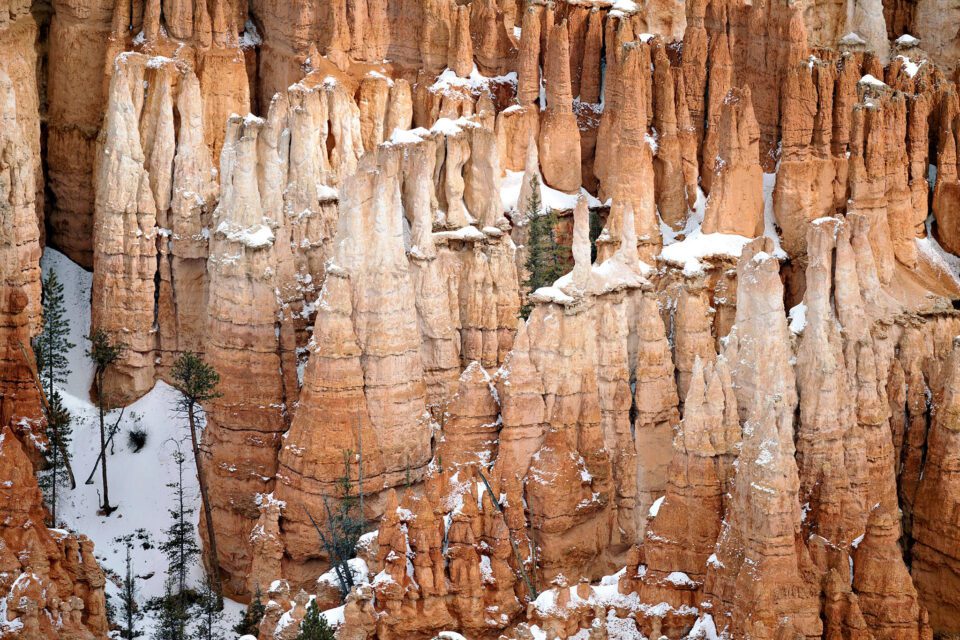 The last handling feature I'll mention is stabilization. Even though most Nikon Z cameras have in-body image stabilization (IBIS), the Nikon Z 100-400mm f/4.5-5.6 VR S also has a vibration reduction system of its own (hence the "VR" in the name). Nikon claims that the combination of IBIS and VR will get you up to 5.5 stops of image stabilization with this lens.
In practice, I never try to push vibration reduction as far as camera and lens companies claim. 5.5 stops would allow handholding this lens at about 1/2 second at 100mm and 1/8 second at 400mm; that's just not possible most of the time. But I did find that I could get consistent sharpness across the frame when handholding this lens even at moderate shutter speeds like 1/15 second (100mm) to 1/60 second (400mm). This is good performance in line with other Nikon Z lenses.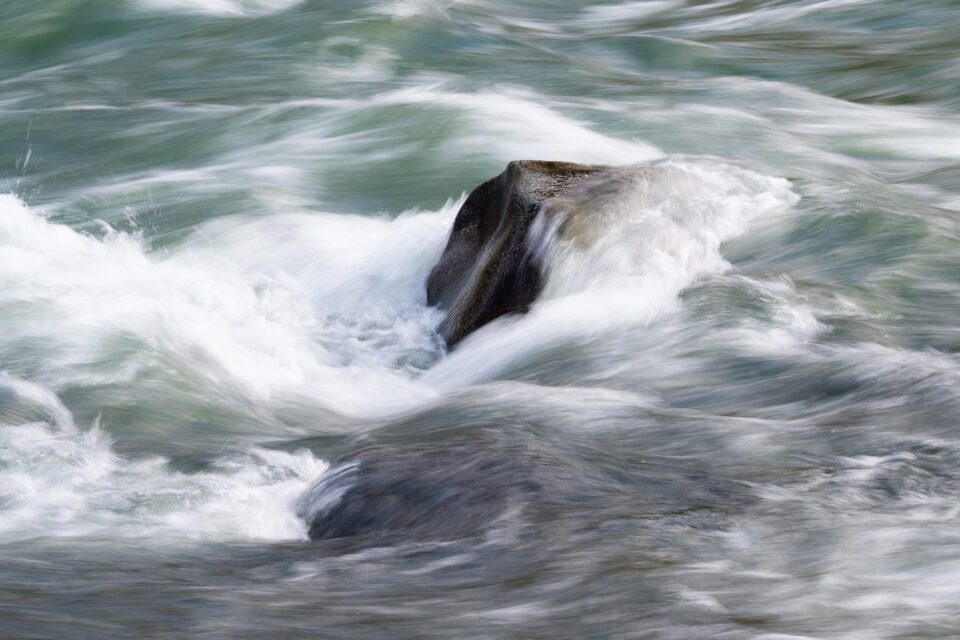 Our Thoughts
Spencer: I'm impressed so far – the 100-400mm's build quality and handling match the best from Nikon.
Nasim: External zooming lenses normally frustrate me, but this one doesn't seem to have any issues. I remember when you and I used this lens in the Liwa Desert for days on end without issue. It clearly has great weatherproofing.
Spencer: Only the tripod collar stands out to me as annoying in terms of build quality, and that's true of every Nikon Z lens that has one.
Nasim: True, Nikon does need to get their act together and just make their tripod feet Arca-Swiss compatible.
The next page of this review covers the optical characteristics of the Nikon Z 100-400mm f/4.5-5.6 VR S, including focusing performance and sharpness tests in the lab. So, click the menu below to go to "Optical Features":