Build Quality
The Nikon AF-S VR 105mm f/2.8G ED has an all-metal construction that feels sturdy and dense. This is in sharp contrast to Nikon's newer lenses, which are mostly constructed of high-quality plastics instead. Some photographers will find the metal construction reassuring, while others will see it as a waste of weight. Although it's hardly the heaviest macro lens on the market, it's enough to make you think that Nikon switched to plastic for more than just cost-saving reasons.
This macro lens is incredibly well-sealed against the elements. It has no moving external parts, other than the focus ring and switches that you move yourself. The lens mount has a rubber gasket around the rim to minimize the risk of dust and water exposure to your camera sensor. Unlike most macro lenses, I wouldn't be worried at all to use this in a rain shower (when the world can be a very interesting place for macro photography).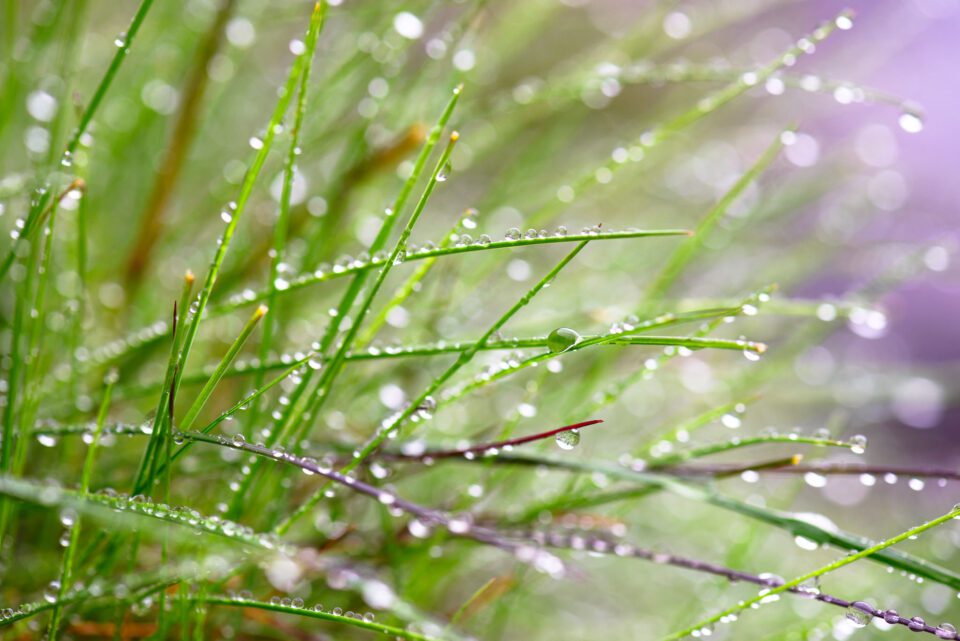 Since I've been using this lens for almost ten years, I have a good sense of how it holds up over time. At least on my copy, the black paint has worn down in a few places, making the lens look a bit rugged from some angles. Occasionally, I'll see copies of Nikon lenses (not specifically the 105mm f/2.8G) where the rubber focusing rings harden and turn lighter gray after years. My copy of the Nikon 105mm f/2.8G Macro doesn't have that issue.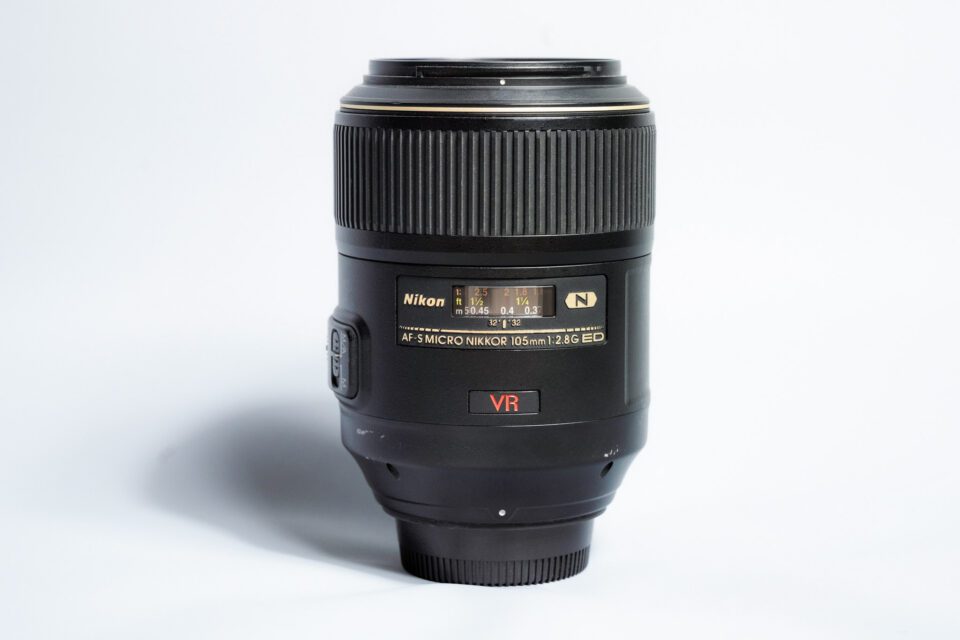 Even after using this lens in dusty and sandy environments, manually focusing on my copy is still smooth. By comparison, some lenses don't have tight enough tolerances in the focusing ring and eventually make scratching sounds due to the grit every time you turn them. This issue wouldn't affect image quality, but it is a pet peeve of mine that I find makes a lens more irritating to use, and I'm glad the Nikon 105mm f/2.8G Macro isn't affected.
As a whole, the only areas where I can knock the Nikon 105mm f/2.8G Macro for build quality are the slightly higher weight and the small paint chips over time. It's a very well-constructed lens that leaves little to be desired.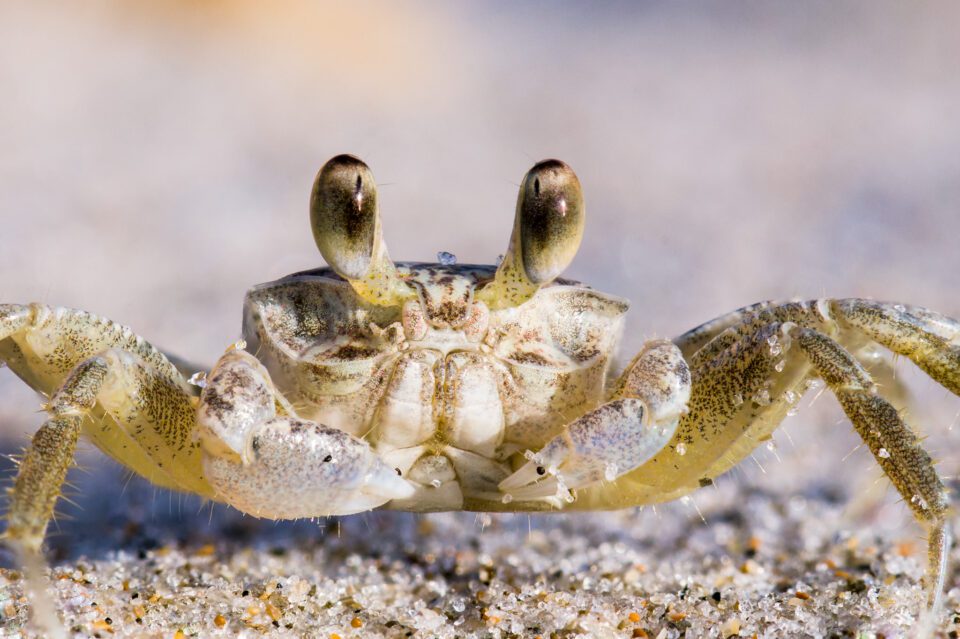 Handling
More than almost any other type of photographer, macro photographers will find themselves focusing manually for a lot of shots. Every macro lens should have a big manual focus ring, which is why I'm happy to report: the Nikon 105mm f/2.8G Macro has a big manual focus ring.
Not only that, but a good macro lens also should have a long focus throw. This is how far you need to turn the ring to go from closest focus to infinity focus. On some macro lenses like the Sigma 105mm f/2.8 EX OS, it only takes 1/3 turn or less to go from 1:1 magnification to infinity. Meanwhile, the Nikon 105mm f/2.8G Macro has a generous focus throw of 2/3 turn. This is very helpful for manual focus.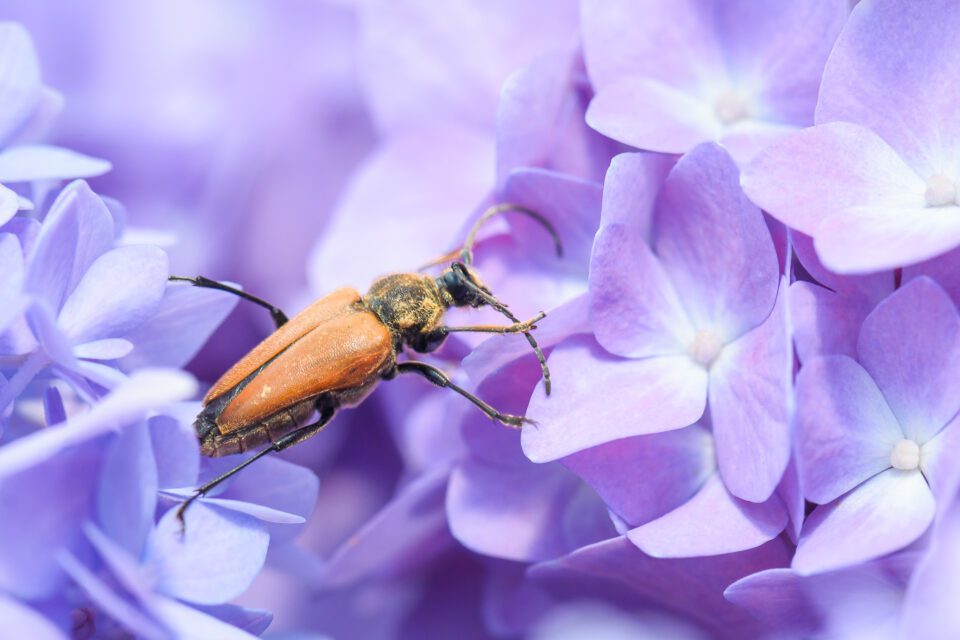 Focusing distance is visible through a window at the middle of the lens. It's marked in three different ways: magnification, feet, and meters. There are markings for the following magnifications:
1:1
1:1.1
1:1.2
1:1.3
1:1.4
1:1.6
1:1.8
1:2
1:2.5
1:3
1:4
1:5
1:7
1:10
I find it useful to have all these detailed markings, especially because I tend to shoot macro photos with a flash and use different flash powers based on how close I've focused. If I know, for example, to use 1/8 flash power at 1:2 magnification, the markings on this lens make it quick to dial in my setup and capture a bug before it flies away.
The Nikon 105mm f/2.8G Macro has three switches on the side of the lens: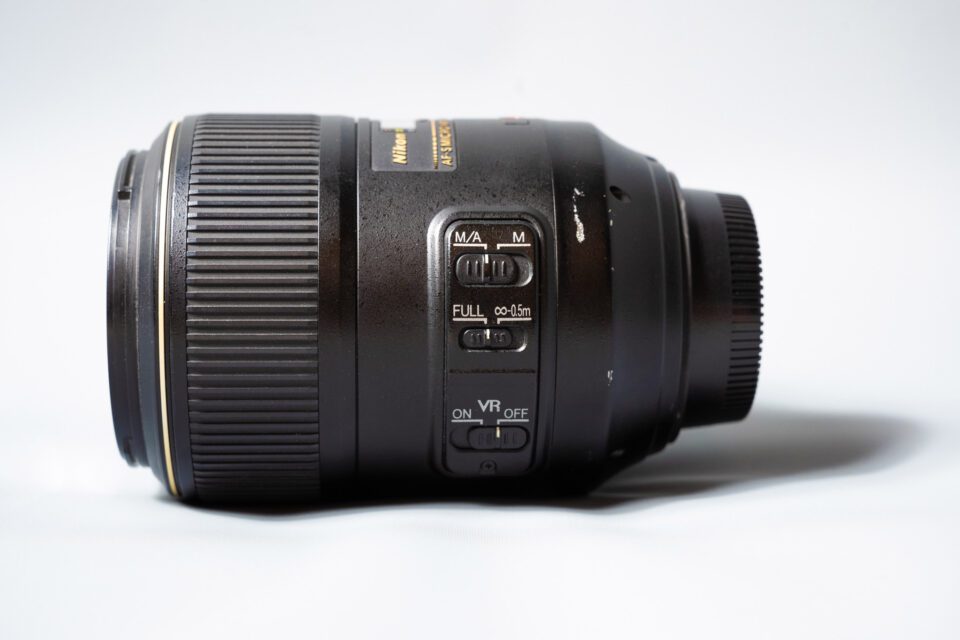 They're pretty self-explanatory. The top switch is to choose between autofocus or manual focus. Autofocus is marked as "M/A" rather than just "A" because you can still override focus manually. The middle switch is a focus limiter, which can signal to the lens to focus throughout its range, or to avoid autofocusing on anything closer than 0.5 meters / 1.6 feet away. If you're photographing non-macro subjects, you may find that you get faster autofocus and less hunting when the limiter is on. Last is the switch that simply turns vibration reduction on or off.
Speaking of vibration reduction, keep in mind that it's less effective when you're focused at macro distances. Not to mention that you'll magnify camera shake in the first place at such close focusing distances, so it can be tricky to avoid motion blur and capture sharp shots at anything closer than about 1:3 magnification. Nevertheless, it's possible with some effort. If you're shooting handheld at such high magnifications, I still recommend turning on VR, mainly because it will make the view through your viewfinder less shaky and easier to compose.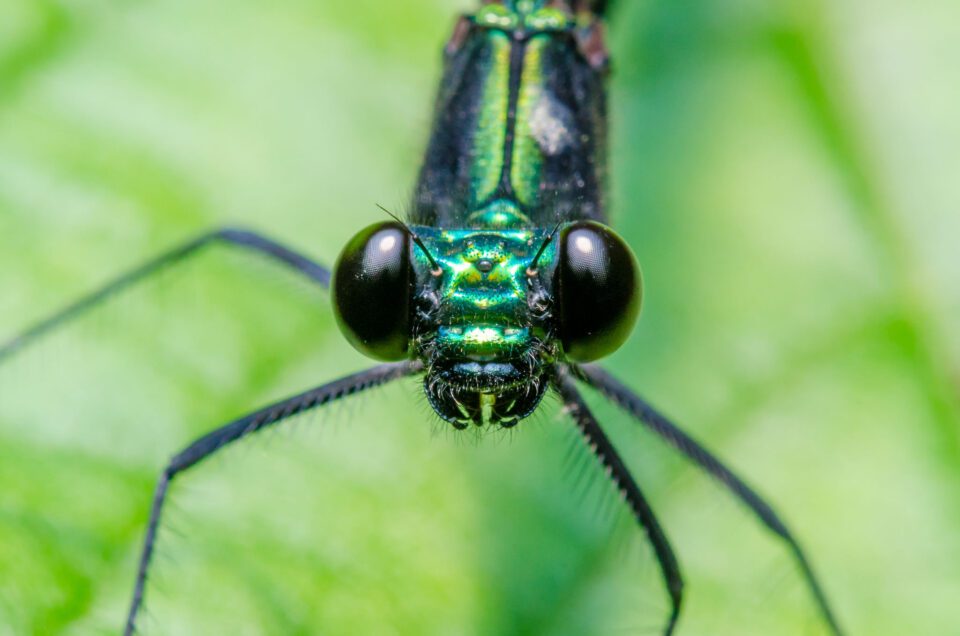 An interesting feature of the Nikon 105mm f/2.8G Macro is that it actually focuses a bit beyond 1:1 magnification if you turn the focusing ring manually. Autofocus doesn't work beyond 1:1, but autofocus is rarely used at such close focusing distances anyway because it's too slow and erratic. I find that I reach about 1.09:1 magnification on my copy of the lens. This means that on a full-frame camera, you can fill the frame with something about 33mm wide using this lens. (At exactly 1:1 by comparison, you'd fill the frame with something about 36mm wide.) The difference may not be huge, but I'd rather it went in this direction than the other way.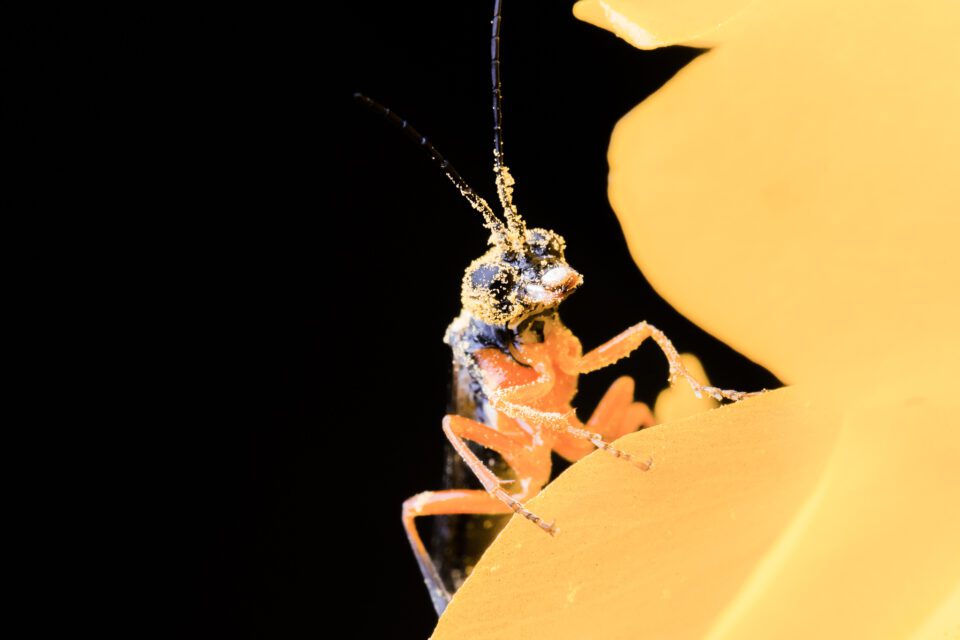 Overall, I have no complaints about the 105mm f/2.8G in terms of handling. One of the few improvements I can think of would be an additional position on the focus limiting switch, which would limit focus to macro distances only. Interestingly, Nikon's mirrorless Z 105mm f/2.8 macro lens has exactly such a switch (restricting focus to 0.29-0.5m if you choose) – but it doesn't have the limiter for non-macro distances! A three-position switch rather than two-position switch is the way to improve both lenses.
Nikon has some unusual design choices like that from time to time, but they don't hurt the operation of the 105mm f/2.8G Macro. It's a well-constructed, well-handling lens that's enjoyable to use.
Working Distance
One of the biggest considerations in macro photography is working distance – the distance between the front of your lens and your subject. When you're focused at 1:1 magnification, you'll be so close to your subject that you may block the light or (in cases of creatures like lizards and bugs) scare it away.
I measured in the lab that the Nikon 105mm f/2.8G Macro has a working distance of 15.4 centimeters / 6.1 inches when focused at 1:1 magnification. This is a bit better than most 100mm-ish macro lenses on the market, which range from about 4 inches to 5.5 inches of working distance at 1:1. (I have a full chart on the Lens Comparisons page later in this review.) With that working distance, you may still scare away bugs that are especially jittery, but a lot of good subjects will be within reach.
On the next page of this review, I'll cover image quality considerations, including everything from focusing performance to sharpness and bokeh quality. Click the menu below to go to "Optical Features."