A fortunate event took place a couple of weeks ago – my wife Lola lost the eyecup from her Nikon Df camera (see our in-depth review of the Nikon Df). She wasn't sure how, but it most likely just got unscrewed while she was busy photographing a wedding. Why fortunate? Because I started to look for a replacement, something I have never done before. Indeed, those eyecups usually stay attached securely on cameras and practically never come off, so this was the first. During my search, I came across the Nikon DK-17M magnifying eyepiece – something I have seen before, but never cared to use. As I was ordering the replacement eyecup for the Df (and I was getting the superior "Anti-Fog" version), I decided to also get the DK-17M and give it a try. Since I enjoy using the Nikon Df with older Nikkor prime lenses, I thought it would be a good idea to try it with those manual focus lenses. When the package arrived, I mounted it on the Nikon Df that already had Lola's favorite Nikkor 50mm f/1.8G lens attached and I was immediately blown away! The 1.2x magnification made the viewfinder appear much larger and I could see everything so much clearer, that I wondered why I had never even tried one of these before. After a couple of days of using the DK-17M, I ordered a few more for each of our cameras and now I cannot imagine using my DSLRs without these handy little magnifiers!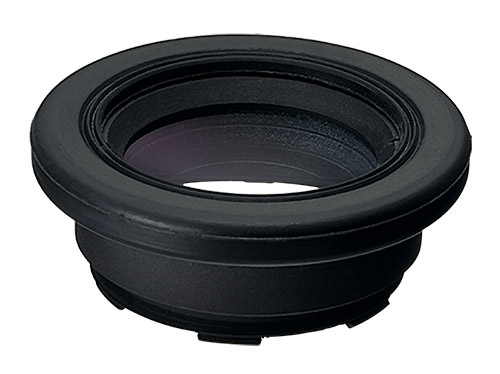 So what is the DK-17M and what does it do? Basically, if you own any professional-grade camera like the Nikon D700, D800, D800E, D810, the top of the line series like Nikon D1, D2, D3 and D4 or a film camera like Nikon F4, F5 and F6, you can replace the eyepiece in front of the viewfinder with this DK-17M unit, which provides 1.2x or 20% more magnification. This obviously does nothing to impact the performance of the camera – it is there to simply help you see everything closer, clearer and better. When photographing people, many of us struggle to nail focus, because viewfinders (yes, even the large full-frame viewfinders) are not big enough to see very clearly. With the 20% magnification eyepiece, focusing is much easier, especially if you use manual focus lenses. To get an idea of what 1.2x magnification looks like, take a look at the below illustration that compares regular viewfinder size with 1.2x magnification:

That's a pretty big difference! While the Live View option on modern DSLRs gives the ability to achieve perfect focus, it is not a practical option for photographing people. Plus, I am very used to composing my shots while looking through the viewfinder, so looking at the camera LCD just does not work for me.
Other lower-end cameras can also use a magnifier, but you will need to obtain different parts, as explained below.
1) Mounting and Dismounting
Mounting the DK-17M on your camera is super easy. All you have to do is unscrew the factory-installed eyepiece by rotating the rubber piece counter-clockwise until it comes off (see dismounting instructions below for certain DSLRs), then you screw the DK-17M in by rotating it clock-wise. Since the DK-17M has fairly thick glass to give you that 1.2x magnification, the eyepiece will look a bit protruded when compared to the regular eyepiece. This does not bother me at all even when I wear my camera on my neck, but some people might not like that.
To dismount the unit, make sure to close the viewfinder lever to the left of the camera if you use a large Nikon DSLR like D800 / D810, etc. If you use a Nikon Df, just rotate the piece counter-clockwise and it will come off.
2) Optical Quality
The optical quality of the DK-17M is amazing. I tried to use the Nikon D810 with and without the DK-17M eyepiece and I cannot honestly see any difference in quality! The corners can look a little bit fuzzy, but it is not something that will ruin your shooting experience by any means. The DK-17M does not hurt my eyes even with prolonged use, so it now sits permanently on our cameras. Note that if you have vision problems and you use the diopter adjustment dial on the camera, you will be able to continue using it, since the diopter adjustment is actually widened at both (+) and (-) sides.
While there are third party options available from other manufacturers, I personally would not trust their optical quality. With Nikon, you know what you get when it comes to optics. Plus, the unit is fairly inexpensive, so why try to save a few dollars by getting something that might end up hurting your eyes/vision?
3) Nikon DK-19 Rubber Eyecup Option
If you want to have even better viewfinder experience, you can combine the DK-17M with the DK-19 Rubber Eyecup, which will block light rays from reaching your eyes and the viewfinder. The DK-19 attaches right on top of the DK-17M and it works like a charm, allowing you to concentrate on your subject without getting distracted by side light.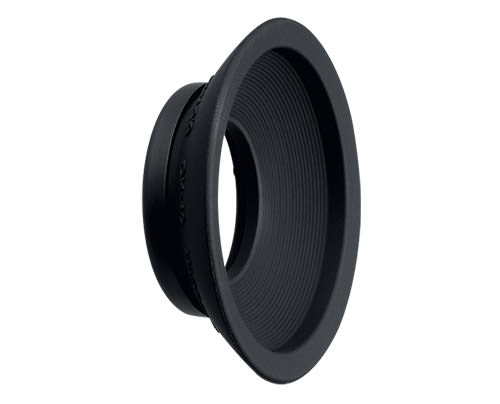 Attaching the DK-19 is also pretty easy and it is designed to work together with the DK-17M.
4) Magnifier / Round Viewfinder Options for Other Cameras
What if you have older or lower-end DSLR like Nikon D5300, D7100 or D610 that do not have round viewfinder eyepieces? Do not be disappointed, because Nikon makes a different accessory, the DK-21M magnifying eyepiece, which provides 1.17x magnification for many cameras like D3300, D7100, D610 and D750. The DK-21M does not have as good of quality as the DK-17M, but it is still better than nothing in my opinion.
If all you want is convert the rectangular viewfinder to a round one with the rubber eyecup, then you can purchase the following components:
Putting these together is easy, but note that the above solution does not provide any magnification – it only converts the rectangular viewfinder eyepiece to a circular one. Unfortunately, there is no easy way to mount the DK-17M on older / lower-end cameras – you will need to manually modify adapters to fit the unit…
5) Summary
If you have never used the DK-17M magnifying eyepiece before, do yourself a favor and buy one of these. At just $37.95 for a new pack, it is seriously a "no-brainer" and well worth your money once you look through the viewfinder. Despite the added magnification, it does not change the viewfinder coverage and does not make it appear softer, allowing you to see your subjects closer. If you use manual focus lenses, the DK-17M is a must-have, since it will definitely make it easier to acquire focus on your subjects. And if you want to concentrate on your subject without getting distracted from side light, get the DK-19 Rubber Eyecup as well. At $7.95 it is another cheap part that will make your shooting experience even better.
6) Where to Buy
Our friends at B&H Photo Video regularly carry both parts and have them in stock:
Nikon DK-17M
Optical Performance

Build Quality

Value

Size and Weight

Ease of Use
Photography Life Overall Rating