Camera Construction and Ergonomics / Handling
Nikon decided to go with the already familiar layout of the D500 on the D850 design, which is a great choice, because we found the D500 to be superb ergonomically (see our detailed Nikon D500 review). Although not much has changed in terms of buttons and switches on the front of the camera, there are certain differences worth pointing out. First of all, the grip is now a bit different on the D850 when compared to the D810, as shown below (Left: Nikon D850, Right: Nikon D810):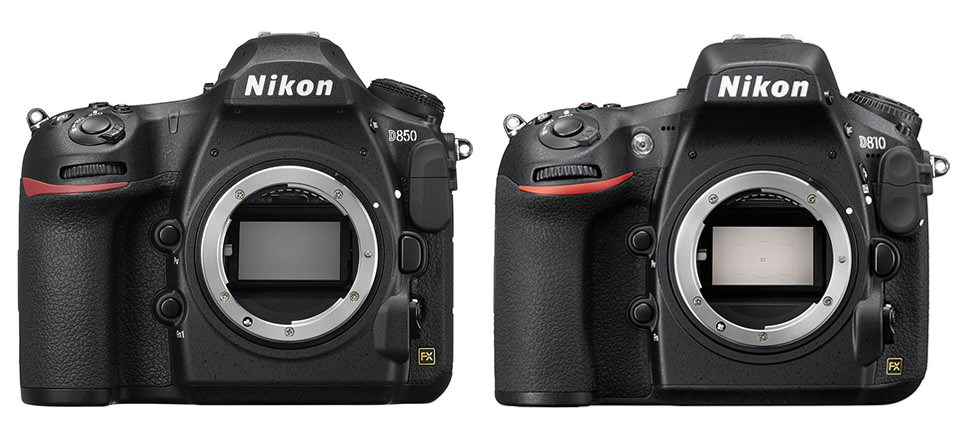 While I cannot complain about the grip on the D810, I am definitely a fan of the new D850 grip. It feels even deeper and more comfortable in comparison – those with larger hands will especially appreciate the added depth. Since there is no longer a built-in flash, the AF assist light is now gone and replaced by a small red light that turns on when shooting on a timer, and the flash button has also been removed from the side since it is no longer needed.
The top of the camera has also changed a bit. First of all, the removal of the built-in flash made the camera top a bit shorter, which is good news, because it might not get in the way when using some specialized tilt/shift lenses. Second, it also made the camera better in terms of weather-sealing, since there is no chance of water or dust particles getting into the camera through the flash area. Those who are used to the "Mode" button will need to get used to its new location since it has been moved to the top of the left dial where ISO used to be. Instead, a fairly large dedicated ISO button has now been placed to the top right of the camera, as shown below (Left: Nikon D850, Right: Nikon D810):

The red "record" button has been slightly moved to the left, but other than that, the rest of the layout remained the same – just some slight tweaks here and there. The good news is, if you already own a D500, you won't need to go through a learning curve since the two are very similar. The biggest changes are in the back: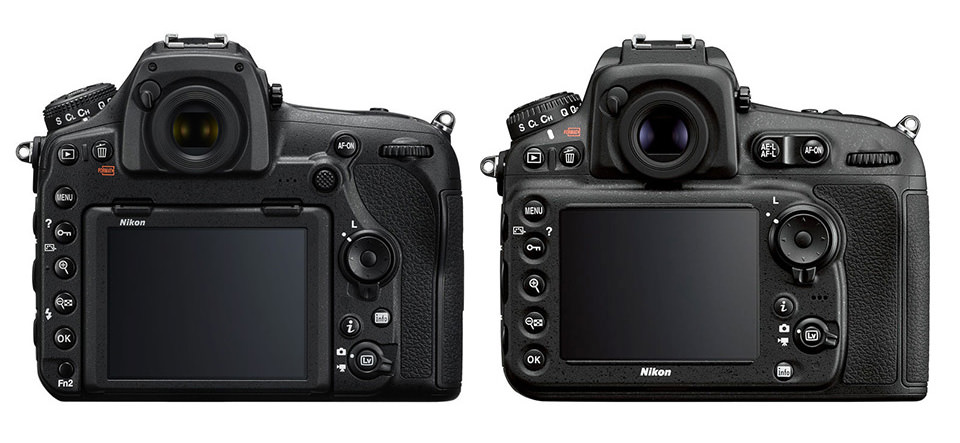 As you can see, there are many ergonomic changes on the back of the D850 when compared to the D810. The AE-L / AF-L button has been removed and a joystick has been added right below the AF-ON button (if you are a heavy AE-L / AF-L button user, don't worry – it can be assigned to any of the function buttons, or to the joystick). The joystick is a big deal ergonomically because it makes it very easy to go through focus points when shooting, so you no longer have to rely on the multi-function buttons for that. A new "Fn2" function button has been added to the left of the LCD and you can assign a very limited number of menu items to this button, which is very unfortunate.
The LCD screen obviously appears different, because it is now a tiltable touch-enabled LCD. In addition to being able to pinch-zoom or swipe through images, you can also use the touch-enabled screen to focus on a subject in live view mode or navigate through the menus. There are a few other smaller ergonomic changes, but those are minor and mostly cosmetic. As a Nikon D810 shooter, it took me only a few days to get used to the new layout, which is definitely better and more intuitive in my opinion.
Overall, the camera handles very well in the field. The two biggest and most welcome changes for me personally when it comes to ergonomics, are the addition of the joystick and the ability to tilt the LCD screen (more on that below).

Build quality is stellar, something one would expect from such a high-end DSLR. Just like its predecessors, the D850 has a full magnesium-alloy frame and is built to last. The buttons and access doors on the camera are weather-sealed for dusty and humid environments and the D850 handles tough weather conditions even better than its predecessor. I have used the Nikon D850 in all kinds of weather so far – from snowy and below-freezing temperatures of Colorado mountains, all the way to the very dusty deserts of Jordan. The camera has been able to handle everything I have thrown at it and I cannot find any issues with its weather sealing.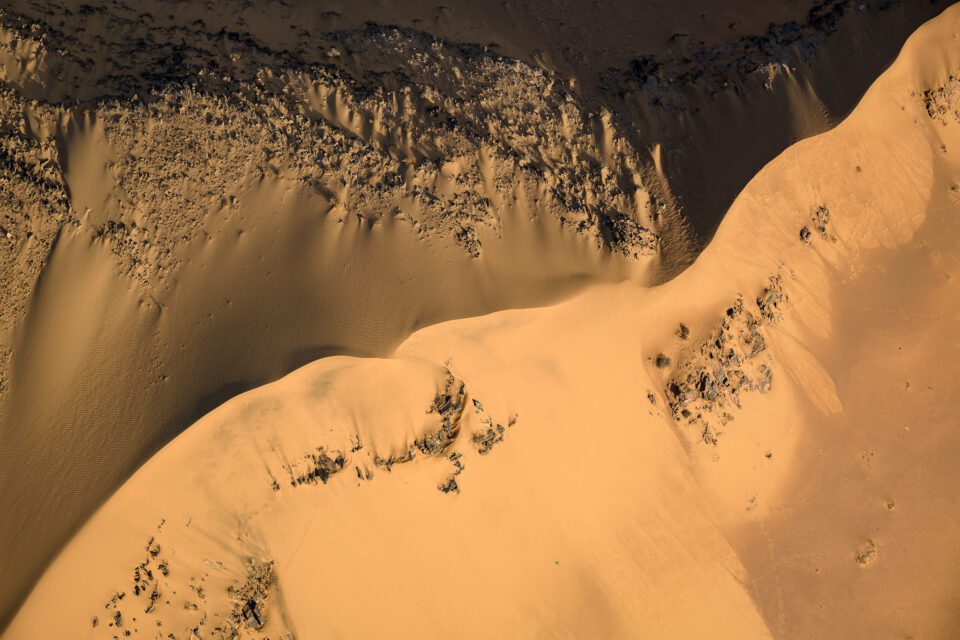 A few extra notes on the Nikon D850 ergonomic changes from our good friend Aaron Priest, who has written an amazing article at PL on Photographing the Milky Way:
The new Fn2 button on the rear is practically useless. It can only be used for star rating on previews, to access "My Menu" or the top item of My Menu, which I don't use. I prefer "Recent Settings" instead and that effectively disables Fn2 for anything but star ratings for me. It can't be programmed for any other use oddly. If Nikon addresses this in a future firmware update to be as flexible as the Fn1 button, then it will be a far more useful button than it presently is.
The Nikon D810 has an Easy ISO option (Custom Setting Menu -> Shooting / Display -> ISO display and adjustment -> Show ISO / Easy ISO) that allowed ISO to be changed with one of the dials in Program and Aperture modes without holding down the ISO button. This option has now been removed from the Nikon D850. This is almost a deal-breaker for me honestly and I sorely miss this feature. I really, really admonish Nikon to add this back ASAP with the next firmware update.
Also, the mode and ISO buttons have been reversed from the D700 and D810, and muscle memory is making this change very difficult for me to adapt to. Not a big deal for D5 and D500 shooters out there who are already used to this, but can be an issue for someone like me. Between this button swap and Easy ISO missing, I'm really struggling with quick ISO adjustments on the fly. It's my only really major complaint about the D850, and several friends of mine that are wedding photographers have the same complaint.
Custom Menu d12: Optical VR is missing in my menu even though I have a 70-200mm f/2.8G VR II lens (also tested with 70-200mm f/2.8E FL VR). Also, Electronic VR is grayed out under the movie shooting menu, no matter what movie format is selected.
Backlit buttons are VERY nice and are very handy when shooting at night.
The new "Natural Light" auto white balance is quite nice. Much warmer than typical auto white balance. It looks very good during the day, probably too warm under incandescent lighting at night, but it can always be tweaked too. I prefer it over regular auto white balance so far (thinking mostly for video).
SnapBridge is not fun to use. It's particularly broke on Android, but easier on iOS. You can't connect directly to the camera over WiFi without installing SnapBridge to initiate a Bluetooth connection first and then having it enable WiFi on the camera and create your WiFi connection for you. This last step never happens on my Android tablet. I discovered the trick is to disable WiFi first on the Android completely and let SnapBridge fail at that step. Then manually turn on WiFi and create it yourself. With some tinkering, I've been successfully running qDslrDashboard and a few apps directly off the built-in WiFi for focus stacking, exposure bracketing, time-lapses, bulb exposures, etc. With qDslrDashboard in particular, if you enable live view (which does not turn on the camera's LCD, it just redirects the video output to your smartphone or tablet), silent shooting mode works GREAT with no mirror or shutter movement at all! For more tips about connecting via SnapBridge, this page was particularly helpful for me.
Regarding qDslrDashboard, I'm running a private beta version at the moment to fix an issue with the D850 and live view, as well as text corruption on iOS. Both issues will be resolved with the upcoming update.
My Promote Control appears to work flawlessly. I have not tested every mode like bulb ramping, focus stacking, or video control, but the most used modes like single shot, bulb/long exposure, HDR, bulb HDR, timelapse, and HDR timelapse all work fine. It doesn't support the D850's silent shooting feature as there is no way to enable live view on the Promote Control. If that option could be added in a firmware update, then it should also be able to support silent shooting like qDslrDashboard.
Silent shooting mode for time-lapses, exposure brackets, and focus stacking is great, but long exposure noise reduction is not compatible with it. I usually use dark frame subtraction in post-process anyway to save time shooting in the field, so it is not a big deal for me, but keep this in mind when shooting.
For those who still use Breeze Systems Downloader Pro, it supports the D850 out of the box. Image previews of the RAW files work fine, and you can still use the shutter count EXIF data (r8 tag) to create your filename—one of the reasons I still prefer this app over Lightroom or any other. Which also answers the question about shutter count and silent shooting. Nikon's embedded ShutterCount EXIF tag still works fine with the silent shooting. It will count the shutter properly even when the mirror does not move.
Helicon Soft's Helicon Focus works fine out of the box with the D850. The RAW to DNG workflow is fine. LR can read the DNG as well.
Focus peaking, exposure highlights, and electronic VR (beyond optical) don't work with 4K video sadly, nor slo-mo. Also, focus peaking and exposure highlights can't be enabled at the same time, nor do exposure highlights work for stills, only video. It would be nice if a firmware update could enable those two things.
Pinpoint AF is very nice in live view for getting very precise focus. This one should come in really handy for macro and product photography work.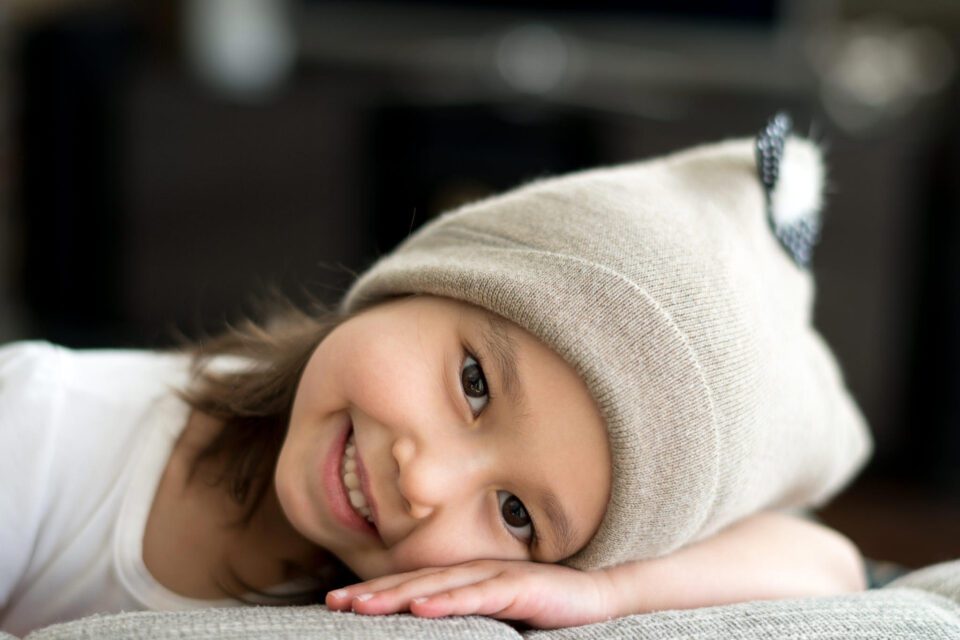 Tilting, Touch-Enabled LCD Screen
Finally, Nikon has delivered a truly amazing LCD screen that is very bright, sharp and detailed, but best of all – tilting and touch-enabled! LCD screens are not something I usually spend much time talking about, but in this particular case, the fact that Nikon added a tilting screen on a D8x0-series camera is already a big deal, because we have only seen this feature on lower-end cameras so far. Being able to tilt a screen is indeed a big deal, especially for us landscape, macro and architecture shooters who often have to work with odd angles or shorter tripods. So I applaud Nikon for bringing this feature to the D850 – that's one thing I wish my Nikon D810 had from the very beginning! However, I do wish that Nikon took the tilt screen a step further and implemented the ability to also tilt the screen sideways – that would be a great option to have, especially when shooting vertical images on a tripod. That's one thing I love about the Fuji XT-2 and the Fuji GFX 50S.
The touchscreen is another helpful addition to the D850. While one can completely turn it off and just use the regular buttons to do all the navigation, image playback and focus acquisition, I personally like this feature, because it is implemented very well. There is practically no lag when playing back images, zooming in or navigating the menu, which is not something I can state about most other cameras on the market. Nikon did a wonderful job there for sure. In addition, when using Live View mode, it is possible to take advantage of one-touch AF acquisition, which will make the camera focus on the exact area you touched on the screen. And if you want to be able to take a picture, it is also possible to customize the touch behavior to focus first and then take a picture.
The LCD screen also has a very high resolution, which makes images look very detailed and crisp. With a total of 2.359 million dots, it is practically impossible to see individual pixels on the LCD, which is very nice. Just like on the D810, Nikon allows one to customize the tint of the LCD, so if the colors don't look right, you can always use the menu to compensate.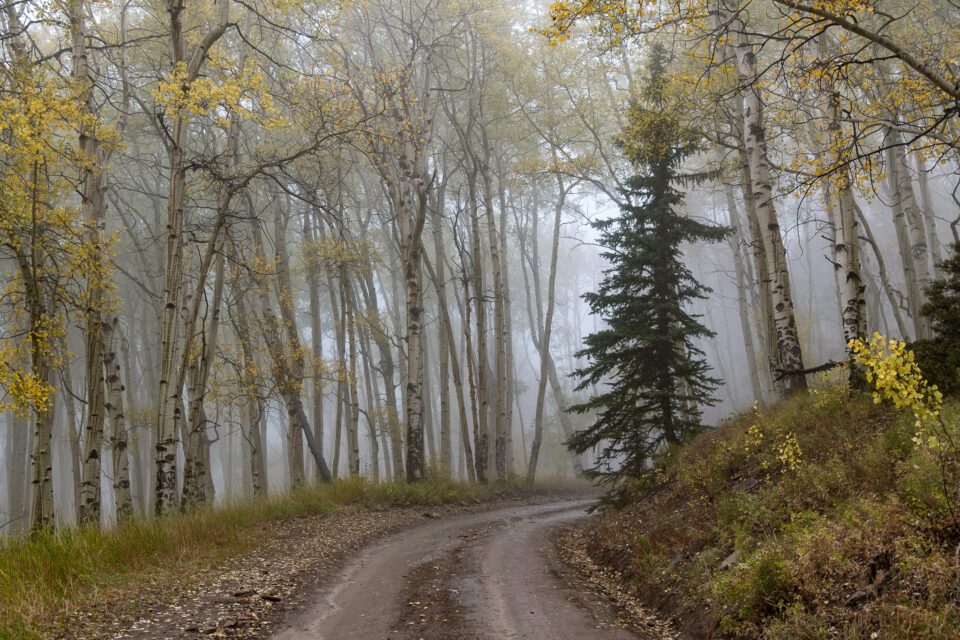 Improved Viewfinder
Nikon made a pretty big deal out of the new viewfinder with a 0.75x magnification, so when I received my D850 unit I wanted to see if I would be able to actually see the difference between a 0.75x and 0.70x viewfinder. After just a couple of times looking at both, I must say that the difference is definitely noticeable. The Nikon D850 viewfinder looks bigger, which translates to a more comfortable and more precise shooting in the field. It is as bright as the viewfinder on the D810, but if you shoot with the older D800 / D800E camera, you will definitely notice improved brightness and clarity as well, thanks to the superior pentaprism and better coatings. You will also notice that the D810 and D850 DSLRs feature an OLED viewfinder display that renders everything in bright white light than the traditional green on older cameras like the D800 / D800E. Overall, the viewfinder on the D850 is without a doubt the best one I have used to date on a DSLR.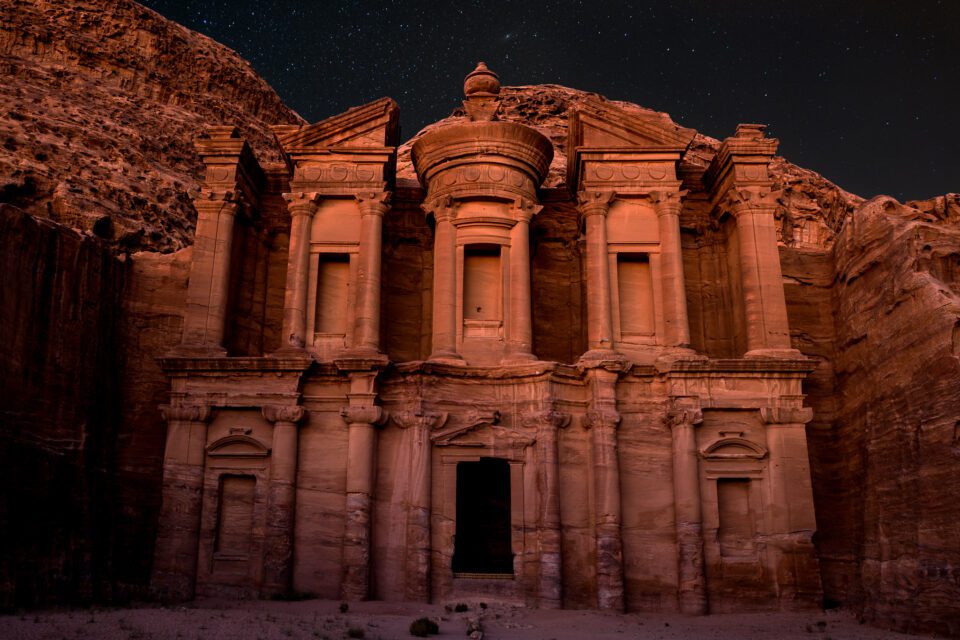 Silent Shutter Mode via Live View
A brand new feature that appeared for the first time on the Nikon D850 is the "Silent Shutter Mode", where the camera can take advantage of the electronic shutter when using the camera in live view mode. What's great about this mode, is that it not only completely eliminates any kind of shutter (since the mirror is raised and the shutter mechanism is open), but also allows photographers to stay discreet when shooting wildlife or when taking pictures during a wedding ceremony in a church. Finally, it is a feature that brings DSLR cameras closer to what many mirrorless cameras have been able to do for a while now.
In order to enable this feature, you can either go to the camera menu (Photo Shooting Menu -> Silent Live View Photography) or enable the feature by pressing the "i" button while shooting in live view mode (Silent Live View Photography). You will see two options – SL 1 and SL 2. The first mode is for taking normal stills (the camera will shoot in the format, size, bit-rate, and compression selected for other shooting modes), while the second mode is designed to shoot continuous action up to 30 fps with smaller DX-size images (3600×2400) and JPEG normal image size. The first mode is obviously very useful, but the second one is quite limited in my opinion. Not sure why I would want to shoot DX-size JPEG images at 30 frames per second, but if that's what you want to do, then, by all means, give it a try. The only tricky thing with the SL 2 mode is that there is no indication of how many images are being captured – you will just end up with a boatload of images in the memory card.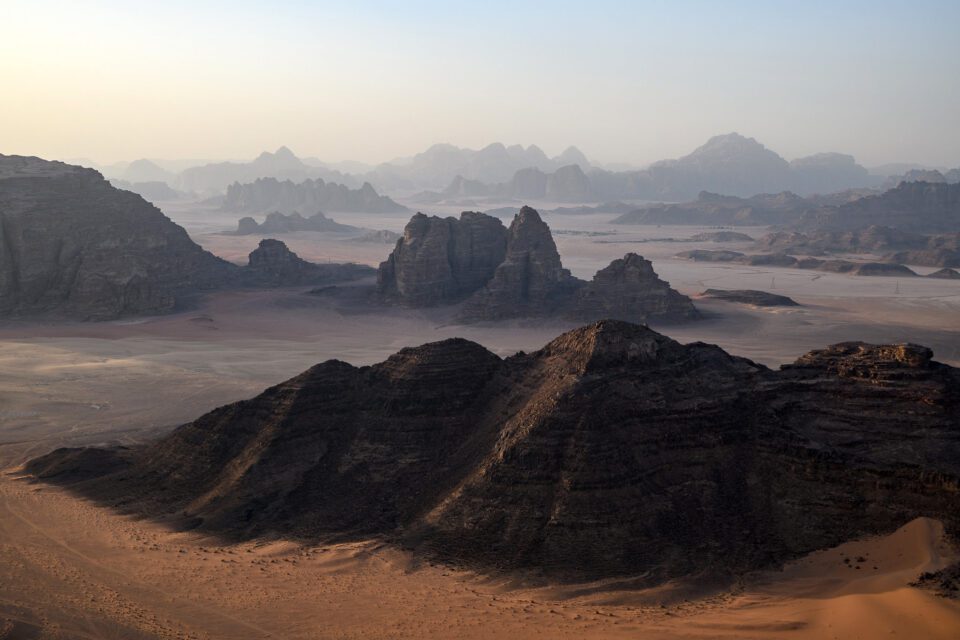 Still, I find this silent shutter mode to be an amazing feature. I have already used it a number of times when shooting from my tripod and when used in combination with a Self-Timer, it is possible to completely eliminate camera shake from the camera! Zero mirror vibration, zero shutter vibration. With the Nikon D810, one has to be in Mirror Lock-Up mode + Exposure Delay when shooting without a shutter release cable in order to eliminate shake, whereas the D850 opens up another great mode to use. This feature now completely eliminates the need to have a shutter release cable to eliminate camera shake! And by the way, when shooting continuously, the Nikon D850 can capture up to 6 fps at full 45.7 MP resolution.
A few things to watch out for when using Silent Shutter Mode. First, you cannot use this mode when moving your camera or when your subject is in motion – if anything moves fast in the frame, the camera might distort the subject quite a bit due to rolling shutter. Second, this mode can cause banding in some conditions, especially when shooting in artificial light. If you are a portrait or wedding photographer and you are planning to use this mode, please test it beforehand and make sure that you don't see banding in your images. Images with banding look pretty bad and you cannot fix them in post!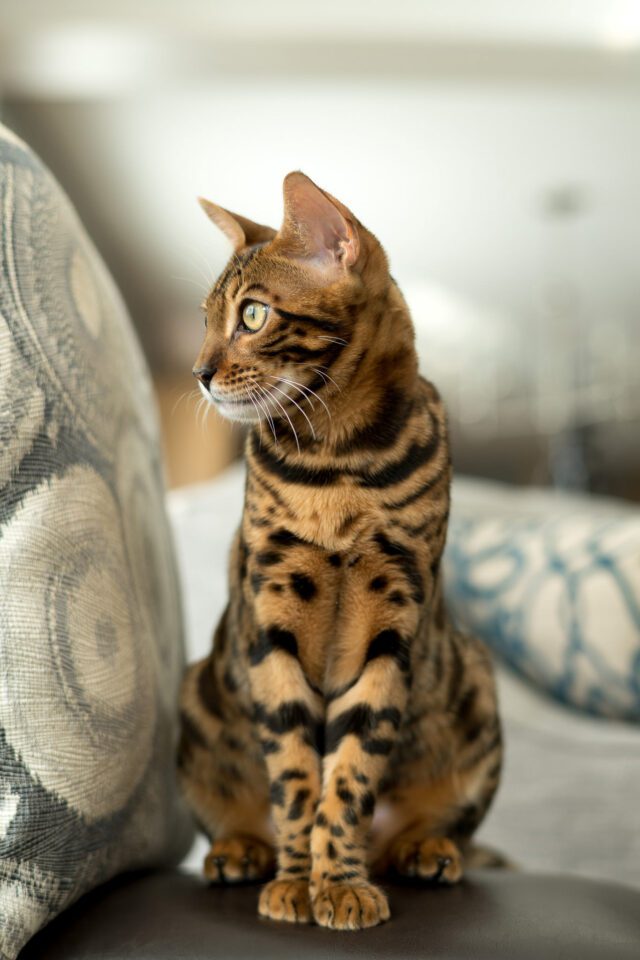 Exposures Longer than 30 Seconds
Unfortunately, Nikon did not add all the custom exposure times that are available on the Nikon D810A, so we still have exactly the same limitations as the Nikon D810. While you don't need a remote shutter release to do longer than 30 seconds of exposure time (since you can still use the Time "–" (double dash) setting in Manual Mode in order to capture long exposures), if you do not want to touch the camera during long exposures, you have no other option other than connecting a remote shutter release.
Fortunately, when doing very long exposures, touching the camera to stop the exposure is not that big of a deal and it won't mess up your shot due to camera shake. For this reason, I rarely ever take a remote camera shutter release with me now when shooting with the D810 and the same applies to the D850. However, I still wish Nikon added the same long exposure mode options to the D850, or let the user customize the length of exposure via the camera menu. It seems like an easy feature to implement, something Nikon could do through a firmware update. Sadly, given the history of Nikon, I seriously doubt that the company will add any new features to the camera via such firmware updates.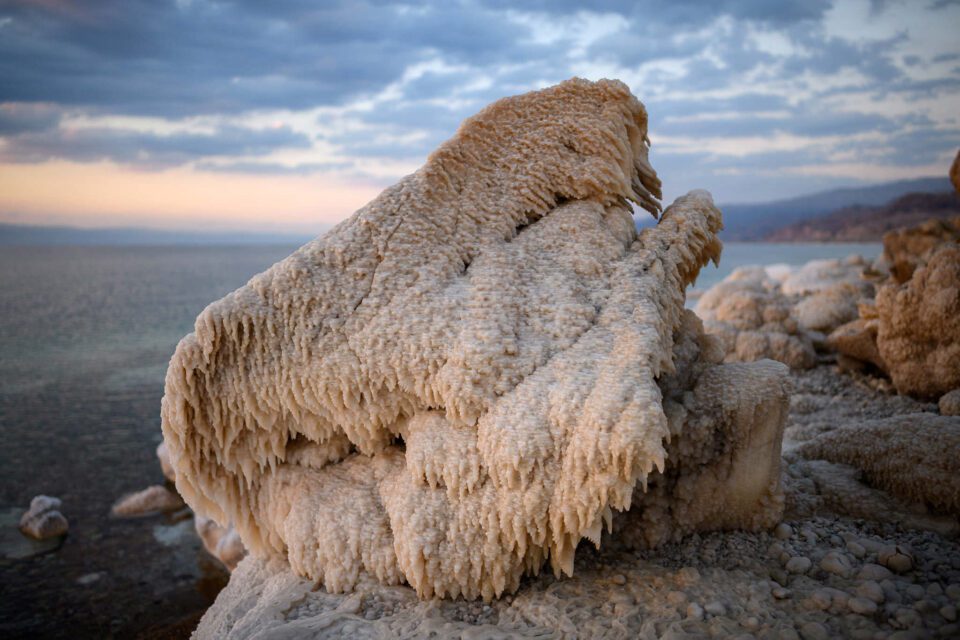 New Exposure Delay Modes
With the D850, Nikon added a couple of more Exposure Delay Modes in the camera menu (Custom Setting Menu -> Shooting / display -> Exposure delay mode). There are now two other settings: 0.2 seconds and 0.5 seconds, in addition to 1, 2 and 3-second exposure delays we have seen in the past. While the new shorter delay modes could be useful in some shooting modes, I personally don't see much value in these. If one wants to completely eliminate camera shake, it is better to either use the new Silent Shutter Mode via Live View, or the Electronic Front-Curtain Shutter in Mirror Up mode with a longer Exposure Delay of 1 to 3 seconds.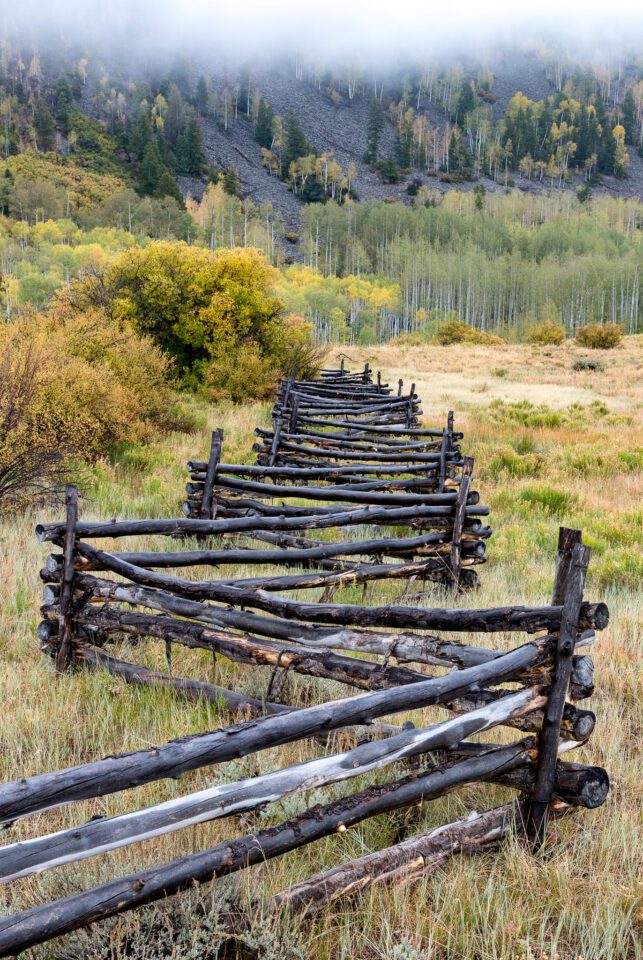 Electronic Front-Curtain Shutter
Finally, Nikon has mostly fixed the Electronic Front-Curtain Shutter (EFCS) mode! If you don't know much about EFCS, basically, once you turn the Electronic front-curtain shutter "On" in the Custom Setting Menu (a6, turned off by default), the camera will be able to start the exposure without using the shutter mechanism, which helps a great deal in completely eliminating camera shake resulting from the shutter. Since the mirror and shutter must be raised for this feature to be actually useful, you have to be in Live View mode in order to be able to take advantage of it.
With the Nikon D850, EFCS is now enabled in three different modes: Q (Quiet), Qc (Quiet continuous) and Mup (Mirror Up). This is much different than what we have previously seen on the D810, which had EFCS limited to Mirror Up mode, whether you were in Live View already or not. So if you happened to be in Single Release, Continuous Release, or any other modes like Self Timer, EFCS did not work at all – the shutter was still being used at the beginning of the exposure. With the D850, the behavior still has not changed for Single, Continuous and Timer modes. However, you can now shoot in both Q and Qc modes and EFCS will work. The nice thing about it is that you can combine Q and Qc modes with the Exposure Delay feature, which is great!
This means that if you want to always take advantage of this feature, you should just keep your camera in Q mode by default. Combine it with Exposure Delay of 3 seconds, and you never need a remote shutter release cable to reduce those vibrations again! Still, I don't understand why Nikon cannot implement EFCS for all camera modes. Putting it on a Self Timer should be a no-brainer because one can then skip the Exposure Delay mode and use a timer instead.
EFCS does have a limitation on the D850, just like on the D810 – it limits the camera's maximum shutter speed to 1/2000th of a second in Q, Qc and Mirror Up modes. So if you cannot raise your shutter speed beyond 1/2000th of a second, it probably means that you are shooting with EFCS enabled and you are in Q, Qc or Mirror Up modes. If you want to be able to work around this issue, you will need to switch to any other mode (or turn off EFCS) and shoot in Silent Live View mode – that mode can be used up to 1/8000th of a second.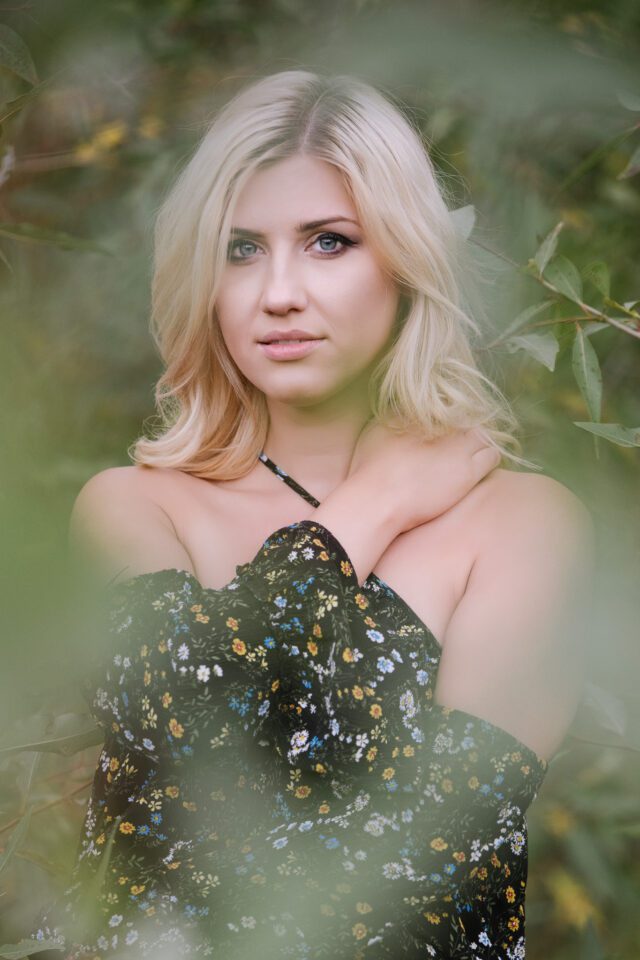 Live View
I am happy to report that the Nikon D850 does not have any interpolation issues when viewing at 100% zoom in live view. This is good news and something I was expecting from the D850. Nikon messed up live view on the D800 / D800E cameras and received plenty of negative feedback from many photographers, including myself, so I am happy that all the newer releases no longer have this issue. When fully zoomed in, the D850 shows a true 1:1 pixel level magnification.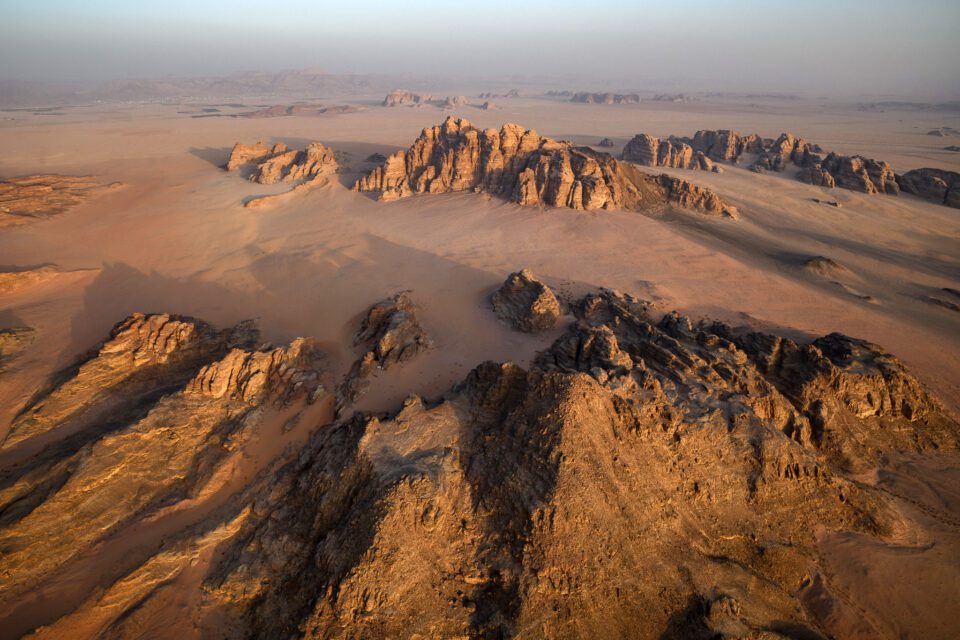 Split Screen Zoom
While the Nikon D850 now has a lag-free experience with the Split Screen Zoom feature in Live View (where the camera shows a magnified area from both left and right sides of the frame side by side), it is still very broken for horizontal shooting. Again, this one should have been fixed, so that the two side-by-side windows can be moved independently of each other.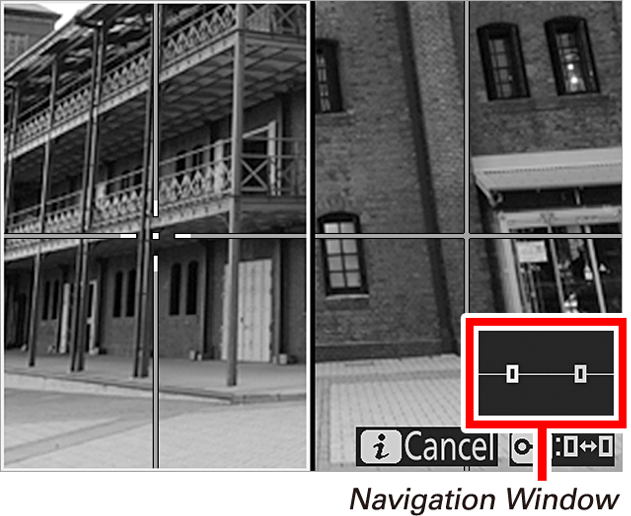 When shooting vertically, the Split Screen Zoom can be very handy to evaluate sharpness in the foreground as well as the background, so that one can calculate Hyperfocal Distance very easily. By zooming in and looking at all the details, it is possible to take all the focusing hassles out of the way, which is great. However, this feature does not work for horizontal shooting and that's because the two moving squares are locked in one horizontal line. If Nikon removed this lock and allowed each split screen to be moved independently of each other, it would eliminate any guesswork and make the D850 an ideal camera for precise focusing. Sadly, it looks like we will have to wait for another iteration of a Nikon DSLR to be able to get proper Split Screen Zoom, which is very unfortunate!
Video / Movie Recording
The Nikon D850 is one of the few cameras on the market that can take advantage of its full sensor in order to record 4K video. This means that you no longer have to worry about switching lenses when doing video vs regular shooting, just because the video is cropped so tightly. Still, if you prefer crop options, you have everything from DX Crop to Super 35 and you can still capture ultra-high resolution 4K video. So if you are into videography, you will be happy to see this, along with a number of great features that are specifically aimed at videographers.
First, there are plenty of different camera shooting styles/picture profiles available, including Nikon's "Flat" version that allows you to color-grade video footage later on in post-processing. It is obviously not as good or as flexible as a dedicated Log profile that you get on other cameras, but it is still better than nothing – you can recover some extra dynamic range in post, which is nice to be able to do. Second, you obviously have Zebra Stripes in Live View mode, which show any areas that are overexposed, making it easier to quickly adjust exposure on the fly. Speaking of exposure adjustments, you can do those right in Live View without having to leave out of it, something that other lower-end cameras require you to do. Third, you still have the ability to see a live histogram, just like on other Nikon DSLRs, along with other useful information that makes it easier to shoot videos. Fourth, Nikon finally added the focus peaking feature to the D850 when shooting videos.
However, there are a few big issues there: focus peaking is not available when shooting 4K video and you must change your focus mode to manual focus, or you won't see it at all! Why not have focus peaking enabled at all times and why couldn't Nikon add it to 4K? I don't know what technical issues Nikon engineers encountered when designing focus peaking, but it seems to be silly that there are such annoyances present on the camera. Still, focus peaking has appeared on a Nikon DSLR for the first time and it appears that it is a bit too raw for now. My guess is, we will need to go through another iteration of a Nikon DSLR to see a fully functional focus peaking feature. Lastly, there are plenty of other interesting features that are available for video, such as Touch AF, selectable audio frequency range, uncompressed HDMI output, electronic VR, Active D-Lighting and slow motion, but I am not going to go through those in detail – if you have interest in video features specifically, I would recommend exploring the "Movies" section of the Nikon D850 manual in more detail.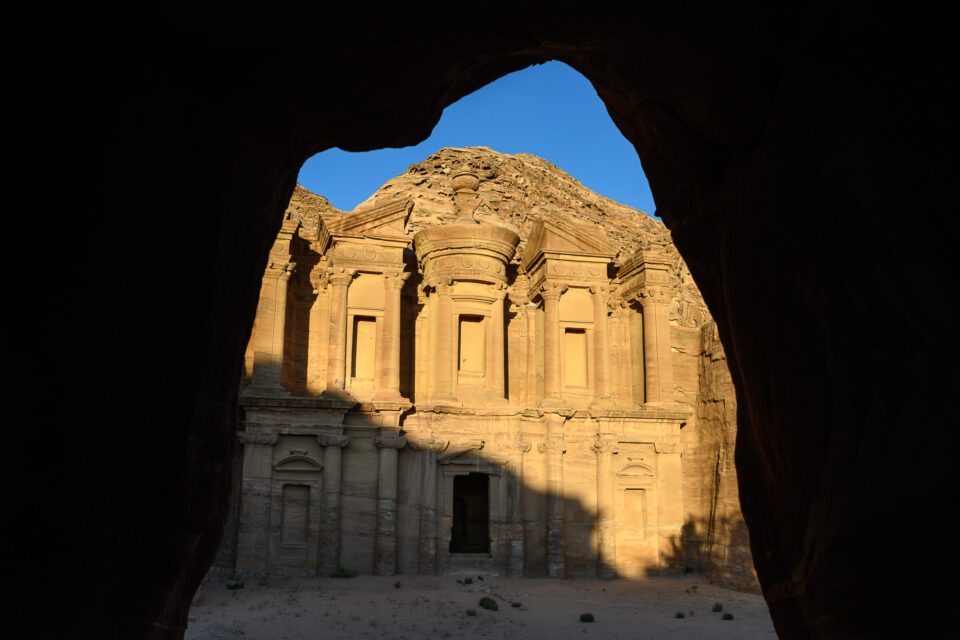 4K and 8K Timelapse Recording
While traveling in Jordan and Turkey, I was able to test the 4K timelapse movie feature of the Nikon D850 to see how well the camera coped with recording in-camera time-lapses in the field. Previously, I never used the in-camera movie timelapse feature of Nikon DSLRs, because it was limited both in terms of resolution and options. With the D850, Nikon allowed recording 4K time-lapses, with a number of options such as Exposure Smoothing, Silent Photography, Image Area (FX or DX), Movie Resolution (up to 4K @ 30p), and Interval Priority. My personal favorite is Silent Photography, because the shutter is not engaged throughout the timelapse, which not only reduces mechanical wear on the shutter mechanism but also produces no sound. Since fast subject movement is typically not an issue in time-lapses, one does not have to worry about subject distortion/bending issues due to the use of the electronic shutter, so I had Silent Photography enabled by default for all time-lapses that I created with the D850. Below is sample footage from the Nikon D850's 4K timelapse feature:
A couple of things to note here – I previously had trouble with transitions from daylight to night on the D850 when it comes to white balance, which gave me inconsistent results. For this particular video, I set up the timelapse with Exposure Smoothing turned on and white balance set to custom (5560K) under the video options. Even with the custom setting, the camera still resorted to auto white balance for some reason and you can see that the video still ended up looking bad. I am not sure what causes this behavior, but it looks like a bug that Nikon needs to address. There is some noticeable flickering going on as well, but that most likely has to do with the white balance issue rather than exposure differences. Aperture size differences cannot be blamed for either since I used the Nikon 70-300mm AF-P lens, which has an electronic diaphragm.
For serious timelapse work, I would recommend shooting RAW images with the Intervalometer instead, so that you can tweak the output and fix white balance issues between transitions. As for 8K video, there is no option to do it from the camera – you will need to shoot in RAW, then use third party software to create an 8K timelapse.