The Nikon D800 was supposed to be released in the summer of 2011, but due to several natural disasters that heavily impacted Nikon's capability to produce cameras both in Japan and in its Thailand factories, its launch was delayed until February of 2012. There has been a lot of hype about the D800 and while our team has been posting quite a few articles about this camera, there are still many questions pouring in on a daily basis from our readers about its features, capabilities, limitations and performance, especially when compared to the older cameras like Nikon D700, D3, D3s and the new Nikon D4.
Note that the Nikon D800 / D800E has been replaced by the Nikon D850.
Was it worth the wait? There has been a lot of buzz about the D800 before and after the camera was announced. One of the main reasons is the popularity of the existing Nikon D700 camera and the sheer number of people, especially part-time and full-time pros, who were dying to upgrade their aging cameras. In addition, the production delay further fueled the heat and spiked up the interest from the photography community that was getting rather impatient, wondering what Nikon would bring to the table for the next several years in the full-frame arena.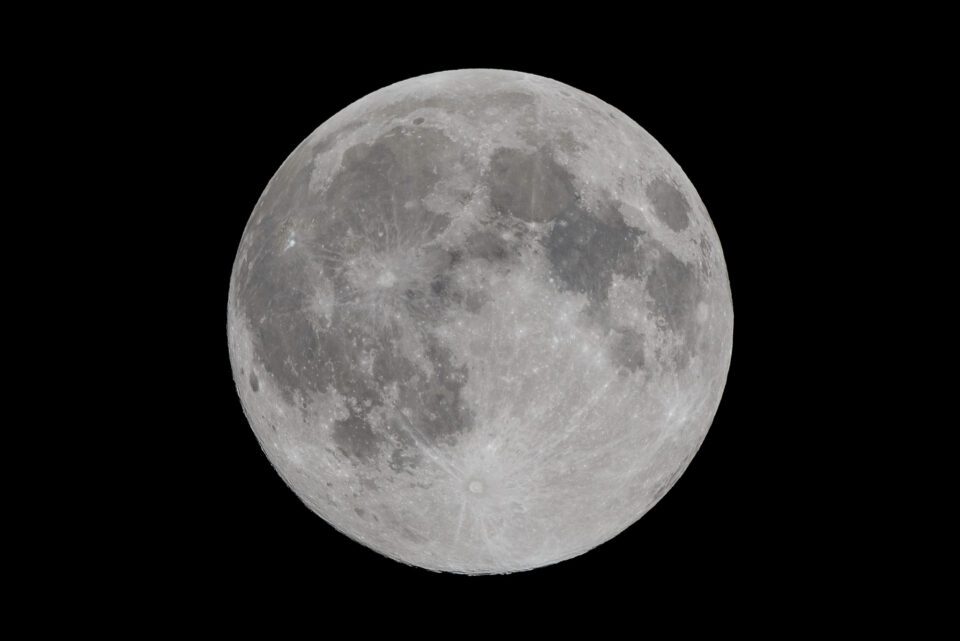 As you will see further down in this review, I consider the Nikon D800 to be a breakthrough camera, something we have not seen since Nikon introduced its first full-frame D3. While we have seen some amazing products from Nikon, they were all evolutionary, with minor upgrades, tweaks and changes here and there. The D800, on the other hand, is a revolutionary product that once again raises the bar on image quality, dynamic range, autofocus and even noise performance – all without the high price tag of a pro camera attached to it. Sure it has its share of problems with its rather slow speed (FPS) and average battery life, but these problems are rather insignificant, given what we are getting as a total package. Think of the D800 as a beefed-up D3X, just in a smaller body, at 40% of the cost. How is that not revolutionary? And the D800 just happens to set a new world record in full-frame resolution.
But wait, what about all those photographers that anticipated a camera with the same sensor as on the Nikon D4, the ones that do not particularly care for high resolution? Did Nikon leave them all out with the D800, forcing them to jump to the expensive D4? Before I answer this question, let me first give a brief history of the D800, along with my analysis of why Nikon decided to take a different route with its full-frame line this time.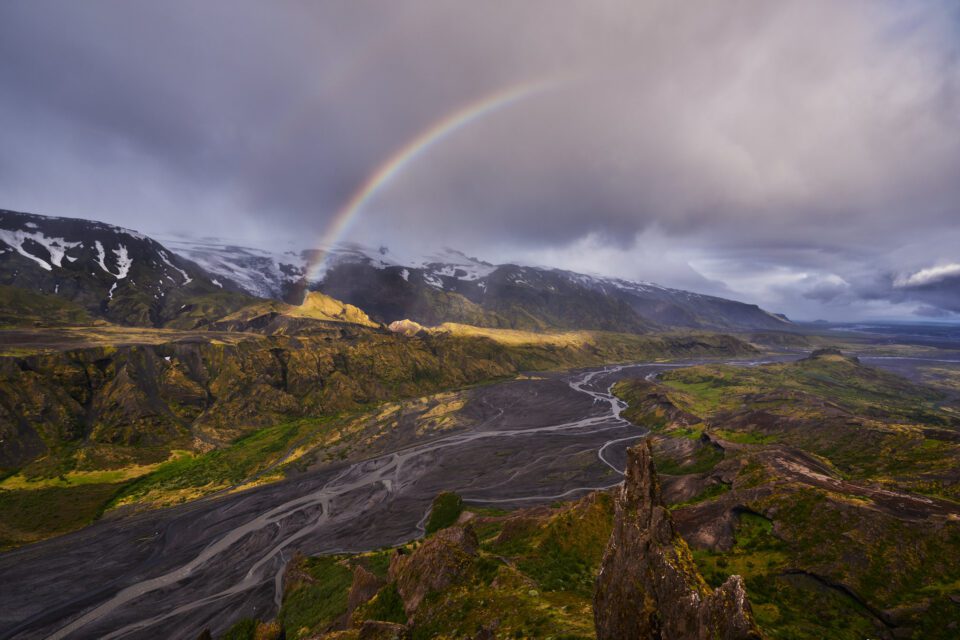 A Brief History and Analysis
I remember the day when I first read the rumor about the D800 and its 36 MP sensor. I quickly dismissed it, because it sounded completely unrealistic to me. With Nikon putting so much focus on image quality in its full-frame line with the D700, D3 and later D3s, and keeping the megapixel count low at just 12 MP (while the competition had been only increasing the number of megapixels in their new cameras), I only pictured the D700 replacement to be a very modest update in terms of resolution. Maybe something similar to the D7000, with a 16-18 MP sensor. Plus, a 36 MP full-frame sensor just did not fit in with the existing super expensive D3X that was specifically targeted for high-resolution applications.
As you may already know, the Nikon D700 was announced about a year after the D3 came out in 2007. Nikon did not have the time and resources to create a separate product line like Canon did with its original 5D, so it decided to borrow the sensor along with most features from the D3. Aside from the slower fps speed (that you could increase with a grip), smaller body & battery and 97% viewfinder coverage, the Nikon D700 was almost the same as the Nikon D3 – some even dubbed it "the D3 brother". Needless to say, the Nikon D700 was an instant success.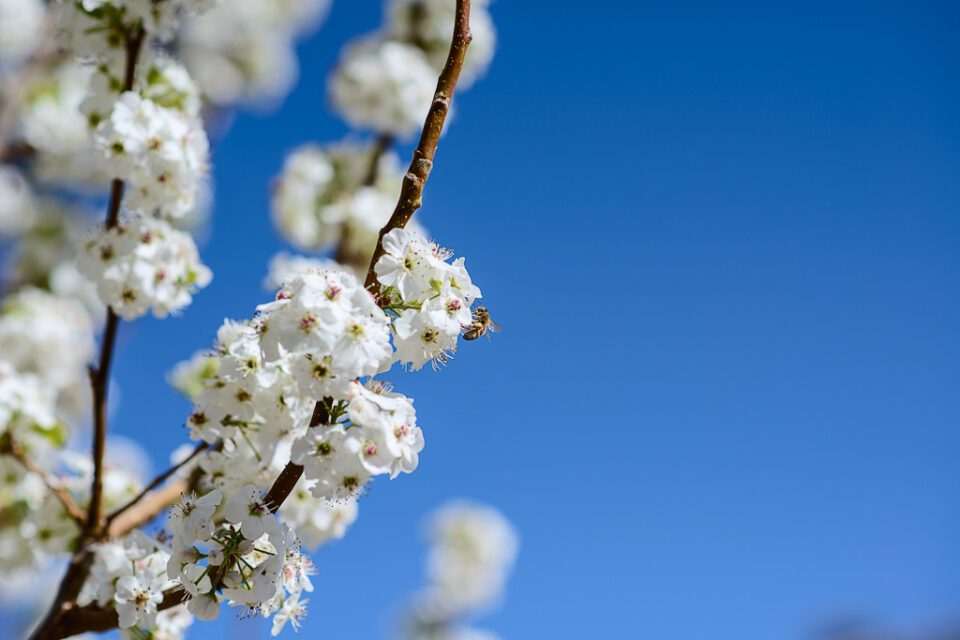 100% crop from the center of the frame: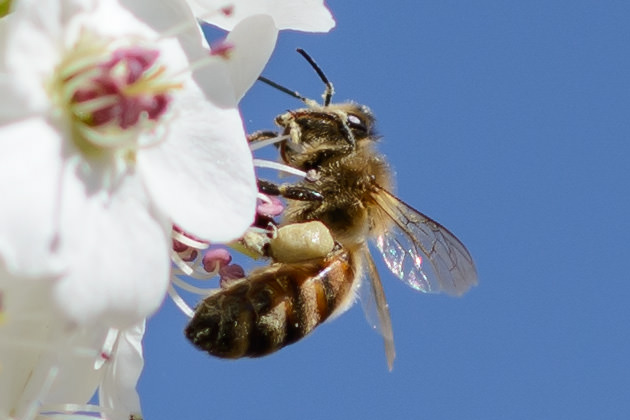 On the grand scale, however, the D700 became a problem for Nikon – it heavily cannibalized the D3 sales. Why spend $5K on the D3, if you could get a smaller and lighter camera with almost the same features for $2,000 less? And if you really wanted, you could push the D700 to be almost like the D3 by adding a grip and D3 batteries. Consumers were quick to react to this opportunity and Nikon soon realized that it made a mistake by letting one product line compete head to head with another. But it was too late – the D700 was already too popular. Nikon released the 24 MP D3x shortly thereafter, which proved to be a marketing failure due to its inflated price (despite being a superb camera for high-resolution work). Nikon's professional line suffered all the way until the Nikon D3s was released in October of 2009, which finally created more demand for the top-of-the-line professional cameras once again. With the highly successful D700, well-performing D3s and failed D3x lines, it was clear that Nikon had to come up with a better strategy for positioning and pricing its full-frame cameras.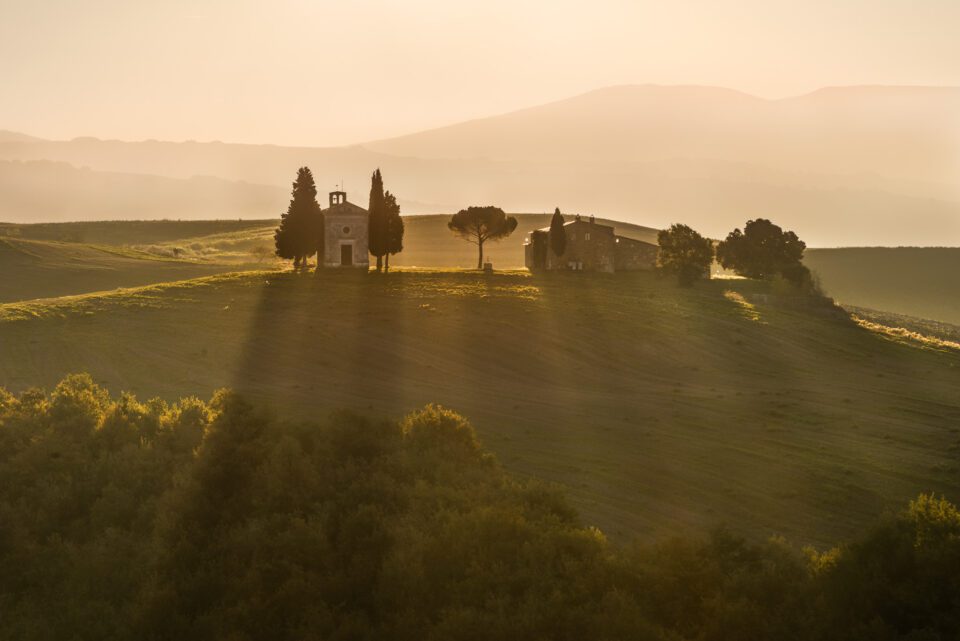 In January of 2012, the Nikon D4 was announced with a 16 MP sensor, which seemed in line with what I was expecting in terms of resolution. A very modest update in megapixels, different ergonomics and plenty of new features including a revamped autofocus system that works at f/8. We all knew the D800 was around the corner, but still, the biggest question remained – would it have D4's 16 MP sensor or the rumored super high-resolution 36 MP sensor? Within a month from the D4 announcement, Nikon finally announced the Nikon D800 with a 36.3 MP sensor. Why did this happen and what caused Nikon to change its direction in this full-frame line?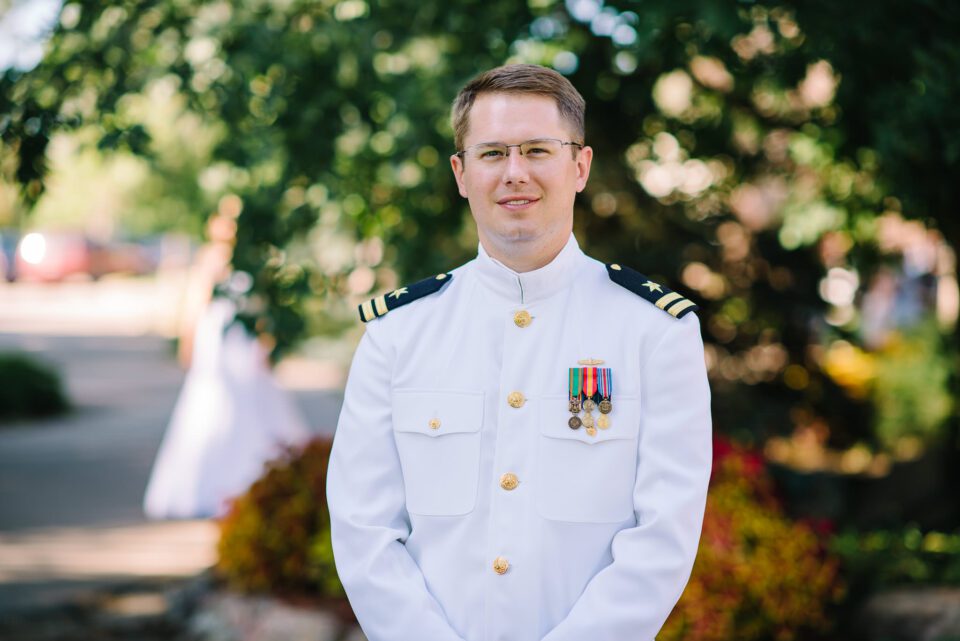 As I have already explained in my "benefits of a high-resolution sensor" article before, I believe Nikon made a smart move in positioning its current and future full-frame (FX) lines. Rather than offering three or more product lines with different performance characteristics and features, it makes a whole lot more sense to have just two distinct cameras – one general-purpose, high-resolution camera (D800) and one advanced high-performance camera specifically targeted for sports, news, and wildlife photography (D4). This move obviously eliminates the D3x line and sends a message that we might never see another high-end, high-resolution full-frame camera from Nikon. But in fact, I believe this could actually lead to an introduction of a medium format camera from Nikon in the future… But that's a whole different topic of discussion.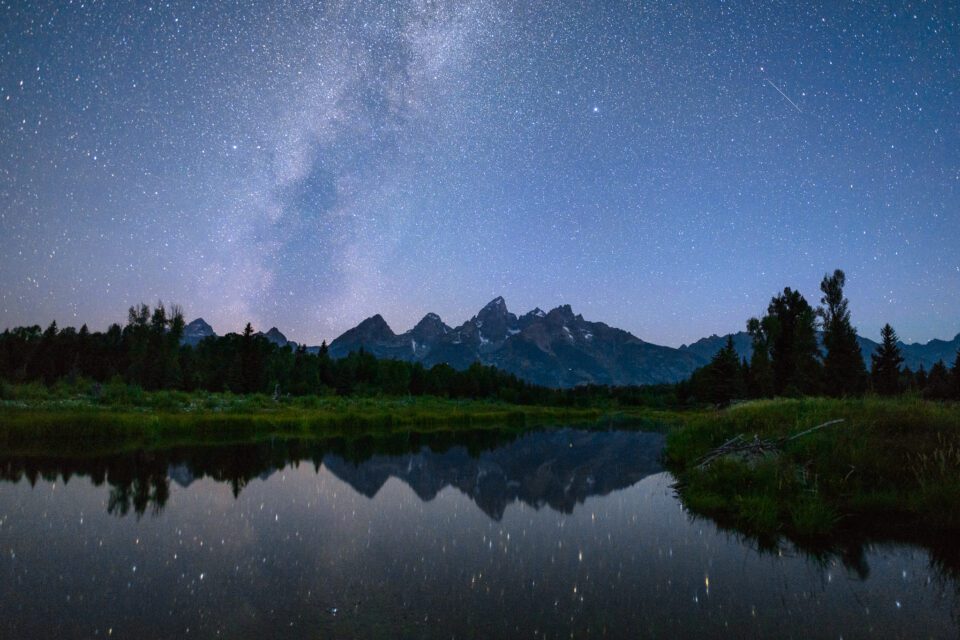 Traditionally, DSLR cameras with very high resolution have been categorized as specialized tools for landscape, macro and studio photography. With the introduction of the D800, many photographers thought that Nikon is specifically targeting one group of photographers, while completely ignoring others. In fact, as you will see later on in this review, it is actually not the case. There is a reason why I called the Nikon D800 a "general-purpose, high-resolution" camera – because it can be effectively used for any sort of photography. There is a common misconception among the photography community about the size of pixels and their impact on image quality and noise, especially when comparing one sensor to another. If a sensor packs a lot of pixels, it is often assumed that it will perform much worse in low light at high ISO when compared to a sensor with less and bigger pixels.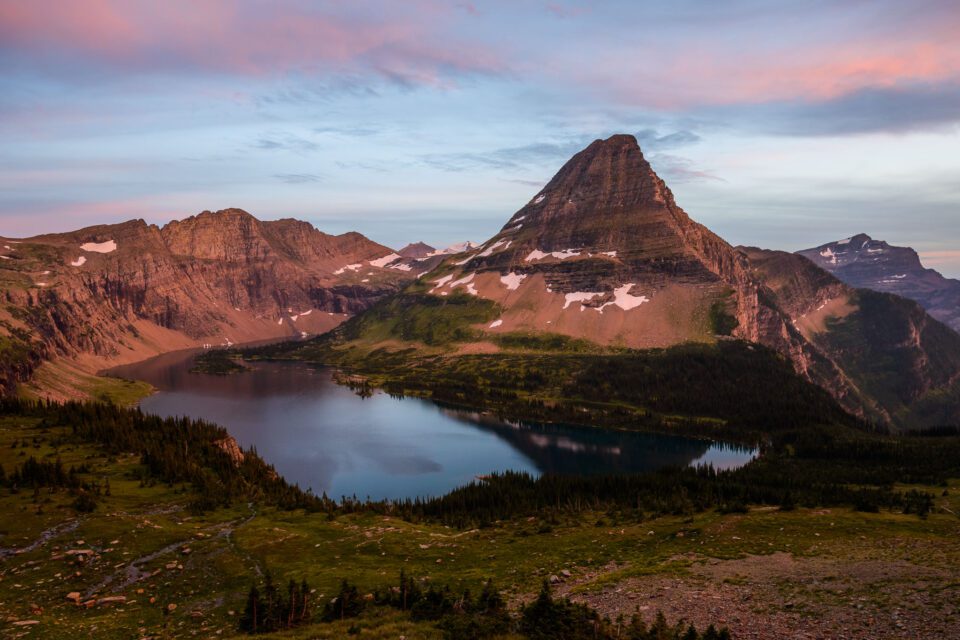 In fact, it all depends on how you perform this comparison. When a high-resolution image is down-sampled to a lower resolution, its noise characteristics can actually improve dramatically (see my articles on down-sampling). So when comparing a 36 MP image to a 12 MP image, why would you look at both at 100%? Clearly, the 36 MP image would print much larger in size, so it is only fare to compare sensors at the same print size. See this example of just how much bigger the 36.3 MP image is from the D800 in comparison to the 12.1 MP image from the D700: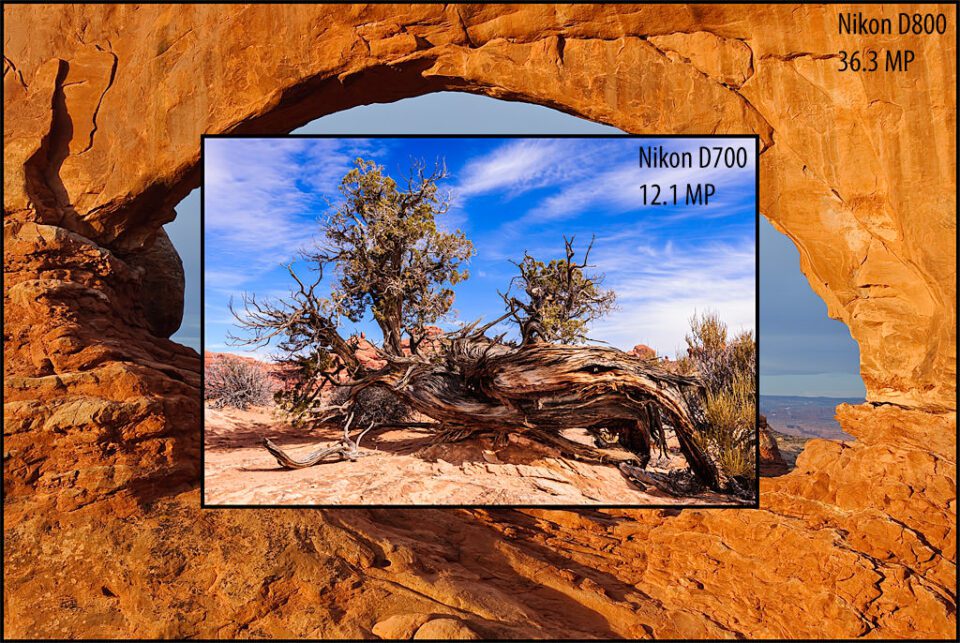 By down-sampling 36 MP to 12 MP, you would not only reduce the amount of noise, but you could also make the image appear sharper. As I reveal in the following pages of this review, the down-sampled Nikon D800 images look exceptionally good, even when compared to the high-end Nikon D4. There is a reason why the new sensor is rated as #1 by DXOMark among all sensors produced to date. In addition, a high-resolution image has a lot more room to work with for cropping and can produce exceptionally good-looking images at low ISO levels, perfectly suitable for huge prints. Hence, when looking at the Nikon D800, one has to be fully aware of the many advantages of a high-resolution sensor and the benefits of the down-sampling process.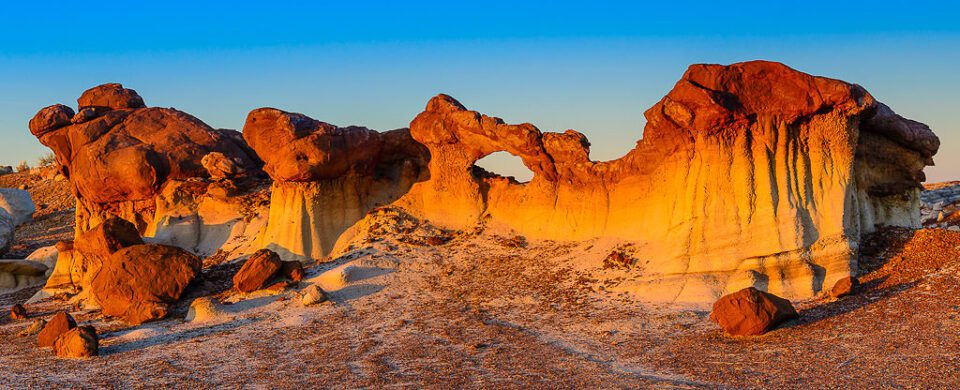 Let's move on to the camera details!
Nikon D800 Specifications
Sensor: 36.3 MP FX, 4.8µ pixel size
Sensor Size: 35.9 x 24mm
Resolution: 7360 x 4912
DX Mode: 15.3 MP
DX Mode Resolution: 4800 x 3200
Native ISO Sensitivity: 100-6,400
Boost Low ISO Sensitivity: 50
Boost High ISO Sensitivity: 12,800-25,600
Processor: EXPEED 3
Metering System: 3D Color Matrix Meter III with face recognition and a database of 30,000 images
Dust Reduction: Yes
Weather Sealing/Protection: Yes
Body Build: Full Magnesium Alloy
White Balance: New White Balance System
Shutter: Up to 1/8000 and 30 sec exposure
Shutter Durability: 200,000 cycles, self-diagnostic shutter
Camera Lag: 0.012 seconds
Storage: 1x CF slot and 1x SD slot
Viewfinder Coverage: 100%
Speed: 4 FPS, 6 FPS in DX mode with optional MB-D12 battery pack
Exposure Meter: 91,000 pixel RGB sensor
Built-in Flash: Yes, with Commander Mode, full CLS compatibility
Autofocus System: Advanced Multi-CAM 3500FX with 51 focus points and 15 cross-type sensors
AF Detection: Up to f/8 with 9 focus points (5 in the center, 2 on the left and right)
LCD Screen: 3.2 inch diagonal with 921,000 dots
Movie Modes: Full 1080p HD @ 30 fps max
Movie Exposure Control: Full
Movie Recording Limit: 30 minutes @ 30p, 20 minutes @ 24p
Movie Output: MOV, Compressed and Uncompressed
In-Camera HDR Capability: Yes
Two Live View Modes: One for photography and one for videography
GPS: Not built-in, requires GP-1 GPS unit
Battery Type: EN-EL15
Battery Life: 900 shots
USB Standard: 3.0
Weight: 900g
Price: $2,999 MSRP
A detailed list of camera specifications is available at NikonUSA.com.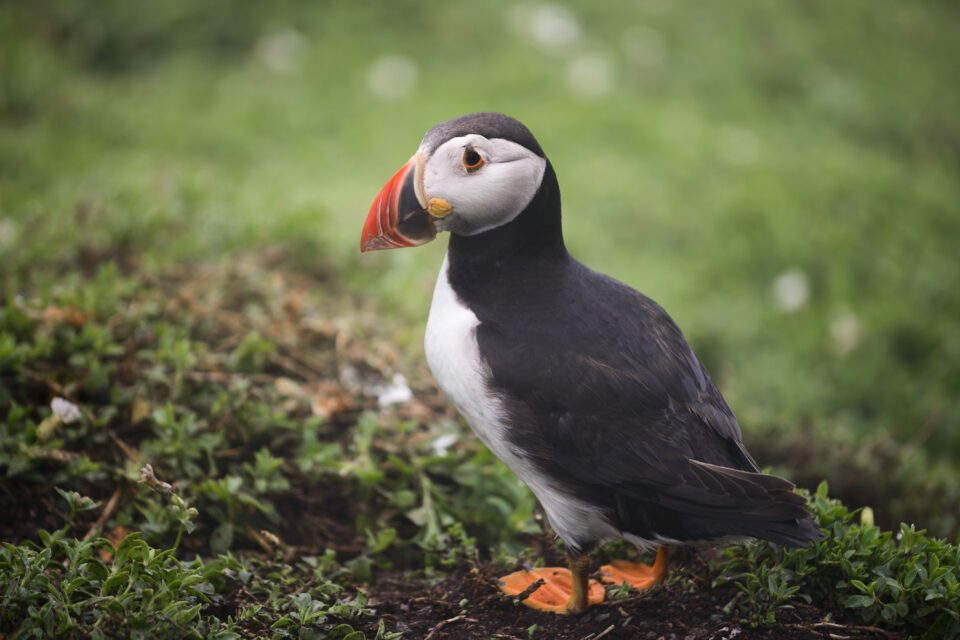 Nikon D800 vs D800E
For the first time in Nikon's history, a DSLR camera is offered in two variants – one that is specifically targeted for landscape and macro photography (Nikon D800E), and another for everything else (Nikon D800). In the past, Nikon only offered one single model that could be used for all types of photography. While the specifications, body shape, size and ergonomics are all identical, there is only one difference between these two models – one has an anti-aliasing filter in front of the camera sensor that is designed to blur fine detail, while the other has a modified version of an anti-aliasing filter that retains all the details. Here is an illustration of how this filter works on each model: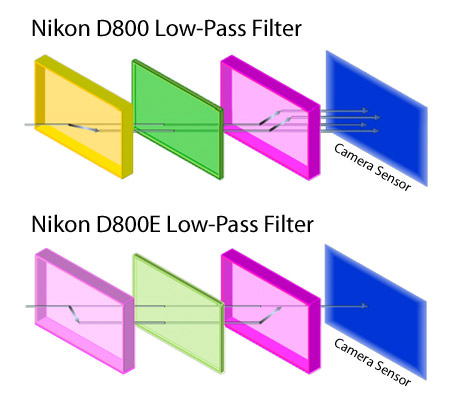 You might be wondering about why this sort of filter is needed on a camera, so I highly recommend to read my "What is Moire?" and "Nikon D800 vs D800E" articles, where I explain this topic in much more detail.
Nikon D800 vs D700
While a detailed comparison specifications comparison between the D800 and D700 can be found in my Nikon D800 vs D700 article, there is not much info there about how both cameras compare side by side in terms of fps (frames per second) and camera buffer. In the below video, I show the performance of both cameras when shooting 14-bit Lossless Compressed RAW images with very fast SanDisk Extreme Pro 16GB compact flash memory:
As you can see, the Nikon D800 is slower than the Nikon D700 with its 4 fps speed versus 5 fps on the D700. It also lasts about half a second shorter than the D700 before its buffer gets full at around the 4 second mark. Nikon's estimates for the D800 and D700 are 17 images for the D800 and 20 images for the D700 before memory buffer gets full and fps slows down. My tests are a little off, because the D800 should be a little faster according to Nikon – 17 / 4 fps is 4.25 and 20 / 5 fps is 4. Interestingly, the same thing happens when both cameras are set to 12-bit RAW – the D700 still lasts longer. Note how much longer it takes for the D800 to complete its write from the camera buffer into the memory card – now that's one huge buffer! I bet it is at least 4 times larger than the one on the D700. Lastly, note that the D800 shutter sounds very different than the one on the D700.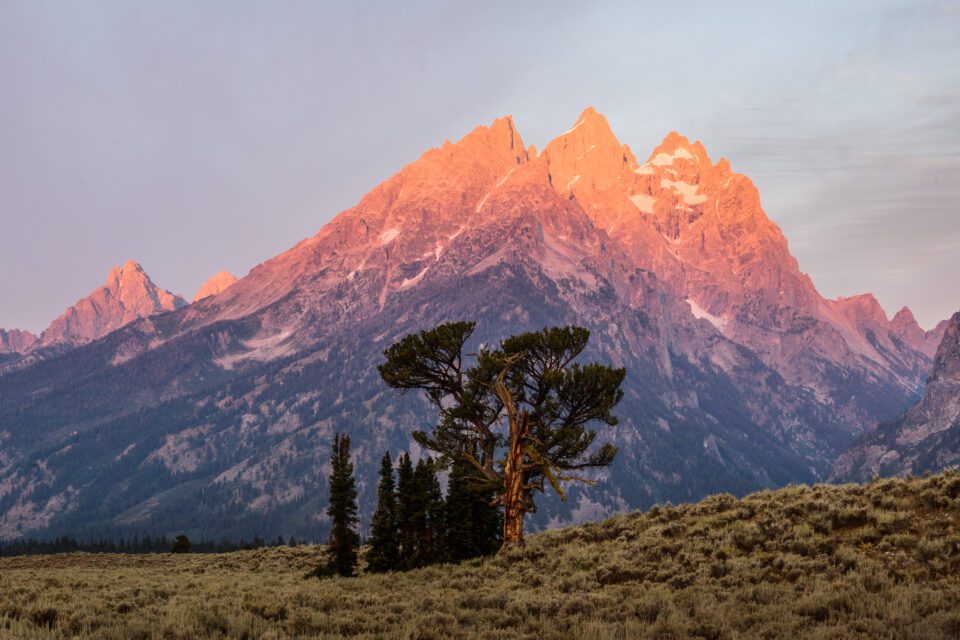 Some people have been reporting memory compatibility issues with the D800. I have not seen any issues so far with any of the SanDisk & Lexar cards I have (I have been using SanDisk and Lexar cards for my cameras exclusively), so I believe memory card issues are happening with cheap third party memory cards only.