Comparisons
As an entry-level DSLR, the Nikon D5600 has a huge number of competitors on the market. Everything from lower-end mirrorless cameras to older DSLRs can be considered competition, along with all the new options available today. So, I will only cover some of the most important and popular alternatives to the D5600 below.
Nikon D5600 vs Nikon D5500, D5300, and D5200
As I covered at the beginning of this review, the Nikon D5600 comes from a long line of cameras that arguably have very minimal improvements upon their predecessors. That trend is not just true for Nikon, either – Canon also frequently releases updates to their entry-level cameras without adding many new features.
So, with that in mind, here is how the Nikon D5600 compares to its most recent predecessors:
| Camera Feature | Nikon D5200 | Nikon D5300 | Nikon D5500 | Nikon D5600 |
| --- | --- | --- | --- | --- |
| Released | November 2012 | October 2013 | January 2015 | November 2016 |
| Sensor Resolution | 24 Megapixels | 24 Megapixels | 24 Megapixels | 24 Megapixels |
| AA Filter | Yes | No | No | No |
| Image Processor | EXPEED 3 | EXPEED 4 | EXPEED 4 | EXPEED 4 |
| Autofocus | 39-point Multi-CAM 4800DX | 39-point Multi-CAM 4800DX | 39-point Multi-CAM 4800DX | 39-point Multi-CAM 4800DX |
| Frame Rate | 5 FPS | 5 FPS | 5 FPS | 5 FPS |
| LCD Size | 3″ Diagonal | 3.2″ Diagonal | 3.2″ Diagonal | 3.2″ Diagonal |
| LCD Resolution | 921,000 dots | 1,036,800 dots | 1,036,800 dots | 1,036,800 dots |
| Built-in GPS | No | Yes | No | No, but can use your phone's GPS data via SnapBridge |
| Built-in WiFi | No | Yes | Yes | Yes |
| Built-in Bluetooth | No | No | No | Yes |
| SnapBridge | No | No | No | Yes |
| Max Video Frame Rate | 60i | 60p | 60p | 60p |
| Touchscreen | No | No | Yes | Yes |
| Battery Life | 500 | 600 | 820 | 970 |
| Weight (with battery and card) | 555 g (1.22 lbs) | 530 g (1.17 lbs) | 470 g (1.04 lbs) | 465 g (1.03 lbs) |
| Dimensions | 129 x 98 x 78 mm | 125 x 98 x 76 mm | 124 x 97 x 70 mm | 124 x 97 x 70 mm |
As you can see, the Nikon D5600 does indeed have a more advanced set of features than the older editions of this lineup. Are the differences enough for you to need the D5600 rather than any of the prior versions?
For most people, I would say that the answer depends upon the deal you get. If you find a good price on any of these cameras – even an older D5200 – you should consider taking it, new or used (assuming you don't mind buying a used camera). They are all good, and the differences really are quite minimal.
Nevertheless, there are some photographers who will find features like the touchscreen, battery life, and SnapBridge capabilities of the D5600 to be worthwhile. The improvements Nikon has made over this lineup's history may not be drastic, but they are still improvements (aside from the removal of GPS).
Nikon D5600 vs Canon Rebel T7i
Having tested the Nikon D5600 and the Canon Rebel T7i side by side, I can say quite certainly that they are both very good – and very similar – cameras. Deciding which one is "better" from a features standpoint is not productive since they resemble each other very closely. My overall recommendation is to buy whichever one you find at a better price – or, if you already have cameras/lenses from one brand or the other, just pick that one.
With regards to image quality, there are slightly greater differences. Here is a comparison of extreme crops between the Nikon D5600 and the Canon Rebel T7i from ISO 400 to ISO 6400. The Nikon's images are on the left, and you can click to see identifying captions for each:
The Nikon has better high ISO performance by about a stop (meaning that ISO 1600 on the Canon T7i is about the same as ISO 3200 on the Nikon D5600). However, although this is indeed a benefit of the D5600, it is worth emphasizing that you are unlikely to notice these differences until your camera technique is already optimal, and a one-stop difference is not enough for me to recommend either camera over the other.
The Canon T7i also has benefits such as better colors on the screen and a more ergonomic kit lens than Nikon's newest 18-55mm, potentially tipping the scales in Canon's favor for some photographers.
If forced to nitpick, I think the D5600 is a slightly better camera, but – especially taking Canon's easier-to-use kit lens into account – it's close. Even though I am a Nikon user, my goal is simply to find the better of the two, and not to pick sides. (As you will see in our upcoming reviews of the Nikon D3400 and Canon Rebel SL2, Canon's camera is noticeably better than Nikon's.) The bottom line is that the D5600 and Canon Rebel T7i are very similar, with only the high ISO figures slightly tipping the scales to Nikon.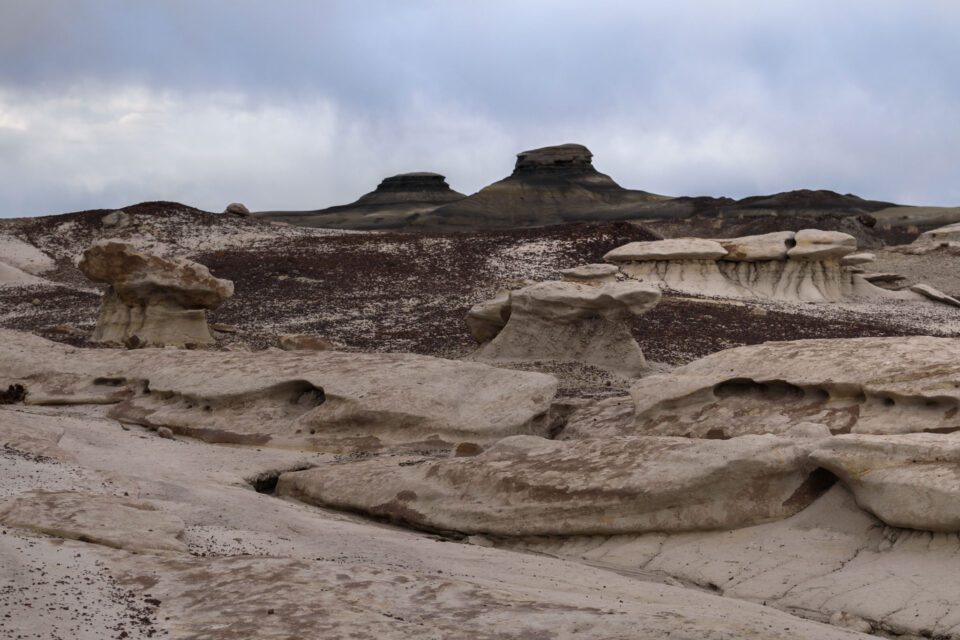 Nikon D5600 vs Nikon D7500
The image quality differences between the Nikon D5600 and Nikon D7500 are not significant – imperceptibly better for the D7500 at high ISOs, and imperceptibly better for the D5600 at low ISOs (primarily because of the higher resolution sensor). Instead, the main differences are in areas like autofocus performance, frame rate, and ergonomics/buttons.
First-time DSLR users probably should get the D5600 rather than the D7500. It has all the options that you most likely will need, and it comes in a smaller and less expensive package (with a more flexible screen, too). The D7500 is better if you frequently shoot in manual mode, assign custom functions to your camera buttons, and need especially fast autofocus performance and good tracking capabilities for something like erratically-moving wildlife photography.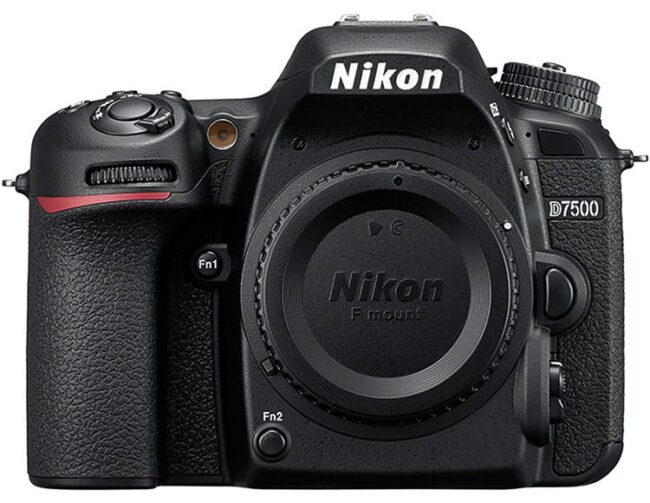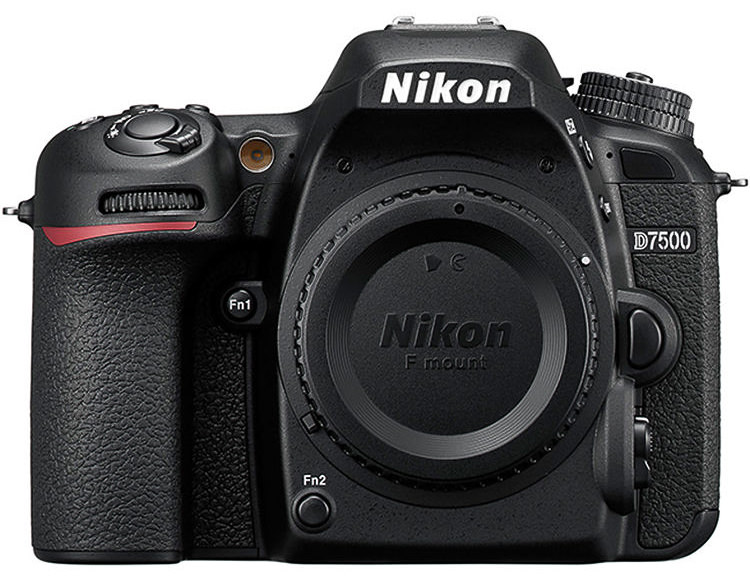 Nikon D5600 vs Mirrorless Options
There are a number of mirrorless cameras which compete for the same target audience as the D5600. Most popular is the Sony A6000, although entry-level options from Fuji and Olympus also have a similar user in mind.
Is it worthwhile to get one of these mirrorless cameras instead? It depends upon your goal. Although mirrorless cameras do have a size and weight advantage overall, the differences are smaller than you may think when compared to a relatively lightweight DSLR such as the Nikon D5600. The D5600's autofocus performance is also surprisingly good, even in darker environments, which cannot always be said of entry-level mirrorless bodies (even when the mirrorless cameras may have more total focusing points).
Here are a few comparisons to specific mirrorless competitors the D5600 faces:
The Olympus E-M10 III is arguably Olympus's closest competitor to the Nikon D5600. It has 8.6 frames per second to the Nikon's 5, a 16-megapixel sensor, and a tilt screen. The autofocus system on the E-M10 III is also on the high end of things, with 121 focusing points, significantly more than the D5600 has (though these are contrast-detect rather than phase-detect). The Nikon wins on battery life and image quality (due mainly to the larger sensor, though the extra pixels play a role as well), although it is priced slightly more (with the Olympus at $549 and the Nikon at $597 from B&H). I would pick the Nikon D5600 for most work, but if sports are your main focus, the Olympus could be the better option.
The D5600 also sits right about at the level of the Fuji X-A5. The two cameras have the same sensor size, leveling the image quality playing field more closely. The X-A5 is billed as Fuji's most entry-level mirrorless camera, but it still has several nice features, including a slightly faster frame rate than the Nikon (6 fps vs 5 fps) and an excellent autofocus system (91 focus points, and a hybrid phase-detect/contrast-detect system). On the downside, it doesn't have a viewfinder, and the battery life is about half of the D5600's. At $600 including a kit lens, the X-T20 is a very good value, and you might find that it is better than the D5600 if you prefer light weight and small size rather than a viewfinder and better battery life. Both are good options.
Last is the Sony A6000, which you also should not underestimate. This $450 mirrorless camera has 11 frames per second, 179 autofocus points, and a very lightweight form factor. It also has a particularly bad battery life (360 photos versus the D5600's 970), but it packs a lot of technology into a small camera. Between the two, the D5600 has a more flexible tilting screen (with the A6000's not flipping completely around), a more rugged form factor, an optical viewfinder rather than electronic (which could be a pro or a con), and more photos per charge. The Sony A6000, in turn, offers higher autofocus specifications, although in practice its main advantages over the D5600 are weight and price. I would tend to say that the Nikon comes out ahead, ignoring price, but it is up to your personal needs. After all, you won't find many cameras with such a large sensor that are as small and lightweight as the A6000.