Handling
The ergonomics and ease-of-use on the Nikon D5600 are a mixed bag.
On one hand, the D5600 is a very comfortable and modern camera in many ways. The camera's grip is excellent – not as tall as that of larger DSLRs, but deep enough to hold very easily and solidly. For photographers who don't use neck-straps (ahem), it's solid enough that you won't feel worried about dropping it.
Along with that, the LCD on the D5600 is large, sharp, and extraordinarily flexible. It doesn't have the same color quality as Canon's LCDs (see our review of the Canon 80D), but no one can argue that it's a bad screen. Indeed, it is one of the best you will find on a camera today.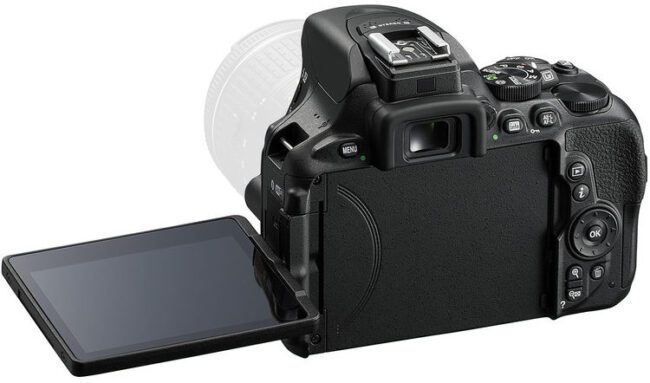 At the same time, as an entry-level DSLR (even an advanced one), the Nikon D5600 has a few unsurprising shortcomings in the realm of ergonomics. First, it simply does not have as many buttons and options as higher-end cameras do. The controls also feel lower in quality from what you'll find on something like the Nikon D7500 or Canon 80D. Those cameras are both noticeably more expensive, of course.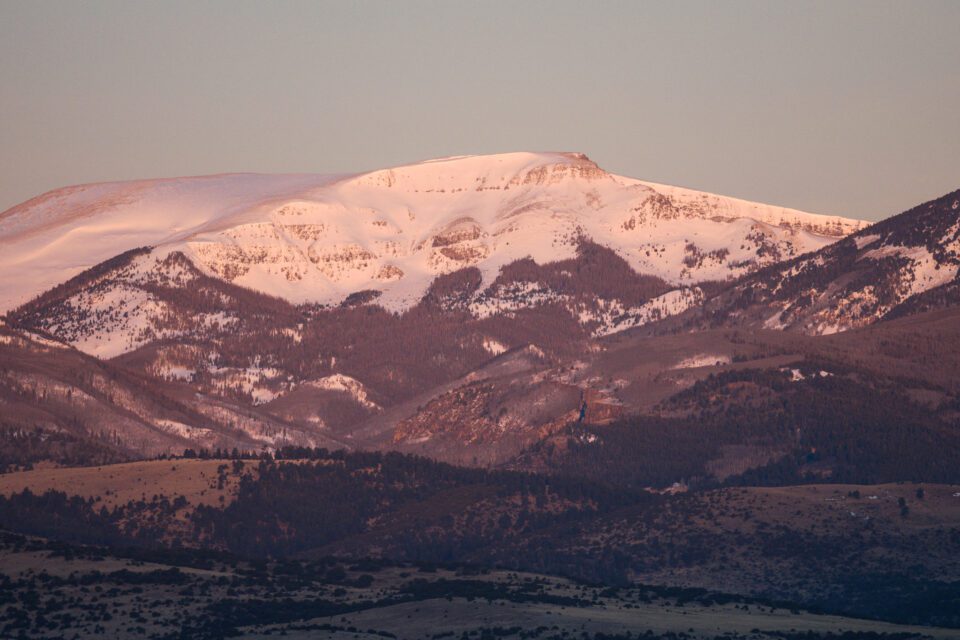 Here is a quick list of the Nikon D5600's most important missing buttons and options:
The D5600 only has one command dial rather than two.
There isn't a one-button way to open the top item in your "My Menu" (and you can't assign it to a custom button, as on the D7500).
To adjust autofocus point modes, you need to enter a menu (by pressing the i button).
In manual mode, you also need to enter a menu to change exposure compensation (or change it in another mode, like aperture priority, first).
To turn on or off Auto ISO, again, you need to enter a menu.
The Nikon D5600 only has one custom function button, as opposed to two on other cameras.
The pentamirror viewfinder on the Nikon D5600 is smaller than those of higher-end DSLRs, and it does not have complete 100% coverage (meaning that you don't see the most extreme edges of your photo by looking through the viewfinder).
As an entry-level DSLR, the D5600 has no built-in autofocus motor. You will need to buy one of Nikon's current AF-S series lenses (or an equivalent off-brand lens) in order to get autofocus capabilities. It will not focus with older AF-D lenses.
Lastly, it does not have any custom "U1" or "U2" options on the mode dial to save all your settings.
These are the main differences between the D5600 and higher-end cameras like the D7500. However, it is worth pointing out that these are not disadvantages specific to the Nikon D5600. Essentially every entry-level DSLR on the market will have an identical list of missing buttons and features. So, the fault is not necessarily with this particular camera, but with consumer DSLRs in general.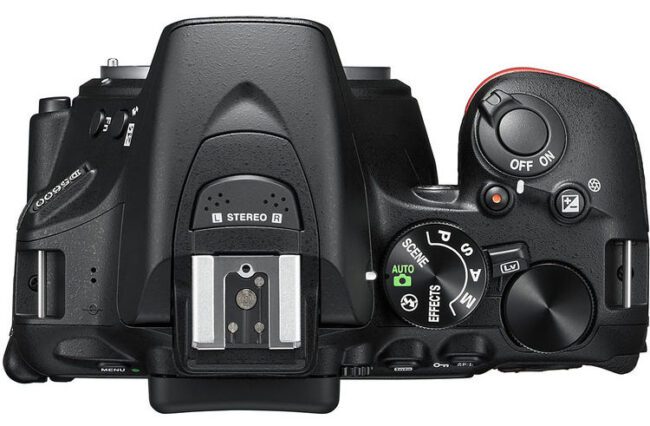 There are a few more minor issues about using the Nikon D5600, too. I did not find these to be as bothersome for day to day photography, but they are still worth pointing out:
The D5600 has no Auto Picture Control, unlike some of Nikon's other options. This matters more for JPEG shooters (who are potentially a large portion of this camera's audience).
Unlike other cameras on the market, such as Canon's options, the D5600 does not tell you how much memory space is left on your card in terms of gigabytes.
Any time you press the record button in live view, the camera starts filming a video. Other Nikon cameras require you to switch to a video mode separately first. This is both good and bad, since it lets you start filming more quickly, but can lead to accidental videos.
There is no way to permanently disable the "subject is too dark" warning, and it sometimes occurs even when your exposure settings are fine. However, this warning does not prevent you from taking photos; it just gets irritating.
On the bright side, the D5600 has some useful features that its competition does not, such as advanced options for minimum shutter speed under the Auto ISO menu. The Nikon D5600 also includes a very helpful "Time" (T) option that lets you easily take photos with extremely long shutter speeds – no 30 second limit, or requirement to use a remote release.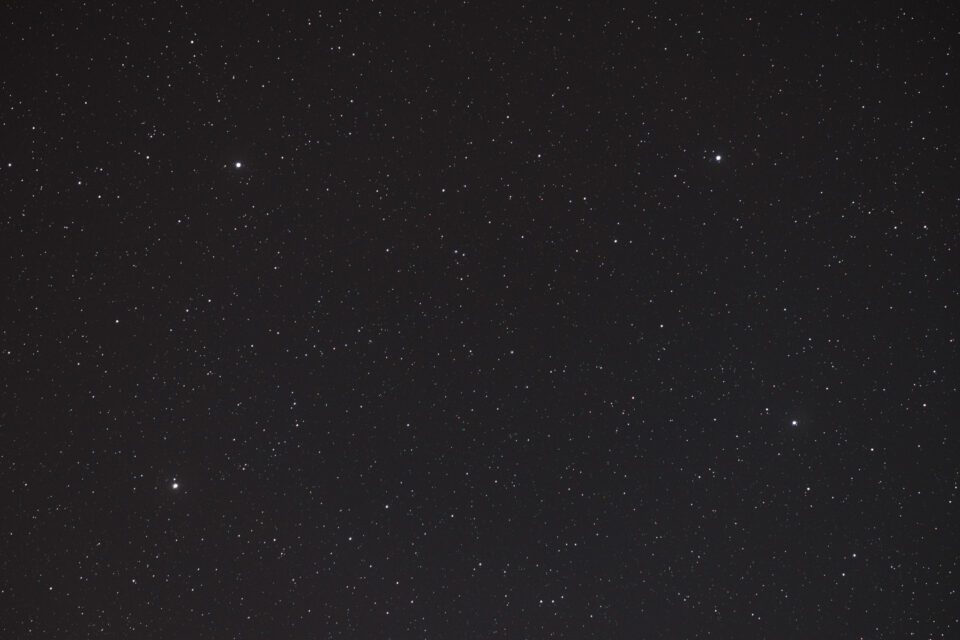 Taken as a whole, the D5600's ergonomics and features are definitely workable, if not exceptional. Still, they are no worse than other entry-level DSLRs, and better in some useful areas.
Build Quality
In terms of build quality, the Nikon D5600 actually is surprisingly good in many ways – noticeably better than Nikon's cheapest D3400 DSLR. The carbon fiber composite body feels just as sturdy as some more advanced cameras in Nikon's lineup, and not much worse than high-end options like the D850. A few areas give away the fact that the D5600 is not as well built as professional DSLRs – for example, the SD card slot door wobbling more than expected, and the buttons on the back of the camera feeling somewhat cheap – but, on balance, I think even advanced photographers will be impressed by the overall feel of the D5600.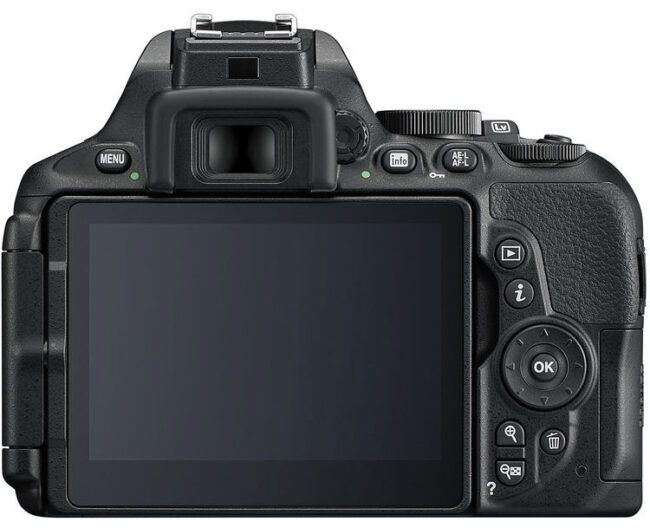 As for the tilt-flip LCD screen, some may argue that it results in a flimsier camera, but I personally am willing to take that risk in exchange for the added flexibility. Not that people who make this argument are inherently wrong – if you drop or bump the camera with the screen flipped all the way open, it definitely would be more prone to breaking. Also, the space behind the D5600's screen has a greater risk of collecting dust and dirt, just like all cameras with such a widely articulating LCD. All of that is a tradeoff a majority of photographers are willing to make, including me.
The bottom line is that the D5600's build quality is surprisingly good, and it is a camera that certainly feels good in hand. Advanced photographers looking for a lightweight backup camera to a more professional setup will not be disappointed by the Nikon D5600's overall feel. Instead, the main issue to overcome is simply its lack of buttons (many of which are unnecessary for the D5600's target audience, anyway).
The following page of this review covers autofocus, where the Nikon D5600 does a solid job compared to other entry-level DSLRs, although it isn't all perfect: