Nikon D3500 vs D3400, D3300, D3200, and D3100
Before comparing the D3500 to other current cameras on the market, it's worth stepping back a bit and seeing how this camera holds up against older versions in the same lineup. Here is a table comparing it to the D3100, D3200, and D3300:
| | Nikon D3100 | Nikon D3200 | Nikon D3300 | Nikon D3400 | Nikon D3500 |
| --- | --- | --- | --- | --- | --- |
| Announced | August 2010 | April 2012 | January 2014 | August 2016 | August 2018 |
| Megapixels | 14.2 | 24 | 24 | 24 | 24 |
| Autofocus Points | 11 | 11 | 11 | 11 | 11 |
| Max Frame Rate (Stills) | 3 fps | 4 fps | 5 fps | 5 fps | 5 fps |
| Viewfinder Magnification | 0.8× | 0.8× | 0.85× | 0.85× | 0.85× |
| LCD Screen | 230,000 dots | 921,000 dots | 921,000 dots | 921,000 dots | 921,000 dots |
| ISO Sensitivity | 100-12,800 | 100-12,800 | 100-25,600 | 100-25,600 | 100-25,600 |
| Max Video Frame Rate at 1920 × 1080 | 24 fps | 30 fps | 60 fps | 60 fps | 60 fps |
| Bluetooth | No | No | No | Yes, which lets you use SnapBridge | Yes, which lets you use SnapBridge |
| Remote Shooting | With IR remote | With IR remote | With IR remote | With IR remote | With your phone via SnapBridge |
| GPS | Yes, with GP-1 or GP-1A | Yes, with GP-1 or GP-1A | Yes, with GP-1A | Yes, with SnapBridge | Yes, with SnapBridge |
| Battery Life | 550 shots | 540 shots | 700 shots | 1200 shots | 1550 shots |
| Weight (Body Only) | 16.0 oz / 455 g | 16.0 oz / 455 g | 14.5 oz / 410 g | 13.9 oz / 395 g | 12.9 oz / 365 g |
| Dimensions | 124.5 × 96.5 × 73.7 mm | 127 × 97 × 79 mm | 124.5 × 99.1 × 76.2 mm | 124 × 98 × 75.5 mm | 124 × 97 × 70 mm |
As you can see, aside from the 24 megapixel sensor on the D3200 and beyond, the new features added to this lineup are relatively limited. If you are looking for an especially well-priced DSLR, I wouldn't hesitate to recommend a D3200 or D3300 instead, used or refurbished.
Compared to the D3400, the most obvious benefit of the D3500 is longer battery life. In practice, I did notice that the D3500 has excellent battery life (shooting two days in a row without charging, and still having 50% battery left at the end). But the D3400 was already no slouch in this department, so the improvements aren't drastic head-to-head.
The D3500's other specification differences compared to the D3400 are pretty minimal. Its weight and size savings are welcome, but not large enough to be noticeable. And the ability to control the D3500 over Bluetooth with your phone is nice for some photographers, though not a feature many will ever use (and it comes at the expense of the IR remote compatibility that previous D3000-series cameras had).
Other than that, the D3400 and D3500 specifications are the same – but the camera bodies are not. In the field, the D3500's grip is far more comfortable than any of the previous cameras in this lineup. That's a bigger factor than you might think. Ergonomics matter when you use a camera for long periods of time, and the D3500 is much, much better designed in that regard. Among my biggest complaints with the D3400 is that it had a cheap, uncomfortable design – not true of the D3500.
So, although it doesn't add too many new features, the D3500 is nevertheless the most advanced camera in this lineup to date. In fact, though not all photographers will agree, I'd argue that the body redesign makes this a bigger upgrade than the D3200-to-D3300 or D3300-to-D3400 jumps.
Nikon D3500 vs Canon Rebel SL3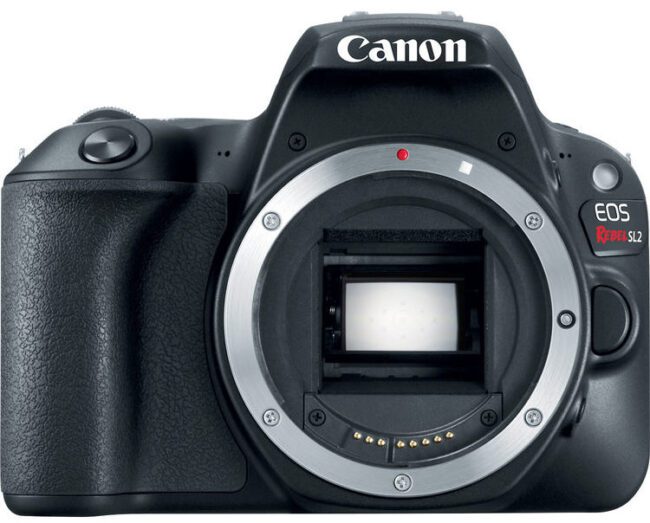 The current Canon camera which competes against the Nikon D3500 most closely is perhaps the Canon Rebel SL3. Still, at a price of $650 including the lens, that DSLR is noticeably more expensive than the $450 D3500 and lens combo. Could it be worth the extra price?
Compared to the Nikon D3500, the Canon Rebel SL3 has a much better screen, including tilt-flip (vari-angle) capabilities and touch sensitivity that the D3500 doesn't have. The SL3 also shoots 4K video, albeit with a heavy 2.64x crop relative to full frame. I also prefer the Canon's kit lens between the two; it has a direct switch for image stabilization and no silly locking button like the Nikon.
What about image quality? Here is a comparison of high ISO photos from the Nikon D3400 and the Canon Rebel SL2 (again, exact same sensors as in the D3500 and SL3). Note that these are extreme 100% crops taken from RAW photos. Below is ISO 800 to ISO 6400, with Nikon on the left. Click to see specific ISO values and compare more closely:
So, Nikon is ahead in ISO performance, but not by a drastic amount. The difference is a bit less than one stop; ISO 3200 on the Nikon looks similar to ISO 1600 on the Canon, for example. That is not a huge disparity, but it is enough that it might make a difference to your work. You're the only one who can decide that for certain.
If both were exactly the same price, I would prefer the Canon SL3, largely because of the tilt-flip touchscreen and more ergonomic kit lens. Including price in the calculation, it's trickier to say. Personally, I think the SL3 has the edge for dual photo/video users. But for photographers only, I'd lean to the Nikon. The Canon's tilt screen is nice, sure – but so is saving $200.
In our best entry-level DSLR rankings, I put the D3500 at #2 and the SL3 at #1 of all ten beginner DSLRs available today. But that ranking takes video into account – and even then, it's really close.
D3500 vs Canon Rebel T6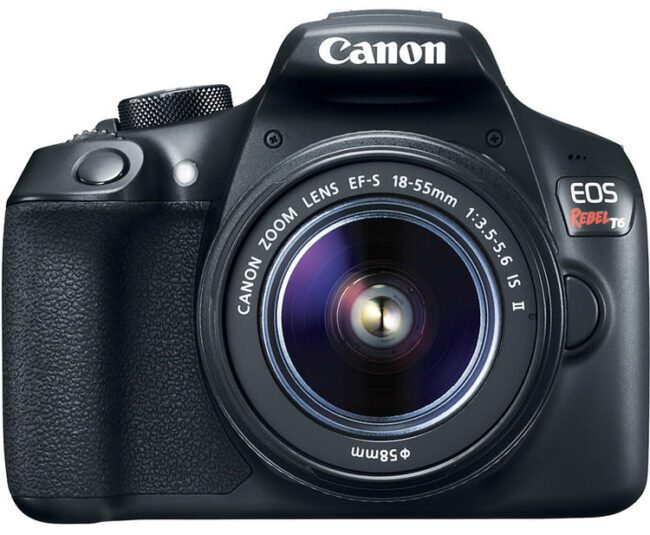 Although the Canon Rebel T6 is not the most current option in Canon's lineup (superseded by the T7 and T7i), it does compete with the Nikon D3500 in a very important area: price. The Canon undercuts the D3500 slightly, costing just $400 with a kit lens at the time of this article's publication. So, which one is better?
On one hand, the 24 megapixel sensor in the Nikon D3500 outshines the Canon T6's 18 megapixels, including in high ISO noise performance, pretty clearly. The D3500 also has a better frame rate (5 fps versus 3 fps) and autofocus system (11 points versus 9 points). The T6 really only beats the D3500 in terms of built-in WiFi; everything else leans in the Nikon's favor or is a tie. Although I do like Canon's kit lens better, I'd get the D3500 for the extra $50 unless your heart is really set on a Canon DSLR.
D3500 vs Sony A5100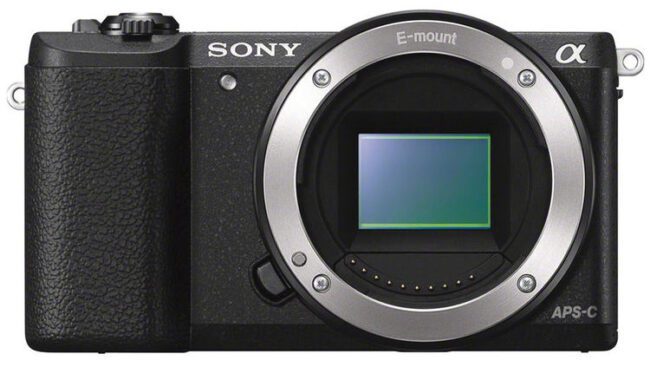 The closest mirrorless competitor to the Nikon D3500 is the Sony A5100, which retails for $450 with a kit lens (same as the D3500). Which one is better for most photographers?
On one hand, the Sony has a tilting touchscreen and a whopping 175 autofocus points. It's also a smaller and lighter camera, weighing 283 grams versus the Nikon's 395 (10.0 oz vs 13.9 oz) The D3500, in turn, has a viewfinder and a vastly better battery life (1550 shots versus 400). The D3500's grip is also much more substantial, making it easier to handhold for a long period of time. In short, this comparison is about as close as it gets.
As someone who already has many Nikon lenses, I'd pick the D3500 for my personal photography. But a first-time camera buyer would be just as happy with either, I suspect. The good news is that both of these are excellent cameras, and you won't be let down regardless of your pick!
If the Sony sounds better but you can't live without a viewfinder, take a look at the $550 (with a kit lens) Sony A6000 as well, which also has some additional advanced features like 11 frames per second for photography.