Image Quality
The photos out of the D3500 are very high in quality. Nikon's 24 megapixel DX sensor is one of the best aps-c sensors in the world, with impressive detail and very good high ISO performance.
Compared to the $1900 Nikon D500, the D3500 is actually ahead slightly in image quality at low ISOs, while behind slightly at higher ISOs. That fact – along with the camera's light weight – is why the Nikon D3500 is such a good choice for a lot of photographers. I mainly photograph landscapes and travel scenes, where I need top quality images from a package that doesn't weigh me down. The D3500 is pretty well optimized for that type of photography, even aside from its excellent price.
So, how does it look at each ISO? Here are sample photos from the Nikon D3400 (exact same camera sensor as the D3500) at its entire range of ISO values, from ISO 100 to ISO 25,600. These are all 100% crops of RAW photos, taken from a very small area of the sensor. Click to see the specific ISO value of each photo: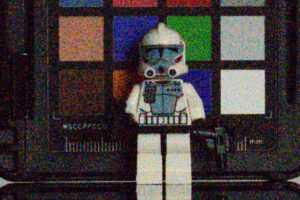 This is a very good result. I would be comfortable using the D3500 up to ISO 1600, and even ISO 3200 or 6400 if necessary. ISO 12,800 and 25,600 are just there for the sake of better specifications. They aren't useful except in the most drastic of cases.
Of course, to get the most image quality and sharpness out of the D3500, you need to know how to use it. Our photography basics articles are a good place to start.
Up next is the comparisons section of this review, where the D3500 faces off against a number of DSLR and mirrorless cameras targeted at the same audience. Although it fares pretty well, there's a lot of competition at this price point: