This is an in-depth review of the Nikon 800mm f/5.6E FL ED VR, an exotic super-telephoto lens designed for wildlife and sports photographers. Nikon first teased us with its plans to release an 800mm lens in July of 2012, with an official announcement that followed in January of 2013 (along with the Nikon 18-35mm f/3.5-4.5G ED lens). Nikon has not updated its manual focus 800mm f/5.6 ED-IF lens for over 25 years, so it was about time to introduce an autofocus version of the lens to the market.
The Nikon 800mm f/5.6 VR is a significant milestone for the Nikkor line, because this is the first lens to have the letters "FL" on the lens name, which indicate that fluorite elements are used in its optical design. Although Canon has been using fluorite elements in its exotic super-telephoto lenses for a while now, Nikon historically has only used fluorite elements in its medical / microscope lenses. So in a way, this is the first lens of its kind for Nikon.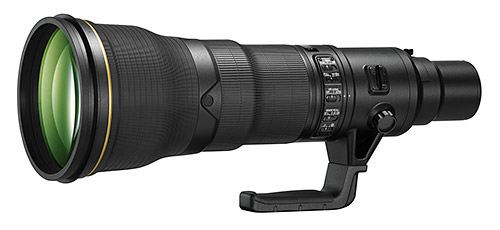 In addition, the Nikon 800mm f/5.6 VR comes with a number of high-end technological advancements, some of which are also brand new. The lens features a complex optical design with a total of 20 lens elements in 13 groups, 2 of which are Fluorite and 2 are Extra-low Dispersion / ED (see Nikon Lens Nomenclature). As with all top of the line Nikkor lenses, the lens has the special Nano Crystal Coat and Super Integrated Coating to reduce ghosting/flare and to enhance colors and clarity. The Silent Wave Motor (SWM) allows for ultra-quiet and accurate autofocus operation, while the latest Vibration Reduction technology used on the lens can provide up to 4.5 stops of compensation for shooting hand-held.
Lastly, something also new that we have never seen on telephoto lenses before is the "E" letter designation, which stands for "Electromagnetic Diaphragm Mechanism". It allows for very precise electronic diaphragm control. While aperture/diaphragm blades on conventional "D" and "G" type lenses are operated by mechanical linage levers, the "E" type lenses are controlled electronically. This basically translates to more consistent results with high precision from exposure to exposure, when shooting in bursts in continuous AF mode. No other Nikkor lens (except for the three PC-E lenses) has this type of capability at this time. This is the reason why the lens is officially called "AF-S NIKKOR 800mm f/5.6E FL ED VR".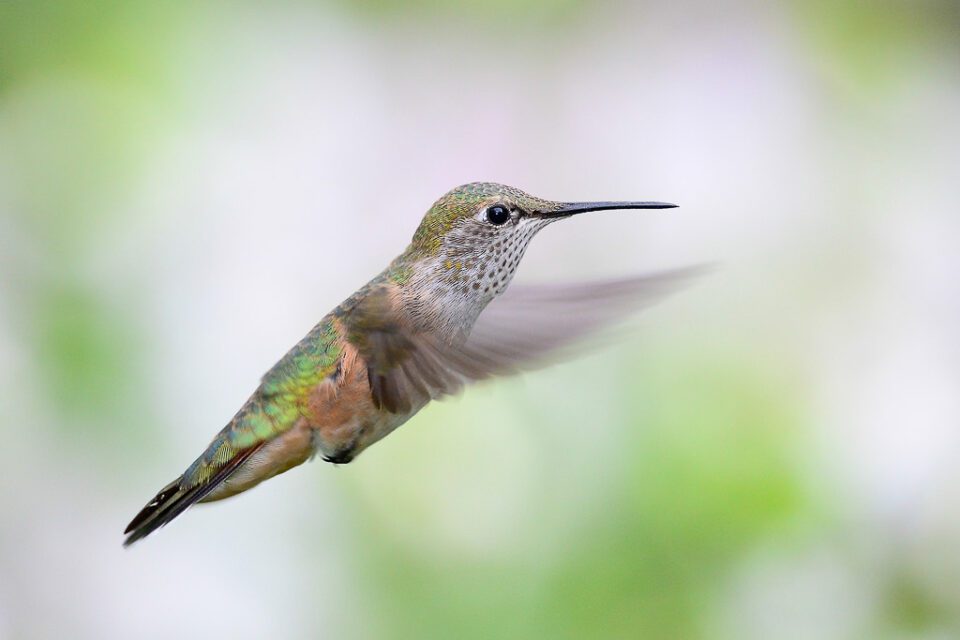 Until the 800mm f/5.6 came out, Nikon's longest super-telephoto lens was the Nikon 600mm f/4G VR. To get longer focal lengths, one would have to use teleconverters – 2.0x with the 400mm f/2.8 to get to 800mm f/5.6 (which needs to be stopped down to f/8 to get good results), 1.4x with the 500mm f/4 to get to 700mm f/5.6 or 1.4x with the 600mm f/4 to get to 840mm f/5.6. Unfortunately, no other TC combination resulted in acceptably good autofocus performance and accuracy. So why do we need a dedicated 800mm f/5.6 lens, if one could get to 800mm with teleconverters? Because teleconverters degrade image quality (as proven in this article) and negatively affect AF performance and AF accuracy, whereas properly arranging optical elements inside the lens can yield maximum performance.
So a true 800mm lens will always yield better results than a shorter lens with a teleconverter attached to it. In addition, with the latest generation Nikon DSLRs that can autofocus at small apertures up to f/8, one could get even longer focal lengths with a separate teleconverter. Which is exactly what Nikon did with the 800mm that ships with the TC800-1.25E teleconverter, providing 200mm of additional magnification. It sounds like overkill, but it has its uses – whether in sport, news, wildlife photography or other special needs.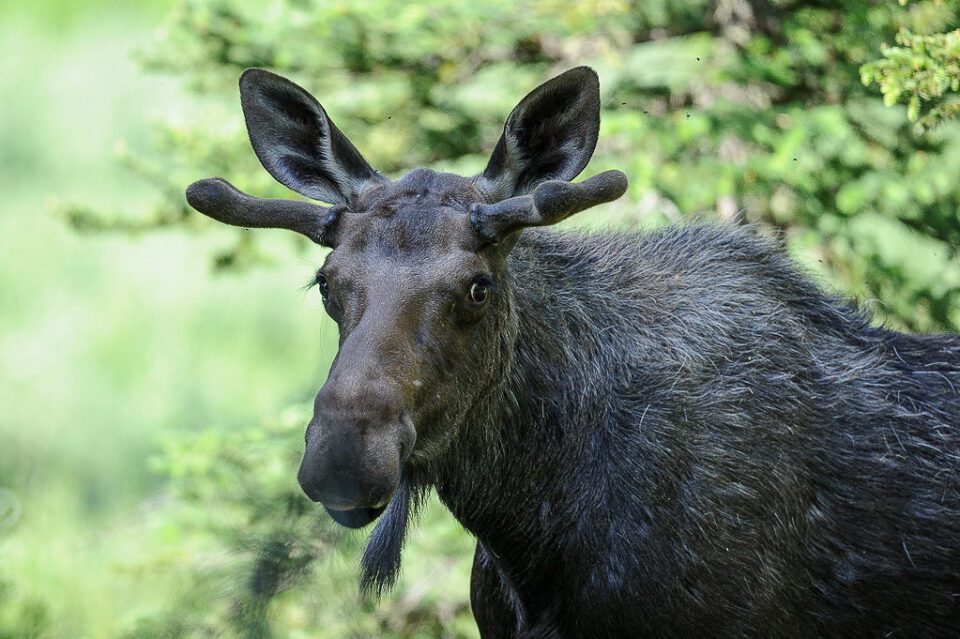 Since the lens is produced in very limited quantities, I knew that I had to order it quickly through B&H and then place a request order via Nikon Professional Services (NPS) to avoid months of waiting. After about a month, the package finally arrived and I started preparing for my trip to Yellowstone National Park. I try to visit Yellowstone several times a year, because it is a very picturesque location for nature photography. And being in love with wildlife photography, I just could not think of another place to visit in the continental US that offered access to such a variety of wildlife, including grizzly bears and wolves. If you have been to Yellowstone in mid-summer before, you know that it can get quite challenging to photograph wildlife from the road with telephoto lenses. Wildlife tends to move away from the heat, cars and people in the summer, so bears and wolves only typically become active during early mornings or late afternoons. And that in itself becomes a challenge, because you also need a camera that can handle low light environments well.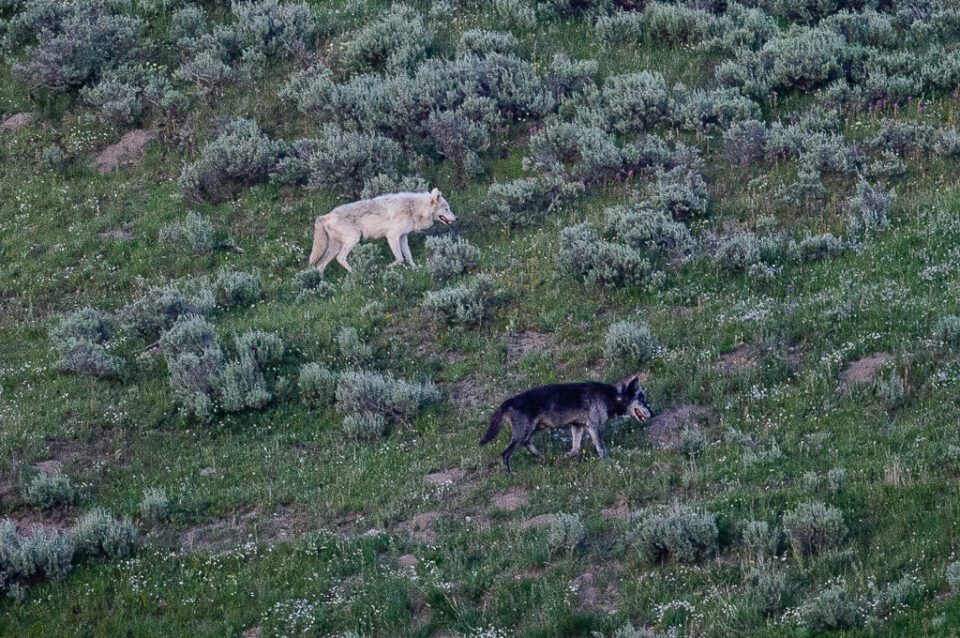 After sunset (100% image crop): Nikon D3s + 800mm + 1.25x TC (1000mm), ISO 6400, 1/800s, f/7.1
Armed with a couple of Nikon D3s and D4 camera bodies, along with the 800mm Nikkor monster + teleconverters, I felt like I was ready for the challenge. So with very minimum preparation, my good friend Tom Redd and I started our journey to Yellowstone National Park.
First Things First
Before mounting this lens on your Nikon DSLR for the first time, absolutely make sure that you update the firmware to the latest version. Nikon already provided firmware updates for the Nikon D4, D3s, D3X, D3, D700, D300, D300s and D7000 to support this specific lens. If you forget to do it, autofocus speed, accuracy and subject tracking will suffer greatly and you will be quickly frustrated with the lens. You can download the latest firmware from this page from the Nikon USA Support section.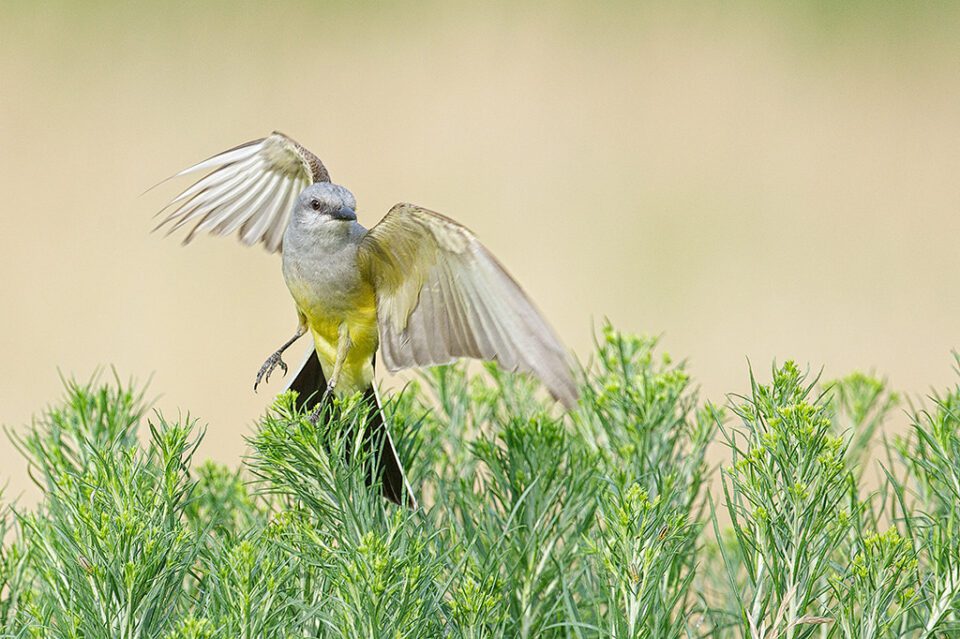 Nikon 800mm f/5.6E FL ED VR Specifications
Mount Type: Nikon F-Bayonet
Focal Length: 800mm
Maximum Aperture: f/5.6
Minimum Aperture f/32
Format: FX/35mm
Maximum Angle of View: (DX-format) 2°
Maximum Angle of View: (FX-format) 3°10′
Maximum Reproduction Ratio: 1/6.6x
Lens Elements: 20
Lens Groups: 13
Compatible Format(s): FX, DX, 35mm Film
VR (Vibration Reduction) Image Stabilization: Yes
Diaphragm Blades: 9
Distance Information: Yes
Nano Crystal Coat: Yes
ED Glass Elements: 2
Super Integrated Coating: Yes
Autofocus: Yes
AF-S (Silent Wave Motor): Yes
Internal Focusing: Yes
Minimum Focus Distance: 5.9m
Focus Mode: Auto, Manual, Manual/Auto, Auto/Manual
G-type: Yes
Filter Size: 52mm
Accepts Filter Type: Slip-in
Dimensions (Approx.): 160mm x 461mm
Weight (Approx.): 4,590g
Supplied Accessories: AF-S Teleconverter TC800-1.25E ED, Slip-on Front Lens Cap, HK-38 Lens Hood, LF-4 Rear Lens Cap, 52mm Screw-on NC Filter, LN-2 Lens Strap, CT-801 Trunk Case, Monopod Collar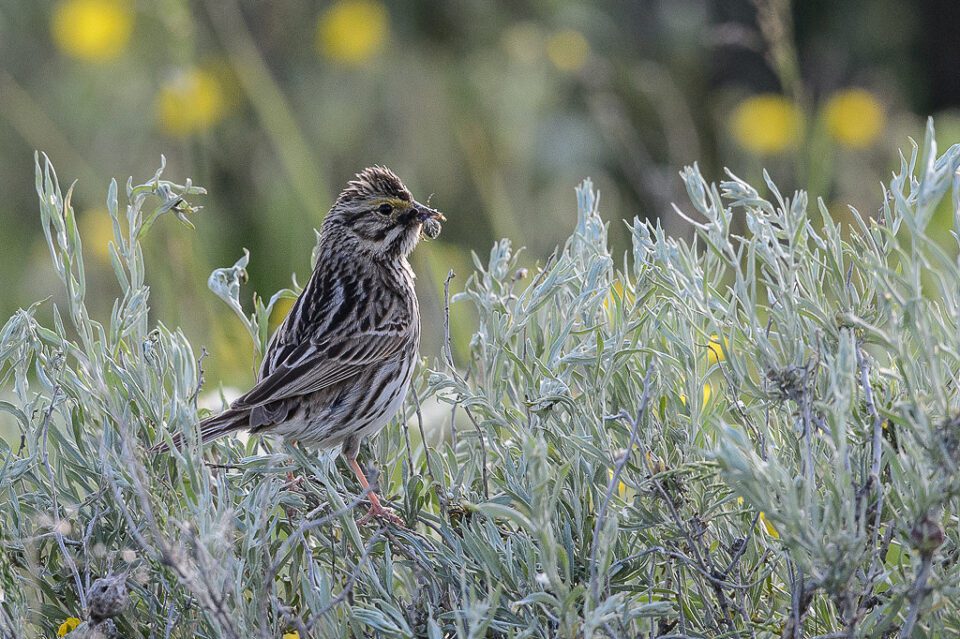 Detailed specifications for the lens, along with an MTF chart and other useful data can be found in our lens database.
Lens Handling
Super telephoto lenses can be tough to handle due to their sheer size and weight. When I first heard about the Nikon 800mm f/5.6 lens, I thought it would be a heavy beast and bigger than the 600mm f/4 VR. To my surprise, the 800mm turned out to be a lighter lens that is just slightly longer than the 600mm. And when you attach lens hoods (which you should) on both lenses, there is practically no difference in length due to the longer double hood of the 600mm f/4. Here is how the lens compares to other super telephoto lenses (from left to right: 800mm, 600mm, 500mm):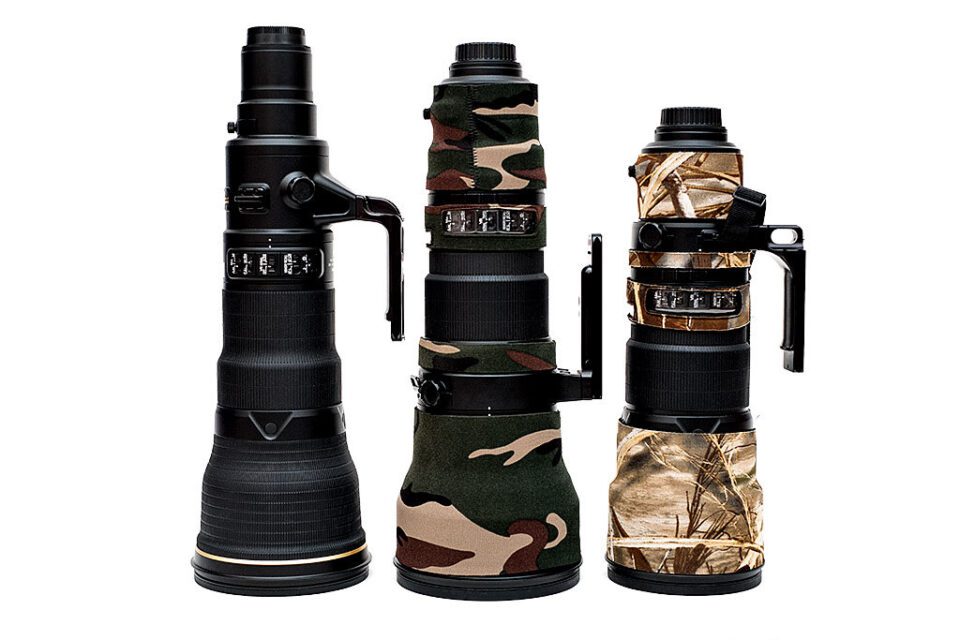 As you can see, the 800mm is only a tad taller than the 600mm. The barrel is also mostly thinner in diameter, which is great for handling purposes. The nice thing about the 800mm, is that its hood is a single unit, just like on the 500mm f/4 and shorter telephoto lenses. The Nikon 600mm f/4 has a large double hood, which is a pain to attach – you first have to attach the smaller hood, then attach the larger hood to the smaller one. I know a number of photographers that only carry one of the hoods, because it is just not very practical to attach two hoods when working in the field.
The best part of the lens is certainly its weight and balance. At 4,590 grams, it is lighter than both the Nikon 600mm f/4 (5,060g) and the Nikon 400mm f/2.8 (4,620g)! In addition, thanks to the lighter fluorite elements on the front part of the lens, the lens is not as front-heavy as the 600mm anymore. The balance is now more distributed across the lens, which makes the 800mm easier to move and hand-hold. Note that the tripod foot is reversed now, proving this point. So from the weight, balance and size perspective, the 800mm f/5.6 has a definite advantage over the 600mm f/4 VR.
Now I am not trying to say that the 800mm f/5.6 is easily hand-holdable. I did hand-hold the lens quite a bit in Yellowstone, but my arms got tired pretty quickly, so I had to move the lens to a sturdy tripod with a Gimbal head when photographing for extended periods of time. Still, those that can hand-hold the Nikon 400mm f/2.8G should know that the Nikon 800mm f/5.6 is about the same in terms of weight. And without a doubt, it handles much better than the 600mm! Here is a shot of a grizzly that I captured hand-held at 800mm: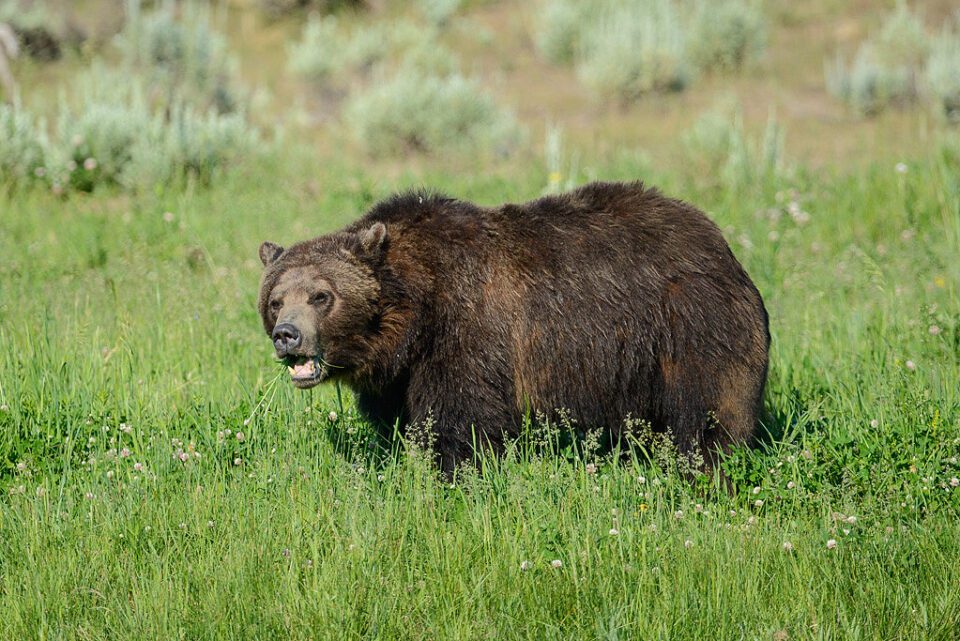 The only thing to look out for is the shutter speed – at 800mm, the focal length is the same as shooting with the 400mm f/2.8 + 2x teleconverter. Camera shake is much more noticeable at such focal lengths and even VR might not be able to save your shots if your shutter speed is too low. If you plan on buying this lens, I would seriously consider investing in a very stable tripod, a big Gimbal head and a replacement Arca Swiss quick release foot. I personally recommend the Gitzo Systematic tripod, Wimberley WH-200 Gimbal head and the Really Right Stuff replacement foot. A quick note – if you are replacing an older super telephoto lens that you already bought a replacement foot for, then do not worry about buying a new one for the 800mm. I used the Really Right Stuff foot from my Nikon 200-400mm f/4G VR and it worked perfectly!
Once you get the lens mounted and balanced on a Gimbal head, turning it left/right or up/down is very easy and intuitive. The last thing you want to do is mount an $18K lens on a $100 tripod. While the Nikon 800mm f/5.6 VR is well protected against occasional bumps, it probably will not survive a drop from a tripod, so keep this mind and invest in a good and stable tripod system. And don't forget the LensCoat cover for protection. I use LensCoat on my Nikon 200-400mm f/4G VR and it certainly does a very good job in not only protecting the lens, but also in keeping my hands warm when shooting in cold temperatures. And as you can see from the photo of the three lenses above, both the 600mm and the 500mm are protected by the LensCoat products. In a way, LensCoat has pretty much become the industry standard for super telephoto lenses.
If you have a lighter camera body like the Nikon D800, I suggest attaching a camera grip for better balance. I am sure most photographers will be shooting with a professional camera like Nikon D3s/D4, which already balance very well on a Gimbal head.
As expected with all exotic telephotos, the Nikon 800mm f/5.6E VR is a rugged professional lens designed to withstand physical abuse in all kinds of environments and tough weather conditions. Although it was pretty warm and sometimes even very hot in Yellowstone during the day, nights and early mornings typically saw drastic drops in temperatures. I was a little worried about how fluorite elements would perform in such an environment, so I paid extra attention to its behavior during temperature peaks. I am happy to say that the lens handled it very well and I did not notice any odd behavior or changes in its performance.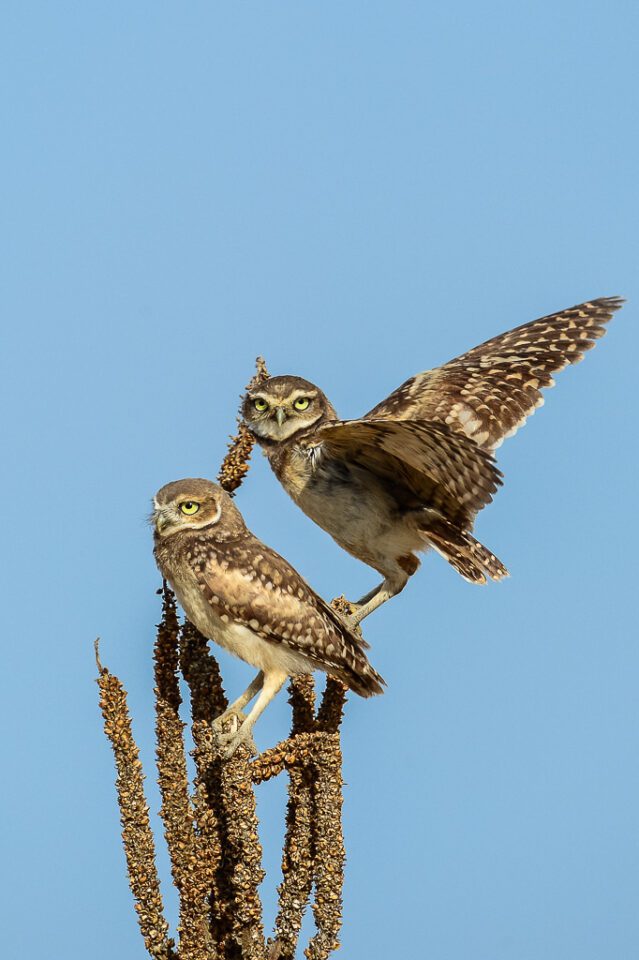 When it comes to manual focus operation, the focus ring is very smooth and easy to operate. It is very large and pretty convenient to use when you need to override focus. When you move the focus ring and reach the focus limit, the ring continues rotation with no resistance in either direction. There are lots of different switches on the side of the lens, like on other super telephotos. The first one is the three way A/M, M/A and M switch to move between different focus modes. The second one is a focus limiter switch that goes from FULL to ∞-10m. Unlike most other super telephotos, this lens has a VR switch! Finally, no more annoying VR ring (which I never liked). The three way VR switch allows you to go from OFF, to NORMAL, to ACTIVE. NORMAL is what you should be using all the time, unless you are on a moving platform such as a boat – that's when you switch to ACTIVE. The fourth switch toggles between AF-L, MEMORY RECALL and AF-ON. These switches control the behavior of the four buttons on lens (in front front of the focus ring). When set to AF-L, the camera will lock focus; MEMORY RECALL moves focus to the previously set spot; AF-ON will force the camera to re-engage autofocus, just like the AF-ON button on the back of your camera. The last Beep / No Beep switch is there to indicate if focus operation was successful. You won't hear the beep when the switch is set to AF-L; only when it is set to either MEMORY RECALL or AF-ON (and AF is successful).
As indicated earlier, the HK-38 carbon fiber hood comes in a single long piece, which attaches securely to the lens via a single knob on the side of the lens hood. To reduce flare and protect the front of the lens, I suggest leaving it on the lens at all times when shooting in the field.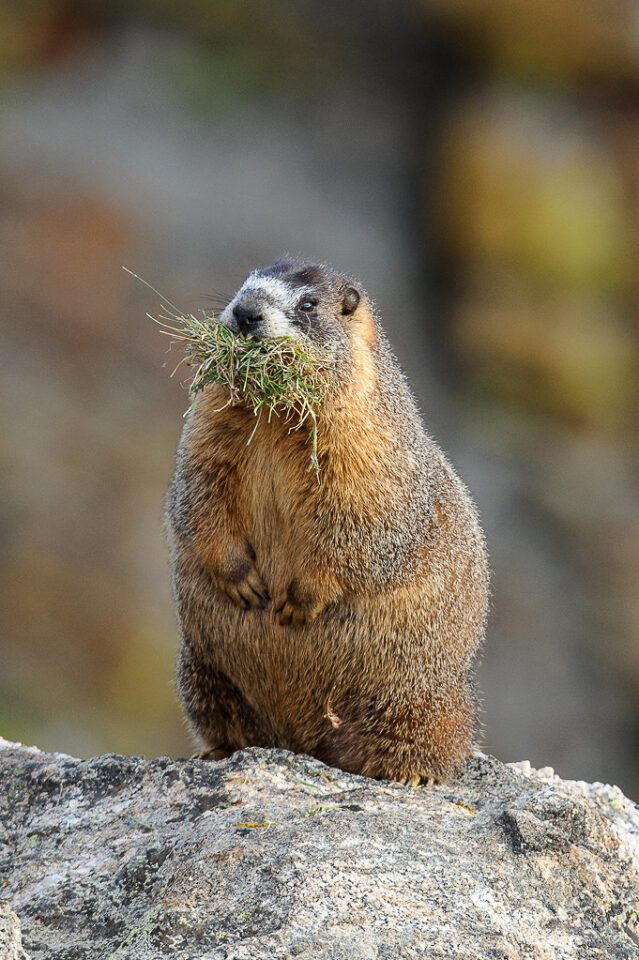 The luxurious CT-801 Trunk Case the Nikon 800mm f/5.6 VR comes in is made of highly durable aluminum and it does a great job at protecting the lens during transport. It had better, with its $600 retail price tag! While the case is very nice, I prefer something more lightweight and compact. I am sure we will soon be seeing bags from various manufacturers specifically designed to fit this lens (although any bag that can accommodate the 600mm f/4 lens should work).
As indicated earlier, the lens is fully weather-sealed for tough weather conditions – usual environments for sports, nature and wildlife photographers.
Electronic Aperture
When you remove the rear lens cap and inspect the lens, you will see that the lens has no aperture lever that is normally present on all modern Nikkor lenses. That's because this lens actually does not have one – aperture is no longer physically controlled. Instead, the camera sends aperture information to the lens, which then sets the aperture to the desired size. That's why it is called "Electromagnetic Diaphragm" and this is the first telephoto lens to get an "E" designation after the aperture number (Nikkor 800mm f/5.6E). Previously, Nikon incorporated electronic aperture control only on PC-E lenses, since mechanical control of aperture was not possible on those lenses due to the tilt/shift movements. But those lenses are also "D" type, which means that there is an aperture ring on the lens. Hence, the 800mm f/5.6 is the first hybrid of "G" and "E" types.
The idea of this electromagnetic diaphragm is to set the lens aperture consistently, from frame to frame. When a physical lever is used, there is always a chance of variance, especially when shooting at very fast frame rates. Keep in mind that the lens aperture is always set to the maximum aperture by default when a lens is mounted – that's done to allow for phase detection autofocus system to work better, since it needs the most amount of light to operate properly. During the exposure, the camera sets the aperture to the desired size, then it opens it back up after the image is taken. This happens during every single exposure. So if you are photographing at extremely fast speeds like 10 frames per second on the D4 while stopping down the lens, the physical lever has to be physically moved each time. Naturally, as the number of frames per second increases, the accuracy of this lever can also potentially decrease between the shots. At such high speeds, you can imagine that the lever might not fully recover between each frame, which causes variances in set aperture. As a result, an image shot at f/11 might be actually taken at f/8 or somewhere in between, as an example. So you will see variances in sharpness, depth of field and there will obviously be exposure differences too.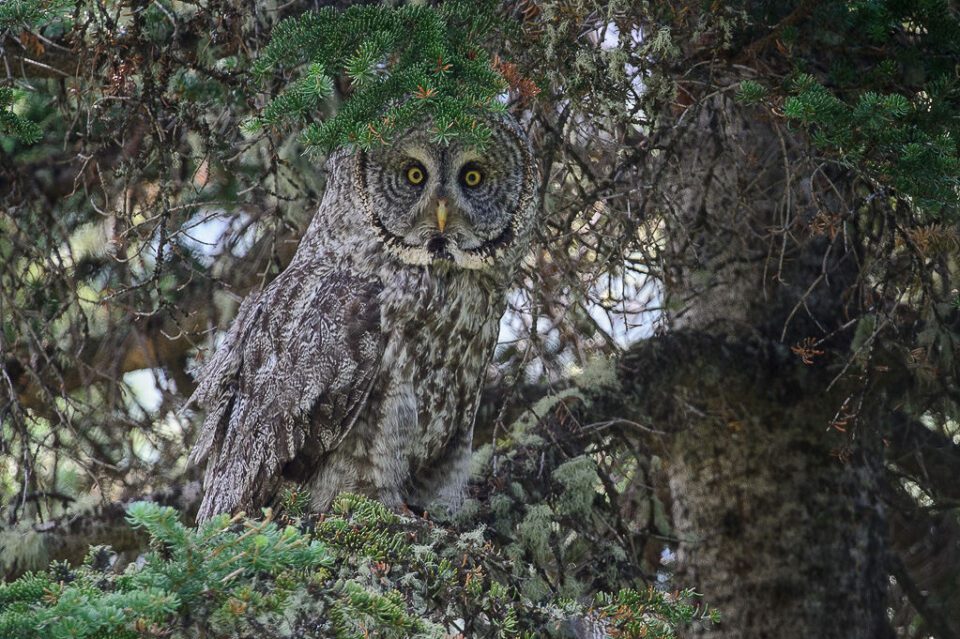 The Electromagnetic Diaphragm basically eliminates this problem. The camera/lens levers are no longer used, so the aperture is set very quickly by the lens itself. Not only does it allow for extremely accurate apertures from frame to frame, but it also opens up opportunities for faster frames per second in professional cameras in the future. I am sure that we will see the same Electromagnetic Diaphragm on all future super telephoto lenses and when Nikon decides to refresh the 300, 400, 500 and 600mm lines.
And by the way, the aperture does indeed sound different on this lens. If you set your camera to Live View mode and change the aperture on a regular lens, both the camera and the lens produce an audible sound. On the 800mm, it is different – it sounds less noisy and more damped in comparison.
Autofocus Speed and Accuracy
Autofocus speed is nothing to complain about – it is extremely fast and silent, just like it is on other expensive super-telephoto lenses. If you want to cut down the AF speed considerably, move the focus limiter switch from FULL to ∞-10m when photographing distant subjects. When set to FULL, telephoto lenses take almost twice longer to go from closest focus to infinity, while the focus limit switch restricts the ability to focus on objects closer than 10 meters, eliminating the extra rotations that slow down autofocus. Obviously, setting the switch to ∞-10m means that the lens will not be able to focus at subjects closer than 10 meters. But you do not have to worry about that, unless you are photographing a very small bird up close. And if you are, keep in mind that f/5.6 at such close distances translates to an extremely shallow depth of field. The closer you are, the more you have to stop down to bring the whole subject into focus. In fact, I found f/5.6 to be too shallow to photograph bears even at medium distances. When a bear filled my frame halfway, I already knew that I was too close, so I often had to stop down to f/8-/f11 to get more into focus, or I had to physically move back.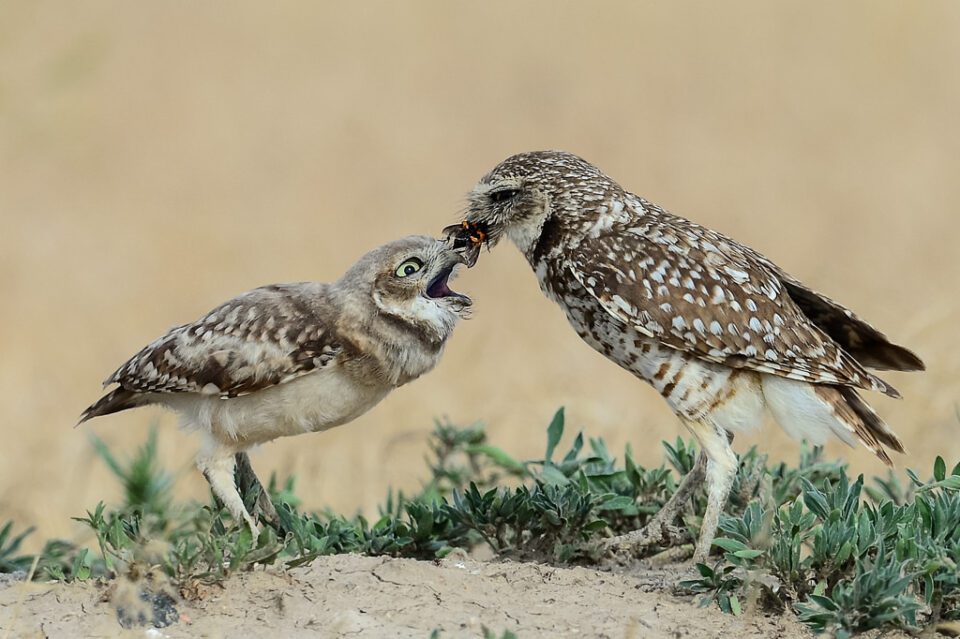 Autofocus accuracy is also top-notch, in line with what you get on 400mm, 500mm and 600mm lenses. At close distances, focus speed is phenomenal. At very long distances, atmospheric haze / thermal distortion can severely impact AF accuracy – more on this further down.