On March 5 of 2013, Nikon released the AF-S NIKKOR 80-400mm f/4.5-5.6G VR, the long-awaited update to the 80-400mm f/4.5-5.6D VR that was released over 13 years ago as Nikon's first lens to feature image stabilization (Vibration Reduction) technology. I have been impatiently waiting for this lens update for quite some time now for a number of reasons. First, it is the only Nikon budget lens that can reach 400mm focal length without teleconverters.
Second, it is a very versatile lens with a huge zoom range, which can be quite useful for outdoor sports and wildlife photography. Third, it is a relatively lightweight lens one could hand-hold for extended periods of time, especially when compared to any of the Nikon super-telephoto lenses. And lastly, the old Nikon 80-400mm VR had a very slow autofocus motor and it was almost unusable for anything that moves, making the Nikon 300mm f/4D pretty much the only "budget" telephoto choice. So this much-needed, long overdue update was certainly welcomed by many of us Nikon shooters.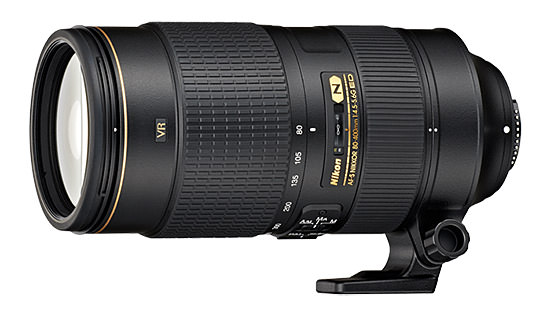 I did not want to rush with this Nikon 80-400mm f/4.5-5.6G VR review, because I wanted to make sure that I test every aspect of the lens and fully understand its advantages and disadvantages, especially when compared its older sibling. Personally, I never liked the old Nikon 80-400mm lens (more on this below), so aside from finding out how it fared optically, my main goal was to evaluate the new 80-400mm for serious wildlife work. My Nikon 300mm f/4D is also long overdue for a replacement and its lack of VR makes it tough to use it in low-light conditions.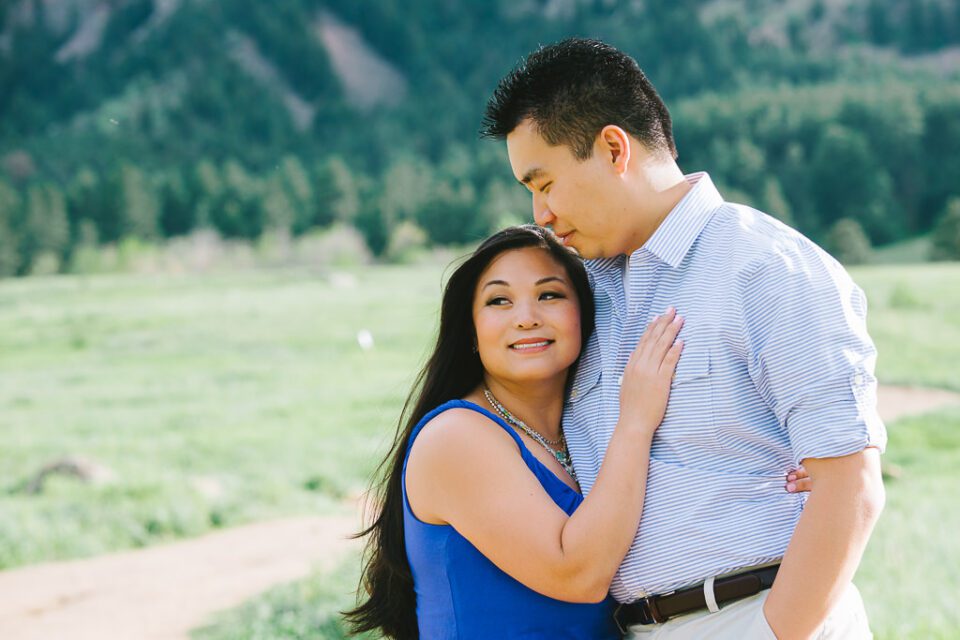 The new 80-400mm looked very promising when I looked at its impressive MTF charts, so my first objective was to see if the 80-400mm could replace my aged 300mm f/4D lens (which I love and use all the time when travelling). I also wanted to compare the lens against my Nikon 200-400mm f/4G, with and without teleconverters. The ability to use teleconverters on the new 80-400mm sounded quite intriguing.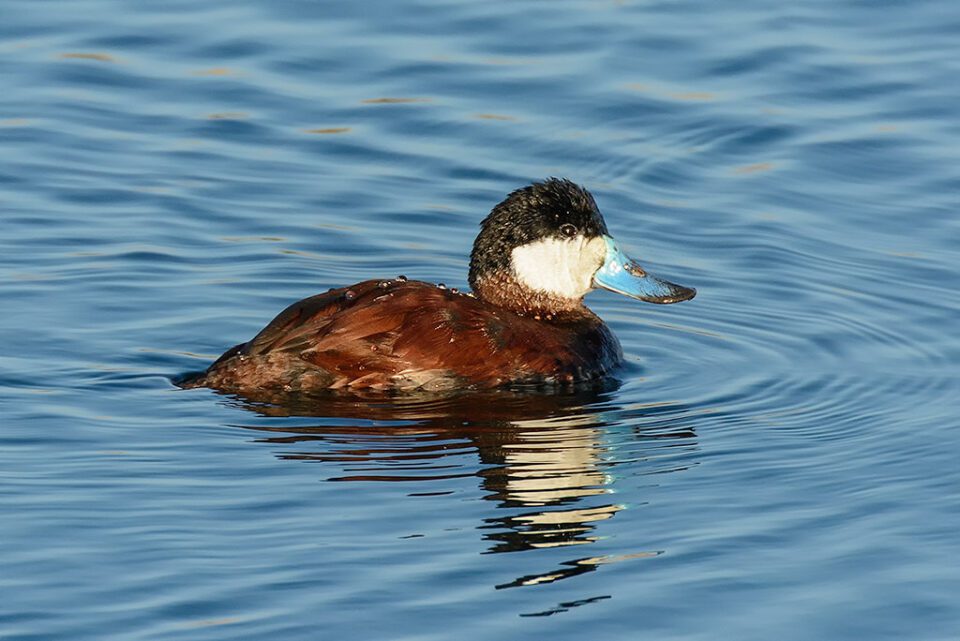 By now, I am happy to say that I have thoroughly examined this lens in various conditions and having spent close to three months with two separate lens samples, I now have a pretty good idea about its performance characteristics. In this review, I will be comparing the Nikon 80-400mm VR to the older AF-D version, as well as other lenses like Nikon 300mm f/4D, Sigma 50-500mm OS and Nikon 200-400mm VR.
Nikon 80-400mm f/4.5-5.6G VR Specifications
Focal length: 80-400mm
Maximum aperture: f/4.5-5.6
Minimum aperture: f/32-40
Lens construction: 20 elements in 12 groups (with 4 ED and Nano Crystal Coat-deposited lens elements)
Picture angle: 30°10′ – 6°10′ (20° – 4° with Nikon DX format)
Closest focusing distance: 5.74 ft. (1.75m)
No. of diaphragm blades: 9
Filter/attachment size: 77mm
Diameter x length (extension from lens mount): Approximately 95.5 x 203mm
Weight: Approximately 1570g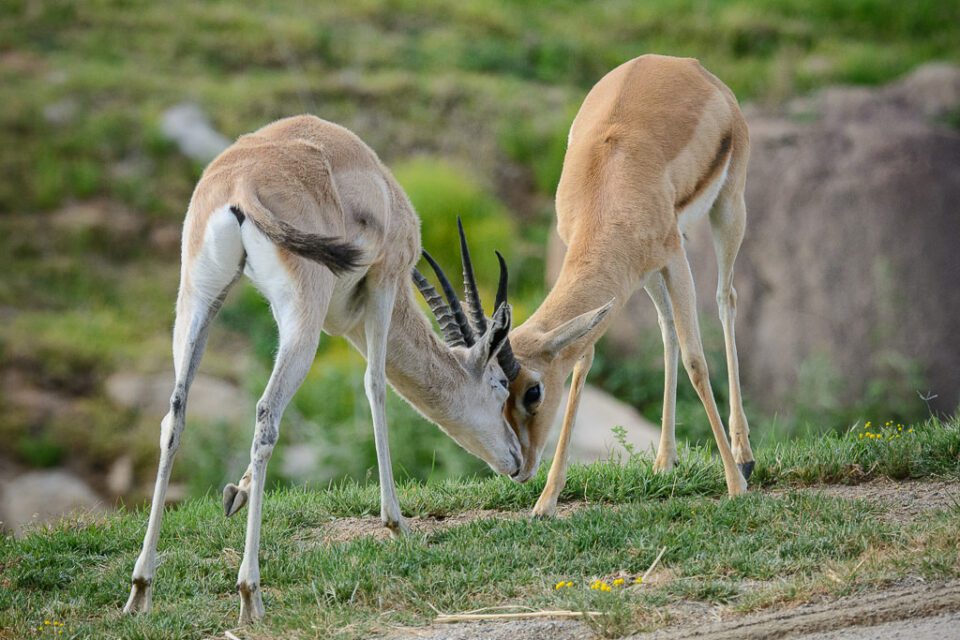 Detailed specifications for the lens, along with MTF charts and other useful data can be found in our lens database.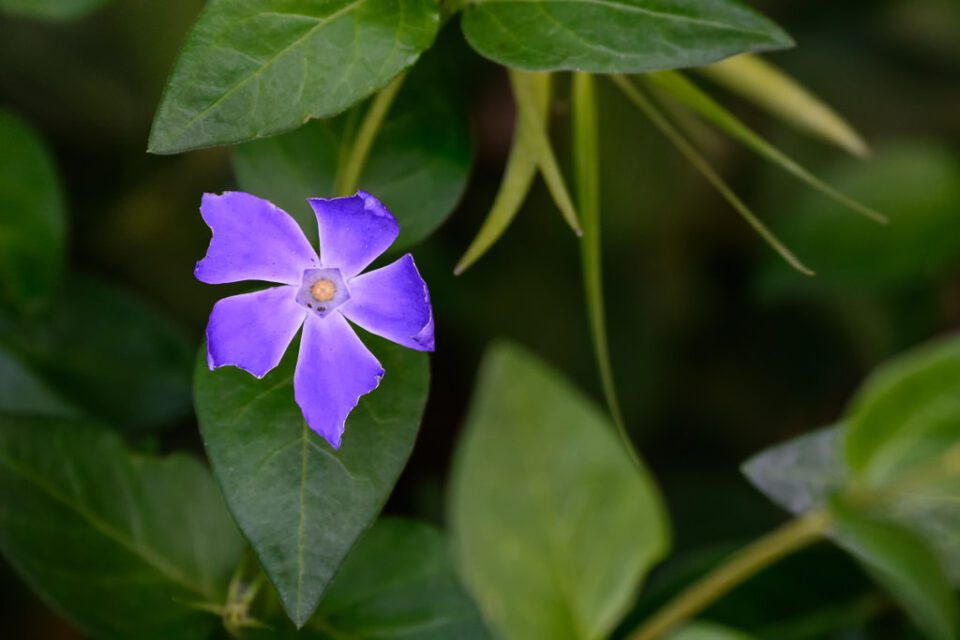 Lens Handling and Build
While the Nikon 80-400mm AF-S VR does not have the same full metal construction as the expensive Nikon pro telephoto lenses, the lens is still built very well. The lens barrel is metal on the back and the front exposed parts of the lens, while both zoom and focus rings (which are are covered with textured rubber), along with the section in between where all the different switches are, are plastic. The lens fully collapses at its shortest focal length of 80mm, and the front element moves very close to the barrel, with almost no space left in between. As you start zooming in, the front of the lens starts extending out, reaching its fullest length at 400mm. The inner barrel is made of plastic and unlike some of the cheaper Nikon zoom lenses, does not wobble when fully extended. The lens will take light bumps here and there (try not to bump the lens when it is fully extended), but I would not expect it to survive a serious drop. There are many moving lens elements inside the lens and any of them could shift if the lens takes a serious hit.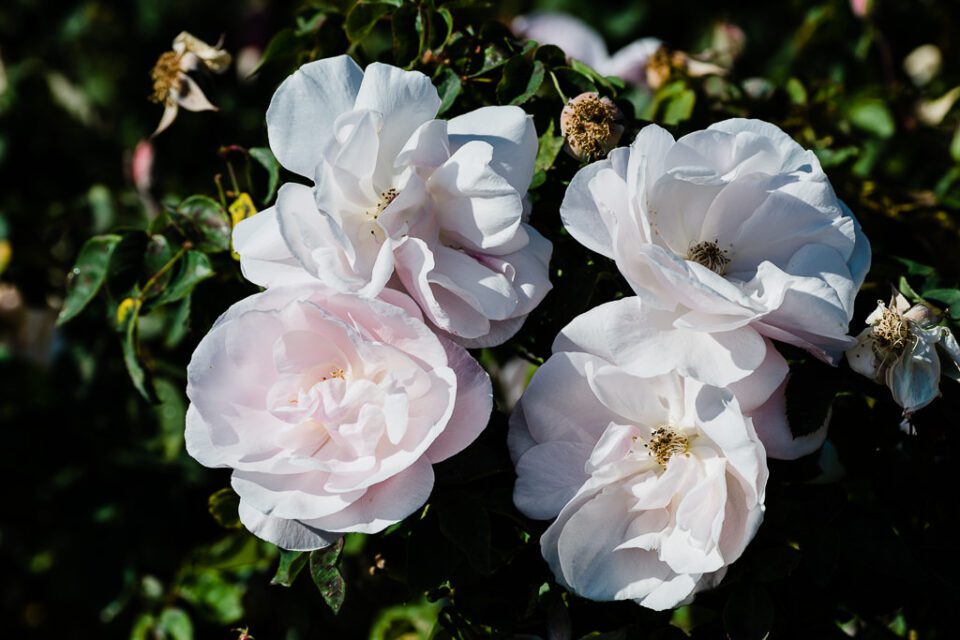 Plastic parts do not mean that the lens feels cheap in any way or that its quality is sub-par. Many of the Nikon professional lenses are also made with a hard plastic shell to make them lighter, so there is no need to worry. In fact, plastic handles extreme temperatures better than metal, because it does not expand and contract like metal does when temperatures change quickly. On top of that, it is much easier to hold plastic in extremely cold temperatures without using gloves, and the plastic parts are indeed where you would normally keep your hands when hand-holding this lens.
The zoom ring is easy to rotate from 80 to 400mm and vice versa, with some natural resistance. Overtime, it is normal for this resistance to get weaker – most of my zoom lenses were stiffer at first and got much easier to rotate after several years of use.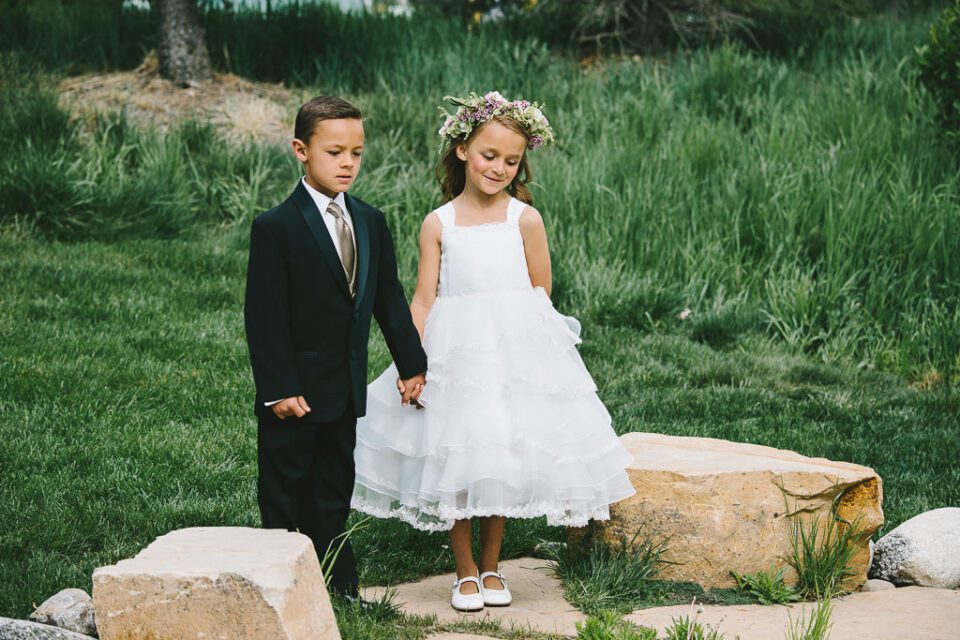 While there is a rubber gasket on the lens mount to prevent dust and other particles making their way into the camera, the lens itself is not fully weather sealed. The older 80-400mm was not weather sealed and it did not have a rubber gasket either. You should be fine in light rain, but I would not expose it for too long in heavier rain or extreme moisture. I do not expect the lens to get stuck in freezing conditions like some of the cheap plastic kit lenses do though. Still, take some caution when dealing with extreme temperatures and make sure to gradually change temperatures to prevent condensation and water build-up inside the lens.
Weight-wise, the Nikon 80-400mm AF-S VR is definitely lighter than any of the Nikon pro telephotos, but it is still 200 grams heavier than its predecessor and even slightly heavier than the Nikon 70-200mm f/2.8G VR II. It is also bulkier than both – the lens barrel is wider and the length is about the same as on the 70-200mm when collapsed. Take a look at how the Nikon 300mm f/4D, Nikon 80-400mm AF-S VR and Nikon 70-200mm f/2.8G VR II compare size-wise: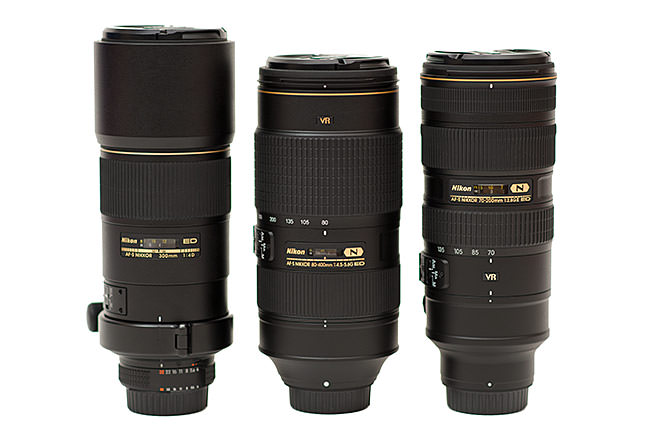 The tallest in the group is the Nikon 300mm f/4D, followed by the Nikon 70-200mm f/2.8G VR II. Now that's its size collapsed at 80mm and without a lens hood. Once you fully extend the lens and attach the lens hood, it gets almost twice longer in length and becomes the longest of the three: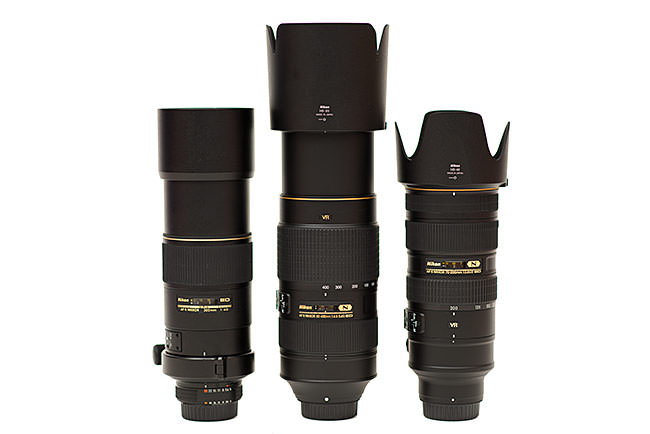 Speaking of lens hoods, you do want to keep it on the lens at all times, just like on the older 80-400mm. There is a reason why the hood is so long! Even a slight exposure to a bright light source can cause serious ghosting and flare issues. Take a look at the following example: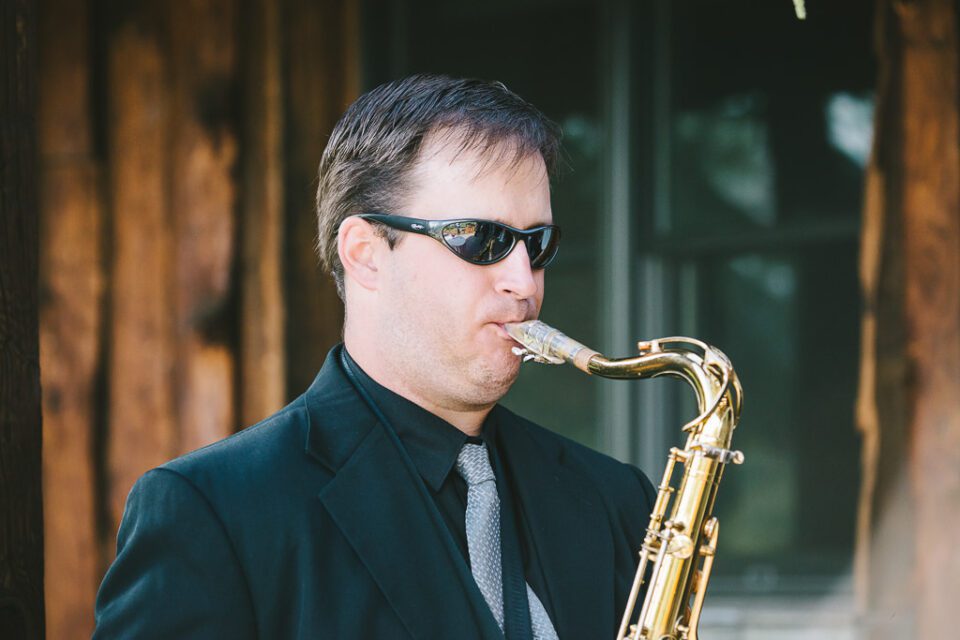 See the nasty flare on the right bottom side of the image? The sun was not in the frame, but the angle at which the sun rays landed on the lens created this flare effect. So try to keep the lens away from bright light sources and always use the hood! On top of this, it is better to keep the hood for protection anyway. I like how Nikon designed the new HB-65 lens hood. It attaches securely to the lens and has a lock system, just like the hoods designed for top professional Nikkor lenses. It does not wobble and will not detach without pressing the release button on the side.
If you are wondering how the lens compares to the big pro glass, take a look at the following comparison with the Nikon 200-400mm f/4G VR: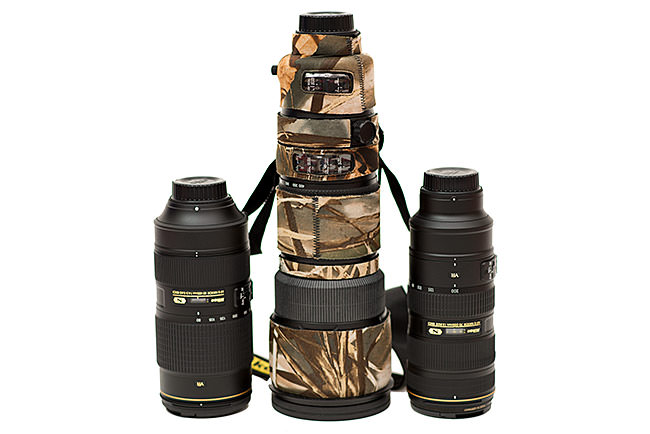 Tripod Collar
The Nikon 80-400mm AF-D was known for its notoriously bad tripod collar and foot, which made the lens prone to a lot of vibrations when mounted on a tripod. While Nikon did a better job with the tripod collar on the 80-400mm AF-S by integrating it more to the lens barrel, the lens foot is still too short for this lens, as can be seen below: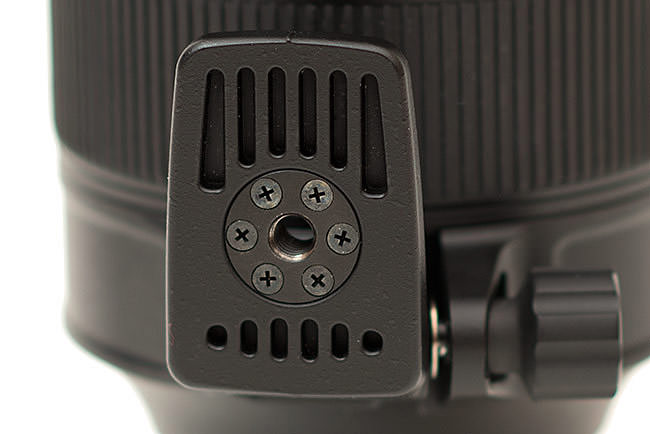 For a lens like this, the foot should be longer and there should be two mounting threads, not just one. I don't know why Nikon keeps designing these practically useless tripod collars on its lower-end telephoto lenses – third party collars are a world better in comparison. If you already own the lens or you are planning to buy it, I would seriously plan on replacing the Nikon collar with an arca-swiss type foot from Kirk Enterprises: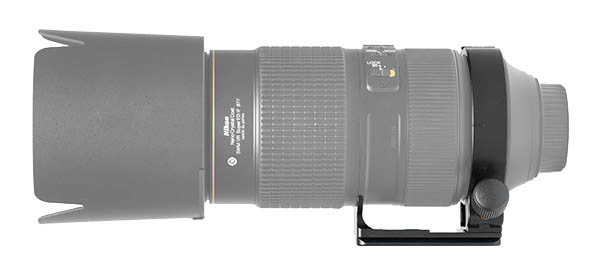 Note how much longer the tripod foot is, in comparison to the stock version. There are two reasons why Kirk's tripod foot is better: a) it spreads the weight and balance across the whole foot rather than a single spot, since it touches the lens in two places and b) it has an arca-swiss quick release foot, which is what you want to use for long lenses anyway. If you have handled any of the Nikon super telephotos in the past, you probably already know that arca-swiss is the only way to go if you ever want to mount those lenses on a Gimbal head.