This is an in-depth review of the Nikon AF-S 70-300mm f/4.5-5.6G VR lens that was released back in August 2006 together with the Nikon D80. The Nikon 70-300mm VR lens is targeted towards sports, nature and wildlife photographers that need a lightweight, versatile telephoto lens with great optics and vibration reduction technology, at an affordable price. The lens works on both Nikon FX (full-frame) and DX (cropped) sensors and has an equivalent field of view of approximately 105-450mm on DX sensors, which makes the lens particularly good for reaching distant subjects.
The Nikon 70-300mm f/4.5-5.6G ID-ED VR lens features two "ED" (extra-low dispersion) glass elements that are used in all Nikon professional lenses, providing higher contrast, lower chromatic aberration and higher resolution, due to less air bubbles and glass deformities within the glass elements. In addition, the lens sports Nikon's Vibration Reduction II (VR II) technology, giving up to 4 full stops of advantage over non-VR lenses at low shutter speeds. This makes the 70-300mm VR particularly useful for hand-held shooting while hiking and traveling. Autofocus is practically silent, thanks to the Silent Wave Motor (AF-S) within the lens.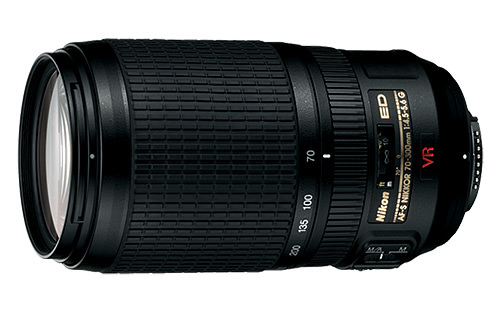 In this review, I will do my best to provide a thorough analysis of this lens, along with some image samples and comparisons to other Nikon telephoto lenses.
Nikon 70-300mm f/4.5-5.6G VR Specifications
Mount Type: Nikon F-Bayonet
Focal Length Range: 70-300mm
Zoom Ratio: 4.3x
Maximum Aperture: 4.5
Minimum Aperture: 32
Maximum Angle of View (DX-format): 22° 50′
Minimum Angle of View (DX-format): 5° 20′
Maximum Angle of View (FX-format): 34° 20′
Minimum Angle of View (FX-format): 8° 10′
Maximum Reproduction Ratio: 0.25x
Lens (Elements): 17
Lens (Groups): 12
Compatible Format(s): FX, DX, FX in DX Crop Mode, 35mm Film
VR (Vibration Reduction) Image Stabilization: Yes
Diaphragm Blades: 9
Distance Information: Yes
ED Glass (Elements): 2
Super Integrated Coating: Yes
Autofocus: Yes
AF-S (Silent Wave Motor): Yes
Internal Focusing: Yes
Minimum Focus Distance: 4.9ft.(1.5m)
Focus Mode: Auto, Manual, Manual/Auto
Filter Size: 67mm
Accepts Filter Type: Screw-on
Dimensions: (Approx.) 3.1×5.6 in. (Diameter x Length), 80×143.5mm (Diameter x Length)
Weight: (Approx.)26.3 oz. (745g)
Detailed specifications for the lens, along with MTF charts and other useful data can be found on the Nikon AF-S NIKKOR 70-300mm f/4.5-5.6G IF-ED VR page of our lens database.
Lens Handling and Features
The Nikon 70-300mm VR is a mostly plastic lens with a metal mount, which is easy to carry and handle due to its low weight. Although the lens has a total of 17 optical elements, it is only 26 ounces in weight. Compared to Nikon 80-400mm VR (47 ounces) and Nikon 70-200mm VR II (3.4 pounds), this is one of the lightest Nikon telephoto zoom lenses. The zoom ring is very large, making it easy to zoom in and out with your left hand, while holding the camera with your right hand. Despite the fact that you can manually focus the lens by overriding autofocus, Nikon clearly did not make manual focus a priority on this lens. The focus ring is tiny compared to the zoom ring and it is located closer to the back of the lens, which makes it a little difficult to focus by hand. But it is a smart move by Nikon – after-all, this lens is created for automatic focusing and the focus ring does not get nearly as much use as the zoom ring.
I really like the versatility of this lens – being able to shoot at 70mm all the way to 300mm is very nice, especially for wildlife photography. Unlike the new Nikon 70-200mm f/2.8 VR II, this lens is not plagued with a field of view issue and 300mm on the long side is truly like 300mm, not shorter. Another important thing to note, is that the lens does extend pretty far when zoomed all the way in at 300mm. This is quite normal for this type of a lens and most other consumer zoom lenses also extend out when zoomed in. Zooming in/out was a little stiff at first, but got much better as I used it more and more. I think it has to do with the fact that the lens comes more "tightened" from the factory and constant use of the zoom makes it softer over time. Even after using the lens for a while, I did not notice any problems with zoom creeping when I pointed the lens up and down, so there is no need to hold the zoom ring like we had to on the original Nikon 18-200mm VR lens.
The lens hood is rather large, but I recommend to leave it on at all times, since it helps to protect the front element of the lens, in addition to eliminating flare and ghosting (see below).
By the way, because it is a variable aperture lens, the focal length on it changes as you zoom in:
70mm – f/4.5
105mm – f/4.8
135mm – f/5.0
200 to 300mm – f/5.6