This is an in-depth review of the new professional Nikon AF-S 70-200mm F/2.8G ED VR II lens that was released in July of 2009. The Nikon 70-200mm lens is a professional-grade lens that was introduced by Nikon in early 80's in a shape of 80-200mm f/2.8 constant aperture lens for professional news, sports, wildlife and portrait photographers. Since then, Nikon has been enhancing and redesigning the lens every 4-5 years, making it faster, sharper and more versatile by enhancing the optics and introducing new features.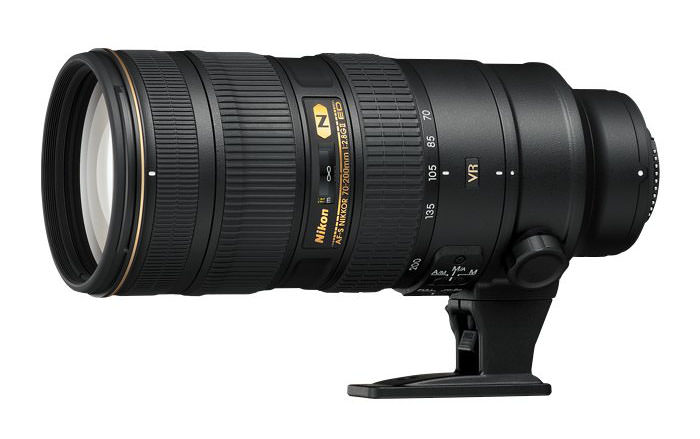 The latest generation of the 70-200mm lens is no exception – Nikon completely redesigned the lens, adding more "ED" (Extra-Low Dispersion) optical elements, making this lens sharper than the previous version. Nikon also added the new Nano Crystal Coat to this lens, which is supposed to minimize ghosting and lens flare. Other new features include a brand new "VR II" vibration reduction system, which provides a four-stop benefit over non-VR systems and a new "A/M" focus mode for auto-focus priority.
So, compared to the older 70-200mm (which is a superb lens), this lens is supposed to deliver better sharpness and vibration reduction, better resistance to ghosting and flares and less vignetting on full-frame bodies (which was a major weakness of the older lens). In this review, I will do my best to provide a thorough analysis of this lens, along with image samples and comparisons against other Nikon lenses.
Nikon 70-200mm f/2.8G ED VR II Specifications
Focal length: 70-200mm
Maximum aperture: f/2.8
Minimum aperture: f/22
Lens construction: 21 elements in 16 groups (with 7 ED and some Nano Crystal Coat-deposited lens elements)
Picture angle: 34°20' – 12°20' (22°50' – 8° with Nikon DX format)
Closest focusing distance: 1.4 m/4.6 ft. (throughout entire zoom range)
No. of diaphragm blades: 9 (rounded)
Filter/attachment size: 77mm
Diameter x length (extension from lens mount): Approximately 87 x 205.5 mm/3.4 x 8.1 in.
Weight: Approximately 1,540 g/3.4 lb.
Detailed specifications for the lens, along with MTF charts and other useful data can be found on the Nikon AF-S NIKKOR 70-200mm f/2.8G ED VR II page of our lens database.
Lens Handling
Just like its predecessors, the Nikon 70-200mm VR II lens is built like a tank to last a lifetime. It is made of solid metal and can easily withstand tough weather, occasional bumps and is well protected against dust and moisture. The 21 optical elements within the lens, along with the metal body add to the weight – making it 3.4 pounds in total weight, which makes it necessary to hold the lens with one hand, while holding the camera with another. The lens feels solid in hands and the zoom ring is easy to rotate from 70 to 200mm and vice versa. The focus ring is located close to the zoom ring, making it easy to reach it with fingers for manual focus, without having to move the hand to the front of the lens barrel. Compared to the older version of this lens, the zoom ring is a little longer, while the focus ring is a little shorter, which was a smart move by Nikon. After-all, this lens is created for automatic focusing and the focus ring does not get nearly as much use as the zoom ring.