Focus Speed and Accuracy
When it comes to focus speed, the new Nikon 70-200mm f/2.8E FL VR is a lens on steroids – it focuses incredibly fast! Faster than anything else I have ever used from Nikon, including the high-end super-telephoto lenses. How big of a difference are we talking about? It is hard to say for sure, but in some cases it felt like the lens focused twice faster than its predecessor, which is huge. When I first tried out the 70-200mm f/2.8E FL VR, I could not believe how fast the lens would acquire focus on a subject and how well it tracked it. The same for switching subjects – focusing on one subject at close distance, then switching to another subject further away is literally instant. I don't know what kind of focus motor Nikon used on the 70-200mm f/2.8E FL VR, but I would love to see the same technology on every future Nikon lens the company makes. The Silent Wave Motor (SWM) is also incredibly quiet, making the lens a pleasure to use in the field.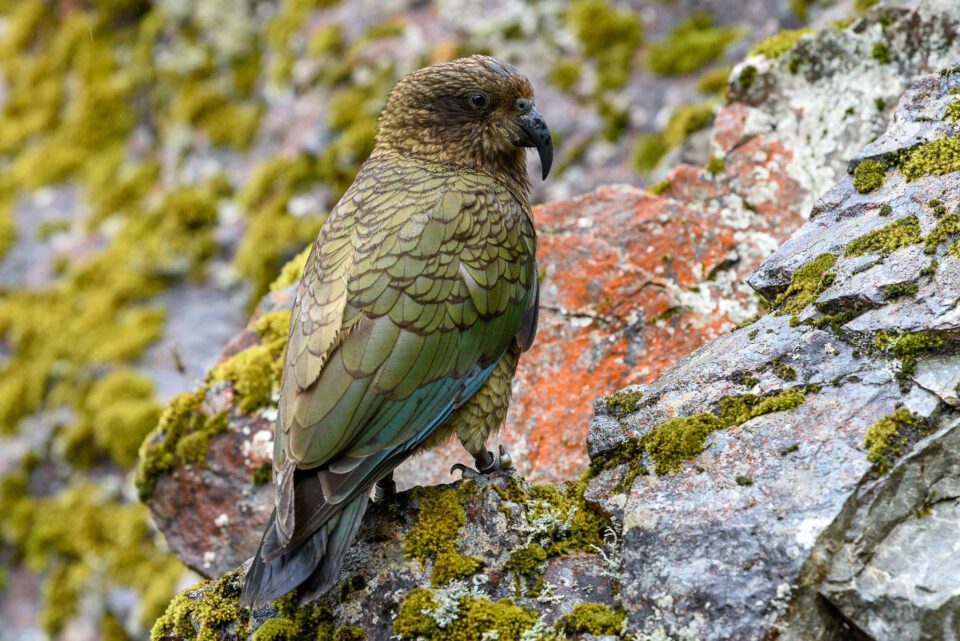 If you are lucky to have a good sample of the Nikon 70-200mm f/2.8E FL VR (more on this in the next section), you will be very pleased with its autofocus accuracy – the lens is not only fast, but it also incredibly accurate, even when tracking moving subjects. The second sample I used was spot on and it acquired focus precisely on every subject, even in very dim conditions.
Lens Variance and QA Issues
Unfortunately, I was not so lucky with the 70-200mm f/2.8E FL VR lens samples I tested. The very first copy I got right before my trip to New Zealand was off by a huge margin in AF accuracy on my Nikon D810. None of the images were in focus and I had to dial between -12 to -19 in AF Fine Tune to compensate, depending on focal length. This was a huge inconvenience factor during my trip and I was definitely not happy to be shooting with such a badly calibrated sample. Because of this, I often had to rely on Live View to get acceptable sharpness. After I got back from the trip, I exchanged the first copy for another one, which not only had a calibration issue, but also had a pretty bad decentering issue. It was not as bad as the first copy in terms of AF calibration, but it was still off. I am not sure why I was so unlucky with the first two copies, but one thing for sure – it was not my camera that was at fault, since the lenses had AF accuracy issues on my Nikon D750 bodies as well.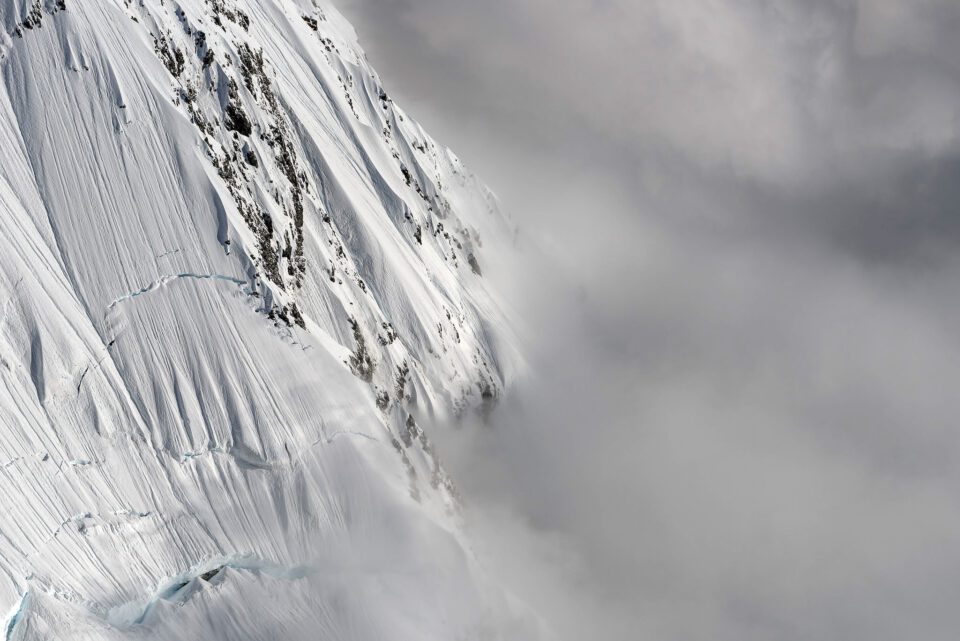 While lens variation is a normal fact of life, two bad samples out of two is a bit too much in my opinion, especially for such an expensive, professional-grade lens. I am not sure if early samples were a bit rushed, but it was not a pleasant experience for sure. That's why I decided to wait before getting another lens sample for a test. I will update this review with more information as soon as possible.
Vibration Reduction (VR) Performance
Nikon states that it has improved its image stabilization / vibration compensation on the new 70-200mm f/2.8E FL VR by about half a stop compared to its predecessor, so the lens should be able to handle up to 4 stops of compensation. While four stops might seem like a lot, I can say that the new stabilization system is pretty incredible on the lens and seems to work a bit better compared to the 70-200mm f/2.8G VR II. I was able to capture sharp images at very low shutter speeds hand-held, down to 1/8th of a second at 70mm (see my article on how to hold a camera for proper lens hand-holding technique), and my keeper rate from low-light situations seemed to be very high.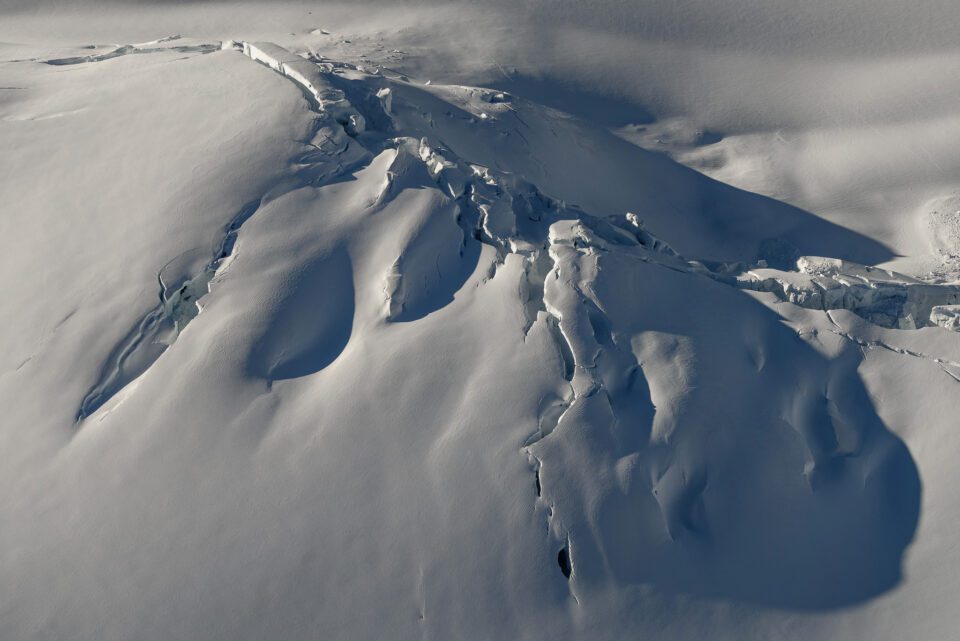 In addition, Nikon added some new features to the VR system on the Nikon 70-200mm f/2.8E FL VR. While the old VR system had a simple "On/Off" switch with another "Normal/Active" switch beneath, the new lens combines these into a single switch that goes from "Off" to "Normal" to "Sport", depending on what you are shooting. The "Normal" setting is what you would use for most shooting conditions, whereas the "Sport" setting is specifically designed for shooting fast action sports and panning subjects. In "Normal" mode, the lens can now detect if it is mounted on a tripod and provide specific stabilization to minimize camera shake coming from the tripod, wind, or ground vibrations. So if my previous recommendation was to always turn off image stabilization when using lenses on a tripod, you no longer have to do that with the new 70-200mm f/2.8E FL VR, except when shooting very long exposures (for exposures longer than a second, I still recommend to turn VR off). I tested the lens on a small travel tripod in windy conditions and indeed, the lens did better with VR turned on than turned off.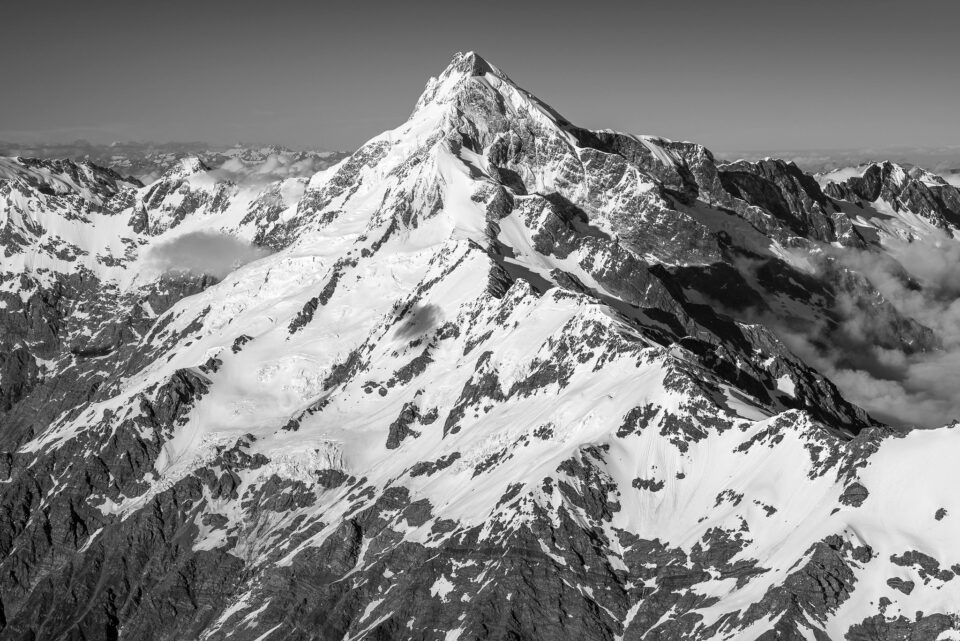 Bokeh
As expected, the lens does not disappoint when it comes to bokeh. Nikon made sure to optimize the lens in such a way that the lens yields beautiful bokeh no matter what focal length or aperture you are shooting at.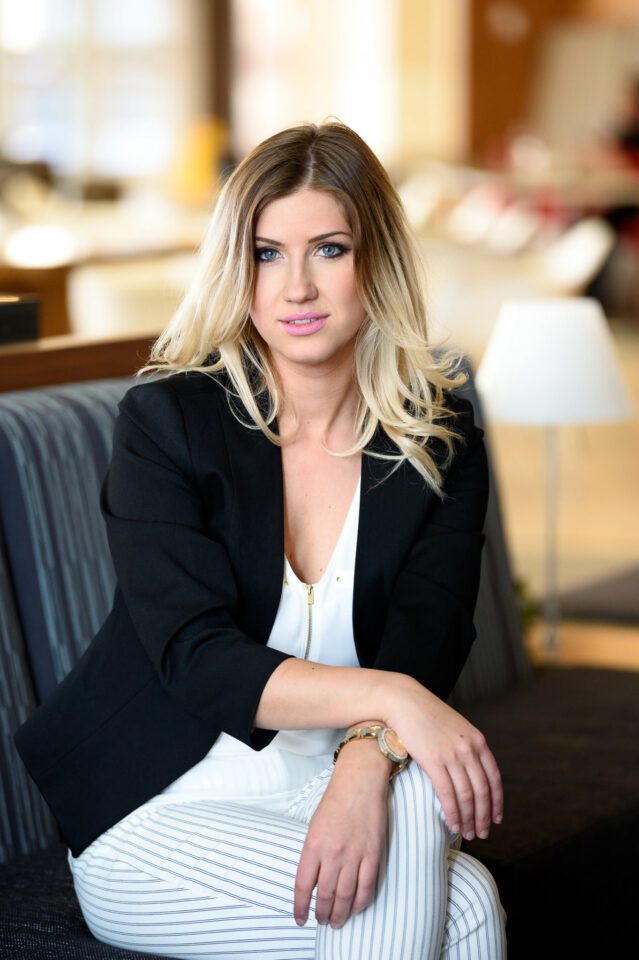 As you can see from some of the image samples in this review, the Nikon 70-200mm f/2.8E FL VR renders beautiful bokeh highlights and does an exceptional job at separating the subject from the background. When photographing people, they easily "pop" from the scene, and when using longer focal lengths, the background elements get magnified beautifully, separating the subject even more and creating a very unique look and feel in images: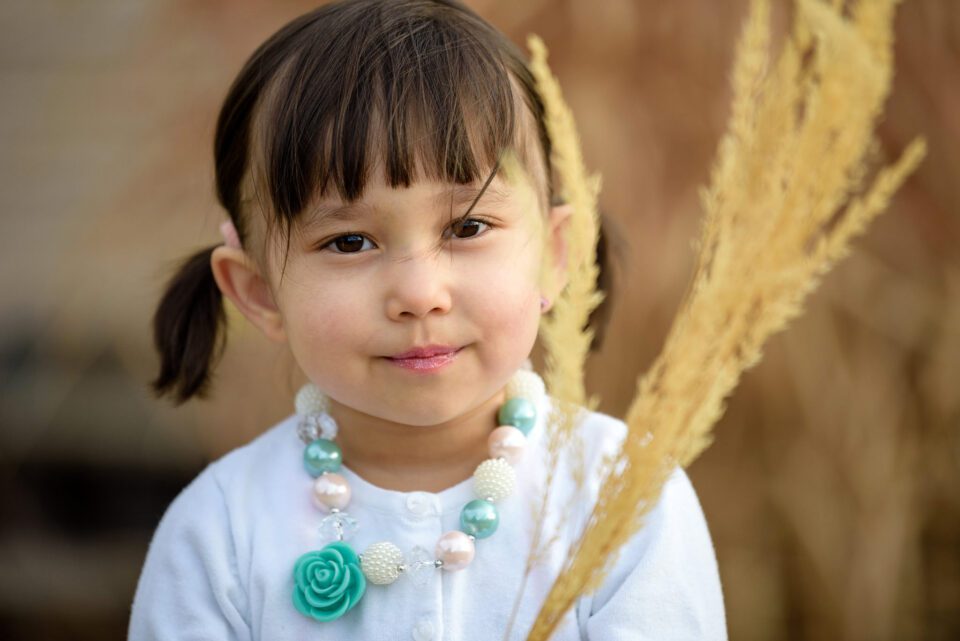 To understand the relationship between focal length and background size relative to the subject at different camera to subject distances, please take a look at our article on lens compression.
Vignetting
When it comes to vignetting, the Nikon 70-200mm f/2.8E FL VR performs remarkably well compared to its predecessor. While vignetting is definitely noticeable at all focal lengths, it varies greatly by aperture and focus distance. Take a look at the chart below: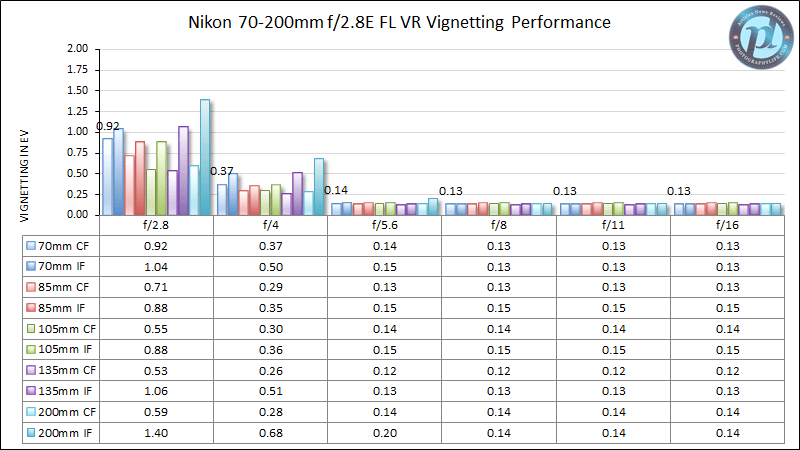 As you can see, depending on focal length and focus distance, the lens exhibits between 0.5 to over a stop of EV difference at the edges of the frame at f/2.8. Interestingly, vignetting is greatly reduced at close distance and sometimes doubles at infinity (see performance @ 200mm). However, once stopped down to f/4, these differences are reduced drastically at all focal lengths. Stopped down to f/5.6, vignetting is completely gone and it stays that way at smaller apertures.
Here is an illustration of the worst case scenario at 200mm, infinity focus, charted by Imatest: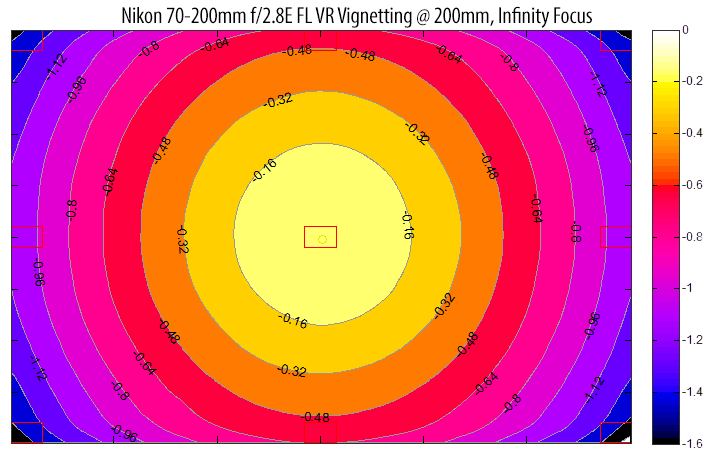 In comparison, the Nikon 70-200mm f/2.8G VR II showed pretty high levels of vignetting even when stopped down, especially when shooting at 200mm.
Chromatic Aberration
As for lateral chromatic aberration performance, Nikon was again able to reduce it with the new lens design for the most part. Aside from the shorter focal lengths, chromatic aberration levels have been greatly reduced at 105mm and beyond. Take a look at the below charts that compare the performance of the two lenses: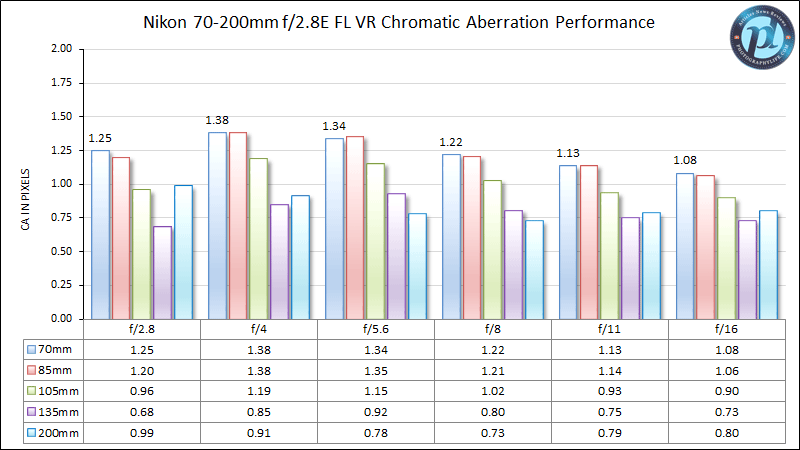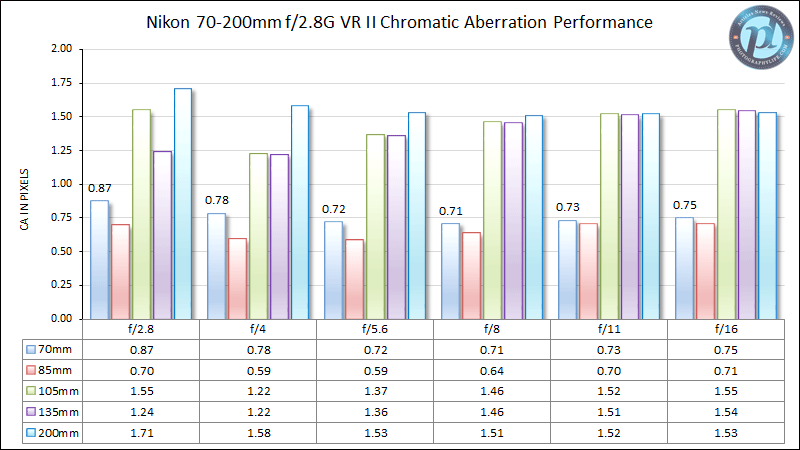 Unlike its predecessor, the Nikon 70-200mm f/2.8E FL VR shows slightly lower levels of chromatic aberration when stopped down, although the differences are not that big. Note how CA levels go down with the increase of focal length – at 200mm, the lens shows less than a pixel of CA. The 70-200mm f/2.8G VR II demonstrated lower CA levels at short focal lengths and much higher levels when zoomed in beyond 105mm.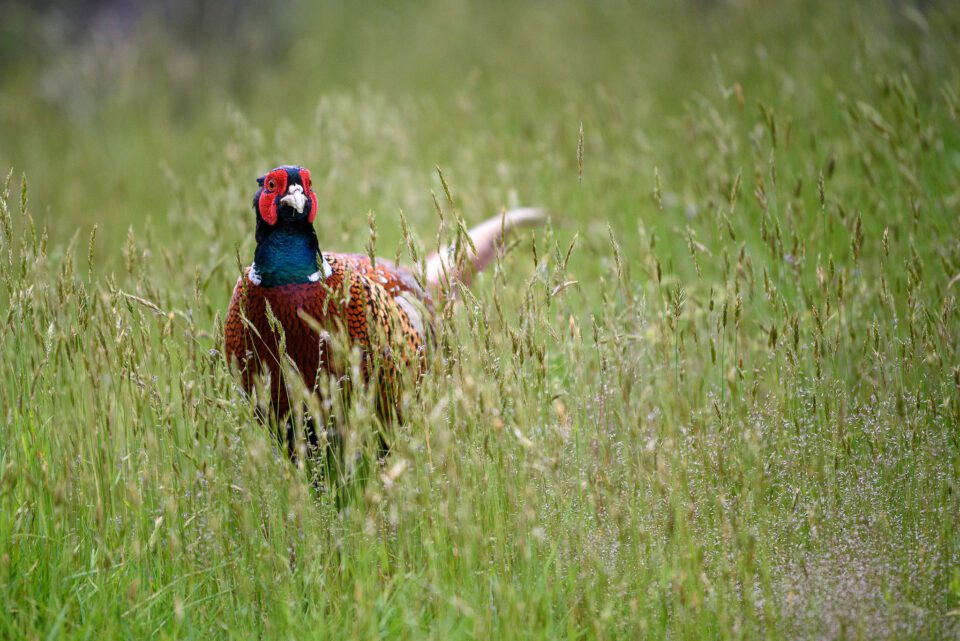 The good news is that you can easily address lateral chromatic aberration issues via post-processing software. The levels are not extreme to the point that you would have to do anything special – just enabling the lens correction module in Lightroom will take care of the problem immediately.
Distortion
Unfortunately, the new lens design increased the overall levels of distortion when compared to its predecessor. Imatest measured noticeably less pincushion distortion at 70mm, however, at longer focal lengths of 85mm and beyond, the Nikon 70-200mm f/2.8E FL VR demonstrated higher levels of barrel distortion. This is particularly noticeable at 200mm, where the lens showed 1.96% barrel distortion, which is visibly higher than the 1.45% distortion exhibited by the 70-200mm f/2.8G VR II lens.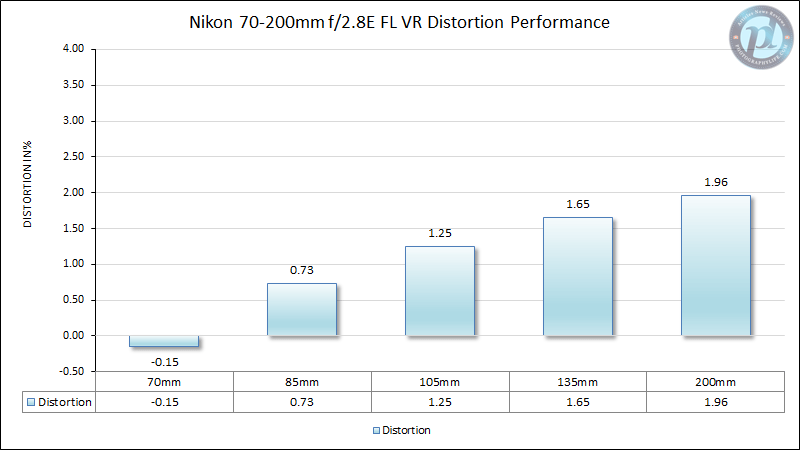 If you are planning to use the lens for architectural work and for photographing textures and patterns with straight lines, you can take care of the problem in Photoshop or Lightroom very easily by using Lens Corrections. Both already have lens profiles that you can apply with a single click.
Ghosting and Flare
While telephoto lenses are not designed to handle ghosting and flare well, Nikon's Nano Crystal Coat definitely makes a huge difference when handling bright sources of light with the Nikon 70-200mm f/2.8E FL VR. In many cases, you will be able to photograph without any visible flares in your images, but it all depends on the location, the angle of the light source, use of filters, whether you have a hood attached and whether the front element of the lens is clean or not. If you use a cheap filter or your front lens element is dirty, expect to see pretty visible ghosts and flares in your images with the front element exposed to the sun.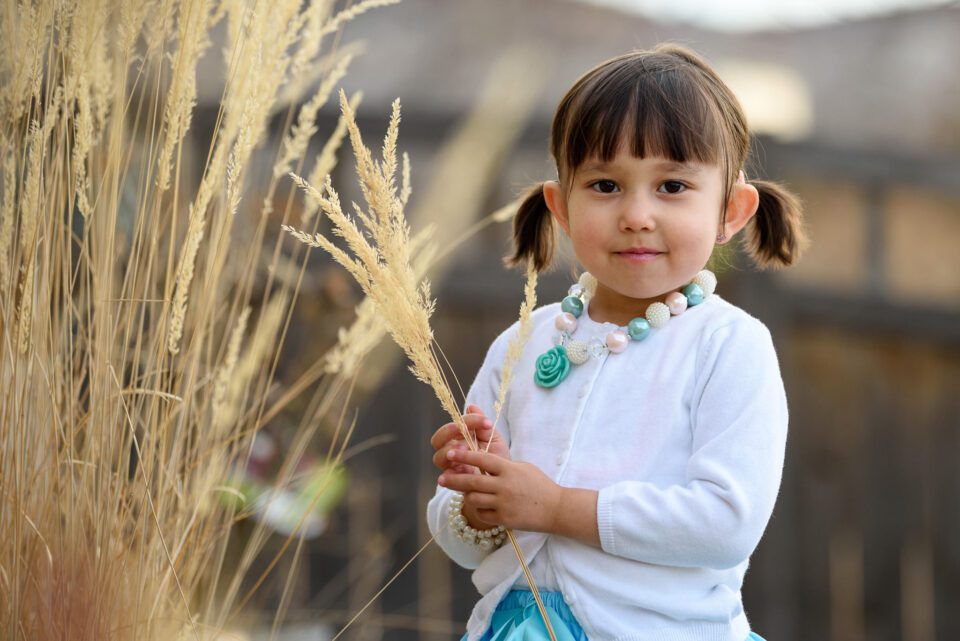 If you plan on shooting against the sun, make sure to remove filters and clean that front element! If you don't have a filter and your front lens is clean, then just pay attention to the location of the source of light in your frame – sometimes even moving the source of light in the frame by just a little will help significantly reduce ghosting and flare in your images. As always, make sure to keep that lens hood attached, as it helps a lot when shooting with the sun overhead!
Speaking of the hood, the Nikon 70-200mm f/2.8E FL VR has a very different HB-78 bayonet hood compared to the HB-48 on its predecessor. Take a look at the difference (Left: HB-78, Right: HB-48):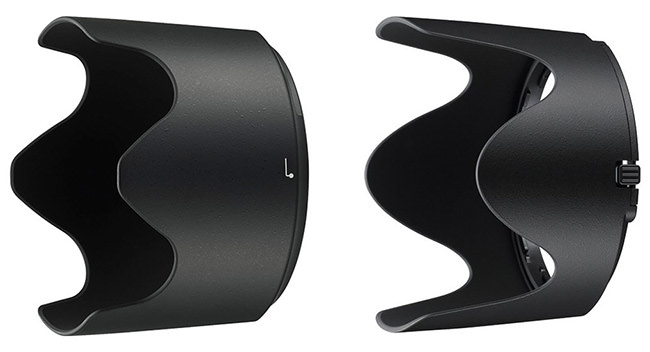 As you can see, the sides of the petal-shaped hood are not as deep on the new hood as they were on its predecessor, which should reduce chances of strong light rays making their way into the lens. Still, there is a good reason why telephoto lenses include a sizable hood. It is always a good idea to use lens hoods, as they help a great deal in reducing ghosting and flare in images. With so many lens elements inside and the fact that longer focal length lenses increase the size of the light source in the frame, you might also end up significantly reducing the overall contrast of the image, which is why I would recommend to keep the lens hood attached at all times.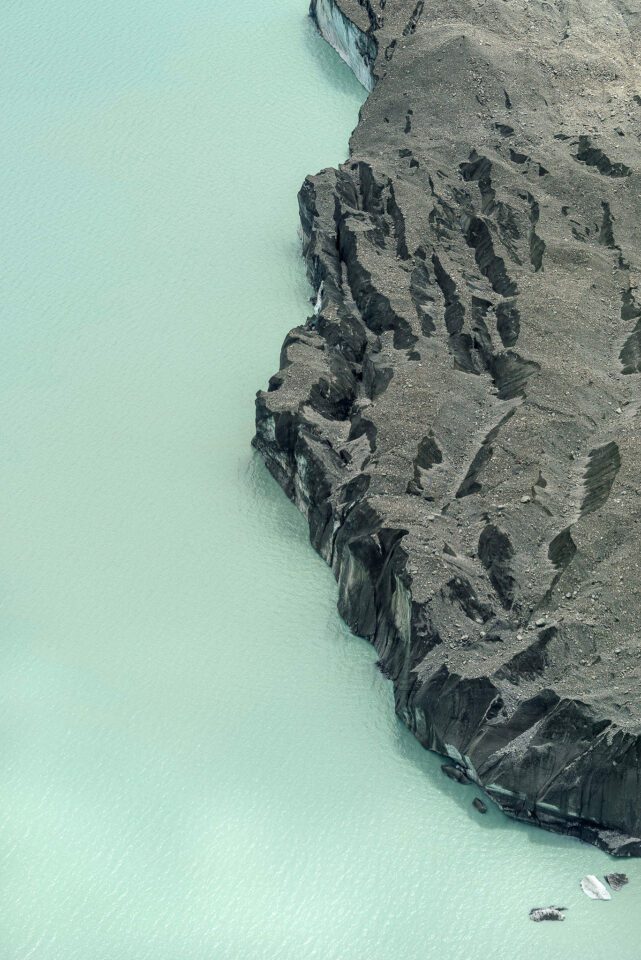 Flouorine Coating
Similar to the latest generation Nikon lenses, the front element of the 70-200mm f/2.8E FL VR lens is coated with Nikon's fluorine coating technology that is designed to repel dirt, water droplets, grease, fingerprints and smudges that might end up on the lens. The technology definitely works as advertised. When traveling in New Zealand, I shot in very rainy conditions and the coating did an excellent job in keeping the front element of the lens clean – I never had any problems with water drops or other debris appearing in my images. To understand the fluorine coating technology in detail, check out the below video from Nikon:
Electronic Diaphragm
The Nikon 70-200mm f/2.8E FL VR is specifically designated as an "E" type lens (the character after the lens aperture), because it sports an electronic diaphragm. Unlike its predecessor, which uses a mechanical lever on the back of the lens to control the size of the aperture, the aperture of the Nikon 70-200mm f/2.8E FL VR is controlled electronically. This allows for much more accurate control of the lens diaphragm, especially when shooting at high continuous shooting rates. While an electronic diaphragm is a definite plus for future-proofing your investment, if you use your Nikon lenses with adapters on other cameras, it might present a problem – you will need to wait until "smart" adapters become available, since they will need to communicate the desired aperture to the lens. Using a dumb adapter is not going to allow controlling the aperture of the lens, so keep this in mind.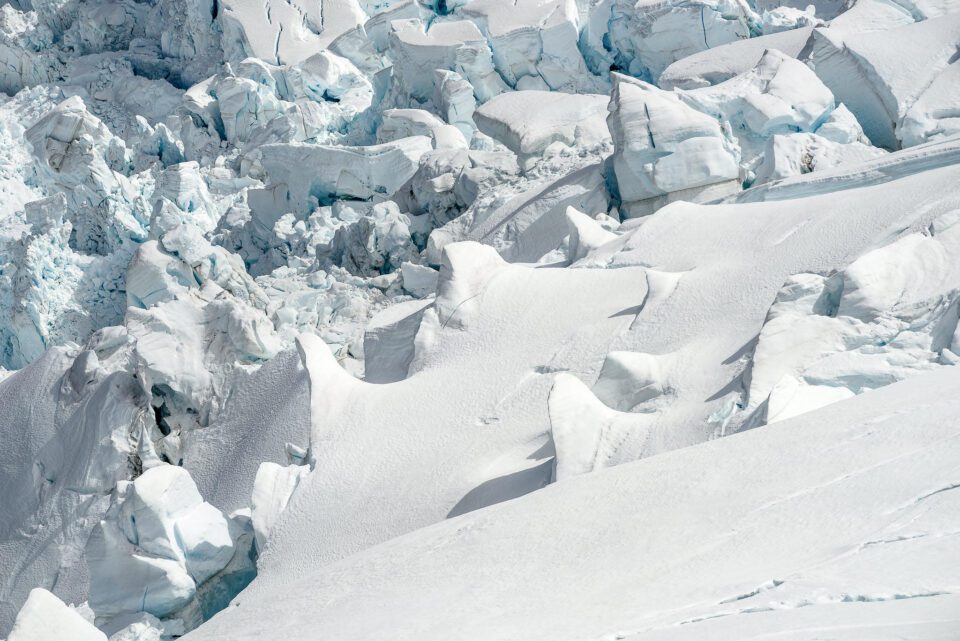 Tripod Support
With each new release of a Nikon telephoto and super telephoto lens, I always wonder if Nikon will ever start using the standardized Arca-Swiss quick release system. Unfortunately, Nikon keeps reusing the same old tripod mount that requires an additional adapter to make use of the tripod foot, which not only reduces the overall stability of the setup, but also adds unnecessary weight and bulk to the lens.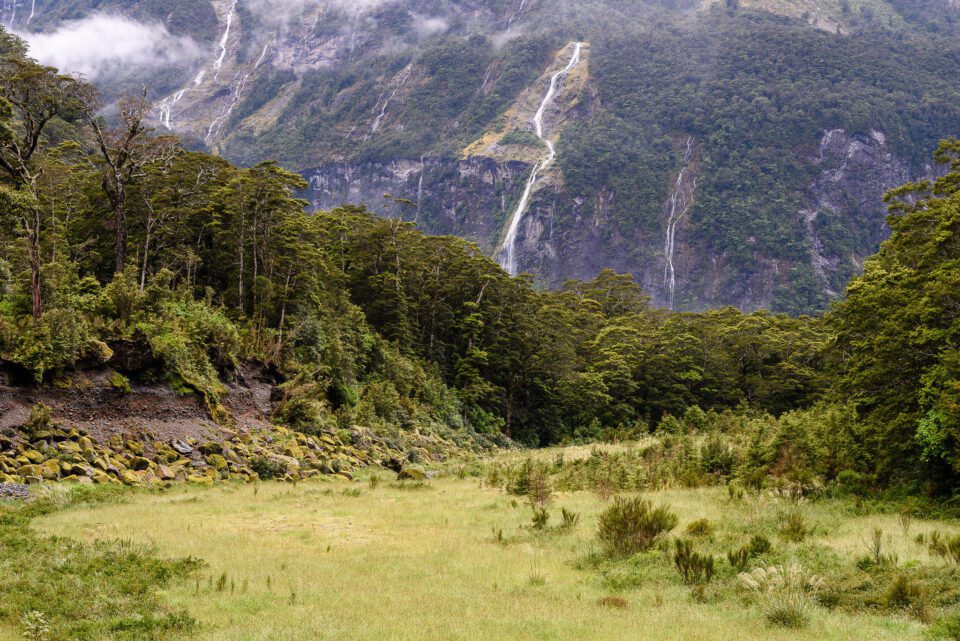 While the tripod foot itself is designed well and does a good job at stabilizing the lens when it is mounted on a tripod, I would recommend to swap out the tripod foot of the lens with a third party option from RRS (LCF-11) or Kirk (LP-64). Both are designed very well and will do a great job at providing an Arca-Swiss compatible quick release, so that you don't have to deal with adapters.
Focus Breathing / Increased Field of View
Thankfully, you no longer have to worry about subjects looking small at close distances. As I have pointed out earlier in the review, the new Nikon 70-200mm f/2.8E FL VR does not suffer from the same focus breathing issues as its predecessor. There is still some focus breathing, but it is not as bad as it used to be. If the Nikon 70-200mm f/2.8G VR II acted like a 120mm lens in terms of field of view at 200mm and closest focus distance, the new 70-200mm f/2.8E FL VR is significantly better – there is perhaps a 10mm difference between close focus and infinity. And if you zoom out to 70mm, there is no visible difference in framing when going from close focus to infinity.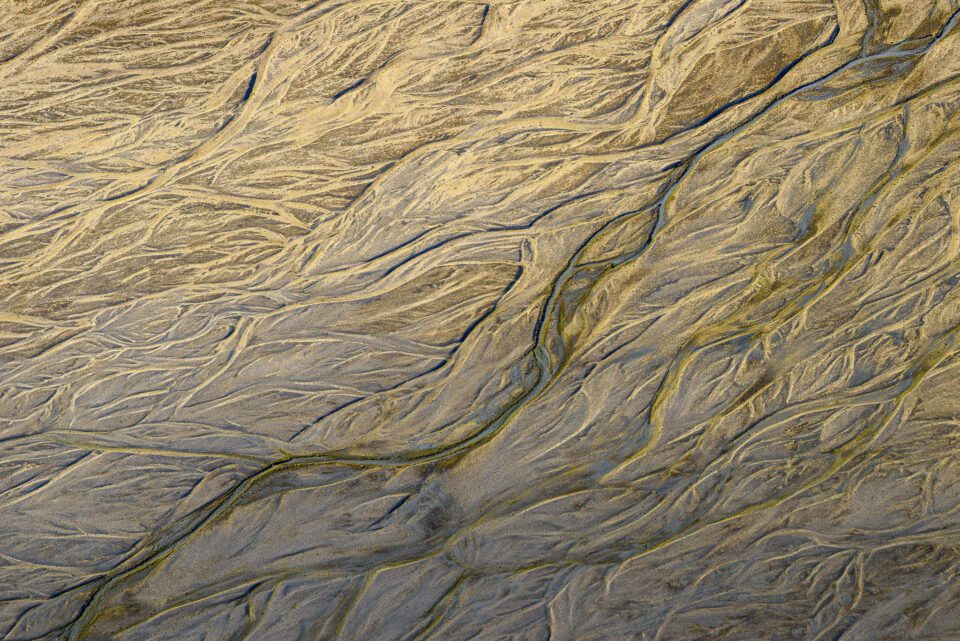 It is also worth pointing out that the new Nikon 70-200mm f/2.8E FL VR can now focus even closer than its predecessor. While the previous generation 70-200mm f/2.8G VR II required a minimum focus distance of 1.4 meters, the new lens can focus down to 1.1 meters. This also translates to a higher magnification level of 1:4.1 vs 1.7.9 on the predecessor.