This is an in-depth review of the much anticipated Nikon 50mm f/1.8G prime lens that was announced in April of 2011. The Nikon 50mm f/1.8G is a consumer-grade lens for enthusiasts and seasonal pros that need quality optics of a fixed portrait lens at an affordable price point. Its large aperture of f/1.8 is great for low-light photography and the shallow depth of field helps isolate subjects from the background, beautifully rendering the background highlights, also known as bokeh.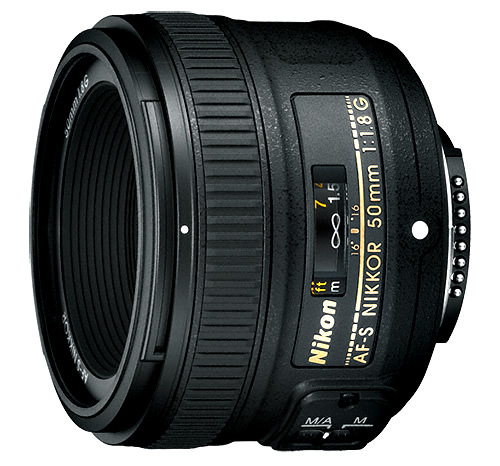 The Nikon 50mm f/1.8G replaces the older Nikon 50mm f/1.8D lens (introduced in 2002). Compared to the AF-D version that has 6 optical elements in 5 groups, the new 50mm f/1.8G has a modified optical design with 7 optical elements in 6 groups, one out of which is an aspherical element (reduces coma and chromatic aberrations). The Nikon 50mm f/1.8G is the first Nikon 50mm lens that comes with an aspherical element; even the more expensive and higher-end Nikon 50mm f/1.4G does not have one.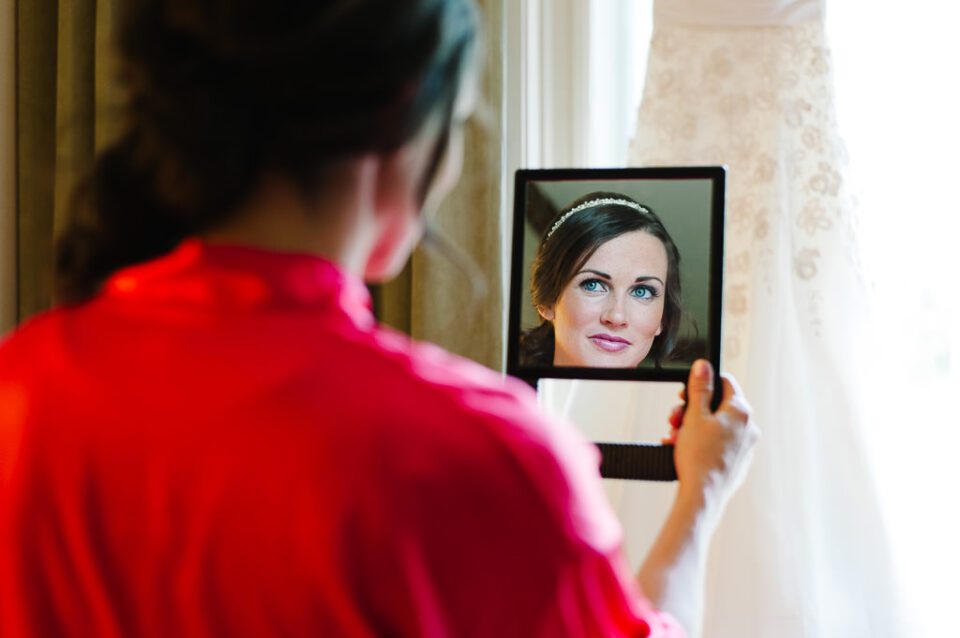 Thanks to the improved optical design and larger lens barrel, the front lens element does not extend or rotate during autofocus operations, which makes the lens more durable and also makes it easy to use circular filters and filter holders. In addition to the above-mentioned optical improvements, the lens incorporates silent wave motor (AF-S), which not only provides near silent focus operation, but also allows the lens to be fully used on entry-level DSLRs such as Nikon D3100 and Nikon D5100 (the older Nikon 50mm f/1.8D cannot autofocus on entry-level DSLRs without a focus motor).
In addition, the AF-S motor gives the ability to use autofocus with a manual focus override, which you cannot do on any of the AF-D prime lenses. Just like the older AF-D cousin, the Nikon 50mm f/1.8G also has Super Integrated Coating, which helps reduce lens flare and ghosting. The lens is designed to work on both Nikon FX and DX sensors, although it is certainly better suited on FX sensors for everyday photography. On DX sensors, the lens is equivalent to a 75mm lens, which is perfect for portraiture, but a little too long for other types of photography. The lens retains the 7-blade diaphragm, which can result in heptagon-shaped bokeh at large apertures above f/2 (see bokeh examples below).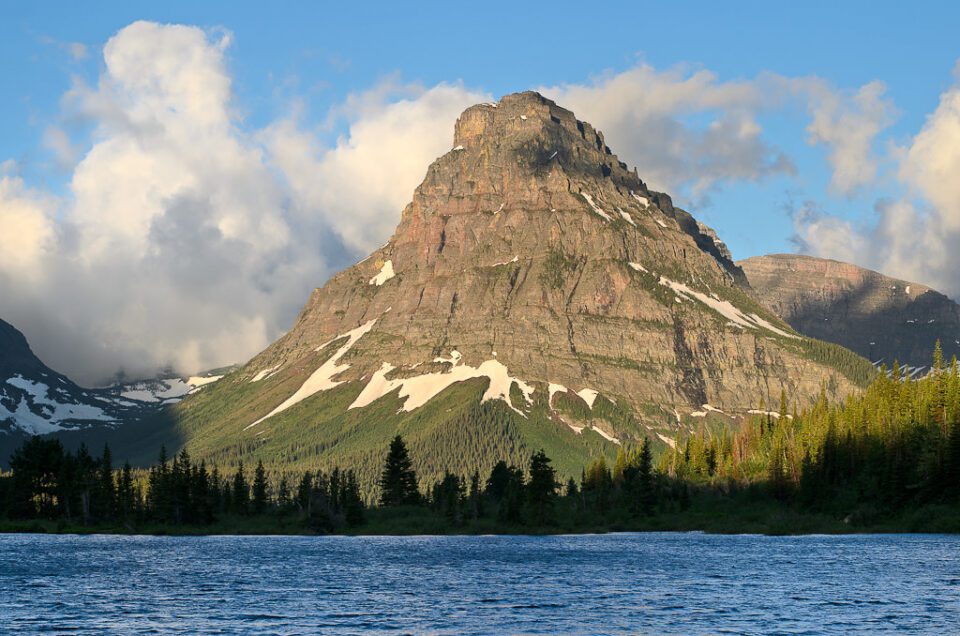 In this review, I will provide a thorough analysis of the Nikon 50mm f/1.8G lens, along with image samples and comparisons against other 50mm lenses such as Nikon 50mm f/1.8D, Nikon 50mm f/1.4G, Nikon 50mm f/1.4D and Sigma 50mm f/1.4 EX DG HSM.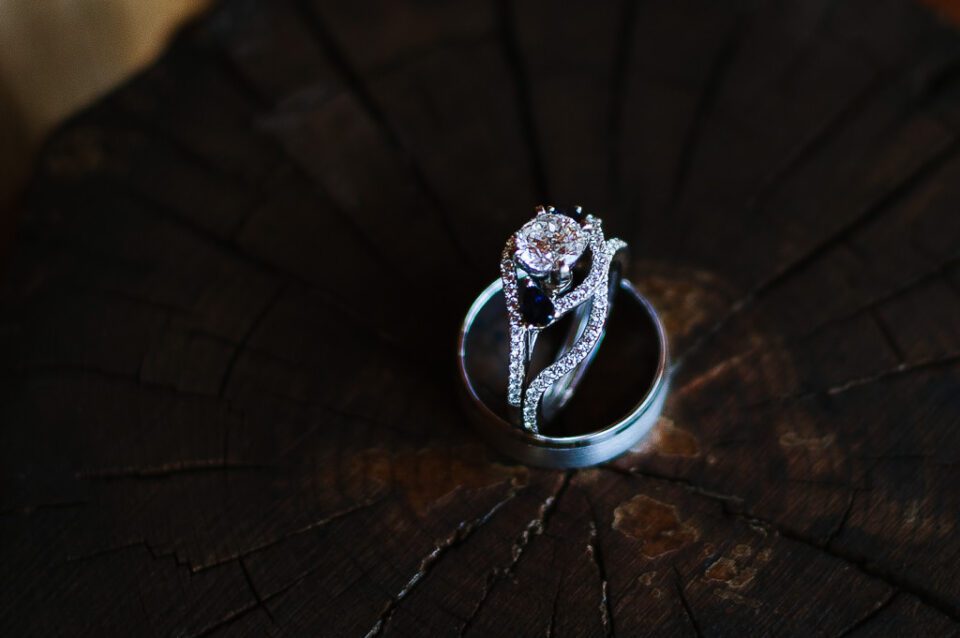 Nikon 50mm f/1.8G Specifications
Mount Type: Nikon F-Bayonet
Focal Length: 50mm
Maximum Aperture: f/1.8
Minimum Aperture: f/16
Format: FX/35mm
Maximum Angle of View (DX-format): 31°30′
Maximum Angle of View (FX-format): 47°
Maximum Reproduction Ratio: 0.15x
Lens Elements: 7
Lens Groups: 6
Compatible Format(s): FX, DX, FX in DX Crop Mode
Diaphragm Blades: 7
Distance Information: Yes
Aspherical Elements: 1
Super Integrated Coating: Yes
Autofocus: Yes
AF-S (Silent Wave Motor): Yes
Minimum Focus Distance: 1.48ft.(0.45m)
Focus Mode: Auto, Manual, Manual/Auto
G-type: Yes
Filter Size: 58mm
Accepts Filter Type: Screw-on
Dimensions: (Approx.) 2.8×2.1 in. (Diameter x Length), 72.1×52.4mm (Diameter x Length)
Weight: (Approx.) 6.6 oz. (185g)
Supplied Accessories: 58mm Snap-on Front Lens Cap LC-58, Rear Lens Cap LF-4, Bayonet Hood HB-47, Flexible Lens Pouch CL-1013
Detailed specifications for the lens, along with MTF charts and other useful data can be found in our lens database.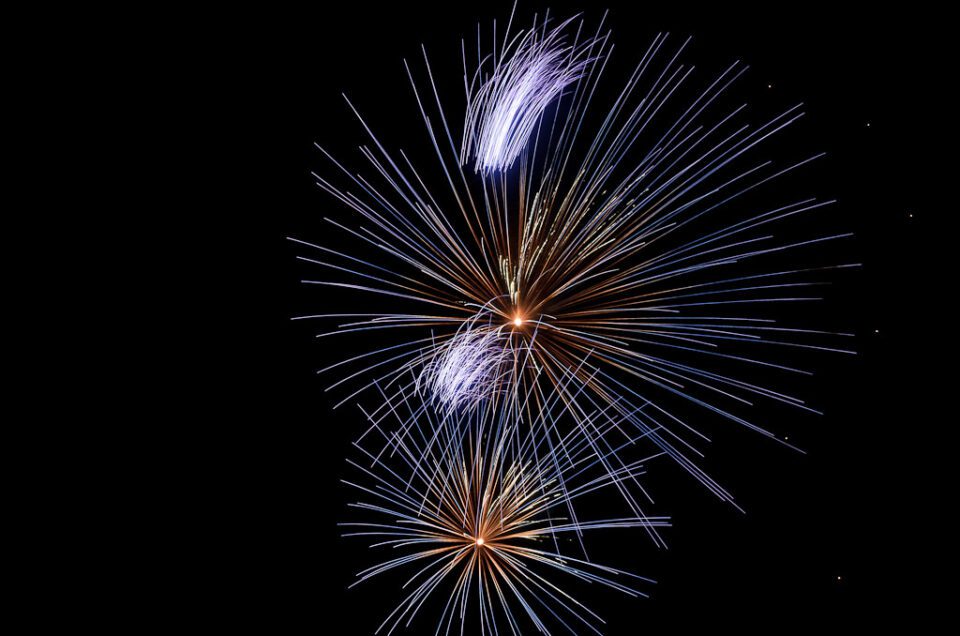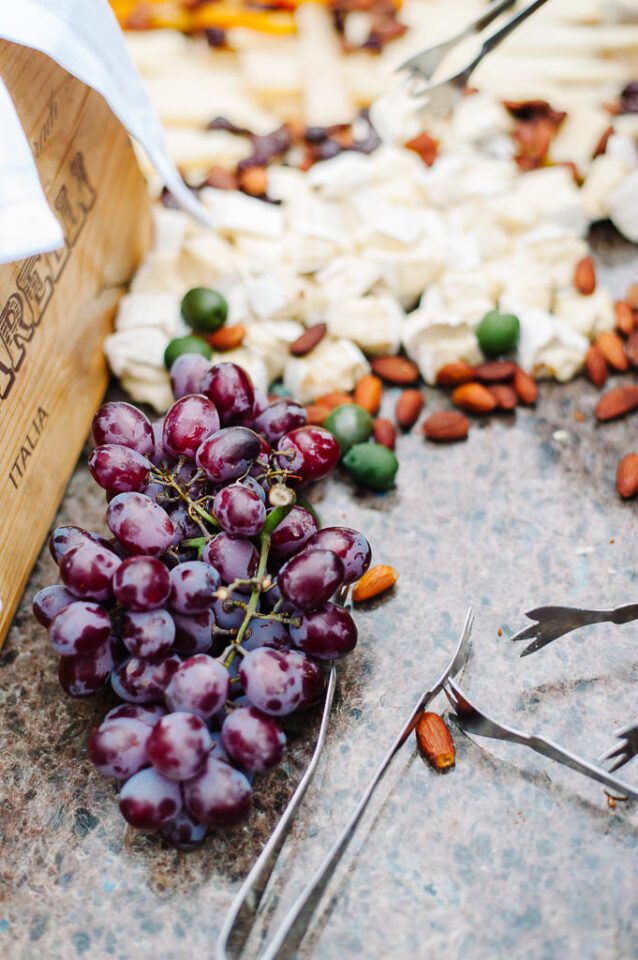 Lens Handling and Build
Similar to the recently introduced Nikon prime lenses, the Nikon 50mm f/1.8G has a solid build, with a plastic exterior and a metal mount. The changes in optical and barrel design increased the size of the lens, which as can be seen below, is almost as big as the Nikon 50mm f/1.4G (Left: Nikon 50mm f/1.8G, Right: Nikon 50mm f/1.4G):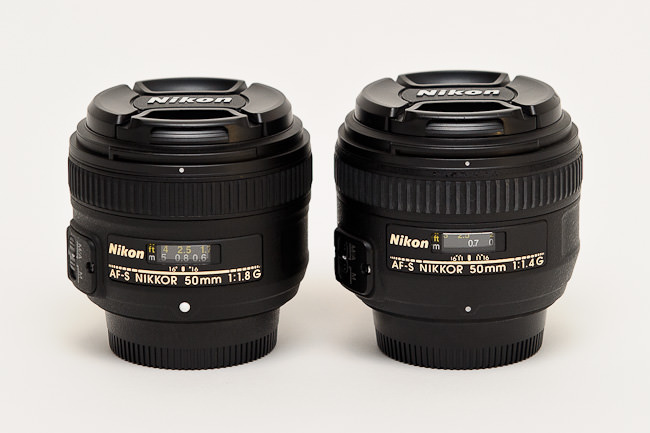 Besides the size and barrel layout similarities, the Nikon 50mm f/1.8G also has a rubber gasket on the lens mount, which provides good sealing against dust making its way into the camera. The rubber gasket definitely helps not only in reducing sensor dust, but also in reducing the amount of dust that could potentially end up inside the lens. As I explained in my "what to do with dust inside lenses" article, it is quite normal for lenses to suck air in and out when focusing or zooming in/out. Although the front part of the lens does not move when focusing, the front lens element does move in and out inside the lens barrel (just like the 50mm f/1.4G). If you want to reduce the chances of dust and moisture making into the lens through the front of the lens, I would recommend to get a good 58mm clear/protective filter such as B+W 58mm MRC clear filter and leave it on the lens at all times. Not only will it help protect the front element of the lens and reduce dust, but it will also make it much easier to clean the lens when needed. It is definitely painful to clean the front element of the lens without a filter, because it is recessed deep inside.
Here is how the lens compares against the older Nikon 50mm f/1.8D (Left: Nikon 50mm f/1.8D, Right: Nikon 50mm f/1.8G):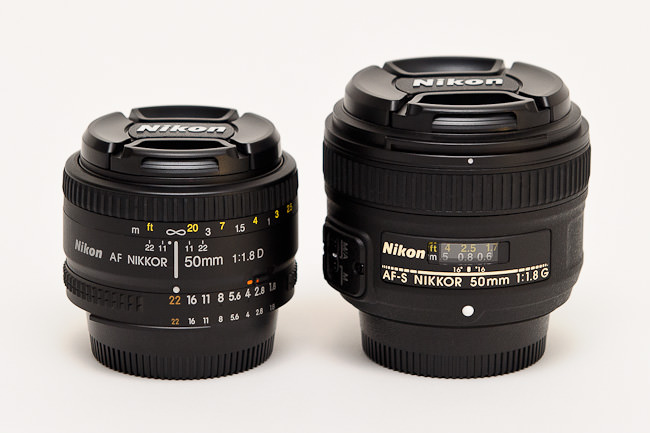 As you can see, the 50mm f/1.8 AF-D is both smaller and thinner in size and has an aperture ring. Please note that the older 50mm f/1.8D does not have a rubber gasket on the metal mount, so the new Nikon 50mm f/1.8G is better sealed against dust.
Despite the much bigger size, the Nikon 50mm f/1.8G is only 30 grams heavier than its predecessor and 95 grams lighter than the Nikon 50mm f/1.4G. It also has the same 58mm filter size as the Nikon 50mm f/1.4G (the older Nikon 50mm f/1.8D had a 52mm filter thread). This is not good news for those who already own the older 50mm f/1.8D or the Nikon 35mm f/1.8G lenses and bought specialized filters – larger 58mm filters would have to be purchased separately.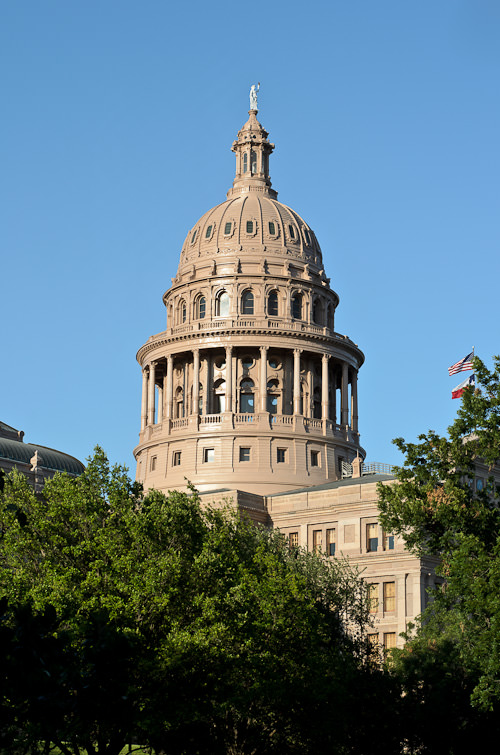 I have received several inquiries from our readers about weather sealing on Nikon 35mm and 50mm lenses. The short answer is "No", these lenses are not weather sealed. While I have been using my Nikon 50mm f/1.4G lens in hot/cold/dry/wet weather conditions and never had any issues, Nikon lenses without gold rings are not designed to withstand tough weather as professional lenses. That's why Nikon does not specifically mention weather sealing in their marketing materials on these lenses. If you take a good care of the lens and use a protective filter in front of the lens, you should have no problems with using it in various weather conditions. Just remember to take extra precaution when changing the lens in very dusty/windy conditions. Since the rear lens element moves in and out during focusing, get used to rotating the focus ring to the infinity mark before mounting or dismounting the lens.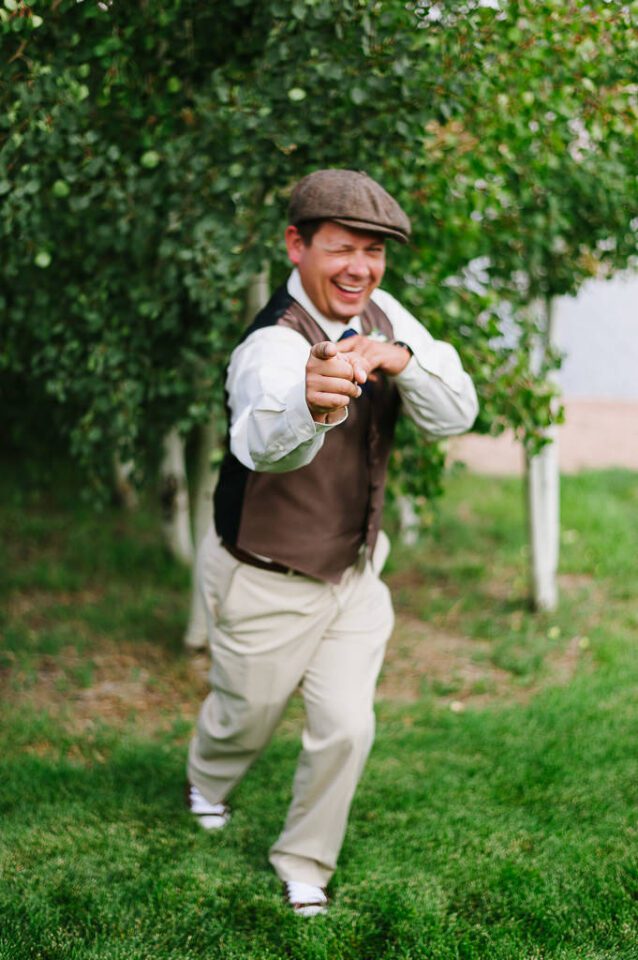 As for the focus ring, it is conveniently located on the front of the barrel, making it easy to manually focus with a thumb and index fingers while shooting images or video. The lens comes with the same "HB-47" lens hood as on the Nikon 50mm f/1.4G (both 50mm f/1.4D and 50mm f/1.8D are not shipped with lens hoods). The hood snaps on the front of the lens and sits tight without wobbling like some other Nikon lens hoods. The M/A and M switch on the side of the lens allows autofocus with manual focus override and full manual focus operation. The latest Nikon DSLRs like Nikon D5100 immediately recognize the focus position and provide notifications on the information ("I" button) screen.

From left to right: Nikon 50mm f/1.8D, Nikon 50mm f/1.8G, Nikon 50mm f/1.4D, Nikon 50mm f/1.4G and Sigma 50mm EX DG HSM.
Autofocus Performance and Accuracy
The Nikon 50mm f/1.8G autofocuses faster than the more expensive Nikon 50mm f/1.4G. When I first mounted both lenses on two different camera bodies and went from infinity to close focus and back (with the lens cap on), I was surprised to see the 50mm f/1.8G go almost twice faster. I then removed the lens caps from both lenses and tried to focus on my monitor from infinity to the closest focus distance and the time it took to acquire focus was much longer on the 50mm f/1.4G. Next, I performed a series of tests both indoors and outdoors to see how accurate autofocus on the 50mm f/1.8G is versus the 50mm f/1.4G. Again, the Nikon 50mm f/1.8G focused faster and delivered equally accurate results. On the contrary, the Nikon 50mm f/1.8G is definitely louder than the 50mm f/1.4G when it focuses, but only by a small margin. Under very dim lighting conditions, both lenses had a hard time acquiring correct focus on dark subjects, which is normal. Switching to lighter subjects significantly improved AF accuracy. Turning the AF-assist lamp on in AF-S mode helped a lot and AF accuracy was good from that point on.
After I performed the AF tests against the Nikon 50mm f/1.4G, I then mounted the older AF-D version on the second body and performed the same tests. Since all of the new AF-S primes I have tested so far autofocus slower than their AF-D counterparts, I assumed that the 50mm f/1.8D would focus a little faster. I was wrong – autofocus speed on both lenses turned out to be the same. AF accuracy is very similar as well, but the 50mm f/1.8D is much noisier.
Next, I tested the Nikon 50mm f/1.8G against the Nikon 50mm f/1.4D for AF speed and accuracy. Once again, just like with the 50mm f/1.8D version, AF accuracy and speed seemed to be exactly the same.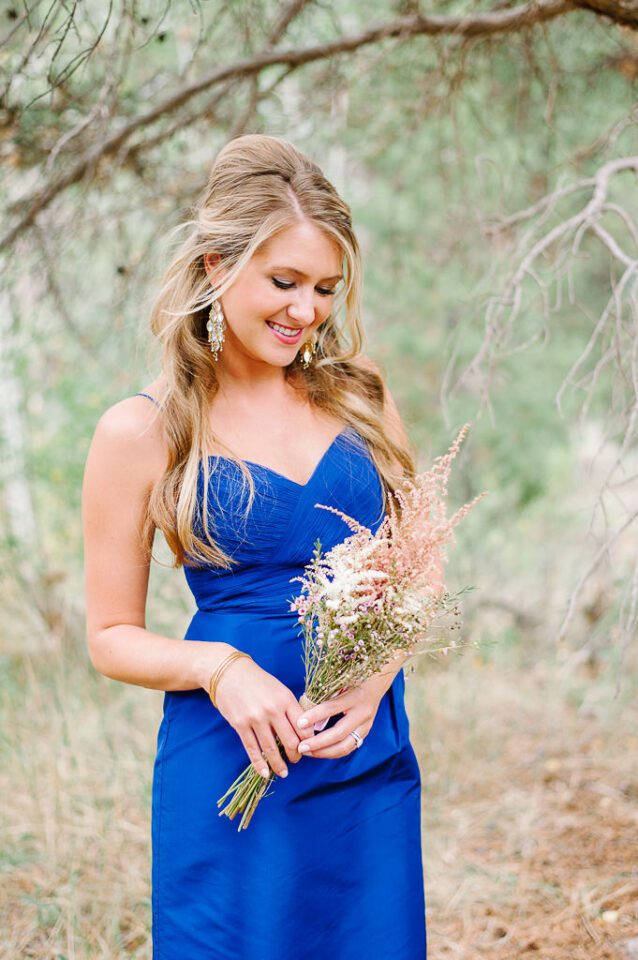 My last test was to compare the AF performance of the lens against the Sigma 50mm f/1.4 EX DG HSM that so many people rave about. I ran a number of different AF tests and found the AF accuracy of the Sigma 50mm f/1.4 to be equally good in daylight and in low-light conditions. The AF acquisition speed on the Sigma is the same as well, which makes the Sigma faster in AF speed than the Nikon 50mm f/1.4G, but not the 50mm f/1.8G that I tested for this review.
Before using the 50mm lenses, I performed AF accuracy tests using the LensAlign lens calibration tool. None of the 50mm lenses from Nikon, including the Nikon 50mm f/1.8G required any adjustments and the AF accuracy was dead on.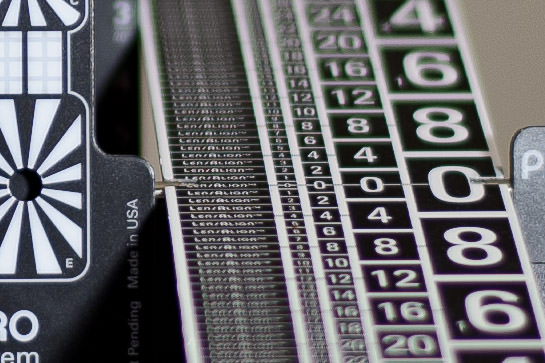 My Nikon 50mm f/1.4G was already dialed at -2 and I did not need to readjust it. The Sigma 50mm f/1.4 was somewhat heavily front-focused and I had to use +10 AF adjust to take care of the focusing issues. I personally get annoyed any time a lens has front/back focus issues like this. I do not understand why manufacturers cannot do more thorough QA tests before their products are shipped to retailers. We, as consumers, should be receiving properly calibrated lenses and cameras and not having to deal with testing our gear using focus charts. Unfortunately, these kinds of QA issues happen with all manufacturers, including Nikon. In my experience, however, third party manufacturers such as Sigma and Tamron typically have more QA issues (although they both have gotten much better lately).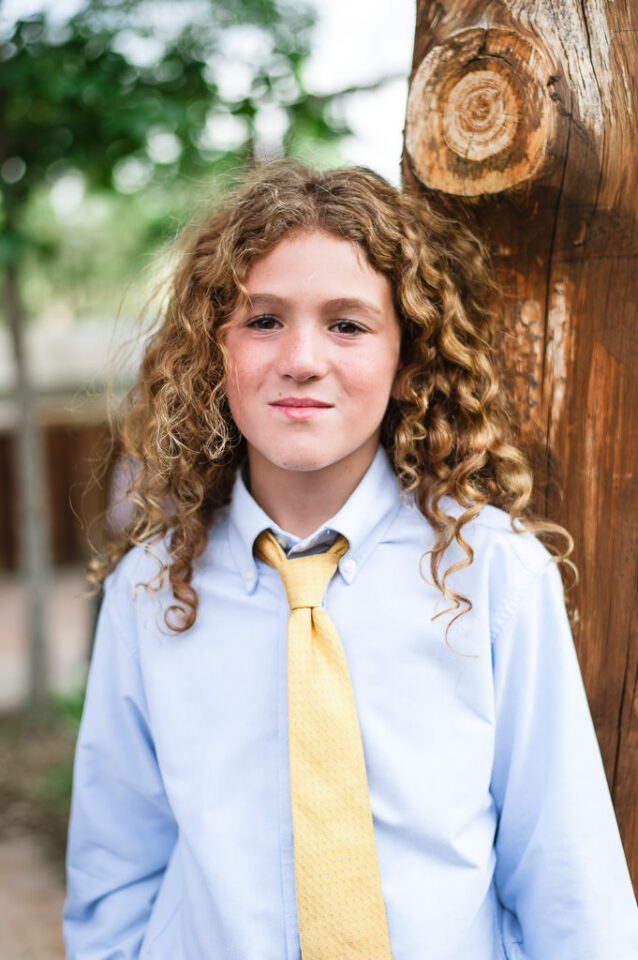 As with any other lens, be careful when shooting at very large apertures in low light situations. If you cannot consistently get accurate focus in daylight, your lens sample probably has a front/back focusing issue like explained above.