Sharpness
Like its big brother the Nikkor 800mm f/5.6E VR, the 500E FL doesn't have MTF curves, it has WTF lines. In an MTF chart, the straight line across the top of the chart equals optical perfection. In a WTF chart, the vertical axis is awesomeness and the horizontal axis goes from here (left) to eternity (right). Take a look at the two MTFs – you know which one is which: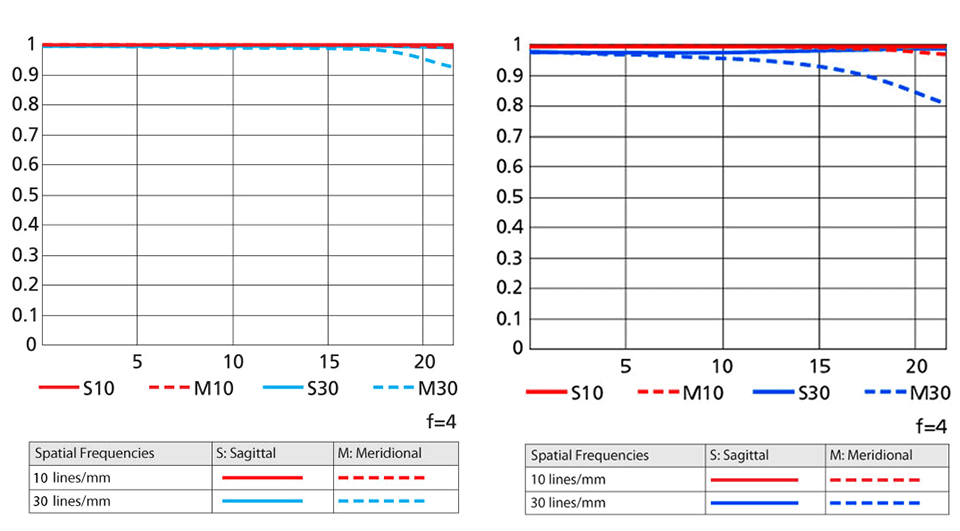 In comparison, the 500G MTF lines fall short of perfection. The slight depression of the blue-dashed line on the right side of the chart shows that the corners might not be as sharp as the center. Let's put the 500G to the test with this dirty rug: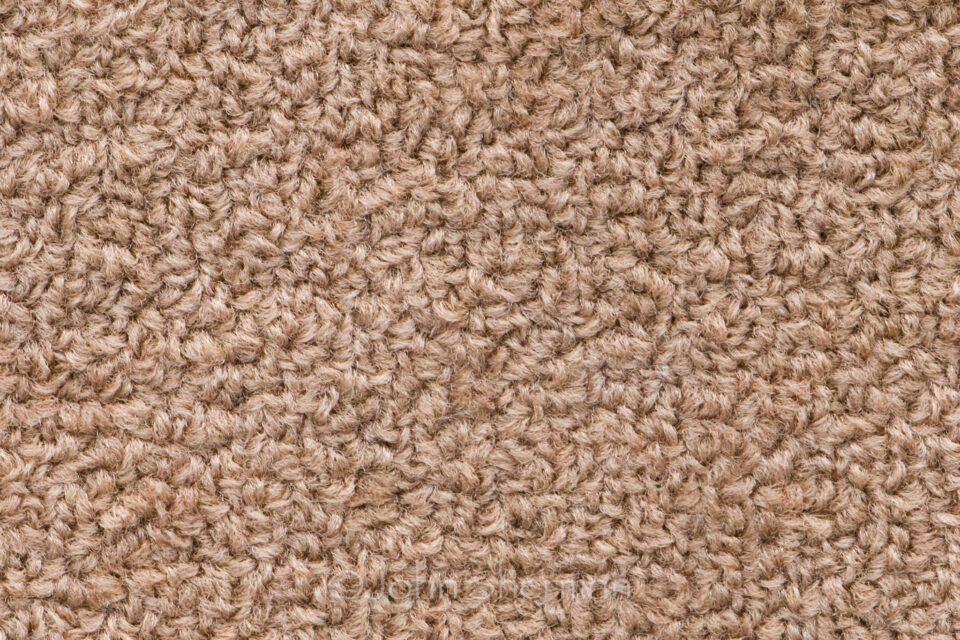 100% crop from center, RAW with no sharpening.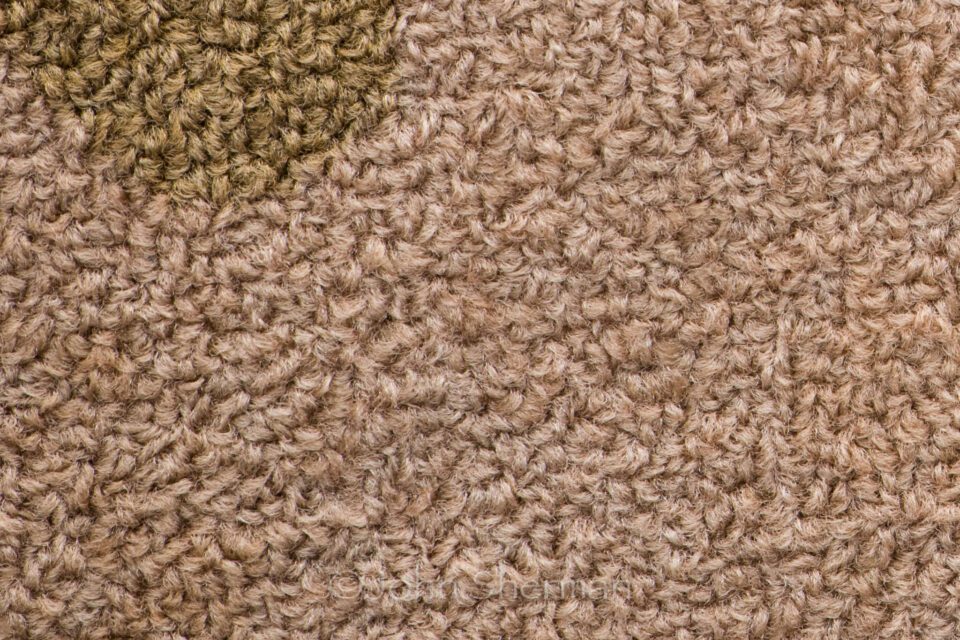 100% crop from corner, RAW with no sharpening.
If you can't see the difference in these 500G photos, don't fret, neither can any human with mere 20/20 eyesight. As for the 500E FL: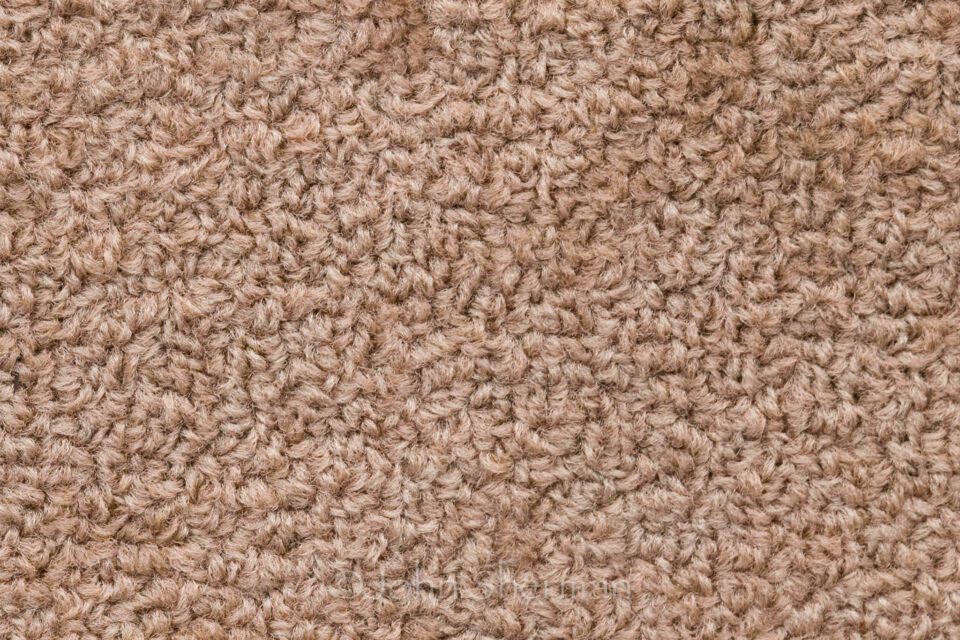 100% crop from center, RAW with no sharpening.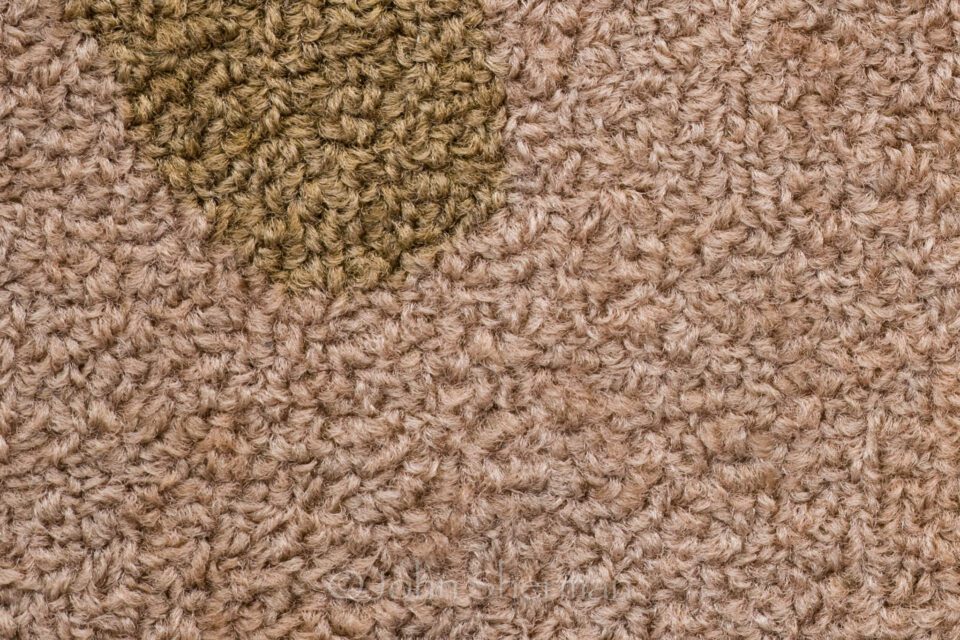 100% crop from corner, RAW with no sharpening.
If you can't see a difference, why does anyone need a lens this sharp? Because if Nikon ever releases a 64MP body, heavy cropping photographers (we call them Industrial Farmers) might see a difference at final output then. For now, I'm guessing we'll see a difference when the Imatest is run. At that point I'm sure the 500E FL will best the 500G and rocket to the top of the rankings. How sure am I? I'm sending Nasim a pack of smelling salts.
For practical purposes, buying this lens because its bench test results are better than the 500G's is ridiculous. Both are so insanely sharp you could get papercuts on your eyeballs looking at the photos. Here's a scrub jay photo with the 500G.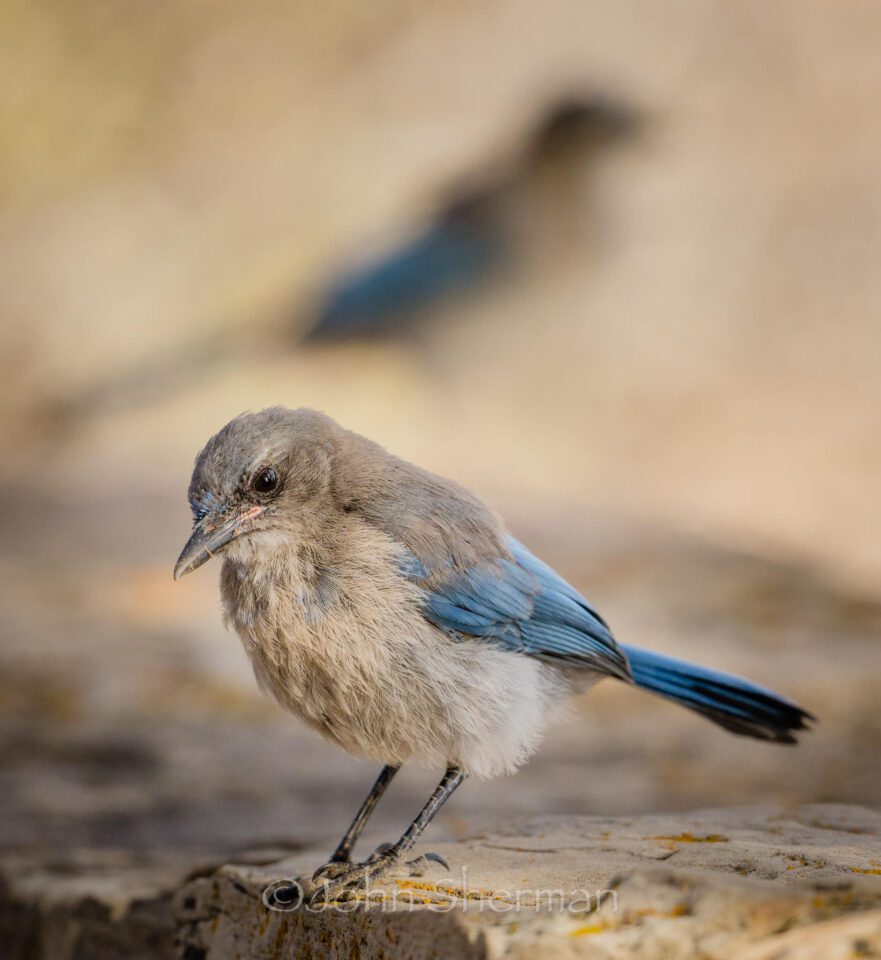 Yep the 500G is no slouch. Add to that that most 500mm owners are sports or wildlife shooters whose subjects don't lie in the corners of the frame and any weakness perceived in the 500G is inconsequential. The real difference will be how these two lenses handle in the field. Are the improvements with the 500E FL great enough to justify a two grand higher price tag?
Handling
This lens is absolutely dreamy to handle compared to other super-telephoto primes I've used. I always preferred the 500mm f/4 option compared to a 400mm f/2.8 or a 600mm f/4 because it's lighter than either, hence easier to tote in the field. Now with the new 500E FL being nearly two pounds lighter than the 500G my back is that much happier. At 6.8 pounds this is light for a 500mm prime, but not a light lens. In comparison, the venerable Nikkor 70-200mm f/2.8 weighs 3.4 pounds and is considered by many to be a brute of a lens. If you think you'll be sprinting around light and fast with the 500E FL, think again. The lighter weight of the 500E FL helps its handholdability more than its portability.
The FL stands for fluorite elements of which the 500E FL has two near the front of the lens. Fluorite is much lighter than other optical glass. This is the key to 500E FL's weight savings and because the fluorite is used in the bigger front elements, the 500E FL is not front-heavy like the 500G.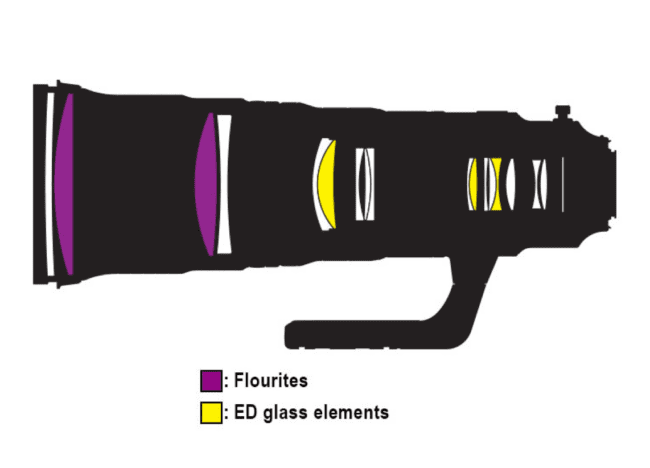 Wow, look at that – makes my loins tingle.
Because the lens is less front-heavy you can comfortably position your hand a bit closer to your body, bringing the left elbow right in under the ribcage for a very stable handholding configuration when shooting level. I use the same hand position with the 500G, but it's not as comfortable because the camera/lens combo doesn't feel as balanced unless I have the heavier D4s attached.
One big advantage to the lower weight is that you can handhold for longer before muscle fatigue sets in. How much longer? I'm glad you asked because I actually timed this in one of the more contrived photo tests I've ever done. I handheld both 500s pointed at an object and tried to keep the AF bracket locked on a point and not let that point waver out of the bracket. With the 500G I lasted 3:21 before the burn in my shoulders got me shaky enough that I couldn't keep the point in the bracket. With the 500E FL, I lasted 4:39. In this case, the shoulder burn was less, but back fatigue became an issue. An extra minute and 18 seconds doesn't sound like much, but in sports and wildlife shooting there's this horrible deal that the peak of action seems to always occur the instant you lower your camera from your eye.
I did suffer one really bizarre photo injury and I blame the 500E FL for this one. Because it's so handholdable I shot vultures in flight for several hours one day while standing on the edge of the Grand Canyon. The next day I had sharp pains in my right hip flexor (psoas) and had trouble walking. Turns out the psoas attaches to your lower spine and the front of your femur and in my case got overworked because my torso was leaned back to balance out the camera/lens weight and the psoas is the muscle getting the strain in that scenario. With the heavier 500G I would have quit early and walked away. As it was, I limped away. The lesson – make a conscious effort to engage your core during long big glass handheld sessions and this will relieve stress on the hip flexor.
Controls
There are five buttons and five switches on this bad boy: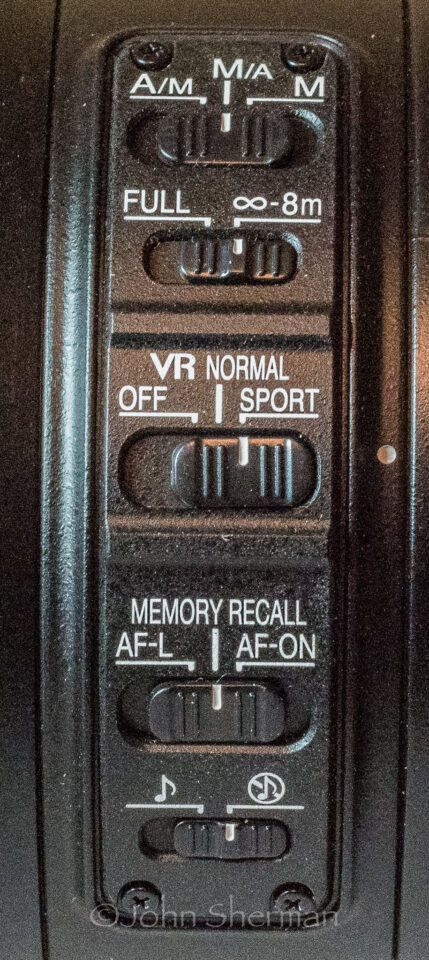 Focus Function Buttons and Switch
Five inches from the front of the lens (without hood) are four focus function buttons surrounding the barrel at 12, 3, 6 and 9 o-clock. There is also a switch to select which function these buttons activate. AF-ON activates autofocus, AF-L locks focus so you can recompose, and Memory Recall stores a pre-set focus distance. I rarely use the buttons as I find them a bit far out the barrel to access when handholding (I like to cradle the lens foot, not the barrel). They are in the same position on the 500G, but as the 500G is more front-heavy, they seem more natural to use and still hold everything in balance. Another reason I rarely use these buttons is that I use rear button focus on the camera to activate, lock or track focus with the push of my thumb.
The one thing I occasionally use these buttons for is memory recall. Memory recall allows you to pre-focus on a subject, for instance, second base during a baseball game, lock that distance using the memory set button next to the lens mount, then if the base runner tries to steal second but you were focused on the pitcher, you can just push one of the four focus buttons on the lens barrel and the 500 racks right to the preset distance with no hunting.
Focus Limit Switch
This switch is very important to minimize focus hunting when shooting subjects beyond 8m (26 ft). I wish it were more conveniently located, not in a line up next to a bunch of other switches. If a subject comes closer than 8m and you need to switch to the full focus range, it's hard to locate the switch unless you take the camera from your face. I'd be happy if you could program the focus function buttons to switch the focus range (how about a firmware addition Nikon?). Either that or it would be nice if this switch had a different shape with a more defined rib so you can find it by feel. As is, if you hit the next switch down you could turn off the VR instead of going to full focus range.
M, M/A, A/M switch
M stands for manual focus – AF is disabled.
M/A allows autofocus but you can override AF and manually focus by turning the focus ring.
A/M is the same as M/A but requires one to twist the focus ring about 1/10th of a turn before the focus set by AF is overridden. This helps prevent accidentally bumping the focus ring a tad and overriding the AF – probably a good setting to use if you hold the lens by cradling the focus ring or have the focus ring in contact with a bean bag and are panning. The downside is you can't do minor manual focus tweaks, say switching focus from the further eye of a bobcat to the nearer one.
As I handhold by cradling the lens foot, use rear button focus and often tweak focus manually for fine adjustments, I leave this switch in M/A setting.
Beep Switch
The lens will beep when you set the focus memory or recall that distance. You can turn the beep off with this switch. I leave it off so as not to spook wildlife, but I could see sports photographers keeping the beep on in a noisy stadium.
Balance
I like how the 500E FL balances with the D4s and D810 with or without teleconveters. With the D7200 and no teleconverter it feels forward balanced. Putting a battery grip on the D7200 would correct this. With the D7200 and a teleconverter on I feel it balances pretty well.
VR Switch
The 500E FL has two vibration reduction modes, normal and sport, and the option to turn VR off. Normal is intended to reduce camera shake when shooting stationary subjects. Sport is intended for shooting moving subjects like athletes or animals and is recommended for panning. Both normal and sport can be used when the camera is tripod mounted though some folks might choose to turn VR when using a tripod (or shooting at shutter speeds over 1/500th sec). The VR modes are chosen with a switch instead of the rotating collar plus switch on the 500G. A tiny difference, but one some people will like, especially if your lens is clad in a Lens Coat (speaking of which, the large Lens Coat sleeves from my old 500 fit reasonably well on the new version, but some of the smaller sleeves don't).
VR performance
Do you want to see a bunch of photos of a weathered fence? I didn't think so, but that's what I shot initially to test VR performance while handholding. This table lists the number of acceptably sharp photos (by my picky standards) that I got in the various modes – e.g 1/4 means I got one sharp shot out of four attempts at that setting. Please note: even though it's been decades since I last knocked off a set of 50 pull-ups, I feel my arms are fairly strong compared to most photographers, but my hands somewhat shaky.
| Shutter Speed | 500G No VR | 500G Normal | 500E FL No VR | 500E FL Normal | 500E FL Sport |
| --- | --- | --- | --- | --- | --- |
| 1/500 | 2/4 | 4/4 | 4/4 | 4/4,4/4 | 4/4,4/4 |
| 1/250 | 2/4 | 4/4 | 2/4 | 4/4,4/4 | 4/4,4/4 |
| 1/125 | 0 | 4/4 | 0 | 4/4,4/4 | 4/4,4/4 |
| 1/60 | 0 | 2/4 | 1/4 | 3/4,2/4 | 2/4,4/4 |
| 1/30 | 0 | 2/4 | 0 | 2/4,1/4 | 1/4,4/4 |
| 1/15 | 0 | 0 | 0 | 0,0 | 0,1/4 |
| 1/8 | 0 | 1/4 | 0 | 0,0 | 0,0 |
Even though I put down zero keepers at 1/8 sec on sport mode, during my second run the blur was much less than that seen in normal mode at 1/8 sec – nothing I would keep, but certainly better. Looking at the above results it's obvious this isn't a very well regulated test and a small sample size, but does give some general trends. I repeated this test several times with different subjects and got similar results. Any VR mode on the 500G ED and 500E FL works well down to 1/125. Below that I would count on taking multiple frames to make sure I got a keeper. The 500G ED held it's own in my tests, however I believe the 500E FL would win out if I were handholding for a longer period of time due to muscle fatigue.
With the 1.4x teleconverter on or shooting DX with the 1.5x crop factor (as below), I got good results with both 500E FL and 500G down to 1/250. At 1/125 things were getting soft, but more so with the 500G. These 100% crops were shot with the 500E FL in sport mode and the 500G in normal.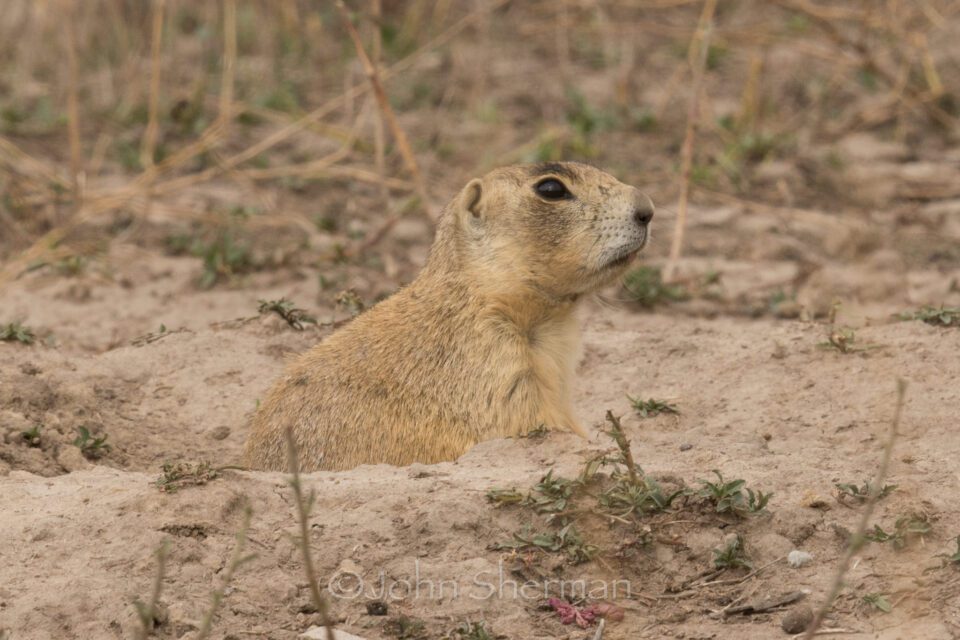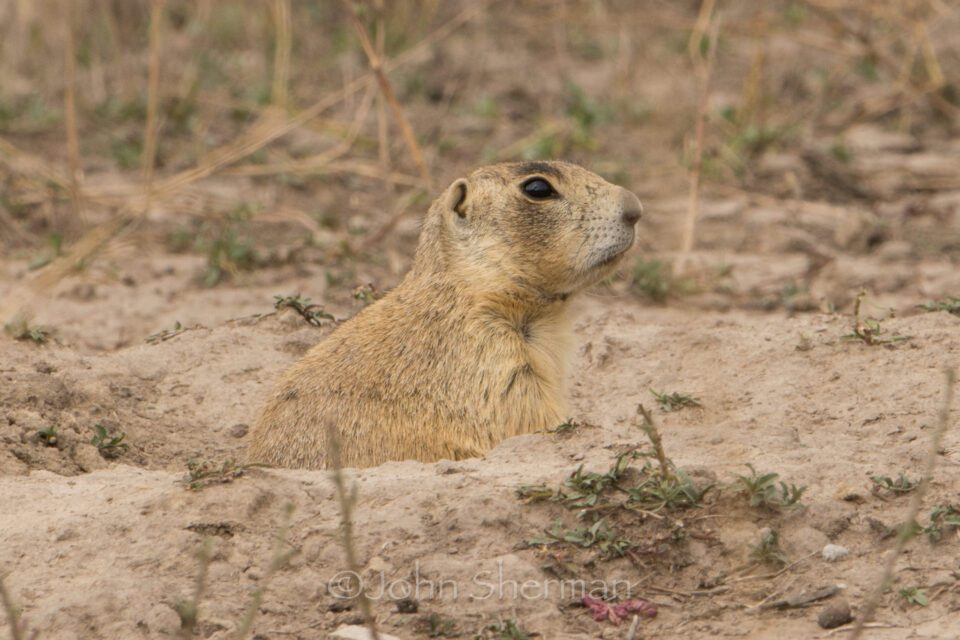 Both lenses doing well at 1/250th, slight edge to the 500E FL.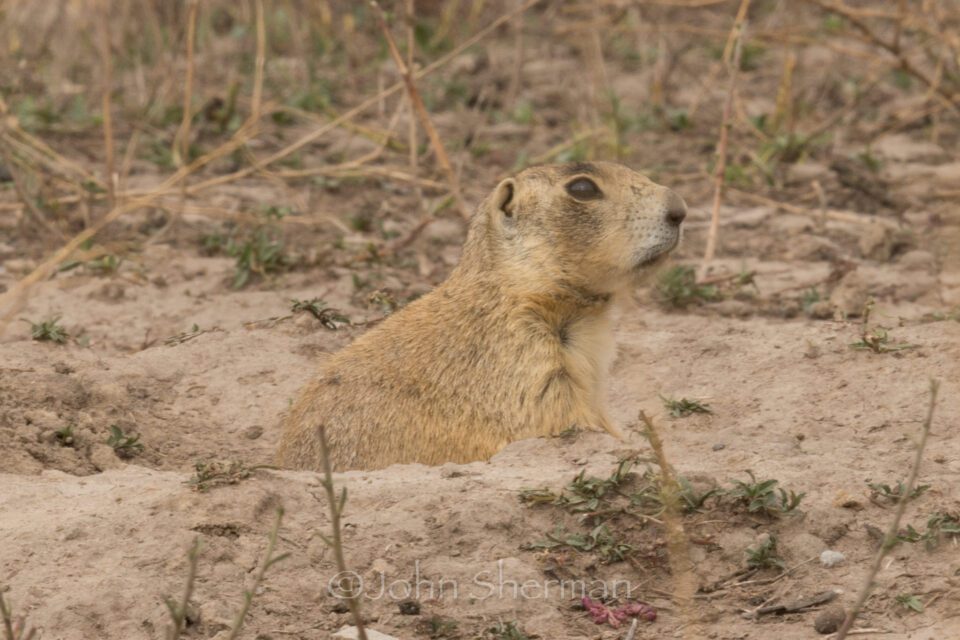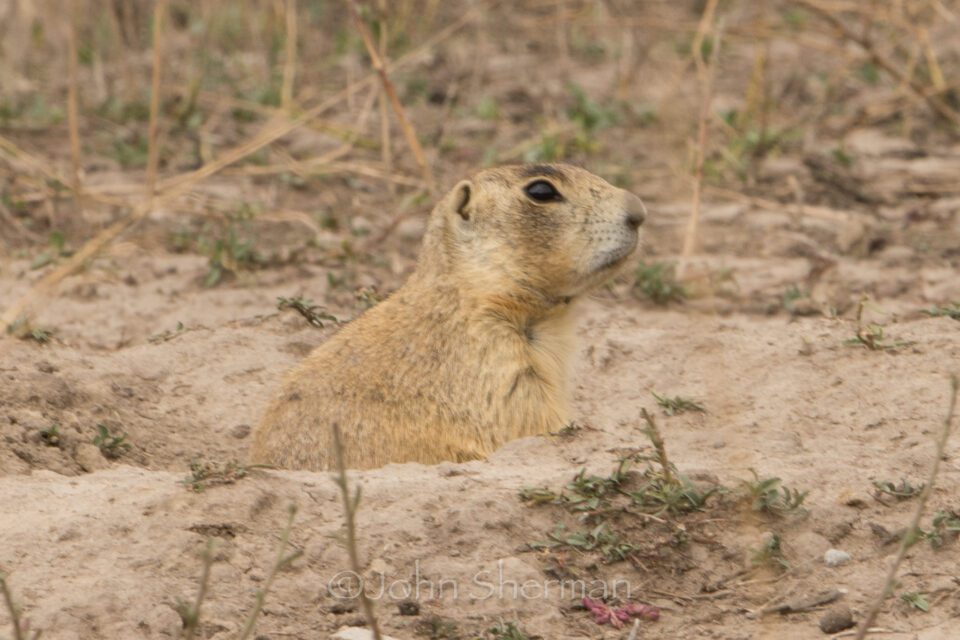 The 500E FL clearly has less blur at 1/125 on the DX body.
As far as VR noise goes, the new 500E FL is very quiet compared to low whirr of the 500G. That said, I never felt the VR sound from the 500G chased off any of my subjects.
Autofocus Speed
I compared AF speed by manually setting the lenses to 10 feet (close to minimum focusing distance), pointing both 500s toward a distant subject, then simultaneously hitting the AF buttons. I couldn't discern any difference between the two even though the focusing scale on the 500G has equivalent distances marked further apart. Both versions were fast.
Where there was a noticeable difference was in memory recall mode. The 500E FL definitely was faster when focusing to a memory recall setting – the focus took off instantly whereas the older 500G had a short lag before racking focus.
Autofocus Tracking
When it comes to focus tracking I did lots of bird in flight tests. I was hoping the 500E FL would be the ideal BIF lens. Sadly, while I did get some splendid BIF shots with the 500E FL, it is not a miracle worker in this department. The same issues that plague other lenses during BIF shooting – busy backgrounds and erratic flight patterns – also mess with the 500E FL. Good BIF results rely far more on the photographer's technique than the lens used.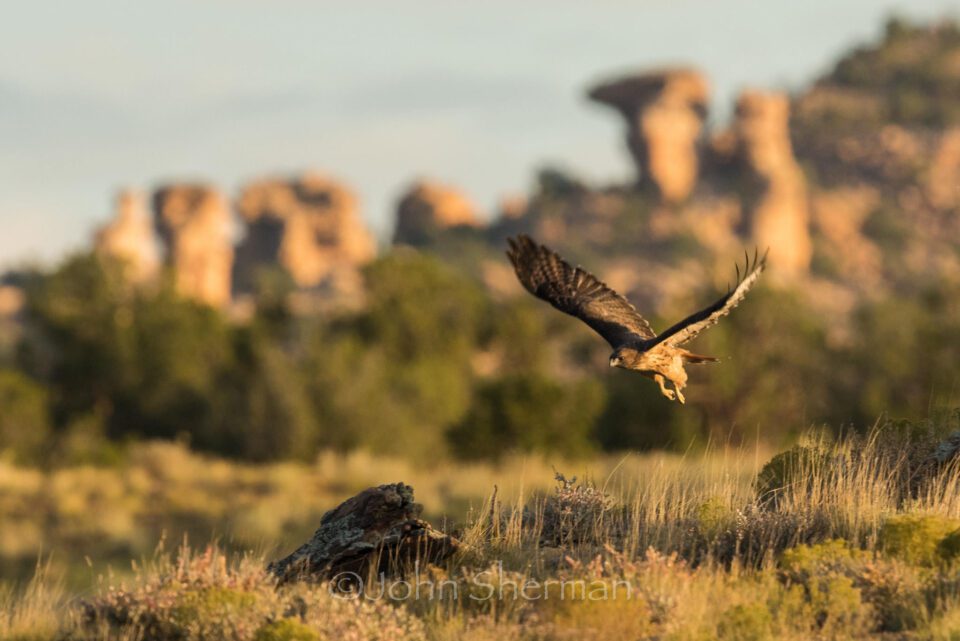 As I mentioned in my early 500E FL post, I had the best luck tracking with the lens mounted on the D4s compared to the D810. As both cameras have the same AF module and processor I find this somewhat confusing, however after thousands more BIF shots I still feel this is the case. Perhaps the D4s devotes more processor power to AF functions.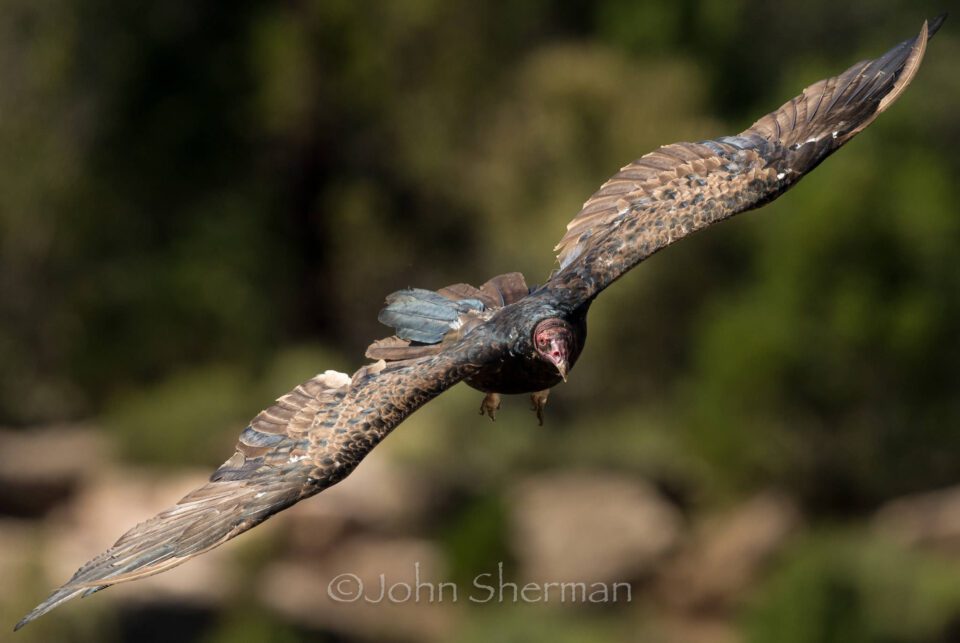 Autofocus Hunting
Again this has more to do with technique than gear. The 500E FL will focus hunt in the usual scenarios – low-contrast subjects and busy foreground/background. I looked for a situation with the subject hiding in front of a busy background and behind a busy foreground. In the comments of my previous 500E FL post, one of our readers suggested I photograph the neighbor's cat – I appreciate all of our readers' suggestions so here he is! (Actually the reader's point was that comparing images saved for the web as 8-bit jpegs is not the best way to evaluate a lens. Unfortunately, there's no way to show you test prints via the Internet so we do the best we can within the limits of bandwidth and so forth. My suggestion to anyone wanting to buy a top-end lens is to personally shoot it first so you can evaluate the results for how you shoot and present your final images.)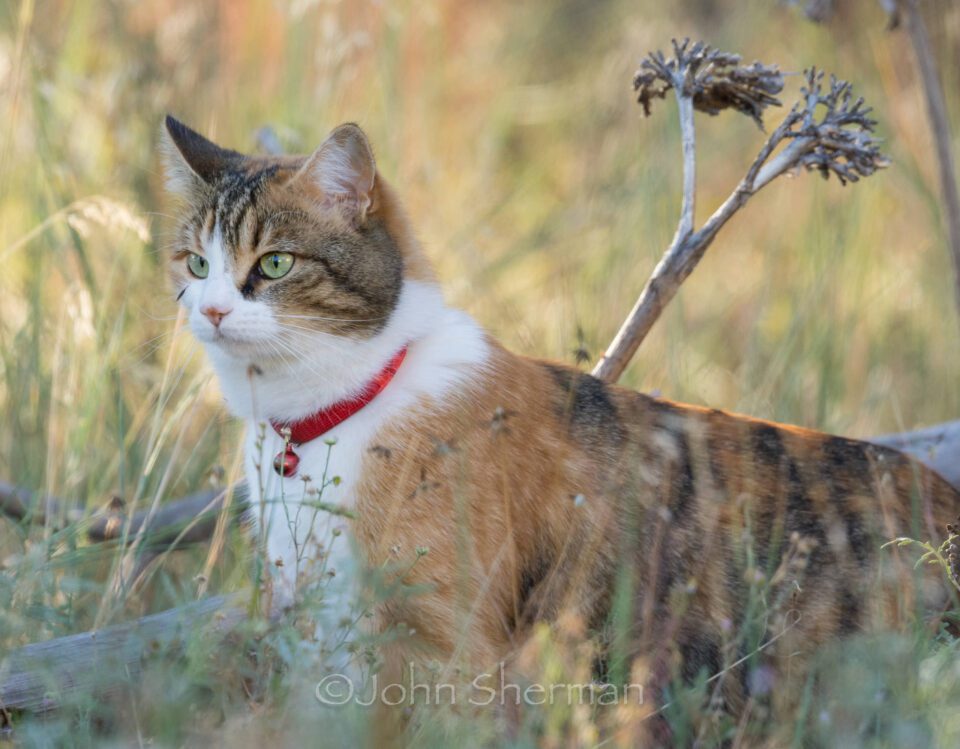 I was shooting through more grass than is apparent as much of the foreground grass blurred away to nothingness – the old shoot the telephoto through the fence trick – hence a bit of softening on the kitty. The lens was hunting as much as the cat in this instance so I had to manually focus.
The 500E FL is hyped as having improved autofocus compared to the 500G. If there is a difference, it is very slight in my opinion. I wouldn't upgrade from the 500G if this were my sole criteria.
Manual Focus
A 1/4 turn of the focusing collar on the 500E FL takes it from infinity to 23 feet. The same 1/4 turn on the 500G goes from infinity to 38 feet. The 500G has a slight edge when it comes to critical small adjustments when manually focusing, but the 500E FL will change distances further faster. Neither of these differences were noticeable to me while shooting stills, however, if you're shooting video and pulling focus you might notice the difference.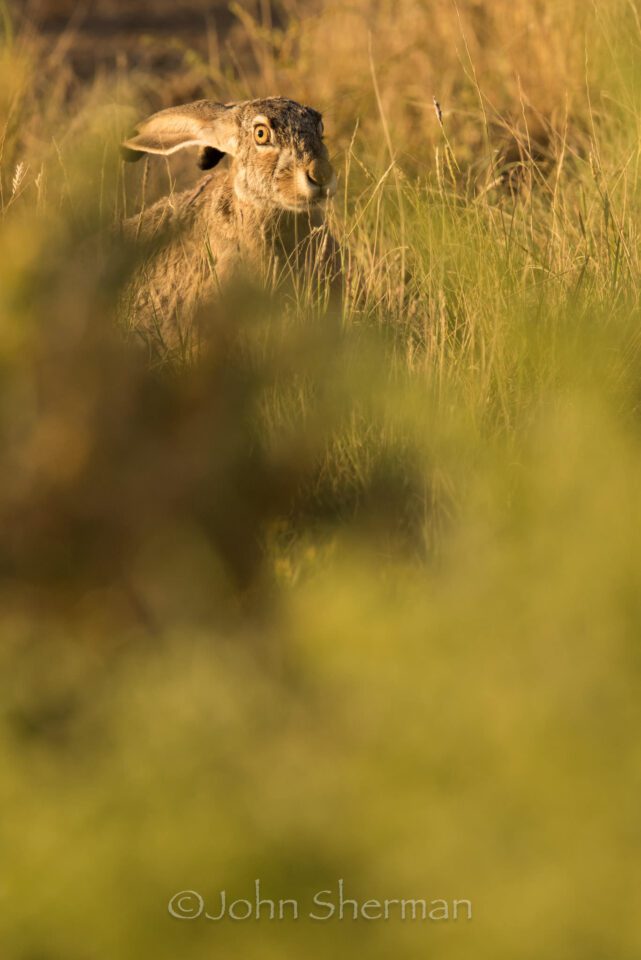 This jackrabbit hiding in the grass provides a perfect manual focus opportunity.
E-Diaphragm
Have you ever looked at a sequence of shots all with the same exposure data and consistent lighting but some were brighter and some darker? That's the effect of the diaphragm not closing to the exact same aperture between shots. The E in 500E stands for electromagnetic diaphragm. Whereas most Nikkor lenses rely on a mechanical lever in the lens mount to adjust the diaphragm, the 500E does it through electrical connections at the lens mount triggering a motor in the lens. This allows the 500E to more quickly adjust the aperture. This is really only an advantage if shooting high-speed bursts. On a D4s at 11fps a mechanical diaphragm has trouble keeping up, but with slower prosumer bodies it's less of an issue. Generally, such exposure variations are less than a stop off and easily correctable in post.
The owner's manual states that frame rate might drop at some apertures. To test this I shot a D4s set for continuous shooting at 11fps and 1/1000 sec in manual mode and ripped off numerous multi-second blasts then counted frames shot versus the timestamps. Here's how many frames per second I got at various apertures with the 500G and 500E FL.
| Lens | f/4 | f/5.6 | f/8 | f/11 | f/16 | f/22 |
| --- | --- | --- | --- | --- | --- | --- |
| Nikkor 500mm f/4G VR | 10 | 10 | 10 | 10 | 10 | 10 |
| Nikkor 500mm f/4E FL VR | 11 | 11 | 11 | 11 | 11 | 10.5 |
Whoa. I didn't expect that. My 500G with its mechanical diaphragm only shoots at 10 fps when all these years I was assuming it was purring along at 11 fps. The only slowdown I saw for the 500E FL was at f/22, a setting I rarely use so I won't sweat it. I ran the 500E FL at 1/125 to see if there was a difference and indeed it shot between 10.5 (f/8-f/16) and 10.75 fps (f/4-f/5.6). While the difference between 11 fps and 10 fps might seem small, that's still a 10% better chance at catching that rare moment – sometimes that's what it takes. (Yes Luddites, that's an invitation to bag on the spray-n-pray set and their insistence on utilizing modern technology instead of old school savvy!)
A last note on the apertures of both the 500G and 500E FL – at f/4 both give slightly dark results compared to equivalent exposures at all other apertures. Could it be these are really only 500mm f/4.5s? Somebody hand me my Prozac.
Bokeh
The background bokeh is somewhere between a cappuccino and a latte on the creamy scale whereas the foreground bokeh tends more toward the macchiato end. Which is my BS way of saying bokeh is the most subjective of image characteristics. The best way to evaluate it is to let the reader make their own mind up by looking at samples, though I'll throw in a few of my observations.
Meet Coop, our local juvenile Cooper's Hawk who was quite kind to pause on our backyard powerline while I snapped portraits. The powerline blurs nicely fore and aft and the out of focus highlights are round and even. Hang on. Is that a split end on one of the eyelashes? Better fix that.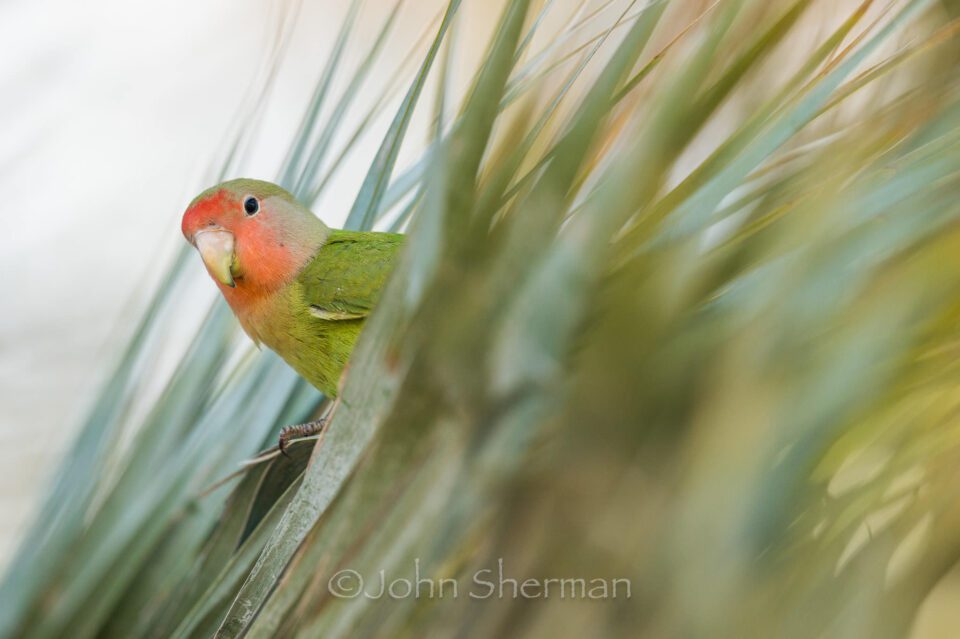 Meanwhile, in Scottsdale, Rosy-faced Lovebirds prowl the neighborhood.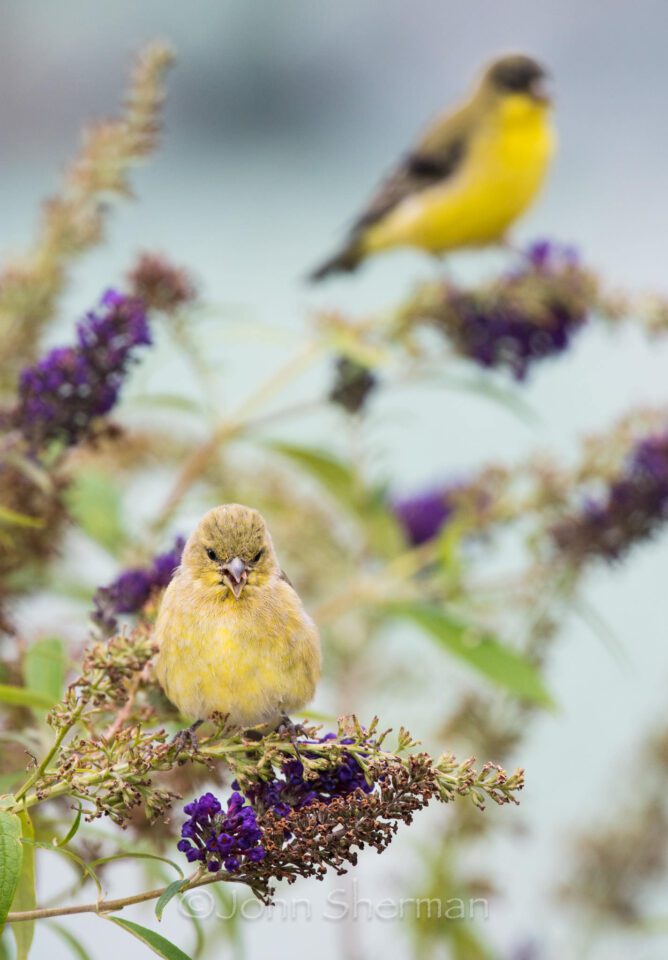 Here we see a bit of a fuzzy halo around the back bird due to some rim lighting on the higher contrast edge.
Field Curvature
None that I could see. You can focus using the more accurate center point and recompose with no worry of the subject going out of focus.
Chromatic Aberration
The blue fringe on top of the moon and red fringe on bottom is the result of chromatic aberration, likely accentuated by the 1.4x teleconverter. (The softness in this shot was due to forest fire smoke.) [d'oh, turns out this is differential refraction – thanks to our astute reader Abraham who pointed this out in the comments – see his comment for more on this phenomenon.]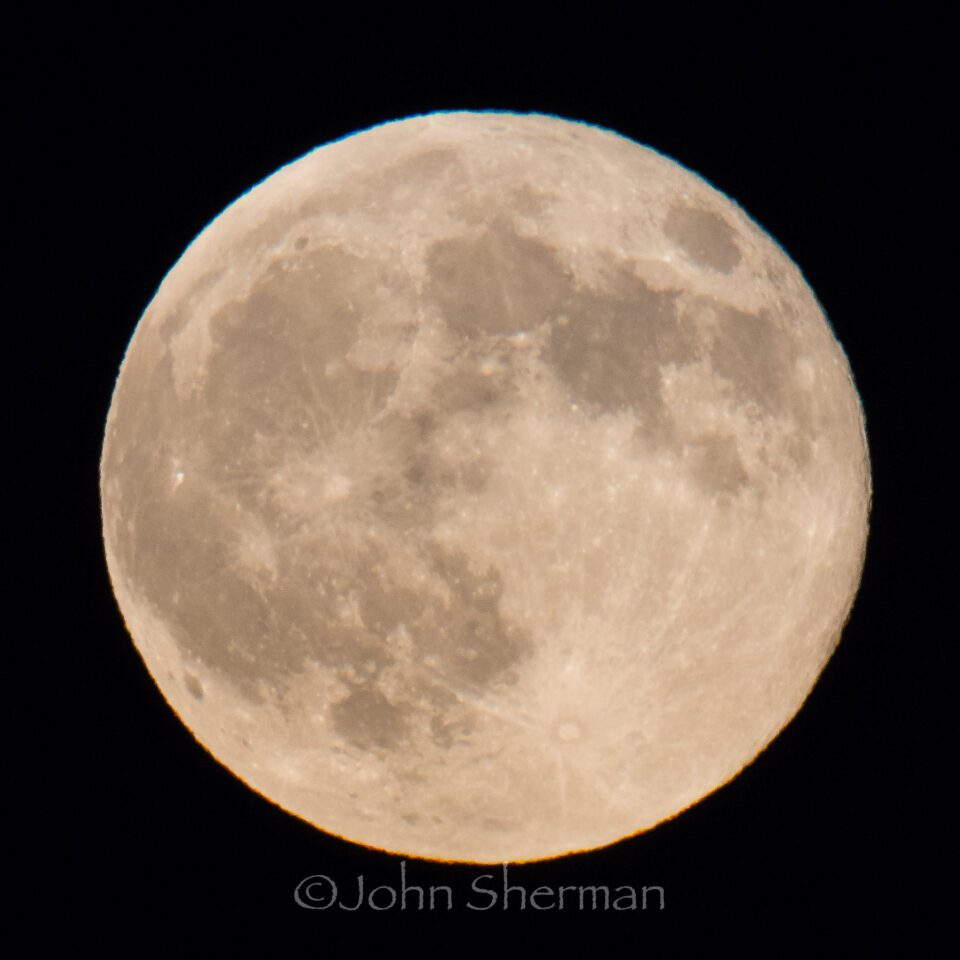 All super telephotos exhibit CA but as this is so easily correctable in post it's a non-issue for most users.
Moire
In a previous post, I joked about the 500E FL being too sharp and causing moire in some of my shots. This is an issue with the latest high-resolution camera bodies not having anti-aliasing filters, not anything wrong with the lens.
Diffraction
All lenses suffer from diffraction and the 500E FL is no different. Up to f/11 results were fine, at f/16 the softening was becoming noticeable, but easily correctable by sharpening in post. I'd only stop down to f/22 if I really had to for a special shot.
Flare
Like the 500G, the 500E FL has Nano-Crystal coating on some of the elements to tame flare. It works and produces crisper higher-contrast images right out of the camera than non-Nano-coated lenses.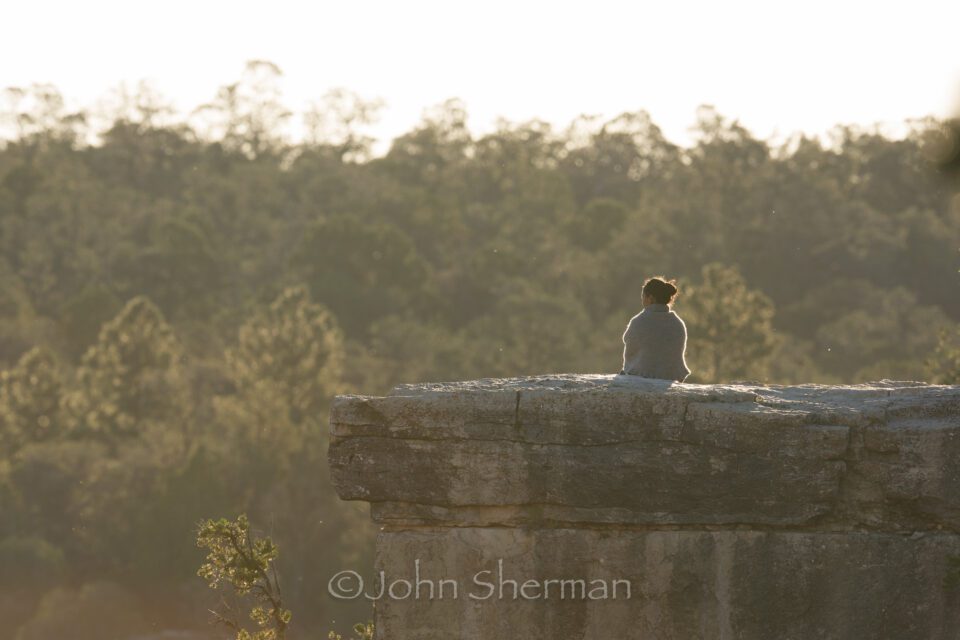 With the sun pouring in the lens hood and nearly hitting the front element were starting to see some overall flare.
Tripod Collar and Lens Foot
The 500E FL has roller bearings in the tripod collar making it very smooth to switch from horizontal to vertical orientation. I love this new collar – other than the 500E's weight savings, this is my favorite improvement. I like to handhold cradling the tripod foot in my hand and I can still hold it this way and spin the body/lens with ease. The 500G collar would often bind up and slow me down.
The long lens foot has a nice grippy rubber surface. It also comes with a shorter monopod lens foot.
The 500E FL tripod collar has a security slot for cable locks – the 500G doesn't. Not that anyone would want to steal a 500G…
Cons
Despite it being perhaps the greatest lens ever made, the 500E FL does has some drawbacks. Let's nitpick.
The Nikon strap that comes with the 500E is nicely padded – a welcome relief after suffering through too much time carrying the heavier 500G with its Nikon D-Kapitator strap attached. The downside is Nikon made the strap too short. For a nickel more in nylon they could have made each end a foot longer accommodating any photographer's needs and/or girth. If you don't like it that long, just snip off and fuse the ends – much easier than having a third party sew in an extension.
The provided CT-505 case, though made of lightweight polycarbonate, is enormous and dwarfs its predecessor the CT-504.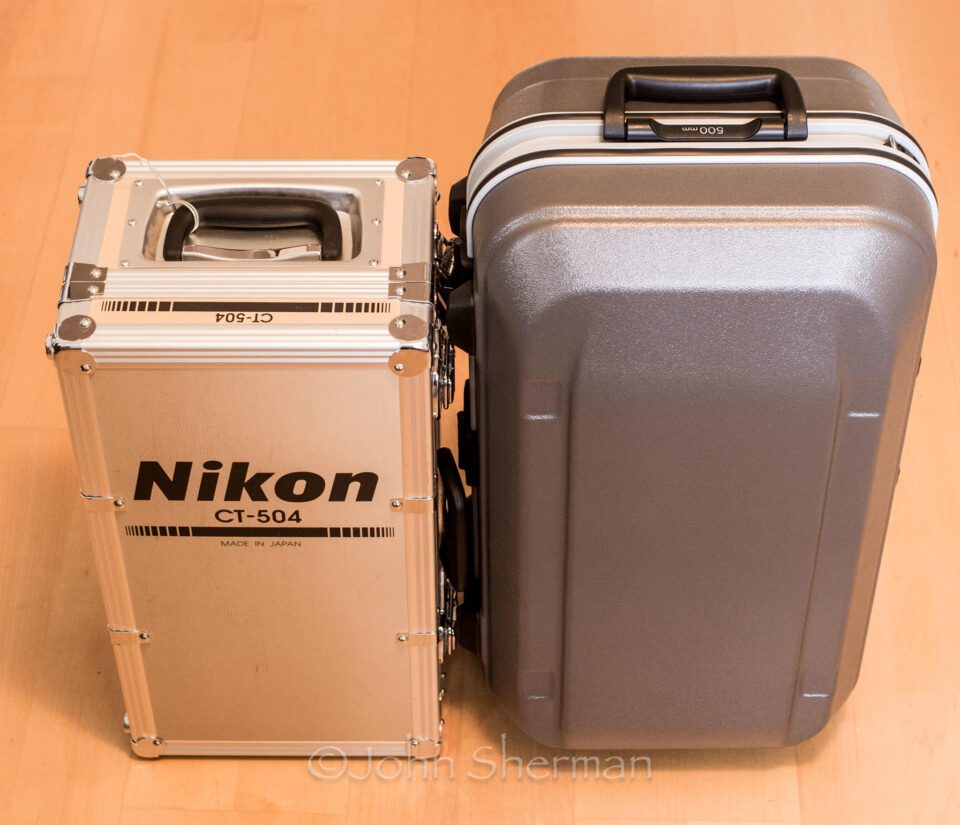 At ~24"x14"x10", it exceeds domestic regulation carry-on sizing, and far exceeds most international carry-on sizing. In comparison, the carry-on legal CT-504 measures ~20"x10"x8". While the introduction of the 500E might deflate 500G prices a bit, the CT-504 might just appreciate considerably. But why gripe about carry-on specs? If you can afford this lens you can dedicate an entire seat to it in your Gulfstream.
Another issue with the case, and this holds for all the Nikon Supertelephoto cases I've used, is it's only suitable to carry the lens alone without a teleconverter attached. It would be so easy to have the foam insert accommodate an attached teleconverter. Instead, there is a small accessory pocket in the foam that can accommodate a single loose teleconverter. The case is so big, there would be room to insert the lens with a D4s attached if the foam were just molded that way. Perhaps a third party will introduce some sort of replacement innards. A plus for the CT-505 are the rubber feet that reduce slipping considerably compared to the CT-504. One last nit about the case – the latches don't inspire confidence – the CT-504 feels far more secure to me. In the end, what use is a case if that case is so large you never want to use it?
The larger tripod foot has a nice grippy rubber surface making for a secure grip when toting about. Bummer is Nikon doesn't have Arca-Swiss dovetails in their tripod feet so to use with many pro tripods you'll either have to add a dovetail plate to the foot or go with an aftermarket replacement foot. Good news is the tripod foot mount is the same as the 500G so I could reuse my Really Right Stuff replacement foot on the new 500E FL. Now if Really Right Stuff would just add a grippy surface to their foot, either rubber or machine in some knurling, that would make me feel a lot more secure carrying my camera/500 combo around by the foot.
The biggest deterrent to owning this lens is the price. $10,300 means some pretty big sacrifices for most of us. In my case I had to give up not one, but two jaunts over to Paris to snort blow out of supermodels' navels. I tell you, I suffer for my art. Adding to the cost is you'll surely want to insure this lens and that will set you back a couple hundred a year. Don't forget to chuck in a hundred bucks for an overpriced but pretty darned useful Lens Coat. If you don't have a 1.4x teleconverter (500 clams) you'd be pretty daft not to get one and turn this into a lightweight buttkicking 700mm f/5.6. As you can see, you don't just buy a lens like this, you marry it – for better or worse, for richer, then poorer.
Teleconverter Wars
So how does the new 500F with the new TC14E III stack up against the old 500G with the old TC-14E II. Thank goodness this Colorado prairie dog held still for all these tests. I can't help but wonder if his complacency had something to do with his den being located across the street from the local cannabis shop. Looking at the untweaked RAW files I can say that across the board the new 500F with new TC14E III beats the old combo by half a prairie dog whisker.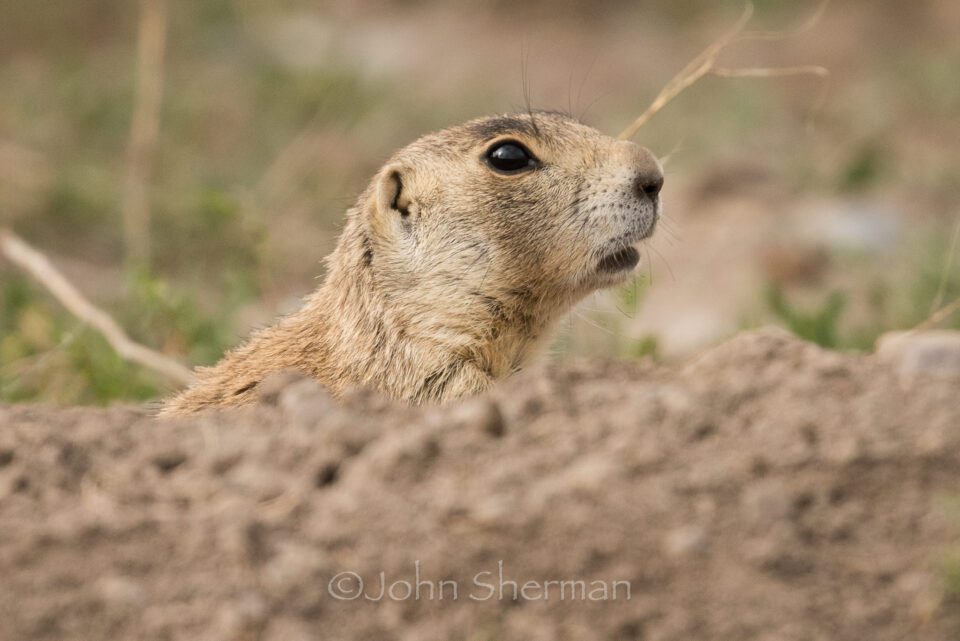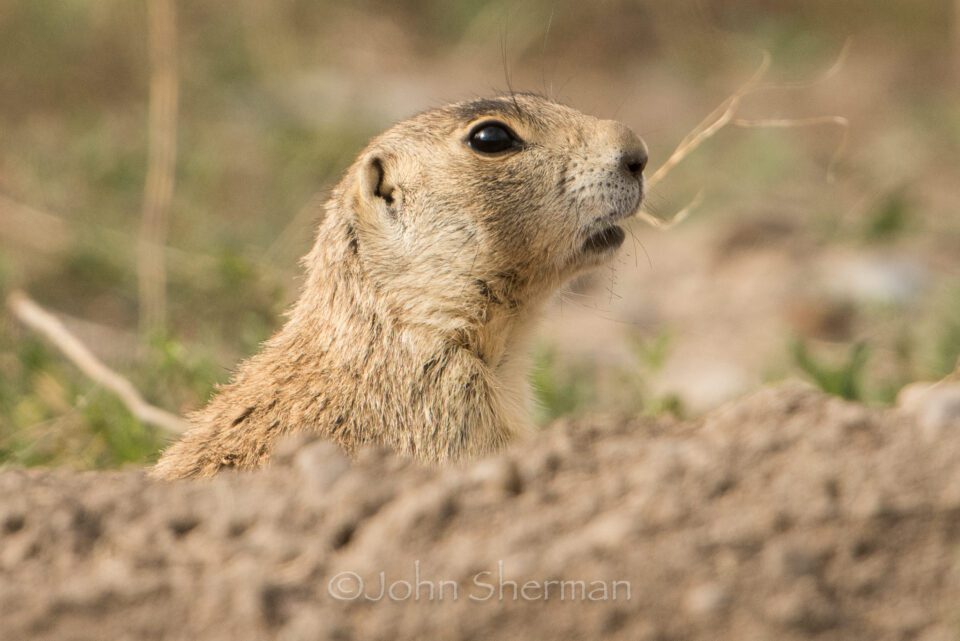 These examples are wide open at f/5.6, but are typical of what showed up across the board. Add some sharpening in post and the difference is negligible. Note the bottom prairie dog looks a bit bigger due to it shifting position a bit closer to the camera, not due to a difference in teleconverter magnification.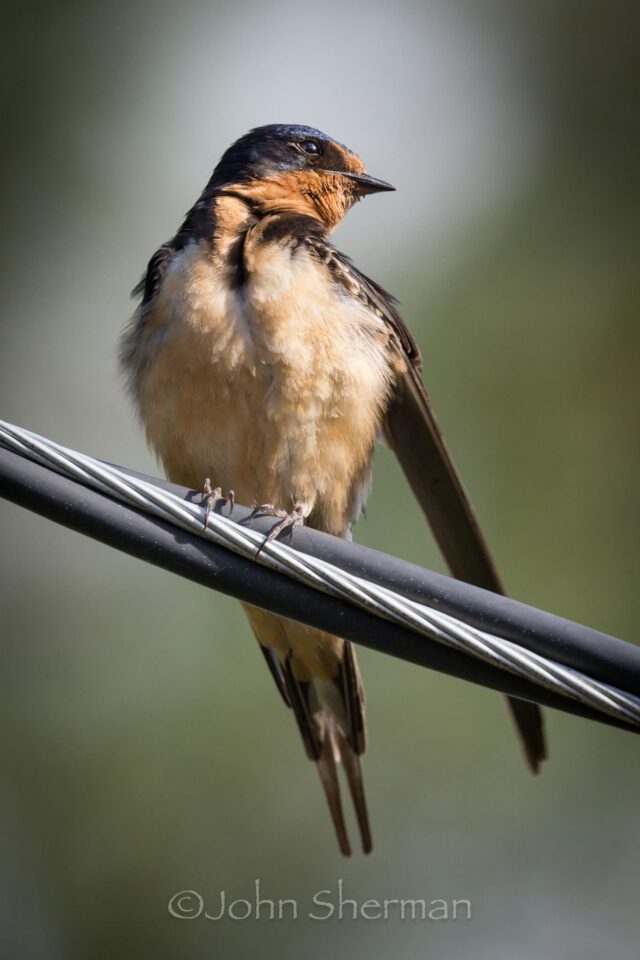 Here's another shot wide open with the 500E FL and TC-14E-III
The new TC-14E III shows noticeable vignetting with both old and new 500s (photo below). The previous TC-14E II does not suffer in this regard.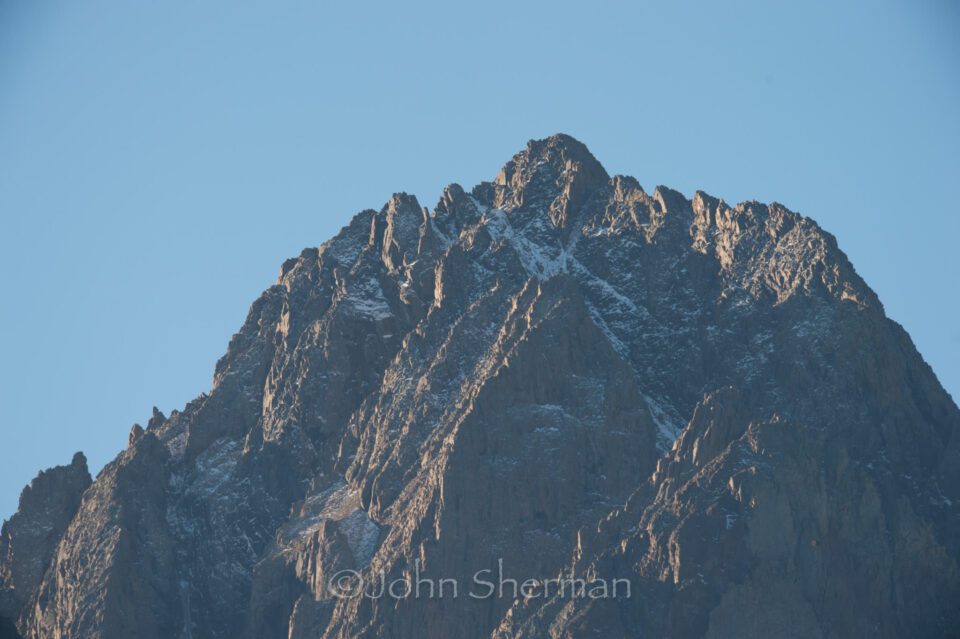 The 500E FL with the TC-14E-III is a dynamite combo – as I was awash in birds while testing this lens, I found I shot with the TC more than without and never gave a second thought as to image degradation.
The 500E FL did pretty well with the TC-17E-II giving a focal length of 850mm. Here's a shot cropped to 100% from a D810 file: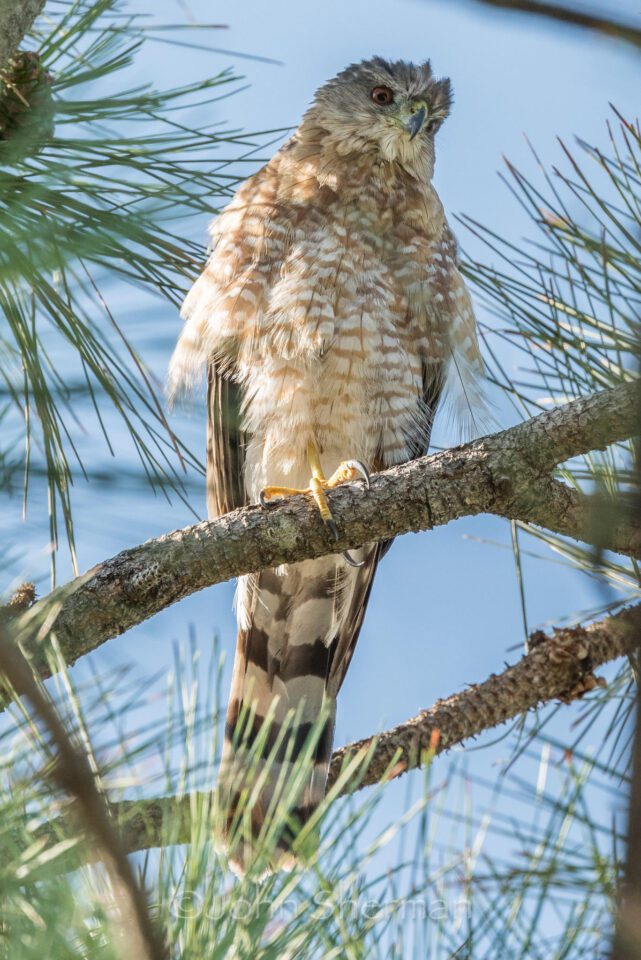 Focus Breathing
Got a small skittish subject you want to shoot like this dragonfly?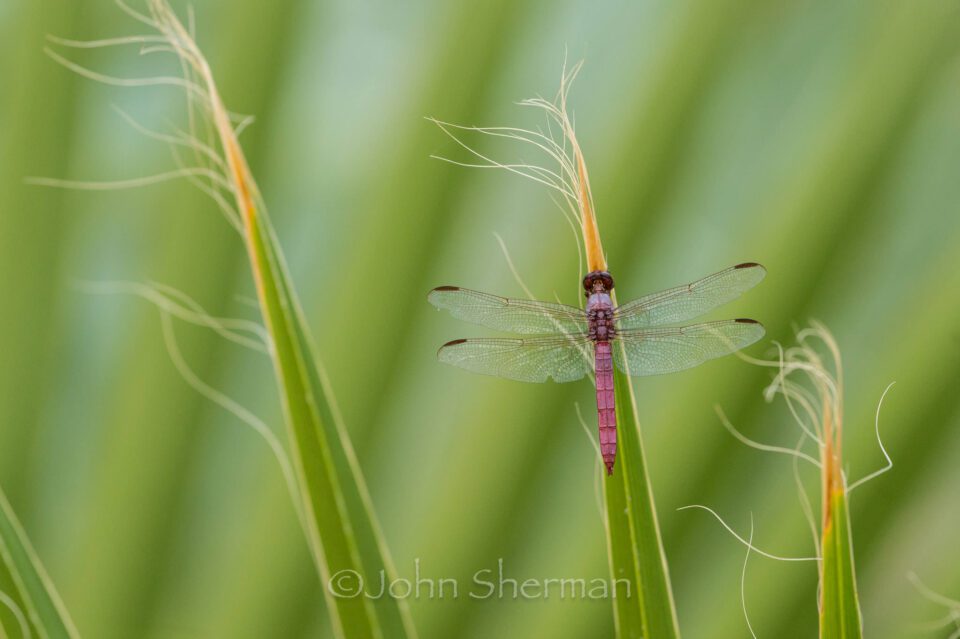 I tested the field of view at minimum focusing distance for both 500mms and the Nikkor 800mm as well. I got some of the best shots of a ruler I'd done all year – I'd post them up, but I don't want those filthy web thieves ripping them off so I'll just give you the stats:
800mm at minimum focusing distance (19.36 feet) = 8.25" wide across the frame
500G at minimum focusing distance (12.6 ft) = 9.1" wide across the frame
500E FL at 12.6 feet = 9.75" wide across the frame
Ooooh, icky – we got a focus breather – I knew the 500E FL seemed too good to be true.
But wait, the 500E FL has a closer minimum focusing distance (11.9 ft) than the 500G. When we take a quarter step forward we get this:
500E FL at minimum focusing distance (11.9 ft) = 8.25" wide across the frame
Though NikonUSA's website claims both 500s have a 0.14x maximum reproduction ratio, my test showed the 500E FL to have slightly more magnification – take that 500G!
Here's an Arizona Tree Frog on its first day as a frog, not a tadpole. It's breathing air now, but has yet to reabsorb its tail. With the 1.4x on the 500G at minimum focusing distance we get this image. From snout to butt (minus stubby tail) is ~3/4 inch.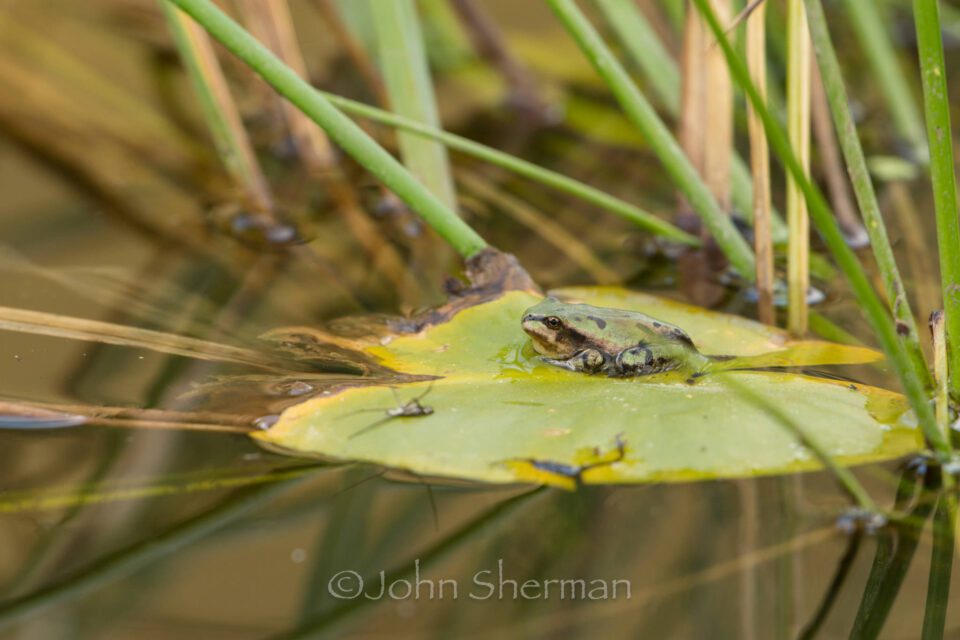 With the 500E FL and 1.4x at it's minimum focusing distance we get this image.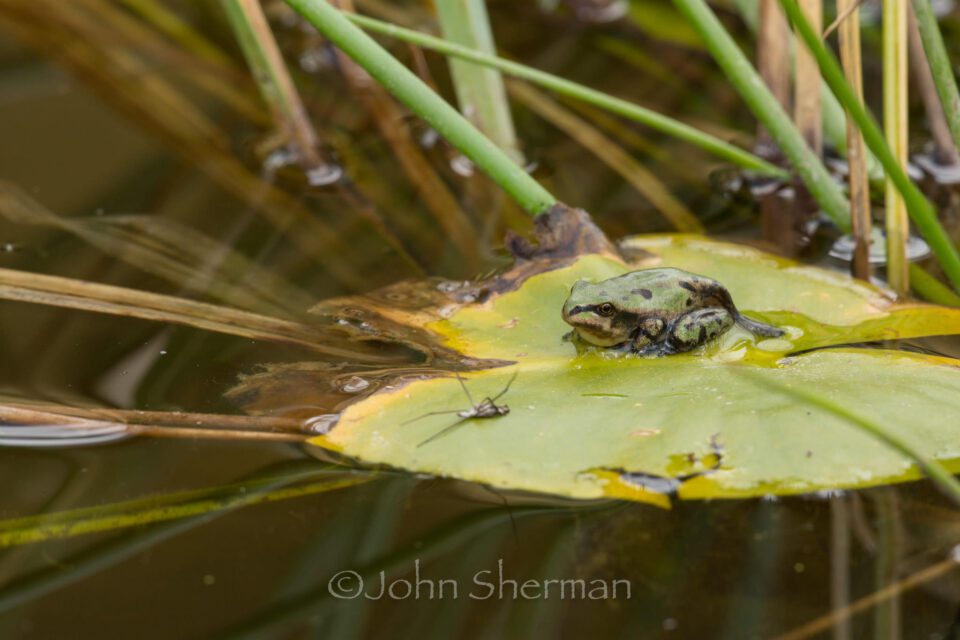 To get the same magnification with the 500G we need to resort to the 1.7x teleconverter.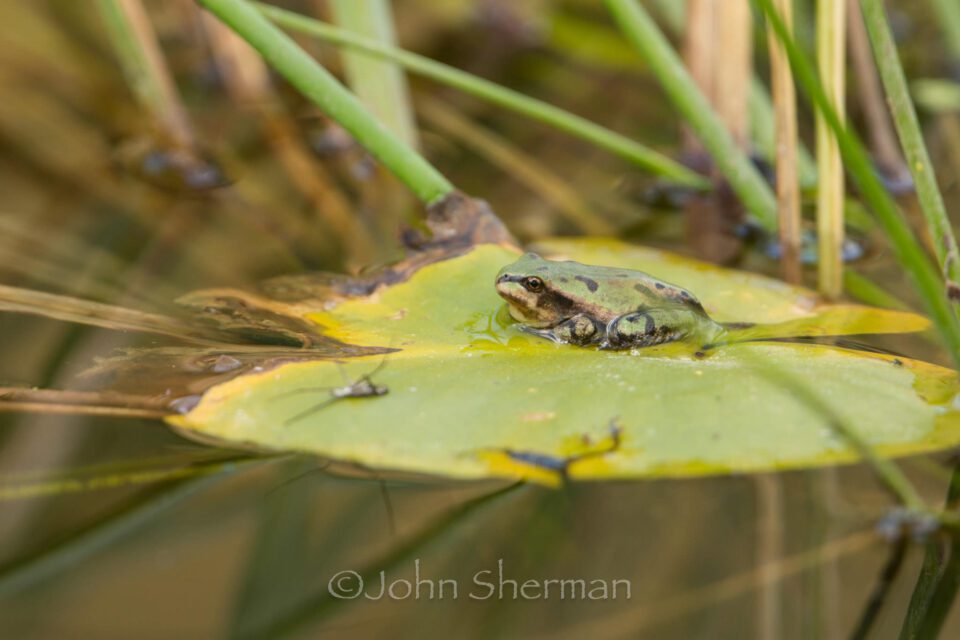 At 700mm f/5.6 is the 500E FL plus TC14-III any competition for the Nikkor 800mm f/5.6? Puhleeaze. The 500E/TC14-III combo is tremendously able and if there's any resolution dropoff from adding the teleconverter, I'm hard pressed to find it. But we're talking the Nikkor 800mm f/5.6 here (AKA The Baby Jesus for its ability to perform optical miracles). If any lens can make the 500E FL look like it has potholes in its MTF curve, it's BJ. Furthermore, the Nikkor 800mm comes supplied with an individually matched at the factory 1.25x teleconverter, boosting it's range to 1000mm. The following three shots were cropped to the same subject size, but shot from top to bottom with the 800mm +1.25x, 800mm no TC, 500mmE FL + TC14E-III and 500E FL sans TC.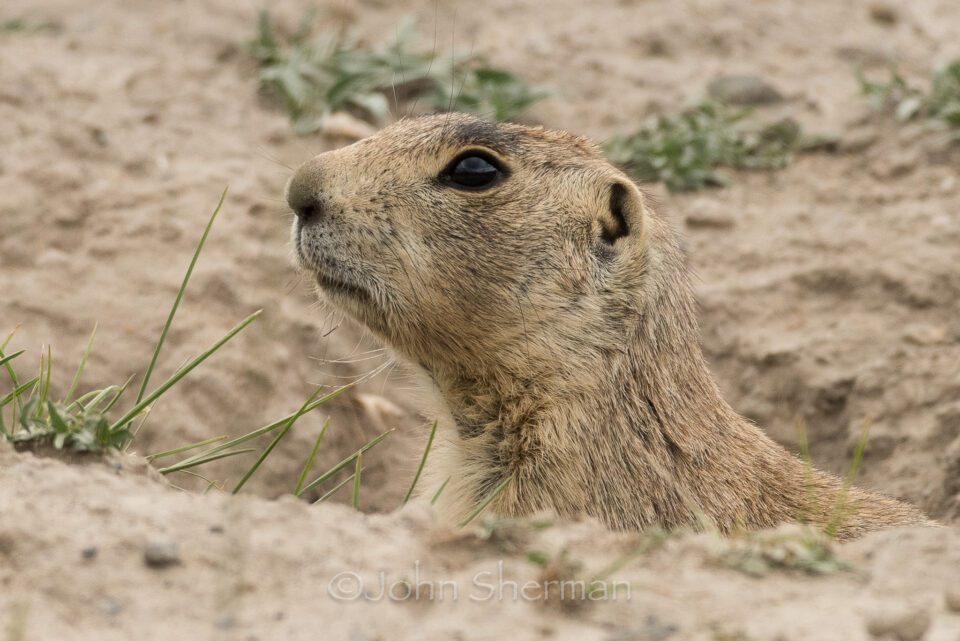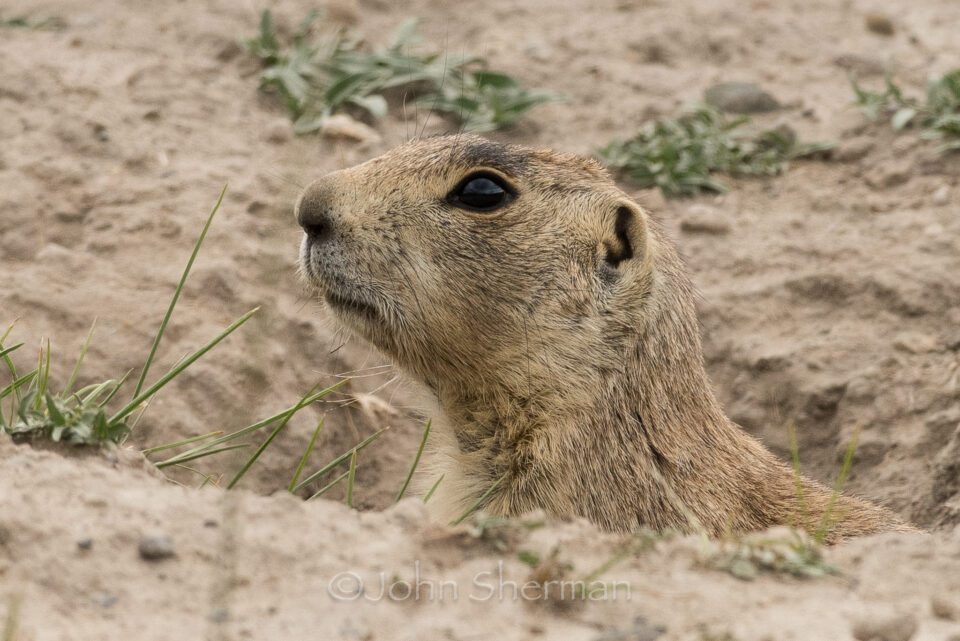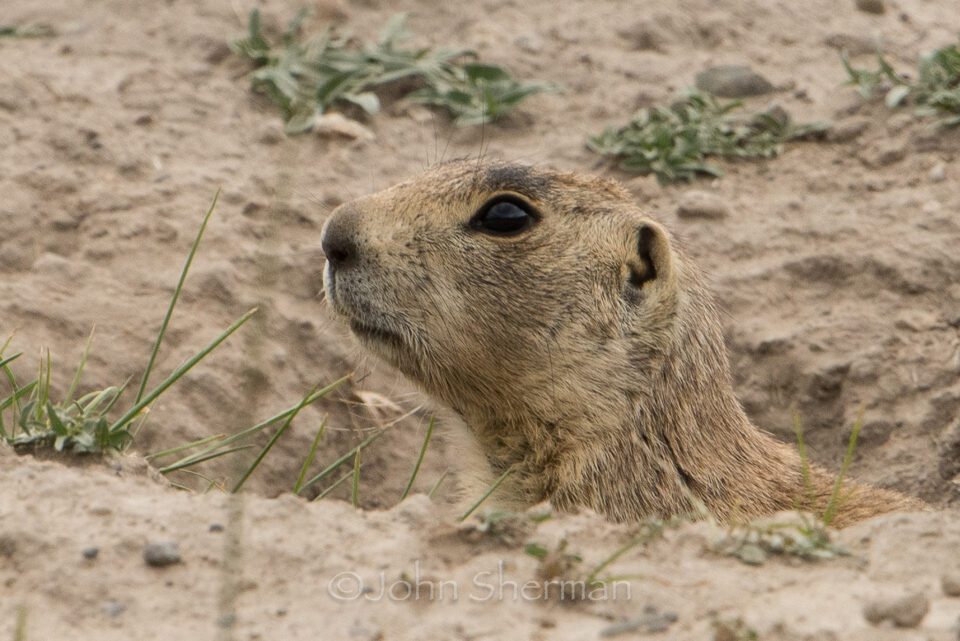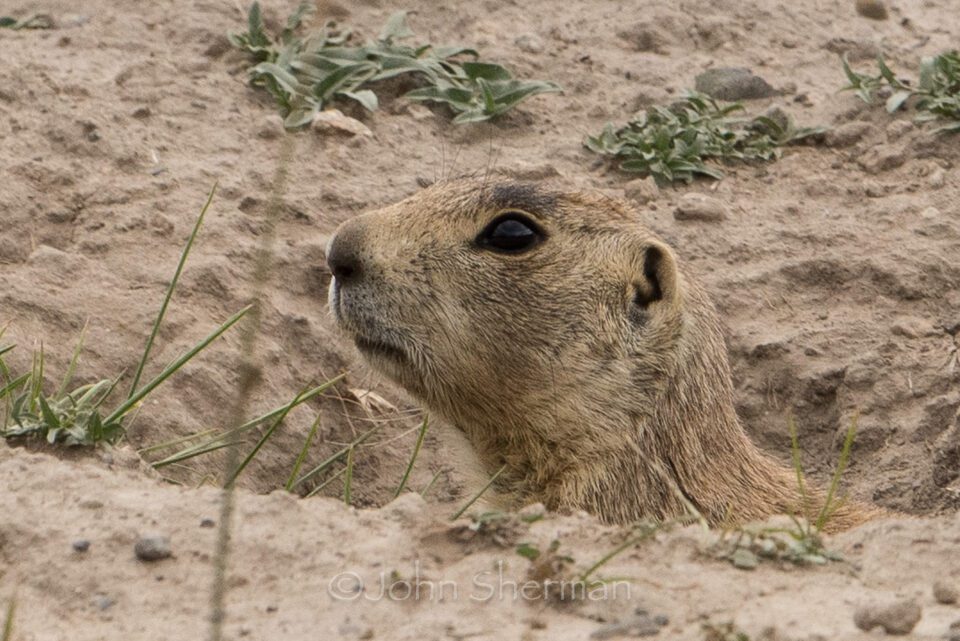 Sorry 500E FL, but you've far enough away that you're resorting to upsampling to get the same subject size. Looks like you've met your match. Or have you?
1050mm Handheld?
I get a real kick out of slapping the TC-14E III and 500E FL on a D7200 and rolling out handheld. This adds up to 1050mm equivalent and is quite a lightweight combo.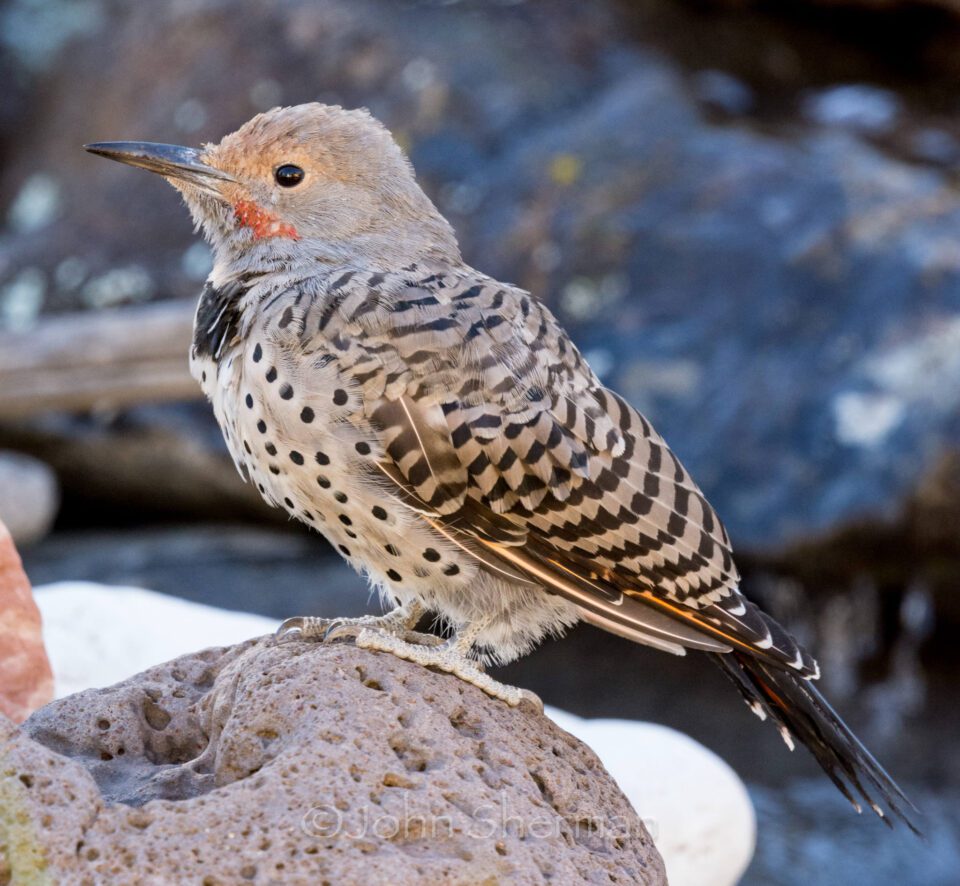 Ain't he cute? This juvenile flicker is growing his first moustache.
1050mm is a lot of magnification and handholding at such magnification seems a bit loco, but I got a lot of reasonably good shots doing this with sport VR enabled (i.e. great for web use, but for more demanding output I'd stick with a tripod). If you're into chasing warblers around (it's okay, I won't tell) this could be the combo for you.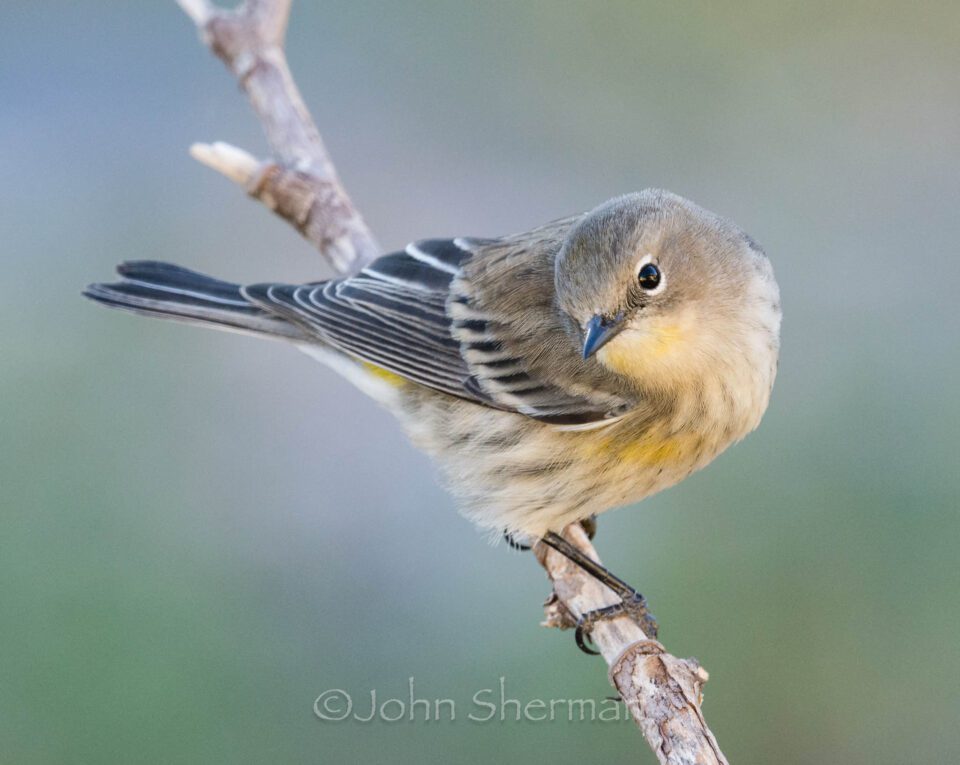 Comparisons
All article we've been comparing the 500E FL with its only true competition in the Nikon lineup, the 500G. The old 500G holds its own very well as expected. If you're shooting on a tripod or beanbag I see little reason to upgrade unless you travel or hike a lot and desire the weight savings. When it comes to handholding, the 500E FL is the clear winner.
What about the super-telephoto zooms? The lens market has recently received several "affordable" telephoto zooms: the $1069 Tamron 150-600mm f/5-f/6.3, the $1089 Sigma Contemporary 150-600mm f/5-f/6.3, the $1999 Sigma Sport 150-600mm f/5-f/6.3 and the $1399 Nikkor 200-500mm f/5.6. I can speak from experience that for a thousand dollar lens, the Tamron does darn well image-wise.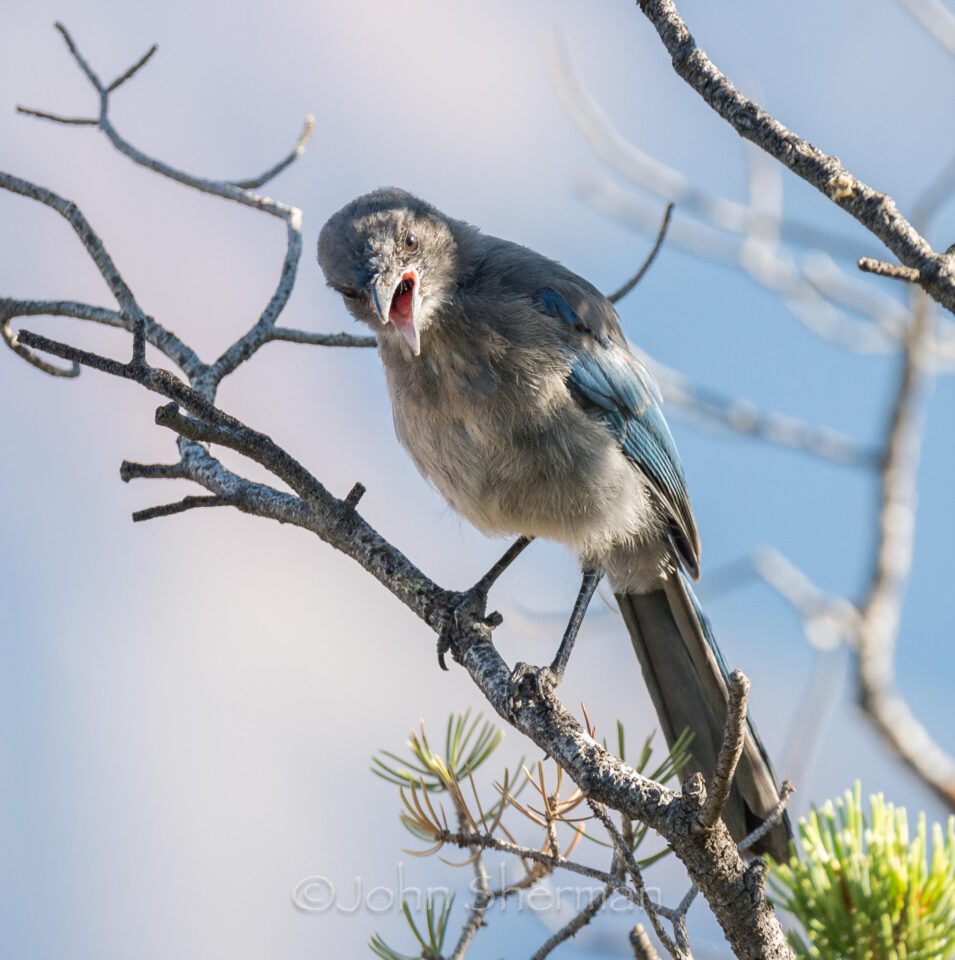 Here's a Scrub Jay captured with Tami – looks fine for web sharing to me.
I anticipate the other super-telephoto zooms lenses to be on par with Tami, but have yet to test them (we're waiting on delivery – the showdown is coming!).
So why drop eight or nine grand more on a 500mm prime? First, there is a noticeable difference in sharpness when you print photos out large. If you just share via the web, this difference is not worth worrying about. Second, the wider maximum aperture of an f/4 lens lets in twice as much light than an f/5.6 lens. This is obviously an advantage in low light situations, but it also comes into play with autofocus performance. The AF modules in cameras work better the more light they get.
Even if your exposure is set at f/11, the AF info is being collected with the lens wide open, hence the AF sensors are being drenched with twice as much info in the form of photons with a fast f/4 prime than with a slower f/5.6 zoom. This results in greater AF accuracy, which could mean the difference between nailing the in-focus shot or hitting the delete file button. If you're shooting midday in the African savannah it probably won't make much difference, but if shooting early morning deep in the rainforest the difference could be significant. Lastly, the more expensive lenses have high tech coatings that increase contrast, especially when shooting into backlit situations. To some extent, you can boost contrast in post to help the less expensive lenses catch up to their big brothers and sisters but for critical applications, there's no substitute for capturing the optimum file in-camera.