Nikon 400mm f/2.8E FL VR vs Nikon 400mm f/2.8G VR
First, let's take a look at how the lens compares to its predecessor: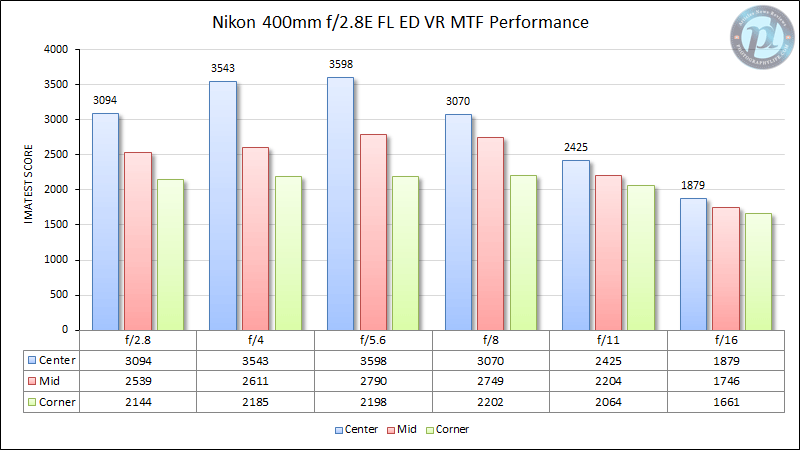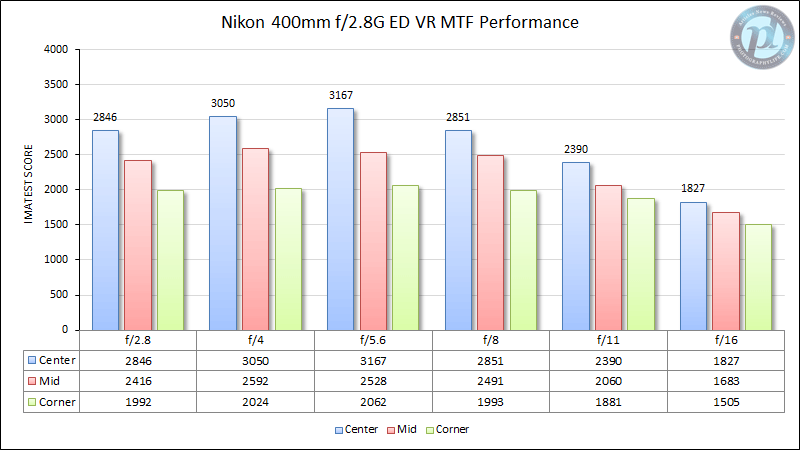 Although the previous generation 400mm f/2.8G VR is no slouch in optical performance, we can see that the newer 400mm f/2.8E FL VR lens performs better than its predecessor. The new lens has superior sharpness in the center and shows a slightly better mid-frame and corner performance, as seen in the above graph. And because the new 400mm f/2.8E FL VR is sharper, you can assume that its predecessor won't be as good with the three Nikon teleconverters.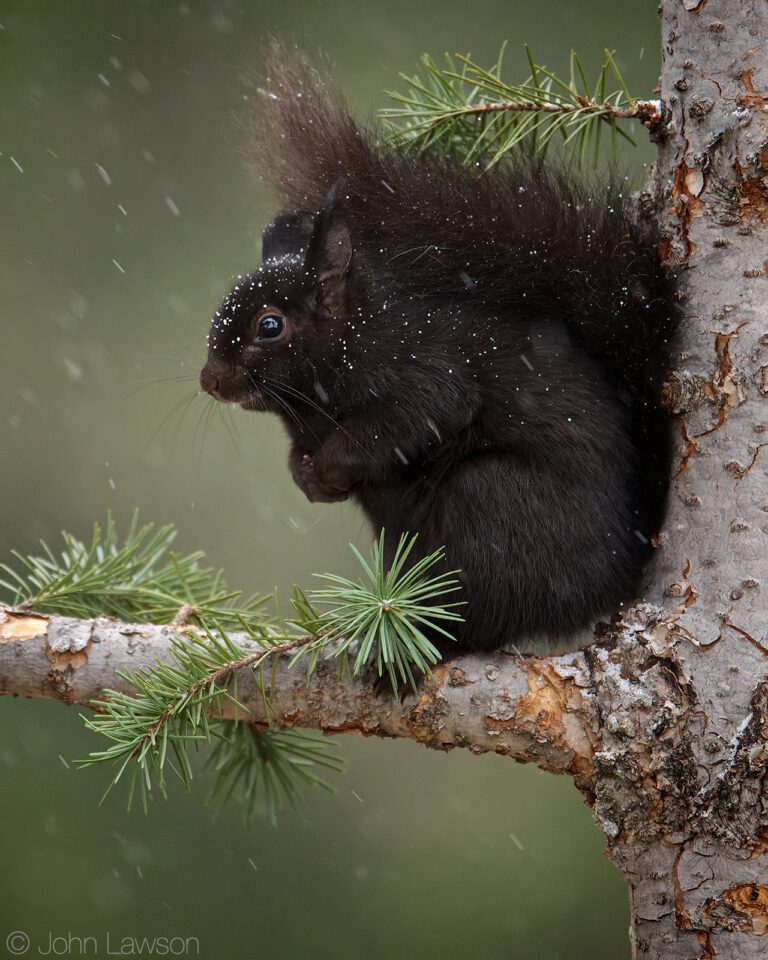 ---
Nikon 400mm f/2.8E FL VR vs Nikon 200-400mm f/4G VR
Another interesting comparison would be to look at the Nikon 200-400mm f/4G VR lens, which is also known to be very sharp across its range. Here is a comparison of the two lenses at 400mm: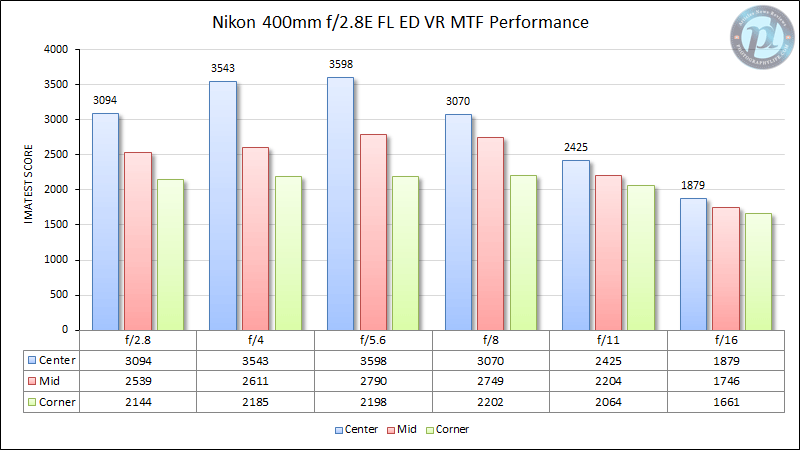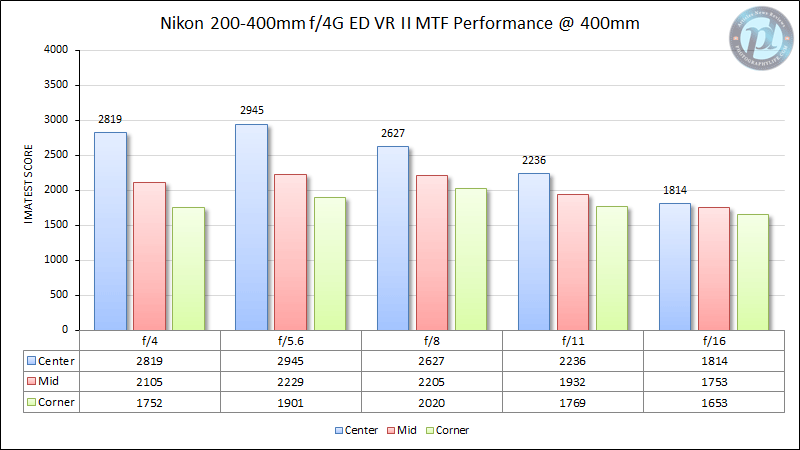 Right off the bat, we can clearly see that the 200-400mm f/4G is no contender for the 400mm f/2.8E FL VR. Although it starts out with pretty good sharpness in the center, it still does not match the resolving power potential of the 400mm f/2.8E FL VR, especially at large apertures.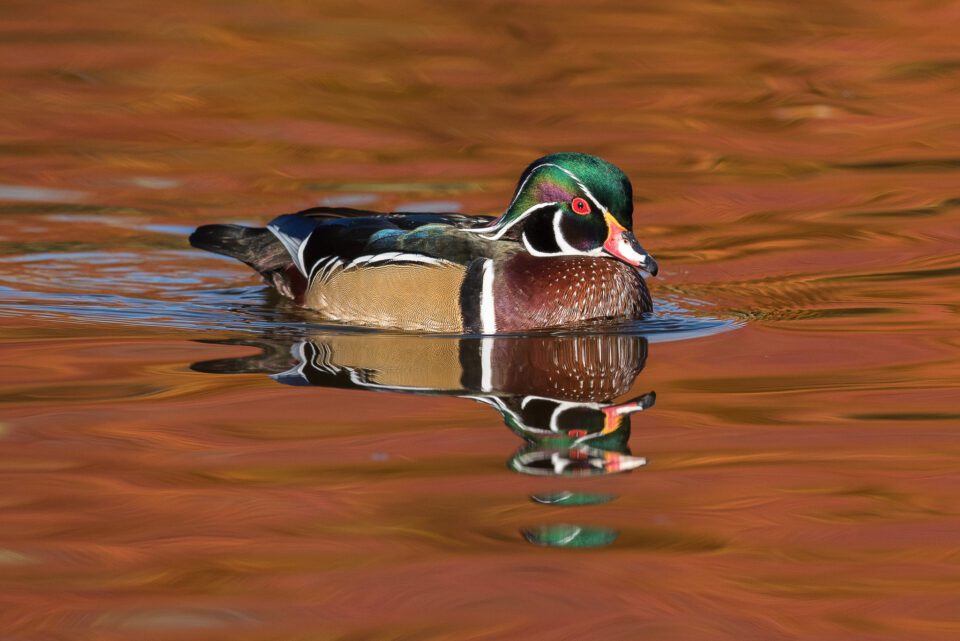 ---
Nikon 400mm f/2.8E FL VR vs Nikon 500mm f/4G VR
A lot of photographers wonder whether it is worth getting a 400mm f/2.8 lens with a teleconverter, or a 500mm f/4 lens. For the below comparison, I put the 400mm f/2.8E FL VR lens with the TC-14E III teleconverter, against the raw performance of the 500mm f/4G VR, which is a very sharp and highly regarded lens. This comparison is obviously of different focal lengths – 560mm vs 500mm, but it should give an understanding of what happens when you compare these two configurations: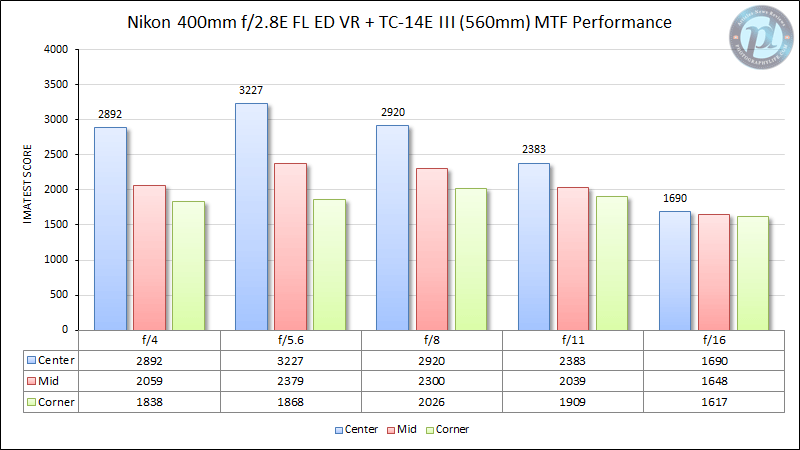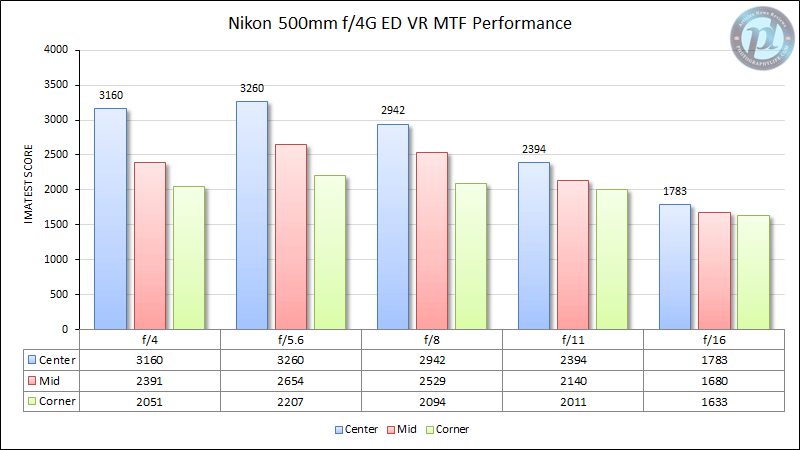 While the Nikkor 500mm f/4G VR is a noticeably sharper lens wide open, the Nikon 400mm f/2.8E FL ED VR shows remarkably good results when stopped down at f/5.6, practically matching the performance of the 500mm lens. So if you shoot with both lenses wide open, the 500mm f/4G ED VR is a better candidate. Once stopped down, the two lenses perform very similarly.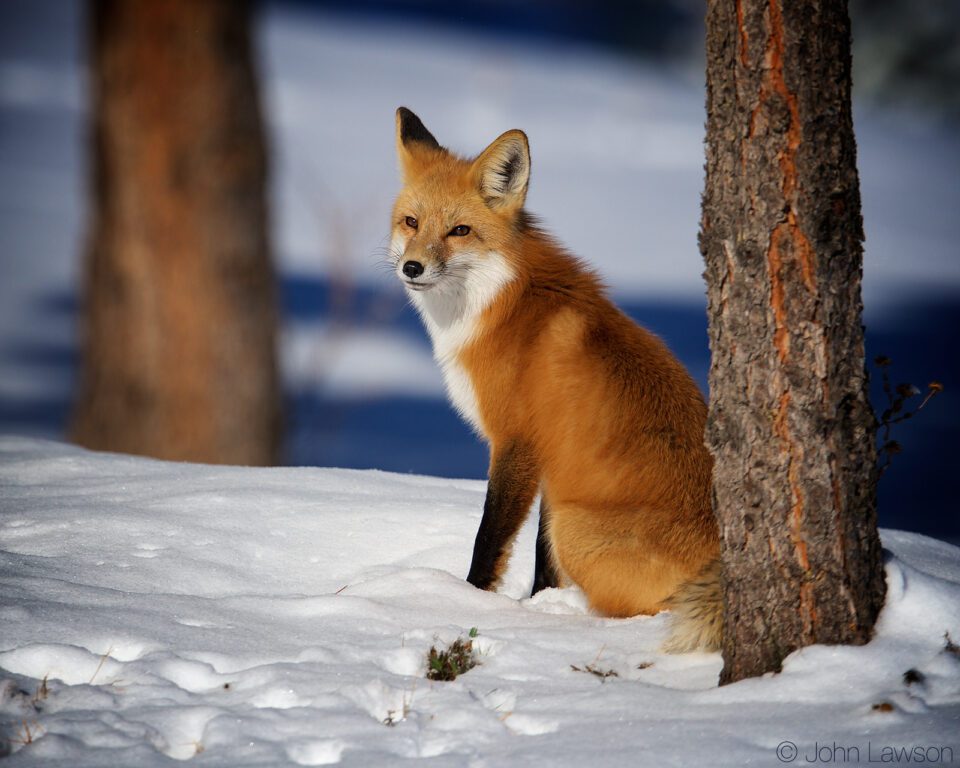 ---
Nikon 400mm f/2.8E FL VR vs Nikon 600mm f/4G VR
Next, let's take a look at how the Nikkor 400mm f/2.8E FL VR compares to the Nikkor 600mm f/4G VR. For this comparison, we will be looking at the 400mm with the 1.4x teleconverter, so there is a 40mm difference in focal length between the two. I don't think it would make a lot of sense to compare the lens with the 1.7x teleconverter, because we would be overshooting by 80mm, but if you want, you can look at the numbers from the previous section and make your own comparison. Here are the results: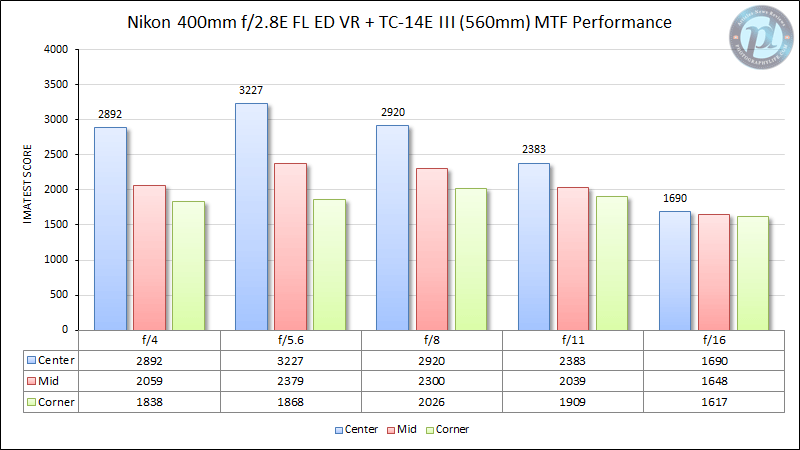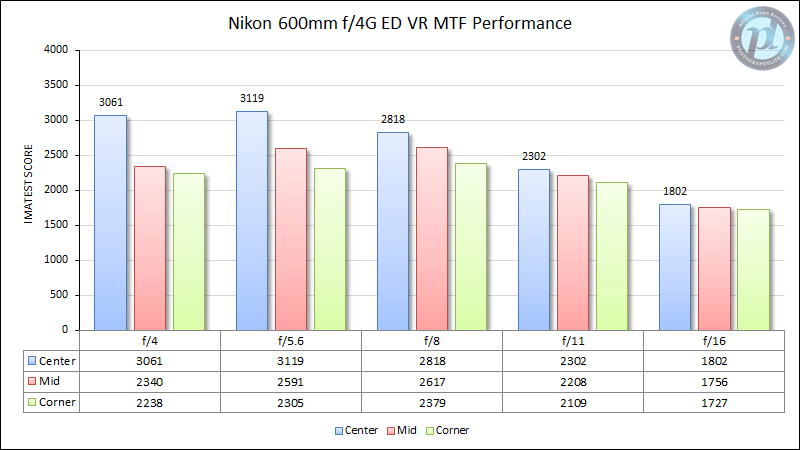 Again, we are dealing with a highly regarded lens here, which demonstrates superb performance – the 600mm f/4G VR is again sharper wide open. But similar to the above, once you stop both down to f/5.6, there is little difference between the two lenses. The biggest differences are in the mid-frame and the corners – both f/4 lenses show them stronger.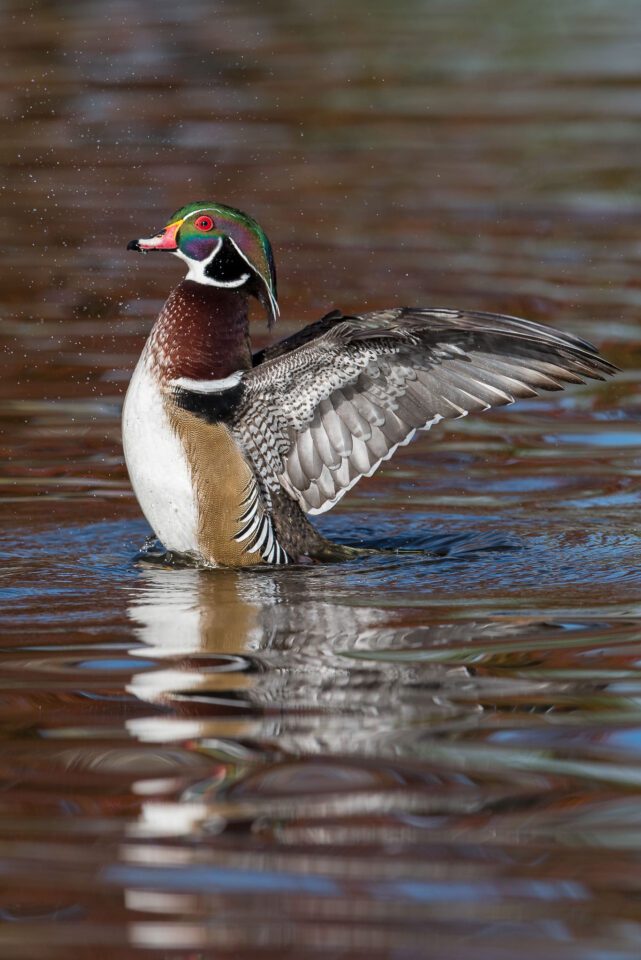 Nikon 400mm f/2.8E FL VR Comparison Summary
From the above comparisons, we can see that the new 400mm f/2.8E FL VR is much sharper than its predecessor, but falls slightly behind its longer super-telephoto brothers when coupled with a teleconverter at maximum aperture.
So what does the 400mm f/2.8 lens give what 500mm f/4 and 600mm lenses can't? Versatility! When shooting with a 500mm f/4G VR or 600mm f/4G VR lenses, you cannot go any shorter.
So if you are out shooting and your action is closer than you would like, you have no shot. Those who photograph bears in Alaska or African wildlife on a safari trip know how limiting long super-telephoto lenses can be when the action is too close – you cannot fit the animal into your frame and you end up either capturing part of the animal, or skip shooting completely. In those situations, being able to use a shorter lens can be extremely handy and that's what the 400mm f/2.8E FL provides – you can shoot at 400mm and if you need to get closer to the action, you can use any of the three teleconverters. Sure, the results won't be as good as the longer lenses, but if you use a 16-24 MP camera body and do some sharpening and down-sampling in post, you can yield pretty darn good results even with the 2x teleconverter. And the images in this review showcase that.
Another issue with long super-telephoto lenses is the atmospheric haze. I witnessed this when shooting the 800mm f/5.6E FL VR lens in Yellowstone – it was rather difficult to yield good sharpness unless I was shooting either early in the morning, or in the late afternoon when the haze was not as bad. On a sunny day, it was a rather painful experience that initially made me think that something was wrong with the 800mm f/5.6E VR lens that I was shooting with. In that regard, 400mm is a much more manageable focal length to work with.
Lastly, don't forget about f/2.8 vs f/4 vs f/5.6 – when light conditions deteriorate, a full stop of light could be a lifesaver. ISO 3200 vs 6400 looks very different. 1/500 vs 1/250 shutter speed could save the shot from being blurry due to motion blur. With the 400mm f/2.8, you have the ability to gather more light – it is better to have a good shot that you can crop and work with, rather than having a closer but blurry subject or a noisy, unworkable image.