This is an in-depth review of the Nikon 35mm f/1.4G prime lens that was announced in September of 2010. The Nikon 35mm f/1.4G is a professional-grade lens for enthusiasts and professionals that need the highest quality optics of a fixed wide-angle lens with a large aperture of f/1.4 for low-light situations and shallow depth of field to isolate subjects from the background, making it an ideal candidate for many types of photography, including portrait, wedding, landscape and astrophotography.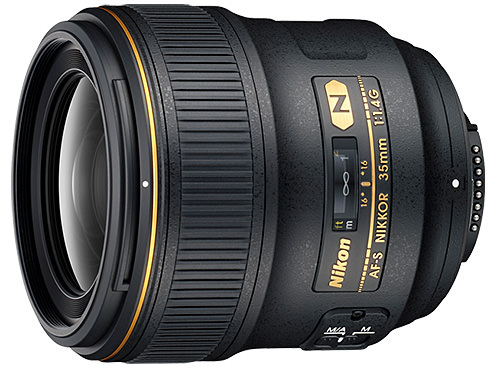 The lens incorporates the latest optical technology destined for both FX and DX sensors (equivalent of approx 52.5mm on DX), yielding amazing clarity and contrast in most challenging lighting conditions. The Nikon 35mm f/1.4G follows the release of the excellent Nikon 24mm f/1.4G lens, having similar lens characteristics. Although the lens exterior and construction seem to be almost identical, the Nikon 35mm f/1.4G has a simpler optical design when compared to the Nikon 24mm f/1.4G (more on this below).
The focal length of 35mm is a good compromise between ultra-wide angle lenses and standard lenses – it is not too wide or too long. As for the lens interior and optics, Nikon integrated the latest technology into this lens, including AF-S silent-wave focus motor and Rear Focus (to eliminate front barrel rotation and lens length changes) and enhanced the optical formula of the lens by incorporating Nano crystal coating and Super Integrated Coating (SIC) to reduce ghosting and flares. The lens is of high quality build, similar to other AF-S Nikon primes and is sealed against dust and tough weather conditions. Thanks to the 9-blade diaphragm, the Nikon 35mm f/1.4G renders background highlights in a round, circular shape and the maximum aperture of f/1.4 makes this lens a great portrait lens for both images and video, especially in low-light conditions.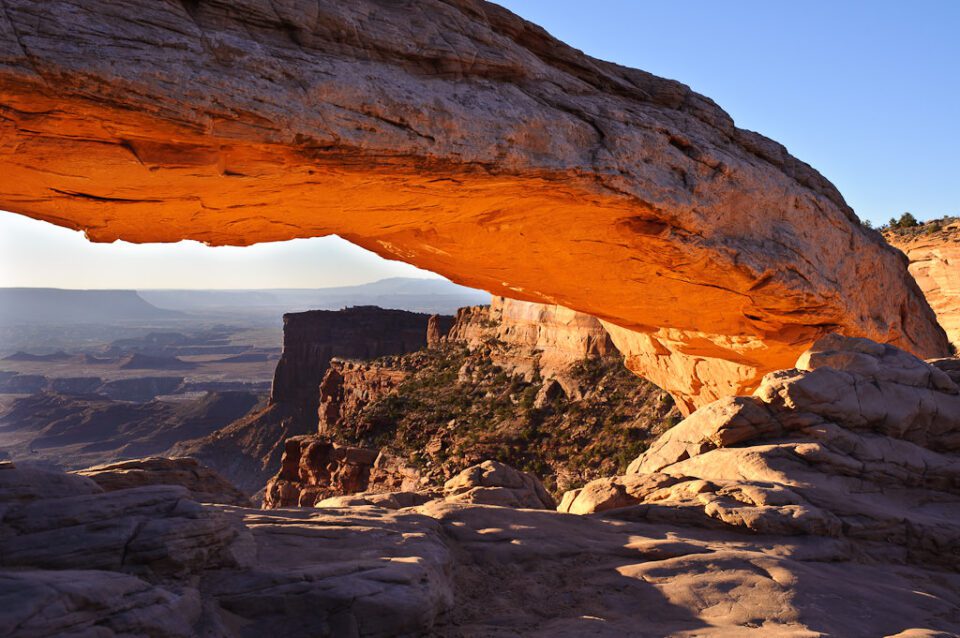 In this review, I will provide a thorough analysis of the Nikon 35mm f/1.4G lens, along with image samples and comparisons against Zeiss Distagon T* 35mm F/2.0 ZF.2 and other Nikon lenses like Nikon 35mm f/2.8 AIS and the newer Nikon 35mm f/1.8G.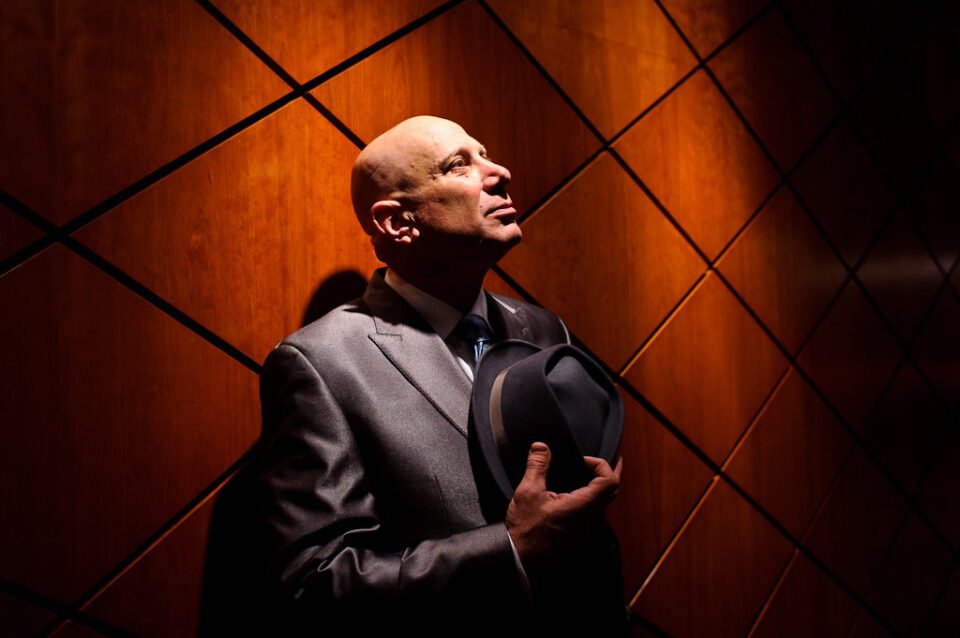 Nikon 35mm f/1.4G Specifications
Mount Type: Nikon F-Bayonet
Focal Length: 35mm
Maximum Aperture: f/1.4
Minimum Aperture: f/16
Format: FX/35mm
Maximum Angle of View (DX-format): 44°
Maximum Angle of View (FX-format): 63°
Maximum Reproduction Ratio: 0.2x
Lens Elements: 10
Lens Groups: 7
Compatible Format(s): FX, DX, FX in DX Crop Mode, 35mm Film
Diaphragm Blades: 9
Distance Information: Yes
Nano Crystal Coat: Yes
Aspherical Elements: 1
Autofocus: Yes
AF-S (Silent Wave Motor): Yes
Minimum Focus Distance: 0.98 ft.
Focus Mode: Auto, Manual
Rear Focusing: Yes
Filter Size: 67mm
Accepts Filter Type: Screw-on
Dimensions (Approx.): 3.27×3.52 in. (Diameter x Length), 83×89.5mm (Diameter x Length)
Weight (Approx.): 21.2 oz. (600g)
Supplied Accessories: LF-4 Rear Lens Cap, LC-67mm Snap-on Front Cap, HB-59 Bayonet Lens Hood, CL-1118 Semi-Soft Case
Detailed specifications for the lens, along with MTF charts and other useful data can be found in our lens database.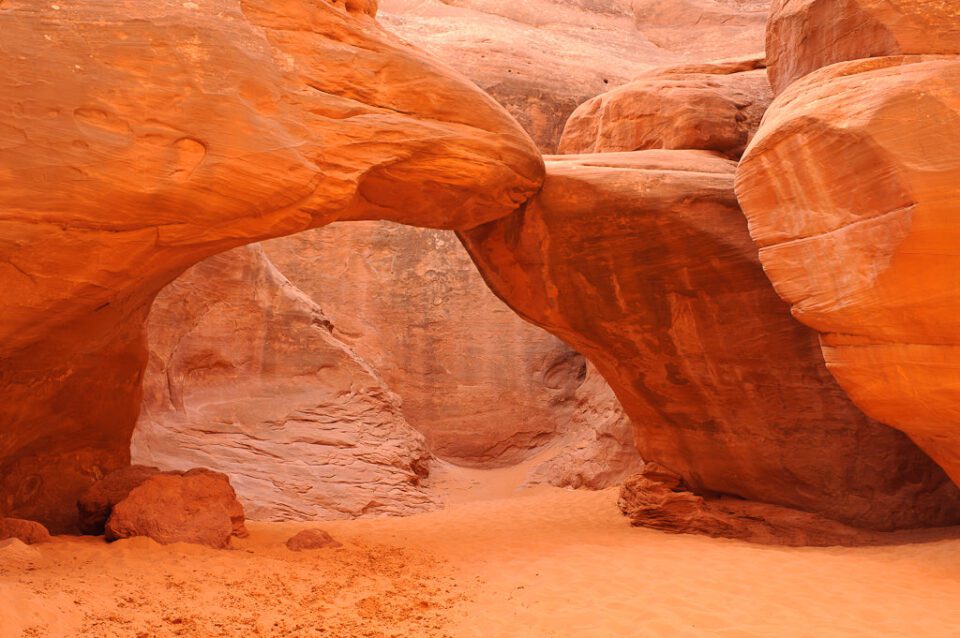 Lens Handling
Just like other Nikon professional prime lenses, the new Nikon 35mm f/1.4 lens has a very high quality build. The outer barrel is made of plastic, but feels just like the expensive Nikon metal lenses, most likely due to the lens weight. It is designed to withstand tough weather and is well-protected on the outside against dust and moisture. I shot the lens in very dusty conditions in Utah with high winds and in one case ended up with plenty of dust and sand all over the lens during a hike through a sandy area of Arches National Park. It continued to function well without any problems. I wiped off the dust/sand with a regular brush and then thoroughly cleaned it with a wet piece of cloth after the hike, after which I used it for two more days without any mechanical or other failures.
I also exposed it under light rain for a short period of time and it performed flawlessly throughout the photo shoot. So if you shoot in extreme conditions a lot, you can certainly count on the Nikkor 35mm f/1.4 – it will surely survive. The only thing you have to be a little careful about, is changing the lens in very dusty/windy conditions. Since the lens is equipped with the Rear Focus feature, the front of the lens never moves or extends (which is good, especially for using filters), but then the rear element moves in and out during focusing. If you really need to change the lens in such conditions, I would get used to rotating the focus ring to infinity and then changing the lens. See the short review video below for more information.
The Nikon 35mm f/1.4G has a total of 10 optical elements with 1 aspherical element and weighs a total of 600 grams, which is almost what the Nikon 24mm f/1.4G weighs. In fact, side by side, both lenses look almost identical, as seen in the below photo: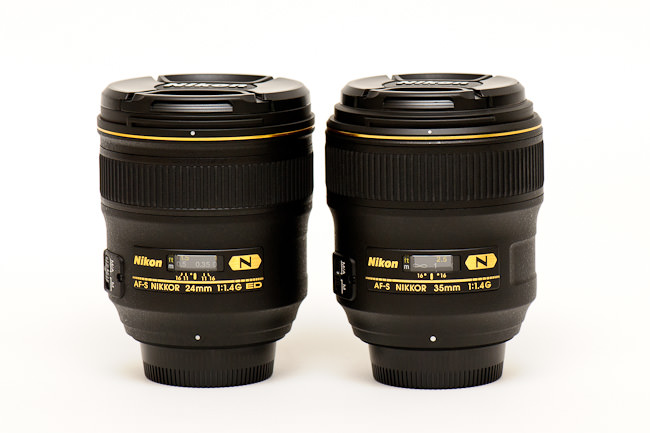 The lens is much bigger and heavier compared to other Nikon 35mm lenses such as Nikon 35mm f/2D and Nikon 35mm f/1.4 AIS, making it the biggest and heaviest 35mm prime produced by Nikon to date. The Nikon 35mm f/1.4 feels very solid in hands and the focus ring is conveniently located in the front of the barrel, making it easy to manually focus with a thumb and index fingers while shooting images or video. The lens comes with the "HB-59" lens hood, which is a little bulkier than the "HB-51" that comes with the 24mm f/1.4G. It snaps on the front of the lens and sits tight without wobbling like some other Nikon lens hoods.
Here is the Nikon 35mm f/1.4G compared to other 35mm lenses, including the Zeiss Distagon 35mm ZF.2 (from left to right – Nikon 35mm f/1.4G, Zeiss 35mm f/2, Nikon 35mm f/1.4 AIS, Nikon 35mm f/2D):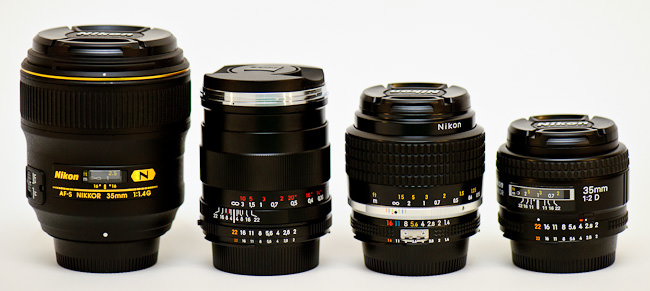 As you can see, it is the biggest of the bunch – the Nikon 35mm f/2D is tiny in comparison.
My biggest complaint about the Nikon 35mm f/1.4G is its non-standard 67mm filter thread. I don't know why Nikon decided to push for 67mm instead of 77mm, but looking at the lens construction, I do not think that it was technically impossible to have a larger filter thread on this lens. The barrel size seems to be about the same as on the 24mm f/1.4G (which does have a 77mm filter thread), so all they had to do was increase the front of the lens to support 77mm filters. Since this is an expensive, pro-level lens, it should come with a standard 77mm filter thread.
Autofocus Performance and Accuracy
When it comes to autofocus performance, the Nikon 35mm f/1.4G behaves very similarly to the 24mm f/1.4G and other recently announced Nikon primes. The lens snaps into focus fairly well even in low-light situations, but the speed clearly lags behind the AF-D counterparts (see the AF performance comparison in the video). If you compare AF performance to the Nikon 14-24mm or Nikon 24-70mm lenses, you will see the difference right away – the latter autofocus faster. When the lens focuses, it virtually produces no noise, due to the Silent Wave Motor (SWM) technology in the lens. You will only hear a short lens snap when it gets to infinity and minimum distance marks.
As for AF accuracy, I tested the Nikon 35mm f/1.4G with Lens Align Pro to make sure that it does not front focus or back focus on both D700 and D3s I was using during the tests. So far I have been pretty lucky when it comes to autofocus accuracy with lenses, but the 35mm had a very minor front focus issue, as can be seen from the below crop: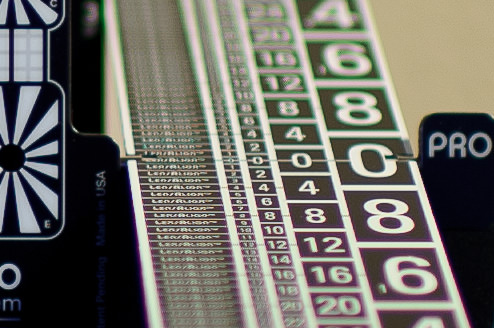 Once I dialed +2 in AF Fine Tune, the focus issue was taken care of and I had no problems with focusing on both camera bodies: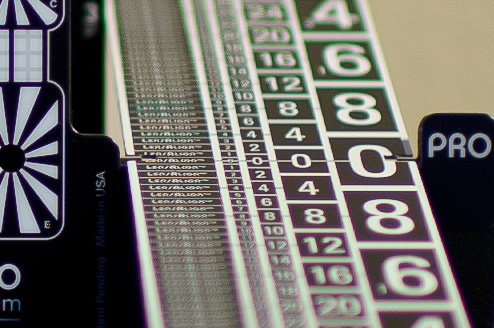 I tested the lens in both daylight and low-light situations and autofocus was quite accurate, even at maximum aperture of f/1.4. Focus tracking works very well, with the lens getting accurate focus almost every time in AF-C (continuous) mode. Here is a shot taken in low light, at 1/40th of a second @ f/2.8 ISO 1600 on Nikon D3s: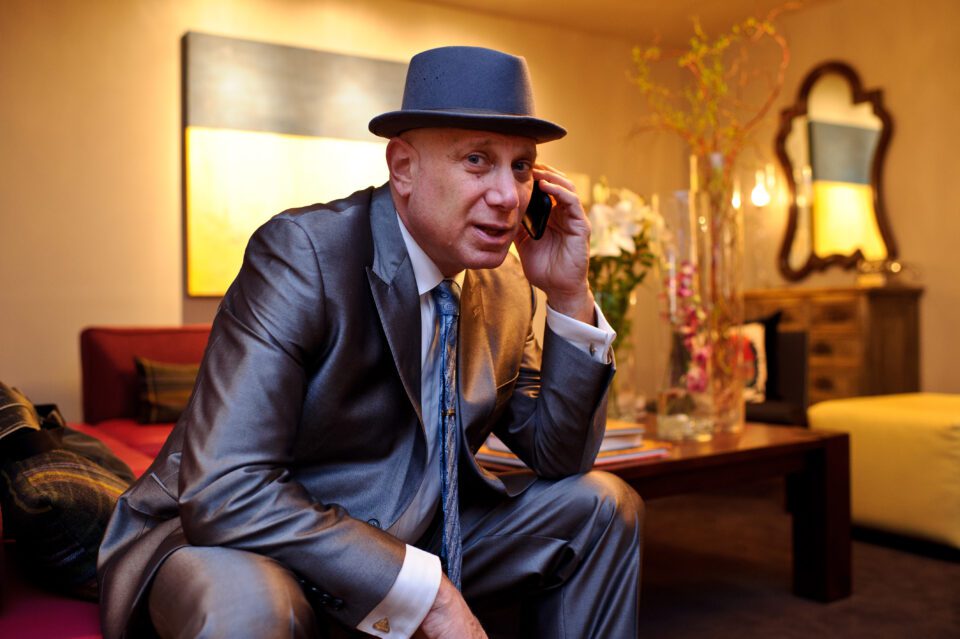 Click here to see the full JPEG version of the shot (80% Quality @ 3.6 MB).
As with any other lens, be careful when shooting at very large apertures in low light situations. If you cannot consistently get accurate focus, make sure that the lens sample you have does not have a front/back focus problem as shown above.