It has been 15 years since Nikon produced the last iteration of its budget 300mm lens, so the new Nikkor 300mm f/4E PF ED VR was something many enthusiasts and professionals have been patiently waiting for. Although the previous generation Nikkor 300mm f/4D AF-S is an excellent lens optically, it lacks image stabilization, new generation coating and other new technologies that Nikon has been integrating into modern lenses.
I have personally been a huge fan of the 300mm f/4D AF-S lens and have owned it for many years, loving the lens for its superb optical performance, fast autofocus, light weight, and compact size, making it my ultimate travel lens for wildlife photography – a perfect companion for hand-held shooting. Because it was so good with the 1.4x teleconverter, I practically always kept the teleconverter attached to the lens, making it a very nice 420mm f/5.6 combination. When Nikon finally announced the new 300mm f/4E VR lens, I got very excited, because Nikon completely redesigned the lens. In fact, with close to a 50% reduction in weight and a 30% reduction in physical size, we are not dealing with another redesign or update – this is a completely different lens.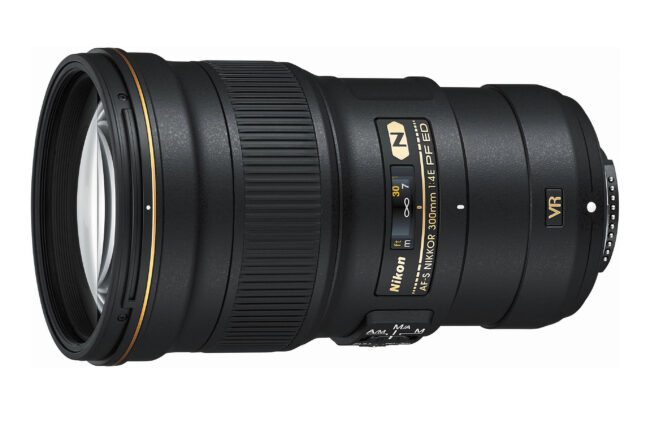 The Nikkor 300mm f/4E PF ED VR is physically just like the Nikkor 70-300mm f/4.5-5.6G VR, earning it "world's lightest 300mm full-frame lens" title. Nikon was able to achieve this by using a Phase Fresnel (PF) lens element, which can effectively reduce the need to use complex lens elements for correcting chromatic aberrations and ghosting. Basically, the use of a Phase Fresnel lens element is what allowed Nikon to significantly reduce both the size and weight of the lens.
In addition to these benefits, Nikon also utilized a number of newest technologies in the lens, including: new Fluorine Coat technology for repelling dust, water and dirt; electromagnetic diaphragm mechanism for precise and consistent control of aperture when shooting fast action in high-speed bursts; Vibration Reduction image stabilization technology that allows up to 4.5 stops of compensation; Nano Crystal Coat for reducing internal lens element reflections and reduction of ghosting and flare; Silent Wave Motor for smooth and silent autofocus operation and a number of other improvements. With the ability to be coupled with all three Nikon teleconverters, the 300mm f/4E VR is quite a versatile choice capable of extending its reach all the way to 600mm. Overall, considering how much this lens offers for its $2K price tag, it is truly revolutionary. Let's take a look at the lens in more detail.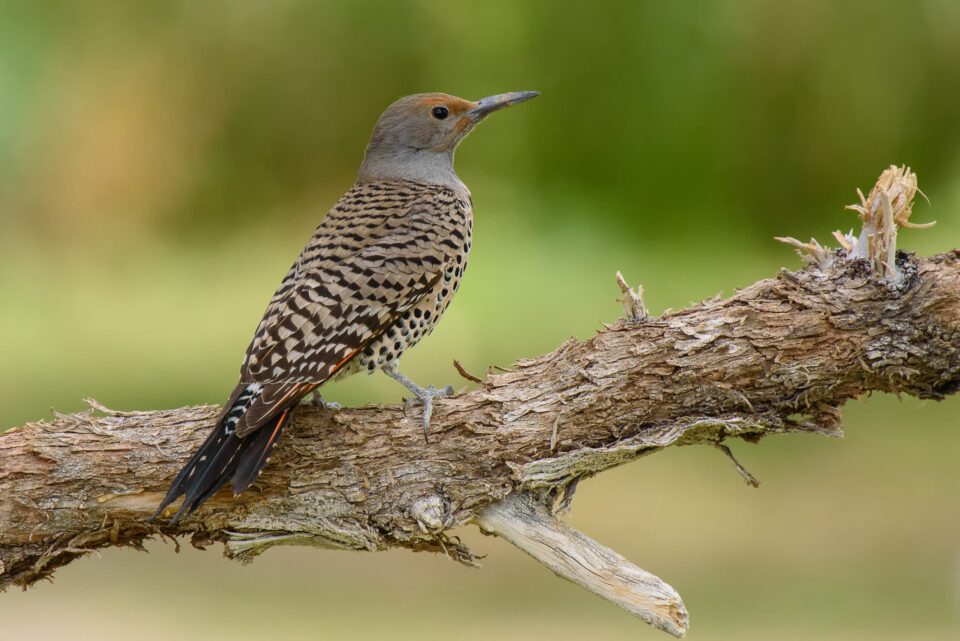 Nikon 300mm f/4E PF ED VR Specifications
Focal length: 300mm
Maximum aperture: f/4
Minimum aperture: f/32
Lens construction: 16 elements in 10 groups
Picture angle: 8°20′ (5°3′ with Nikon DX format)
Closest focusing distance: 1.4m
No. of diaphragm blades: 9
Filter/attachment size: 77mm
Diameter x length (extension from lens mount): Approximately 89 x 147.5mm
Weight: 755g
Detailed specifications for the lens, along with MTF charts and other useful data can be found in our lens database.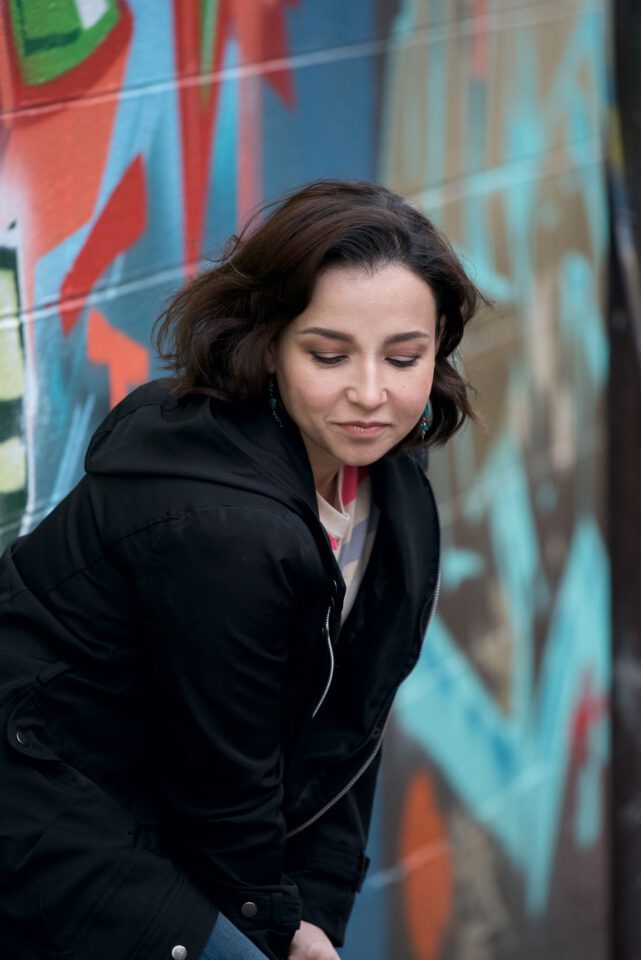 Lens Handling and Build
Although the Nikon 300mm f/4E VR feels a bit plasticky compared to its predecessor (which is just a solid chunk of metal and glass), it really is no different in construction than any of the new Nikkor primes that we have seen in the last few years. The outer shell of the lens is made fully from hard plastic – aside from the metal mount and the filter thread, everything else seems to be made out of plastic, giving it somewhat of a cheaper feel. I would not be concerned about that though, as it is clear that Nikon's intention was to make the lens as lightweight as possible. Had Nikon used a metal outer shell, the lens would not have offered the same significant weight savings when compared to its predecessor.
The filter thread stayed the same at 77mm, which is great news for those who already own 77mm filters, or want to move up to this lens from the "D" version. The lens mount features a rubber gasket to minimize dust and debris from making it into the camera chamber. The single ring on the lens is made out of plastic and has a rubber layer on top of it for a better grip. The ring has the same smooth feel as on other modern AF-S lenses, allowing one to move past infinity or closest focus point with slightly more resistance. There are three switches on the side of the lens. The first switch is used for moving between Auto / Manual (A/M), Manual / Auto (M/A) and Manual (M) focusing operation.
The second switch is for setting either full focus range (FULL) or limit focusing on subjects at 3 meters and further. The third switch is for operating Vibration Reduction on the lens – you can toggle between OFF, NORMAL or SPORT. All three samples that I tested indicated that it was made in China (my Nikkor 300mm f/4D AF-S was made in Japan). Although I have no problem with the lens being made in China and understand that it is cheaper for Nikon to produce lenses there, I am not particularly psyched with sample variation at this point – see notes further down in this review.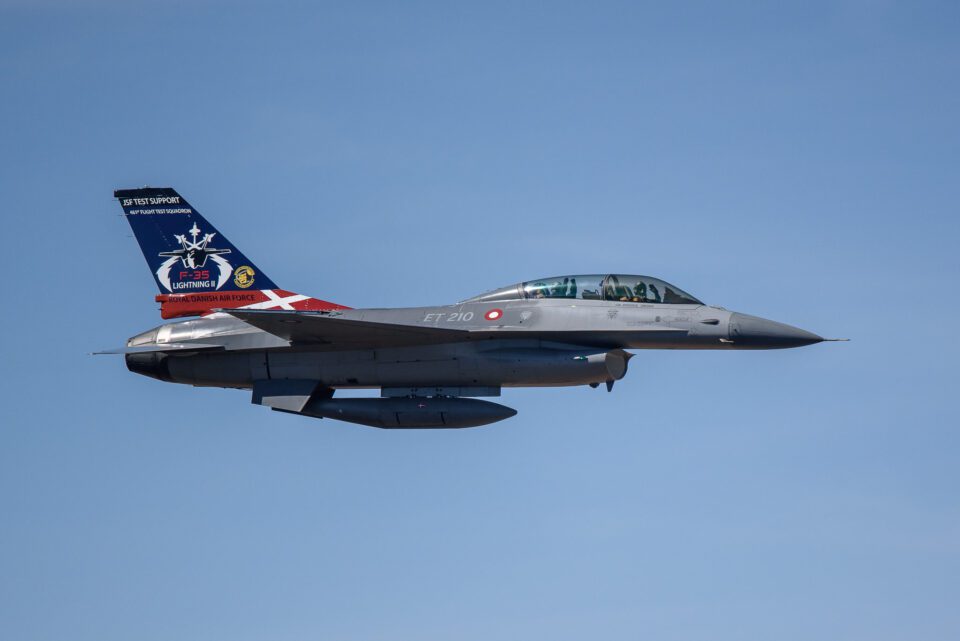 Handling-wise, the lens is simply amazing. When I first mounted the lens on my Nikon D750, I could not believe how light it was when compared to my 300mm f/4D – it did not feel at all like a 300mm lens, more like a 70-300mm VR zoom in terms of size and weight. The lens was so light and easy to hand-hold, that I never bothered to put it on a tripod. I even let it hang off the mount on my Nikon D750 when hiking, which is something I certainly do not feel comfortable doing with my 300mm f/4D. In this regard, the 300mm f/4E VR is a game-changer, as it handles a world better than any other lens in its class.
It balances perfectly on any standard-size Nikon DSLR I attached it to, whether it was the Nikon Df, D750 or the D810 – its weight is distributed evenly across the lens and it does not feel front-heavy like some of the telephoto and super-telephoto lenses. Because the lens is so light, you don't have to lay it on your left hand entirely when hand-holding, so you can completely avoid touching the focus ring. In fact, I was mostly balancing the lens with my thumb and index fingers when shooting! The best part is walking around with the lens in your hands. No more need for hanging your camera off your neck and keeping your hands on the lens at all times. I mostly held my camera by its grip with my right hand and let the lens just hang off the mount when hiking, just like I do when using smaller lenses, which was great.
To appreciate size differences between the new 300mm f/4E VR and the 300mm f/4D AF-S, take look at the below side by side comparison: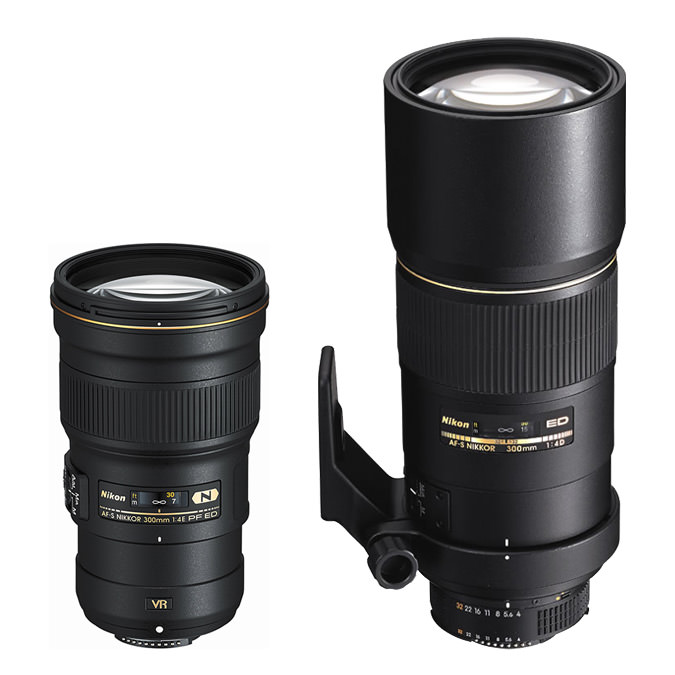 This is by no means an over-exaggeration – this is how small the new 300mm f/4E VR really is when compared to its predecessor!
While Nikon sells the optional RT-1 tripod collar ring, I would not worry about getting one. If you do need to use the lens on a tripod, just use the camera tripod mount instead, as your camera mount will easily be able to handle the lens even with teleconverters attached. Unlike the 300mm f/4D, the lens does not have a built-in hood. A plastic HB-73 bayonet lens hood is provided, which attaches easily on the lens and locks securely in place. The hood is also made out of plastic and is rather thin, probably designed this way also for weight reduction reasons.
Lastly, there is another advantage of the new lens design – it now has a rear element! The previous generation 300mm f/4D did not have a rear element (you could literally see the diaphragm of the lens from its rear) and you could end up with quite a bit of stuff inside the lens if you were not very careful. The new 300mm f/4E VR is free from this problem and you can now safely use the lens in any condition. Although the rear element is not very close to the mount, it won't prevent you from being able to clean it when it gets rather dusty. Because the rear element does not move and there are no openings on its back, you can safely use a rocket blower to get rid of dust.
Overall, the lens handles amazingly well, which is something you will certainly appreciate, particularly when hiking with the lens or transporting it.