This is an in-depth review of the Nikon 300mm f/2.8G ED VR II lens that was released in December of 2009, along with the TC-20E III teleconverter. When it comes to telephoto lenses, the Nikon 300mm f/2.8 line of lenses has always been a metric of sharpness, contrast and acuity. The Nikon 300mm f/2.8G VR II is no exception – it sports top of the line optical design and technology that are capable of resolving tons of details, delivering outstanding results for any kind of long-range photography.
The Nikon 300mm f/2.8G VR II was released as a minor update to the existing Nikon 300mm f/2.8G IF-ED – the optical design stayed the same, with the exception of Vibration Reduction II (VR II) technology and a new A/M focus mode. In this review, I will not only provide general information about the Nikon 300mm f/2.8G VR II and its performance, but also how it works with all current Nikon teleconverters (TC-14E II, TC-17E II and TC-20E III) and how it compares to other telephoto lenses of similar and lower classes.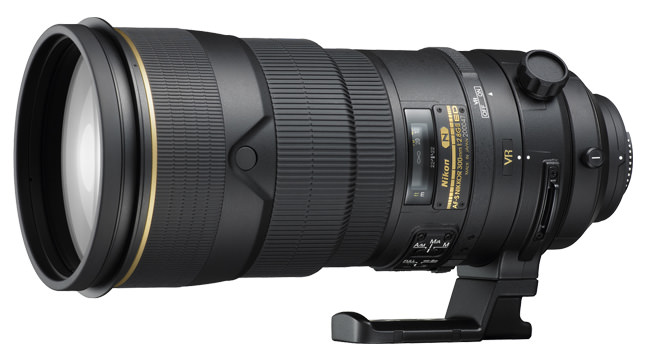 Although the Nikon 300mm f/2.8G VR II is primarily marketed for sports, action and wildlife photographers, it is also an ideal lens for portraiture. Its magical optical design beautifully renders the background elements known as "bokeh", while retaining maximum sharpness on the subject. The large maximum aperture of f/2.8 is very useful for low-light environments and coupled with the VR II technology, allows photographers to capture tack-sharp images hand-held without introducing blur to the images due to camera shake.
The Nikon 300mm f/2.8G VR II works equally well on both FX and DX sensors, with a 1.5x narrower field of view on DX sensor, which is equivalent to 450mm. All current Nikon teleconverters are known to work exceptionally well on this lens, even the 2x teleconverter, which is known to significantly degrade image quality on most other Nikon lenses. The Nikon 1.4x TC-14E II teleconverter increases the focal length of the lens to 420mm while increasing the maximum aperture to f/4.0, the Nikon 1.7x TC-14E II teleconverter increases the focal length to 510mm and maximum aperture to f/4.8, and the Nikon 2.x TC-20E III doubles the focal length of the lens to 600mm and stops down the lens by two stops at maximum aperture of f/5.6. What this essentially means, is that while you get more total focal length with the teleconverters, you end up losing some light at the same time.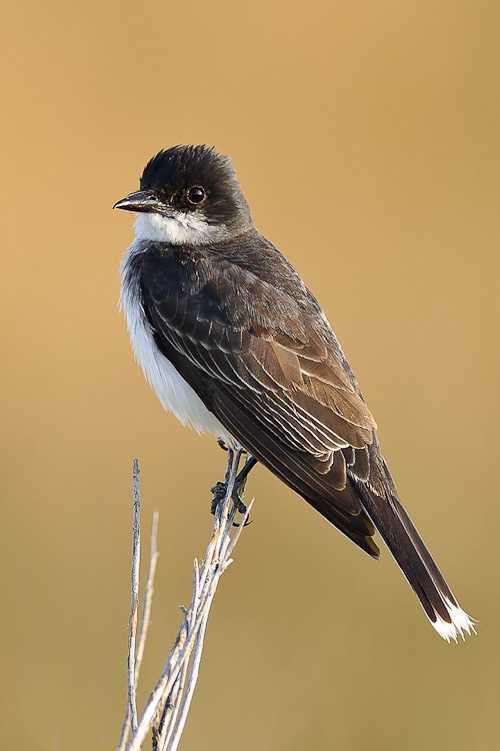 The two letters "ED" in the lens name stand for "extra-low dispersion", as explained in my Nikon lens naming convention article, which means that the lens delivers superior sharpness and reduced "chromatic aberration" or color fringing in photographs when compared to non-ED lenses. In addition to the Silent Wave Motor (SWM/AF-S) that provides fast and quiet autofocus, the Nikon 300mm f/2.8G VR II also features the Nano Crystal Coating technology, which reduces ghosting and flare. When it comes to weather sealing, the Nikon 300mm easily withstands dust, moisture and tough weather conditions – usual environments for nature and wildlife photographers.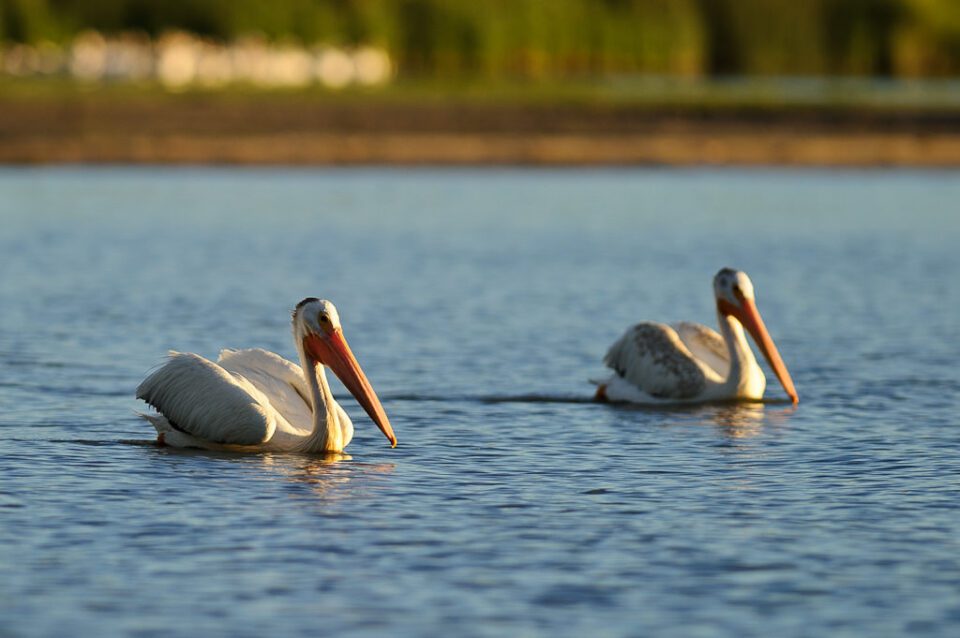 Nikon 300mm f/2.8G ED VR II Specifications
Mount Type: Nikon F-Bayonet
Focal Length: 300mm
Maximum Aperture: 2.8
Minimum Aperture: 22
Maximum Angle of View (DX-format): 5°20′
Maximum Angle of View (FX-format): 8°10′
Maximum Reproduction Ratio: 0.16x
Lens (Elements): 11
Lens (Groups): 8
Compatible Format(s): FX, DX, FX in DX Crop Mode, 35mm Film
VR (Vibration Reduction)/Image Stabilization: Yes
Distance Information: Yes
Nano Crystal Coat: Yes
ED Glass (Elements): 3
Super Integrated Coating: Yes
Autofocus: Yes
AF-S (Silent Wave Motor): Yes
Internal Focusing: Yes
Minimum Focus Distance: 7.5 ft. (2.3m) AF / 7.2 ft. (2.2m) MF
Focus Mode: Auto, Manual, Manual/Auto, Auto/Manual
Filter Size: 52mm
Accepts Filter Type: Slip-in
Dimensions (Approx.): 4.9×10.5 in. (Diameter x Length), 124×267.5mm (Diameter x Length)
Weight (Approx.): 102.3 oz. (2900g)
Lens Case: CL-L1
Lens Hood: HK-30
Supplied Accessories: 52mm filter holder, 52mm Nikon NC Filter, LN-1 strap, HK-30 Slip-on lens hood, CL-L1 semi-soft case, Slip-on Front lens cover, Rear lens cap
Detailed specifications for the lens, along with MTF charts and other useful data can be found in our lens database.
Lens Handling
The Nikon 300mm f/2.8G VR II is a rugged professional lens made of tough magnesium material, designed to withstand physical abuse in various weather conditions and tough environments. I took it with me in very hot, dry weather and also used it in humid, rainy environments without any protection – the lens functioned flawlessly and I did not see any water accumulation inside the lens. Weighing 2.9 kilograms, it is certainly a heavy lens that feels very solid and durable. Although it will easily take occasional bumps during professional use, if you are worried about scratches and other potential damage, I would recommend to get a LensCoat Lens Cover for it. I use LensCoat on the Nikon 200-400mm f/4.0 VR and it certainly does a very good job at not only protecting the lens, but also in keeping my hands warm when shooting in colder environments.
When used on a tripod with a ball head, the lens balances very well on the Nikon D3s body. If you have a lighter camera body like Nikon D700, I suggest attaching the MB-D10 camera grip for better balance. When it comes to hand-holding though, I do have two complaints. First of all, due to the lens body being relatively short (compared to 200-400 and 400mm+ lenses), the area that you hold with your left hand (between the focus ring and the rear end of the lens) is also short. Because of this, if you are not careful with your thumb and index fingers, you will most likely end up touching the focus ring and potentially messing up your focus while shooting. Keeping the hand on the focus ring is not a good idea, especially when tracking birds in flight – your hand movements will most likely alter the focus at the same time. The second complaint also has to do with the short area of the lens that is used for hand-holding. When I shoot telephoto lenses hand-held, I always rotate the tripod collar upwards so that it is not on my way. Doing the same with this lens leaves the large circular rotator on the bottom right side of the lens, which makes holding the lens uncomfortable. I found a workaround to the problem though – rotating the tripod collar to around 120-135 degrees clockwise, where the tripod mount points at around 10-10:30 o'clock when viewed from the rear, leaves some clear area for the left hand. Nikon could address this problem by making the focus ring shorter in size and keeping it closer to the barrel of the lens.
When it comes to manual focus operation, the focus ring is smooth and very easy to operate when mounted on a tripod. When shooting hand-held, using the thumb and index fingers works well, but still not very convenient, due to the above-mentioned problems. When you move the focus ring and reach the focus limit, the ring continues rotation with no resistance in either direction. In addition to the normal AF and other switches on the side of the lens, there is a separate VR ring to turn VR on and off. To be honest, I have never been a fan of these types of rings, since they have a "plastic" feel to them and seem to easily break. On top of that, I did manage to accidentally turn VR off while hand-holding the lens, so I certainly prefer a switch for VR instead, like on the Nikon 70-200mm f/2.8 and Nikon 200-400mm f/4.0 lenses.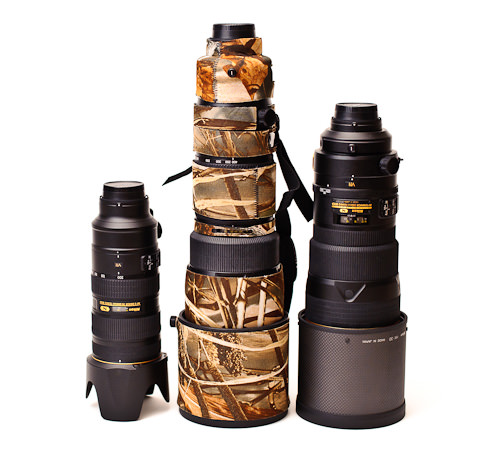 The HK-30 carbon fiber hood that is also used on the Nikon 200-400mm f/4.0 VR II lens works great against flare and protects the front element of the lens, so I suggest leaving it on the lens at all times when shooting in the field. The hood can also be mounted in the reverse position, shortening the length of the lens, which is very useful for transporting the lens in a camera bag. The included CL-L1 lens case works fine for storing the lens and will accommodate a DSLR body as well.
Autofocus Speed and Accuracy
Like all long-range Nikon telephoto lenses, the Nikon 300mm f/2.8G VR II is equipped with Internal Focus (IF), which drives the AF performance to its limits. The lens snaps into focus instantly and silently, thanks to the Silent Wave Motor. Focusing works very well, even in low-light environments. I primarily used the lens on the Nikon D3s professional camera body and it produced exceptional results at all apertures. Even with the Nikon TCs attached, the lens did not have any problems acquiring focus (more on the subject below) for both stationary and moving subjects.