Thanks to your support, we will be publishing a lot more reviews of the old Nikkor classics that we either purchased on auction sites, or loaned from our readers. This is a review of a true classic, the Nikon NIKKOR-H Auto 28mm f/3.5 (Ai modified), which was manufactured way back in 1959. One of our readers, Joe Ridley, was kind enough to send a number of Nikkor classics, and this lens is the first one that we are reviewing. Please note that such reviews of classic lenses will be limited to one page, with a small number of image samples. Still, full lab measurements will be performed on each lens for thorough analysis and comparisons.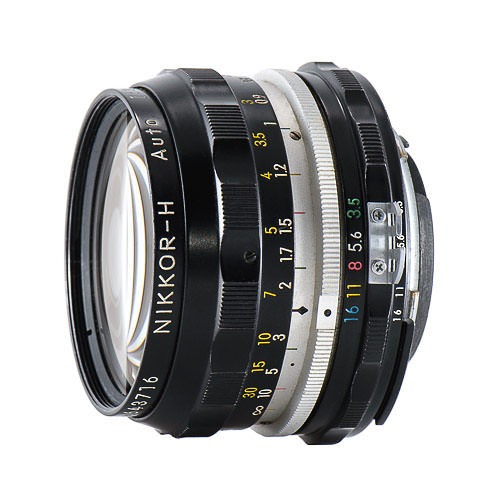 Nikon NIKKOR-H Auto 28mm f/3.5 Ai Overview
The NIKKOR-H Auto 28mm f/3.5 is one of the earliest, Pre-Ai Nikkor manual focus wide-angle lenses for the F mount. Initially launched in 1959, this lens went through several iterations over time with slightly different optical designs. The lens is available in various auction sites including eBay, but an Ai-converted version is really hard to come by. If you do decide to purchase one, you have to get the lens Ai-converted to properly mount on modern DSLRs. If you do not do this, you risk damaging your DSLR, since the non-Ai version could either break the metering tab/lever on the lens mount, or could get stuck on the mount and potentially cause other damage.
If you get an Ai version of the lens, or get it properly converted, it will work on any modern DSLR. On lower-end bodies, metering will not work, but if you have anything above D7000, metering will work just like on any other manual focus lens. I used this lens on both the Nikon D600 and D800E camera bodies and the lens performed perfectly fine.
And by the way, if you have the new Nikon Df camera, you do not have to worry about converting lenses – even pre-Ai lenses will mount on the Df. The only thing you will have to do is manually change the aperture on the camera to match the one picked on the lens, since the camera would have no way of knowing it.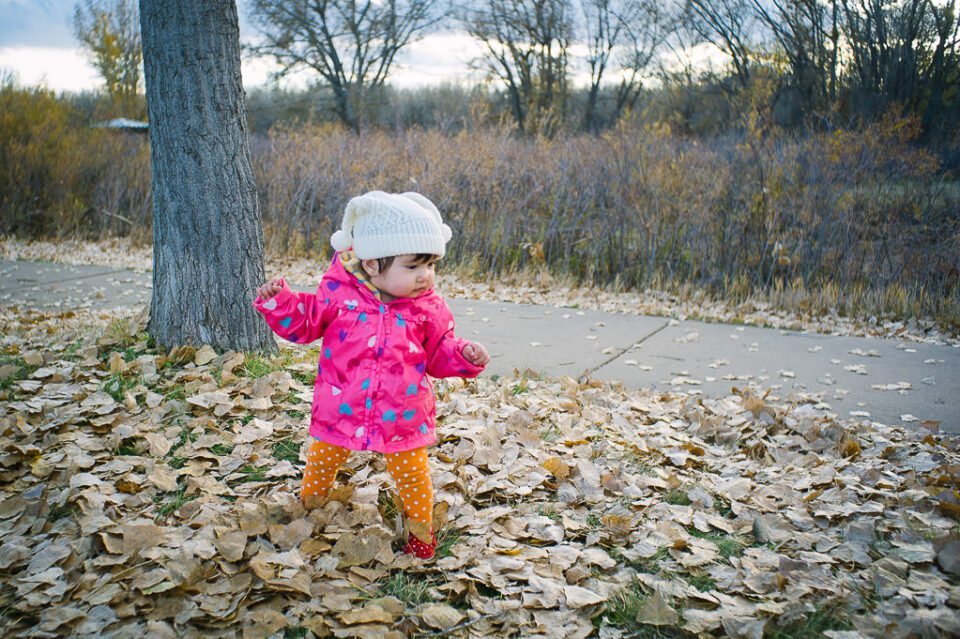 With a maximum aperture of f/3.5, the lens is obviously not a speed demon. However, despite its maximum aperture of f/3.5, the Nikon 28mm f/3.5 is designed to be very sharp wide open, as you will see below. Sadly, only its center shines in optical performance – due to its rather soft edges, the lens is not well-suited for landscape photography, where edge-to-edge sharpness is often desired. The lens would be a little better on a cropped sensor camera, but the edge performance would again suffer quite a bit, especially on high-resolution sensors. Still, this lens was very interesting to evaluate, because it shows the many problems that some of the older lens designs were plagued with.
I won't bore you with specifications here, but if you want to check them out, see the NIKKOR-H Auto 23mm f/3.5 page in our Lens Database.
Handling and Build Quality
Despite its age, the lens handles very well. The focus ring is very smooth and comes to a hard stop at the minimum focus distance and the infinity focus mark. When focusing, the lens barrel slightly moves forward by about 2-3mm, but it is almost unnoticeable. Changing aperture through the ring on the lens is easy – not too loose or too stuff, with noticeable "clicks" between apertures. The sample I tested was heavily used, with marks on the lens body and even some slight scratches on the glass elements.
And yet it still performs great, which shows just how good the Japanese craftsmanship was back in the days. These lenses are literally built to last a lifetime, even with plenty of abuse – something that I unfortunately cannot really say about the modern plastic Nikkor lenses. With 6 elements in 6 groups and a small size, the lens feels relatively light compared to other Nikkor classics. But don't be fooled to think that there are plastic parts in this lens – the lens is all metal, both inside and outside. It is basically just bare metal and glass.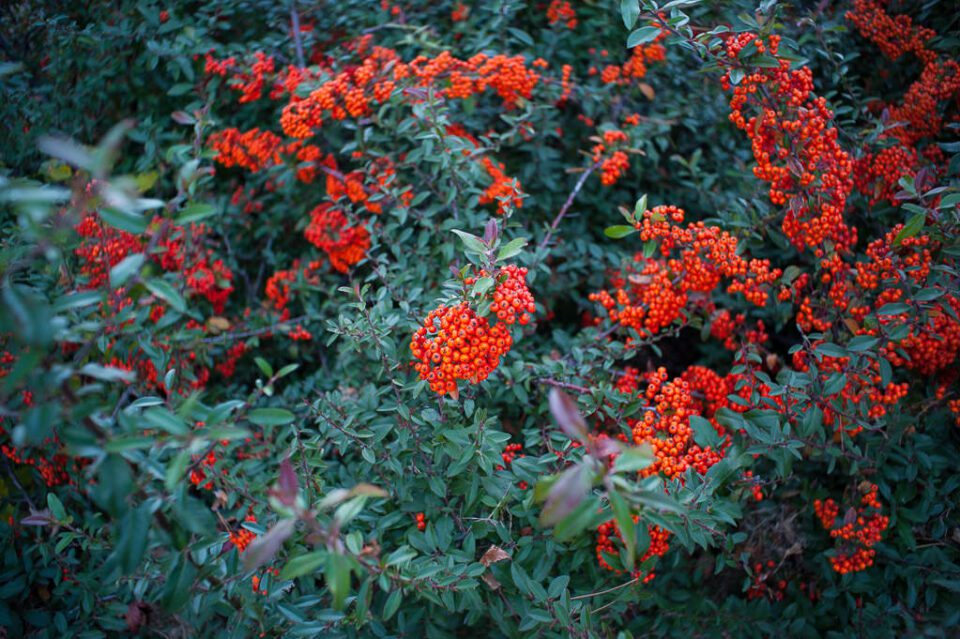 MTF Performance
How is the Nikon 28mm f/3.5 optically? Let's take a look at our lab results, measured by Imatest:
Right off the bat at the maximum aperture of f/3.5, this lens performs incredibly well in the center. Considering that the Nikon 28mm f/3.5 was measured on the high-resolution Nikon D800E, this is very impressive. Unfortunately, due to a severe case of field curvature, performance degrades sharply away from the center, even in the mid-frame. The performance improves very slightly at f/4, and the peak performance is reached at around f/5.6 mark in the center. Unfortunately, mid-frame and corner performance stay below average all the way to f/11 and even then it is not anywhere close to what the center can resolve. For best overall performance, the lens should be stopped down to f/11, as can be seen from the above chart.
If you want a much more even sharpness distribution, check out the modern Nikon 28mm f/1.8G. While it might not be stellar in the center, its overall performance is much better in comparison, especially in the corners. Here is the MTF result for comparison:
Distortion
Overall, the distortion is controlled quite well for a wide angle lens. However, the NIKKOR-H Auto 28mm f/3.5 suffers from a slight "mustache distortion", which is visible when looking at straight vertical or horizontal lines. Imatest measured barrel distortion at 0.22%, which is not bad. In comparison, the Nikon 28mm f/1.8G has more pronounced barrel distortion at 1.25%.
Chromatic Aberrations
Chromatic aberration levels are moderate, at over 1 pixel on average, as shown below:
Vignetting
Vignetting is quite strong wide open, reaching as much as 2 full stops of difference in the corners. As the lens is stopped down, vignetting is reduced considerably. By f/5.6 vignetting is reduced to less than a stop and is almost fully gone at f/11:
Here is an illustration of the worst case scenario, shot at f/3.5: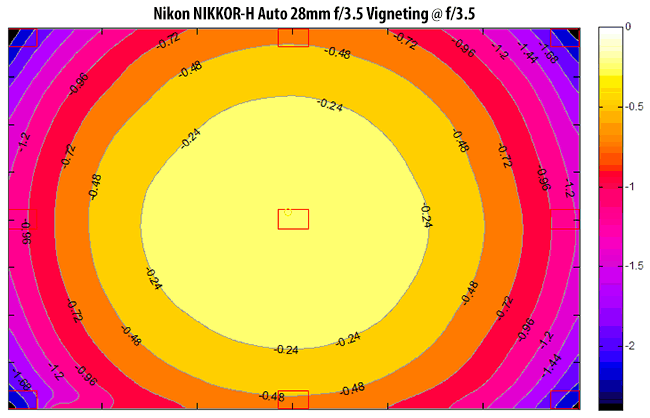 Ghosting and Flare
The lens has a 5 blade diaphragm, which shows in pictures when a bright source of light is in the frame. Interestingly, the lens can produce sun stars even at the maximum aperture of f/3.5, and it handles ghosting and flare surprisingly well: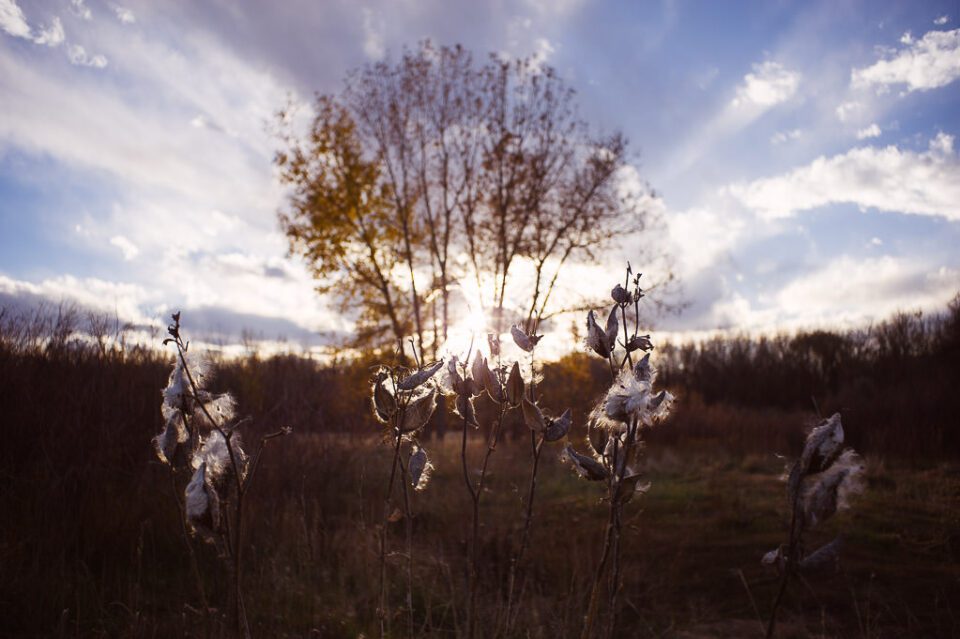 Summary
The NIKKOR-H 28mm f/3.5 is a solid lens with an all-metal construction. While its performance is quite good in the center, with peak performance reached at f/5.6, the mid-frame and corners are very weak due to heavy field curvature. The effect of field curvature is so heavy, that the lens requires stopping down to f/11 to get average results throughout the frame. Focusing on the corners can yield sharper results, but it blurs the center and mid-frame severely. Hence, unless only center sharpness is desired, this is not a good candidate for modern digital cameras. If you want a good wide-angle lens for your DSLR, the Nikon 28mm f/1.8G (see our in-depth review) would be a much better choice.
Nikon NIKKOR-H Auto 28mm f/3.5 Ai
Optical Performance

Features

Bokeh Quality

Build Quality

Handling

Value

Size and Weight
Photography Life Overall Rating