Lens Features
Unlike the Nikon 24mm f/1.4G and its lighter counterpart, the 28mm f/1.8G, the Nikon 28mm f/1.4E does not have a mechanical lever on the back of the lens, because it is an "E" type lens with an electronic diaphragm. While this means that it will be impossible to use the lens on older Nikon digital and film camera bodies and "dumb" adapters that do not support such lenses, I am happy to see Nikon start to transition away from mechanical to electronic diaphragms, since the latter are more accurate and less prone to having issues overtime. As long as you shoot with a modern camera body that was released after cameras like Nikon D3000 and D200 (which are not compatible), you will be good to go.
As I have pointed out earlier, Nikon completely redesigned the optical formula of the Nikon 28mm f/1.4E and went from 11 elements of the older 28mm f/1.4D to a total of 14 lens elements in 11 groups. The new design incorporates a total of 2 extra-low dispersion (ED) glass elements and three aspherical elements in order to maximize sharpness across the frame. Lens elements are coated with Nikon's proprietary Super Integrated Coat and Nano Crystal Coat to reduce ghosting and flare, enhance contrast and colors, while the front element is coated with fluorine coating in order to repel dust, dirt, and moisture. The rounded 9-blade diaphragm is designed to yield pleasing out of focus areas in images and more circular highlights / bokeh.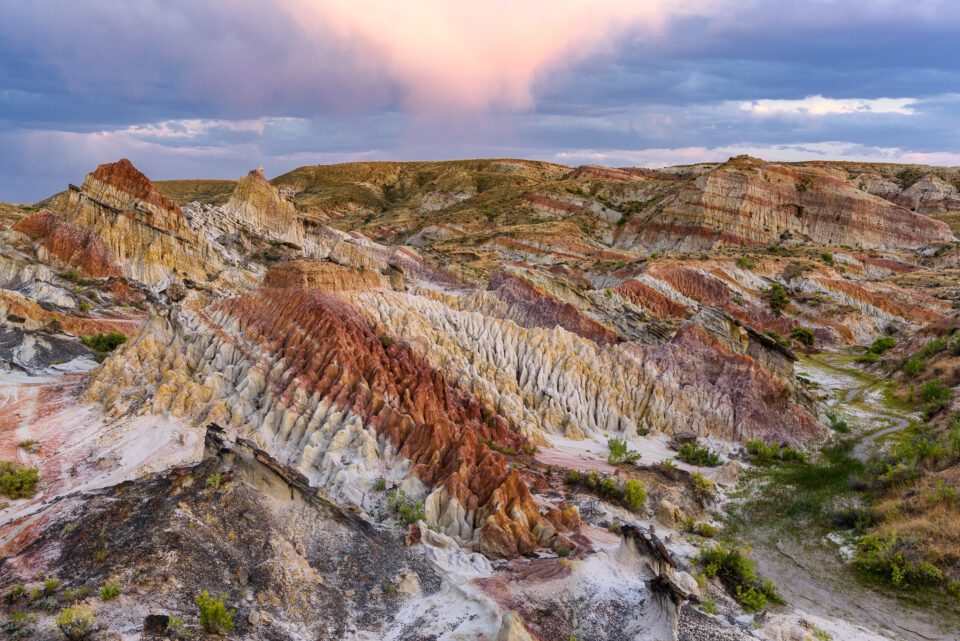 Lens Sharpness and Contrast
Considering how many aspherical lens elements went into the optical design, and as one can expect from a modern pro-grade Nikon lens that is optimized for high-resolution cameras, the Nikon 28mm f/1.4E should look stellar when it comes to sharpness. And it sure does! I tested the lens in my lab with Imatest and I was shocked by what I saw – the lens beat all prior records, including those from Zeiss Otus lenses, something I honestly did not expect to see. Take a look at the below chart: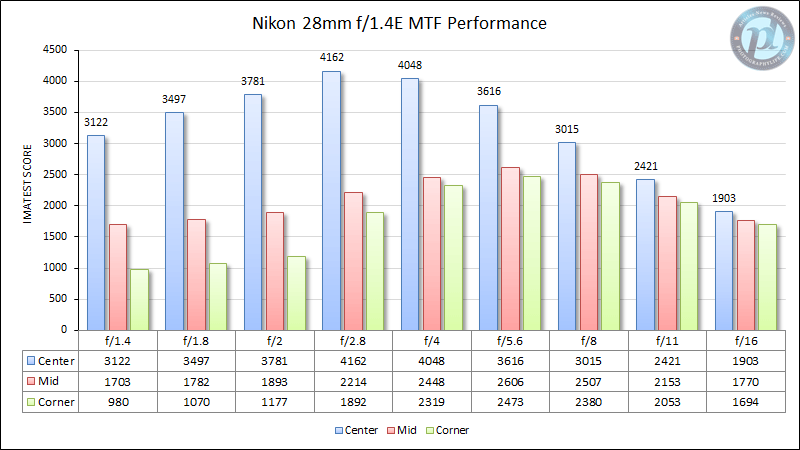 To fully understand how big those numbers are, you will need to see side-by-side comparisons with other lenses on the next page of this review (in fact, I had to change my charts to be able to accommodate performance at f/2.8, since I never thought that there could be a lens that could do that).
As you can see, the Nikon 28mm f/1.4E is already amazing wide open, something you rarely see on wide aperture lenses. Stopping down just to f/1.8 improves sharpness dramatically and by f/2, it already reaches superb performance that puts most other lenses to shame. The peak performance of the lens, however, is reached at f/2.8 and that's its "sweet spot". This is where I was completely blown away by what I saw in the lab, with lens producing exceptional sharpness in the center of the frame. And if you want all those details in the corners of the frame, stop the lens down to just f/4 – there is no need to push it further than that, unless you need more depth of field, of course.
Now one thing you will notice in the above charts, is that the lens has lower mid-frame performance starting from f/2.8. If you are wondering what that is, it is basically the same "wavy" field curvature that we have previously witnessed on the lighter and smaller Nikon 28mm f/1.8G. But it is not as bad by any means – thanks to the extreme sharpness of the lens overall, you will barely notice slightly dropped sharpness in the mid-frame! Unlike its lighter brother, the Nikon 28mm f/1.4E does not have any significant focus shift issues, which is great.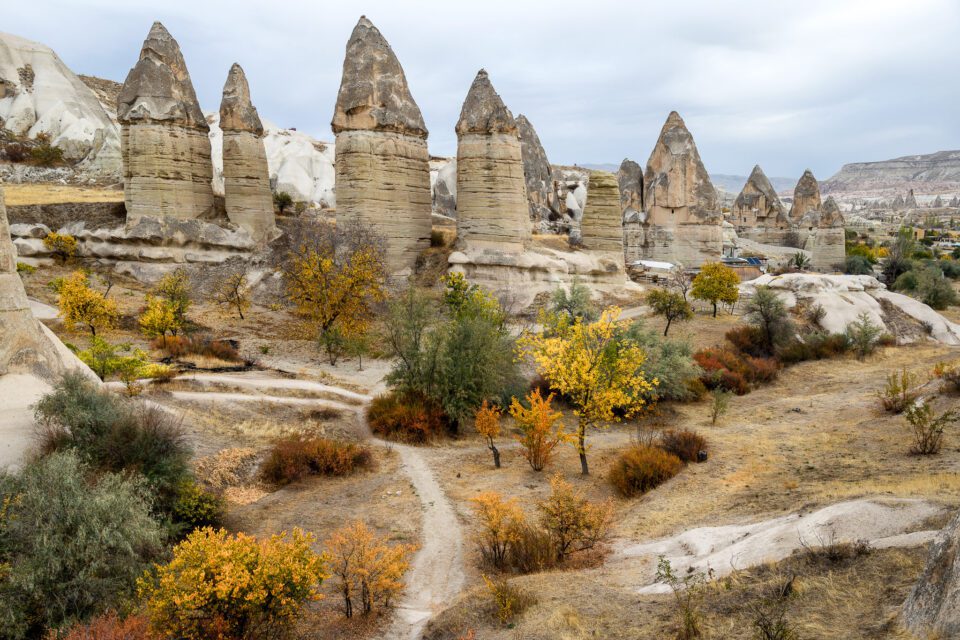 As for sample variation, the first lens sample I tested had a slightly decentered lens element that caused one of the corners (top right corner) to yield softer results than others. Imatest showed the problem, but I bet if I tested the lens by shooting a real landscape or a brick wall, I would probably never notice it. The second lens sample was excellent all around. Both yielded very similar, impressive results in the lab as seen above.
Bokeh
Wide-angle lenses are not normally optimized for yielding outstanding bokeh, especially those with aspherical elements. In the case of the Nikon 28mm f/1.4E, while this lens produces pleasing out of focus highlights for a wide-angle lens, its true strength is in its ability to keep subjects in focus, while effectively separating them from the background. The combination of the wide focal length, along with a large aperture and close proximity to the subject allow most of the subject to look sharp in the frame, while the background goes smoothly out of focus, allowing the subject to pop out. Take a look at the below image sample of a tea man that I captured on the streets of Istanbul: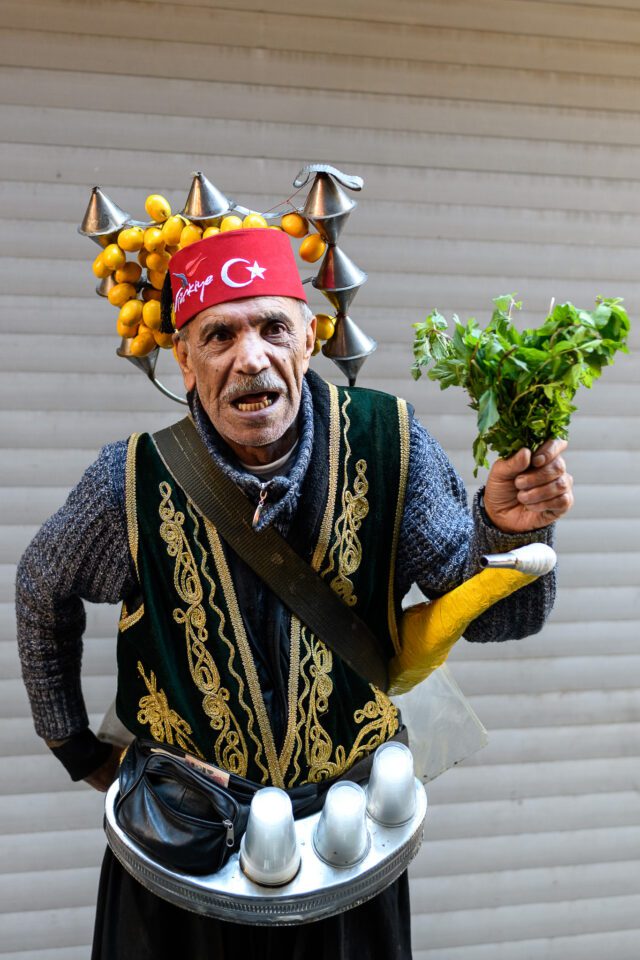 I was walking with my camera ready, as the man was offering tea to passers-by, so I quickly moved the camera to my eye and took a single shot, aiming roughly at his forehead. It was a horizontal shot, which I ended up cropping to a vertical to get rid of distractions (with 45 megapixels of resolution on the D850, it was not a problem). At f/2, the lens was able to bring most of him into focus, while keeping him away from the distracting background. While I haven't done much people photography with this lens, I can see it being my top choice for wide-angle portraiture for this very reason.
If you are wondering how the lens transitions from sharp to out of focus at wide apertures, take a look at the below image of a kitty, also captured in Istanbul: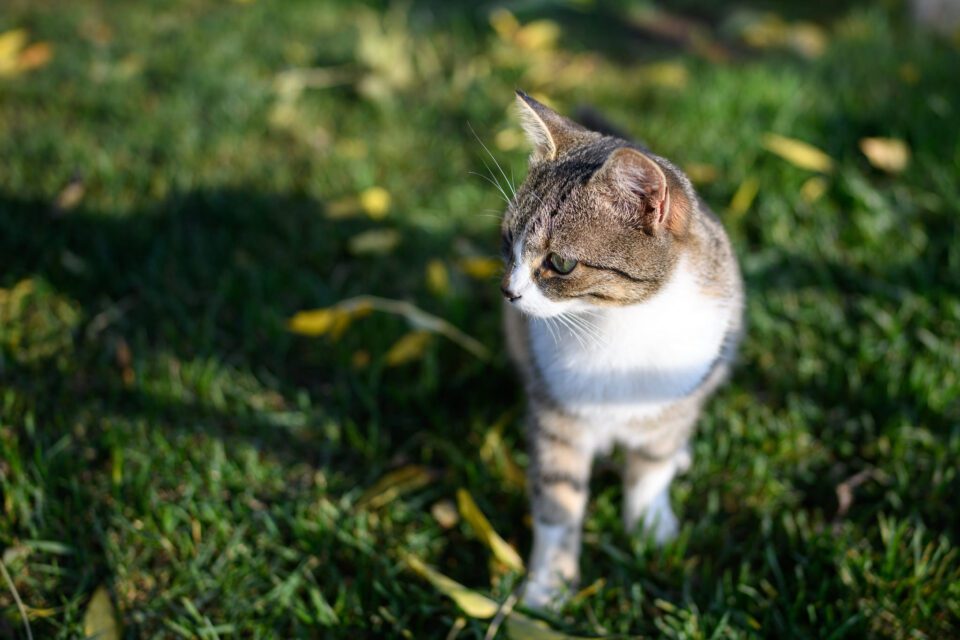 However, if you are looking for a lens that shows beautiful background highlights, then look elsewhere – due to use of aspherical lens elements, you will be seeing onion-shaped bokeh.
Vignetting
As expected from a fast aperture lens, the Nikon 28mm f/1.4E certainly shows some vignetting in images, as measured below by Imatest: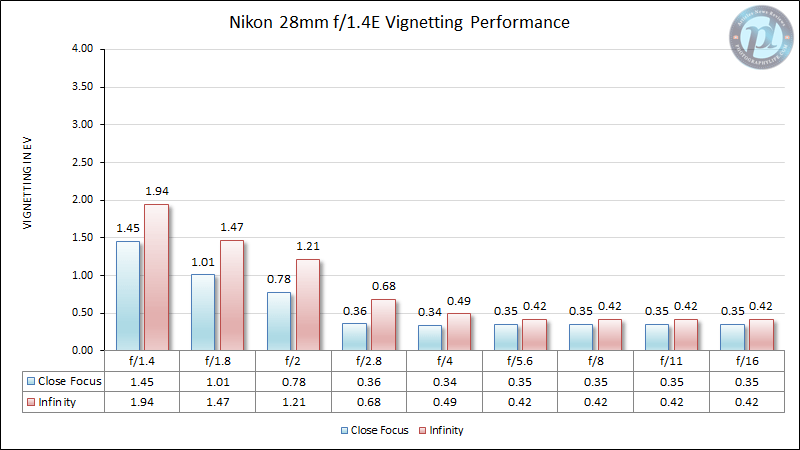 And here is what the worst case scenario looks like at f/1.4, infinity focus: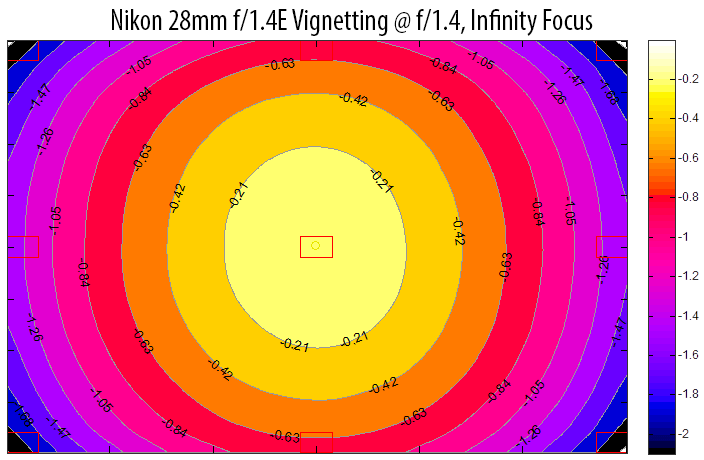 Actually, it is impressive to see this level of vignetting on an f/1.4 lens – most other lenses, including the 24mm f/1.4G, are typically worse in comparison. Stopping down to f/2 reduces vignetting significantly and if you want to get rid of it completely, f/2.8 and smaller apertures will do it.
However, I don't look at the vignetting qualities of this lens as something negative. In fact, I love how the lens vignettes and would never remove it in post-processing (as usual, Lightroom is horrible when dealing with vignetting on these types of lenses, so I ended up unchecking lens corrections). The beautiful vignetting properties of the lens, along with the above-mentioned ability to separate subjects is a secret recipe in producing exceptionally beautiful images. Take a look at the salt formation below, which I photographed at f/1.6: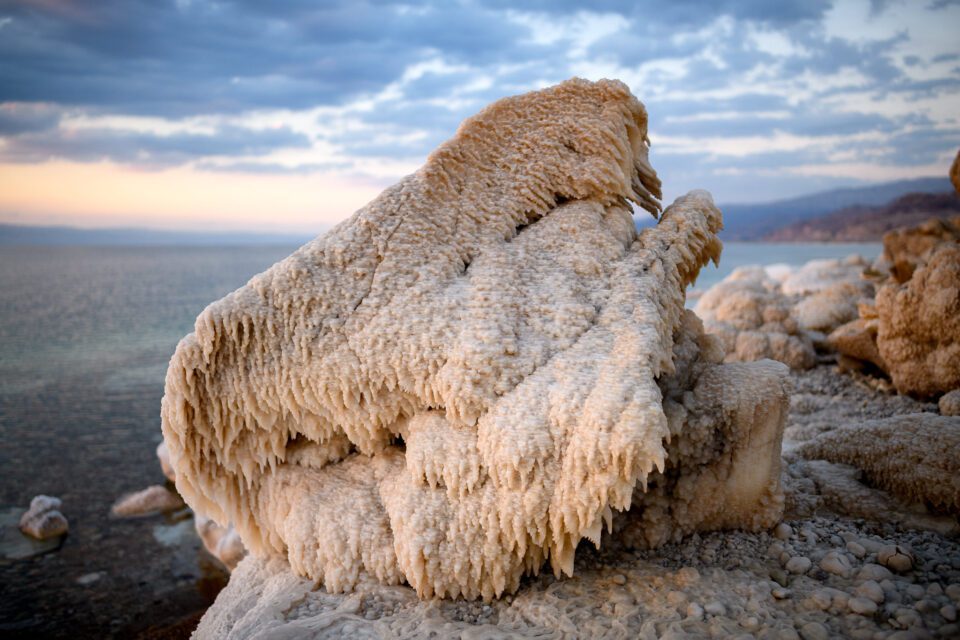 I have stopped down versions of the same images and they don't look nearly as good as this one, thanks to the beautiful separation of the subject and the subtle vignetting on the edges of the frame. To me, this image has superb depth, clarity and colors of the setting sun, something I wanted to portray to the viewer. Out of all the images I have been able to make with this lens, this one is by far my most favorite. Just imagine the potential of this lens when doing a creative portrait!
Ghosting and Flare
As I pointed out earlier, the lens comes with the latest coating technologies from Nikon, including Nano-crystal coat, which not only significantly reduces ghosting and flare issues, but also enhances color and contrast in images. Obviously, the amount of ghosting and flare you might see in your images is going to vary depending on your aperture, the size of the light source and its location in the frame. Here is the sun shining directly on the top right side of the frame: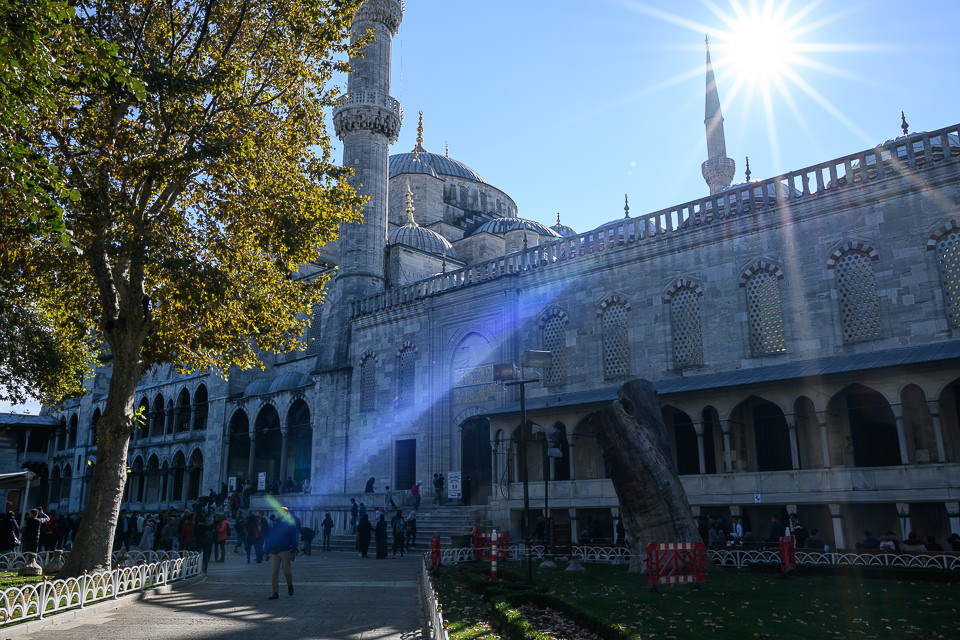 The blue line across the frame is the result of the size of the sun (not blocked by anything), its location in the frame and the small aperture of f/11, so this is pretty much the worst case scenario you will see. If the source of light is smaller, say when you are blocking part of the sun with another object, you will see little to no ghosting / flare in your images. For example, take a look at the below image of the 2018 total solar eclipse: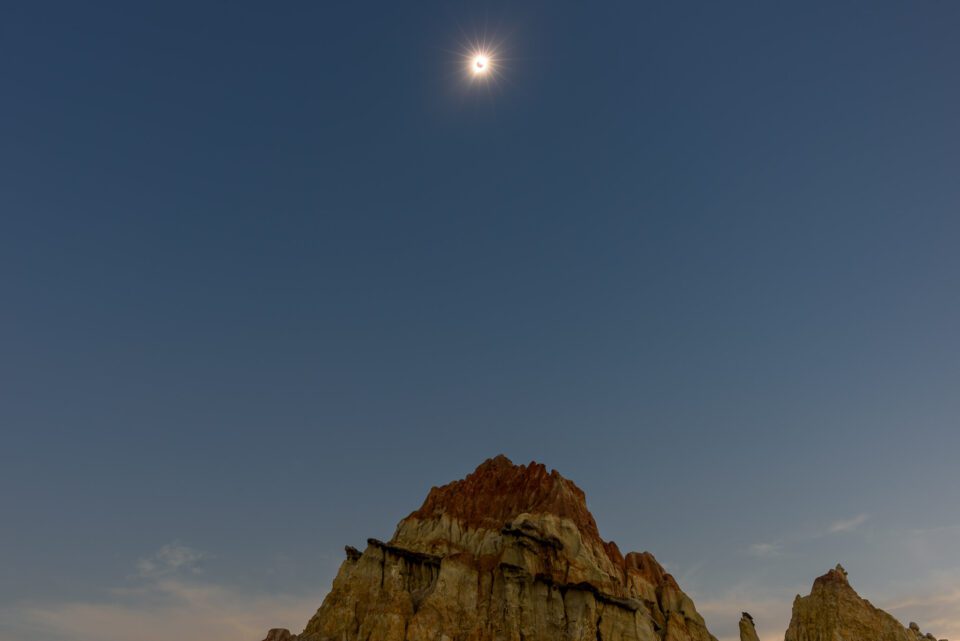 As you can see, the lens did a phenomenal job here. In fact, I really love the way the lens renders sun stars – pointy and very defined!
Distortion
Distortion is there, but it is not very noticeable, which is why I never bothered correcting it for any of the images in this review. Imatest measured barrel distortion of 0.9%, which is less than what the Nikon 24mm f/1.4G / f/1.8G and Nikon 28mm f/1.8G lenses produce. If you want straight lines in your images, fixing distortion is very easy in both Lightroom and Photoshop.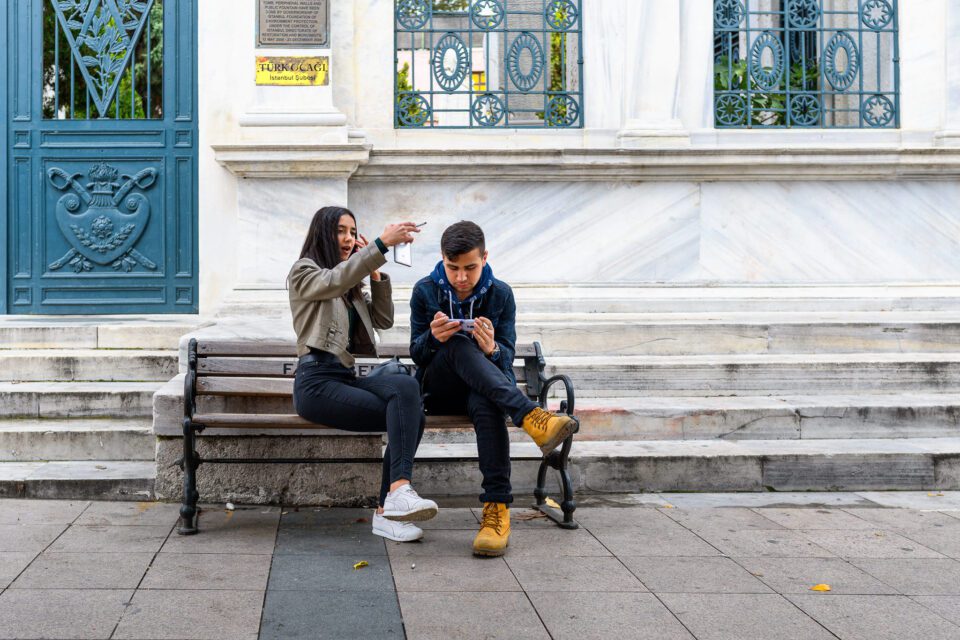 Chromatic Aberration
Lateral chromatic aberration performance on the Nikon 28m f/1.4E is typical of a wide-angle lens. Here are the results of CA performance, as measured by Imatest: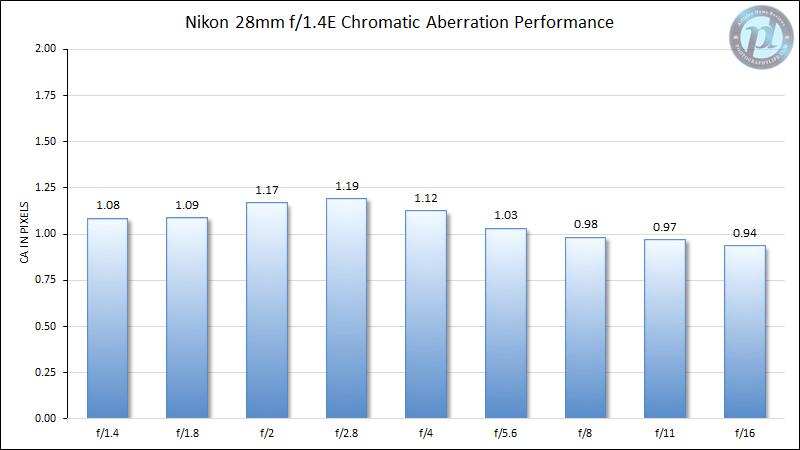 It looks like lateral CA performance is pretty even across all apertures, peaking around 1.2 pixels at f/2.8. If this bothers you, you can easily take care of it with a single click using the "Remove Chromatic Aberration" feature in the Lens Corrections sub-module of Lightroom.
Coma
Unfortunately, the Nikon 28mm f/1.4E shows very similar coma performance as the wider Nikon 24mm f/1.4G, so it is not particularly useful for astrophotography – basic testing revealed coma even at f/2.8, which is disappointing.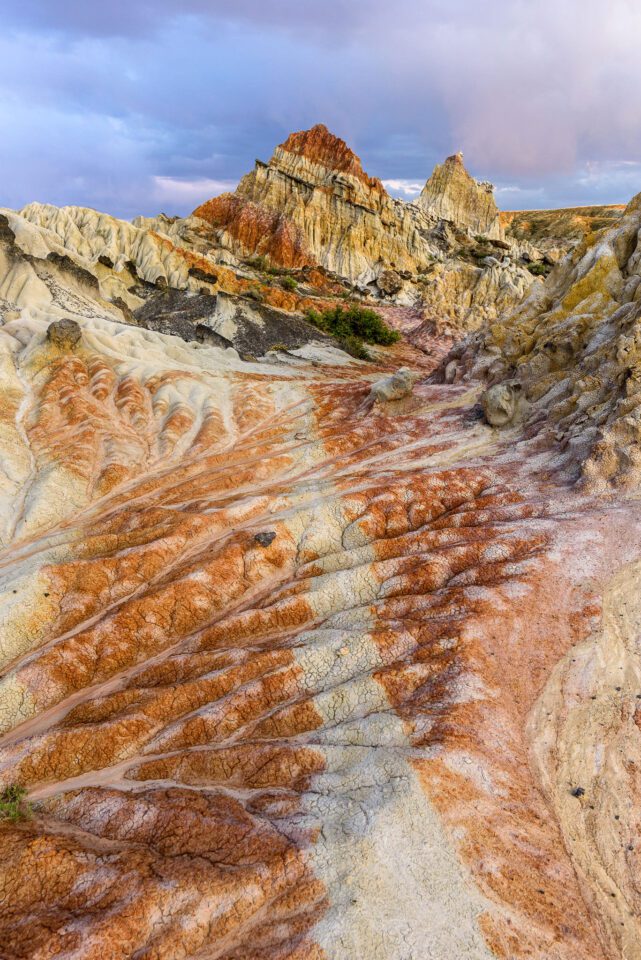 Let's now move on lens comparisons.